Kilfoyl throws 3-hitter as Oklahoma St eliminates Utah from Women's College World Series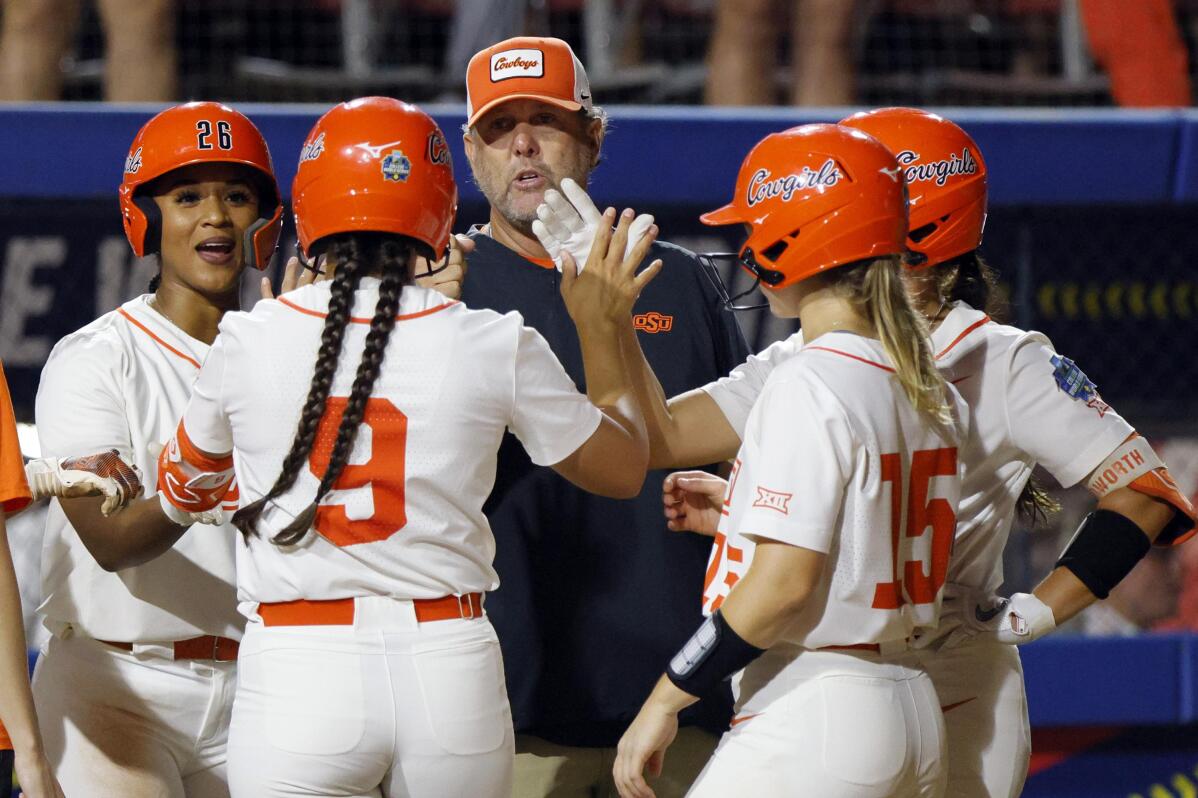 1 of 5

|
Oklahoma State coach Kenny Gajewski, middle, talks to players, from left, Morgyn Wynne, Chyenne Factor (9), Rachel Becker (15) and Kiley Naomi during a Utah pitching change in the second inning of an NCAA softball Women's College World Series game Friday, June 2, 2023, in Oklahoma City. (AP Photo/Nate Billings)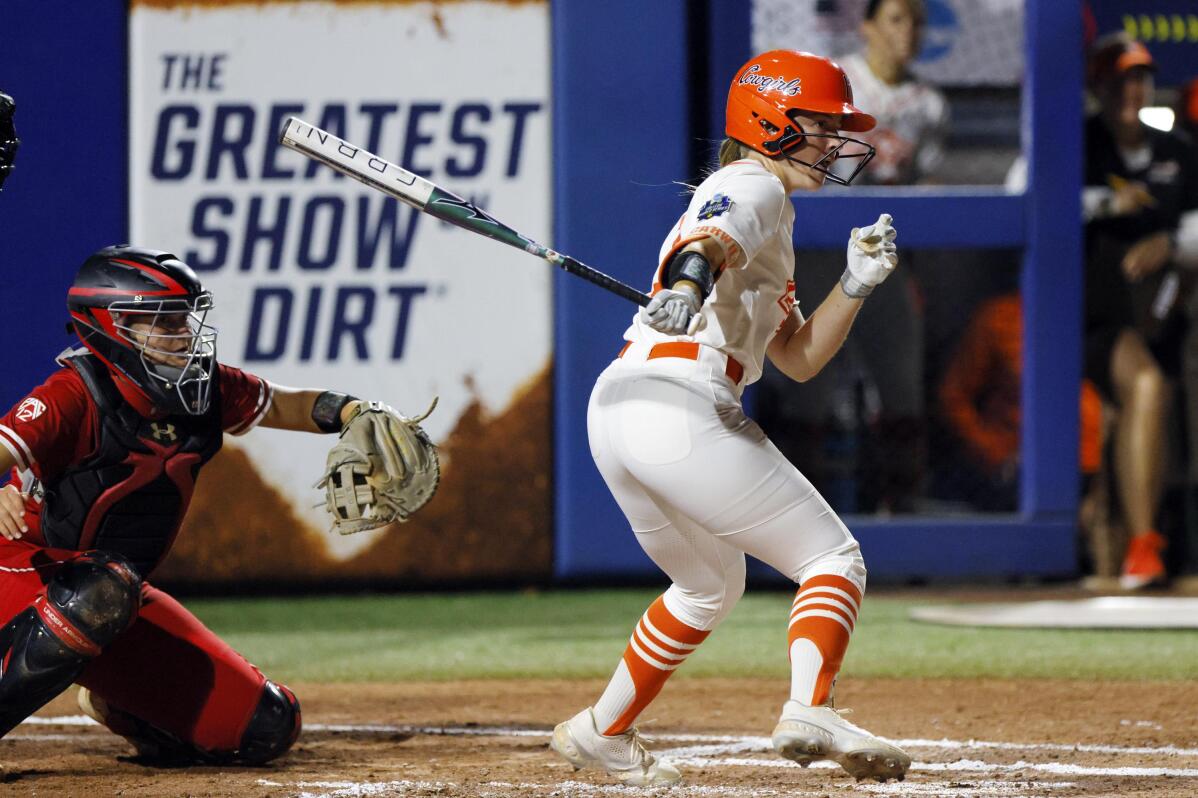 2 of 5

|
Oklahoma State's Katelynn Carwile watches her two-run single next to Utah catcher Kendall Lundberg during the first inning of an NCAA softball Women's College World Series game Friday, June 2, 2023, in Oklahoma City. (AP Photo/Nate Billings)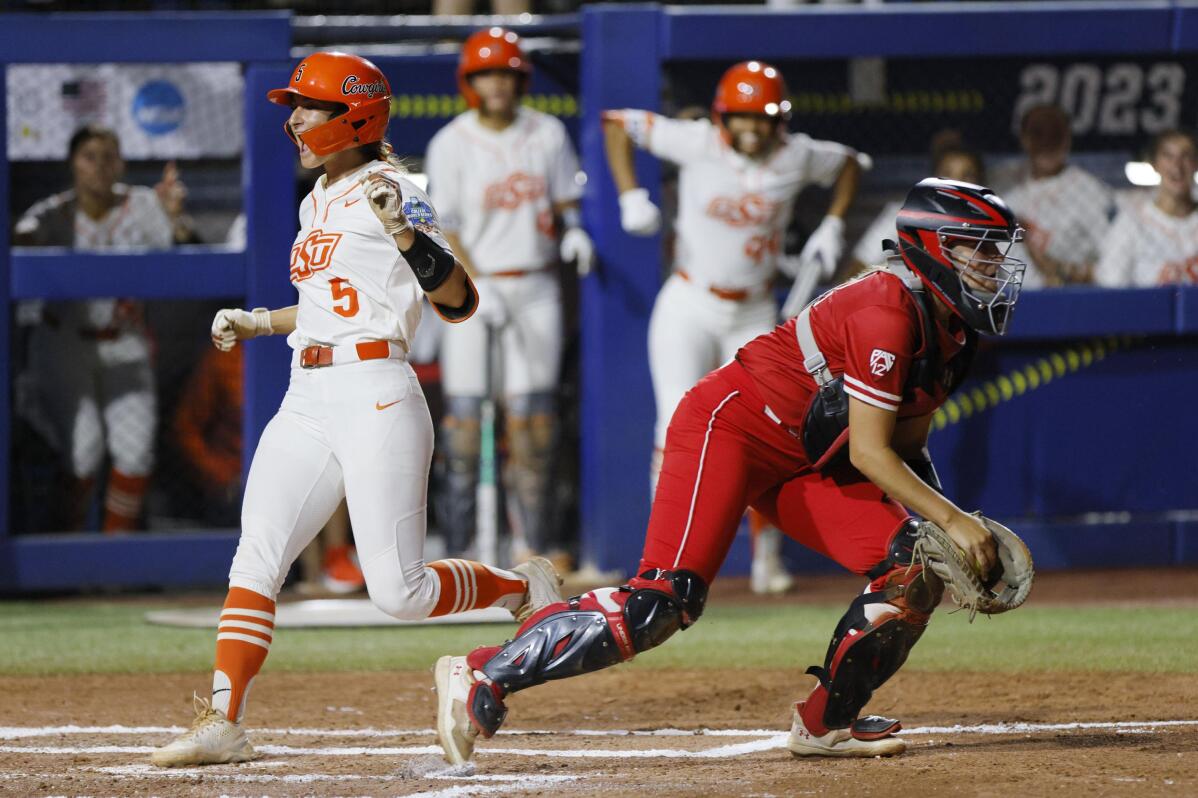 3 of 5

|
Oklahoma State's Kiley Naomi (5) scores past Utah catcher Kendall Lundberg, right, during the first inning of an NCAA softball Women's College World Series game Friday, June 2, 2023, in Oklahoma City. (AP Photo/Nate Billings)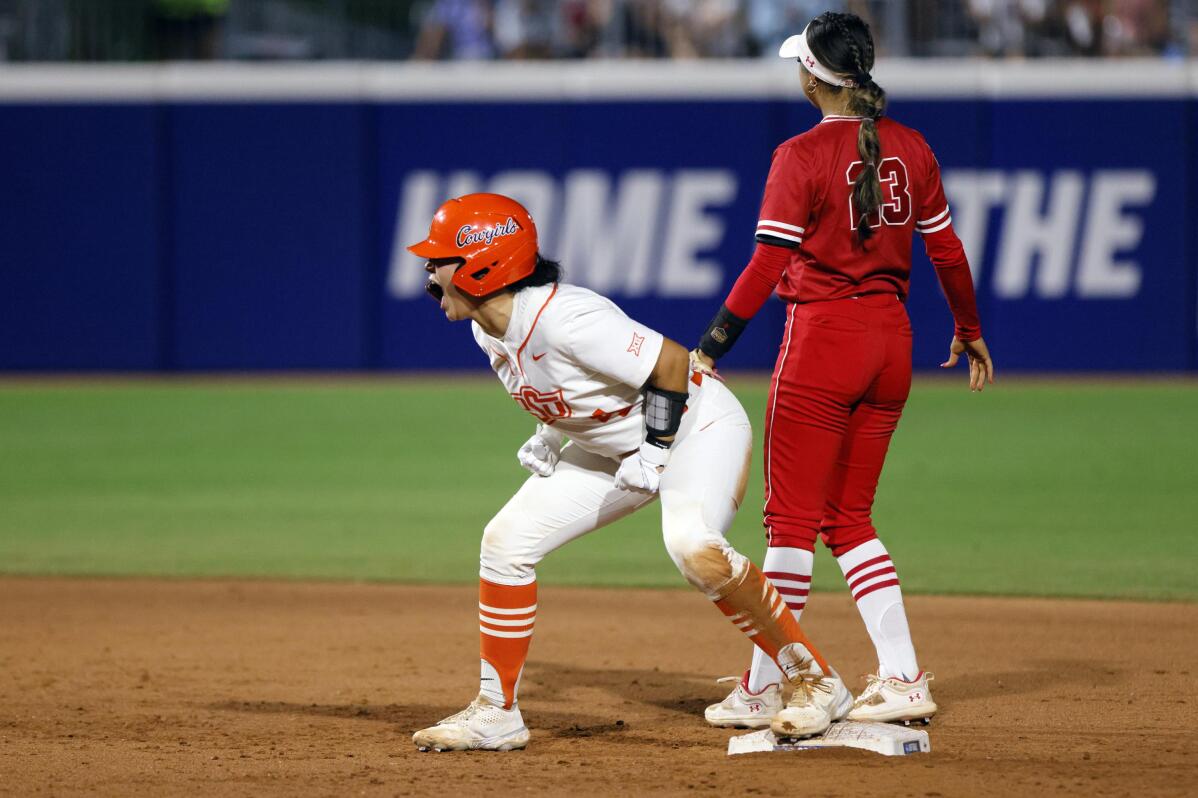 4 of 5

|
Oklahoma State's Taylor Tuck, left, celebrates after a double next to Utah's Aliya Belarde during the second inning of an NCAA softball Women's College World Series game Friday, June 2, 2023, in Oklahoma City. (AP Photo/Nate Billings)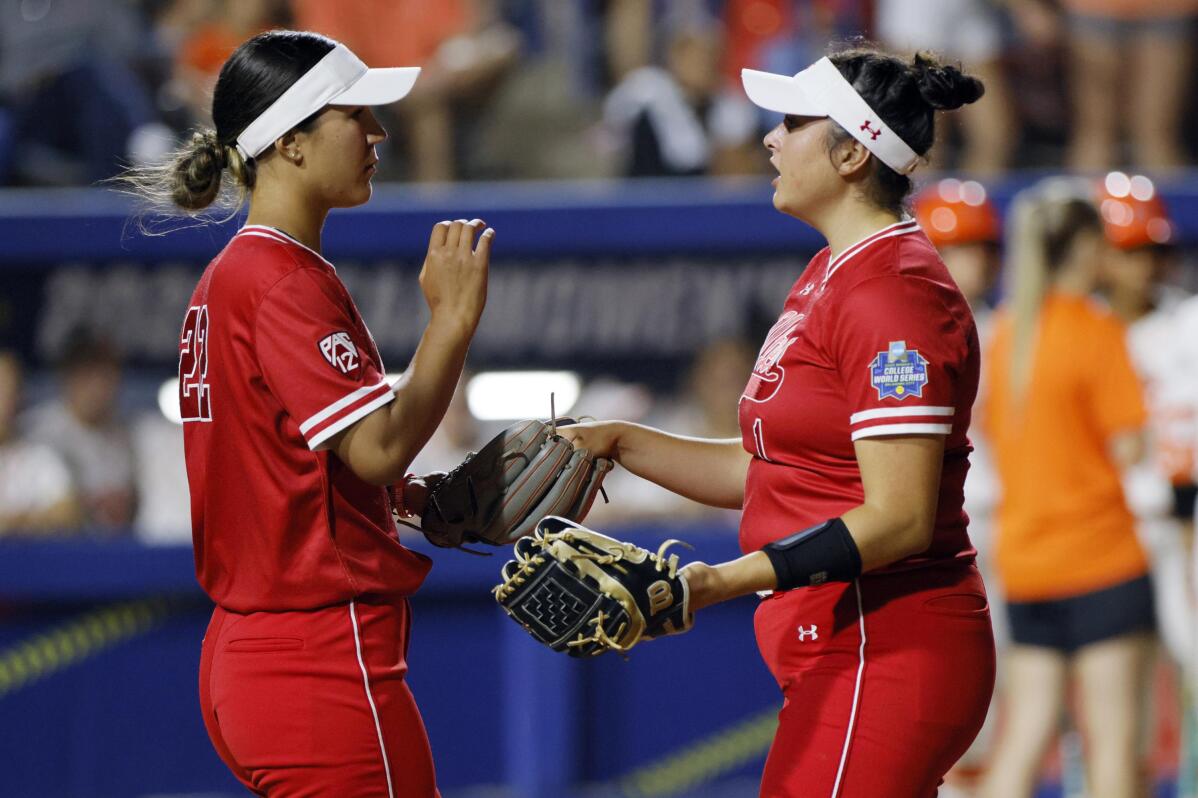 5 of 5

|
Utah starting pitcher Sydney Sandez, right, gives the ball to Halle Morris during a pitching change in the second inning against Oklahoma State during an NCAA softball Women's College World Series game Friday, June 2, 2023, in Oklahoma City. (AP Photo/Nate Billings)
Kilfoyl throws 3-hitter as Oklahoma St eliminates Utah from Women's College World Series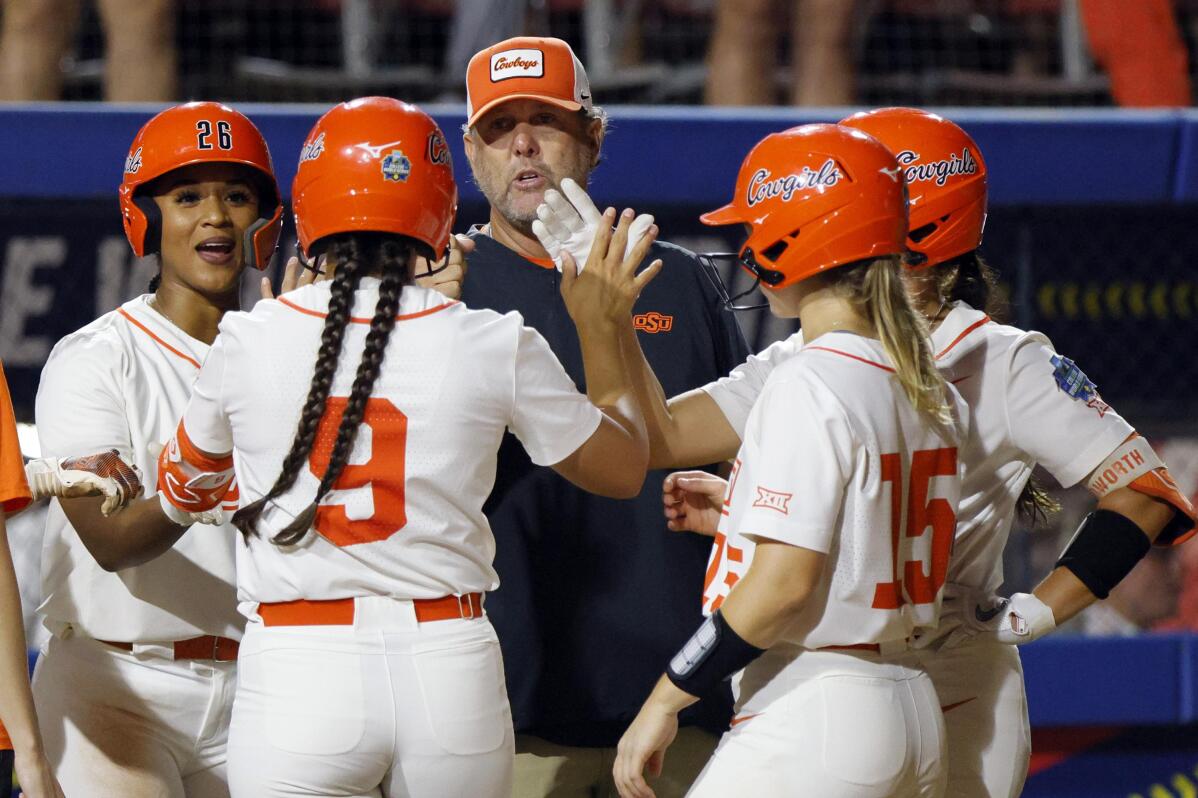 1 of 5

|
Oklahoma State coach Kenny Gajewski, middle, talks to players, from left, Morgyn Wynne, Chyenne Factor (9), Rachel Becker (15) and Kiley Naomi during a Utah pitching change in the second inning of an NCAA softball Women's College World Series game Friday, June 2, 2023, in Oklahoma City. (AP Photo/Nate Billings)
1 of 5
Oklahoma State coach Kenny Gajewski, middle, talks to players, from left, Morgyn Wynne, Chyenne Factor (9), Rachel Becker (15) and Kiley Naomi during a Utah pitching change in the second inning of an NCAA softball Women's College World Series game Friday, June 2, 2023, in Oklahoma City. (AP Photo/Nate Billings)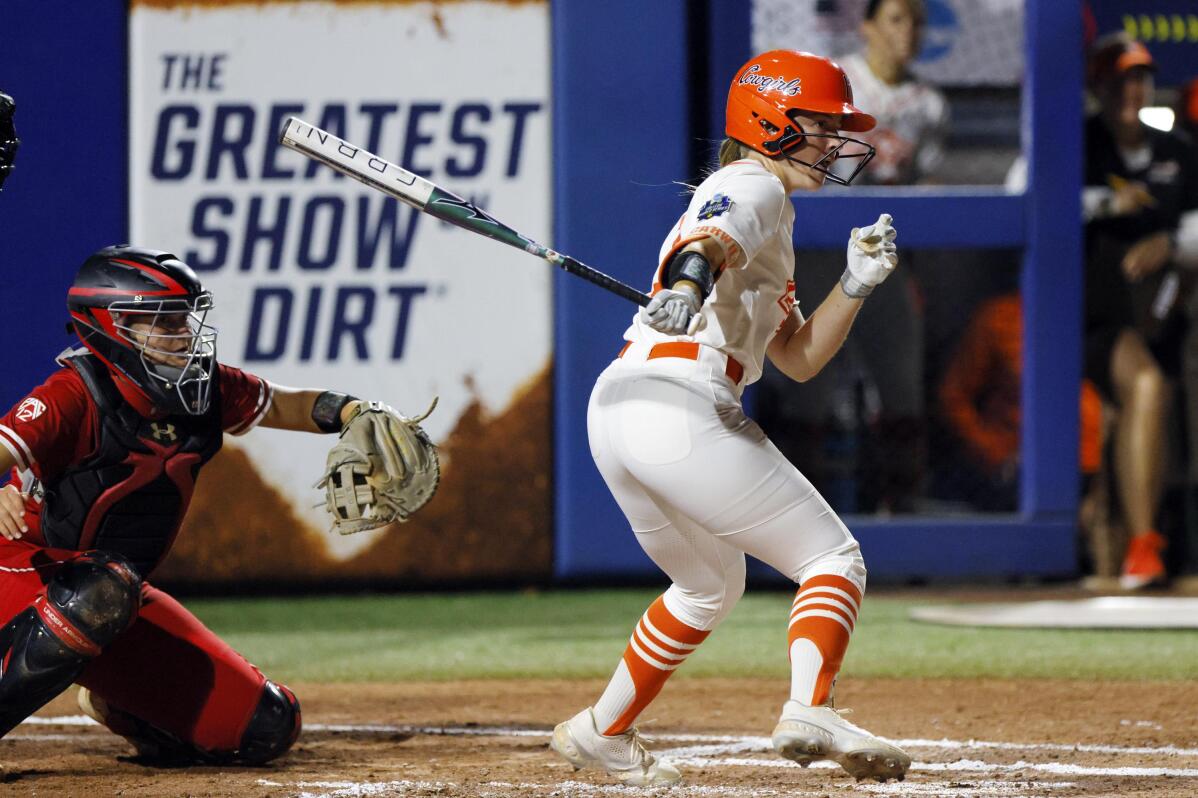 2 of 5

|
Oklahoma State's Katelynn Carwile watches her two-run single next to Utah catcher Kendall Lundberg during the first inning of an NCAA softball Women's College World Series game Friday, June 2, 2023, in Oklahoma City. (AP Photo/Nate Billings)
2 of 5
Oklahoma State's Katelynn Carwile watches her two-run single next to Utah catcher Kendall Lundberg during the first inning of an NCAA softball Women's College World Series game Friday, June 2, 2023, in Oklahoma City. (AP Photo/Nate Billings)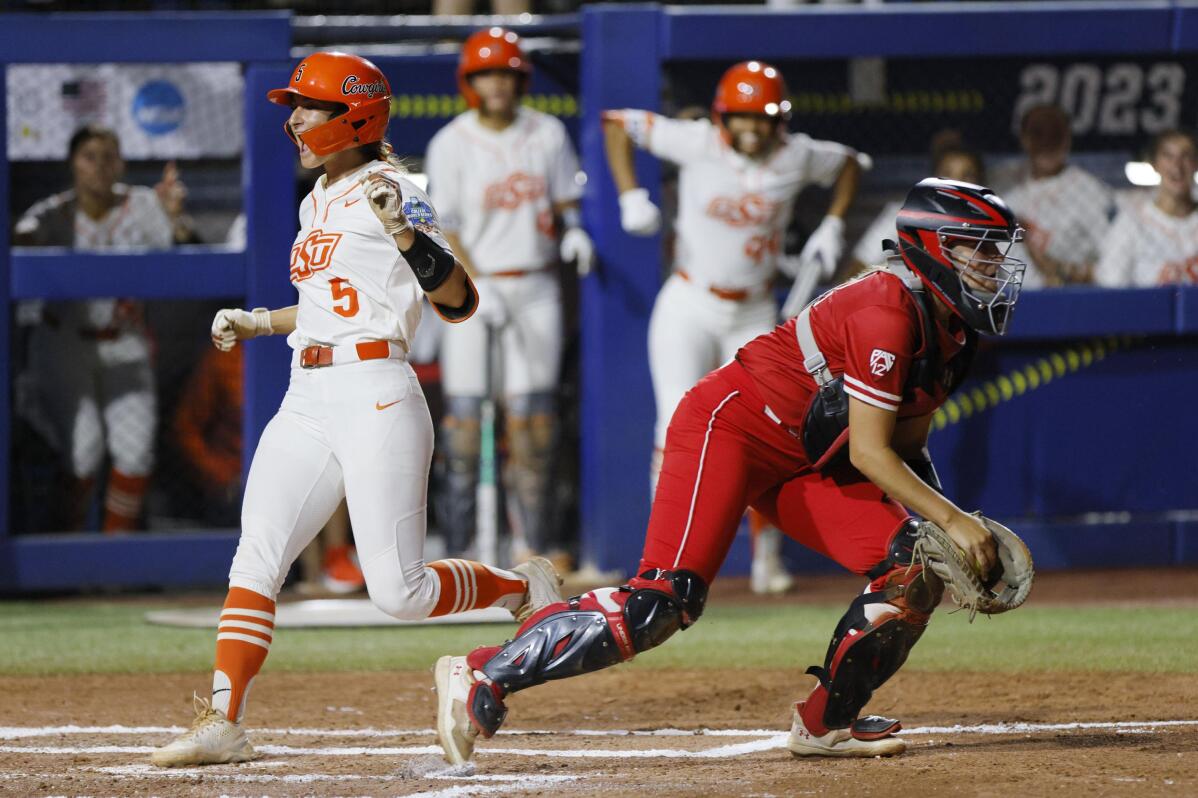 3 of 5

|
Oklahoma State's Kiley Naomi (5) scores past Utah catcher Kendall Lundberg, right, during the first inning of an NCAA softball Women's College World Series game Friday, June 2, 2023, in Oklahoma City. (AP Photo/Nate Billings)
3 of 5
Oklahoma State's Kiley Naomi (5) scores past Utah catcher Kendall Lundberg, right, during the first inning of an NCAA softball Women's College World Series game Friday, June 2, 2023, in Oklahoma City. (AP Photo/Nate Billings)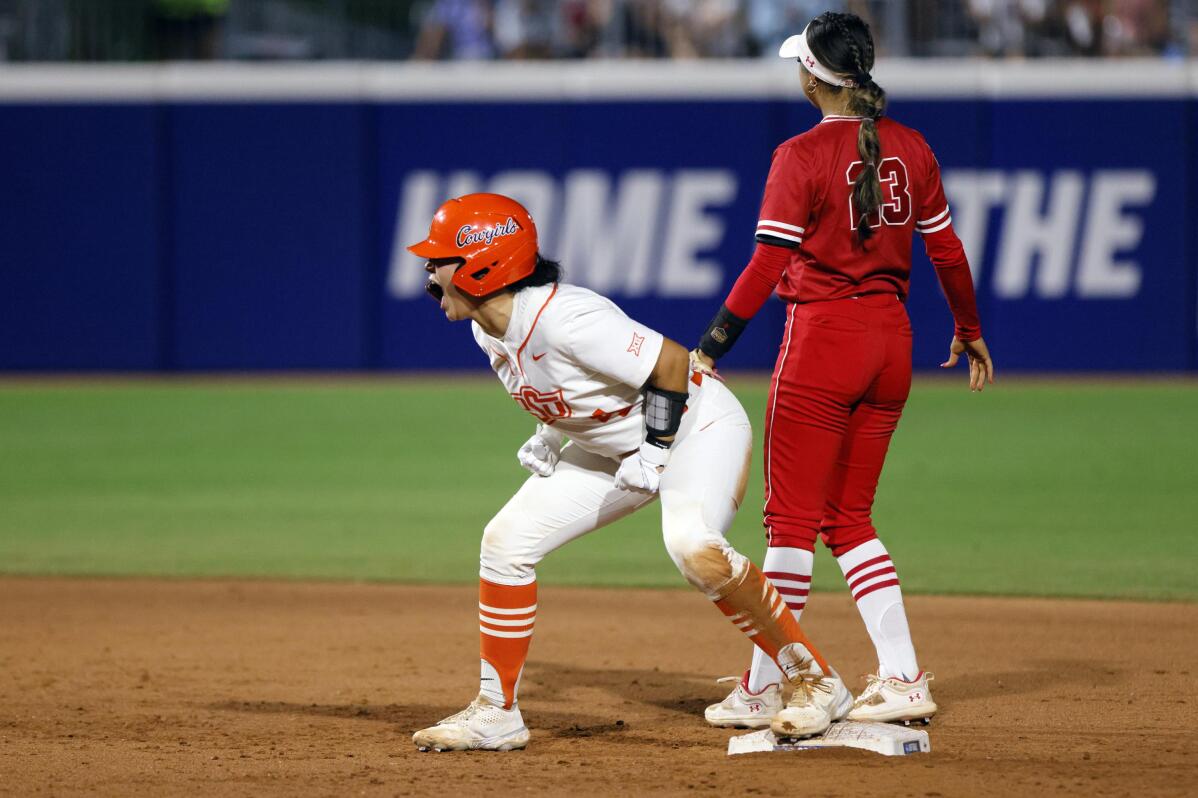 4 of 5

|
Oklahoma State's Taylor Tuck, left, celebrates after a double next to Utah's Aliya Belarde during the second inning of an NCAA softball Women's College World Series game Friday, June 2, 2023, in Oklahoma City. (AP Photo/Nate Billings)
4 of 5
Oklahoma State's Taylor Tuck, left, celebrates after a double next to Utah's Aliya Belarde during the second inning of an NCAA softball Women's College World Series game Friday, June 2, 2023, in Oklahoma City. (AP Photo/Nate Billings)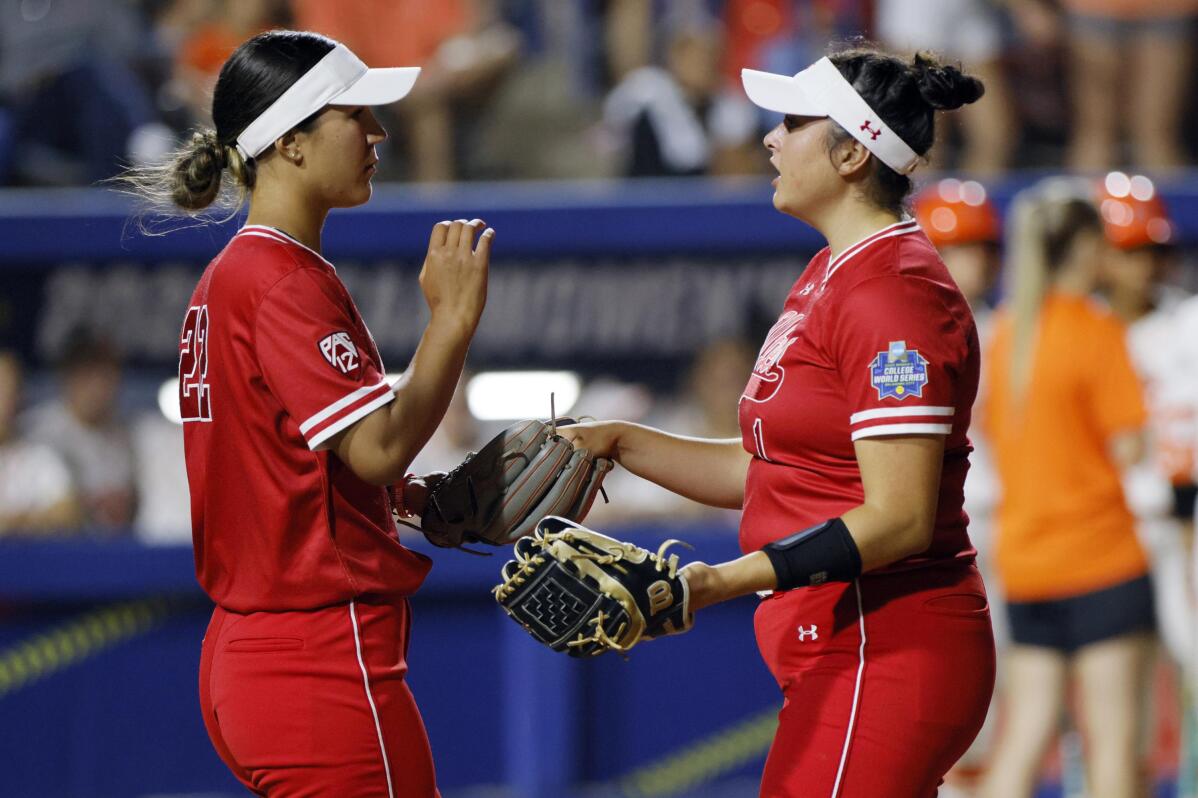 5 of 5

|
Utah starting pitcher Sydney Sandez, right, gives the ball to Halle Morris during a pitching change in the second inning against Oklahoma State during an NCAA softball Women's College World Series game Friday, June 2, 2023, in Oklahoma City. (AP Photo/Nate Billings)
5 of 5
Utah starting pitcher Sydney Sandez, right, gives the ball to Halle Morris during a pitching change in the second inning against Oklahoma State during an NCAA softball Women's College World Series game Friday, June 2, 2023, in Oklahoma City. (AP Photo/Nate Billings)
OKLAHOMA CITY (AP) — Lexi Kilfoyl threw a three-hitter, and No. 6 seed Oklahoma State beat No. 15 Utah 8-0 in five innings Friday night in a Women's College World Series elimination game.
Oklahoma State scored six runs in the second inning, including a two-run double by Morgyn Wynne. Katelynn Carwile had two hits and three RBIs for the Cowgirls.
"We definitely had a game plan about picking the pitches that we wanted, being on time for our pitch," Wynne said. "I think that that's what made us most successful tonight was attacking early in the counts, hunting the pitches that we knew we could drive very well."
Oklahoma State coach Kenny Gajewski was pleased with the way the Cowgirls bounced back after being shut out by Florida State on Thursday.
"I told our team after last night's game that I couldn't wait to see what their response would be," he said. "I had a good feeling. Not sure I could tell you we were going to come out and run rule, but I figured we'd play well. There's too much experience here. There's just too much talent here. There's too many great kids and great coaches."
The Cowgirls (47-15) will play the loser of Saturday's game between No. 1 seed Oklahoma and No. 4 seed Tennessee in an elimination game on Sunday.
Oklahoma State is set up well for a run in the tournament. Kilfoyl only threw 53 pitches, plus her complete game allowed the Cowgirls to save their other star pitcher, Kelly Maxwell.
Utah (42-16) was playing in its first World Series since 1994 — back when coach Amy Hogue played for the Utes.
Utah had to play twice on Friday because Thursday's game was moved due to bad weather.
"I would have loved to spend a bunch of time getting angry about it because that's what I wanted to do," Hogue said. "But that wasn't going to do anybody any good."
The Utes lost to Washington earlier Friday, and ace Mariah Lopez used her energy to keep her team in that game. Utah didn't have much left against Oklahoma State, and Sydney Sandez gave up six runs in one-plus inning to take the loss.
The Utes focused more on the journey than the loss.
"We've tried so hard our past five years to get here," senior Haley Denning said. "It's just awesome to be here. We just wanted to try to win for our team. But obviously it sometimes doesn't happen like that."
___
Follow Cliff Brunt on Twitter: twitter.com/CliffBruntAP