South Africa's ruling ANC party fetes 111th anniversary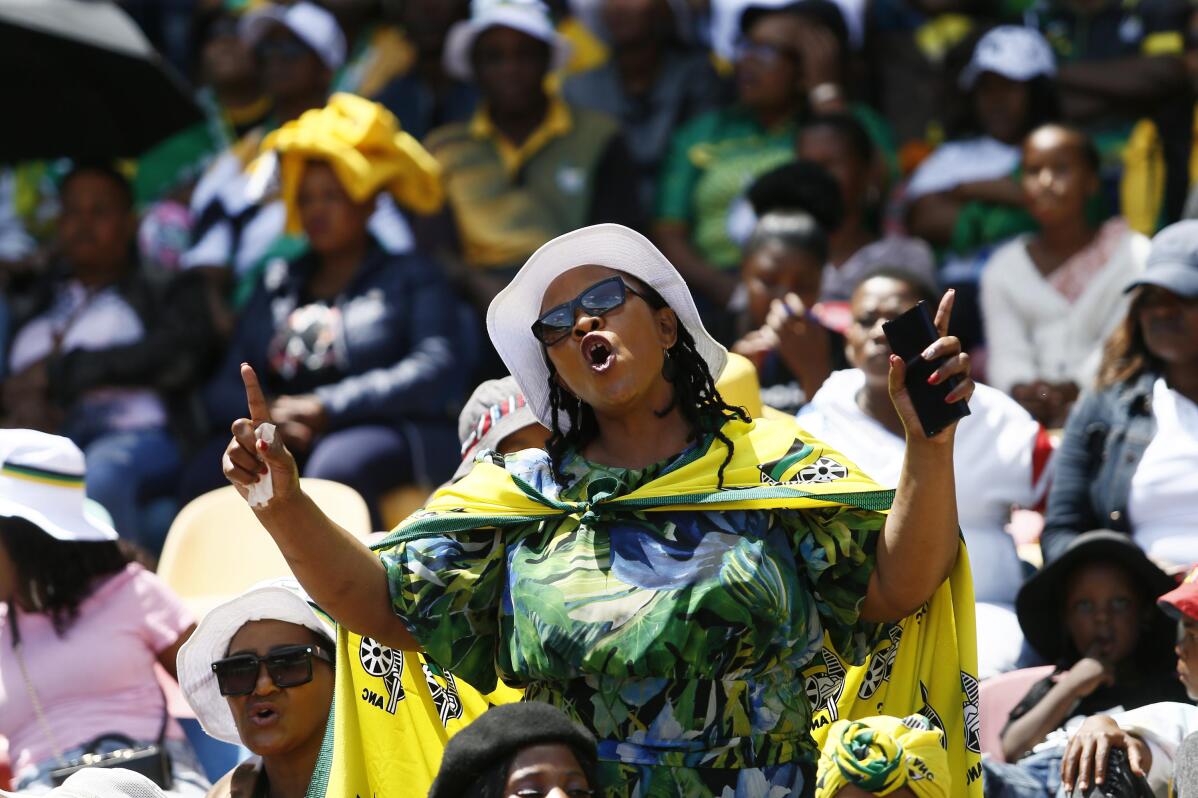 1 of 3

|
African National Congress (ANC) Party supporters react as the African National Congress party celebrate its 111th anniversary, at the Dr Molemela stadium, in Mangaung, South Africa, Sunday, Jan 8 2023. South Africa's ruling African National Congress party on Sunday marked its 111th anniversary with celebratory events in Mangaung, Free State province, where the organization was founded in 1912. (AP Photo)
2 of 3

|
African National Congress (ANC) Party supporters react as the African National Congress party celebrate its 111th anniversary, at the Dr Molemela stadium, in Mangaung, South Africa, Sunday, Jan. 8 2023. South Africa's ruling African National Congress party on Sunday marked its 111th anniversary with celebratory events in Mangaung, Free State province, where the organization was founded in 1912. (AP Photo)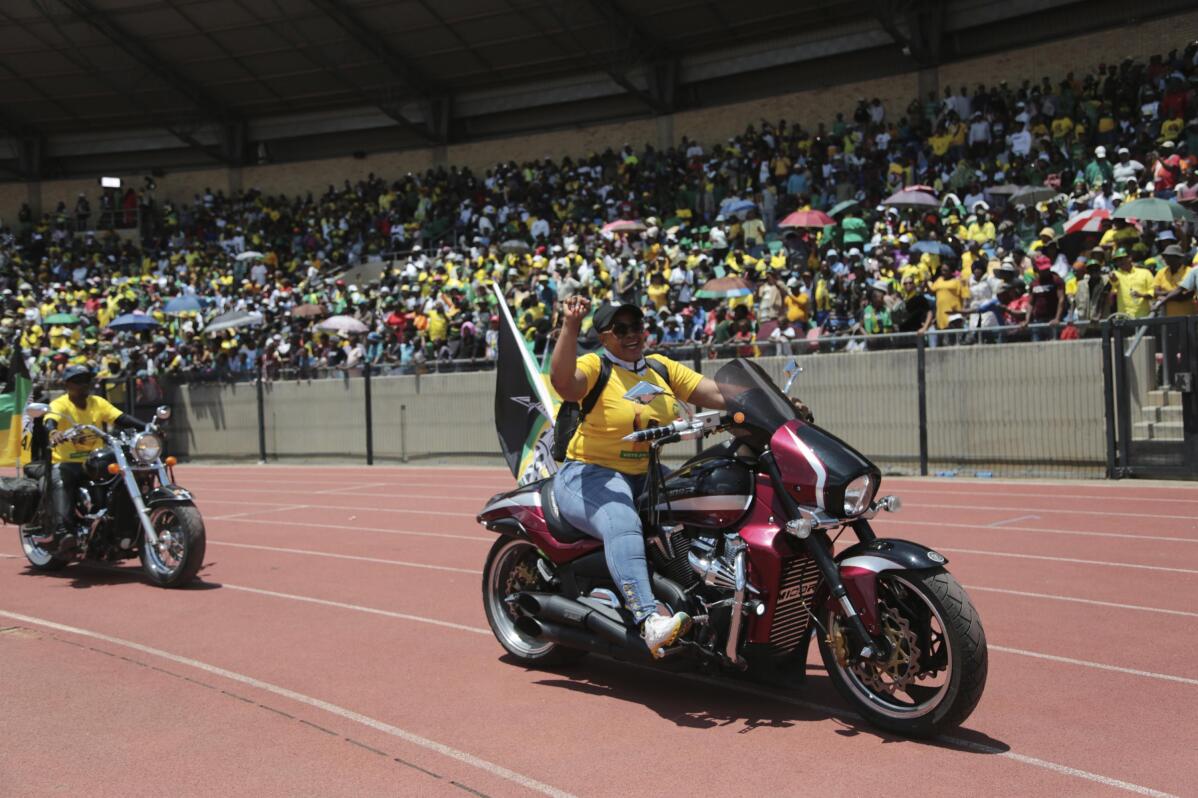 3 of 3

|
African National Congress (ANC) Party supporters parade on motorcycles as the African National Congress party celebrate its 111th anniversary, at the Dr Molemela stadium, in Mangaung, South Africa, Sunday, Jan. 8 2023. South Africa's ruling African National Congress party on Sunday marked its 111th anniversary with celebratory events in Mangaung, Free State province, where the organization was founded in 1912. (AP Photo)
South Africa's ruling ANC party fetes 111th anniversary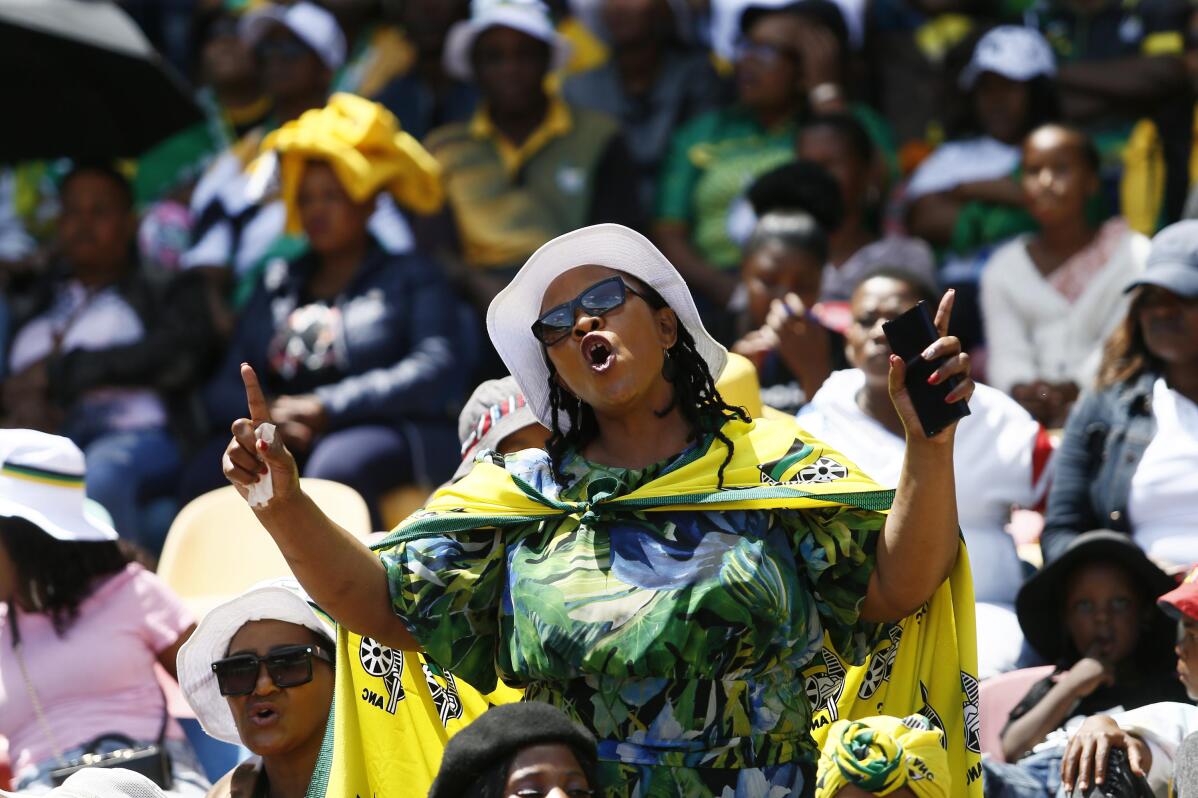 1 of 3

|
African National Congress (ANC) Party supporters react as the African National Congress party celebrate its 111th anniversary, at the Dr Molemela stadium, in Mangaung, South Africa, Sunday, Jan 8 2023. South Africa's ruling African National Congress party on Sunday marked its 111th anniversary with celebratory events in Mangaung, Free State province, where the organization was founded in 1912. (AP Photo)
1 of 3
African National Congress (ANC) Party supporters react as the African National Congress party celebrate its 111th anniversary, at the Dr Molemela stadium, in Mangaung, South Africa, Sunday, Jan 8 2023. South Africa's ruling African National Congress party on Sunday marked its 111th anniversary with celebratory events in Mangaung, Free State province, where the organization was founded in 1912. (AP Photo)
2 of 3

|
African National Congress (ANC) Party supporters react as the African National Congress party celebrate its 111th anniversary, at the Dr Molemela stadium, in Mangaung, South Africa, Sunday, Jan. 8 2023. South Africa's ruling African National Congress party on Sunday marked its 111th anniversary with celebratory events in Mangaung, Free State province, where the organization was founded in 1912. (AP Photo)
2 of 3
African National Congress (ANC) Party supporters react as the African National Congress party celebrate its 111th anniversary, at the Dr Molemela stadium, in Mangaung, South Africa, Sunday, Jan. 8 2023. South Africa's ruling African National Congress party on Sunday marked its 111th anniversary with celebratory events in Mangaung, Free State province, where the organization was founded in 1912. (AP Photo)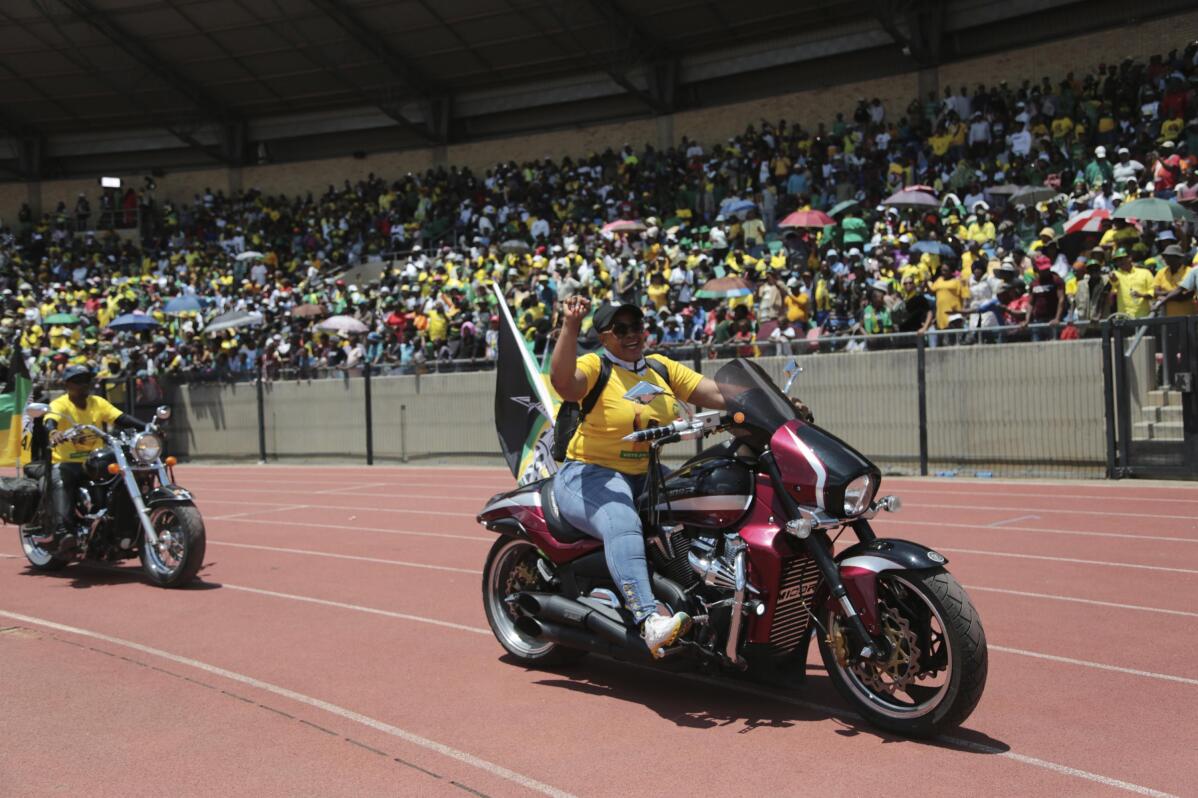 3 of 3

|
African National Congress (ANC) Party supporters parade on motorcycles as the African National Congress party celebrate its 111th anniversary, at the Dr Molemela stadium, in Mangaung, South Africa, Sunday, Jan. 8 2023. South Africa's ruling African National Congress party on Sunday marked its 111th anniversary with celebratory events in Mangaung, Free State province, where the organization was founded in 1912. (AP Photo)
3 of 3
African National Congress (ANC) Party supporters parade on motorcycles as the African National Congress party celebrate its 111th anniversary, at the Dr Molemela stadium, in Mangaung, South Africa, Sunday, Jan. 8 2023. South Africa's ruling African National Congress party on Sunday marked its 111th anniversary with celebratory events in Mangaung, Free State province, where the organization was founded in 1912. (AP Photo)
JOHANNESBURG (AP) — South Africa's ruling African National Congress party marked its 111th anniversary Sunday with celebratory events in Mangaung, Free State province, where the organization was founded in 1912.
President Cyril Ramaphosa, who was re-elected as the ANC party leader at a national conference in December last year, addressed a large crowd of supporters at a stadium outlining how the party plans to address the country's many challenges.
The ANC is the oldest liberation movement against colonialism in Africa and led South Africa's transition from white minority rule to democracy after it was unbanned in 1990.
Its leader and struggle icon, Nelson Mandela, became the country's first democratically elected president in 1994 after spending 27 years in prison alongside other ANC leaders for their anti-apartheid activities.
The anniversary comes amid a decline in electoral support for the party due to, among other things, rising levels of poverty and unemployment, failure to provide basic services to poor communities and lack of economic growth.
The party's image as a liberation movement that fought against the oppression of Black people in the country has also been dented by wide-ranging revelations of corruption among party leaders and government officials.
South Africa is also facing an electricity crisis which has at times led to households and businesses experiencing power blackouts for more than eight hours daily.
Ramaphosa told his supporters gathered at the Dr. Molemela Stadium that solving the electricity crisis will be a major priority for the ANC and his government in 2023, including looking at options for emergency procurement of more electricity capacity.
He also pledged to ensure ANC leaders implicated in corruption face the full might of the law and to increase the creation of jobs especially among youth, where the unemployment rate is now over 60%.
In 1994, the ANC got just over 62% of the national vote, securing a majority of seats in the country's first democratic parliament.
However, by 2019 the party's support had declined to 57.5% of the national vote, its worst ever electoral performance since it came into power in 1994.
It has also lost political control of major cities including Johannesburg; Tshwane, which includes the capital Pretoria; and Nelson Mandela Bay.
It is expected to face a tough national election in 2024, with analysts and pollsters suggesting it will struggle to get more than 50% of the national vote.