South Africa gas truck explosion death toll rises to 34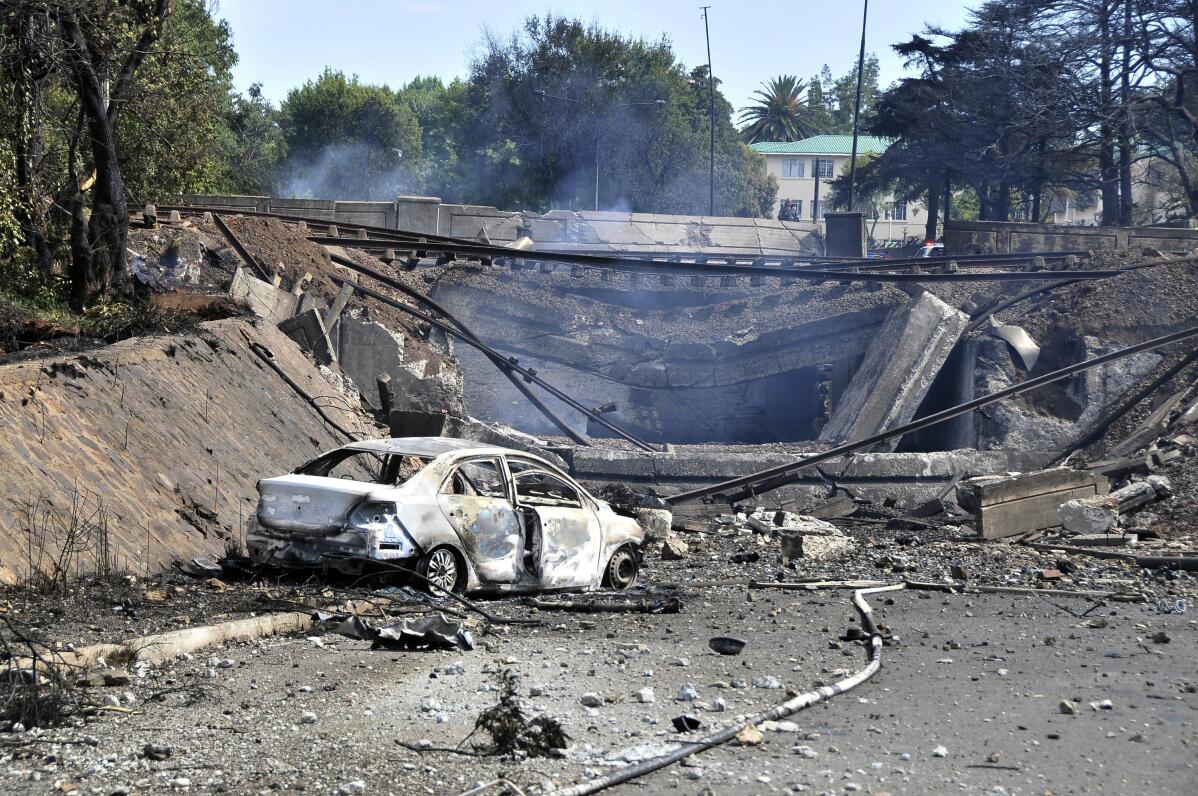 1 of 2

|
A burned out vehicle marks the spot where a gas tanker exploded under a bridge in Boksburg, east of Johannesburg, Saturday, Dec. 24, 2022. A truck carrying liquified petroleum gas has exploded in the South African town of Boksburg, killing at least 8 people and injuring more than 50 others on Saturday. (AP Photo/Hein Kaiser)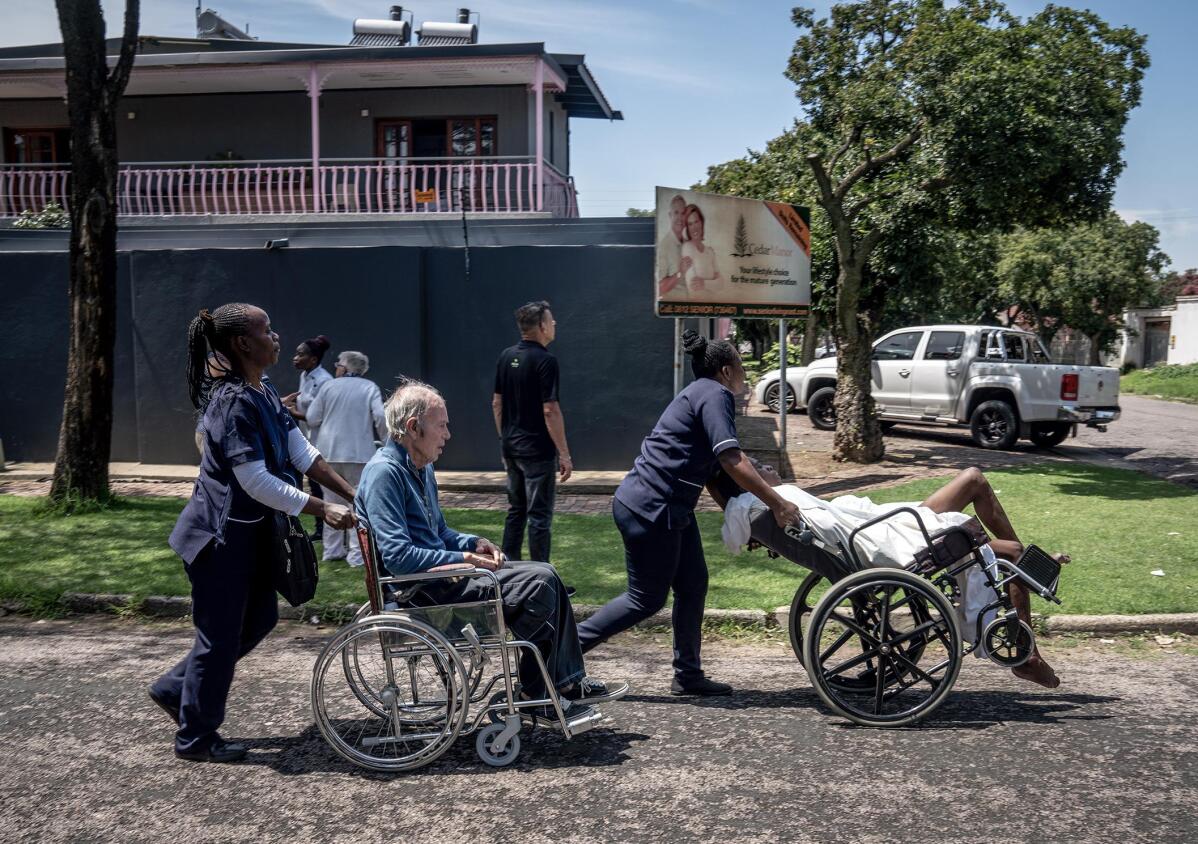 2 of 2

|
People are taken away from an old aged home close to where a truck carrying liquified petroleum gas exploded in Boksburg, east of Johannesburg, Saturday, Dec. 24, 2022. A truck carrying liquified petroleum gas has exploded in the South African town of Boksburg, east of Johannesburg, killing at least 8 people and injuring 50 others on Saturday. (AP Photo/Shiraaz Mohamed)
South Africa gas truck explosion death toll rises to 34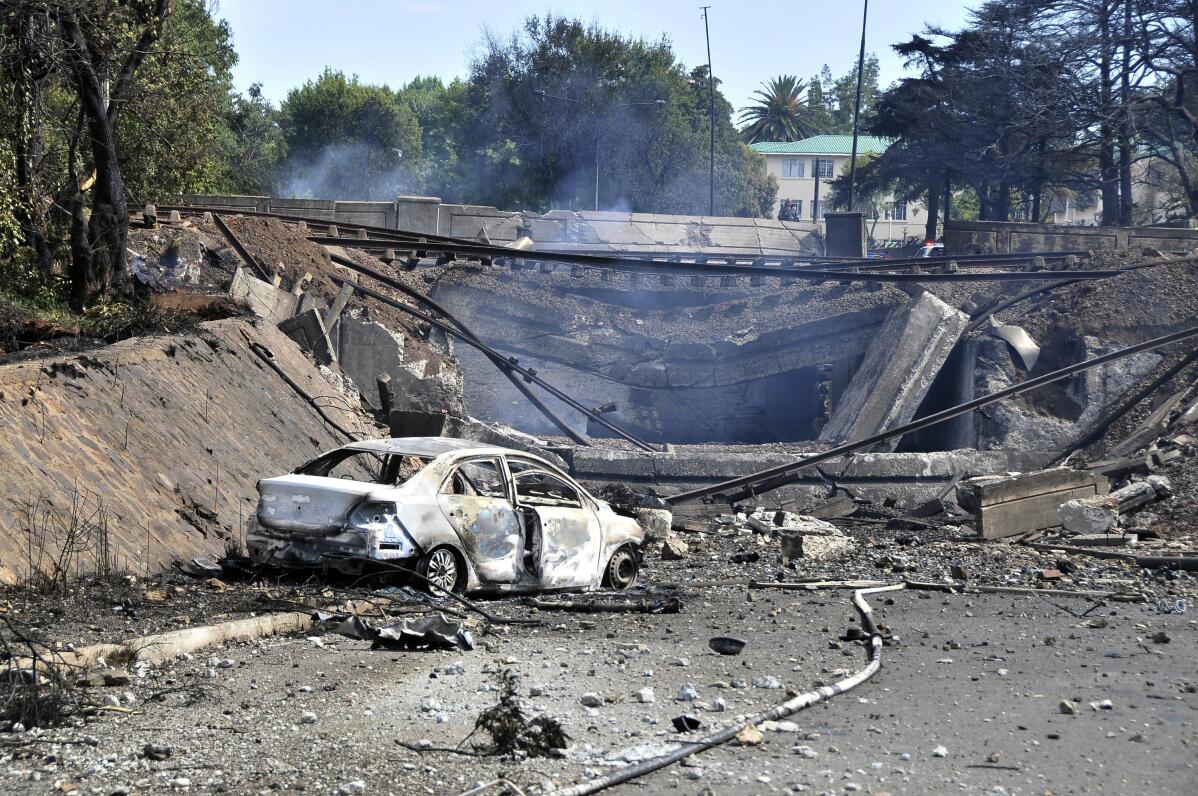 1 of 2

|
A burned out vehicle marks the spot where a gas tanker exploded under a bridge in Boksburg, east of Johannesburg, Saturday, Dec. 24, 2022. A truck carrying liquified petroleum gas has exploded in the South African town of Boksburg, killing at least 8 people and injuring more than 50 others on Saturday. (AP Photo/Hein Kaiser)
1 of 2
A burned out vehicle marks the spot where a gas tanker exploded under a bridge in Boksburg, east of Johannesburg, Saturday, Dec. 24, 2022. A truck carrying liquified petroleum gas has exploded in the South African town of Boksburg, killing at least 8 people and injuring more than 50 others on Saturday. (AP Photo/Hein Kaiser)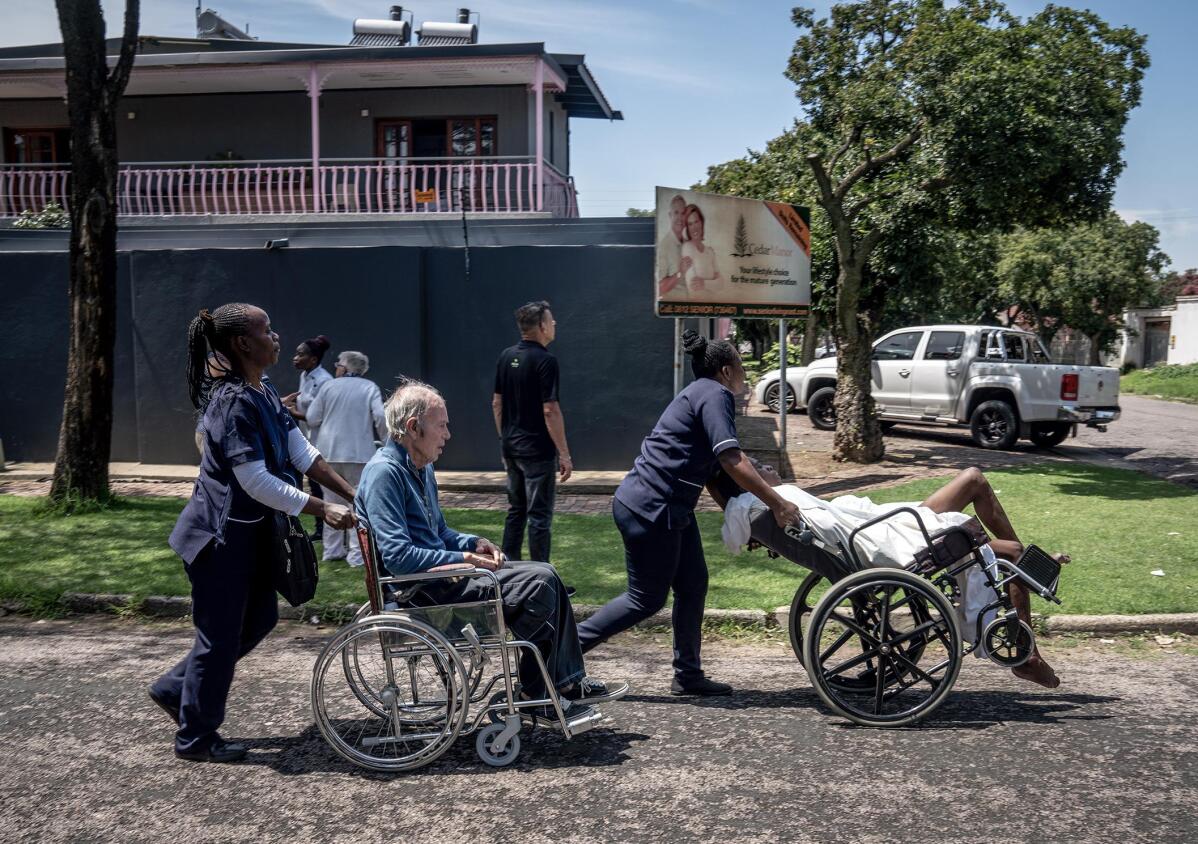 2 of 2

|
People are taken away from an old aged home close to where a truck carrying liquified petroleum gas exploded in Boksburg, east of Johannesburg, Saturday, Dec. 24, 2022. A truck carrying liquified petroleum gas has exploded in the South African town of Boksburg, east of Johannesburg, killing at least 8 people and injuring 50 others on Saturday. (AP Photo/Shiraaz Mohamed)
2 of 2
People are taken away from an old aged home close to where a truck carrying liquified petroleum gas exploded in Boksburg, east of Johannesburg, Saturday, Dec. 24, 2022. A truck carrying liquified petroleum gas has exploded in the South African town of Boksburg, east of Johannesburg, killing at least 8 people and injuring 50 others on Saturday. (AP Photo/Shiraaz Mohamed)
JOHANNESBURG (AP) — The death toll from an explosion of a tanker truck on Christmas Eve near eastern Johannesburg has risen to 34, including 10 health workers at a nearby hospital, officials report.
The truck was carrying gas when it got stuck under a low-lying bridge in the town of Boksburg, sparking flames. As firefighters tried to extinguish them the tanker exploded, according to emergency services officials.
A "fire bomb" from the explosion substantially damaged Tambo Memorial Hospital, located about 100 meters (110 yards) away, authorities said. Several health workers were in the hospital's parking lot, some about to leave after their shifts and others trying to move their cars away from the fire.
In addition to the loss of life, the hospital's emergency unit and X-ray department were badly damaged, Minister of Health Joe Phaahla said.
Other fatalities were residents who had gathered to see the burning truck. At least 321 injured people were taken to the damaged hospital, though some were later transferred to others in the Johannesburg area.
Several houses and vehicles were also damaged by the explosion, according to officials.
"A fireball in the sky," is how resident Rolf Bjornstad described the explosion to South Africa's News24 website.
"There was heat coming into the house. I thought of my wife, kids, and helping the affected people," he said.
The South Africa Council of Churches held a memorial service for all those killed in the accident.
The 32-year-old driver was taken into custody a few days after the accident but then was released by officials who said there was insufficient evidence to charge him.
The tanker truck transporting liquefied petroleum gas — used in homes and industries for heating and cooking — was en route to Botswana from South Africa's Indian Ocean port of Richards Bay, said officials.
The company that had hired the driver, Innovative Staff Solutions, has said that he was not negligent. He had taken a wrong turn and was following directions to get back onto the highway. The clearance for the bridge was not visible but he stopped and estimated that the truck would get under the bridge. But he did not calculate that as the front of the truck went lower in a dip the back end would go higher.
When the rear of the truck got stuck the driver called the fire department and tried to keep motorists and pedestrians away from the site. He collapsed from inhaling the gas fumes and was taken away by an ambulance shortly before the explosion, said local media.
The incident will be investigated, said Tania Campbell, the mayor of Ekurhuleni, the municipality which includes Boksburg.