Spain is 1st Black woman to lead South Carolina Democrats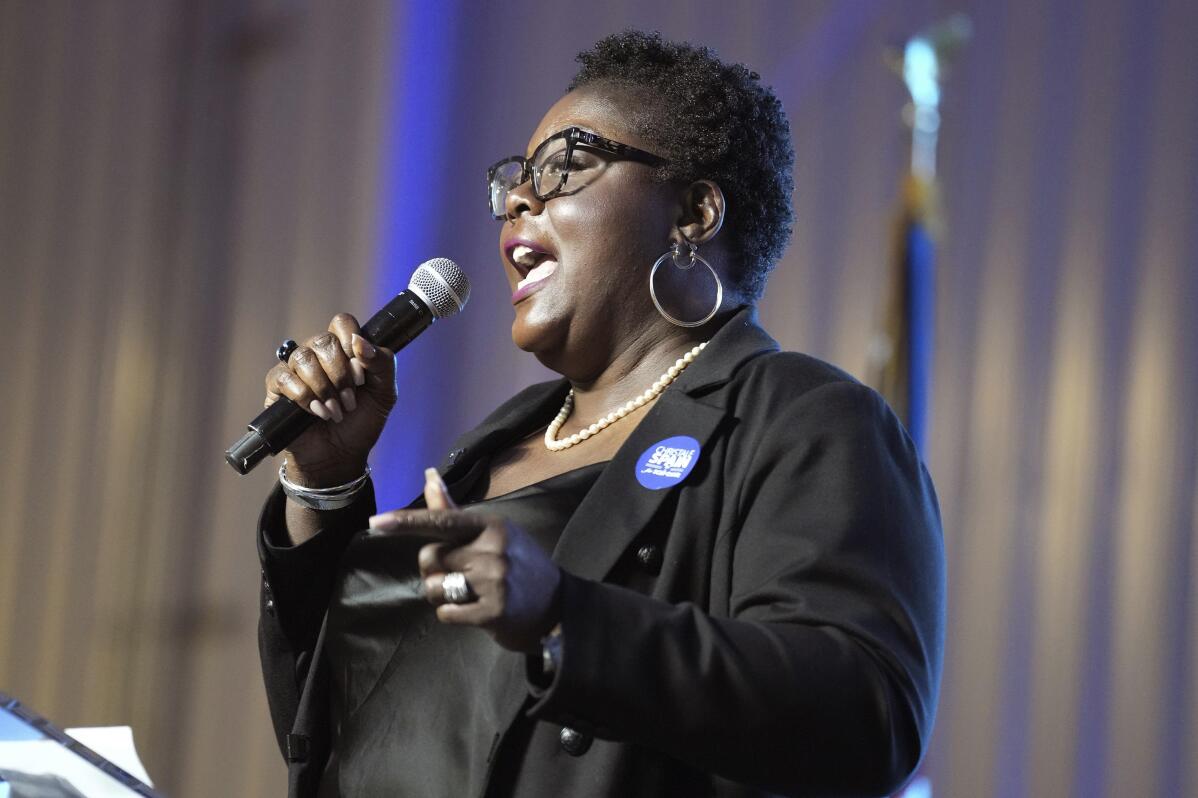 1 of 10

|
Party operative Christale Spain gives her speech as a candidate for chair of the South Democratic Party during the party's convention on Saturday, April 29, 2023, in Columbia, S.C. Spain was elected as the first Black woman to lead the state party. (AP Photo/Meg Kinnard)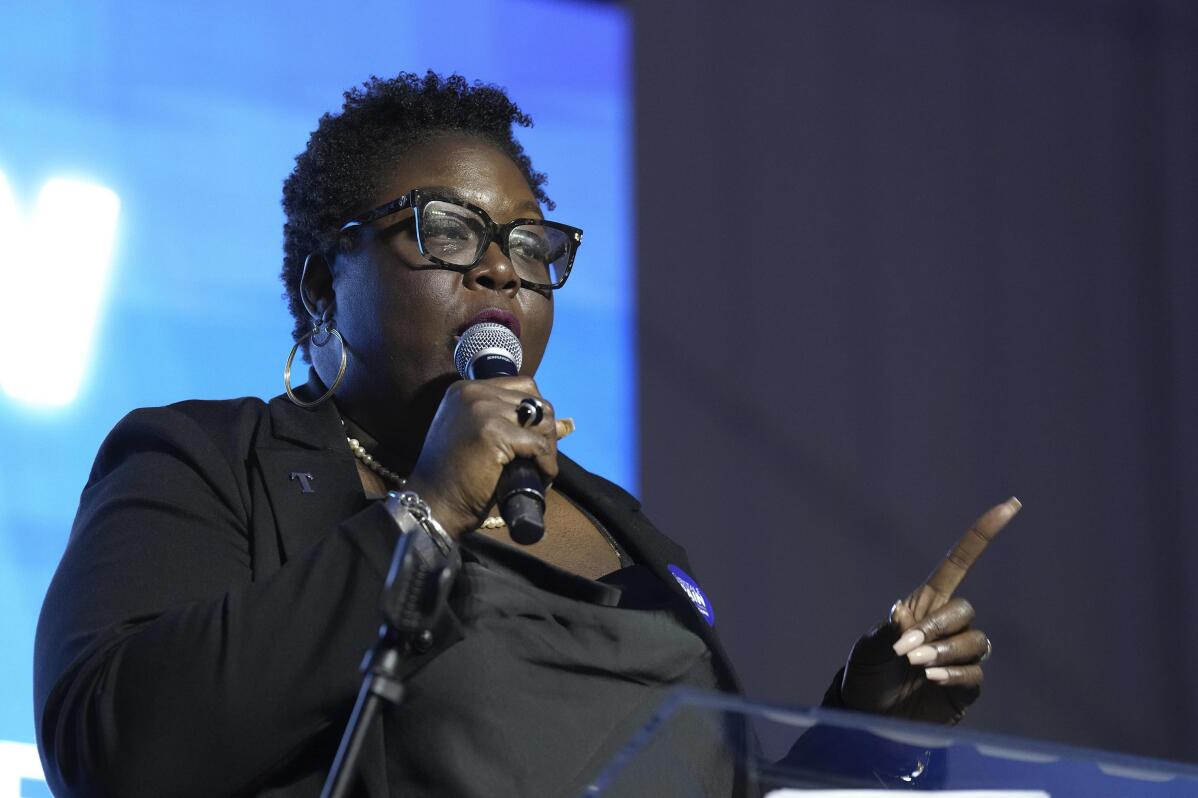 2 of 10

|
Party operative Christale Spain gives her speech as a candidate for chair of the South Democratic Party during the party's convention on Saturday, April 29, 2023, in Columbia, S.C. (AP Photo/Meg Kinnard)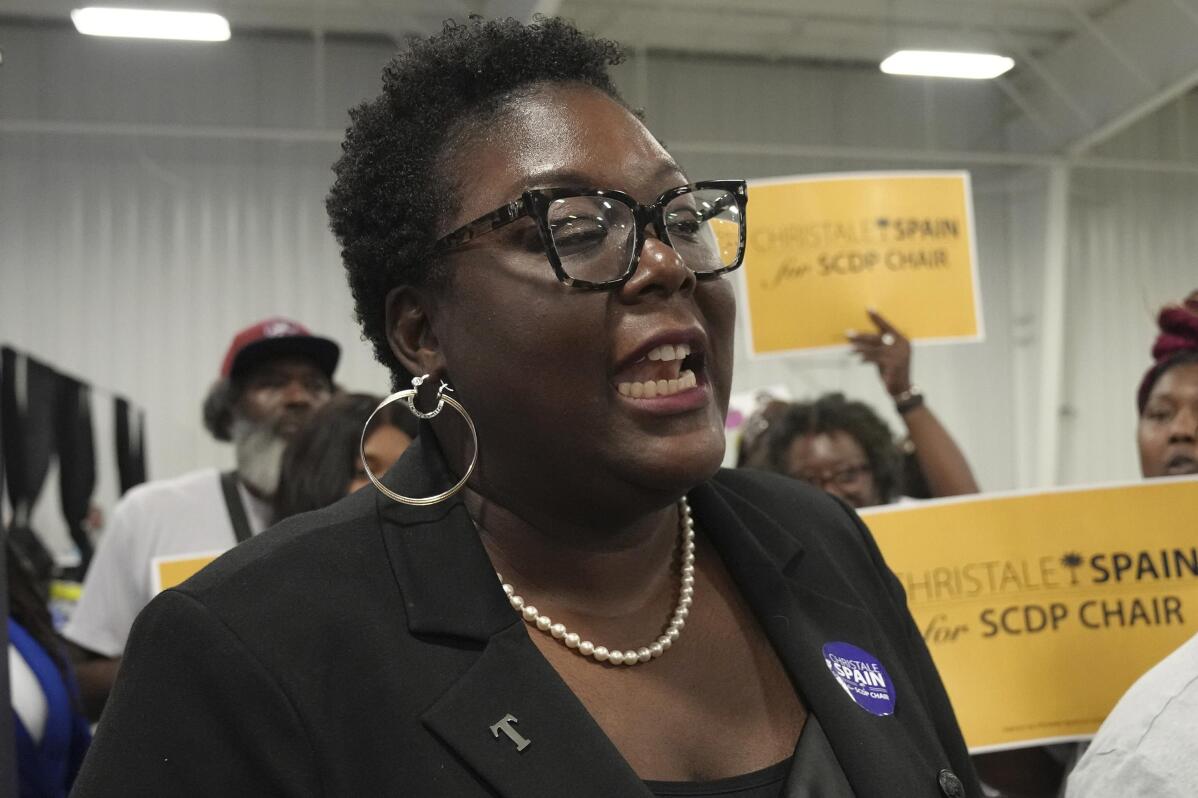 3 of 10

|
Party operative Christale Spain talks to reporters after her election as chair of the South Democratic Party during the party's convention on Saturday, April 29, 2023, in Columbia, S.C. Spain was elected as the first Black woman to lead the state party. (AP Photo/Meg Kinnard)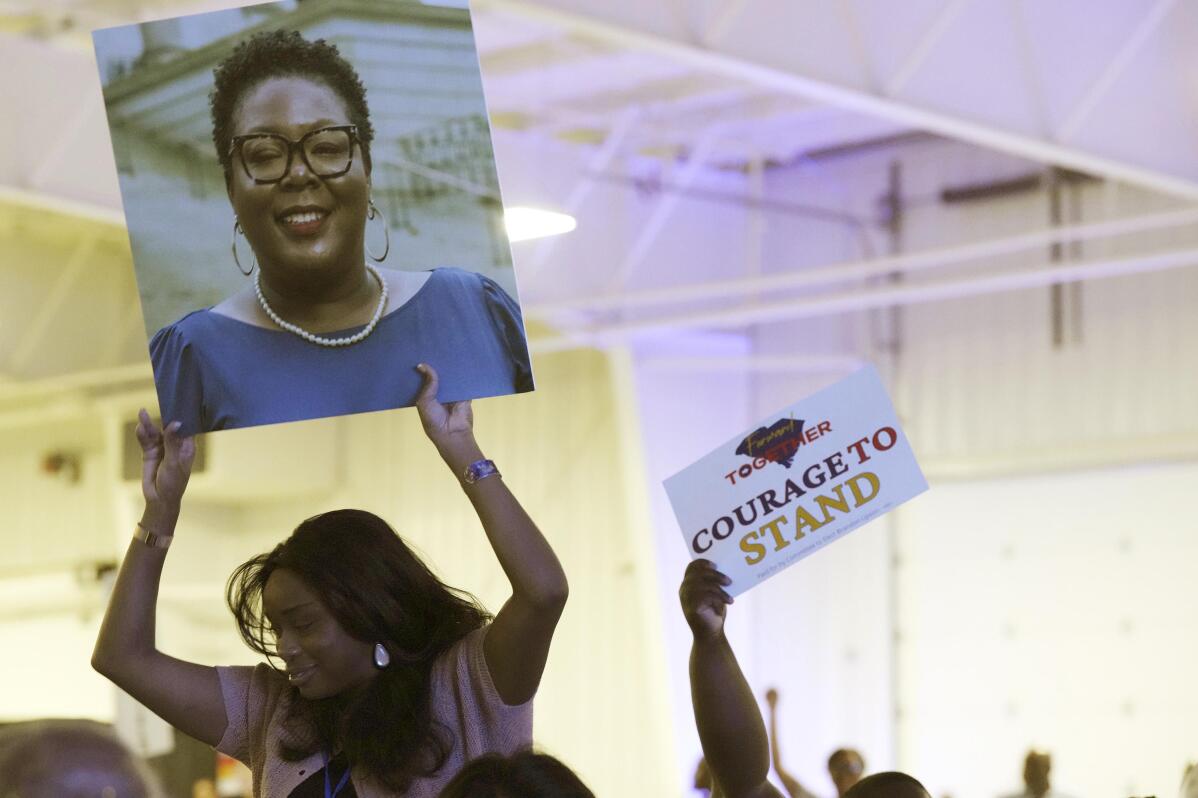 4 of 10

|
Supporters hold signs as they prepare to cast ballots in the contest for chair of the South Carolina Democratic Party on Saturday, April 29, 2023, in Columbia, S.C. (AP Photo/Meg Kinnard)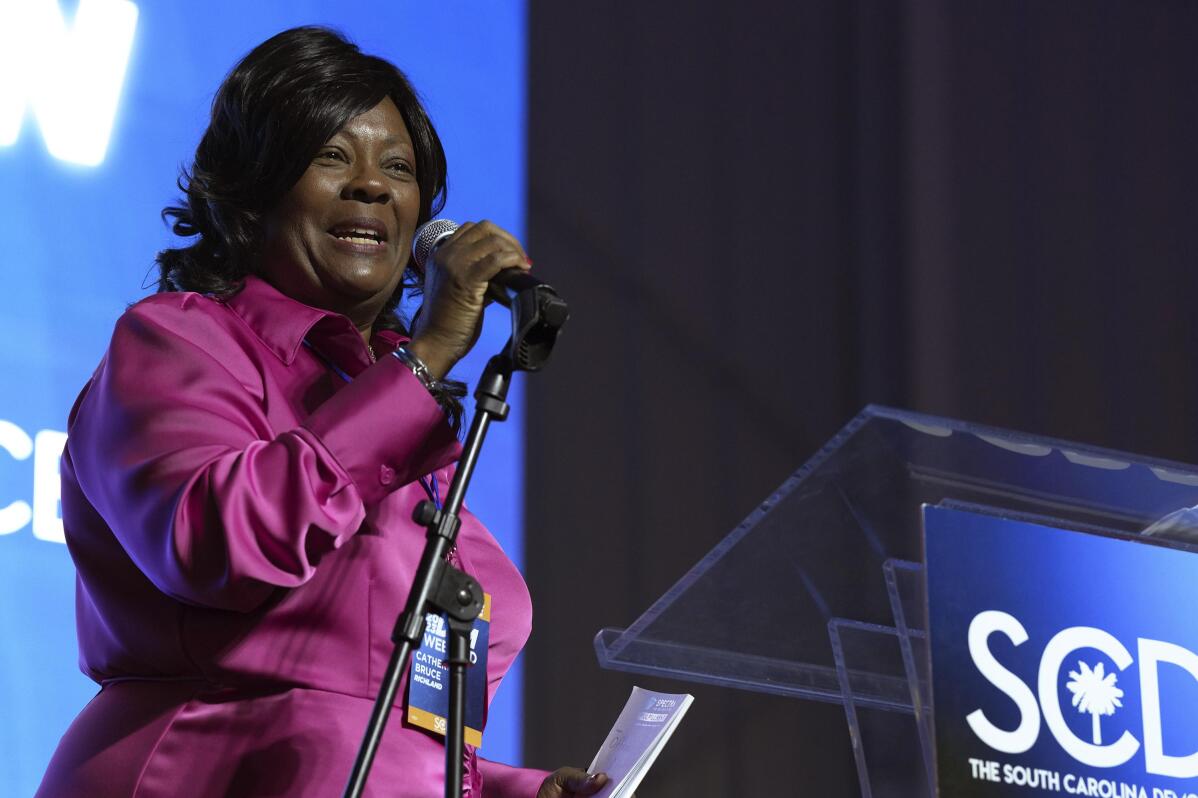 5 of 10

|
Author and preservationist Catherine Fleming Bruce gives her speech as a candidate for chair of the South Democratic Party during the party's convention on Saturday, April 29, 2023, in Columbia, S.C. Party operative Christale Spain was elected as the first Black woman to lead the state party. (AP Photo/Meg Kinnard)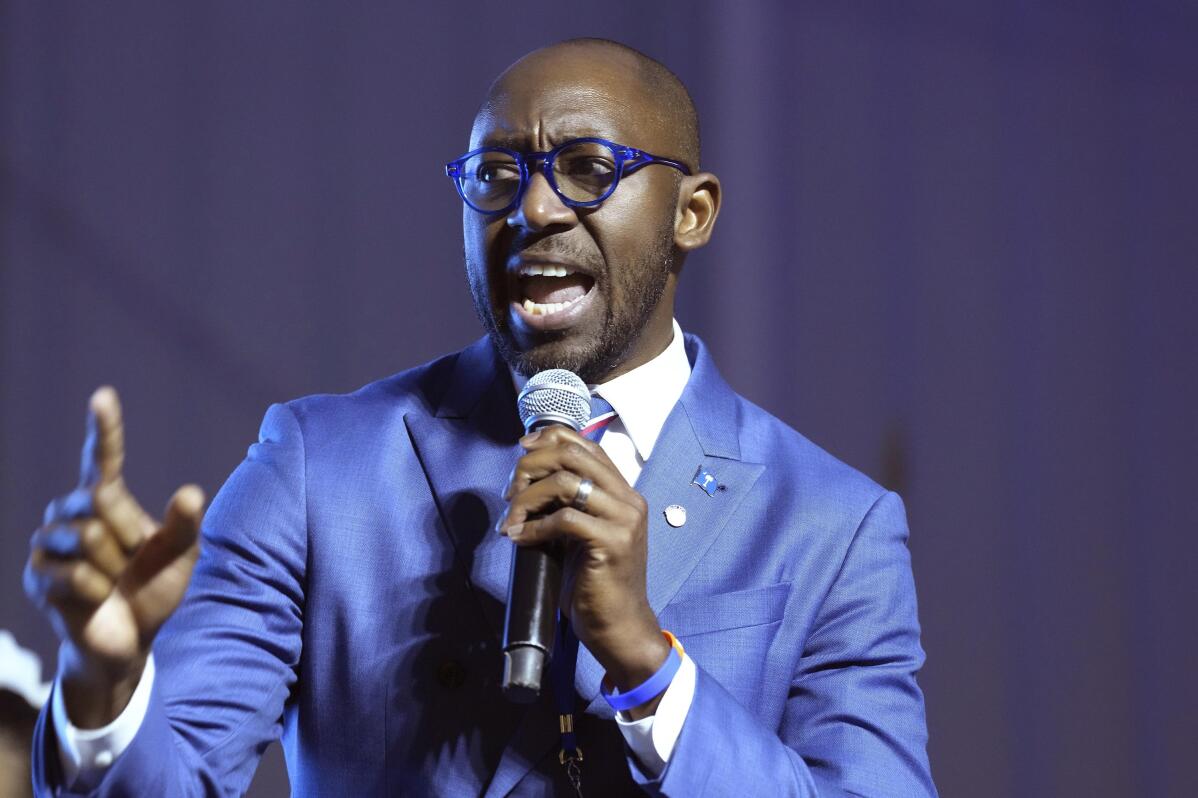 6 of 10

|
South Carolina Democratic Party Black Caucus Chairman Brandon Upson gives his speech as a candidate for chair of the South Democratic Party during the party's convention on Saturday, April 29, 2023, in Columbia, S.C. (AP Photo/Meg Kinnard)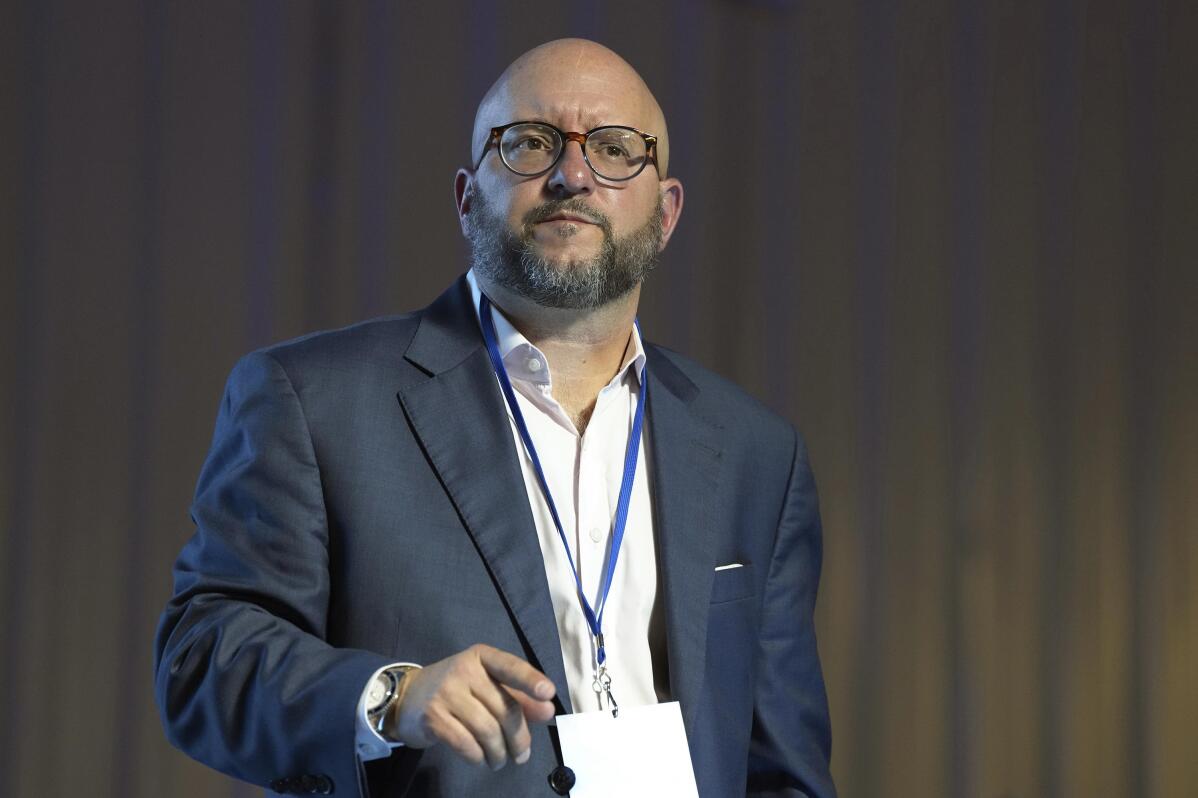 7 of 10

|
Outgoing South Carolina Democratic Party Chairman Trav Robertson looks on as candidates give their speeches in the contest for the party's next leader during a convention on Saturday, April 29, 2023, in Columbia, S.C. (AP Photo/Meg Kinnard)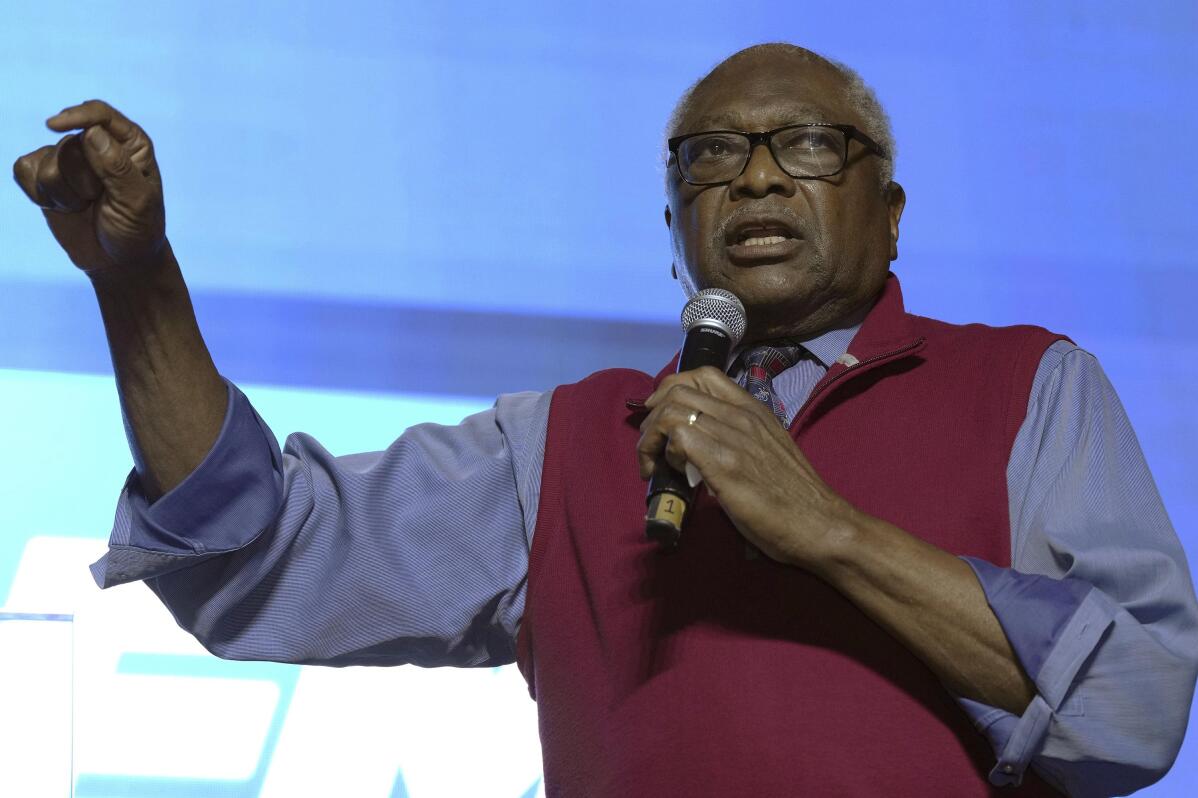 8 of 10

|
Rep. Jim Clyburn, D-S.C., gives a speech nominating Christale Spain to serve as the next chair of the South Democratic Party during the party's convention on Saturday, April 29, 2023, in Columbia, S.C. Spain was elected as the first Black woman to lead the state party. (AP Photo/Meg Kinnard)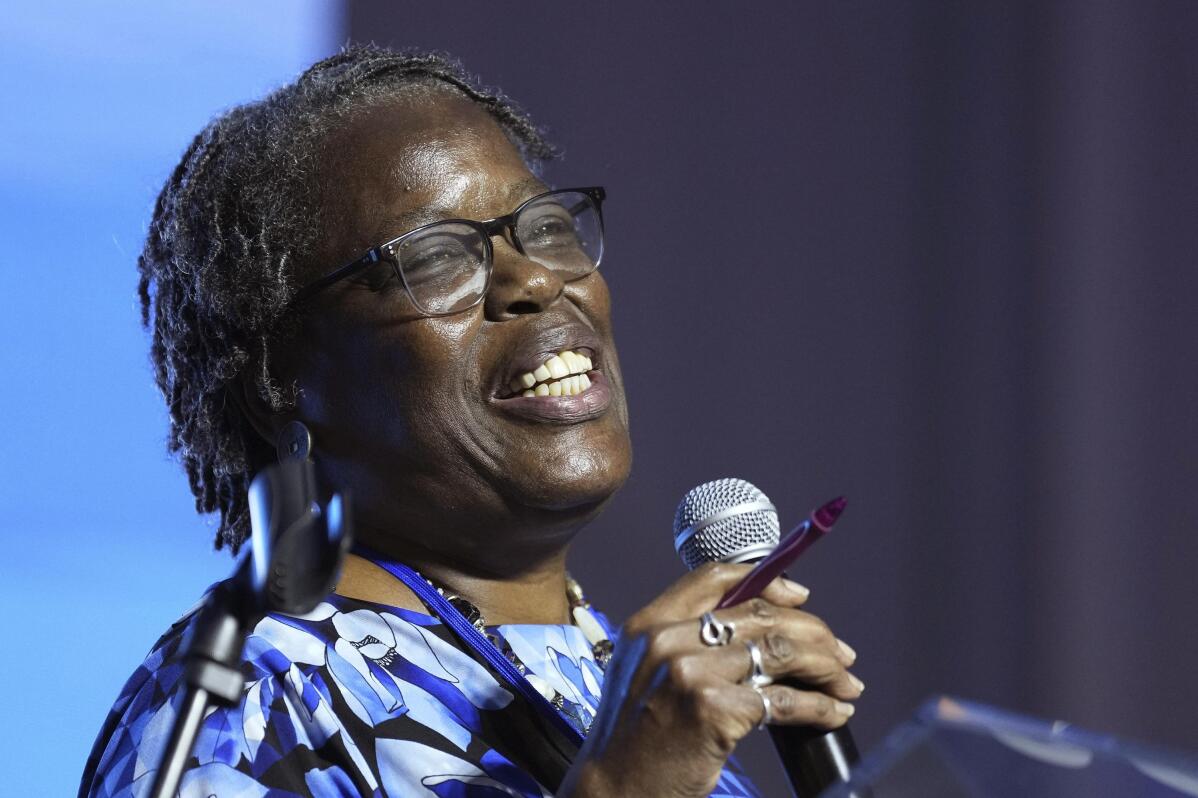 9 of 10

|
State Rep. Gilda Cobb-Hunter, D-Orangeburg, gives a speech nominating Brandon Upson as next chair of the South Carolina Democratic Party on Saturday, April 29, 2023, in Columbia, S.C. (AP Photo/Meg Kinnard)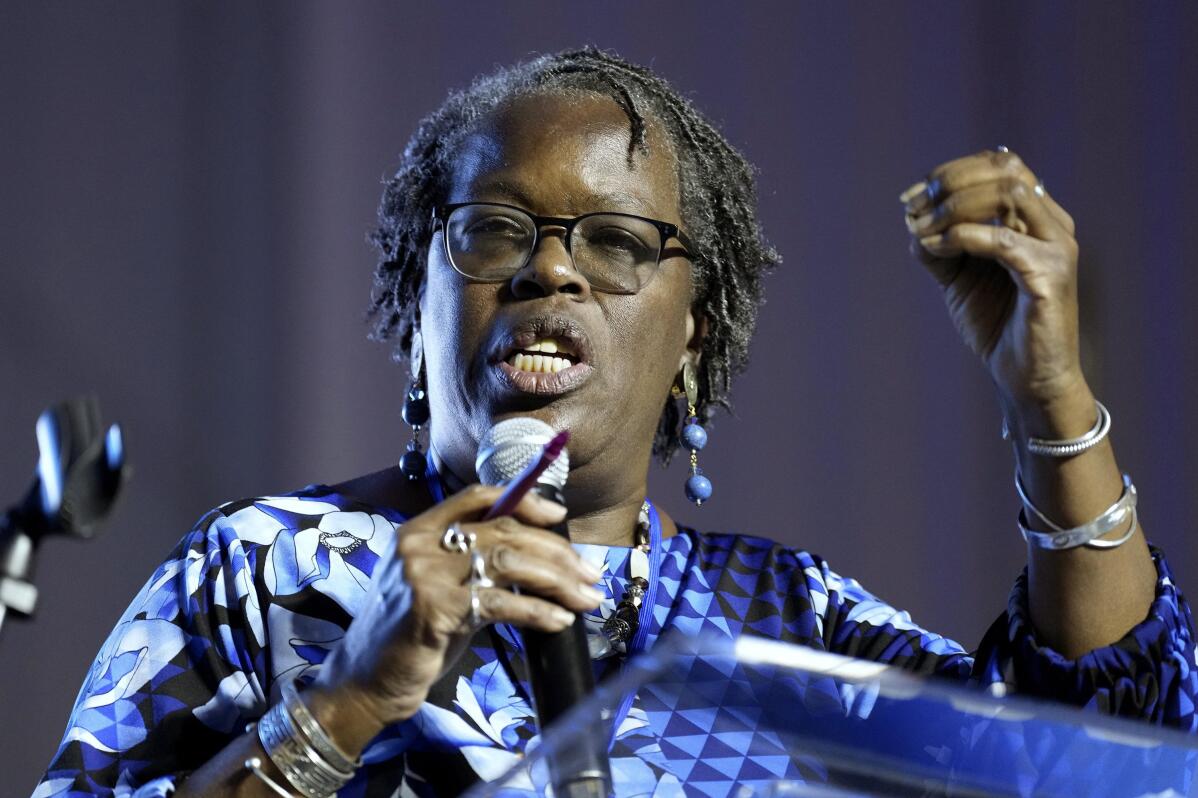 10 of 10

|
State Rep. Gilda Cobb-Hunter, D-Orangeburg, gives a speech nominating Brandon Upson to be the next chair of the South Carolina Democratic Party on Saturday, April 29, 2023, in Columbia, S.C. (AP Photo/Meg Kinnard)
Spain is 1st Black woman to lead South Carolina Democrats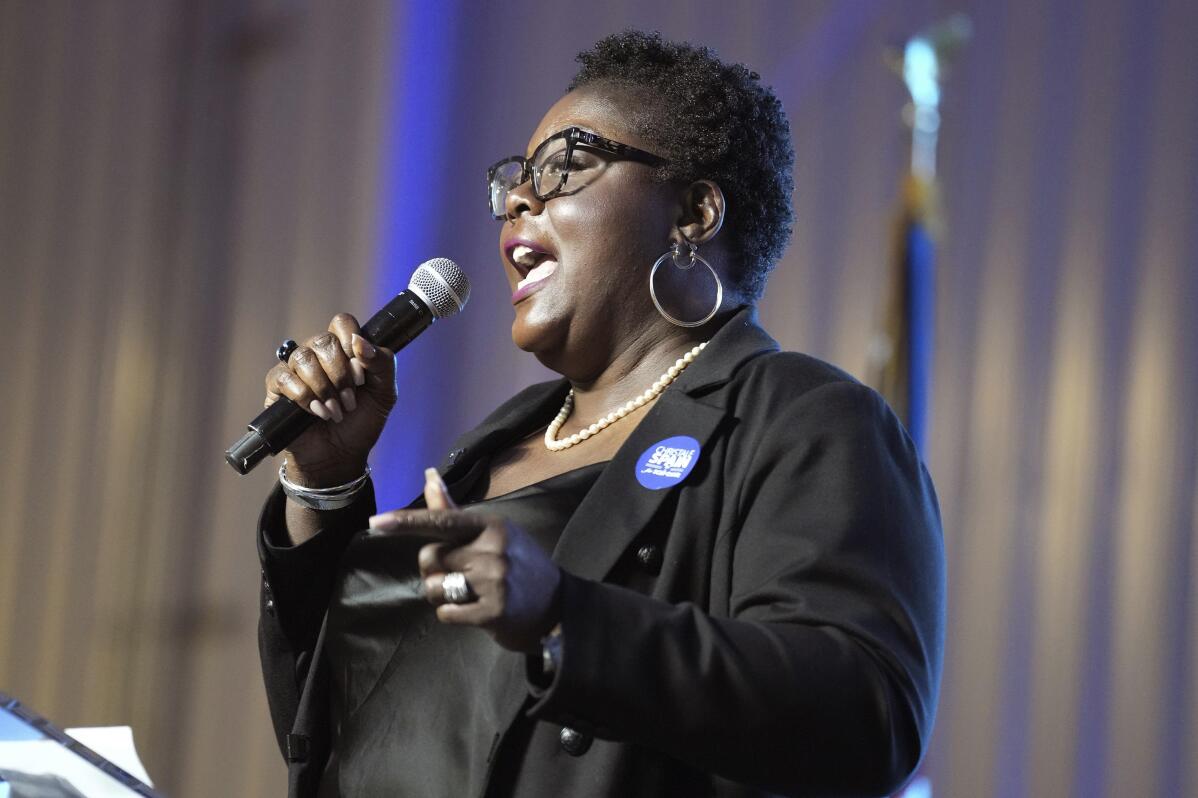 1 of 10

|
Party operative Christale Spain gives her speech as a candidate for chair of the South Democratic Party during the party's convention on Saturday, April 29, 2023, in Columbia, S.C. Spain was elected as the first Black woman to lead the state party. (AP Photo/Meg Kinnard)
1 of 10
Party operative Christale Spain gives her speech as a candidate for chair of the South Democratic Party during the party's convention on Saturday, April 29, 2023, in Columbia, S.C. Spain was elected as the first Black woman to lead the state party. (AP Photo/Meg Kinnard)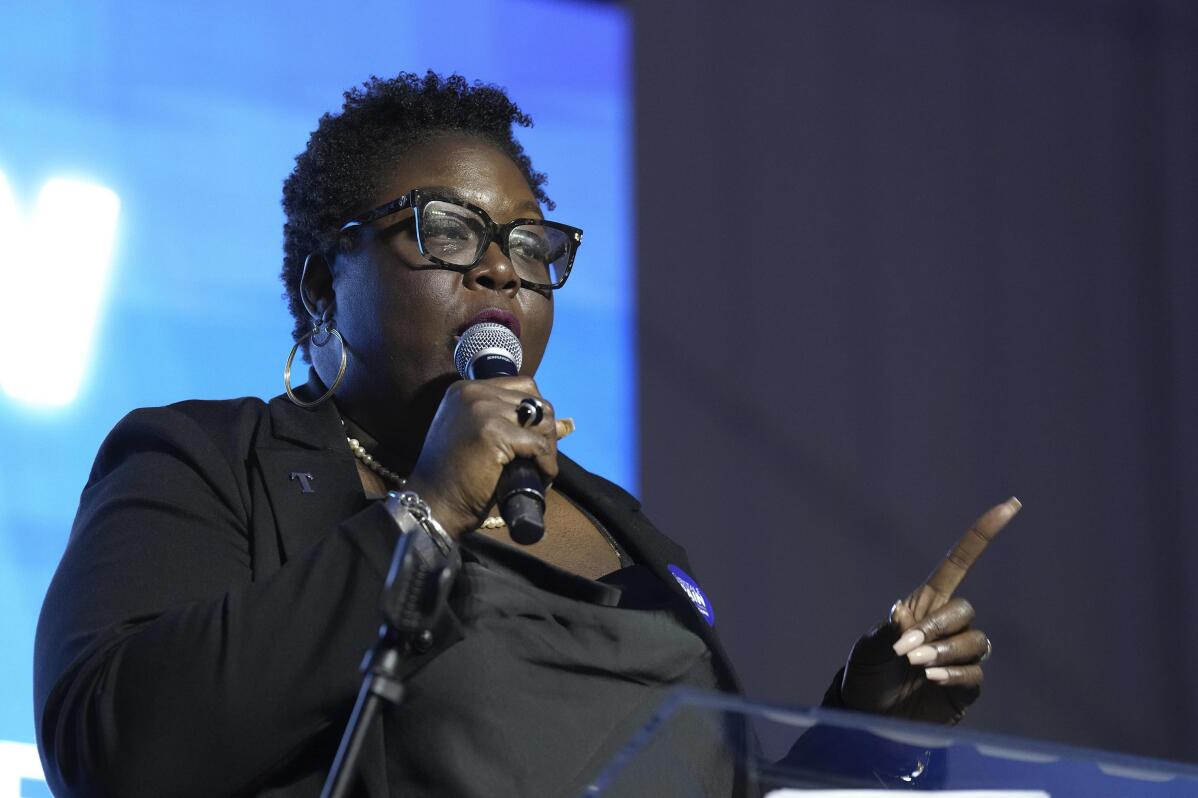 2 of 10

|
Party operative Christale Spain gives her speech as a candidate for chair of the South Democratic Party during the party's convention on Saturday, April 29, 2023, in Columbia, S.C. (AP Photo/Meg Kinnard)
2 of 10
Party operative Christale Spain gives her speech as a candidate for chair of the South Democratic Party during the party's convention on Saturday, April 29, 2023, in Columbia, S.C. (AP Photo/Meg Kinnard)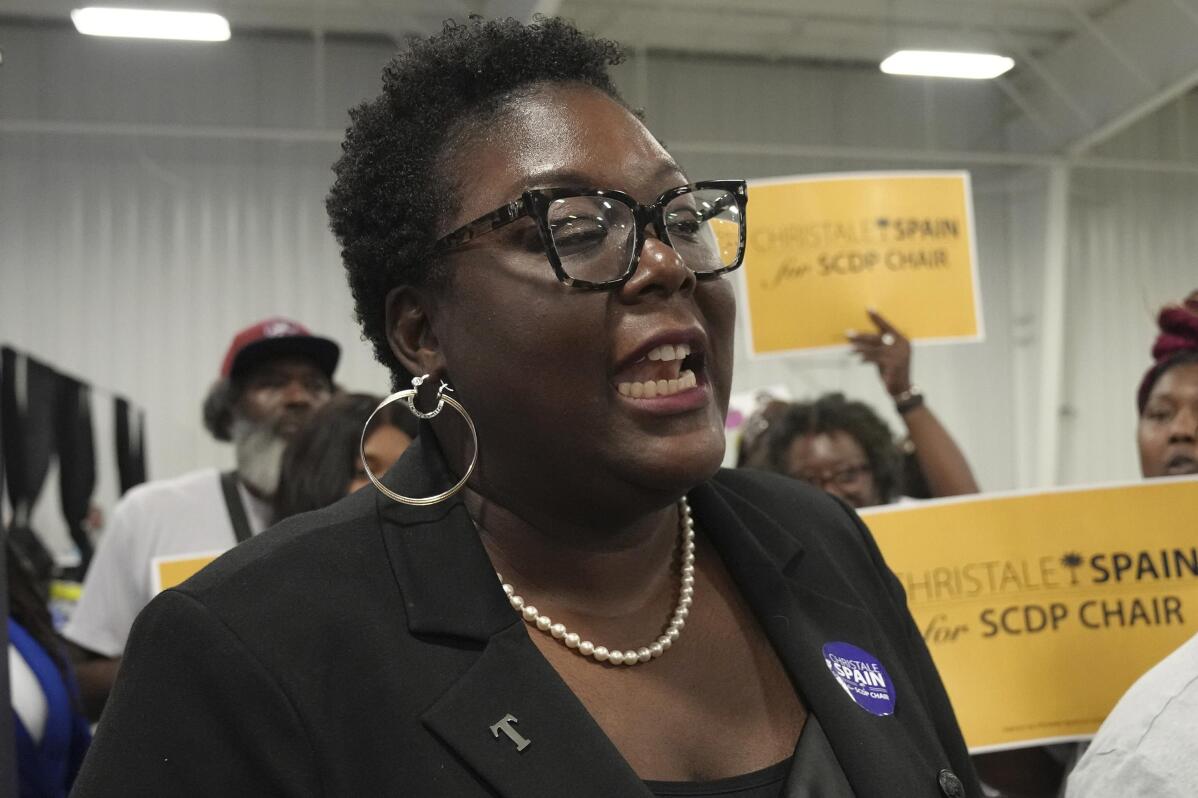 3 of 10

|
Party operative Christale Spain talks to reporters after her election as chair of the South Democratic Party during the party's convention on Saturday, April 29, 2023, in Columbia, S.C. Spain was elected as the first Black woman to lead the state party. (AP Photo/Meg Kinnard)
3 of 10
Party operative Christale Spain talks to reporters after her election as chair of the South Democratic Party during the party's convention on Saturday, April 29, 2023, in Columbia, S.C. Spain was elected as the first Black woman to lead the state party. (AP Photo/Meg Kinnard)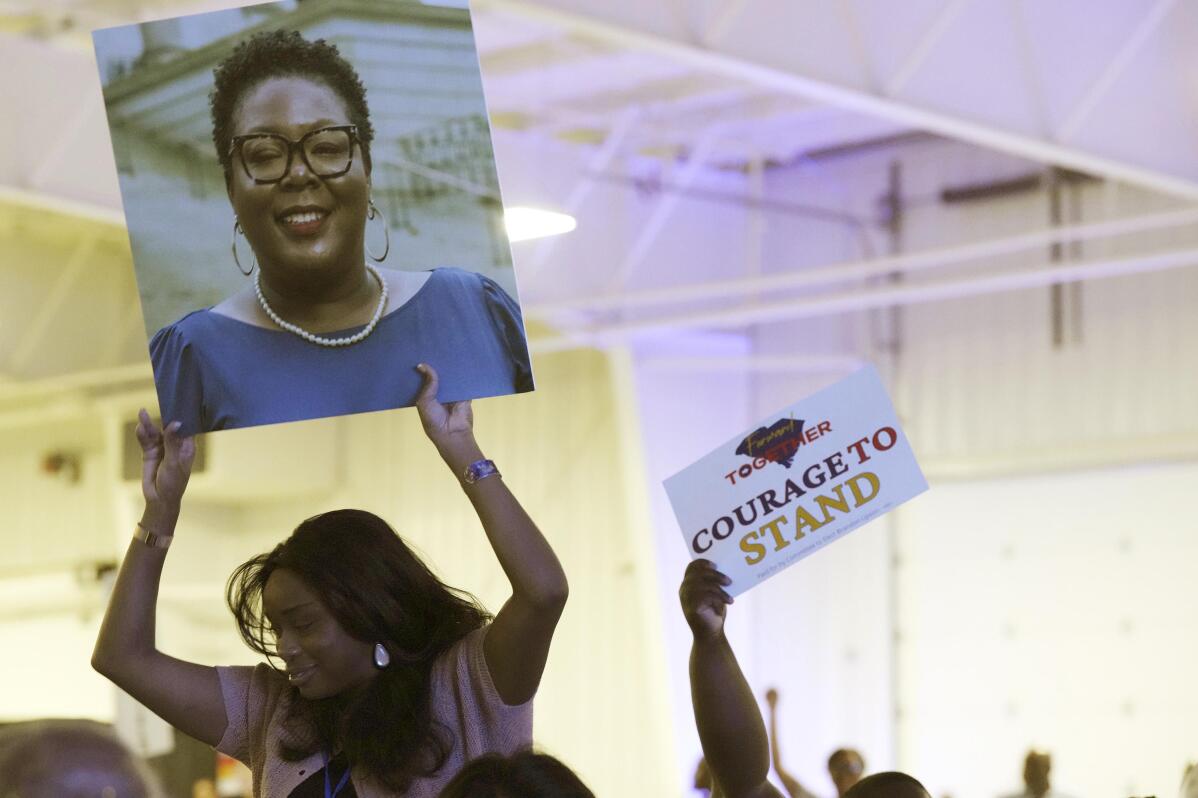 4 of 10

|
Supporters hold signs as they prepare to cast ballots in the contest for chair of the South Carolina Democratic Party on Saturday, April 29, 2023, in Columbia, S.C. (AP Photo/Meg Kinnard)
4 of 10
Supporters hold signs as they prepare to cast ballots in the contest for chair of the South Carolina Democratic Party on Saturday, April 29, 2023, in Columbia, S.C. (AP Photo/Meg Kinnard)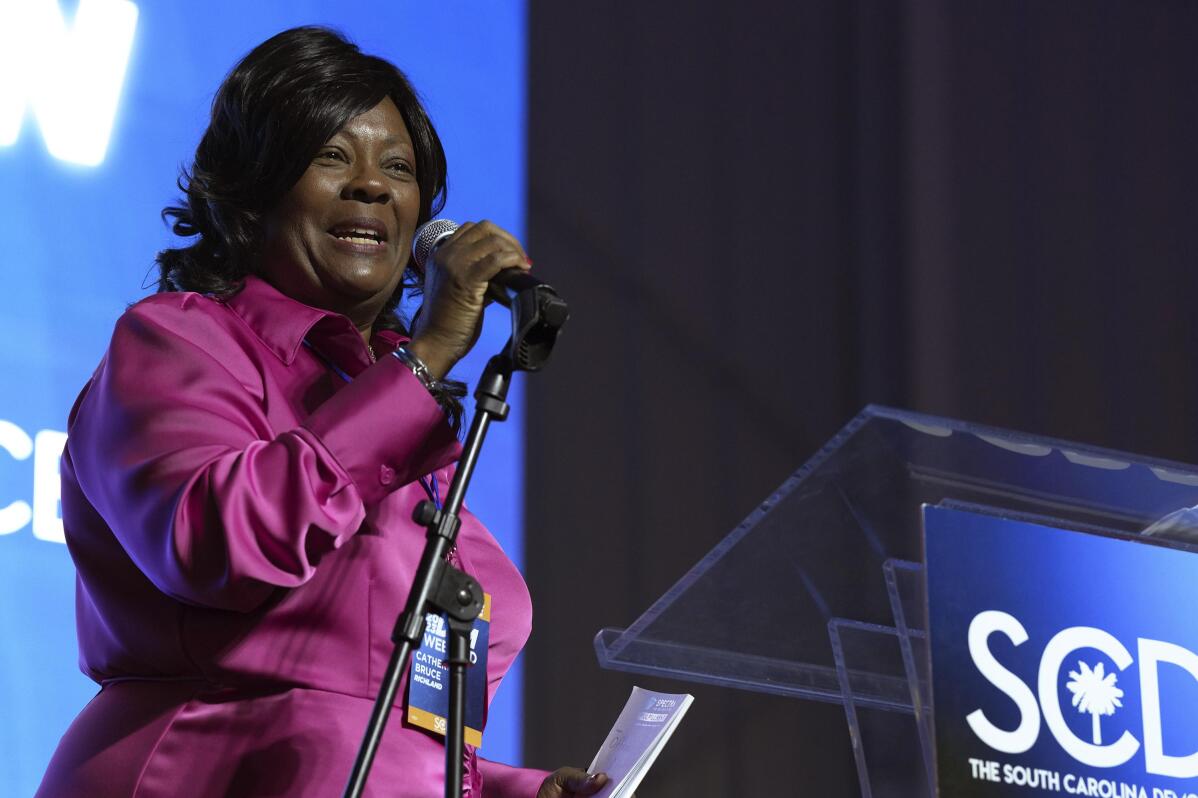 5 of 10

|
Author and preservationist Catherine Fleming Bruce gives her speech as a candidate for chair of the South Democratic Party during the party's convention on Saturday, April 29, 2023, in Columbia, S.C. Party operative Christale Spain was elected as the first Black woman to lead the state party. (AP Photo/Meg Kinnard)
5 of 10
Author and preservationist Catherine Fleming Bruce gives her speech as a candidate for chair of the South Democratic Party during the party's convention on Saturday, April 29, 2023, in Columbia, S.C. Party operative Christale Spain was elected as the first Black woman to lead the state party. (AP Photo/Meg Kinnard)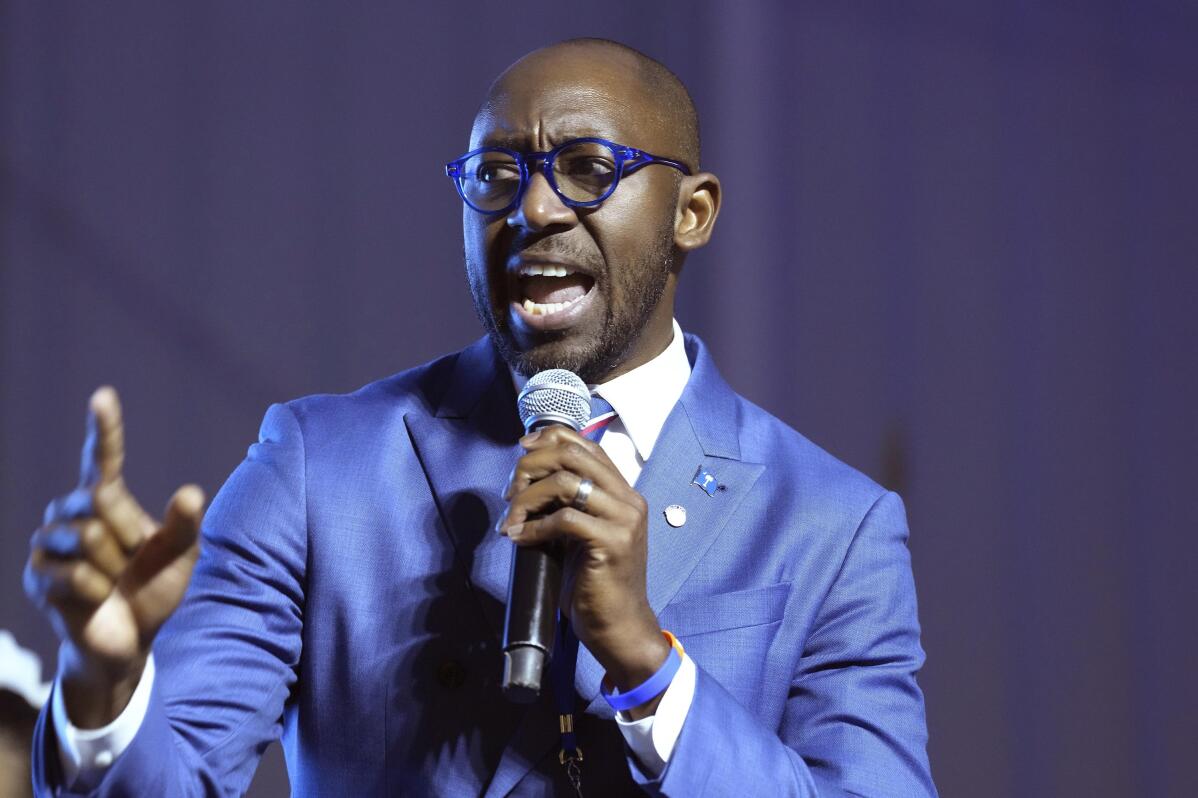 6 of 10

|
South Carolina Democratic Party Black Caucus Chairman Brandon Upson gives his speech as a candidate for chair of the South Democratic Party during the party's convention on Saturday, April 29, 2023, in Columbia, S.C. (AP Photo/Meg Kinnard)
6 of 10
South Carolina Democratic Party Black Caucus Chairman Brandon Upson gives his speech as a candidate for chair of the South Democratic Party during the party's convention on Saturday, April 29, 2023, in Columbia, S.C. (AP Photo/Meg Kinnard)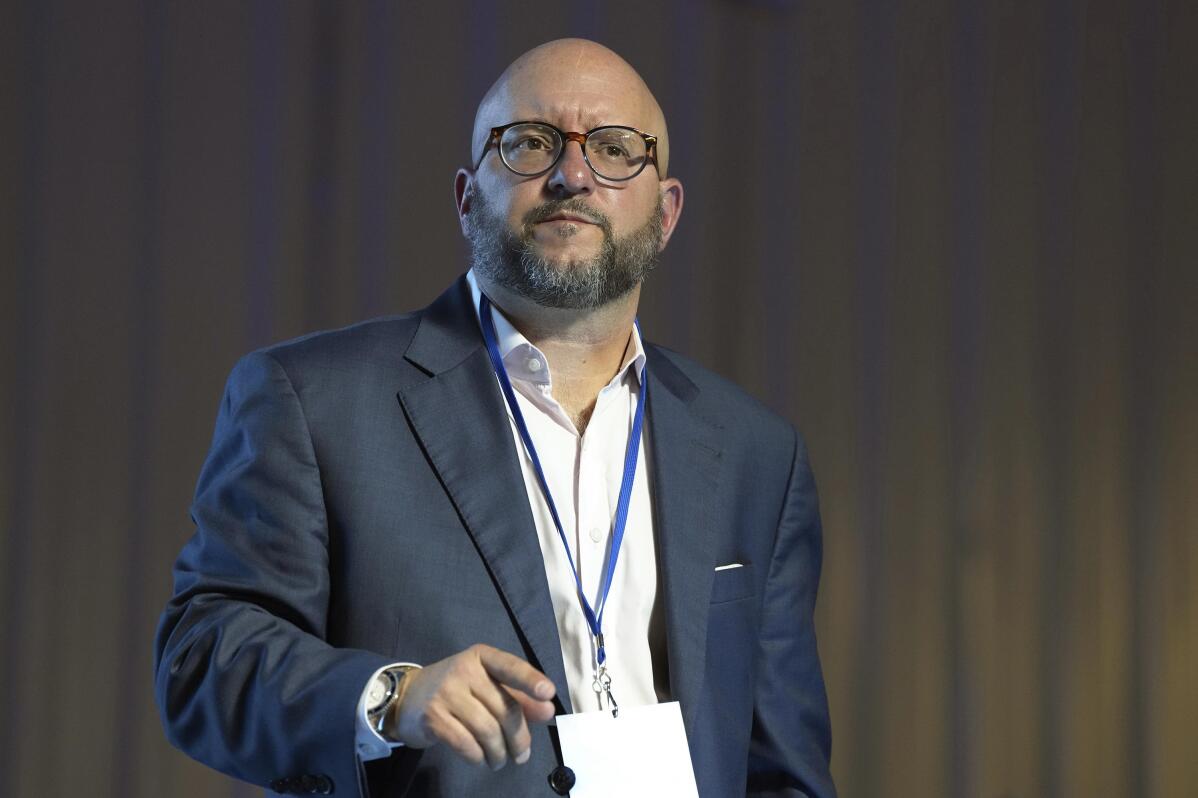 7 of 10

|
Outgoing South Carolina Democratic Party Chairman Trav Robertson looks on as candidates give their speeches in the contest for the party's next leader during a convention on Saturday, April 29, 2023, in Columbia, S.C. (AP Photo/Meg Kinnard)
7 of 10
Outgoing South Carolina Democratic Party Chairman Trav Robertson looks on as candidates give their speeches in the contest for the party's next leader during a convention on Saturday, April 29, 2023, in Columbia, S.C. (AP Photo/Meg Kinnard)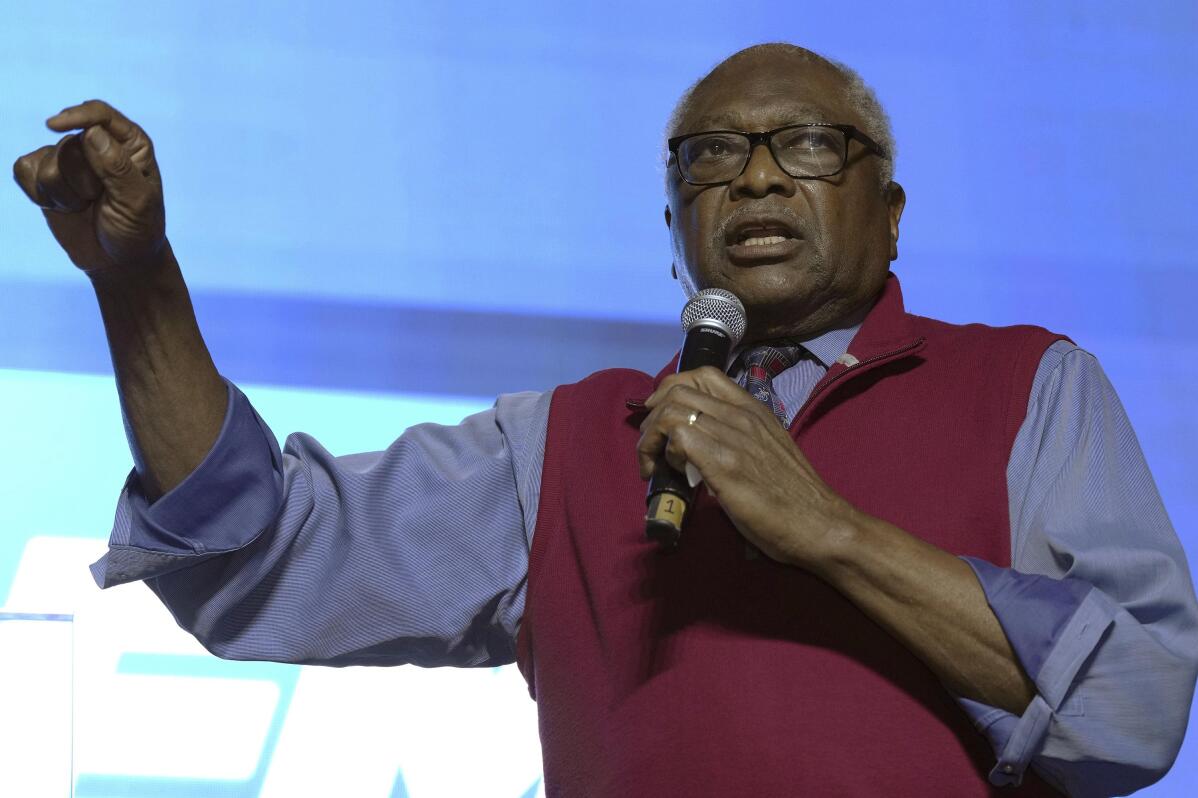 8 of 10

|
Rep. Jim Clyburn, D-S.C., gives a speech nominating Christale Spain to serve as the next chair of the South Democratic Party during the party's convention on Saturday, April 29, 2023, in Columbia, S.C. Spain was elected as the first Black woman to lead the state party. (AP Photo/Meg Kinnard)
8 of 10
Rep. Jim Clyburn, D-S.C., gives a speech nominating Christale Spain to serve as the next chair of the South Democratic Party during the party's convention on Saturday, April 29, 2023, in Columbia, S.C. Spain was elected as the first Black woman to lead the state party. (AP Photo/Meg Kinnard)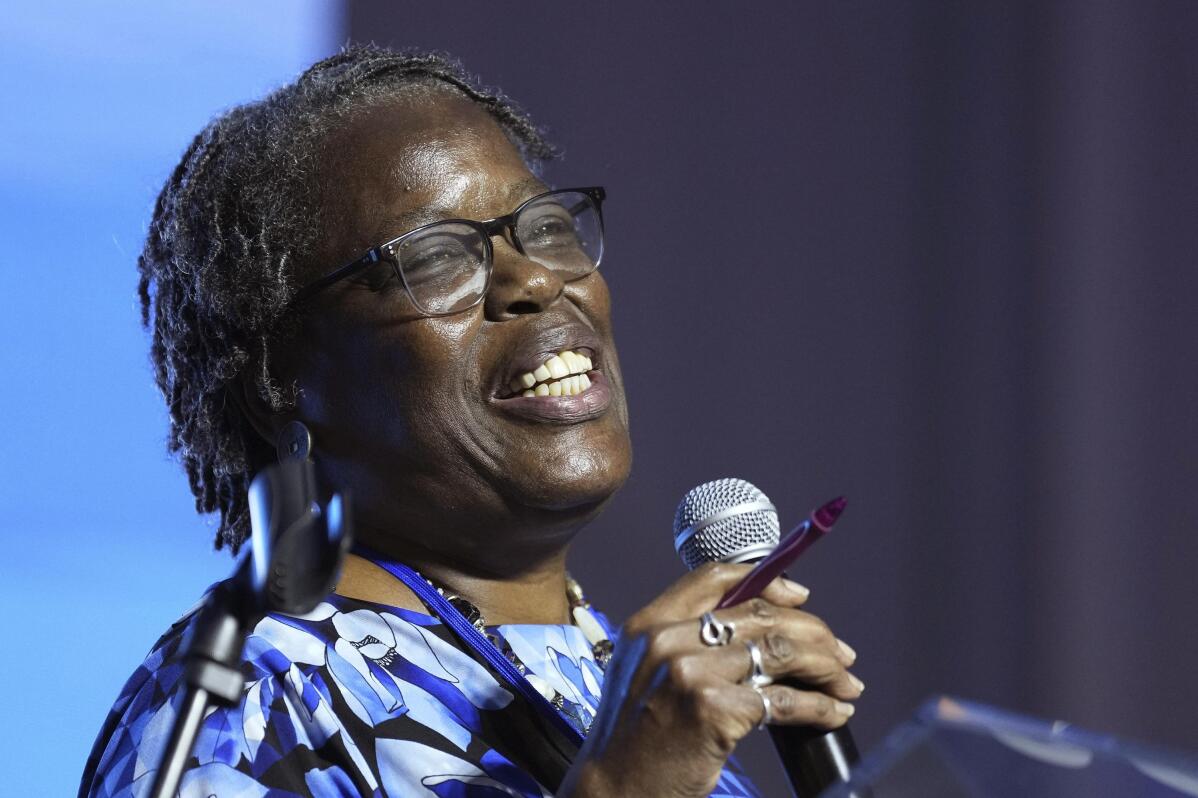 9 of 10

|
State Rep. Gilda Cobb-Hunter, D-Orangeburg, gives a speech nominating Brandon Upson as next chair of the South Carolina Democratic Party on Saturday, April 29, 2023, in Columbia, S.C. (AP Photo/Meg Kinnard)
9 of 10
State Rep. Gilda Cobb-Hunter, D-Orangeburg, gives a speech nominating Brandon Upson as next chair of the South Carolina Democratic Party on Saturday, April 29, 2023, in Columbia, S.C. (AP Photo/Meg Kinnard)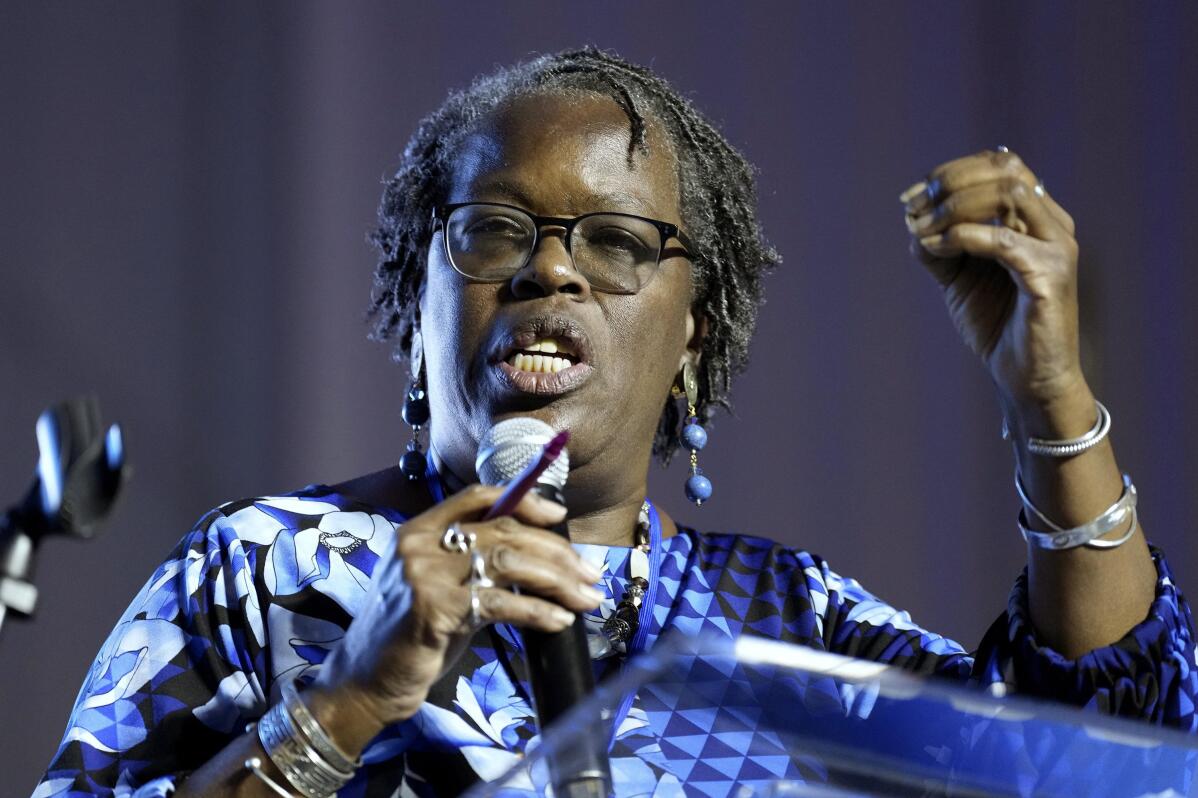 10 of 10

|
State Rep. Gilda Cobb-Hunter, D-Orangeburg, gives a speech nominating Brandon Upson to be the next chair of the South Carolina Democratic Party on Saturday, April 29, 2023, in Columbia, S.C. (AP Photo/Meg Kinnard)
10 of 10
State Rep. Gilda Cobb-Hunter, D-Orangeburg, gives a speech nominating Brandon Upson to be the next chair of the South Carolina Democratic Party on Saturday, April 29, 2023, in Columbia, S.C. (AP Photo/Meg Kinnard)
COLUMBIA, S.C. (AP) — Christale Spain, a longtime party operative, was elected Saturday as chair of South Carolina's Democratic Party, becoming the first Black woman to lead the organization in what will be the Democrats' leadoff presidential voting state in 2024.
Spain was elected during the party's convention Saturday in Columbia. She takes over in a wave of changes across state Democratic parties for 2024. With her election, and thanks to the party's recent revamp of its primary schedule, four of the five states in which Democrats will vote first next year — Georgia, Michigan, Nevada and South Carolina — now have Black women chairing their state parties.
Putting states with more diversity at the top of the voting calendar was a priority for President Joe Biden, who recently moved on his own reelection bid and pushed to move South Carolina — a state where he won big in 2020 — to the top of the nominating calendar.
Calling her victory "a historic moment for our party, for women," Spain pledged to implement "year-round voter engagement" and mobilization efforts, in hopes of garnering more statewide wins for the party, as the nation's attention hones in on South Carolina for the 2024 cycle.
"I now know from all the experience, all of the volunteering, all of the jobs that I've held, the importance of this role, who is setting the stage, who is implementing the strategy, so that we can win," Spain told reporters after.
Black women are major drivers of the Democratic electorate, particularly in South Carolina. Spain takes over from Trav Robertson, who has led the party since 2017 and announced earlier this year he wouldn't seek another term.
Spain had backing from a slew of party leaders, including Rep. Jim Clyburn, for whom Spain previously worked doing constituency service and outreach in his district office. She was also endorsed by former party leaders such as Robertson and Jaime Harrison, who preceded Robertson as state chair and currently leads the Democratic National Committee.
In a statement, Harrison said Spain "has the experience, judgment, and strategic vision to get South Carolina Democrats back on the winning track, and I know she will be an excellent chair."
Spain held off efforts by two other candidates, both of whom withdrew after early voting showed massive support for Spain. Brandon Upson, a progressive Democrat who chairs the state party's Black Caucus and advised Tom Steyer's 2020 presidential campaign in South Carolina, said he was pulling out "for the sake of unity" in the party, as it prepares for 2024.
Catherine Fleming Bruce, an author who unsuccessfully sought Democrats' 2022 nomination against Republican Sen. Tim Scott, also launched a bid.
Spain, 46, has years of experience in South Carolina's political spheres, working as political director for Sen. Bernie Sanders' 2016 presidential campaign and serving as Sen. Cory Booker's state director for his 2020 White House bid. For two years, she worked for Clyburn's district office, focusing on constituent service and outreach.
She also founded 46 Hope Road, a political action committee aimed at energizing voters who had been inactive since Barack Obama's 2008 presidential campaign, and worked on Black voter engagement for the Democratic Congressional Campaign Committee for the 2022 midterms.
While the national prominence of South Carolina's Democratic Party has risen — most recently when the Democratic National Committee made South Carolina the first voting state on its 2024 presidential primary calendar — South Carolina's Democrats have struggled to notch electoral wins at many levels of office.
Winless in statewide elections since 2006, Democrats hold only one of the state's seven House seats. The party last won a Senate race in 1998, and Jimmy Carter was the last Democrat to carry the state in a presidential election.
There have been some successes. In 2018, Joe Cunningham became the first Democrat to flip a House seat from red to blue in South Carolina in decades, though he lost his reelection bid two years later.
Opening his final convention as chair, Robertson glanced at the party's internal disputes, but expressing confidence the party could have future successes.
"We may fight like hell, but we will always be family," he said.
___
Meg Kinnard can be reached at http://twitter.com/MegKinnardAP.