South Dakota to cut sales tax by $104M annually for 4 years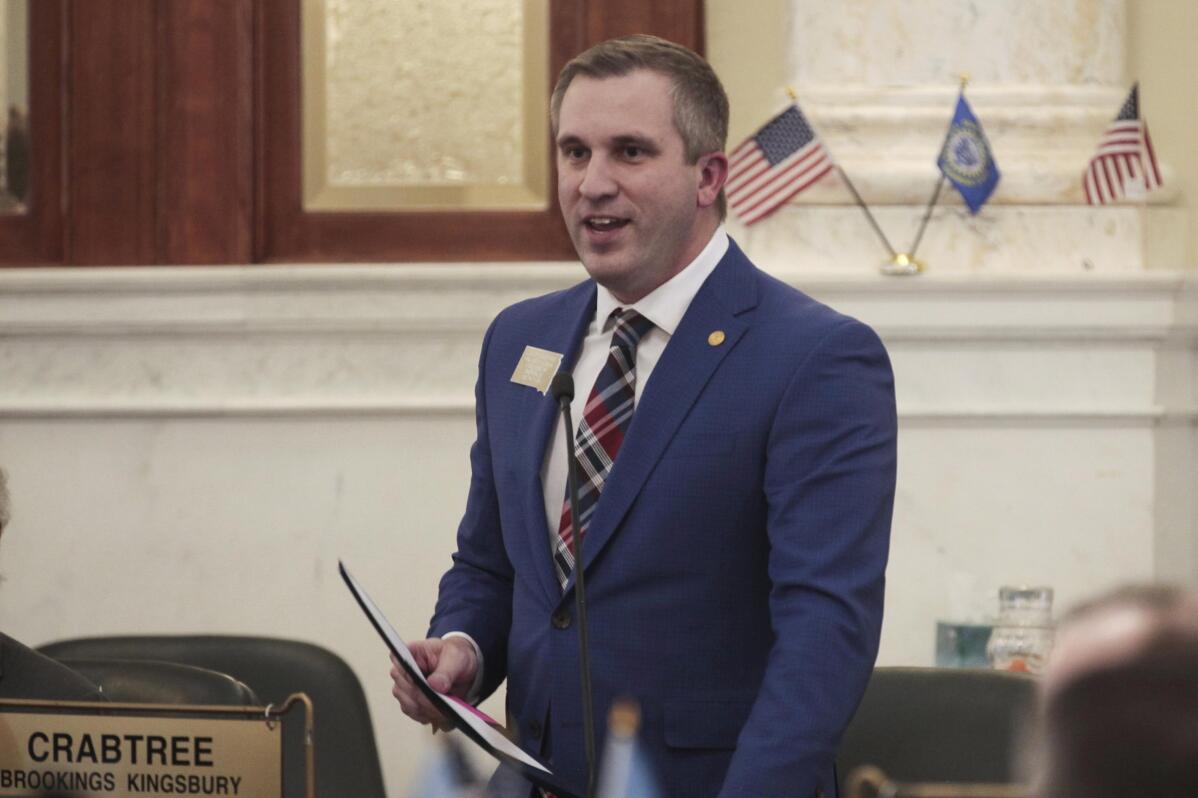 1 of 2

|
South Dakota Republican Senate Leader Casey Crabtree urges the full Senate to support the final general sales tax cut proposal at the state Capitol on Thursday, March 9, 2023, in Pierre, S.D. The proposal passed both chambers and awaits Republican Gov. Kristi Noem's approval. (AP Photo/Amancai Biraben)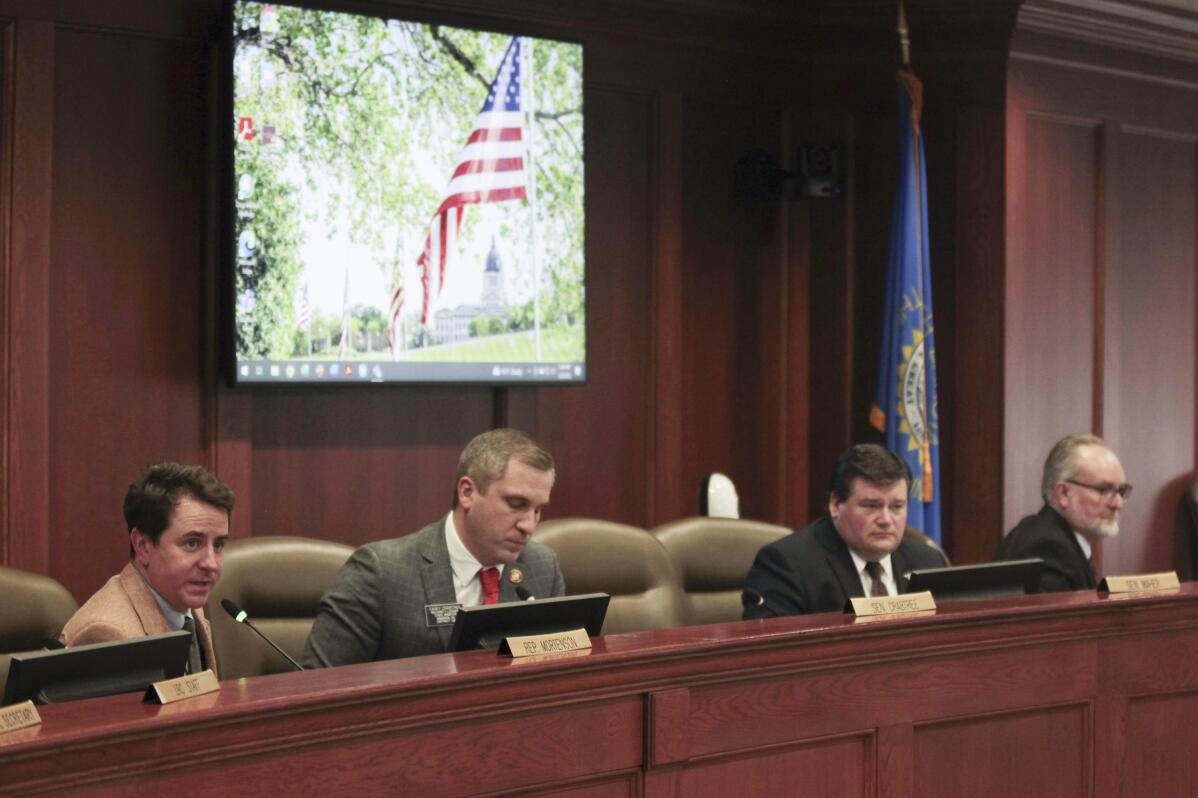 2 of 2

|
From left, Republicans Rep. Will Mortenson, Sen. Casey Crabtree and Sen. Ryan Maher, and Democratic Sen. Reynold Nesiba discuss the highest tax cut in the state's history Wednesday, March 8, 2023, in Pierre, S.D. Now headed to Republican Gov. Kristi Noem's desk, the tax cuts $104 million from general sales annually. (AP Photo/Amancai Biraben)
South Dakota to cut sales tax by $104M annually for 4 years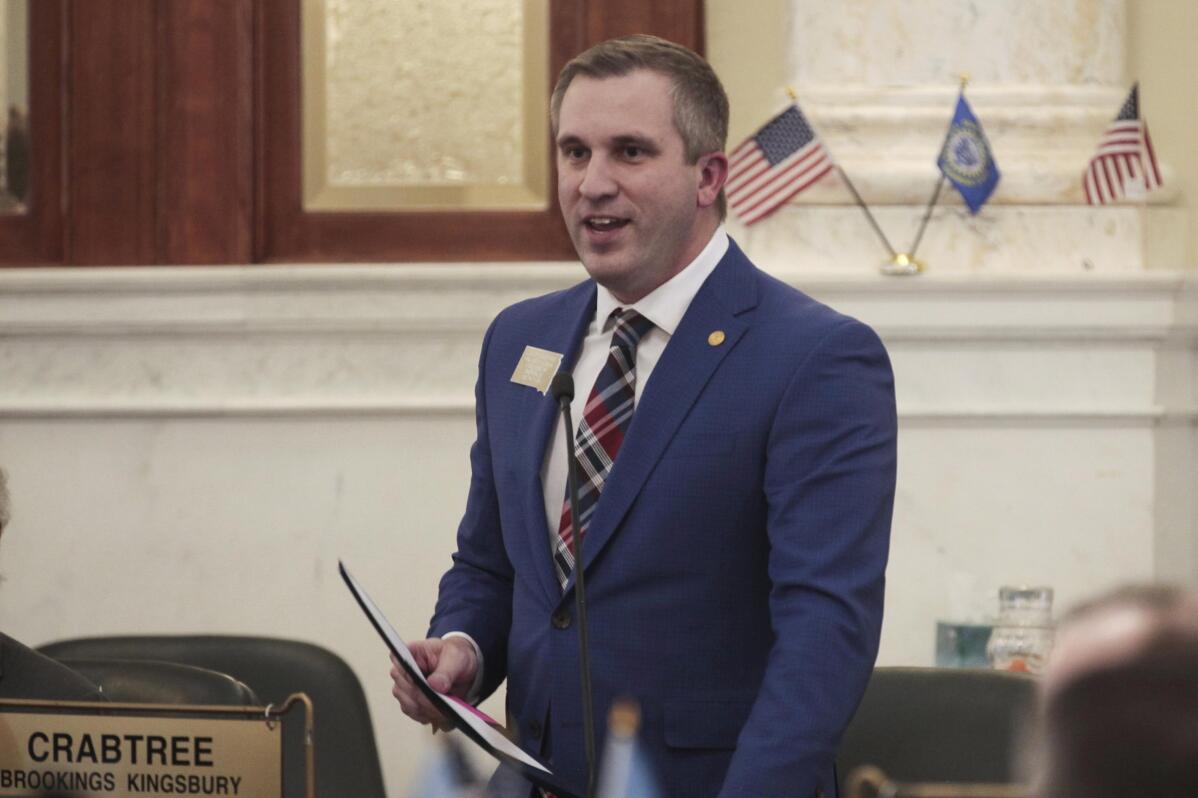 1 of 2

|
South Dakota Republican Senate Leader Casey Crabtree urges the full Senate to support the final general sales tax cut proposal at the state Capitol on Thursday, March 9, 2023, in Pierre, S.D. The proposal passed both chambers and awaits Republican Gov. Kristi Noem's approval. (AP Photo/Amancai Biraben)
1 of 2
South Dakota Republican Senate Leader Casey Crabtree urges the full Senate to support the final general sales tax cut proposal at the state Capitol on Thursday, March 9, 2023, in Pierre, S.D. The proposal passed both chambers and awaits Republican Gov. Kristi Noem's approval. (AP Photo/Amancai Biraben)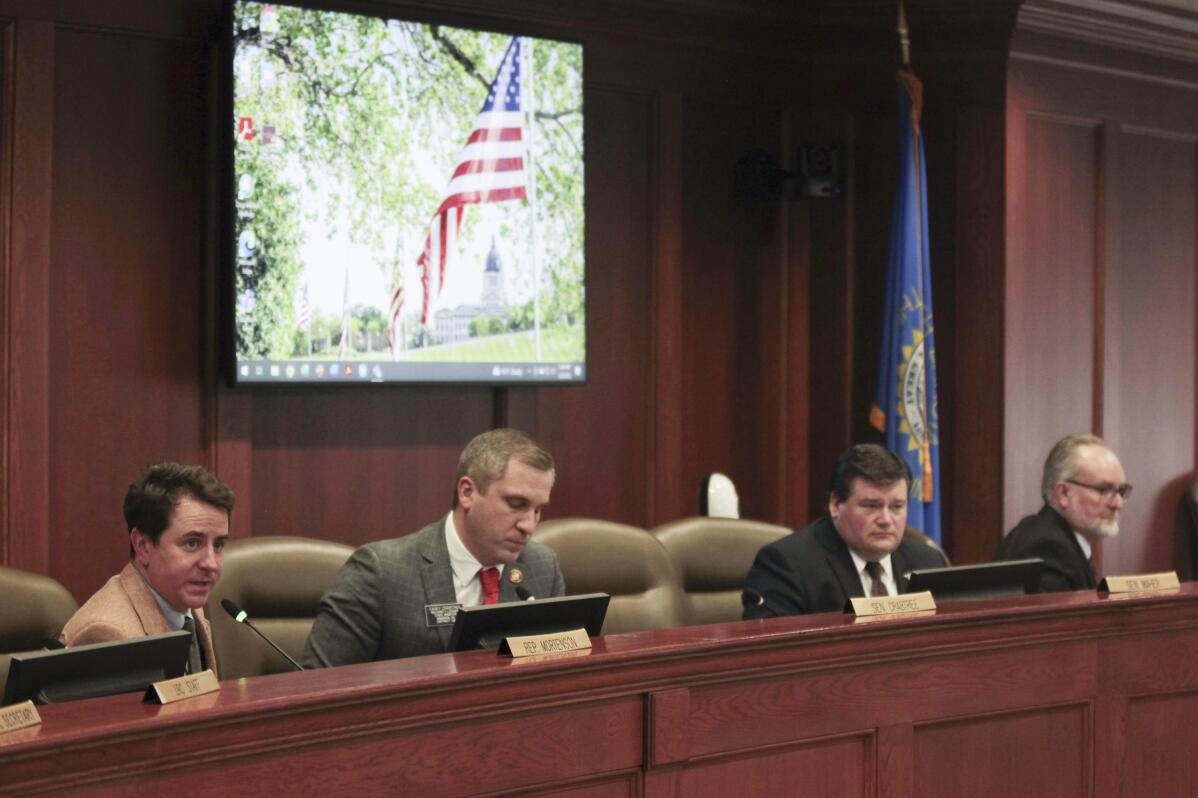 2 of 2

|
From left, Republicans Rep. Will Mortenson, Sen. Casey Crabtree and Sen. Ryan Maher, and Democratic Sen. Reynold Nesiba discuss the highest tax cut in the state's history Wednesday, March 8, 2023, in Pierre, S.D. Now headed to Republican Gov. Kristi Noem's desk, the tax cuts $104 million from general sales annually. (AP Photo/Amancai Biraben)
2 of 2
From left, Republicans Rep. Will Mortenson, Sen. Casey Crabtree and Sen. Ryan Maher, and Democratic Sen. Reynold Nesiba discuss the highest tax cut in the state's history Wednesday, March 8, 2023, in Pierre, S.D. Now headed to Republican Gov. Kristi Noem's desk, the tax cuts $104 million from general sales annually. (AP Photo/Amancai Biraben)
PIERRE, S.D. (AP) — South Dakota's Republican-dominated Legislature passed a general sales tax cut of $104 million per year, lowering the taxes on groceries but not eliminating them entirely as Gov. Kristi Noem had urged.
The cut that cleared both chambers Thursday reduces the state's overall sales tax from 4.5% to 4.2%. It has a four-year sunset clause and removes a mechanism known as the Partridge amendment, which gradually reduced the state's sales tax as more money was collected from Internet sales.
Tax cuts were high on the agenda as the state opened the session with a $423 million surplus.
The Republican governor, who is seen as a potential contender for the 2024 presidential nomination, made repealing the grocery tax the centerpiece of her reelection campaign.
South Dakota is one of a few states that tax groceries at the same rate as general sales.
Democrats had long supported the grocery tax cut. In fact, Democratic Senate Leader Reynold Nesiba was only in support of cutting the food tax and hoped to retain the general sales tax to fund education, community support providers and state employees.
But that plan's tumultuous journey came to a final end on Tuesday, after it was rejected a second time.
"The governor's prerogative is the governor's prerogative," Republican Rep. Chris Karr said. "All we can try to do is work with her."
Lawmakers also toyed with property tax cuts designed to help retirees struggling with inflation but ultimately opted for the general sales tax cut, favoring its general scope of relief.
The debate then turned to how steeply to trim the sales tax, whether to put a time limit on it and how to address the Partridge amendment.
"You make it a priority to cut taxes, or you make it a priority to cut taxes exactly the way that you want to," Republican House Leader Will Mortenson said. "We're proud of the product we wound up with."