The Latest: South Korea extends guidelines to slow spread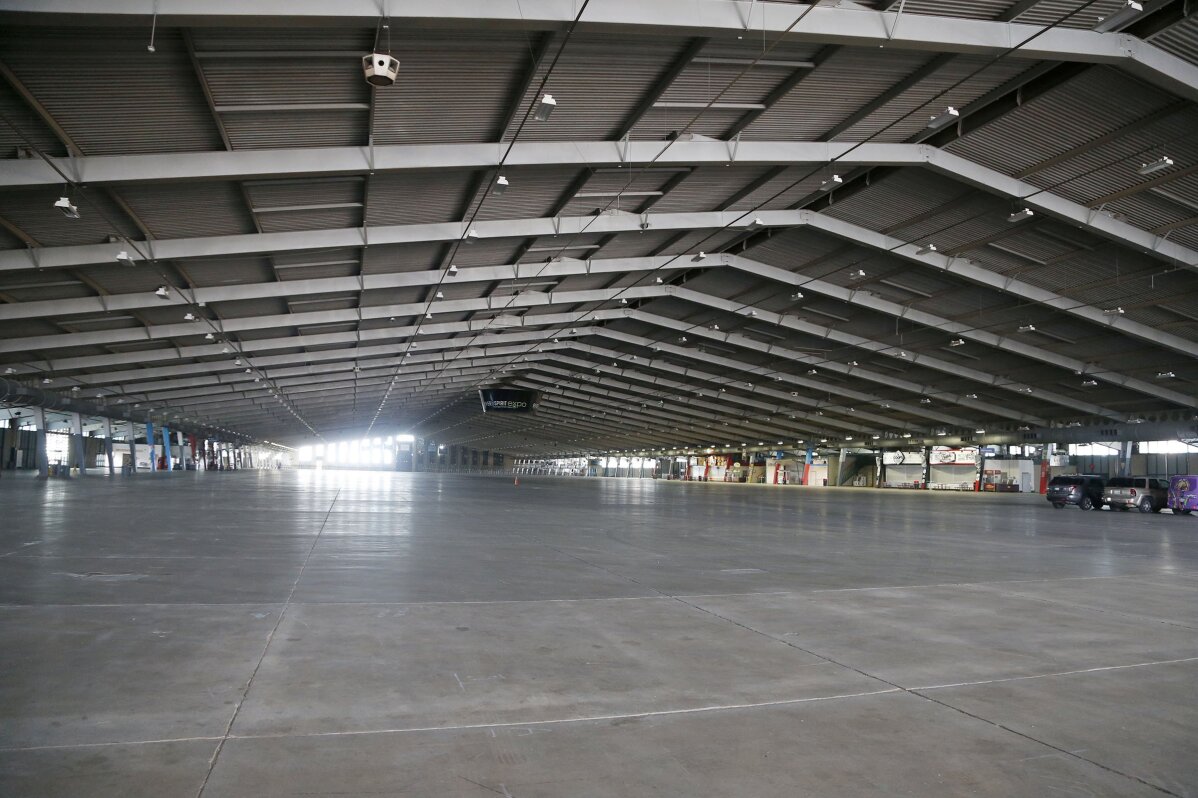 1 of 6

|
In this Thursday, April 2, 2020, photo, Tulsa River Spirit Expo Center is mostly empty at the Tulsa Fairgrounds in Tulsa, Okla. (Stephen Pingry/Tulsa World via AP)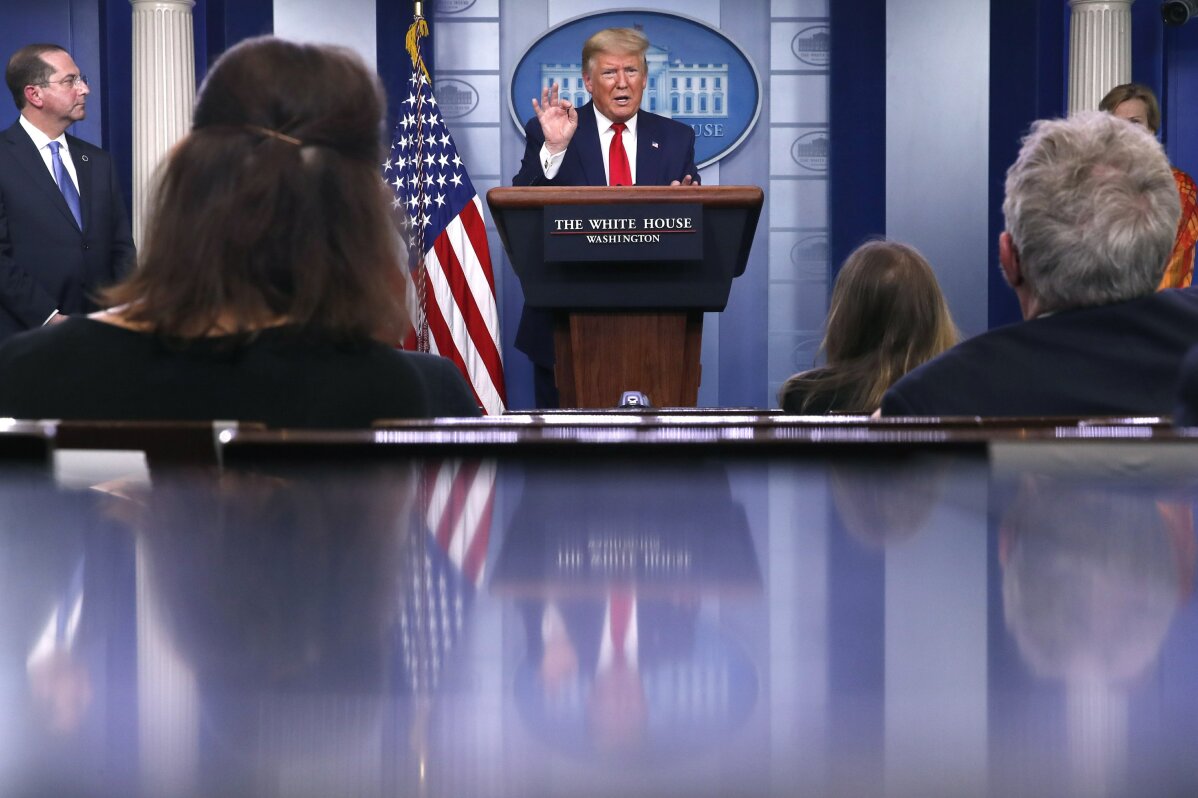 2 of 6

|
President Donald Trump speaks about the coronavirus in the James Brady Press Briefing Room of the White House, Friday, April 3, 2020, in Washington. (AP Photo/Alex Brandon)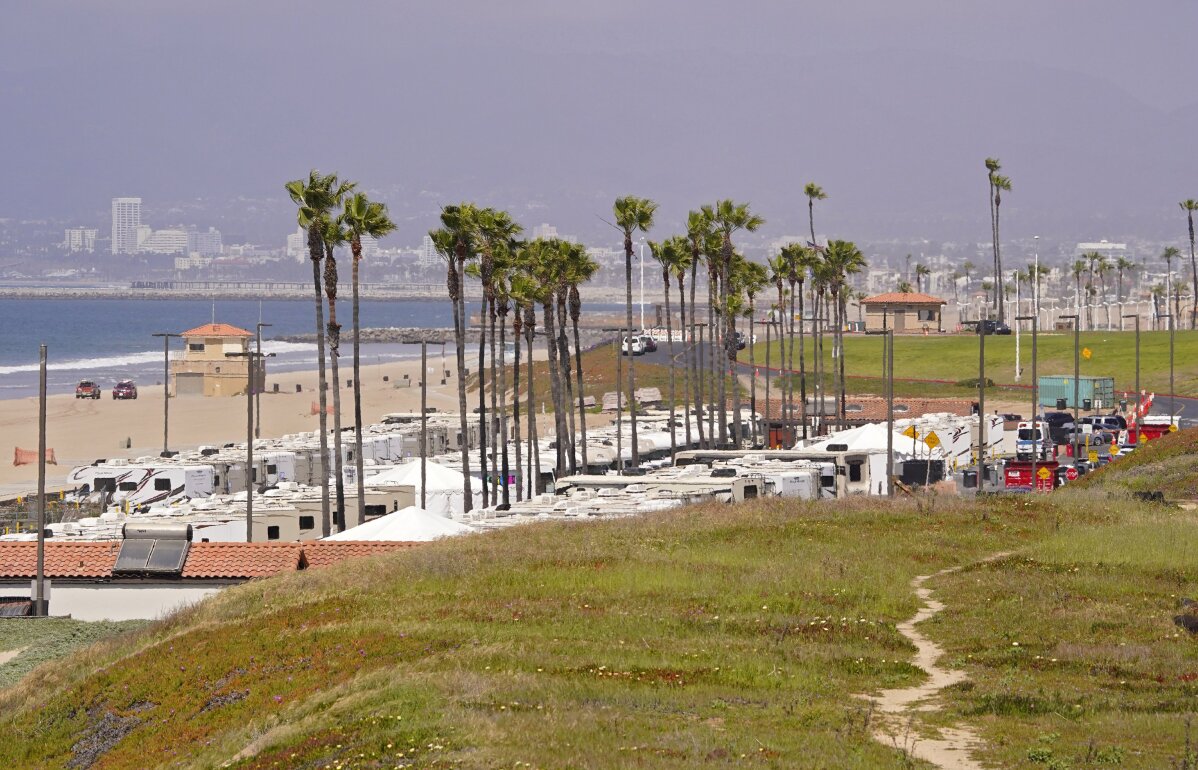 3 of 6

|
An RV park at Dockweiler State Beach is seen where some coronavirus patients are being quarantined, Friday, April 3, 2020, in Los Angeles. The new coronavirus causes mild or moderate symptoms for most people, but for some, especially older adults and people with existing health problems, it can cause more severe illness or death. (AP Photo/Mark J. Terrill)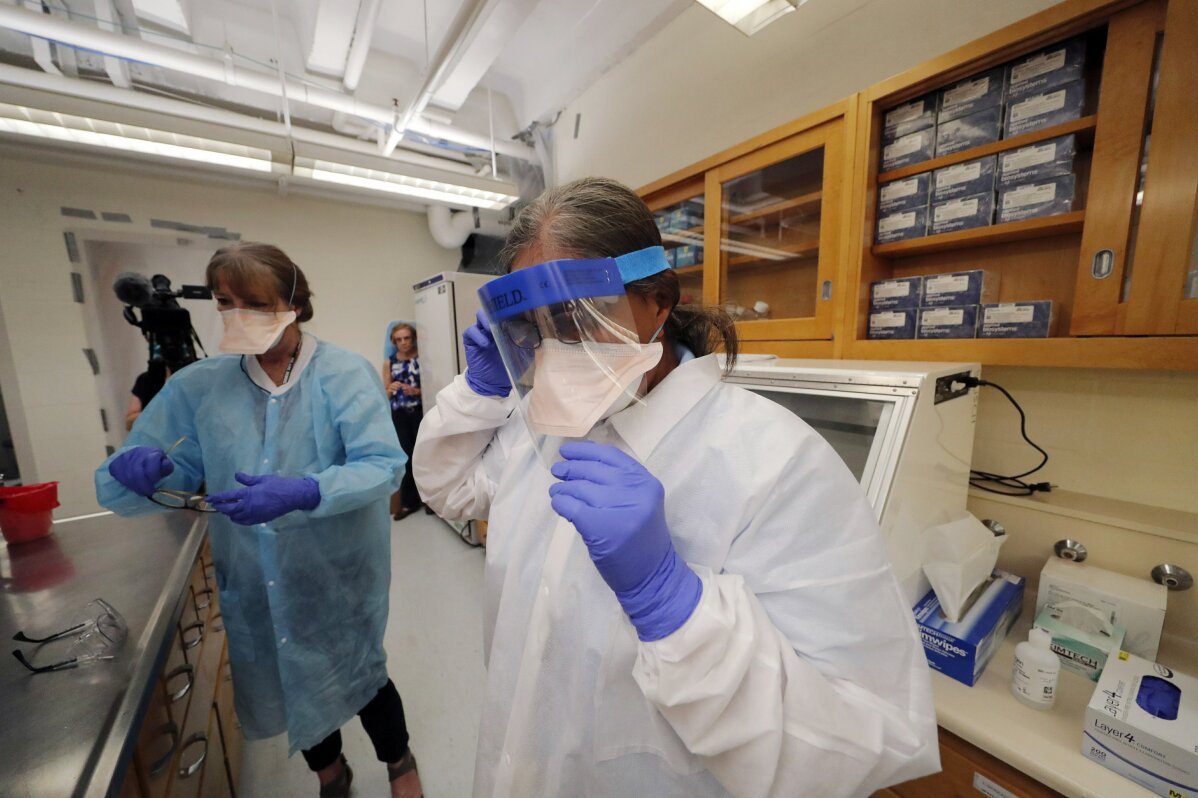 4 of 6

|
Cindy Morris, left, and Swarnamala Ratnayaka don personal protective equipment before preparing RNA for testing for the new coronavirus at the molecular pathology lab at Tulane University School of Medicine in New Orleans, Thursday, April 2, 2020. The test is identical to the PCR test being used by the Centers for Disease Control to ease the testing crisis and stop the spread of COVID-19, which has hit the New Orleans area especially hard. (AP Photo/Gerald Herbert)
5 of 6

|
Police officers check documents to ensure nationwide confinement measures due to coronavirus are upheld, at a highway toll gate in Villefranche our Saone, north of Lyon, central France, Friday, April 3, 2020. Friday marks the first day of springtime school holidays for a large part of France including Paris, when under normal circumstances cars would clog highways as families head on vacation around the country. The new coronavirus causes mild or moderate symptoms for most people, but for some, especially older adults and people with existing health problems, it can cause more severe illness or death. (AP Photo/Laurent Cipriani)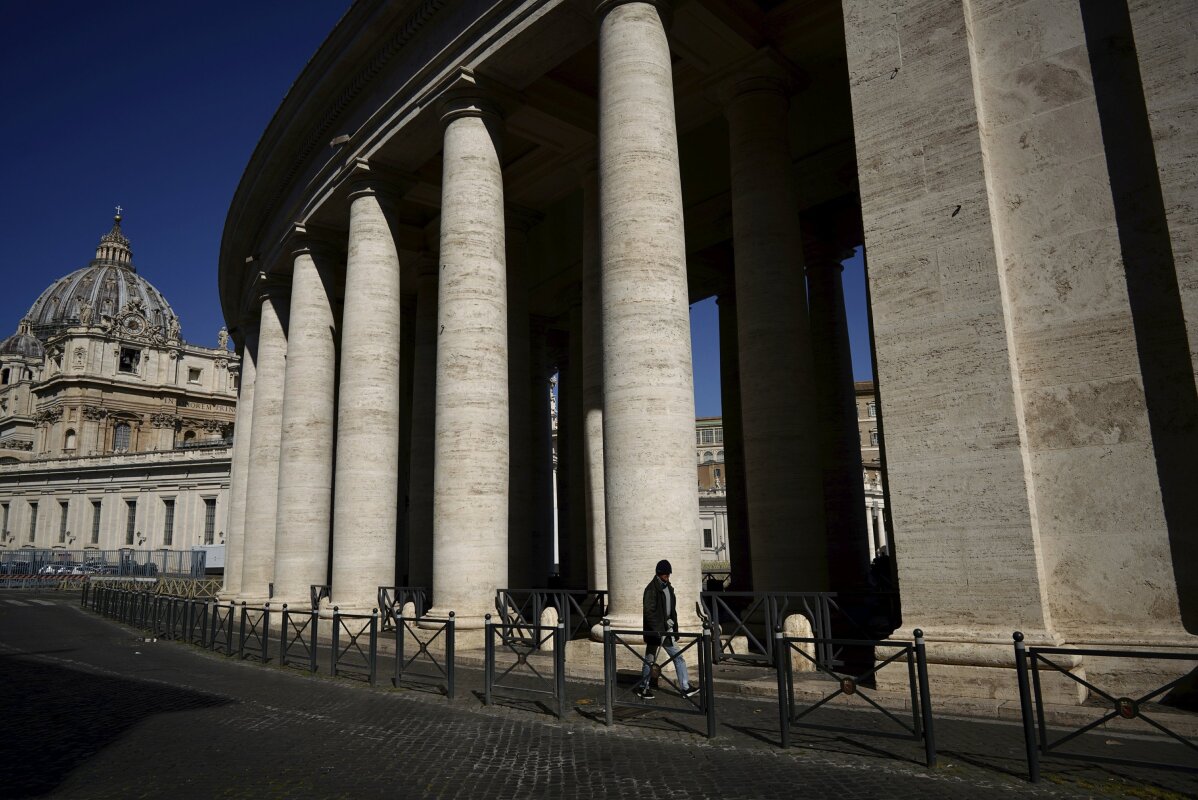 6 of 6

|
A man walks by Bernini's colonnade in St. Peter's Square during Pope Francis' weekly general audience, streamed by the Vatican television due to restrictions to contain the Covid-19 virus, at the Vatican, Wednesday, April 1, 2020. The new coronavirus causes mild or moderate symptoms for most people, but for some, especially older adults and people with existing health problems, it can cause more severe illness or death. (AP Photo/Andrew Medichini)
The Latest: South Korea extends guidelines to slow spread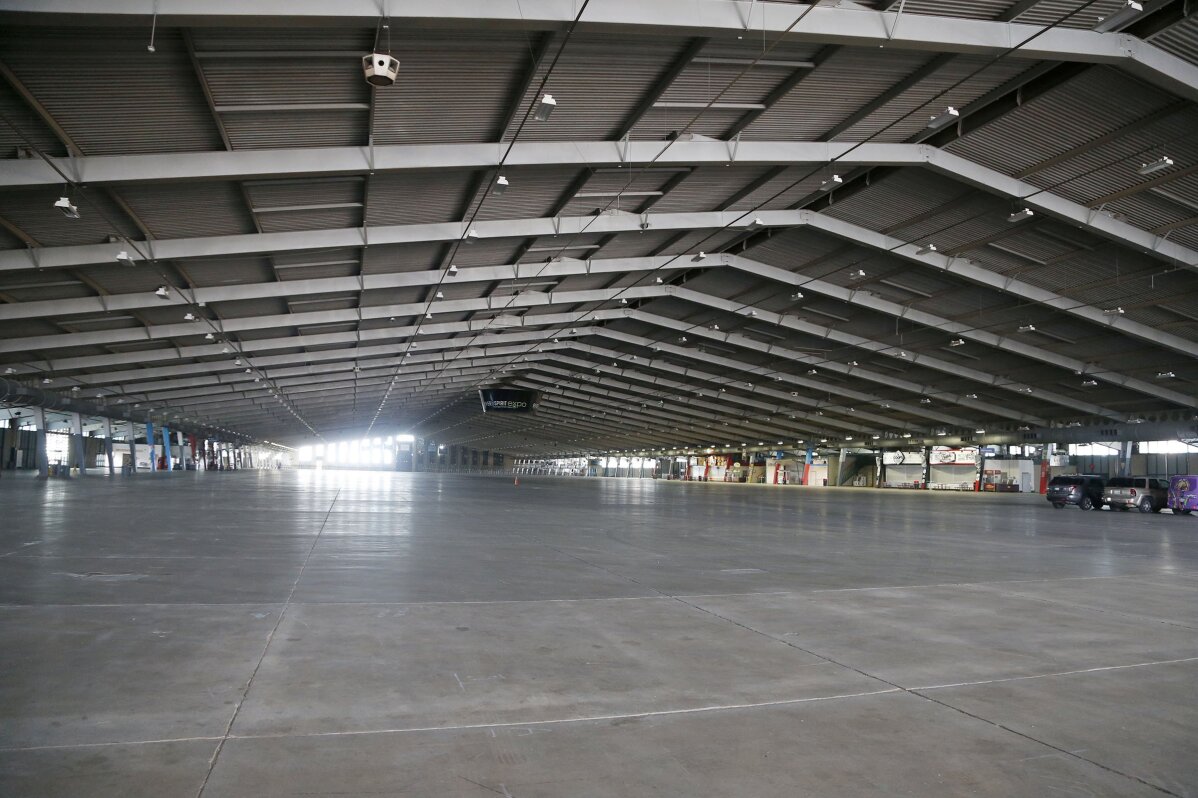 1 of 6

|
In this Thursday, April 2, 2020, photo, Tulsa River Spirit Expo Center is mostly empty at the Tulsa Fairgrounds in Tulsa, Okla. (Stephen Pingry/Tulsa World via AP)
1 of 6
In this Thursday, April 2, 2020, photo, Tulsa River Spirit Expo Center is mostly empty at the Tulsa Fairgrounds in Tulsa, Okla. (Stephen Pingry/Tulsa World via AP)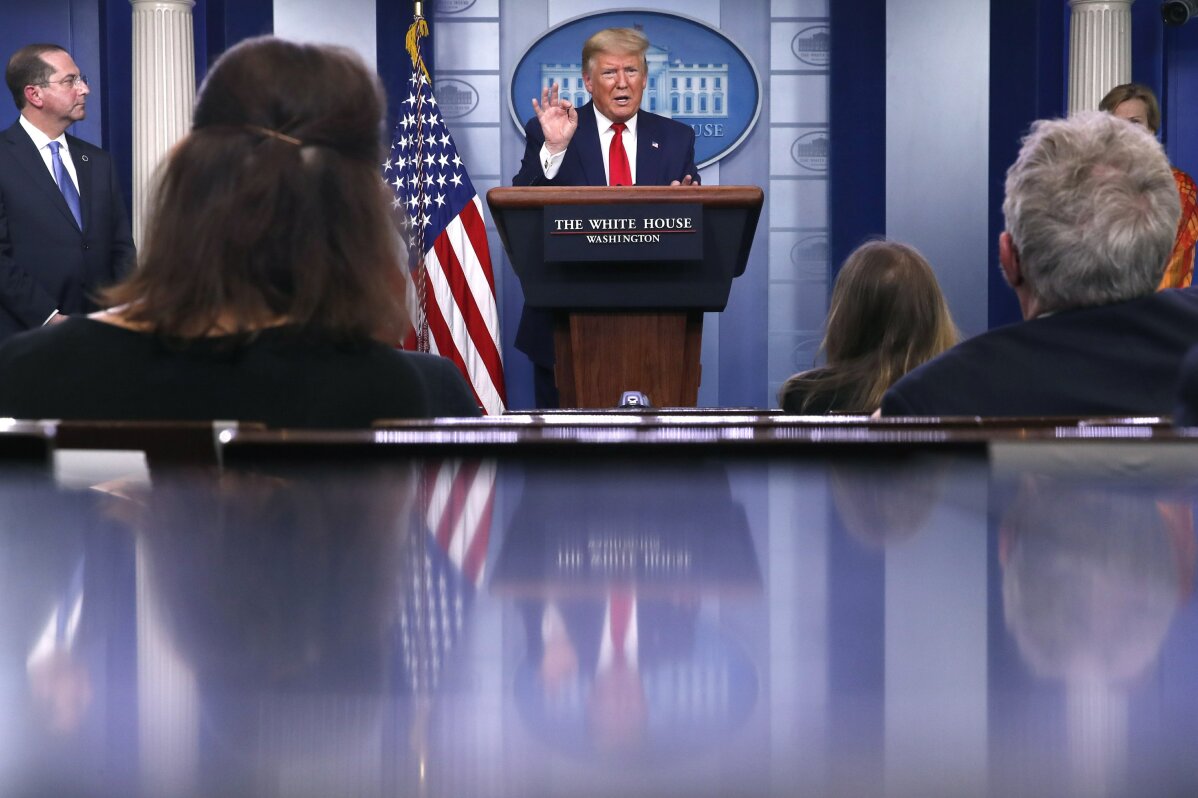 2 of 6

|
President Donald Trump speaks about the coronavirus in the James Brady Press Briefing Room of the White House, Friday, April 3, 2020, in Washington. (AP Photo/Alex Brandon)
2 of 6
President Donald Trump speaks about the coronavirus in the James Brady Press Briefing Room of the White House, Friday, April 3, 2020, in Washington. (AP Photo/Alex Brandon)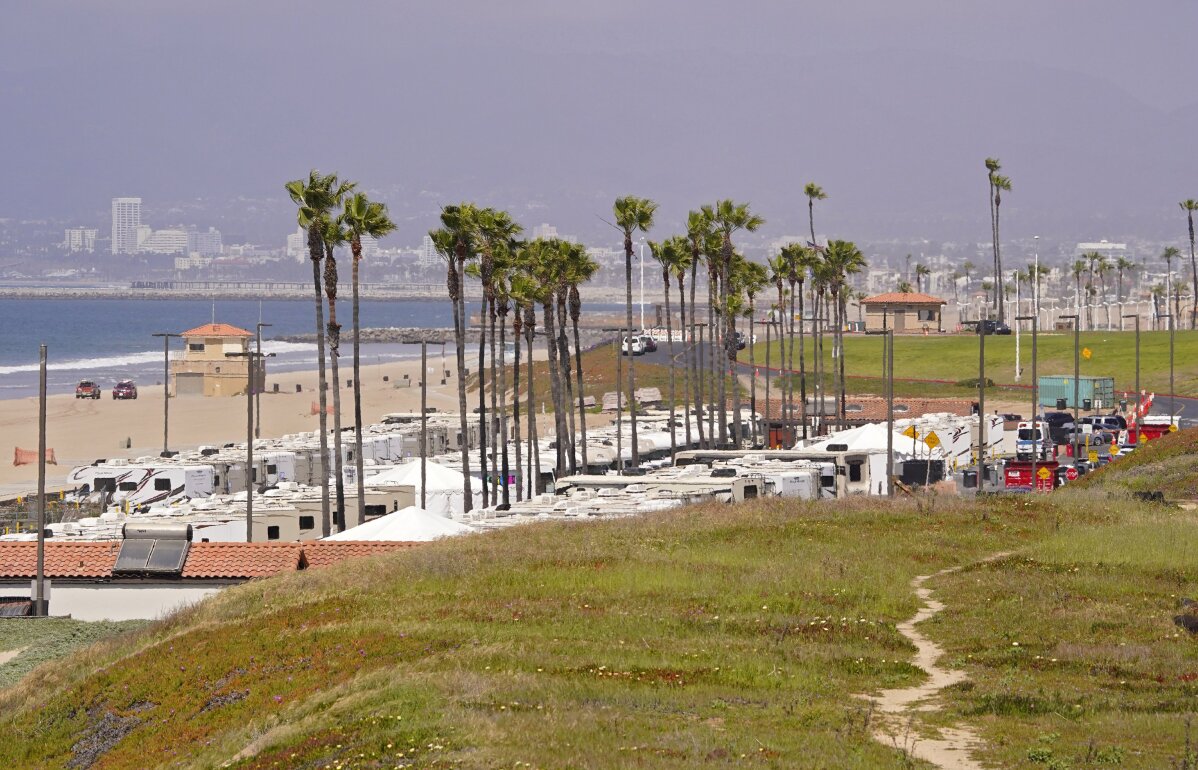 3 of 6

|
An RV park at Dockweiler State Beach is seen where some coronavirus patients are being quarantined, Friday, April 3, 2020, in Los Angeles. The new coronavirus causes mild or moderate symptoms for most people, but for some, especially older adults and people with existing health problems, it can cause more severe illness or death. (AP Photo/Mark J. Terrill)
3 of 6
An RV park at Dockweiler State Beach is seen where some coronavirus patients are being quarantined, Friday, April 3, 2020, in Los Angeles. The new coronavirus causes mild or moderate symptoms for most people, but for some, especially older adults and people with existing health problems, it can cause more severe illness or death. (AP Photo/Mark J. Terrill)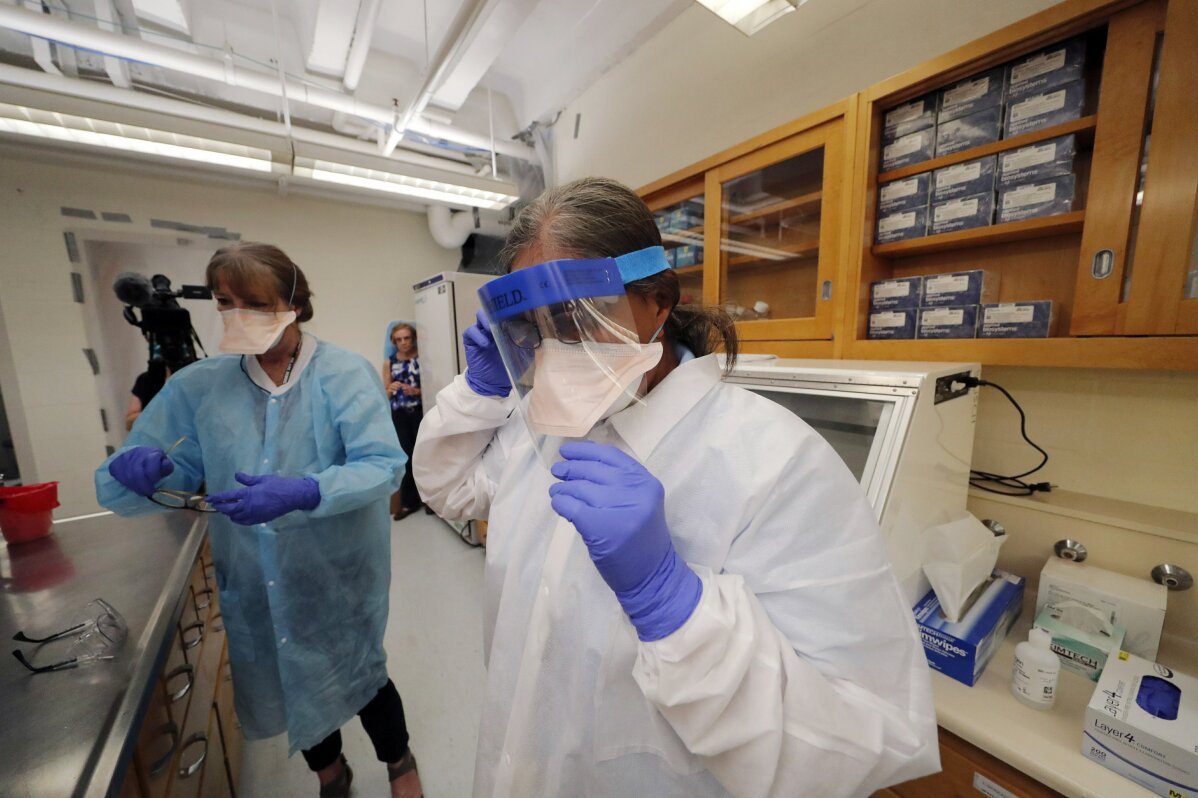 4 of 6

|
Cindy Morris, left, and Swarnamala Ratnayaka don personal protective equipment before preparing RNA for testing for the new coronavirus at the molecular pathology lab at Tulane University School of Medicine in New Orleans, Thursday, April 2, 2020. The test is identical to the PCR test being used by the Centers for Disease Control to ease the testing crisis and stop the spread of COVID-19, which has hit the New Orleans area especially hard. (AP Photo/Gerald Herbert)
4 of 6
Cindy Morris, left, and Swarnamala Ratnayaka don personal protective equipment before preparing RNA for testing for the new coronavirus at the molecular pathology lab at Tulane University School of Medicine in New Orleans, Thursday, April 2, 2020. The test is identical to the PCR test being used by the Centers for Disease Control to ease the testing crisis and stop the spread of COVID-19, which has hit the New Orleans area especially hard. (AP Photo/Gerald Herbert)
5 of 6

|
Police officers check documents to ensure nationwide confinement measures due to coronavirus are upheld, at a highway toll gate in Villefranche our Saone, north of Lyon, central France, Friday, April 3, 2020. Friday marks the first day of springtime school holidays for a large part of France including Paris, when under normal circumstances cars would clog highways as families head on vacation around the country. The new coronavirus causes mild or moderate symptoms for most people, but for some, especially older adults and people with existing health problems, it can cause more severe illness or death. (AP Photo/Laurent Cipriani)
5 of 6
Police officers check documents to ensure nationwide confinement measures due to coronavirus are upheld, at a highway toll gate in Villefranche our Saone, north of Lyon, central France, Friday, April 3, 2020. Friday marks the first day of springtime school holidays for a large part of France including Paris, when under normal circumstances cars would clog highways as families head on vacation around the country. The new coronavirus causes mild or moderate symptoms for most people, but for some, especially older adults and people with existing health problems, it can cause more severe illness or death. (AP Photo/Laurent Cipriani)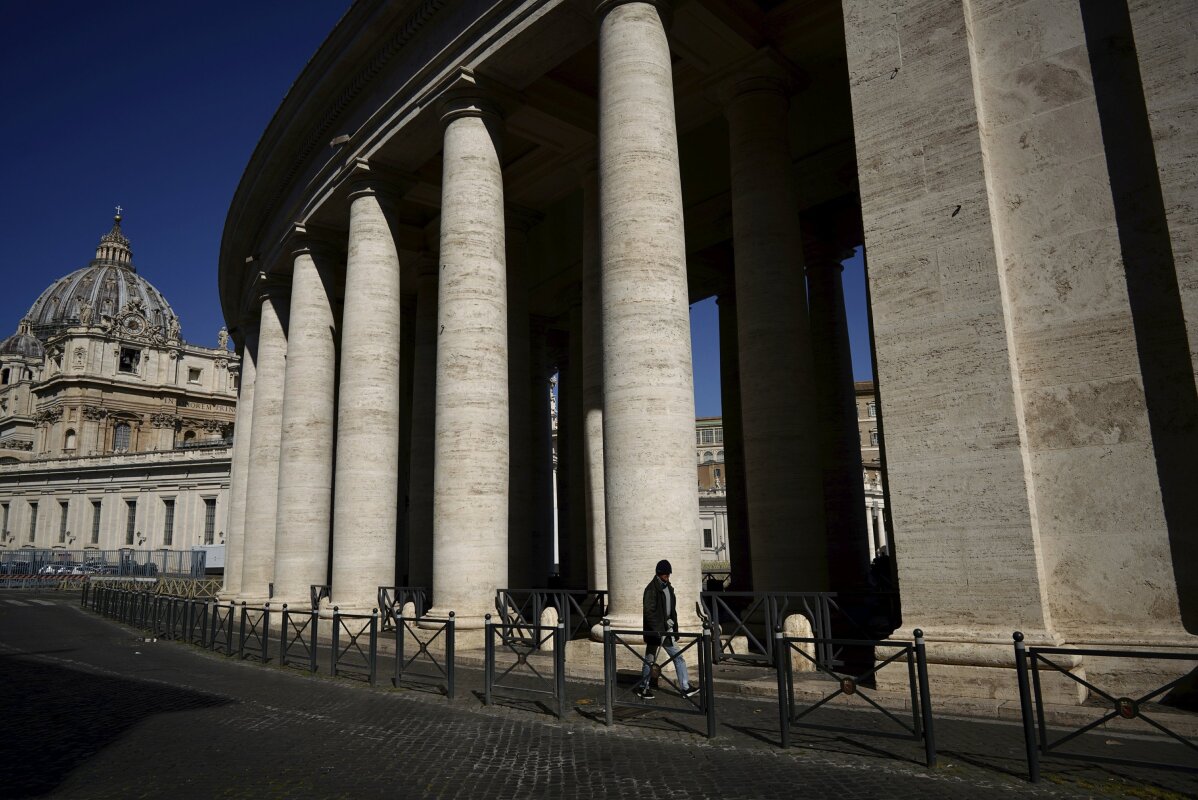 6 of 6

|
A man walks by Bernini's colonnade in St. Peter's Square during Pope Francis' weekly general audience, streamed by the Vatican television due to restrictions to contain the Covid-19 virus, at the Vatican, Wednesday, April 1, 2020. The new coronavirus causes mild or moderate symptoms for most people, but for some, especially older adults and people with existing health problems, it can cause more severe illness or death. (AP Photo/Andrew Medichini)
6 of 6
A man walks by Bernini's colonnade in St. Peter's Square during Pope Francis' weekly general audience, streamed by the Vatican television due to restrictions to contain the Covid-19 virus, at the Vatican, Wednesday, April 1, 2020. The new coronavirus causes mild or moderate symptoms for most people, but for some, especially older adults and people with existing health problems, it can cause more severe illness or death. (AP Photo/Andrew Medichini)
The Latest on the coronavirus pandemic. The new coronavirus causes mild or moderate symptoms for most people. For some, especially older adults and people with existing health problems, it can cause more severe illness or death.
TOP OF THE HOUR:
—CDC recommending Americans cover their faces when leaving home.
—Chinese man sentenced to 18 months in jail for failing to report overseas travel
—South Korea extends guidelines to slow spread of new infections
___
SEOUL, South Korea -- South Korea has extended government guidelines urging people to social distance to slow the spread of the coronavirus for two weeks as infections continue to grow in the densely populated Seoul metropolitan area.
During a meeting on anti-virus measures on Saturday, Prime Minster Chung Sye-kyun expressed concern over rising infections linked to recent arrivals amid broadening outbreaks in Europe and the United States.
The country has also struggled to stem infections in hospitals, nursing homes, mental wards and other live-in facilities.
"We very well know that continuing social distancing comes with massive costs and sacrifice," Chung said, referring to the economic shock. "But if we loosen things right now, the effort we so far invested could pop and disappear like a bubble."
South Korea's Centers for Disease Control and Prevention on Saturday confirmed 94 new cases and three more deaths, bringing national totals to 10,156 cases and 177 deaths.
The country's caseload has slowed from early March, when it reported around 500 new cases a day, but there's alarm over a steady rise in infections in the Seoul metropolitan area, where around half of South Korea's 51 million people live
___
BEIJING — A Chinese court has sentenced a man to 18 months in jail for failing to report traveling abroad from March 1-6, refusing to answer phone calls from authorities and having his mother lie about his activities, according to a joint statement from the Supreme People's Procuratorate and the Ministry of Public Security.
The statement said the man, identified only by his surname, Guo, went to work by subway in the central city of Zhengzhou on March 8-9. After developing a fever and sore throat, he was confirmed to be infected with coronavirus. Authorities then placed more than 40 people who had been in close contact with him under quarantine.
Most regions of China have required those arriving from overseas or even other parts of the country to undergo a 14-day quarantine, either at home or at a government-designated facility such as a hotel.
___
BEIJING — China reported one new confirmed case Saturday in the epicenter of Wuhan and 18 among people arriving from abroad, along with four new deaths, all in Wuhan.
China now has recorded a total of 81,639 cases and 3,326 deaths, although those figures are generally considered to be understated because of a lack of testing and a reluctance to report the scale of the original outbreak.
___
WASHINGTON — President Donald Trump is nominating Brian D. Miller to serve as special inspector general for pandemic recovery at the Treasury Department.
Miller currently serves as a special assistant to the president and as senior associate counsel in the Office of White House Counsel.
Treasury Secretary Steven Mnuchin is overseeing the massive government bailout package that aims to shovel $2.2 trillion into the U.S. economy over the next few weeks to try to cushion its free fall during the coronavirus pandemic. It includes $349 billion in loans for small businesses and a $500 billion corporate rescue fund.
The legislation passed by Congress and signed by Trump last week created the special inspector general position as well as a panel appointed by Congress to monitor how the aid is deployed.
___
OKLAHOMA CITY — Hobby Lobby announced that the ongoing coronavirus crisis is prompting it to close its stores until further notice.
In a statement, the Oklahoma City-based crafts retail chain said it also is furloughing all of its store employees and many of its corporate and distribution workers.
Hobby Lobby had resisted efforts to close its stores as nonessential services, saying its sale of fabric was essential. A team enforcing Denver's shelter-in-place order had issued citations to Hobby Lobby stores. On Thursday, deputies in Dallas County, Texas, served Hobby Lobby with cease-and-desist orders for it to close or be found in violation of the county's order closing all nonessential businesses to fight the spread of COVID-19, the illness caused by the novel coronavirus.
Hobby Lobby describes itself as the world's largest privately owned arts-and-crafts retailer with more than 900 stores in 46 states with more than 43,000 employees, according to the chain's website.
___
WASHINGTON — President Donald Trump says his administration is "doing our best for New York" even as Governor Andrew Cuomo warns the state is in danger of not having enough ventilators to help coronavirus-stricken patients in a matter of days.
Earlier on Friday, Cuomo signed an executive order allowing the state to take unused ventilators and personal protective equipment from hospitals within the state. The state, which recorded more than 2,900 coronavirus deaths, has been the hardest hit area in the U.S. by the pandemic.
Trump says New York should have ordered more ventilators years ago. He also notes that the federal government is trying to assist other hot spots, including Louisiana and Michigan.
___
CHICAGO — A Chicago hospital and its nurses union have agreed on hazard pay for nurses working during the COVID-19 pandemic.
The University of Illinois Hospital and the Illinois Nurses Association announced the agreement Friday.
Depending on assignment, the extra pay ranges from $5 an hour to $15 an hour for registered nurses and from $3.50 an hour to $9 an hour for licensed practical nurses. Nurses on salary also get increases.
The agreement will remain in place until either the Illinois stay-at-home order is lifted or the hospital suspends its internal emergency operations.
___
SALEM, Ore. — Hospital workers in Oregon are astounded at the community response to an effort to provide those on the front lines of the coronavirus fight with protective masks.
On March 26, Salem Health, which runs two hospital and several clinics in and around Oregon's capital city, announced it would hand out kits for people to make masks.
So many cars lined up to receive the kits that a traffic jam ensued. People had to be turned away because the response was so great. All the kits — with enough material to make around 10,000 masks — were handed out the first day.
The people returned home and began assembling the blue masks using cutting boards and sewing machines. Then they began dropping them off this week. By Friday, the last day for dropoff, 10,942 assembled masks had been delivered.
___
WASHINGTON — President Donald Trump is directing FEMA to prevent export of N95 masks and surgical gloves under the Defense Production Act.
Trump says the move is necessary to assure that the medical supplies are available for domestic medical use.
The move comes one day after the White House announced Trump invoked the Defense Production Act to compel Minnesota-based 3M to make as many N95 masks as the Federal Emergency Management Agency determines are needed.
Trump also announced Friday that his administration is encouraging many Americans to wear face masks in public. He stressed that the recommendation is optional and is conceding he will not be complying with it.
___
BATON ROUGE, La. — Gov. John Bel Edwards released New Orleans regional modeling that showed even as many people are following his stay-home order, the rate of strict compliance remains too low to keep from daily surges in new hospitalizations that will strain Louisiana's ability to care for all patients.
Nearly 10,300 people have tested positive for the COVID-19 disease caused by the virus, according to figures released Friday by Louisiana's health department. The state has the nation's third-highest rate of coronavirus infections per capita, authorities say. Despite Edwards' limit on public gatherings, New Orleans Police Superintendent Sean Ferguson said the department has responded to more than 800 calls regarding gatherings of people in just over a week.
___
WASHINGTON — The White House says the Centers for Disease Control and Prevention is recommending that Americans cover their faces when leaving the home, especially around other people. But President Donald Trump is calling it "voluntary" and says he himself won't wear a mask.
Says Trump: "I'm choosing not to do it."
The latest guidance suggests that Americans use makeshift coverings, such as T-shirts, scarves or bandanas to cover their noses and mouths. Medical-grade masks, especially N95 masks, are to be reserved for those on the front lines of trying to contain the pandemic.
The policy change comes as public health officials are concerned that those without symptoms can spread the virus which causes COVID-19.
___
WASHINGTON — A Pentagon spokesman says Defense Secretary Mark Esper is looking at the possibility of accepting COVID-19 patients aboard the Navy hospital ship USNS Comfort in New York harbor.
The ship, which began seeing non-COVID-19 patients on Wednesday, has been intended as a trauma treatment facility to take pressure off local New York hospitals.
Pentagon spokesman Jonathan Hoffman says there have been fewer trauma patients than expected, and the Pentagon, in conjunction with FEMA and New York state and city officials, is considering whether to start accepting COVID-19 patients. He said a decision is "not imminent." He said the Comfort is not ideally suited to handle virus patients.
"It's not an environment built for handling infectious diseases en masse," Hoffman said.
He said it would be "very difficult" to keep the virus from the non-COVID patients on the ship and would limit the Navy's ability to use the Comfort later elsewhere in the country if needed because it would have to undergo an "extensive deep cleaning" before moving.
___
HOUSTON — Immigration lawyers say the U.S. government has unexpectedly started to release detained migrants in Louisiana amid the ongoing coronavirus pandemic.
Several lawyers say they have been notified that U.S. Immigration and Customs Enforcement would start releasing their clients, some of whom had been previously denied parole. Nathalia Dickson, a lawyer in Baton Rouge, Louisiana, says she knows of 16 people who are being released from one jail.
ICE spokesman Bryan Cox says the threat of the coronavirus is one factor in an ongoing custody review process, but denied there had been a "policy change."
The agency has faced pressure to reduce its population of roughly 36,000 detainees, about half of whom are accused of civil violations rather than a criminal offense. Experts have warned that the coronavirus outbreak could particularly harm jails where social distancing and other practices to control the spread are difficult.
ICE says six detainees have been confirmed to have COVID-19, none in Louisiana.
___
SEATTLE — State mental health officials plan to release as many as 60 patients from Washington's largest psychiatric hospital in order to reduce some of the stress that the new coronavirus has placed on staff at the 850-bed facility.
Sixteen workers and six patients at Western State Hospital have tested positive for COVID-19 and one patient died.
Moving some of the civil-commitment patients to group homes or supported-living facilities will help relieve some of the strain on the system, said Sean Murphy, Behavioral Health assistant secretary.
Western State already faced staffing shortages before COVID-19, he said, and after the outbreak, they released some of the high-risk staff for their protection, which made the situation more difficult.
___
PARIS — France's coronavirus death count has jumped to more than 6,500, up by more than 1,000, since the pandemic began spreading around France.
Authorities have started including victims in homes for the aged. The chief of the country's national health agency, Jerome Salomon, says reports from 3,000 establishments for the aged — still far from the total — show 1,416 residents died in the facilities from COVID-19.
The rising figures were announced as 160,000 police officers were deployed to ensure France's strict confinement measures are respected at what normally would be the start of spring vacation.
___
CHICAGO — The American Medical Association is urging all U.S. governors to impose stay-at-home orders to fight the spread of COVID-19.
"It is vital that states keep residents at home to avoid overwhelming our health care systems and depleting the equipment, resources and manpower needed to care for the influx of critically ill patients,"' the AMA said in a letter to the governors signed by the group's CEO, Dr. James Madara.
The AMA also wants governors to enact emergency orders to close non-essential businesses, limit non-essential activities and prohibit gatherings.
Physical distancing is the only effective mechanism to stop the spread of the virus, the group said.
___
MOSCOW — Russia's air transportation agency says it is banning flights that were to bring Russians back to the country amid the coronavirus pandemic, aiming to curtail infections at home.
The statement reported by Russian news agencies late Friday comes after the last-minute callback of an Aeroflot flight to New York from Moscow that was to repatriate Americans and the cancellation of a flight from New York to Moscow.
The statement says the move is "to maximize the protection of the health of Russian citizens and to limit the new wave of imported cases of coronavirus infection."
___
NICOSIA, Cyprus — Orthodox Christian faithful took to their balconies in Cyprus' coastal city of Limassol to chant a centuries-old Orthodox hymn in honor of health workers battling against the coronavirus.
With many holding candles, the faithful tuned in to radio and TV broadcasts of services held Friday evening at empty churches to chant along to the hymn and appeal for divine help in overcoming the virus.
Dedicated to Jesus Christ's mother as "the champion leader," the hymn is part of month-long Salutations to the Virgin Mary services.
___
VATICAN CITY — Italians sitting down for dinner and turning on the evening news were greeted by Pope Francis.
RAI state TV broadcast a recorded message from the pope, who said: "Let us pray to the Lord for all those who are tried in Italy and in the world" by the COVID-19 pandemic. Said Francis: "This evening I have the possibility to enter your homes" and asked viewers' permission to chat with them a little.
Francis said he was thinking of the lively children forced with the rest of their families to stay home during government-ordered lockdowns aimed at containing the spread of coronavirus infections. He said "in his heart" he is holding those with family members sick with COVID-19 or who had died.
Francis will celebrate solemn Holy Week ceremonies without the public, starting with Palm Sunday Mass in St. Peter's Basilica.
___
WASHINGTON — The White House is stepping up precautions to protect the president and vice president from contracting the new coronavirus.
Starting Friday, anyone who is expected to be in "close proximity" to either President Donald Trump or Vice President Mike Pence will be given a quick COVID-19 test "to evaluate for pre-symptomatic or asymptomatic carriers status to limit inadvertent transmission."
That's according to White House spokesman Judd Deere.
All visitors to the White House complex already have their temperatures taken when entering the building and if they will be in close proximity to either Trump or Pence.
Trump took the new COVID-19 test on Thursday and the White House doctor said results were back in 15 minutes. He tested negative.
___
Follow AP news coverage of the coronavirus pandemic at https://apnews.com/VirusOutbreak and https://apnews.com/UnderstandingtheOutbreak