Top Spanish court considers far-right challenge to LGBT law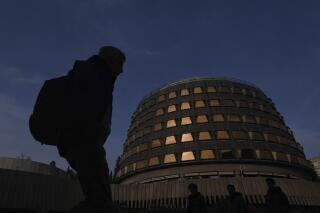 MADRID (AP) — Spain's Constitutional Court said Tuesday it would consider a legal challenge lodged by the far-right Vox party against a new law extending rights for transgender teenagers and encouraging tolerance for sexual diversity in schools.
The wide-ranging LGBT rights law passed in February allows any Spanish citizen over 16 years to change their legally registered gender without medical supervision. Minors aged 12-13 still need a judge's authorization, while those between 14 and 16 must be accompanied by their parents or legal guardians. Previously, transgender people needed a diagnosis by several doctors of gender dysphoria.
The Constitutional Court issued a statement confirming it had considered a legal brief lodged by Vox lawmakers and would analyze alleged violations of parental rights, the right to religious expression, freedom of speech and equality of all citizens before the law.
Vox said the recent legislation, which was promoted by the far-left United We Can party within Spain's governing coalition, introduced "state interference in areas that should remain strictly personal."
The far-right movement argued that a parent's right to oversee the religious education of their children, which is guaranteed in the Spanish constitution, was violated by the introduction of material in schools aimed at teaching children to respect and tolerate sexual diversity.
It also attacked the introduction of gender self-identification, which allows anyone to change their legal gender without prior authorization from a doctor or judge, endangers women's rights. It referred to the case of a convicted rapist being held in a women's prison in Scotland while transitioning. That inmate was transferred to a men's prison after being assessed by prison authorities.
Vox further hit out at a clause that allows intersex children aged between 12 and 16 to request surgery, as long as they are considered mature and informed enough to do so.
Vox has stoked culture wars in Spain by resisting any criticism of Spain's 20th-century dictatorship, denying that domestic violence is a problem and linking unauthorized migration with increased violence. It has pushed a so-called "parental pin" policy in regions where it is influential, allowing parents to opt their children out of classes that they consider against their principles.
The party hopes to make a strong showing in May 28 local elections and in Spain's general election at the end of the year. If Vox performs well in the December vote, it would try to force the center-right Popular Party into a national coalition.
On Tuesday, the German government announced that it was also planning to introduce a law allowing people to change gender without medical involvement, as several European governments reassess legislation affecting transgender rights.
Vox's leader, Santiago Abascal, has been widely praised by former U.S. president Donald Trump. Vox's legal challenge comes as Republican-controlled US states issue a raft of restrictions on LGBT students in the name of parental rights or protecting other students.