Spain's government faces no-confidence vote brought by Vox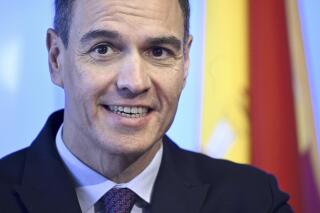 BARCELONA, Spain (AP) — Spain's Parliament set aside the business of lawmaking on Tuesday to hold a marathon debate over a no-confidence motion against the government, which was brought by the nation's far-right Vox party and is expected to fail.
Spain's leftist coalition could instead be reinforced by the move that was intended to topple it.
The vote will be held in the 348-member lower chamber on Wednesday. No other party has said it would support the motion by Vox's 52 lawmakers against the Socialist-led government of Prime Minister Pedro Sánchez.
In a move that has been widely panned by other political parties and Spanish media, Vox leader Santiago Abascal has broken with custom and isn't presenting himself as an alternative prime minister. Instead, in an attempt to lure votes from centrist and leftist legislators, Vox convinced a former communist party leader and university professor to lead the no-confidence measure as an independent candidate.
Ramón Tamames, 89, who was a lawmaker in the 1970s and 1980s, has pledged that if the vote were to succeed, his only act as prime minister would be to immediately call for a national election to coincide with a local election already scheduled for May 28.
Tamames has said that he doesn't agree with many of Vox's positions, which include its negation of climate change, unfounded charges that migrants are linked to more violent crimes, and its attacks on feminism. But he does share the party's concerns regarding Catalan and Basque separatism and its patriotic defense of the flag and monarchy.
Vox announced its intention to bring the no-confidence motion after Sánchez's government reformed laws on sedition and embezzlement to relieve the legal pressure on Catalan separatists last December.
"Señor Abascal, the candidate that you have presented is simply a decoy for you to hide behind and for you to hide your despicable political agenda," Sánchez said to the organizer of the vote.
"Should I apologize?" Abascal asked, with irony, in his defense. "Our intention was not to degrade the historic legacy of this legislature. We cannot degrade it more than you already have."
The traditional conservatives of the Popular Party, who lead the parliamentary opposition to the government, have said that they will abstain. Popular Party leader Alberto Núñez Feijóo has criticized the vote as only handing a parliamentary victory to Sánchez, and as unnecessary with a general election due in December.
Sánchez's coalition with the leftist United We Can party, which governs in a minority supported by smaller regionalist parties, and even separatists in the Catalonia and the Basque regions, is trying to recover from a a recent split over what to do with their own sexual consent law that has inadvertently led to reduced prison terms for hundreds of convicted felons. The partners are hoping to restore their reputation as executors of progressive, and effective, laws before Spain takes on the European Council presidency in July.
Political observers say that Vox is trying to gain traction before a busy election season. Vox aims to become key to conservative governments in town halls in May before the big prize at the end of the year when it hopes to enter a coalition with the Popular Party in the national government.
"The majority of no-confidence votes in Spanish politics are destined to lose from the start, but they are also known as a chance for the party that presents them to be in the spotlight," Montserrat Nebrera, analyst and former lawmaker of the Popular Party in Catalonia, told The Associated Press.
This is the second time that Vox has brought a no-confidence vote against the current government. Its first attempt to oust Sánchez in October 2020 for his handling of the coronavirus pandemic and replace him with Abascal flopped.
Tamames, a respected economist, was a leading member of Spain's Communist Party who spent time behind bars as a political prisoner before the restoration of democracy following the death of dictator Francisco Franco in 1975. He then began his journey across the political spectrum and joined a conservative precursor to the Popular Party.
Tamames has now completed his political metamorphosis by aligning himself with Vox, an upstart party that became parliament's third-largest force in the 2019 election. He has described his radical shift as an evolution, saying that he is "not a fossil."
"My presence here is one of my last tributes to this beautiful country," he told the chamber.
Tamames deployed his erudition in his speeches. He showed sharp wit when chiding Sánchez for what he considered his long-winded rebuttals, but seemed to have failed to sway any votes his way.
While Sánchez saved his hardest language for Vox's Abascal and the Popular Party, the leaders of smaller parties took aim at Tamames, calling the motion "ridiculous" and a "circus," especially since Tamames' beliefs only occasionally aligned with Vox's.
"We, some 300-plus legislators, are extras in a campaign spot that señor Abascal has given to señor Sánchez," said Ana Oramas of the Canary Islands Coalition. "This is not serious… The biggest scare we could give Vox is if we all agreed to make Tamames prime minister."