NASCAR's Suárez signs multiyear deal with Trackhouse Racing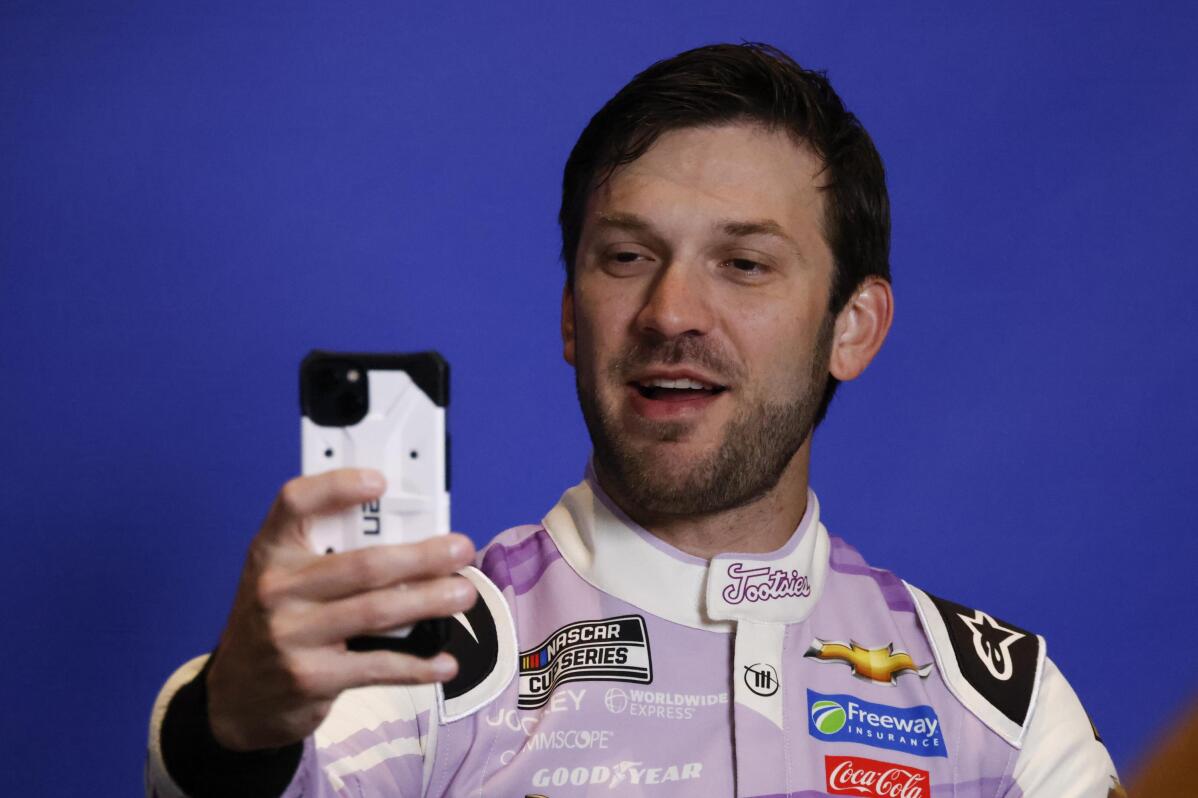 1 of 4

|
Daniel Suarez takes a selfie photo before doing a TV interview during NASCAR Daytona 500 auto race media day at Daytona International Speedway, Wednesday, Feb. 15, 2023, in Daytona Beach, Fla. (AP Photo/Terry Renna)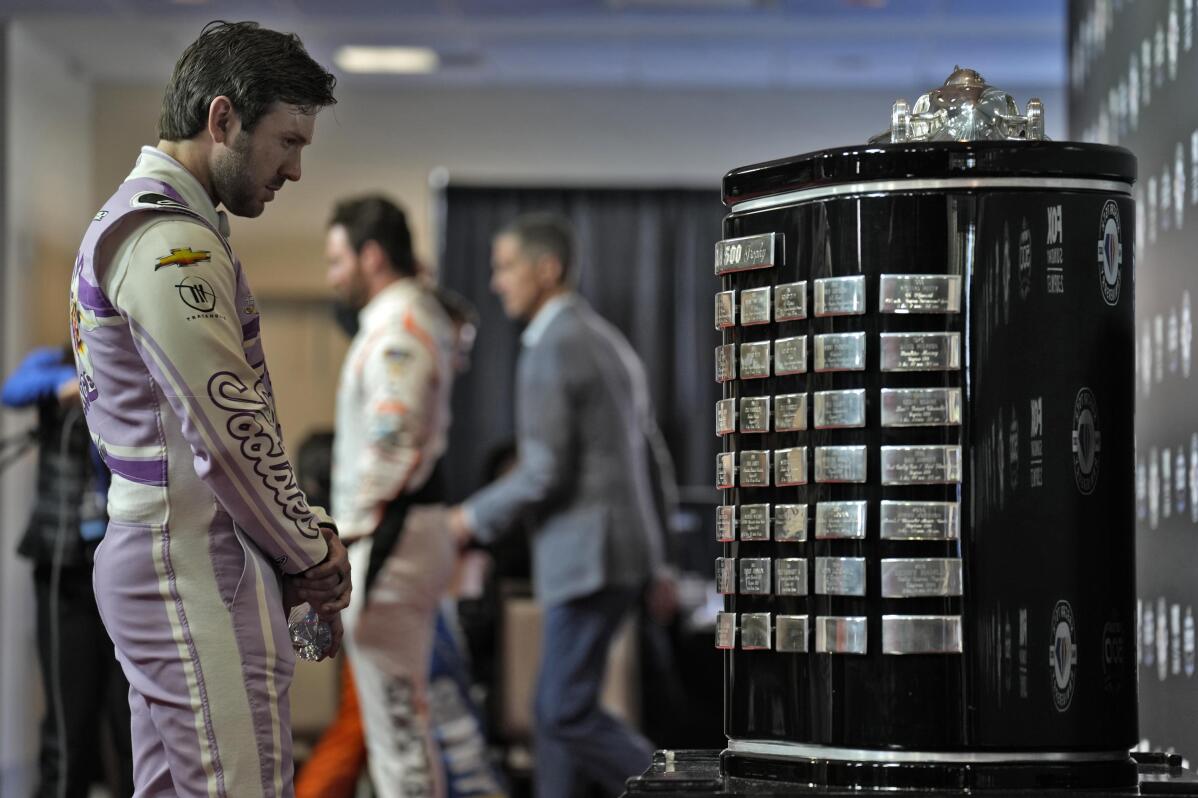 2 of 4

|
Driver Daniel Suarez looks at the Harley J. Earl trophy, the award for winning the Daytona 500, during the NASCAR Daytona 500 auto race media day Wednesday, Feb. 15, 2023, at Daytona International Speedway in Daytona Beach, Fla. (AP Photo/Chris O'Meara)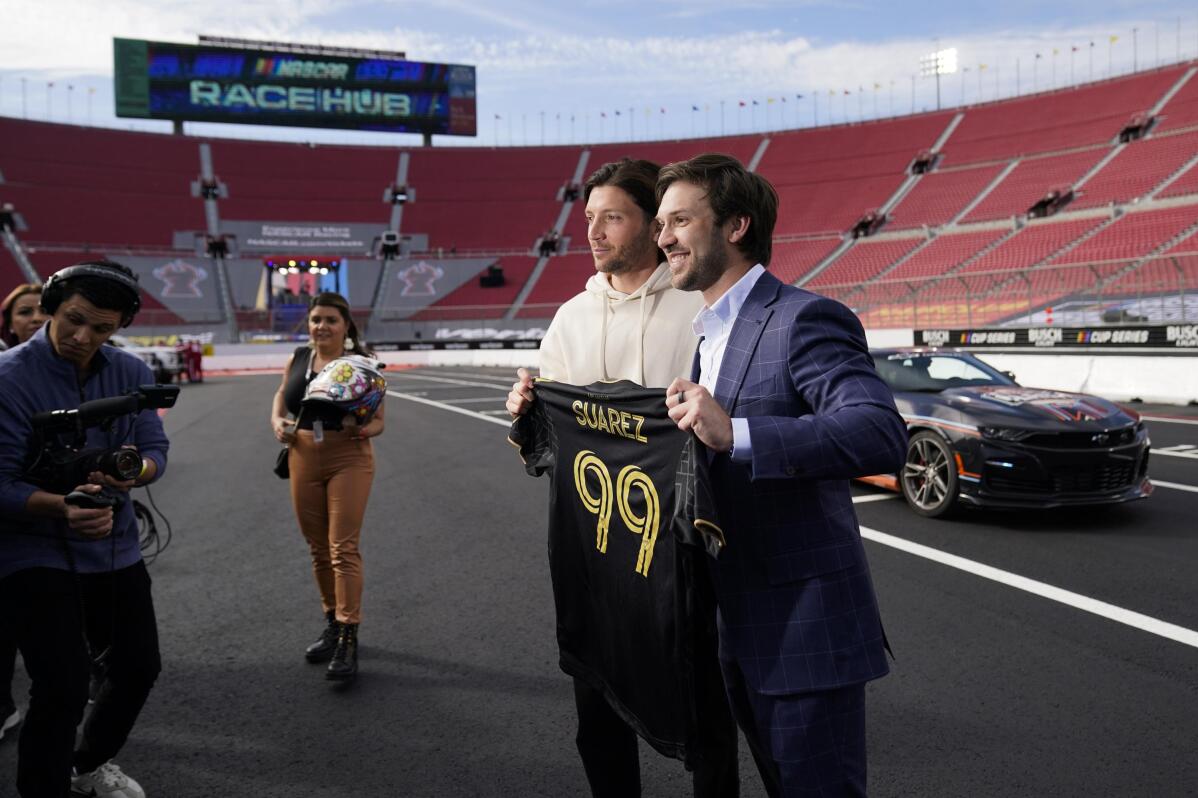 3 of 4

|
LAFC's Chico Arango, center left, poses for a photo with NASCAR driver Daniel Suarez, right, after Suarez gave Arango a ride in a pace car ahead of a NASCAR exhibition auto race at Los Angeles Memorial Coliseum, Friday, Feb. 3, 2023, in Los Angeles. (AP Photo/Ashley Landis)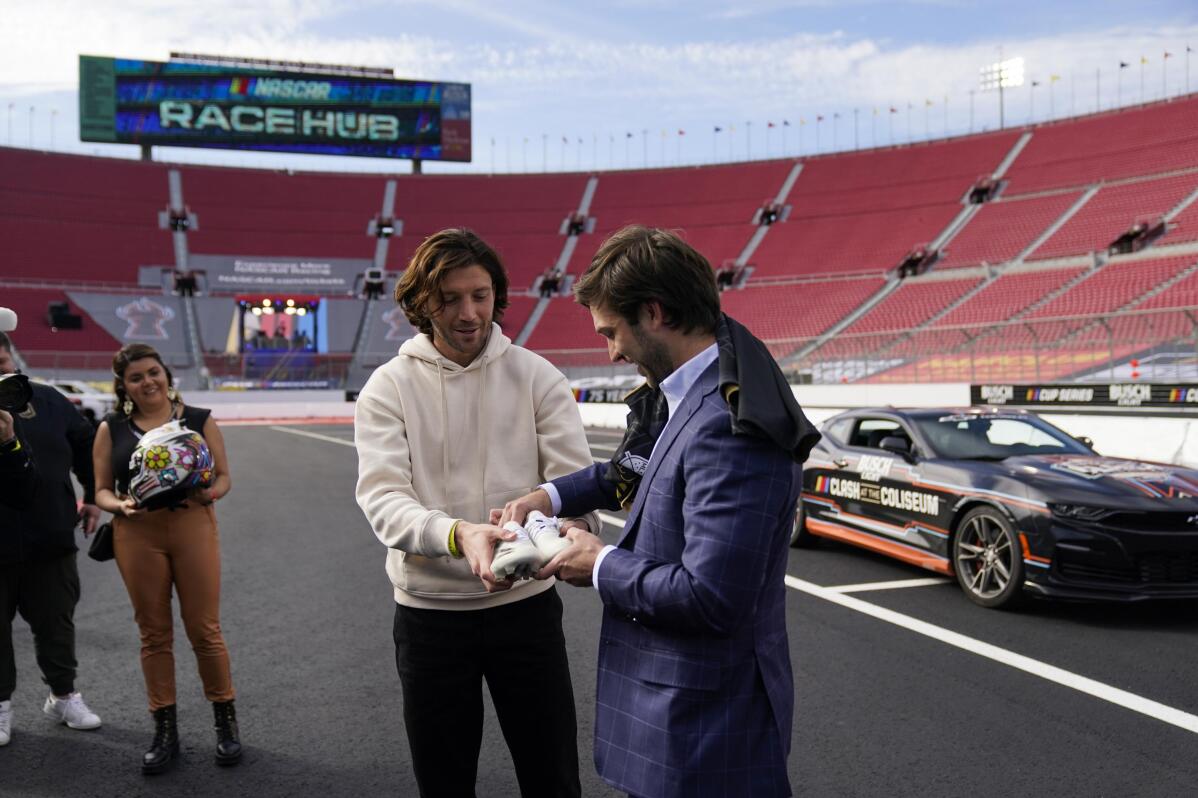 4 of 4

|
LAFC's Chico Arango, center, left, gifts a jersey and a pair of cleats to NASCAR driver Daniel Suarez after Suarez gave Arango a ride in a pace car ahead of a NASCAR exhibition auto race at Los Angeles Memorial Coliseum, Friday, Feb. 3, 2023, in Los Angeles. (AP Photo/Ashley Landis)
NASCAR's Suárez signs multiyear deal with Trackhouse Racing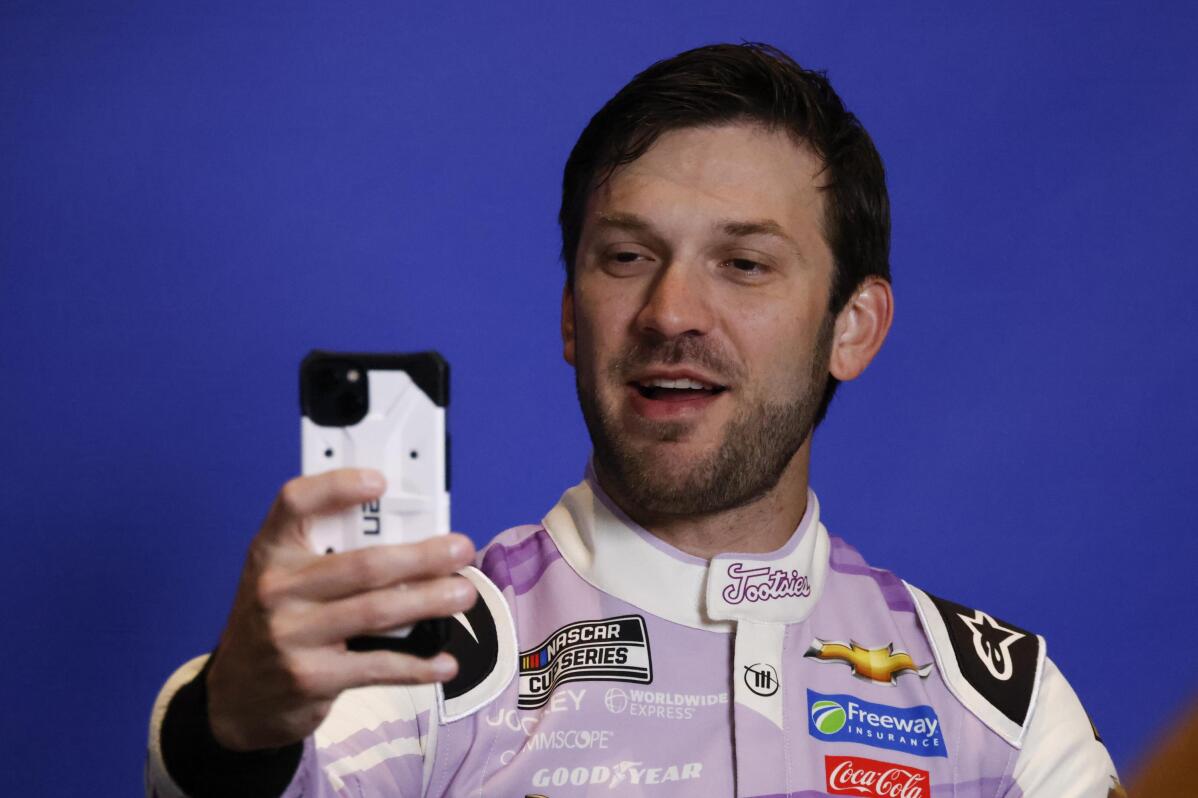 1 of 4

|
Daniel Suarez takes a selfie photo before doing a TV interview during NASCAR Daytona 500 auto race media day at Daytona International Speedway, Wednesday, Feb. 15, 2023, in Daytona Beach, Fla. (AP Photo/Terry Renna)
1 of 4
Daniel Suarez takes a selfie photo before doing a TV interview during NASCAR Daytona 500 auto race media day at Daytona International Speedway, Wednesday, Feb. 15, 2023, in Daytona Beach, Fla. (AP Photo/Terry Renna)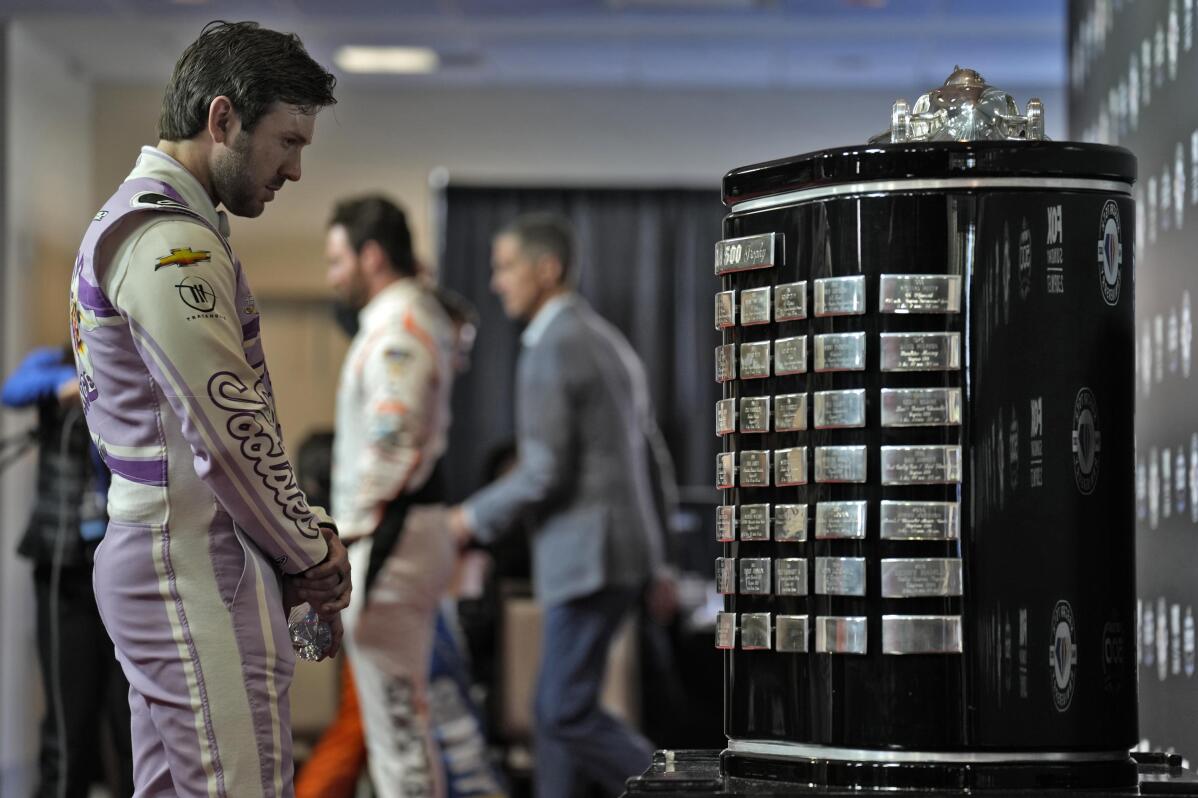 2 of 4

|
Driver Daniel Suarez looks at the Harley J. Earl trophy, the award for winning the Daytona 500, during the NASCAR Daytona 500 auto race media day Wednesday, Feb. 15, 2023, at Daytona International Speedway in Daytona Beach, Fla. (AP Photo/Chris O'Meara)
2 of 4
Driver Daniel Suarez looks at the Harley J. Earl trophy, the award for winning the Daytona 500, during the NASCAR Daytona 500 auto race media day Wednesday, Feb. 15, 2023, at Daytona International Speedway in Daytona Beach, Fla. (AP Photo/Chris O'Meara)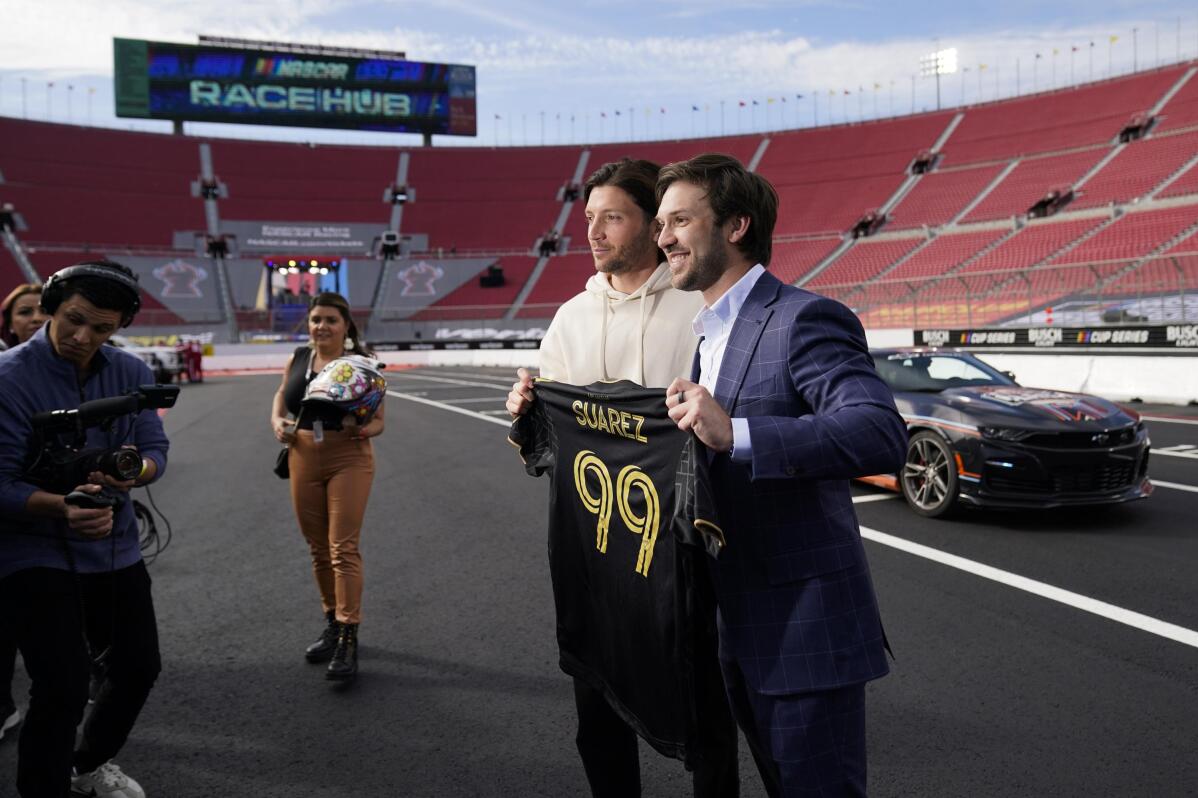 3 of 4

|
LAFC's Chico Arango, center left, poses for a photo with NASCAR driver Daniel Suarez, right, after Suarez gave Arango a ride in a pace car ahead of a NASCAR exhibition auto race at Los Angeles Memorial Coliseum, Friday, Feb. 3, 2023, in Los Angeles. (AP Photo/Ashley Landis)
3 of 4
LAFC's Chico Arango, center left, poses for a photo with NASCAR driver Daniel Suarez, right, after Suarez gave Arango a ride in a pace car ahead of a NASCAR exhibition auto race at Los Angeles Memorial Coliseum, Friday, Feb. 3, 2023, in Los Angeles. (AP Photo/Ashley Landis)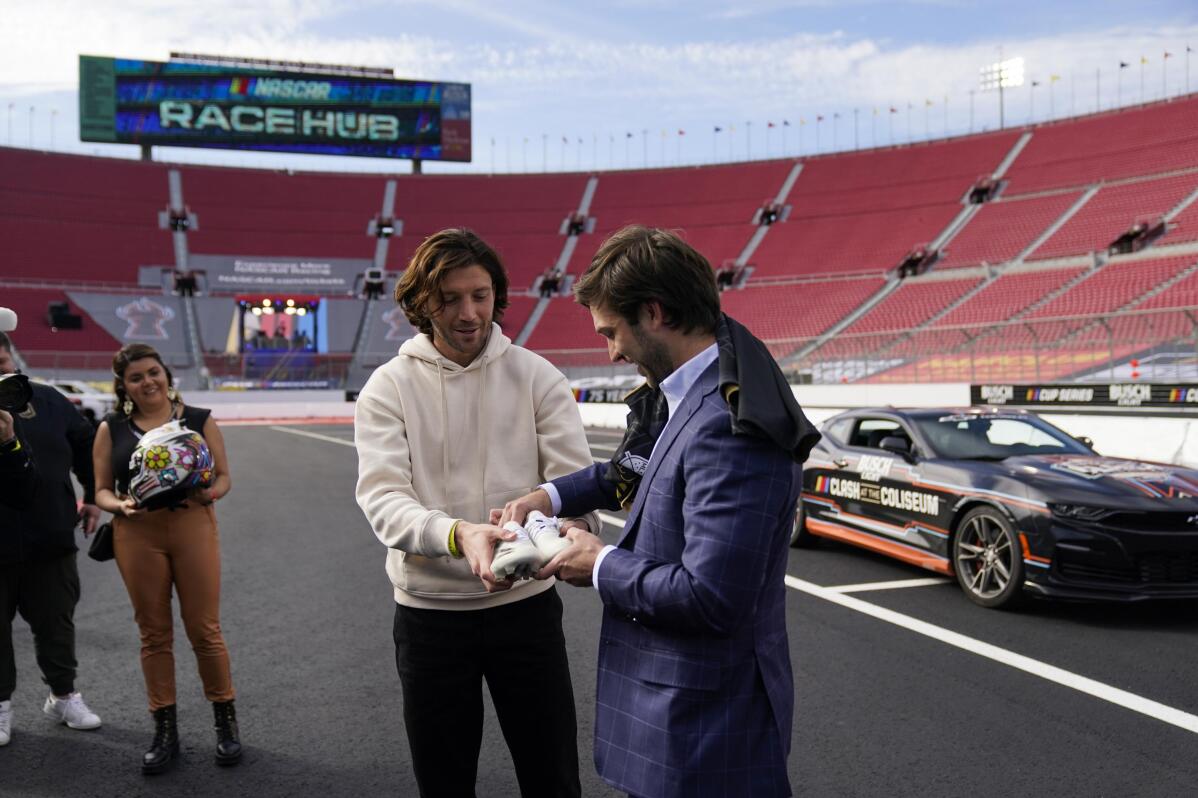 4 of 4

|
LAFC's Chico Arango, center, left, gifts a jersey and a pair of cleats to NASCAR driver Daniel Suarez after Suarez gave Arango a ride in a pace car ahead of a NASCAR exhibition auto race at Los Angeles Memorial Coliseum, Friday, Feb. 3, 2023, in Los Angeles. (AP Photo/Ashley Landis)
4 of 4
LAFC's Chico Arango, center, left, gifts a jersey and a pair of cleats to NASCAR driver Daniel Suarez after Suarez gave Arango a ride in a pace car ahead of a NASCAR exhibition auto race at Los Angeles Memorial Coliseum, Friday, Feb. 3, 2023, in Los Angeles. (AP Photo/Ashley Landis)
DAYTONA BEACH, Fla. (AP) — Daniel Suárez has signed a second extension in six months with Trackhouse Racing, getting a multiyear deal done after landing a one-year contract last August.
The team announced Suárez's latest extension Wednesday as NASCAR kicked off Speedweeks with Daytona 500 media day and pole qualifying. The team declined to release details but will keep the 31-year-old Mexican behind the wheel for a third season and beyond for co-owners Justin Marks and Pitbull.
"Obviously, everyone at Trackhouse Racing is pleased with the performance and professionalism of Daniel both on and off the track," Marks said in a statement. "Culture has been of prime importance since the idea of Trackhouse existed only on a whiteboard in an office. Daniel has fulfilled every expectation and we look forward to the future. The best is yet to come."
Suárez, the 2016 Xfinity Series champion, has one victory in 215 Cup starts. He won last year at Sonomo Raceway, becoming the first Mexican-born winner in NASCAR's top series.
He insisted in August, after signing the one-year extension, that he believed he would get a long-term deal done once the team had more financial clarity regarding the racing series' next media rights deal.
But as the season opener neared, Suárez talked to team management about getting the deal done.
"I'm the kind of person that once I start racing, I like to focus on that," Suárez said. "I feel like at times it can be a distraction. This time, when we started having all these conversations, I said, 'Hey, let's get it out of the way before the Daytona 500.'
"It's a good day because we are announcing this and I am answering these questions, but I don't want to have to think about it during the weekend, not really heading into next week."
Trackhouse competed as a single-car team with Suárez in 2021. That summer, Trackhouse acquired Chip Ganassi Racing's NASCAR assets and cleared a path for expansion.
Trackhouse moved into its race shop in Concord, North Carolina, in 2022 and fielded cars for Suárez and Ross Chastain. They combined for three wins, 21 top-five finishes and 34 top-10s last year.
"The future of Trackhouse is very bright," Suárez said. "Everybody at Trackhouse believes in me. I believe in Trackhouse since Day 1. We're building something great here. I think we have something special going on. It would be silly not to see that and to take advantage of that, to take it to the next level."
___
AP auto racing: https://apnews.com/hub/auto-racing and https://twitter.com/AP_Sports