Utah tops Stanford to earn share of first-ever Pac-12 title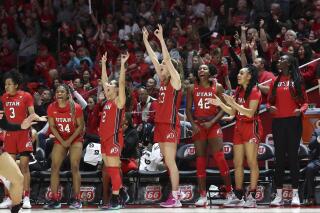 SALT LAKE CITY (AP) — Gianna Kneepkens scored 28 points to lead No. 8 Utah to an 84-78 victory over No. 3 Stanford on Saturday that gave the Utes a share of their first regular-season Pac-12 Conference title.
Alissa Pili finished with 14 points and Kennedy McQueen had 10 points, five rebounds, four assists and six steals for Utah (25-3, 15-3), which shares the conference title with Stanford.
Hannah Jump led Stanford (27-4, 15-3) with 24 points. Cameron Brink had 14 points, 12 rebounds and six assists for the Cardinal, while Haley Jones added nine points and eight rebounds.
Utah led the entire second half, but Stanford pulled within one at 73-72 after Brink and Jones combined to make four straight baskets. Kneepkens knocked down a 3-pointer to keep the Cardinal from erasing the deficit completely.
The Utes then forced three straight turnovers in the final minute to secure the win.
No. 4 UCONN 72, DEPAUL 69
CHICAGO (AP) — Aaliyah Edwards scored 16 points, including two clutch baskets down the stretch, and UConn edged DePaul to clinch at least a share of the Big East regular season championship.
DePaul (15-15, 8-11 Big East) led by as much seven in the second half and was nursing a four-point lead late in the fourth of a tight, physical, contest, but Edwards and Lou Lopez Sénéchal scored to tie it at 65 with 3:10 left.
Then Edwards scored off a turnover with 2:40 to go to put the Huskies ahead. Nika Mühl nailed 3-pointer from the corner with 1:13 to go for a 70-65 UConn (26-5, 17-2) lead.
Anaya Peoples hit two free throws and then layup with 17 seconds left to pull the Blue Demons to within one. DePaul star Aneesah Morrow raced down the court in the final seconds with a chance to win it, but was forced into a turnover with nine seconds left.
Muhl, who finished 13 points, sank a pair of free throws with seven seconds remaining to ice it. Peoples missed a 3-pointer just before the buzzer.
No. 19 TEXAS 67, No. 13 OKLAHOMA 45
NORMAN, Okla. (AP) — Shaylee Gonzales scored 19 points and Texas snapped a first-place tie with Oklahoma in the Big 12, beating the Sooners,
Rori Harmon had 14 points, eight assists and seven rebounds and DeYona Gaston scored 12 points with 11 rebounds, her second double-double this season for the Longhorns (22-7, 13-3). Taylor Jones had five of Texas' 10 blocks to go with 10 points. Shay Holle added 11 points, all in the pivotal third quarter.
Liz Scott scored 13 points with nine rebounds for the Sooners (22-5, 12-4), who had a six-game win streak snapped.
OREGON STATE 78, No. 14 ARIZONA 70
CORVALLIS, Ore. (AP) — Raegan Beers had 24 points and 13 rebounds, fellow freshman Adlee Blacklock scored 22, and Oregon State upset Arizona, snapping the Beavers' nine-game losing streak.
After trailing 60-45 through three quarters, Arizona (21-8, 11-7 Pac-12) scored the first seven points of the fourth period to get within 60-52 with 8:49 remaining. Soon after, Beers converted a three-point play and added two more free throws to put the Beavers (12-17, 4-14) back up by 13.
Madison Conner drained three 3-pointers in a 14-3 run that got the Wildcats within 72-68 with 1:03 remaining. Beers then hit two free throws, OSU's Jelena Mitrovic blocked a layup and Paris Clark missed two free throws for Arizona. After the second miss, former Wildcat Bendu Yeaney and Esmery Martinez were tied up on the rebound, with possession going to Oregon State. The Beavers made 4 of 6 from the line to close it out.
No. 17 UCLA 70, WASHINGTON 62
LOS ANGELES (AP) — Charisma Osborne scored 11 of her 19 points in the fourth quarter to lift UCLA to a win over Washington.
KiKi Rice added 15 points for the Bruins (22-8, 11-7 Pac-12 Conference), who pulled away by making 9 of 15 shots. Londynn Jones had 10 points as all 10 players scored for UCLA.
Haley Van Dyke scored 12 points for the Huskies (15-13, 7-11).
The Bruins scored the first seven points of the third quarter to take a 40-34 lead. Later, Rice made two free throws to make it 48-39. The lead was seven heading into the fourth quarter.
The Huskies pulled within 57-53 midway through the final quarter on a Ladine 3. Osborne then hit a jumper and a 3-pointer and had nine points in an 11-2 run for a 13-point lead with less than two minutes to play.
No. 18 GONZAGA 58, BYU 51
PROVO, Utah (AP) — Yvonne Ejim scored 19 points and grabbed 10 rebounds and Gonzaga secured the West Coast Conference regular season title with a 58-51 win over BYU.
Ejim's three-point play put Gonzaga up 50-45 with 2:51 to play and the Bulldogs made 8 of 10 free throws in the final 79 seconds.
Gonzaga (27-3, 17-1 West Coast Conference) entered the game one game up on Portland, which had its Thursday game at BYU postponed until Monday because weather kept the Pilots from getting to Provo, Utah.
Emma Calvert scored 17 points on 6-of-8 shooting for the Cougars (14-14, 9-8).
No. 20 IOWA STATE 84, TCU 56
AMES, Iowa (AP) — Ashley Joens scored 22 points and grabbed 11 rebounds and 20th-ranked Iowa State routed TCU
Joens entered with 2,880 career points, putting her 18th in NCAA Division I women's basketball history for career scoring.
Reserve Morgan Kane scored 17 points and Lexi Donarski and Emily Ryan each added 12 for the Cyclones (18-8, 10-6 Big 12), who have won three of four after a three-game losing streak.
Tomi Taiwo scored 13 for TCU (7-20, 1-15), which was in search of its first conference road win and now has lost two straight.
No. 21 COLORADO 95, CALIFORNIA 69
BOULDER, Colo. (AP) — Aaronette Vonleh scored 25 points shooting 11 for 14 and Colorado closed the Pac-12 regular season by beating Cal to end a two-game losing streak.
Frida Formann scored 19 points, Jaylyn Sherrod 16 and Quay Miller grabbed 11 rebounds for Colorado (22-7, 13-5 Pac-12), which won both games against the Bears this season.
Jayda Curry scored 23 points for Cal (13-16, 4-14) and made all 11 of her foul shots. The sophomore made her first and only 3-pointer of the game with 57 seconds left to keep her streak of games with a 3-point make alive at 51. She finished 1 for 4.
No. 24 UNLV 65, SAN DIEGO STATE 59
LAS VEGAS (AP) — Desi-Rae Young and Alyssa Brown had double-doubles to lead UNLV to a sluggish victory over San Diego State.
Young had 15 points with 11 rebounds and Brown had 14 points, 12 rebounds and five blocked shots for UNLV (27-2, 17-0 Mountain West). Justice Etheridge added 13 points and Essence Booker scored 12.
Four players scored in a 9-2 run to open the fourth quarter, giving UNLV a 55-47 advantage with 7:23 remaining. Much like a similar drought in the third quarter, UNLV went four minutes without a point and by the time Young hit a jumper with 3:12 to go the Lady Rebels' lead was only 57-53. Young's layup at 1:10 was the second and last UNLV field goal of the final seven minutes. Booker, who was 6-for-6 from the line in the fourth quarter, closed out the win with four free throws in the final minute.
Mercedes Staples, who made 5 of 6 3-pointers, scored 17 points for San Diego State (21-9, 11-6).
No. 25 MIDDLE TENNESSEE STATE 61, LOUISIANA TECH 59
RUSTON, La. (AP) — Kseniya Malashka scored 27 points, the last two on a short, contested jumper with 2.8 seconds to play, and blocked a last-second shot to give Middle Tennessee State a win over Louisiana Tech.
Malashka's basket came after she missed a shot with just over 30 seconds to go but Jalynn Gregory came up with the rebound out of a scramble so the Lady Raiders kept possession.
Gregory put MTSU on top 59-57 with a 3-pointer with 1:16 to play but Keiunna Walker made two free throws on Tech's next possession to tie the game.
Gregory finished with 16 points for the Lady Raiders (23-4, 16-2 Conference USA), who already had the league title secured.
Walker scored 19 points for La Tech (17-11, 10-8) and Anna Roberson and Robyn Lee both added 14.
___
AP women's college basketball: https://apnews.com/hub/womens-college-basketball and https://apnews.com/hub/ap-top-25-womens-college-basketball-poll and https://twitter.com/AP_Top25