Tkachuk's OT goal leads Panthers over Bruins, 4-3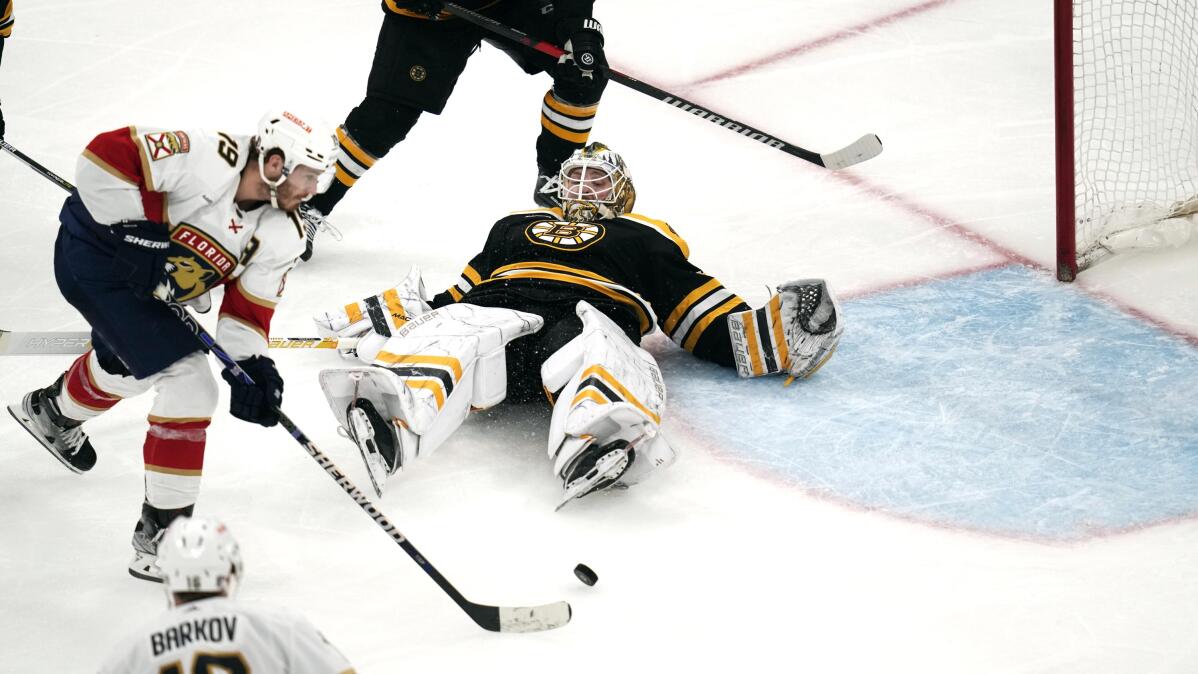 1 of 2

|
Boston Bruins goaltender Linus Ullmark drops to the ice as Florida Panthers left wing Matthew Tkachuk (19) skates past while scoring the game-winning goal during overtime of Game 5 in the first round of the NHL hockey playoffs, Wednesday, April 26, 2023, in Boston. (AP Photo/Charles Krupa)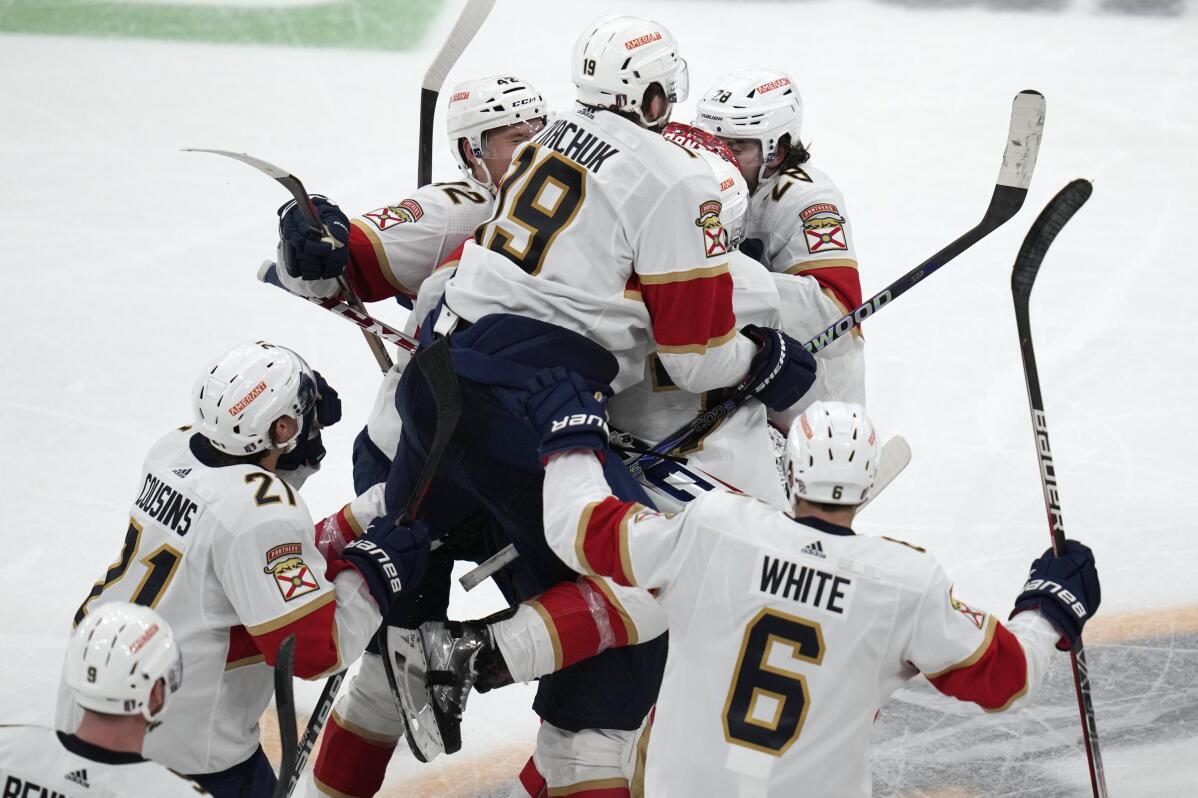 2 of 2

|
Florida Panthers left wing Matthew Tkachuk (19) leaps on goaltender Sergei Bobrovsky (72) while celebrating after scoring the game-winning goal against the Boston Bruins during overtime of Game 5 in the first round of the NHL hockey playoffs, Wednesday, April 26, 2023, in Boston. (AP Photo/Charles Krupa)
Tkachuk's OT goal leads Panthers over Bruins, 4-3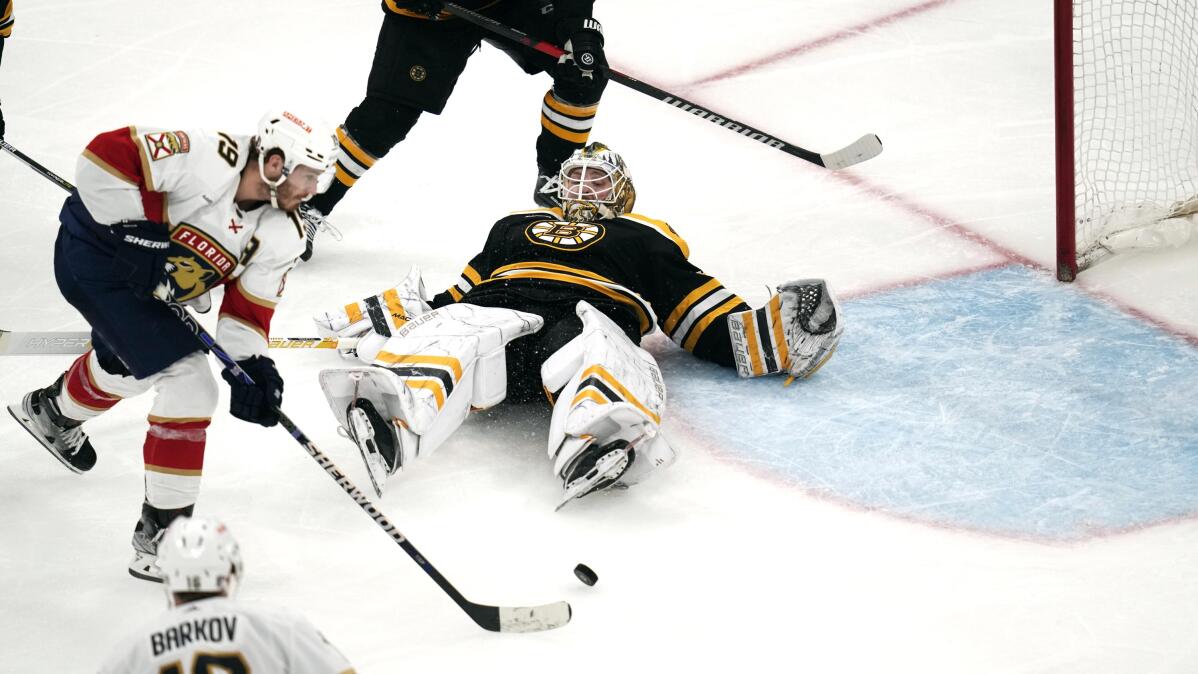 1 of 2

|
Boston Bruins goaltender Linus Ullmark drops to the ice as Florida Panthers left wing Matthew Tkachuk (19) skates past while scoring the game-winning goal during overtime of Game 5 in the first round of the NHL hockey playoffs, Wednesday, April 26, 2023, in Boston. (AP Photo/Charles Krupa)
1 of 2
Boston Bruins goaltender Linus Ullmark drops to the ice as Florida Panthers left wing Matthew Tkachuk (19) skates past while scoring the game-winning goal during overtime of Game 5 in the first round of the NHL hockey playoffs, Wednesday, April 26, 2023, in Boston. (AP Photo/Charles Krupa)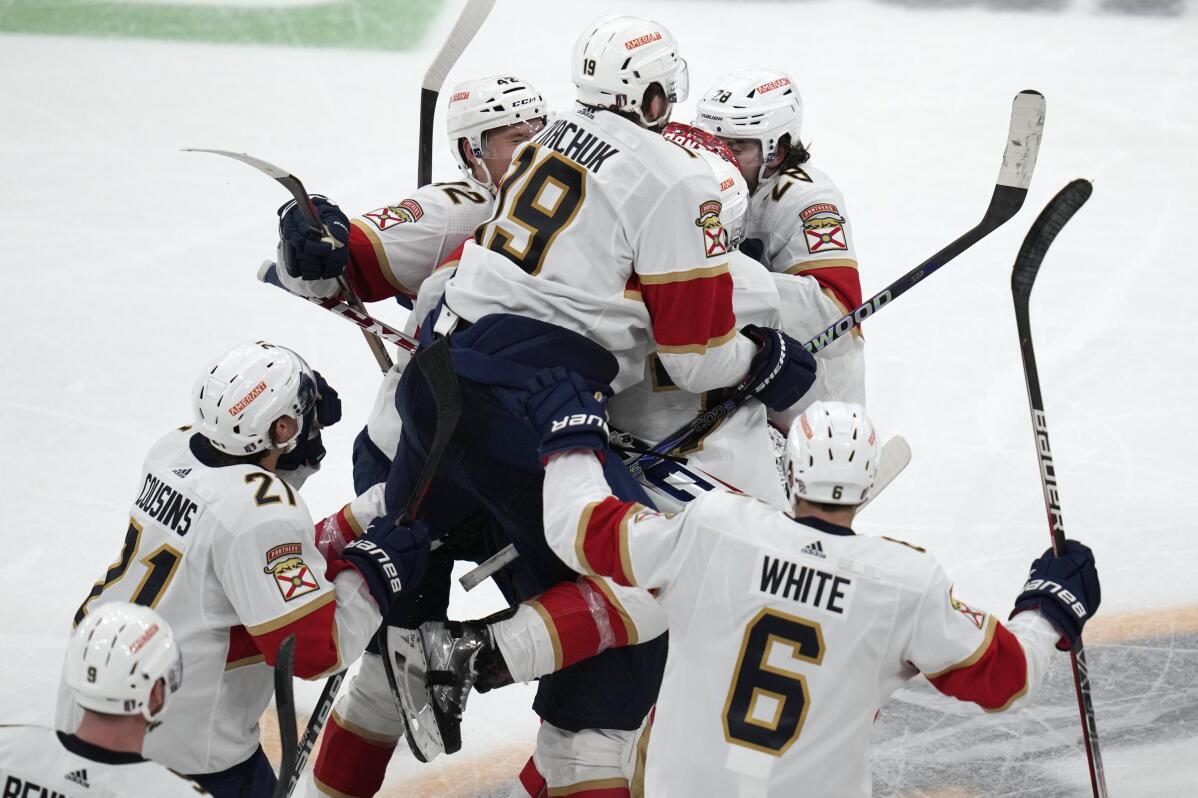 2 of 2

|
Florida Panthers left wing Matthew Tkachuk (19) leaps on goaltender Sergei Bobrovsky (72) while celebrating after scoring the game-winning goal against the Boston Bruins during overtime of Game 5 in the first round of the NHL hockey playoffs, Wednesday, April 26, 2023, in Boston. (AP Photo/Charles Krupa)
2 of 2
Florida Panthers left wing Matthew Tkachuk (19) leaps on goaltender Sergei Bobrovsky (72) while celebrating after scoring the game-winning goal against the Boston Bruins during overtime of Game 5 in the first round of the NHL hockey playoffs, Wednesday, April 26, 2023, in Boston. (AP Photo/Charles Krupa)
BOSTON (AP) — Matthew Tkachuk scored six minutes into overtime to help the Panthers beat the Boston Bruins 4-3 on Wednesday night and force their first-round playoff series back to Florida for a sixth game.
One game after Bruins goalie Linus Ullmark tried to fight Tkachuk, the Panthers forward took advantage of Ullmark's sloppy puck play behind the net and cut the Presidents' Trophy winners' lead in the best-of-seven series to 3-2.
Sergei Bobrovsky made 44 saves for Florida, and Anthony Duclair, Sam Bennett and Sam Reinhart also scored — each one giving the Panthers a lead.
Patrice Bergeron scored in his return from an injury, and Ullmark stopped 21 shots for the Bruins. Brad Marchand and Taylor Hall had the other goals for Boston, which rallied from 1-0, 2-1 and 3-2 deficits to force overtime.
Game 6 is Friday night in Sunrise, Florida.
KRAKEN 3, AVALANCHE 2
DENVER (AP) — Tye Kartye scored in his NHL debut and Seattle moved a win away from clinching their first playoff series after beating the reigning Stanley Cup champion Colorado Avalanche.
The Kraken take a 3-2 lead in the first-round series back home to Seattle, where they can advance Friday night in front of their raucous home fans.
Yanni Gourde and Morgan Geekie added goals for the Kraken, who've scored first in all five games. Philipp Grubauer stopped 26 shots against his former team.
Nathan MacKinnon had a goal and Evan Rodrigues added another to make it 3-2 with 3:37 remaining, but the Avs couldn't tie it up. Alexandar Georgiev had 26 stops for Colorado.
___
AP NHL playoffs: https://apnews.com/hub/stanley-cup and https://twitter.com/AP_Sports