Ku-DiPietro lifts DC United to 3-2 victory over Toronto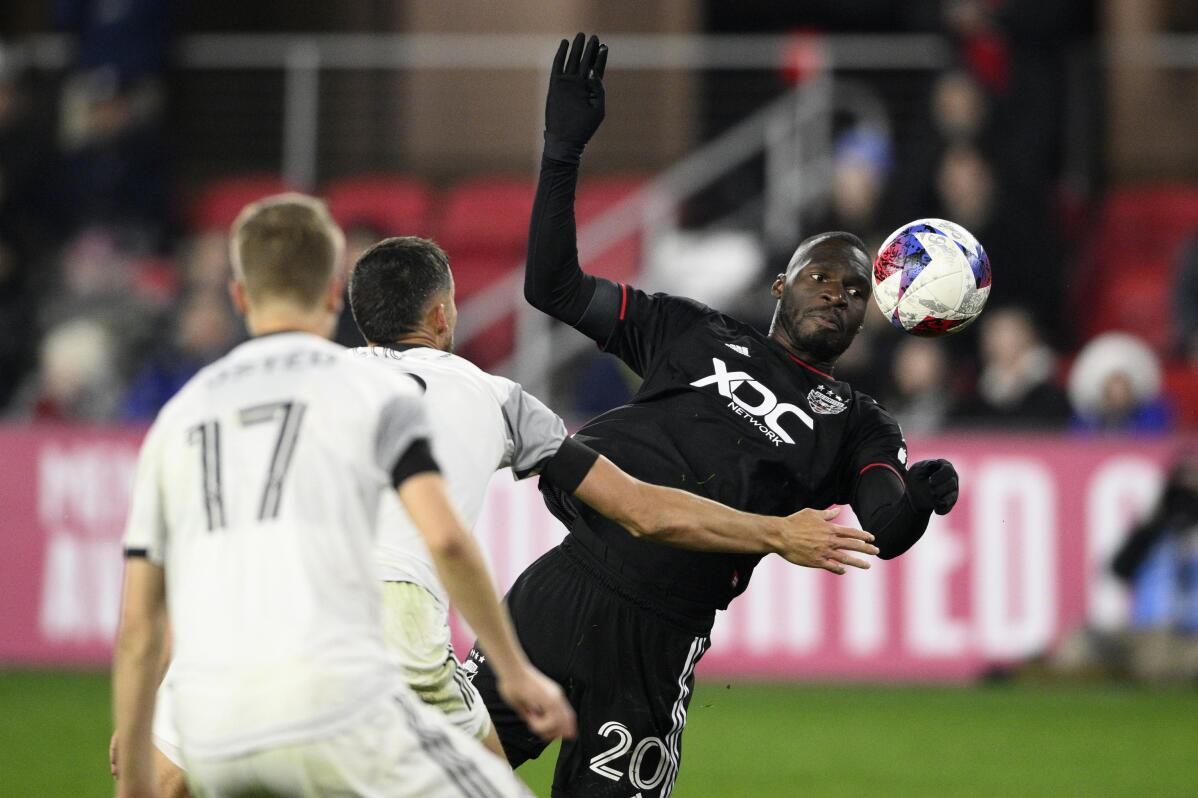 1 of 10

|
D.C. United forward Christian Benteke (20) goes for the ball against Toronto FC defender Sigurd Rosted (17) and defender Matt Hedges, center, during the second half of an MLS soccer match, Saturday, Feb. 25, 2023, in Washington. (AP Photo/Nick Wass)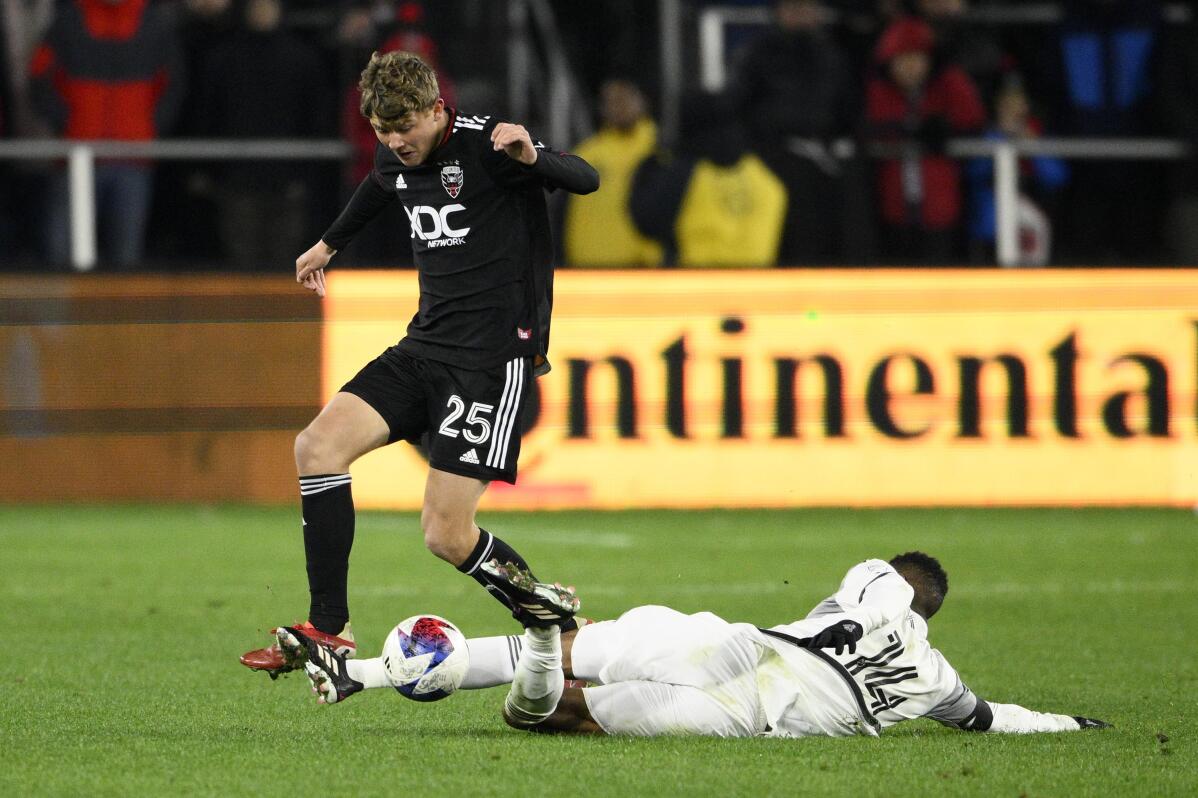 2 of 10

|
D.C. United midfielder Jackson Hopkins (25) battles Toronto FC midfielder Mark-Anthony Kaye (14) for the ball during the second half of an MLS soccer match, Saturday, Feb. 25, 2023, in Washington. (AP Photo/Nick Wass)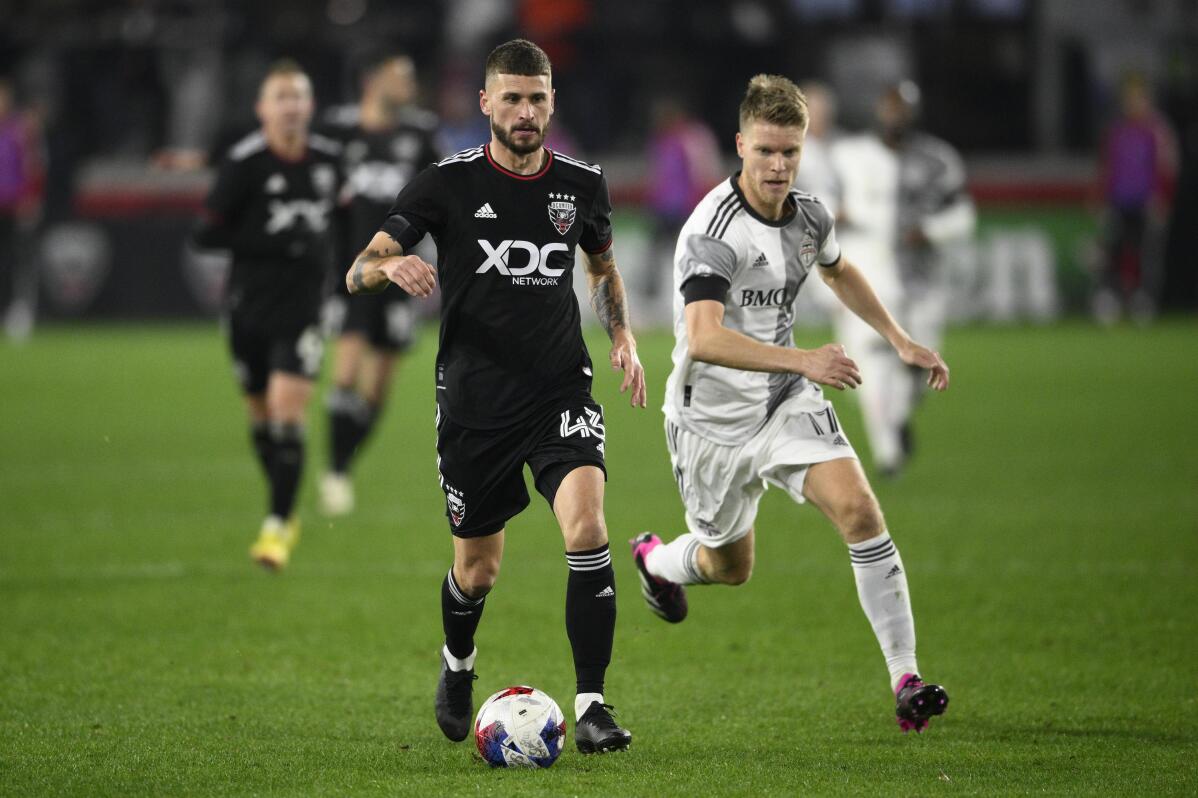 3 of 10

|
D.C. United midfielder Mateusz Klich (43) dribbles the ball next to Toronto FC defender Sigurd Rosted (17) during the second half of an MLS soccer match, Saturday, Feb. 25, 2023, in Washington. (AP Photo/Nick Wass)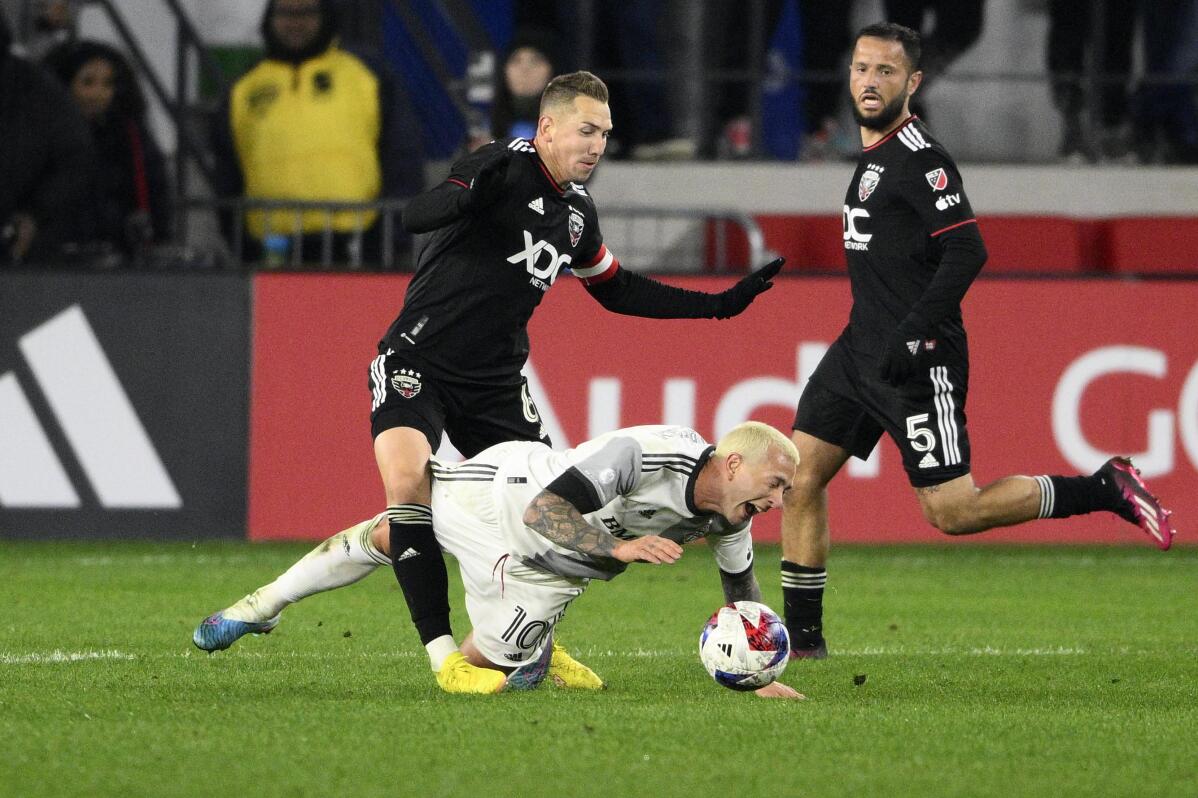 4 of 10

|
D.C. United midfielder Russell Canouse (6) battles for the ball against Toronto FC midfielder Federico Bernardeschi (10) during the second half of an MLS soccer match, Saturday, Feb. 25, 2023, in Washington. D.C. United defender Mohanad Jeahze (5) watches. (AP Photo/Nick Wass)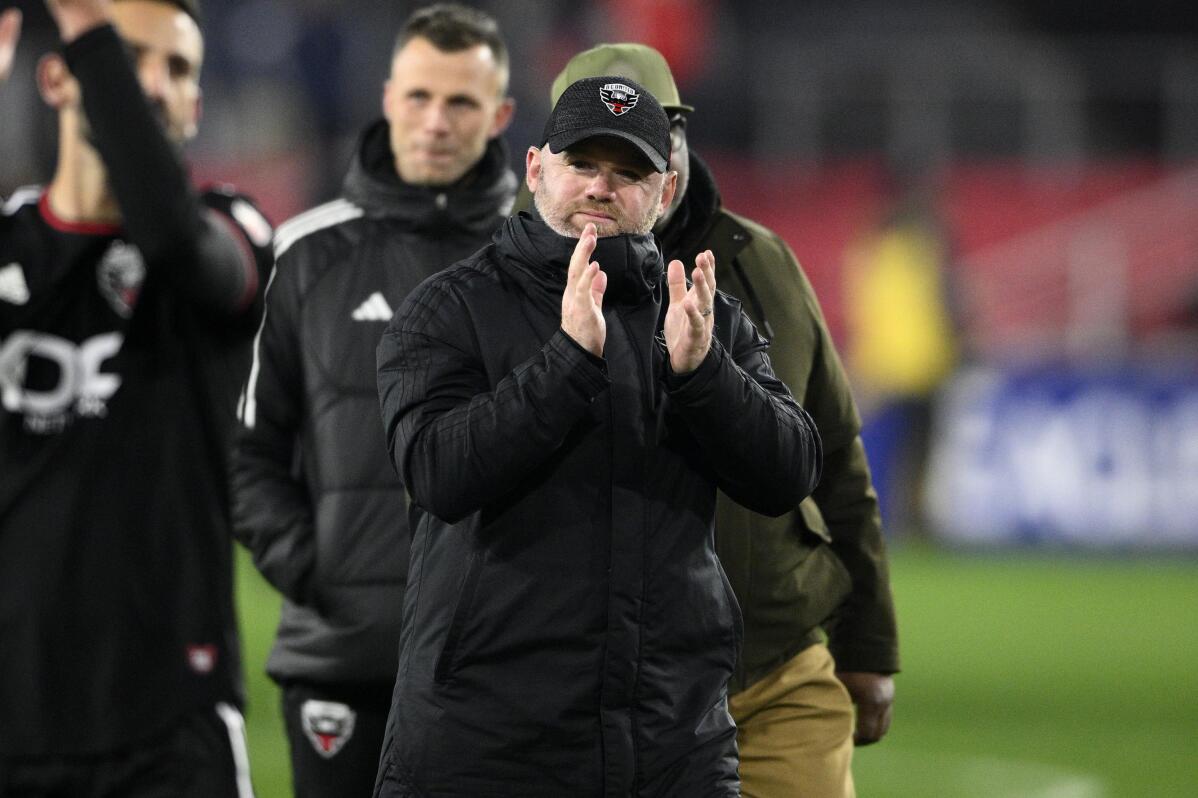 5 of 10

|
D.C. United head coach Wayne Rooney reacts after an MLS soccer match against Toronto FC, Saturday, Feb. 25, 2023, in Washington. (AP Photo/Nick Wass)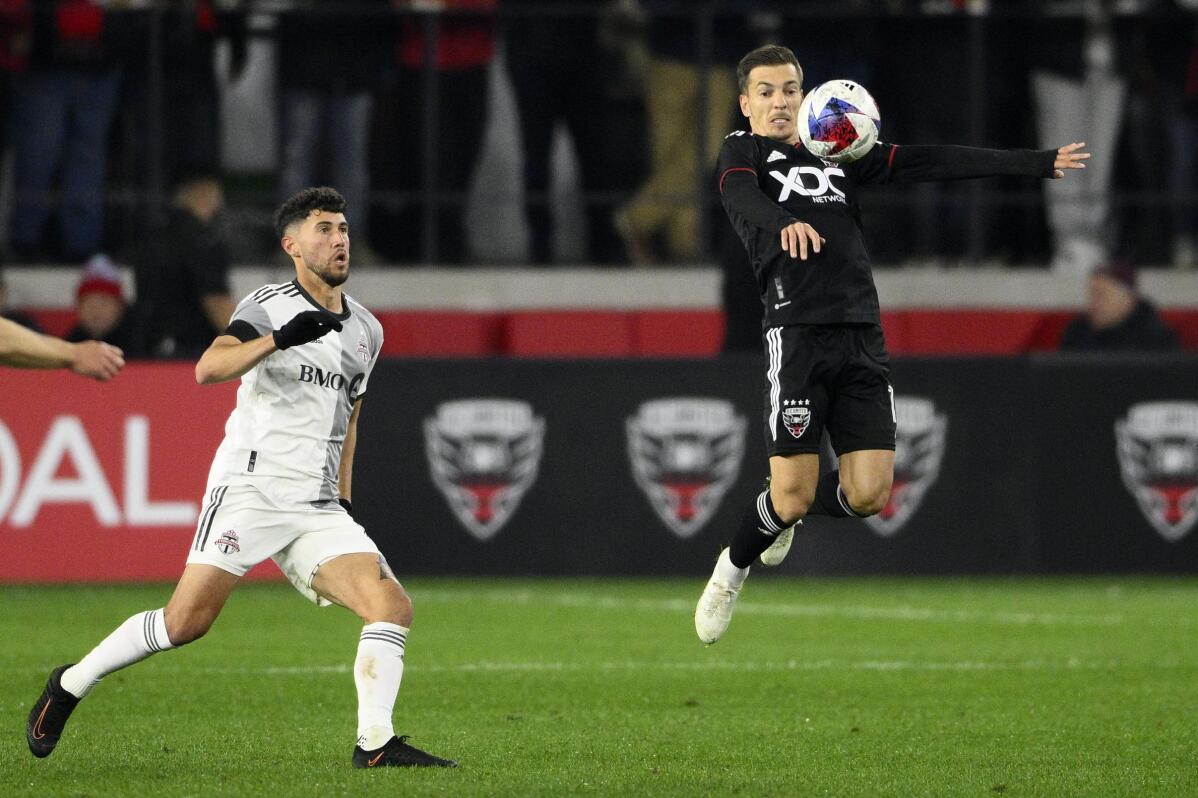 6 of 10

|
D.C. United defender Pedro Santos, right, leaps for the ball against Toronto FC midfielder Jonathan Osorio, left, during the second half of an MLS soccer match, Saturday, Feb. 25, 2023, in Washington. (AP Photo/Nick Wass)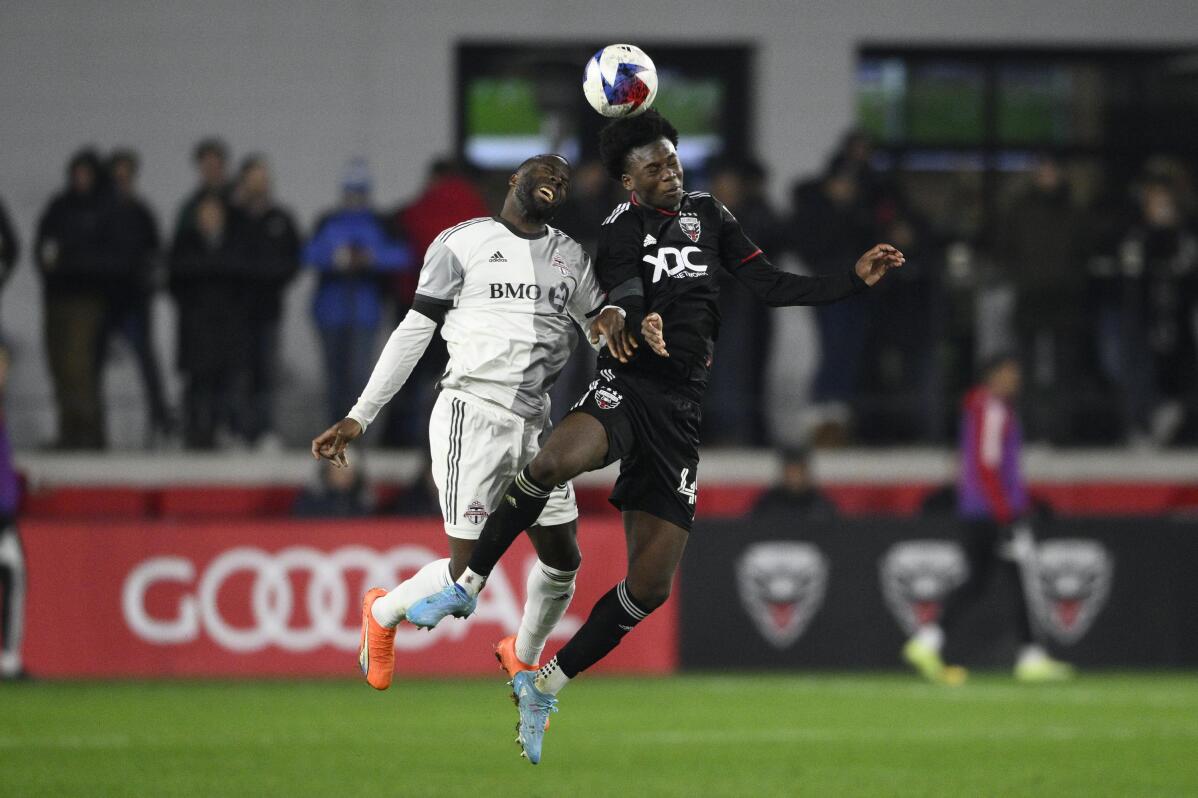 7 of 10

|
D.C. United defender Matai Akinmboni, right, heads the ball in front of Toronto FC forward Adama Diomande, left, during the second half of an MLS soccer match, Saturday, Feb. 25, 2023, in Washington. (AP Photo/Nick Wass)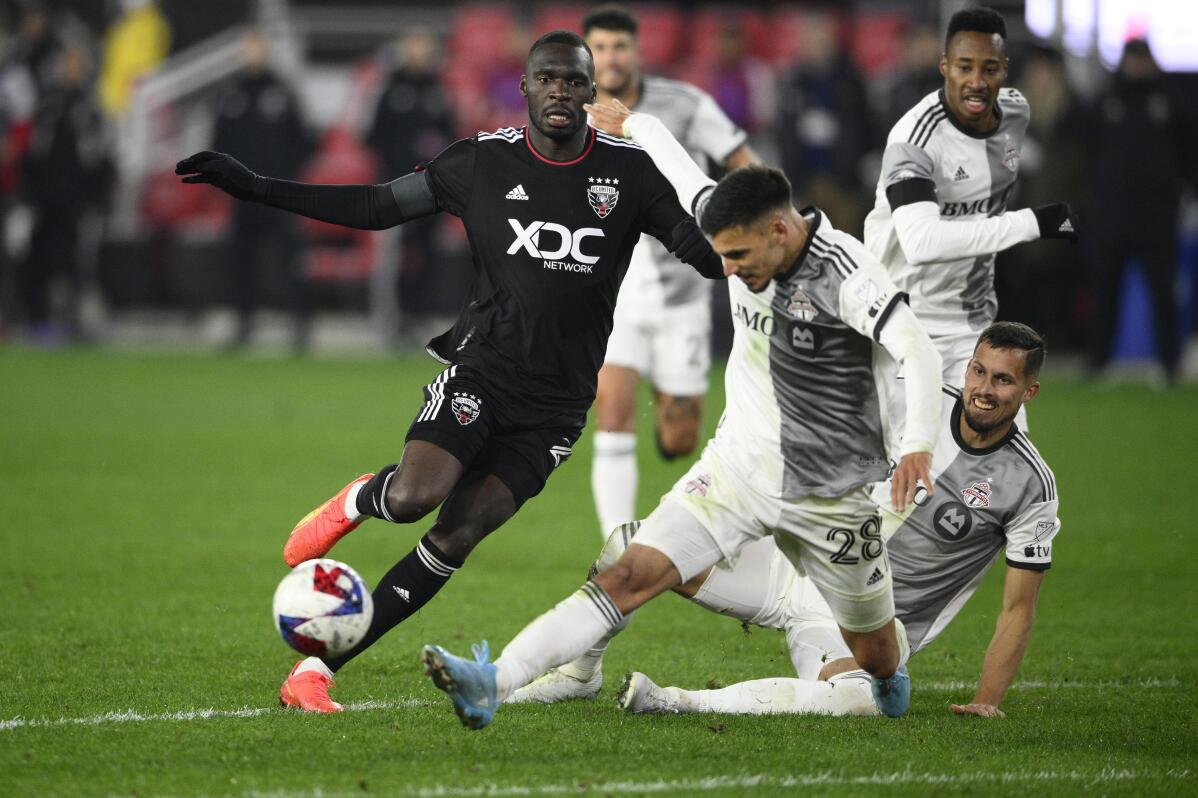 8 of 10

|
D.C. United forward Christian Benteke, left, and Toronto FC defender Raoul Petretta (28) battle for the ball during the second half of an MLS soccer match, Saturday, Feb. 25, 2023, in Washington. (AP Photo/Nick Wass)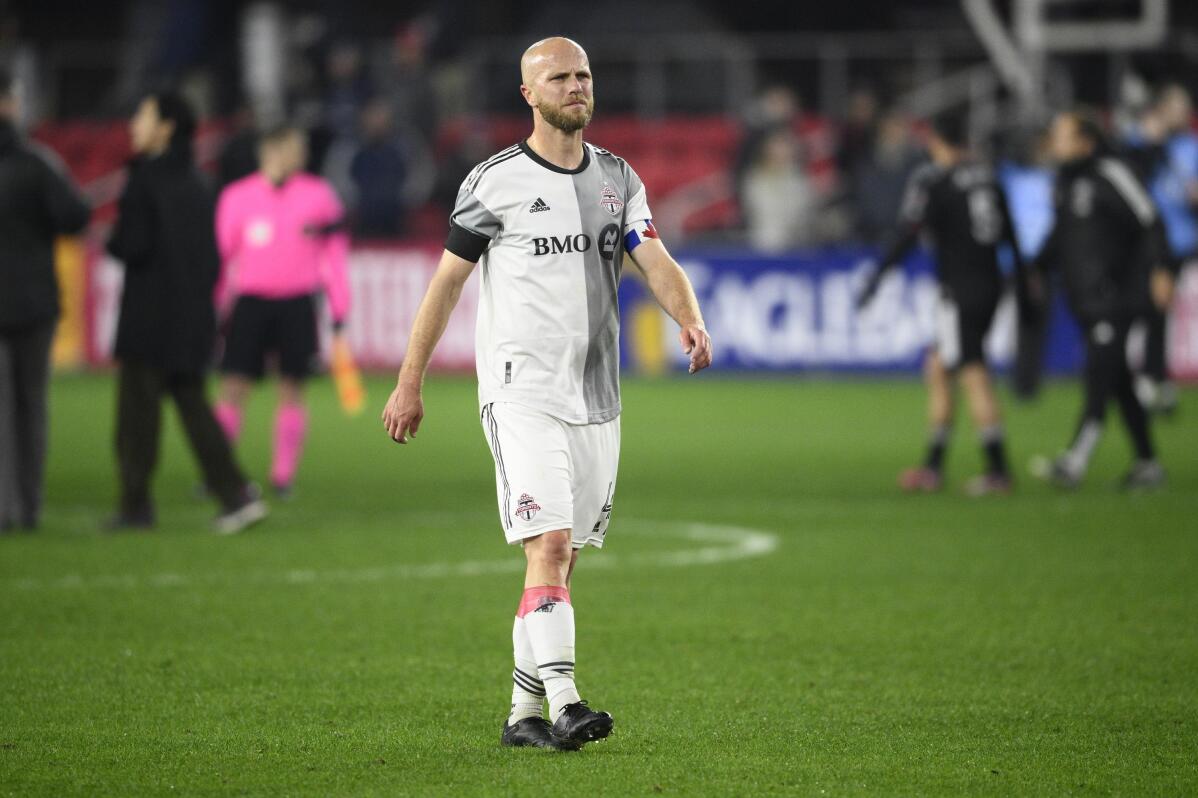 9 of 10

|
Toronto FC midfielder Michael Bradley leaves the field after an MLS soccer match against D.C. United, Saturday, Feb. 25, 2023, in Washington. (AP Photo/Nick Wass)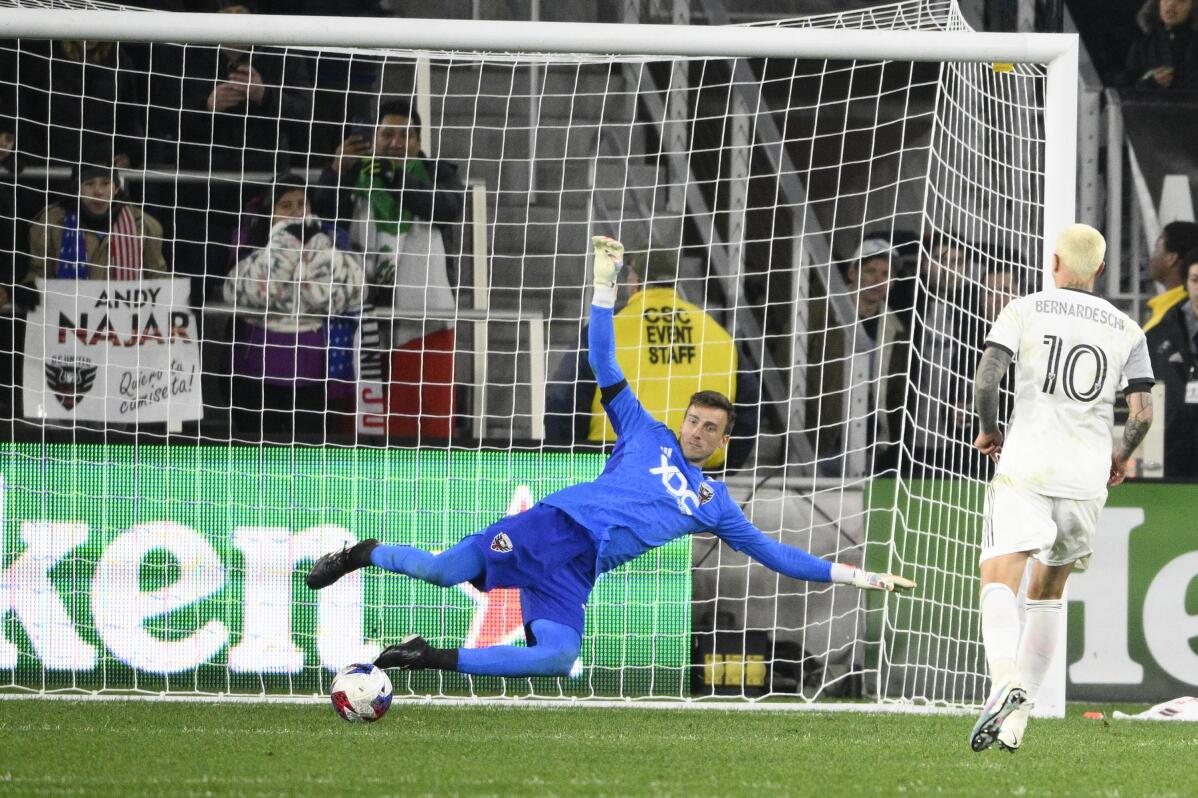 10 of 10

|
Toronto FC midfielder Federico Bernardeschi (10) scores on a penalty kick against D.C. United goalkeeper Tyler Miller, left, during the second half of an MLS soccer match, Saturday, Feb. 25, 2023, in Washington. D.C. (AP Photo/Nick Wass)
Ku-DiPietro lifts DC United to 3-2 victory over Toronto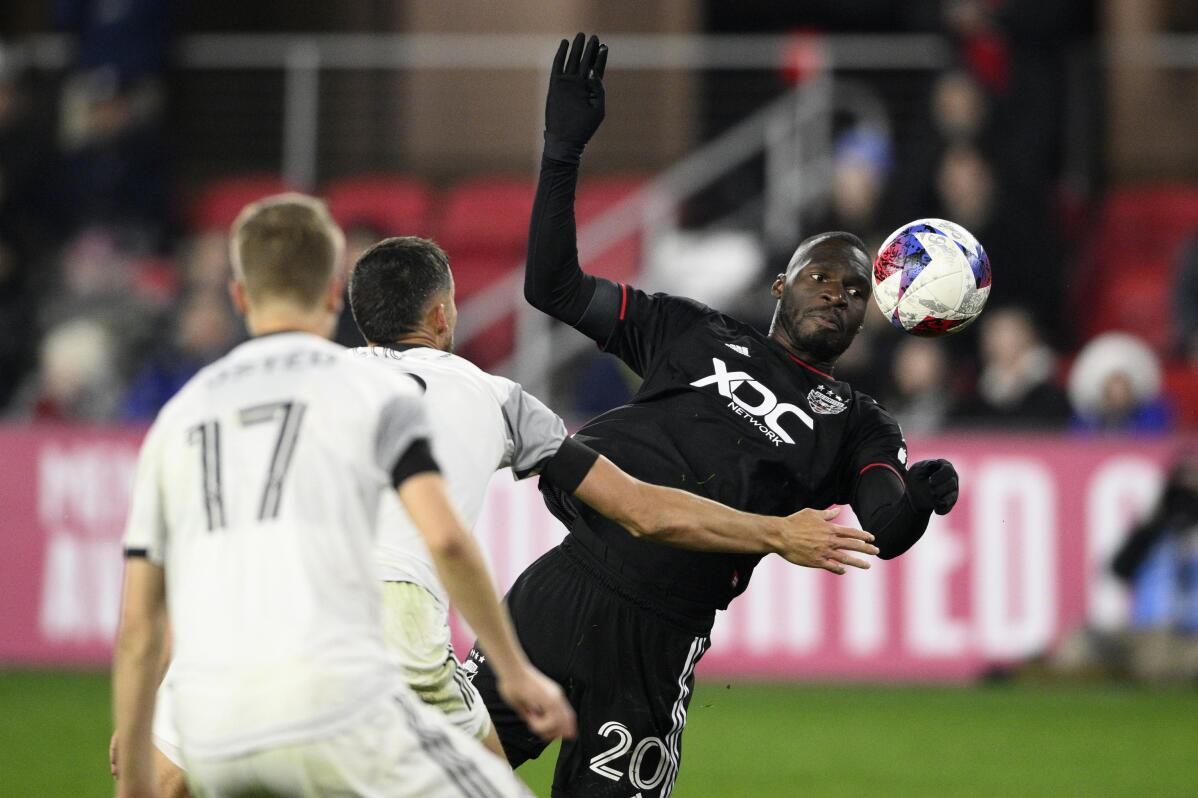 1 of 10

|
D.C. United forward Christian Benteke (20) goes for the ball against Toronto FC defender Sigurd Rosted (17) and defender Matt Hedges, center, during the second half of an MLS soccer match, Saturday, Feb. 25, 2023, in Washington. (AP Photo/Nick Wass)
1 of 10
D.C. United forward Christian Benteke (20) goes for the ball against Toronto FC defender Sigurd Rosted (17) and defender Matt Hedges, center, during the second half of an MLS soccer match, Saturday, Feb. 25, 2023, in Washington. (AP Photo/Nick Wass)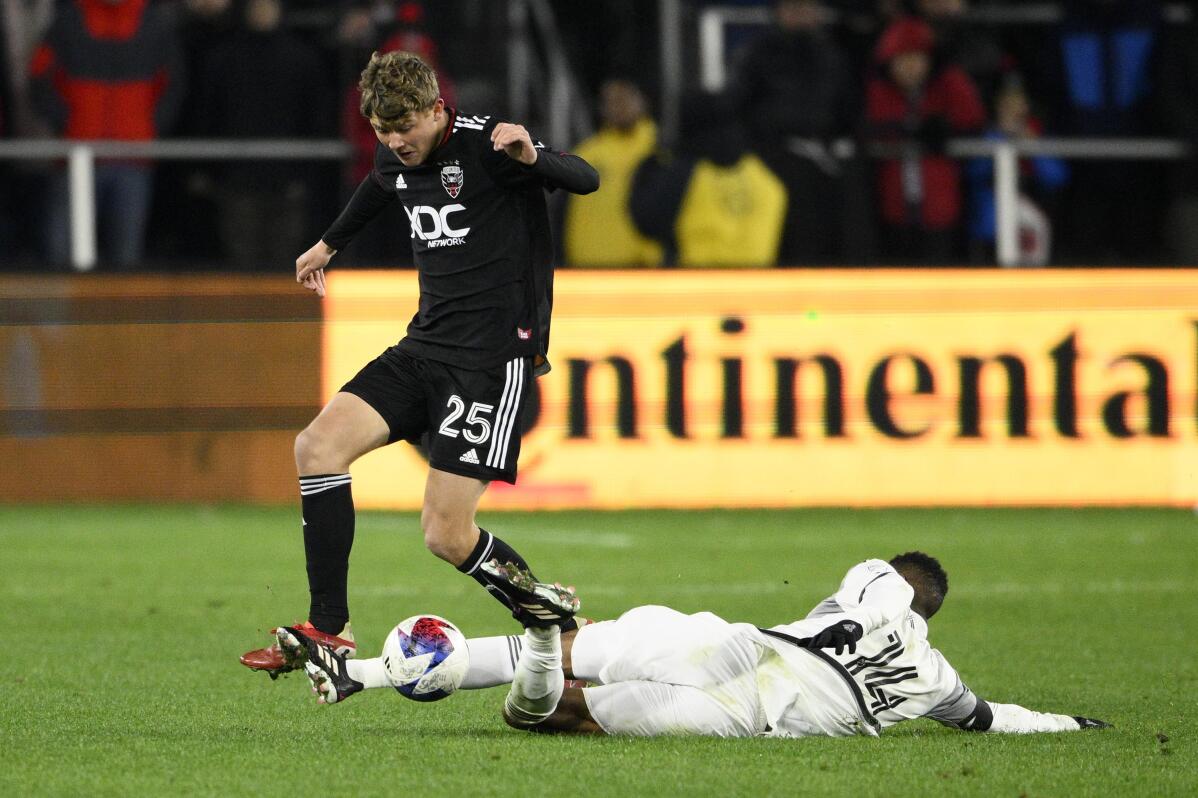 2 of 10

|
D.C. United midfielder Jackson Hopkins (25) battles Toronto FC midfielder Mark-Anthony Kaye (14) for the ball during the second half of an MLS soccer match, Saturday, Feb. 25, 2023, in Washington. (AP Photo/Nick Wass)
2 of 10
D.C. United midfielder Jackson Hopkins (25) battles Toronto FC midfielder Mark-Anthony Kaye (14) for the ball during the second half of an MLS soccer match, Saturday, Feb. 25, 2023, in Washington. (AP Photo/Nick Wass)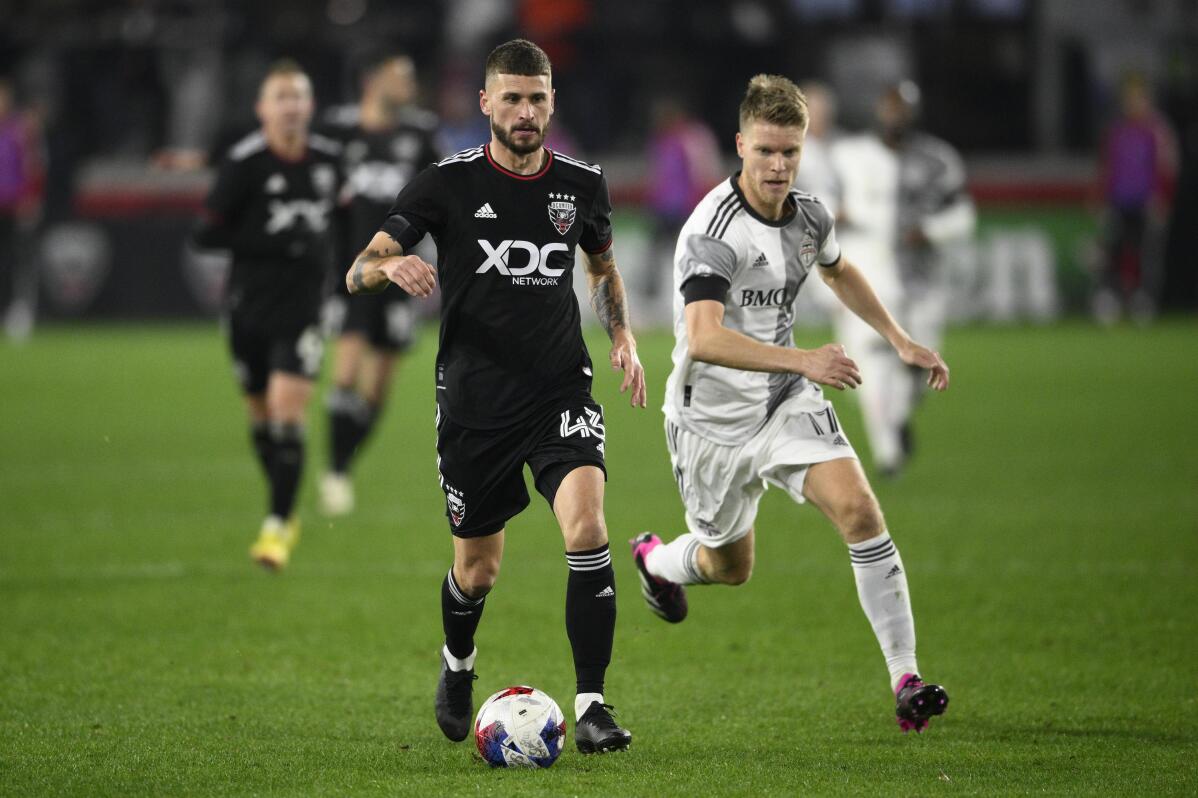 3 of 10

|
D.C. United midfielder Mateusz Klich (43) dribbles the ball next to Toronto FC defender Sigurd Rosted (17) during the second half of an MLS soccer match, Saturday, Feb. 25, 2023, in Washington. (AP Photo/Nick Wass)
3 of 10
D.C. United midfielder Mateusz Klich (43) dribbles the ball next to Toronto FC defender Sigurd Rosted (17) during the second half of an MLS soccer match, Saturday, Feb. 25, 2023, in Washington. (AP Photo/Nick Wass)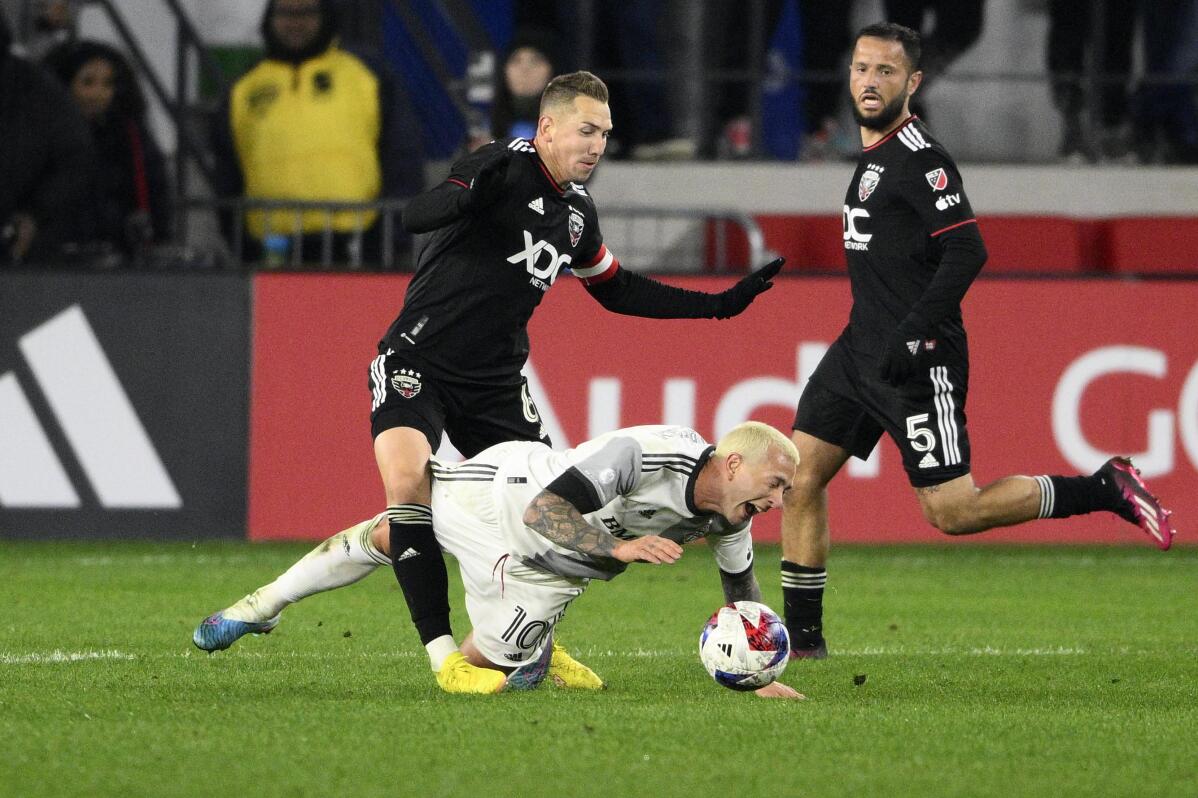 4 of 10

|
D.C. United midfielder Russell Canouse (6) battles for the ball against Toronto FC midfielder Federico Bernardeschi (10) during the second half of an MLS soccer match, Saturday, Feb. 25, 2023, in Washington. D.C. United defender Mohanad Jeahze (5) watches. (AP Photo/Nick Wass)
4 of 10
D.C. United midfielder Russell Canouse (6) battles for the ball against Toronto FC midfielder Federico Bernardeschi (10) during the second half of an MLS soccer match, Saturday, Feb. 25, 2023, in Washington. D.C. United defender Mohanad Jeahze (5) watches. (AP Photo/Nick Wass)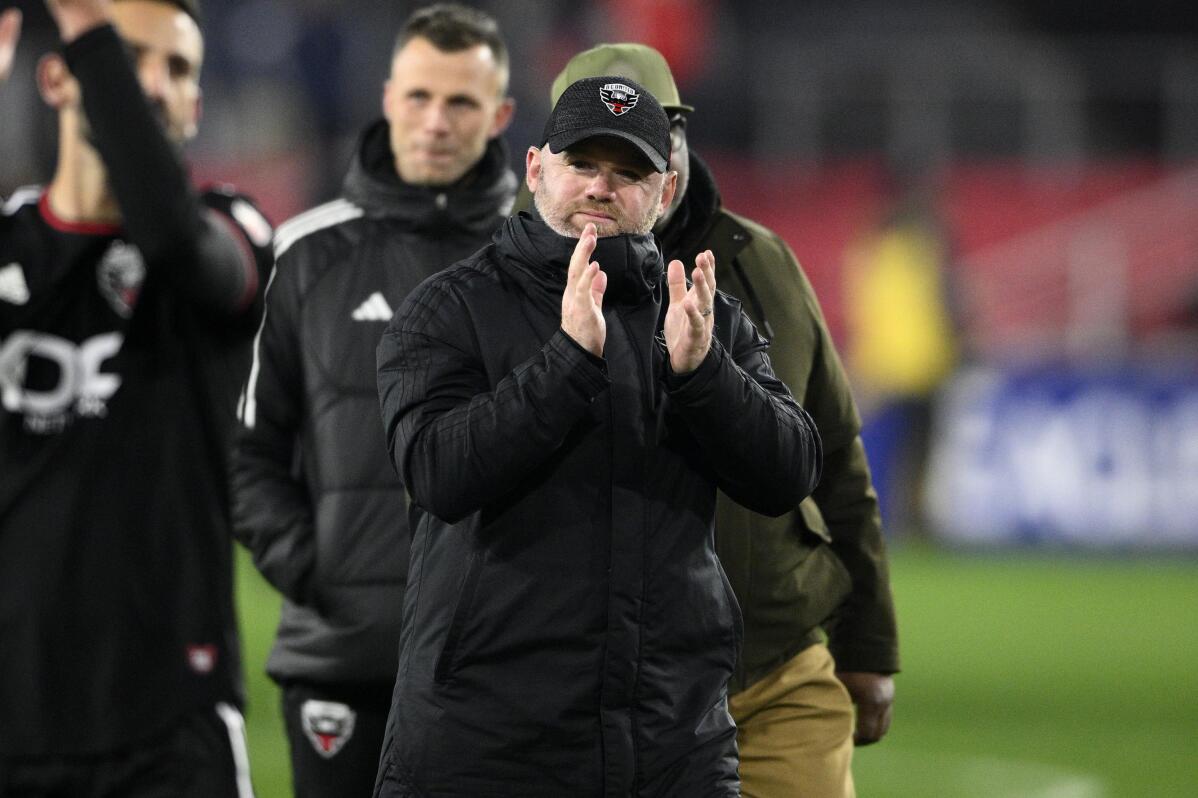 5 of 10

|
D.C. United head coach Wayne Rooney reacts after an MLS soccer match against Toronto FC, Saturday, Feb. 25, 2023, in Washington. (AP Photo/Nick Wass)
5 of 10
D.C. United head coach Wayne Rooney reacts after an MLS soccer match against Toronto FC, Saturday, Feb. 25, 2023, in Washington. (AP Photo/Nick Wass)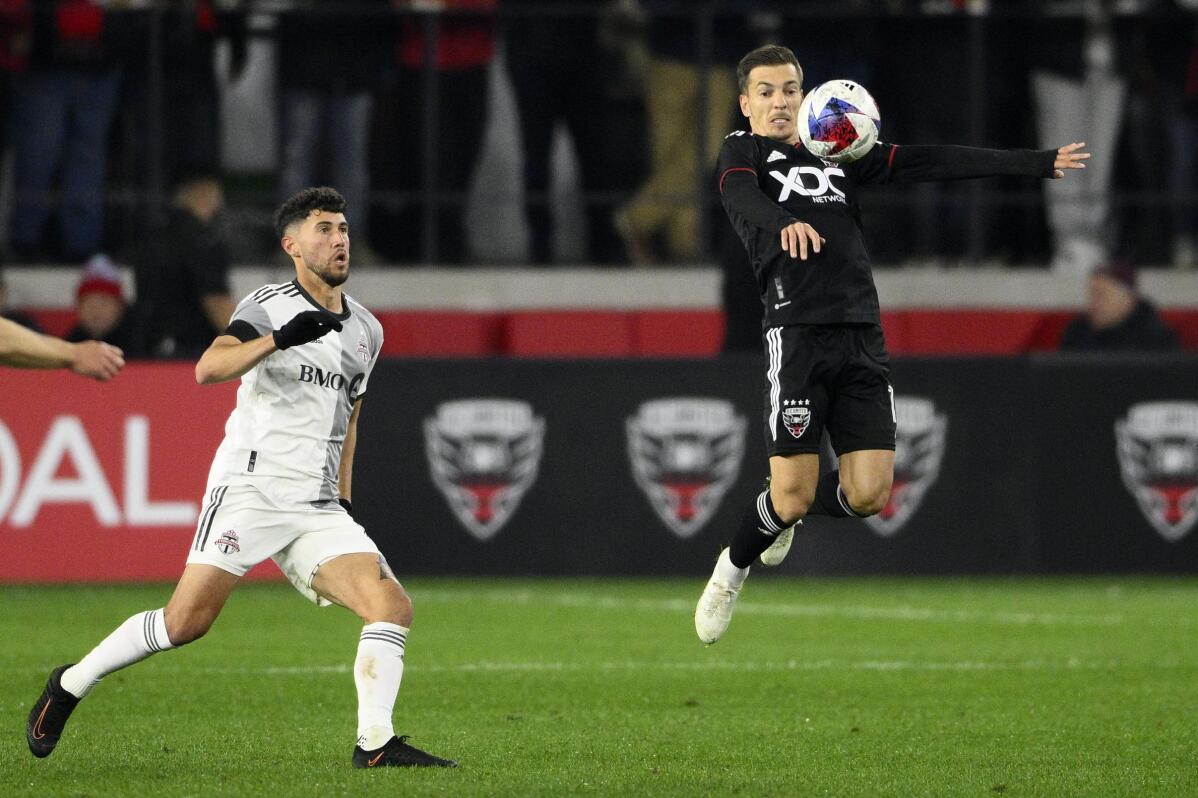 6 of 10

|
D.C. United defender Pedro Santos, right, leaps for the ball against Toronto FC midfielder Jonathan Osorio, left, during the second half of an MLS soccer match, Saturday, Feb. 25, 2023, in Washington. (AP Photo/Nick Wass)
6 of 10
D.C. United defender Pedro Santos, right, leaps for the ball against Toronto FC midfielder Jonathan Osorio, left, during the second half of an MLS soccer match, Saturday, Feb. 25, 2023, in Washington. (AP Photo/Nick Wass)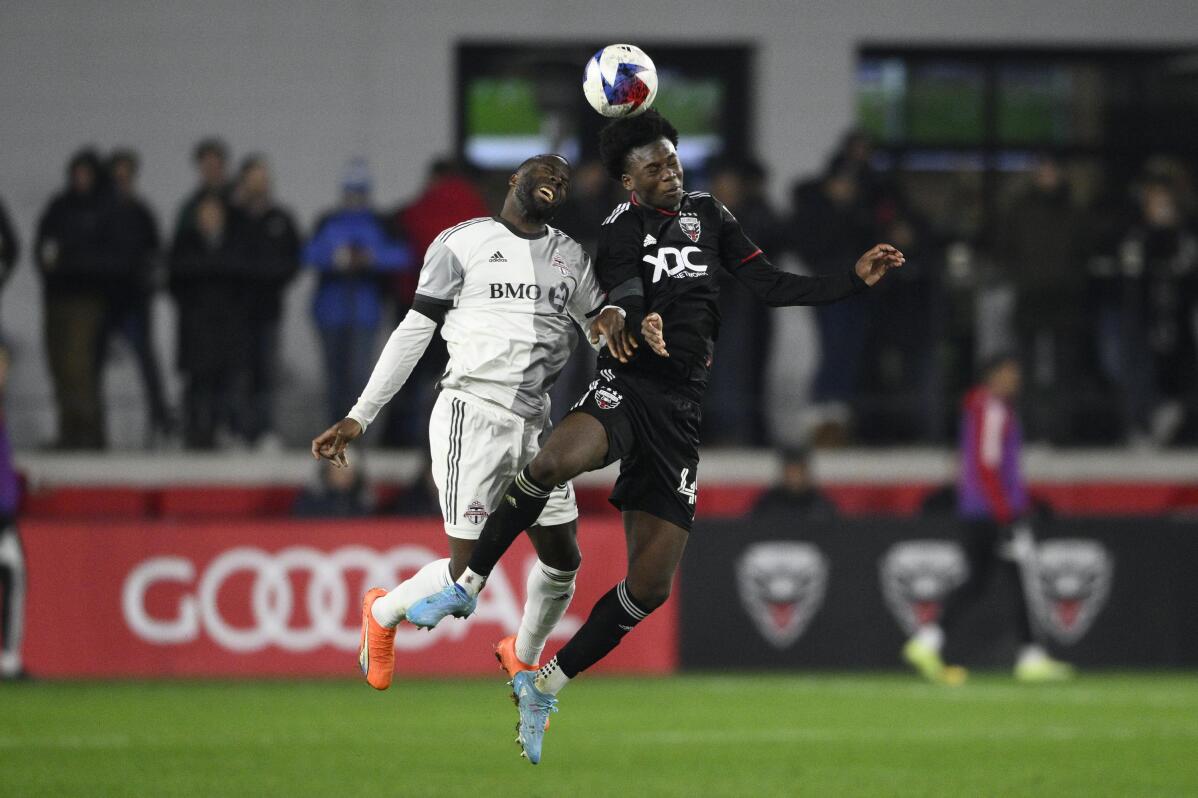 7 of 10

|
D.C. United defender Matai Akinmboni, right, heads the ball in front of Toronto FC forward Adama Diomande, left, during the second half of an MLS soccer match, Saturday, Feb. 25, 2023, in Washington. (AP Photo/Nick Wass)
7 of 10
D.C. United defender Matai Akinmboni, right, heads the ball in front of Toronto FC forward Adama Diomande, left, during the second half of an MLS soccer match, Saturday, Feb. 25, 2023, in Washington. (AP Photo/Nick Wass)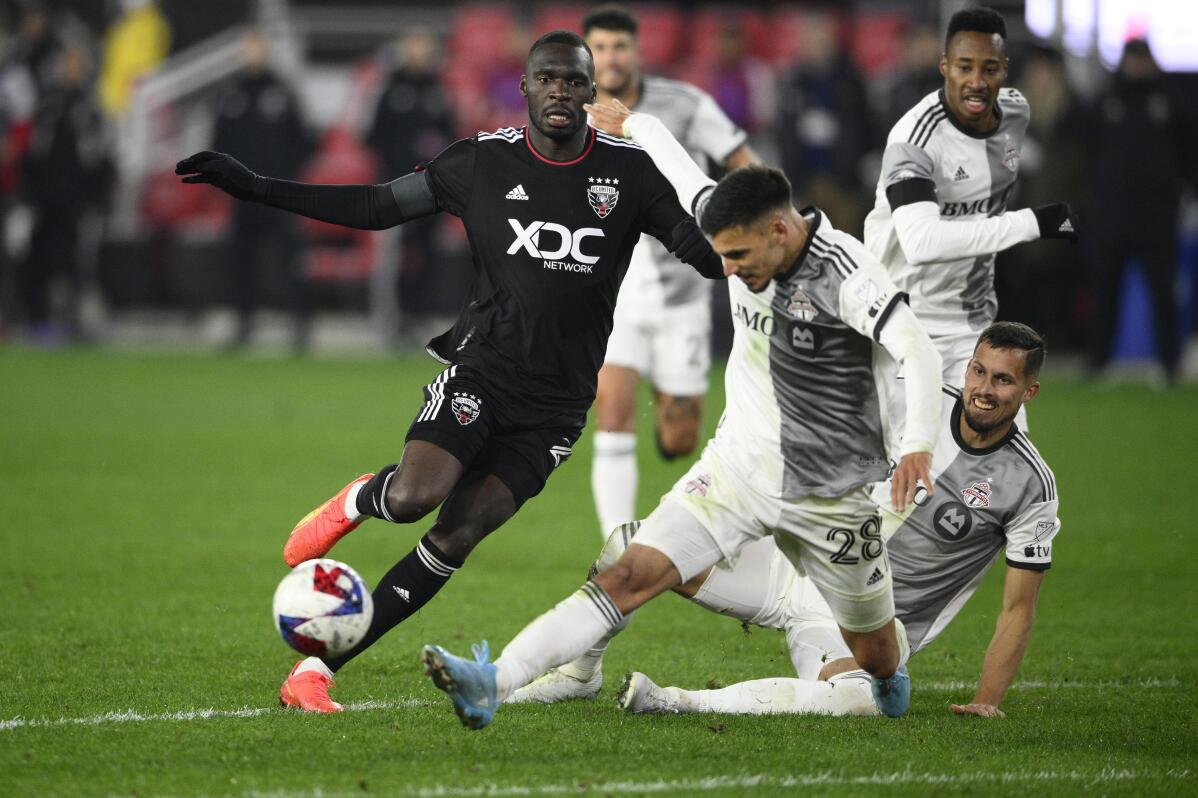 8 of 10

|
D.C. United forward Christian Benteke, left, and Toronto FC defender Raoul Petretta (28) battle for the ball during the second half of an MLS soccer match, Saturday, Feb. 25, 2023, in Washington. (AP Photo/Nick Wass)
8 of 10
D.C. United forward Christian Benteke, left, and Toronto FC defender Raoul Petretta (28) battle for the ball during the second half of an MLS soccer match, Saturday, Feb. 25, 2023, in Washington. (AP Photo/Nick Wass)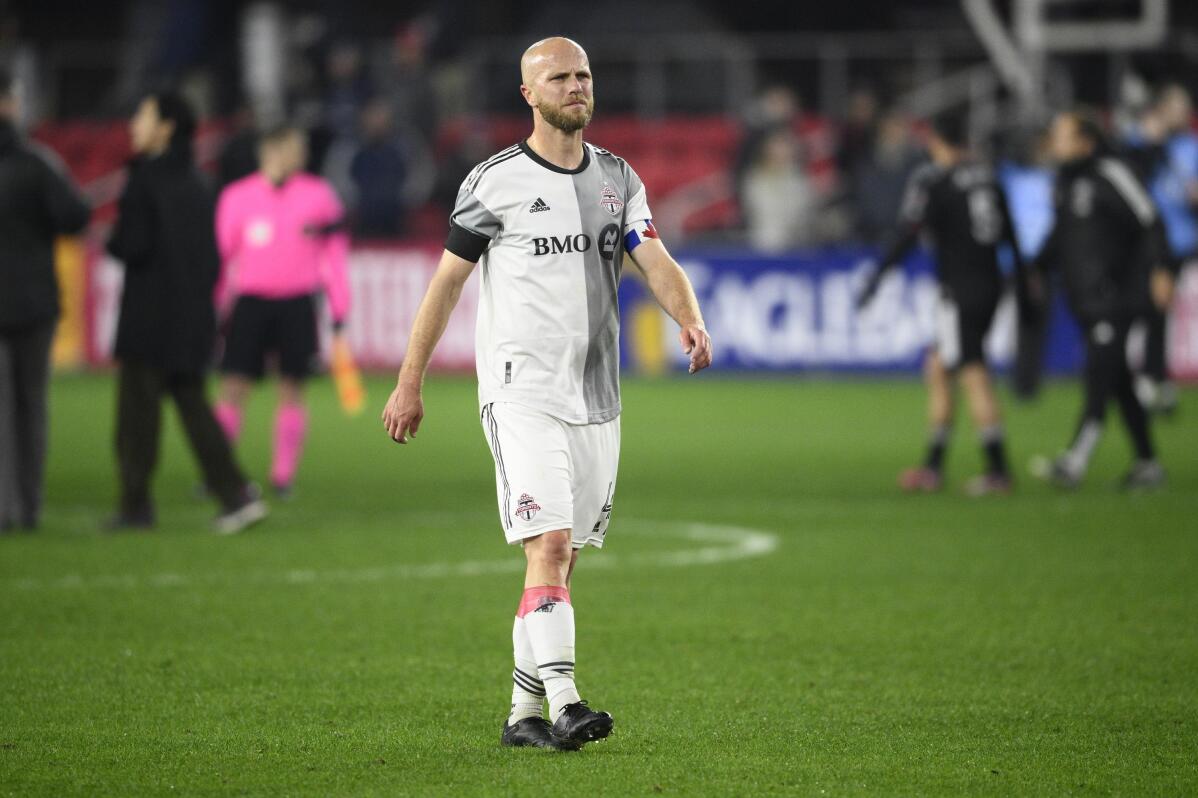 9 of 10

|
Toronto FC midfielder Michael Bradley leaves the field after an MLS soccer match against D.C. United, Saturday, Feb. 25, 2023, in Washington. (AP Photo/Nick Wass)
9 of 10
Toronto FC midfielder Michael Bradley leaves the field after an MLS soccer match against D.C. United, Saturday, Feb. 25, 2023, in Washington. (AP Photo/Nick Wass)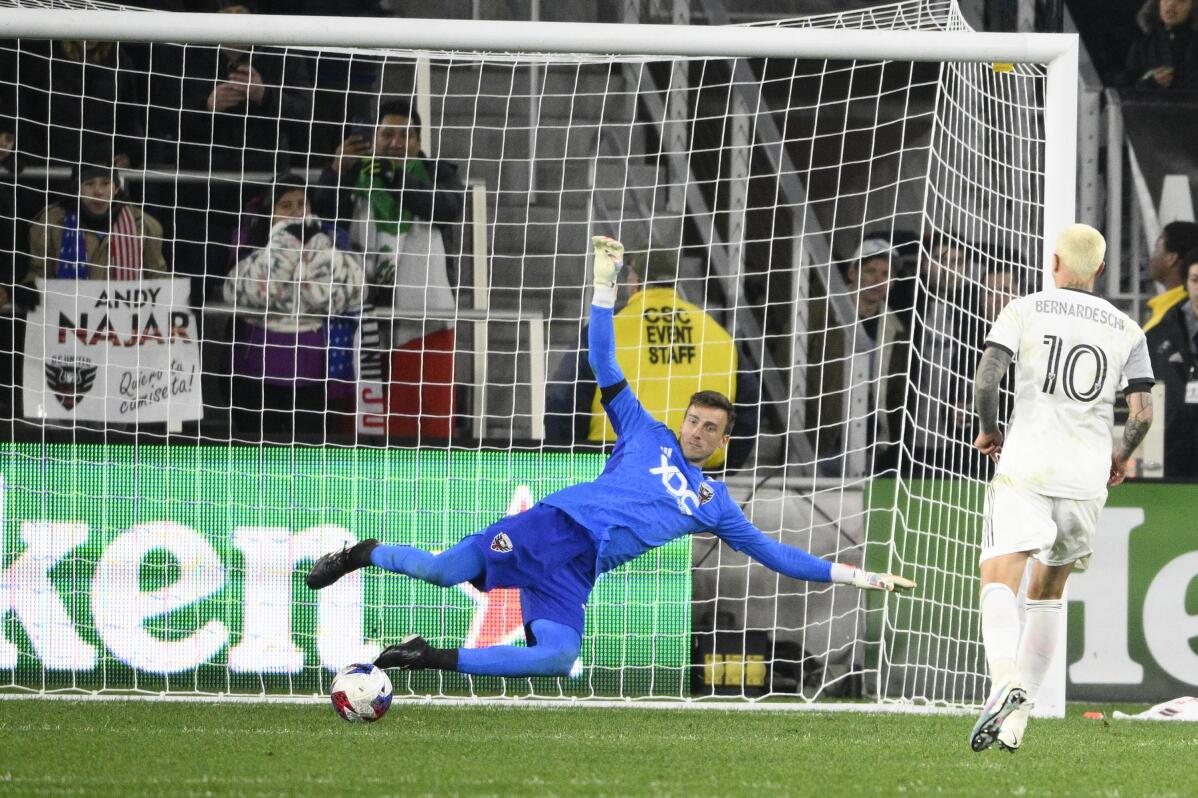 10 of 10

|
Toronto FC midfielder Federico Bernardeschi (10) scores on a penalty kick against D.C. United goalkeeper Tyler Miller, left, during the second half of an MLS soccer match, Saturday, Feb. 25, 2023, in Washington. D.C. (AP Photo/Nick Wass)
10 of 10
Toronto FC midfielder Federico Bernardeschi (10) scores on a penalty kick against D.C. United goalkeeper Tyler Miller, left, during the second half of an MLS soccer match, Saturday, Feb. 25, 2023, in Washington. D.C. (AP Photo/Nick Wass)
WASHINGTON (AP) — Theodore Ku-DiPietro scored in the 8th minute of stoppage time to rally DC United to a 3-2 victory over Toronto in a season opener on Saturday.
Mohanad Jeahze picked up an assist on Ku-DiPietro's game-winner.
Christian Benteke and Mateusz Klich added goals for United.
Federico Bernardeschi and Mark Anthony Kaye both scored for Toronto, which trailed 1-0 at halftime.
United outshot Toronto 10-8. Both teams had five shots on goal.
Tyler Miller saved three shots for United. Sean Johnson made two saves for Toronto.
DC United improved to 3-0-4 in its last seven home matches against Toronto. United lost its final four matches to close out last season and it was shut out 16 times, one shy of the league record. The two teams entered play tied for the most losses since 2021 with 36.
Both teams play again on Saturday. United visits the Columbus Crew and Toronto visits Atlanta United.
___
The Associated Press created this story using technology provided by Data Skrive and data from Sportradar.