No. 2 Houston handles SMU, sets eyes on No. 1 ranking again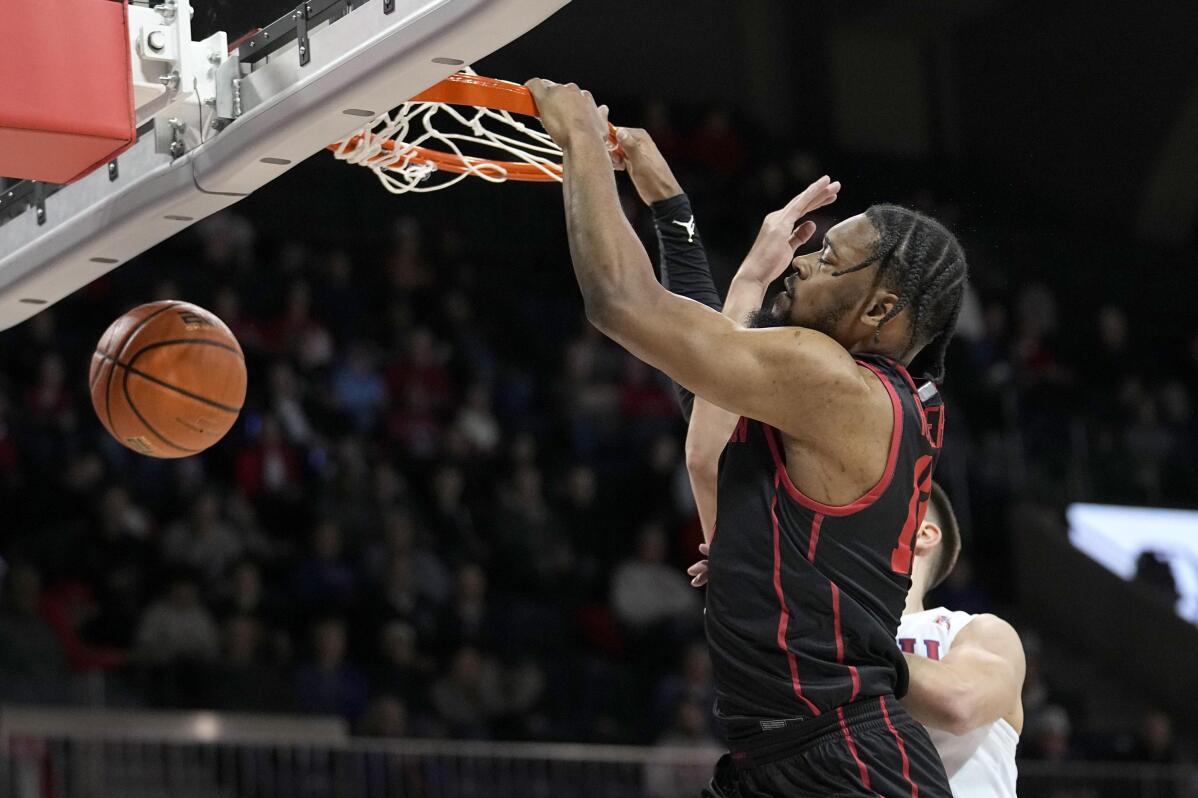 1 of 8

|
Houston forward J'Wan Roberts dunks as SMU's Stefan Todorovic defends during the first half of an NCAA college basketball game Thursday, Feb. 16, 2023, in Dallas. (AP Photo/Tony Gutierrez)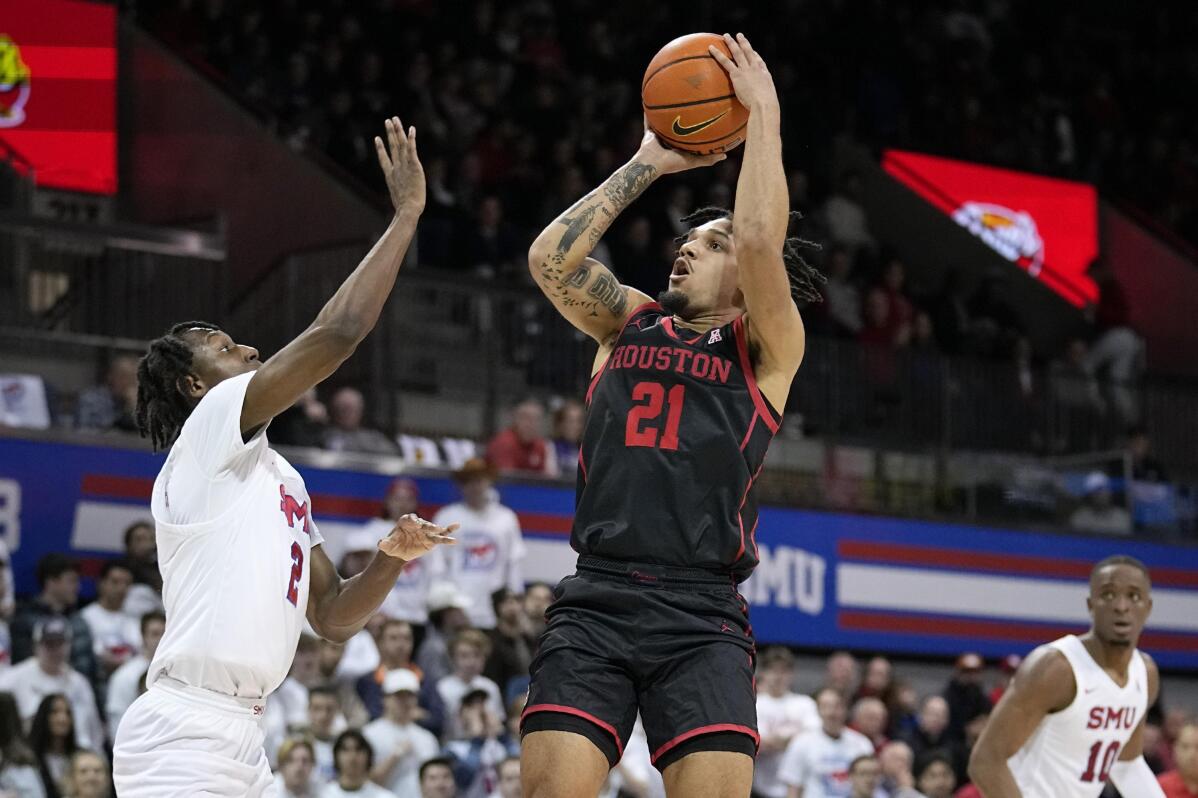 2 of 8

|
Houston guard Emanuel Sharp (21) shoots over SMU guard Jalen Smith (2) during the first half of an NCAA college basketball game Thursday, Feb. 16, 2023, in Dallas. (AP Photo/Tony Gutierrez)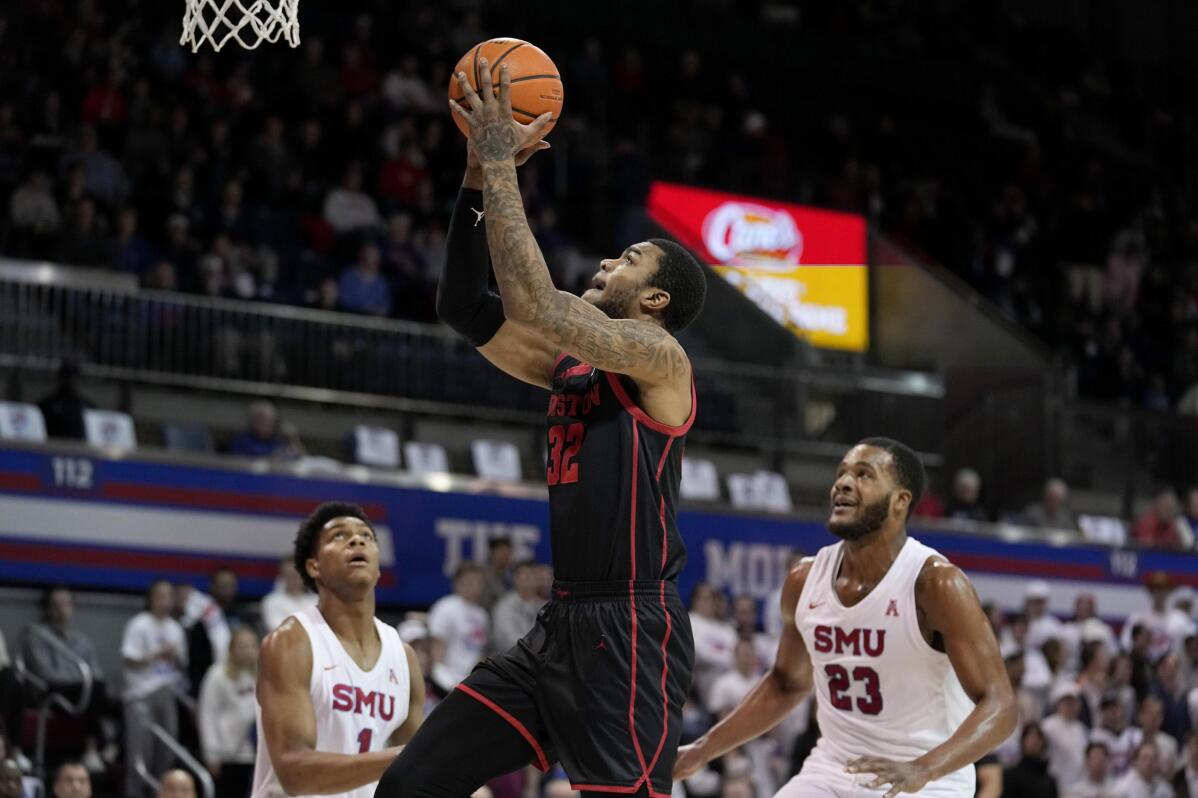 3 of 8

|
Houston forward Reggie Chaney (32) shoots in front of SMU's Zhuric Phelps (1) and Efe Odigie (23) during the first half of an NCAA college basketball game Thursday, Feb. 16, 2023, in Dallas. (AP Photo/Tony Gutierrez)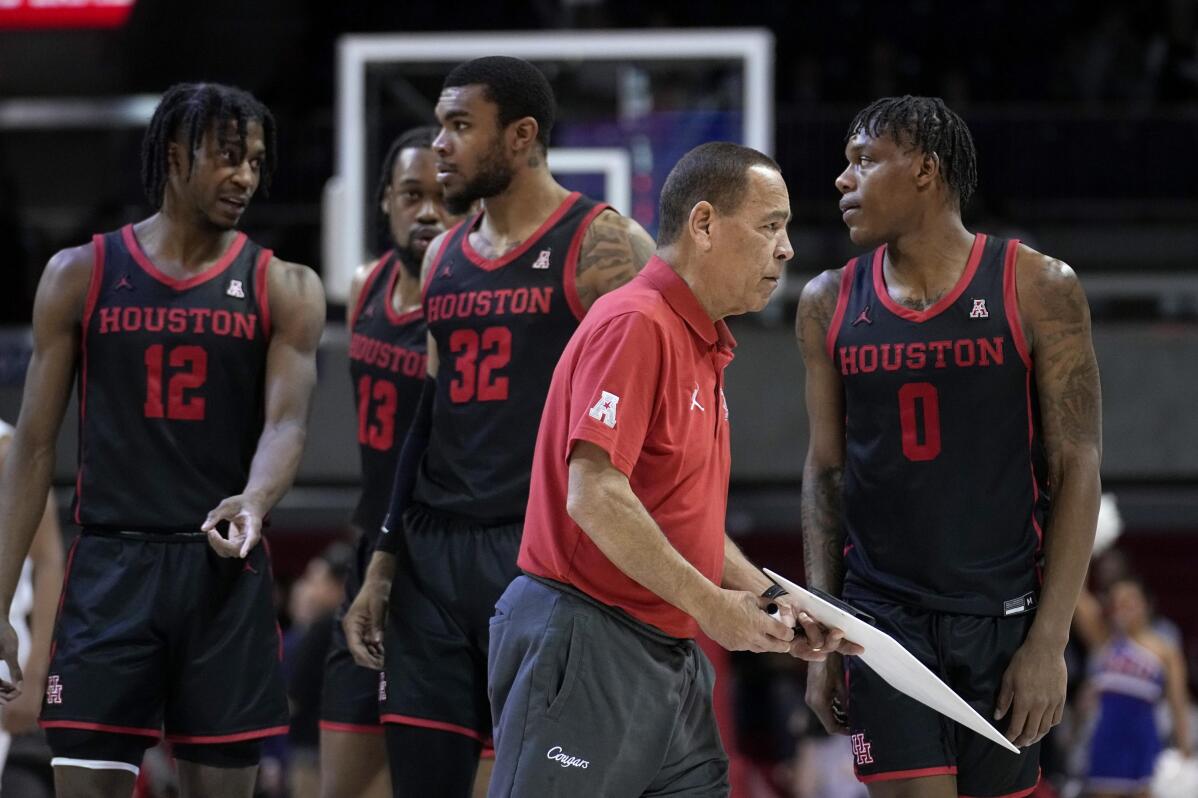 4 of 8

|
Houston coach Kelvin Sampson, front, walks off the court past Tramon Mark (12), J'Wan Roberts (13), Reggie Chaney (32) and Marcus Sasser (0) after drawing up a play late in the second half of the team's NCAA college basketball game against SMU, Thursday, Feb. 16, 2023, in Dallas. (AP Photo/Tony Gutierrez)
5 of 8

|
Houston forward J'Wan Roberts (13) and guard Marcus Sasser (0) celebrate after Sasser made a 3-point shot during the second half of the team's NCAA college basketball game against SMU, Thursday, Feb. 16, 2023, in Dallas. (AP Photo/Tony Gutierrez)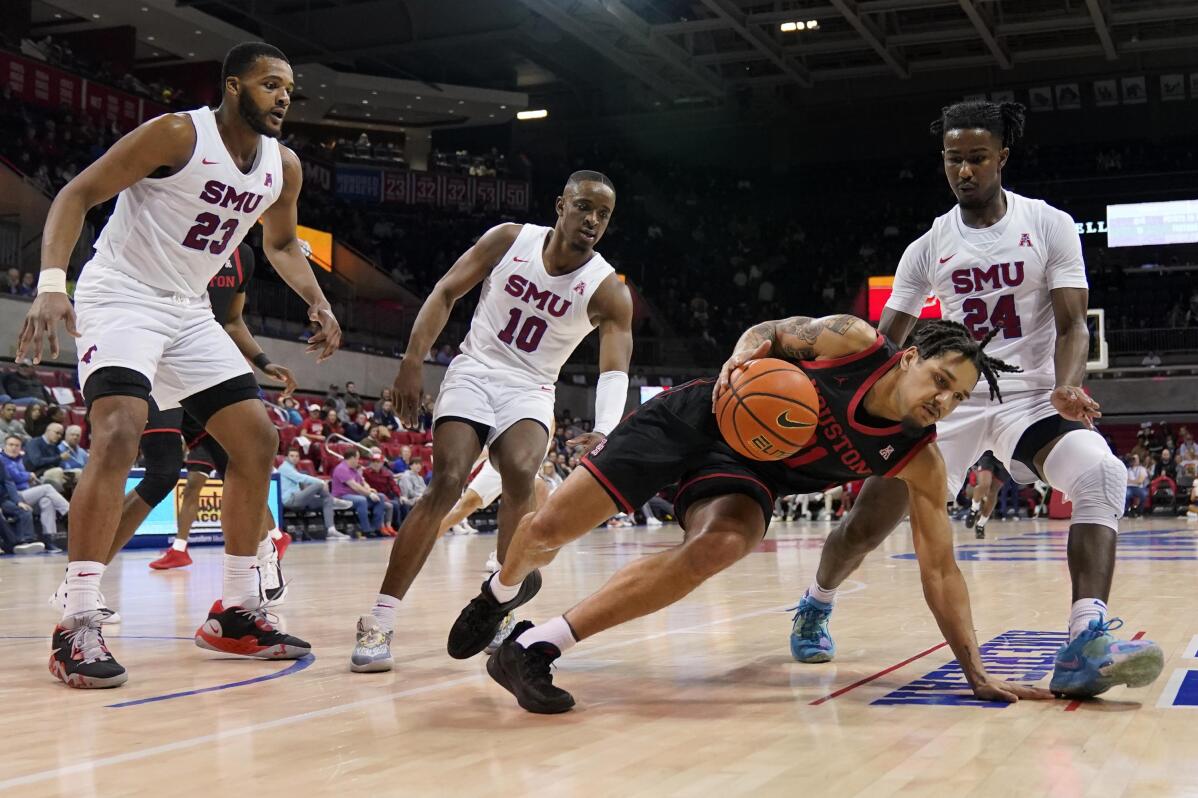 6 of 8

|
Houston guard Emanuel Sharp (21) has his fingers stepped on as he works against SMU's Efe Odigie (23), Zach Nutall (10) and Emory Lanier (24) during the second half of an NCAA college basketball game Thursday, Feb. 16, 2023, in Dallas. (AP Photo/Tony Gutierrez)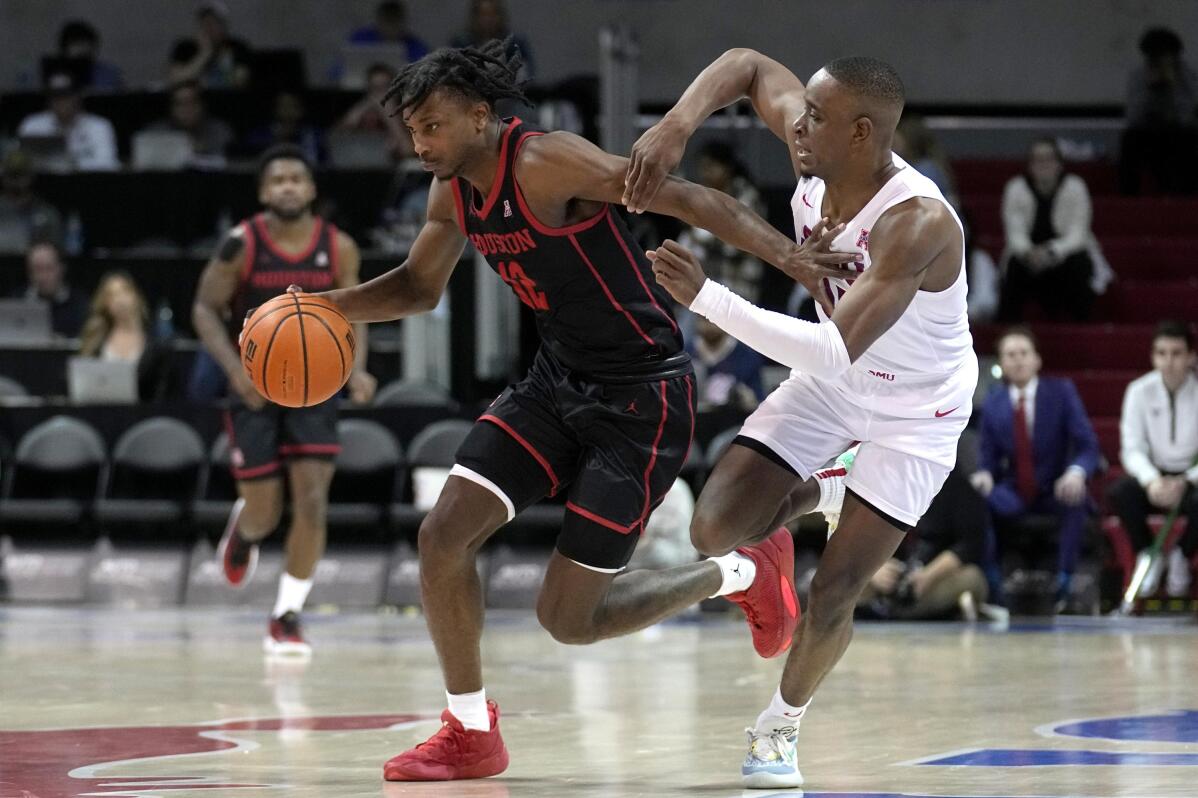 7 of 8

|
Houston guard Tramon Mark (12) fights off pressure from SMU guard Zach Nutall, right, as he advances the ball during the second half of an NCAA college basketball game Thursday, Feb. 16, 2023, in Dallas. (AP Photo/Tony Gutierrez)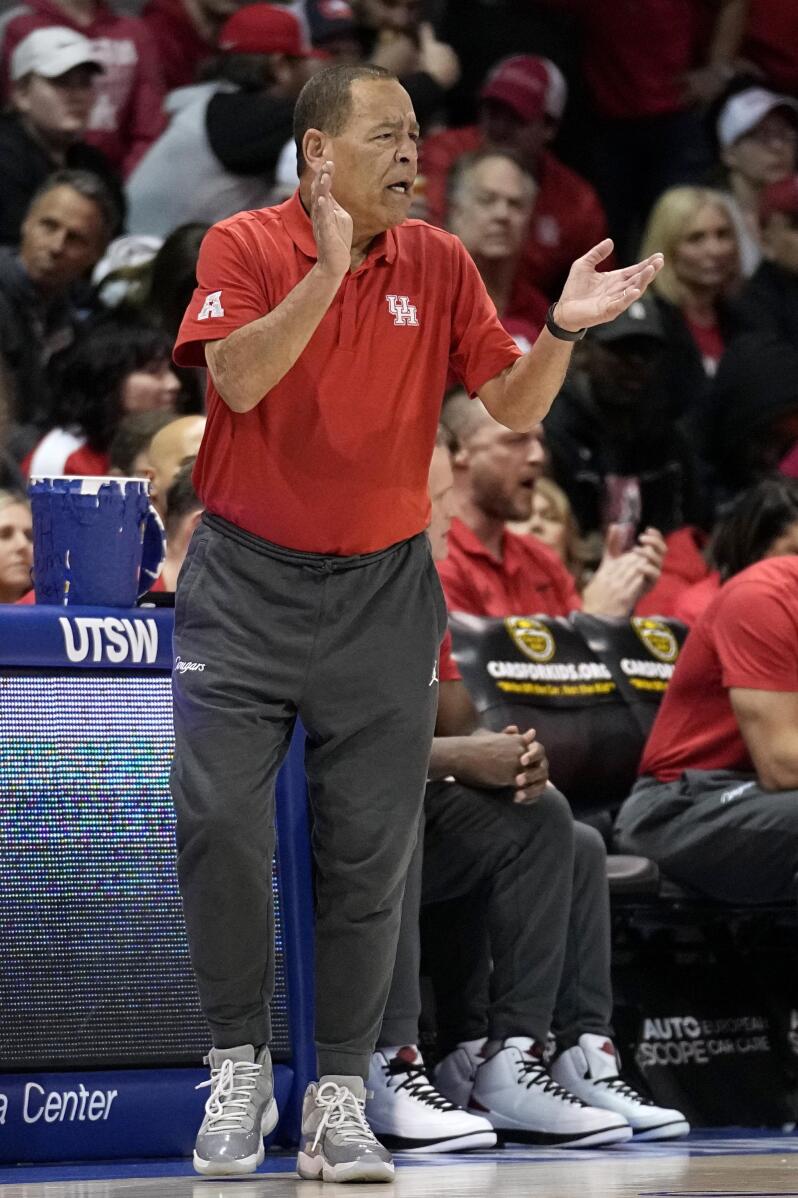 8 of 8

|
Houston coach Kelvin Sampson instructs players during the first half of the team's NCAA college basketball game against SMU, Thursday, Feb. 16, 2023, in Dallas. (AP Photo/Tony Gutierrez)
No. 2 Houston handles SMU, sets eyes on No. 1 ranking again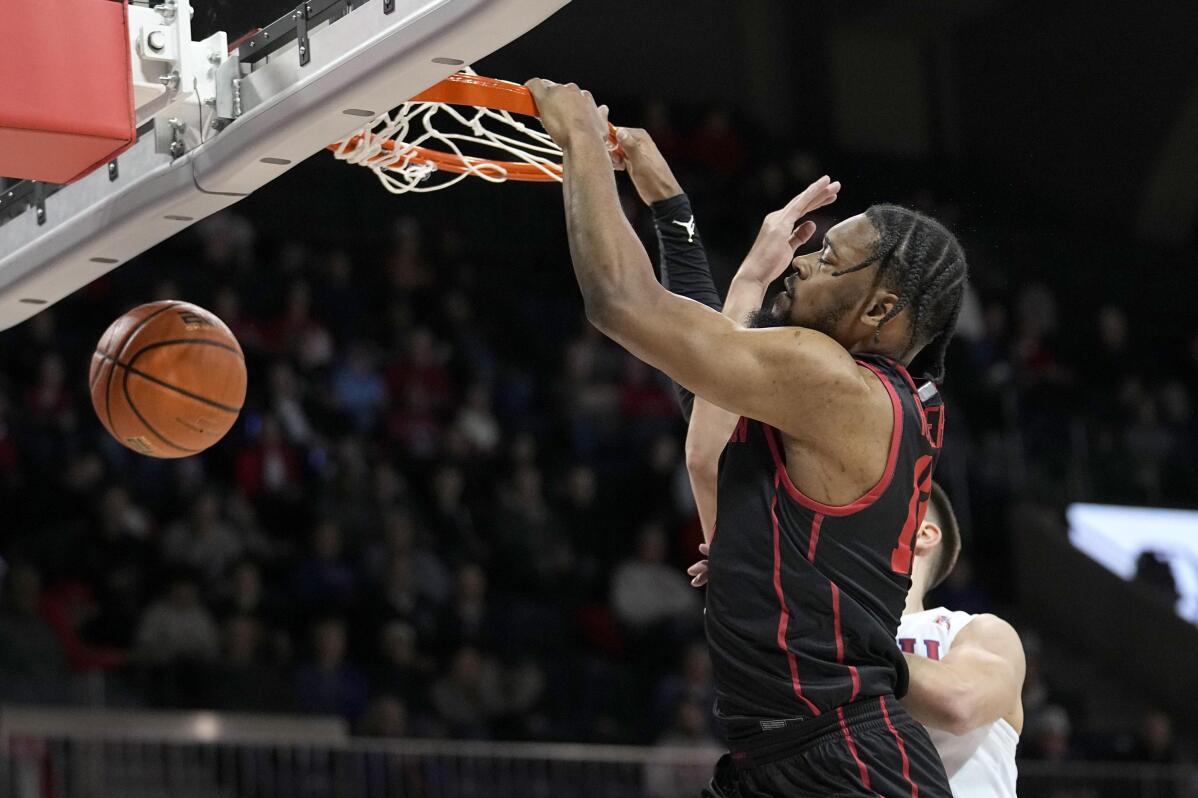 1 of 8

|
Houston forward J'Wan Roberts dunks as SMU's Stefan Todorovic defends during the first half of an NCAA college basketball game Thursday, Feb. 16, 2023, in Dallas. (AP Photo/Tony Gutierrez)
1 of 8
Houston forward J'Wan Roberts dunks as SMU's Stefan Todorovic defends during the first half of an NCAA college basketball game Thursday, Feb. 16, 2023, in Dallas. (AP Photo/Tony Gutierrez)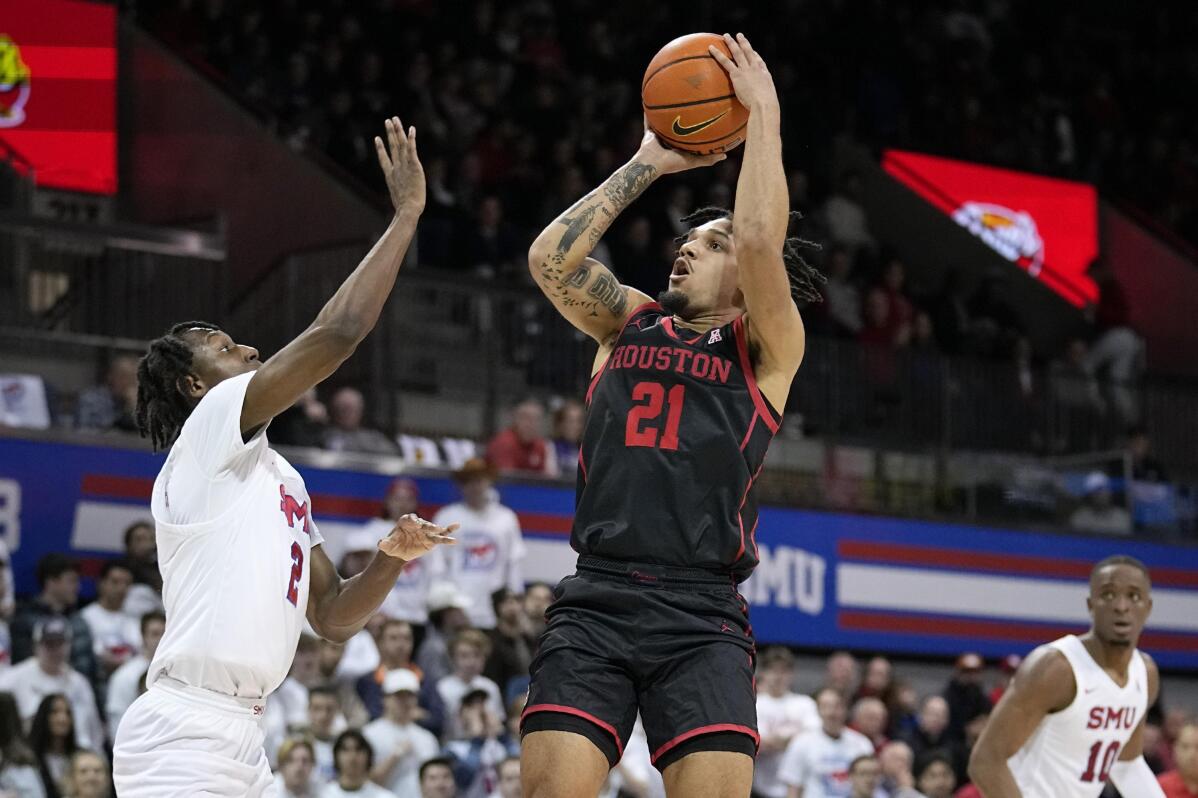 2 of 8

|
Houston guard Emanuel Sharp (21) shoots over SMU guard Jalen Smith (2) during the first half of an NCAA college basketball game Thursday, Feb. 16, 2023, in Dallas. (AP Photo/Tony Gutierrez)
2 of 8
Houston guard Emanuel Sharp (21) shoots over SMU guard Jalen Smith (2) during the first half of an NCAA college basketball game Thursday, Feb. 16, 2023, in Dallas. (AP Photo/Tony Gutierrez)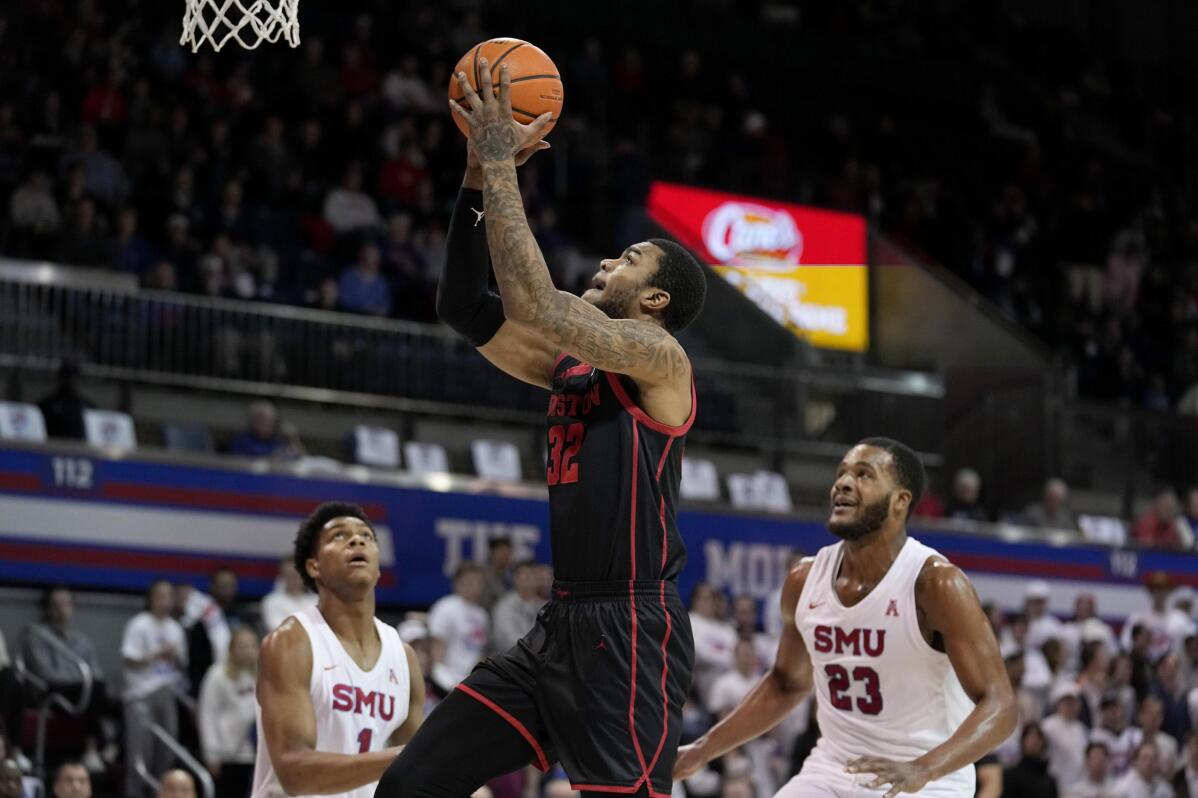 3 of 8

|
Houston forward Reggie Chaney (32) shoots in front of SMU's Zhuric Phelps (1) and Efe Odigie (23) during the first half of an NCAA college basketball game Thursday, Feb. 16, 2023, in Dallas. (AP Photo/Tony Gutierrez)
3 of 8
Houston forward Reggie Chaney (32) shoots in front of SMU's Zhuric Phelps (1) and Efe Odigie (23) during the first half of an NCAA college basketball game Thursday, Feb. 16, 2023, in Dallas. (AP Photo/Tony Gutierrez)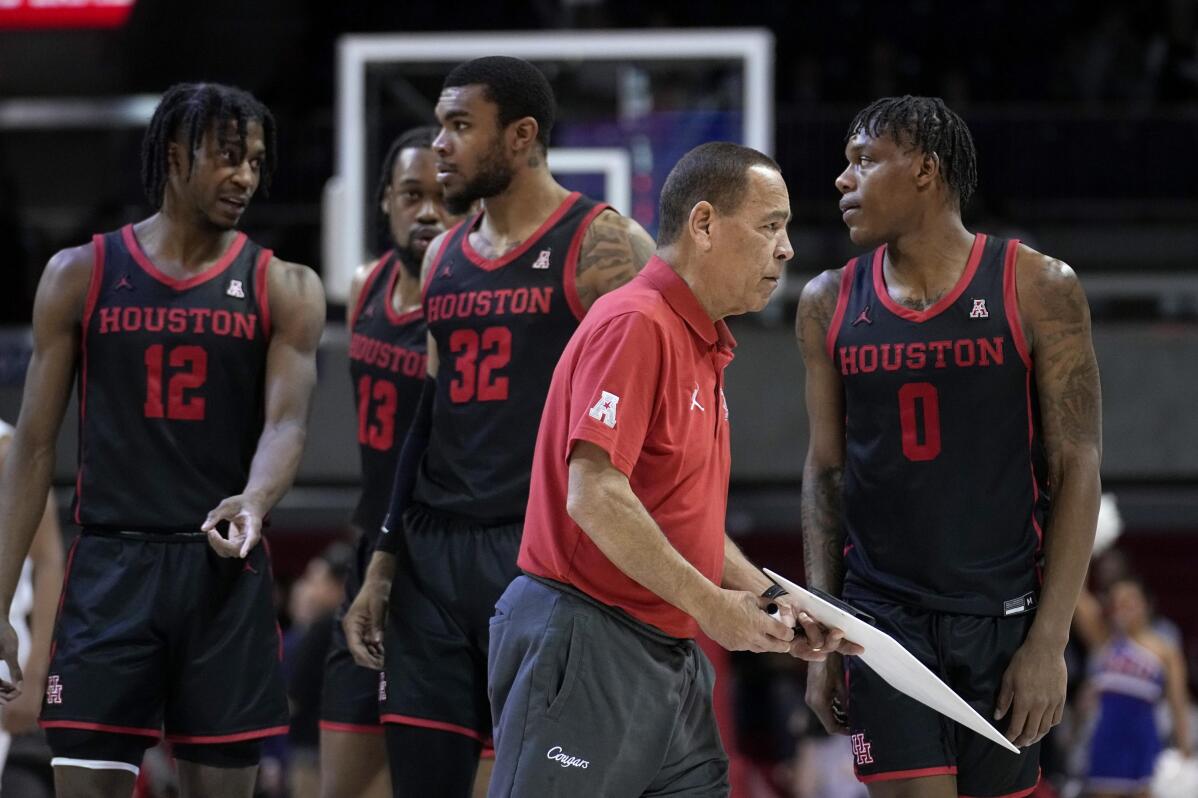 4 of 8

|
Houston coach Kelvin Sampson, front, walks off the court past Tramon Mark (12), J'Wan Roberts (13), Reggie Chaney (32) and Marcus Sasser (0) after drawing up a play late in the second half of the team's NCAA college basketball game against SMU, Thursday, Feb. 16, 2023, in Dallas. (AP Photo/Tony Gutierrez)
4 of 8
Houston coach Kelvin Sampson, front, walks off the court past Tramon Mark (12), J'Wan Roberts (13), Reggie Chaney (32) and Marcus Sasser (0) after drawing up a play late in the second half of the team's NCAA college basketball game against SMU, Thursday, Feb. 16, 2023, in Dallas. (AP Photo/Tony Gutierrez)
5 of 8

|
Houston forward J'Wan Roberts (13) and guard Marcus Sasser (0) celebrate after Sasser made a 3-point shot during the second half of the team's NCAA college basketball game against SMU, Thursday, Feb. 16, 2023, in Dallas. (AP Photo/Tony Gutierrez)
5 of 8
Houston forward J'Wan Roberts (13) and guard Marcus Sasser (0) celebrate after Sasser made a 3-point shot during the second half of the team's NCAA college basketball game against SMU, Thursday, Feb. 16, 2023, in Dallas. (AP Photo/Tony Gutierrez)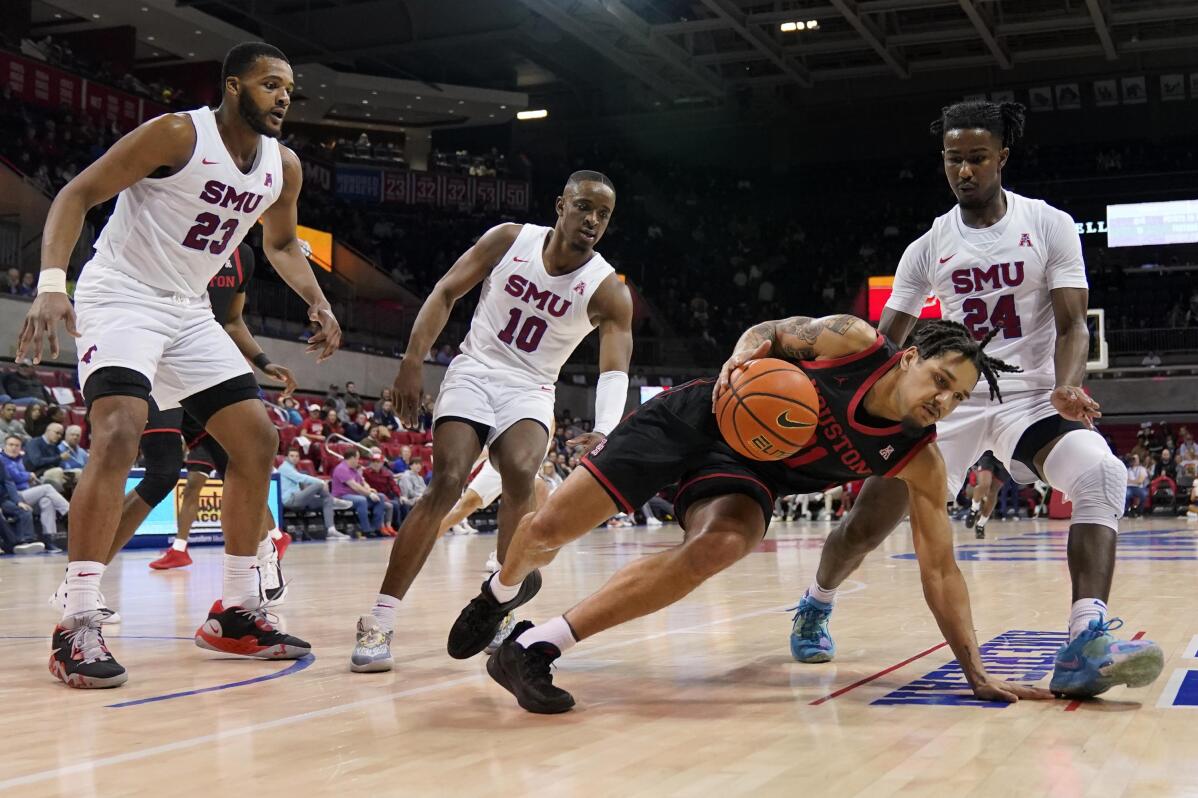 6 of 8

|
Houston guard Emanuel Sharp (21) has his fingers stepped on as he works against SMU's Efe Odigie (23), Zach Nutall (10) and Emory Lanier (24) during the second half of an NCAA college basketball game Thursday, Feb. 16, 2023, in Dallas. (AP Photo/Tony Gutierrez)
6 of 8
Houston guard Emanuel Sharp (21) has his fingers stepped on as he works against SMU's Efe Odigie (23), Zach Nutall (10) and Emory Lanier (24) during the second half of an NCAA college basketball game Thursday, Feb. 16, 2023, in Dallas. (AP Photo/Tony Gutierrez)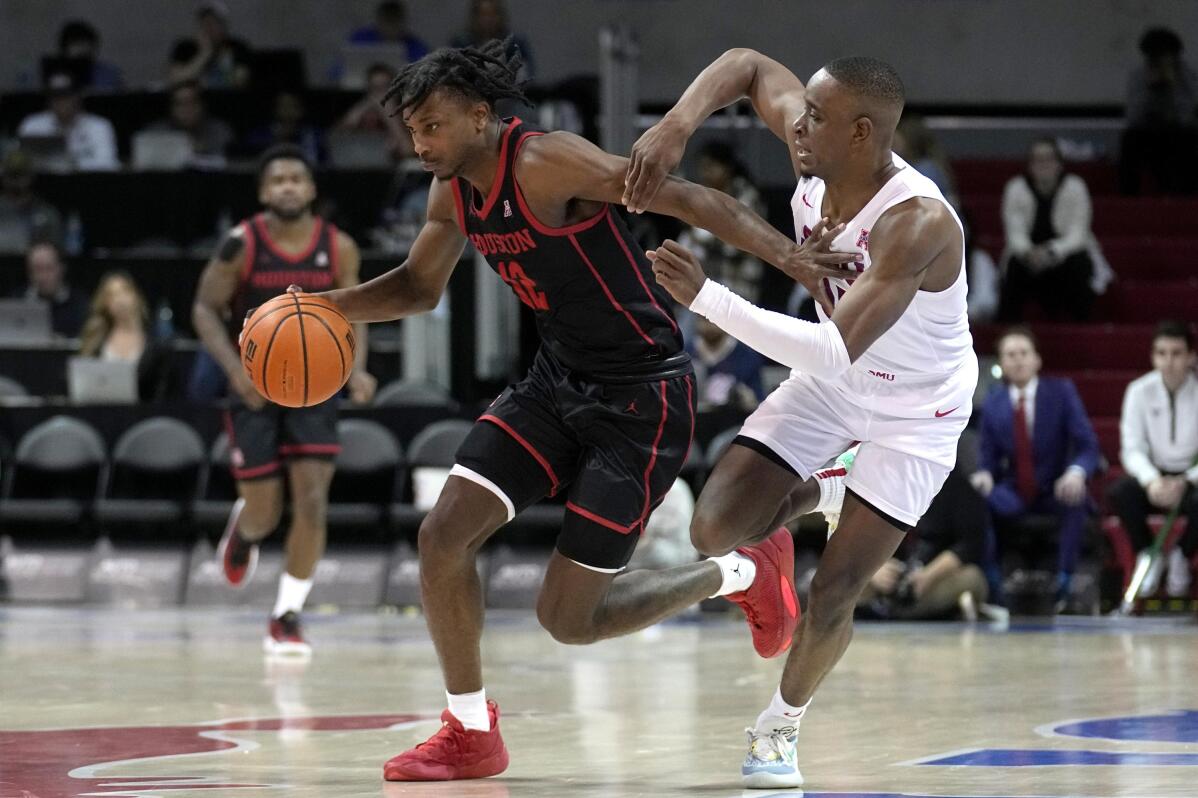 7 of 8

|
Houston guard Tramon Mark (12) fights off pressure from SMU guard Zach Nutall, right, as he advances the ball during the second half of an NCAA college basketball game Thursday, Feb. 16, 2023, in Dallas. (AP Photo/Tony Gutierrez)
7 of 8
Houston guard Tramon Mark (12) fights off pressure from SMU guard Zach Nutall, right, as he advances the ball during the second half of an NCAA college basketball game Thursday, Feb. 16, 2023, in Dallas. (AP Photo/Tony Gutierrez)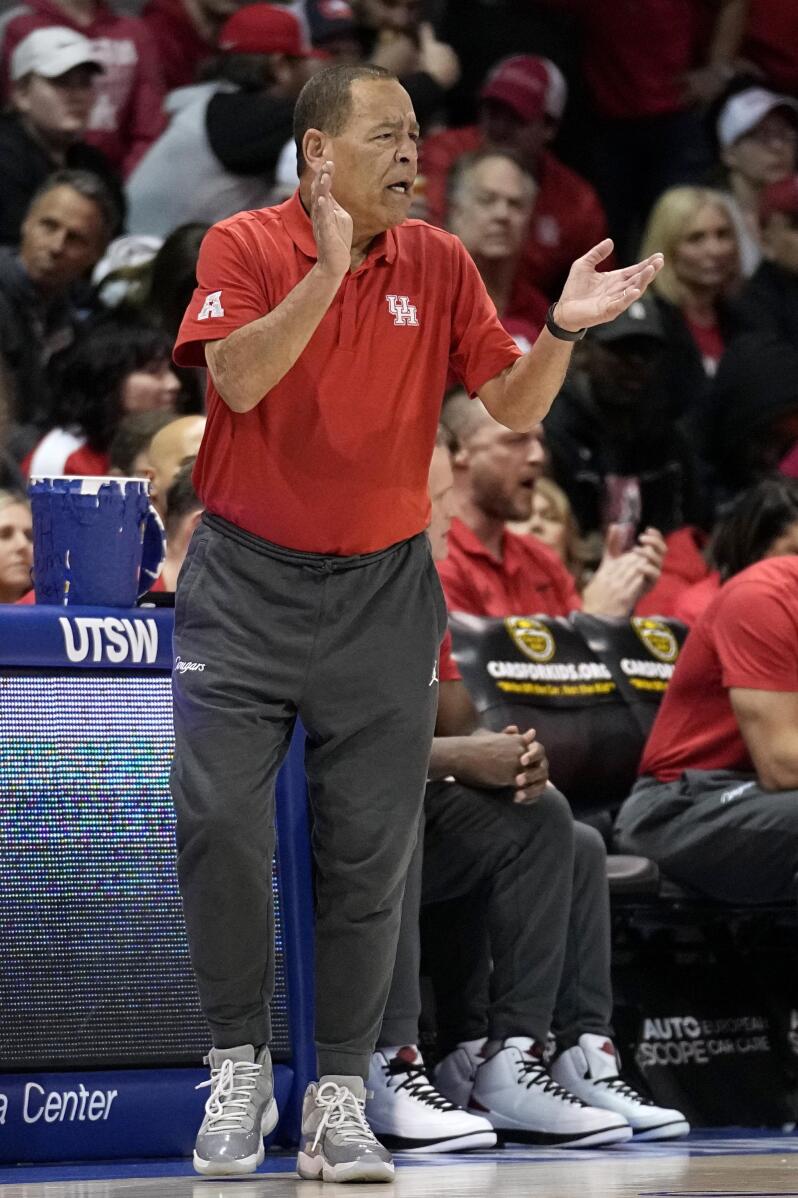 8 of 8

|
Houston coach Kelvin Sampson instructs players during the first half of the team's NCAA college basketball game against SMU, Thursday, Feb. 16, 2023, in Dallas. (AP Photo/Tony Gutierrez)
8 of 8
Houston coach Kelvin Sampson instructs players during the first half of the team's NCAA college basketball game against SMU, Thursday, Feb. 16, 2023, in Dallas. (AP Photo/Tony Gutierrez)
DALLAS (AP) — Marcus Sasser scored 20 points, freshman Jarace Walker added 14 and No. 2 Houston cruised to an 80-65 victory over SMU on Thursday night.
With a win at home Sunday over Memphis, the Cougars could be in line for their third stay atop The Associated Press Top 25 poll this season after losses by No. 1 Alabama and third-ranked Purdue.
Jamal Shead had 13 points and eight assists for the Cougars (24-2, 12-1 American Athletic Conference) in their sixth consecutive win.
Zhuric Phelps had 22 points, six rebounds and five assists to lead the Mustangs (9-18, 4-10), who lost by 34 at Houston last month and never gave the often-raucous Moody Coliseum crowd much chance to get loud a year after a two-point upset of the Cougars at home.
MARYLAND 68, NO. 3 PURDUE 54
COLLEGE PARK, Md. (AP) — Jahmir Young scored 20 points and Maryland used a dominant stretch in the middle of the second half to rally past Purdue and deal the Boilermakers their second consecutive defeat.
The Terrapins (18-8, 9-6 Big Ten) trailed 37-29 before going on a 29-4 burst to take control.
Hakim Hart added 13 points for Maryland, which defeated a top-three team for the first time since toppling then-No. 3 Iowa 74-68 on Jan. 28, 2016. Maryland improved to 14-1 at home this season.
Students stormed the court — and one even climbed onto the basket — after Maryland earned its fourth victory of the season over a ranked team.
Zach Edey and Braden Smith both scored 18 points for Purdue (23-4, 12-4), which has lost three of four — all on the road.
NO. 4 UCLA 73, STANFORD 64
LOS ANGELES (AP) — Jaime Jaquez Jr. scored 26 points and UCLA rallied in the second half to beat Stanford and improve to 14-0 at home this season.
Jaylen Clark added 16 points for the first-place Bruins (22-4, 13-2 Pac-12), who have won five in a row overall. They have won 22 consecutive home games dating to last season.
Michael Jones scored 15 points to lead Stanford (11-15, 5-10), and Harrison Ingram added 13. Maxime Raynaud had 12 points and 10 rebounds. Spencer Jones, the Cardinal's leading scorer at 13.7 points per game, was held to six.
NO. 8 ARIZONA 88, UTAH 62
TUCSON, Ariz. (AP) — Kerr Kriisa had 17 points and six assists, Courtney Ramey scored 13 and Arizona routed Utah.
Arizona (23-4, 12-4 Pac-12) bounced back from a defeat at Stanford last weekend and avenged a loss to the Utes in Salt Lake City on Dec. 1.
Leading scorer Azuolas Tubelis sat most of the first half in foul trouble, but the rest of the Wildcats picked up the slack.
Arizona shot 56% overall, went 9 of 18 on 3-pointers and outscored Utah 38-10 in the paint. Tubelis finished with 11 points and nine rebounds after being called for a technical foul in a frustrating first half.
The Utes (17-10, 10-6) fell into a 20-point hole early in the second half and remained winless at McKale Center since 1986. Branden Carlson had 19 points to lead Utah, which shot 32% from the floor.
NO. 13 GONZAGA 108, LOYOLA MARYMOUNT 65
LOS ANGELES (AP) — Julian Strawther scored 28 points and Gonzaga avenged an earlier loss to Loyola Marymount this season.
Loyola Marymount snapped Gonzaga's 75-game home winning streak with a 68-67 victory on Jan. 19, but the Lions were no match this time. Six players scored in double figures for the Bulldogs as they led the entire game and had a 51-point advantage less than six minutes into the second half.
Anton Watson had 16 points and Drew Timme scored 13 for Gonzaga (22-5, 11-2 WCC), which remained one game behind first-place Saint Mary's in the West Coast Conference.
Cam Shelton, who scored the game-winning basket in the first meeting, led Loyola Marymount (17-11, 7-7) with 15 points.
NO. 17 SAINT MARY'S 62, SAN DIEGO 59
SAN DIEGO (AP) — Mitchell Saxen had 17 points and 10 rebounds, and Aidan Mahaney added 13 points as Saint Mary's held off hobbled but determined San Diego for its 14th win in 15 games.
The Gaels (23-5, 12-1 West Coast Conference), who lead Gonzaga atop the WCC with three games to play, didn't score in the last 7:05. They went ahead 54-31 on a 3-pointer by Mahaney with 14:17 left but let the Toreros slowly get back into the game as Saint Mary's missed its final seven field goal attempts.
Nic Lynch scored 17 points for USD (11-17, 4-10). The Toreros were without four regular starters, including leading scorer Marcellus Earlington (17.6 points per game) and top rebounder Eric Williams Jr.
MIDDLE TENNESSEE 74, NO. 25 FLORIDA ATLANTIC 70
MURFREESBORO, Tenn. (AP) — Camryn Weston scored 16 points, Elias King added 15 and Middle Tennessee beat Florida Atlantic for its first win over a ranked opponent since 2016.
Middle Tennessee (16-11, 9-7 Conference USA) avenged an 85-67 loss to then-No. 21 FAU on Jan. 26 in its first home game against a ranked team since the 2008-09 season. Middle Tennessee's previous victory over a Top 25 squad came against No. 2 Michigan State in the 2016 NCAA Tournament.
The Blue Raiders led 56-41 with 10 minutes left. FAU (24-3, 14-2) twice got within three in the final minute,but Middle Tennessee made free throws at the other end each time to regain a two-possession lead.
Eli Lawrence finished with 13 points and Justin Bufford added 12 for Middle Tennessee.
Alijah Martin scored 15 for Florida Atlantic, which was coming off consecutive 90-point games.
___
AP college basketball: https://apnews.com/hub/college-basketball and https://apnews.com/hub/ap-top-25-college-basketball-poll and https://twitter.com/AP_Top25