Alexander leads No. 7 Maryland women to rout of No. 6 Iowa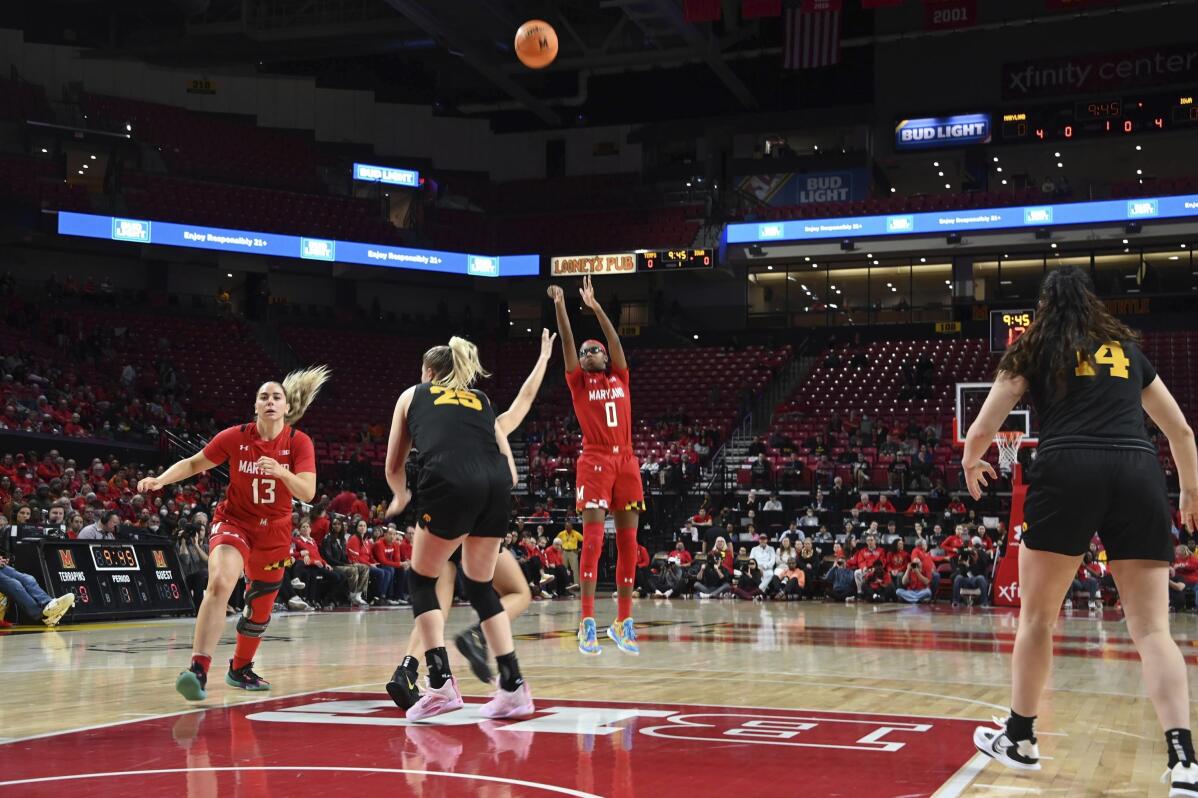 1 of 7

|
Maryland's Shyanne Sellers shoots against Iowa during first half of an NCAA college basketball game Tuesday, Feb. 21, 2023, in College Park, Md. (Kevin Richardson/The Baltimore Sun via AP)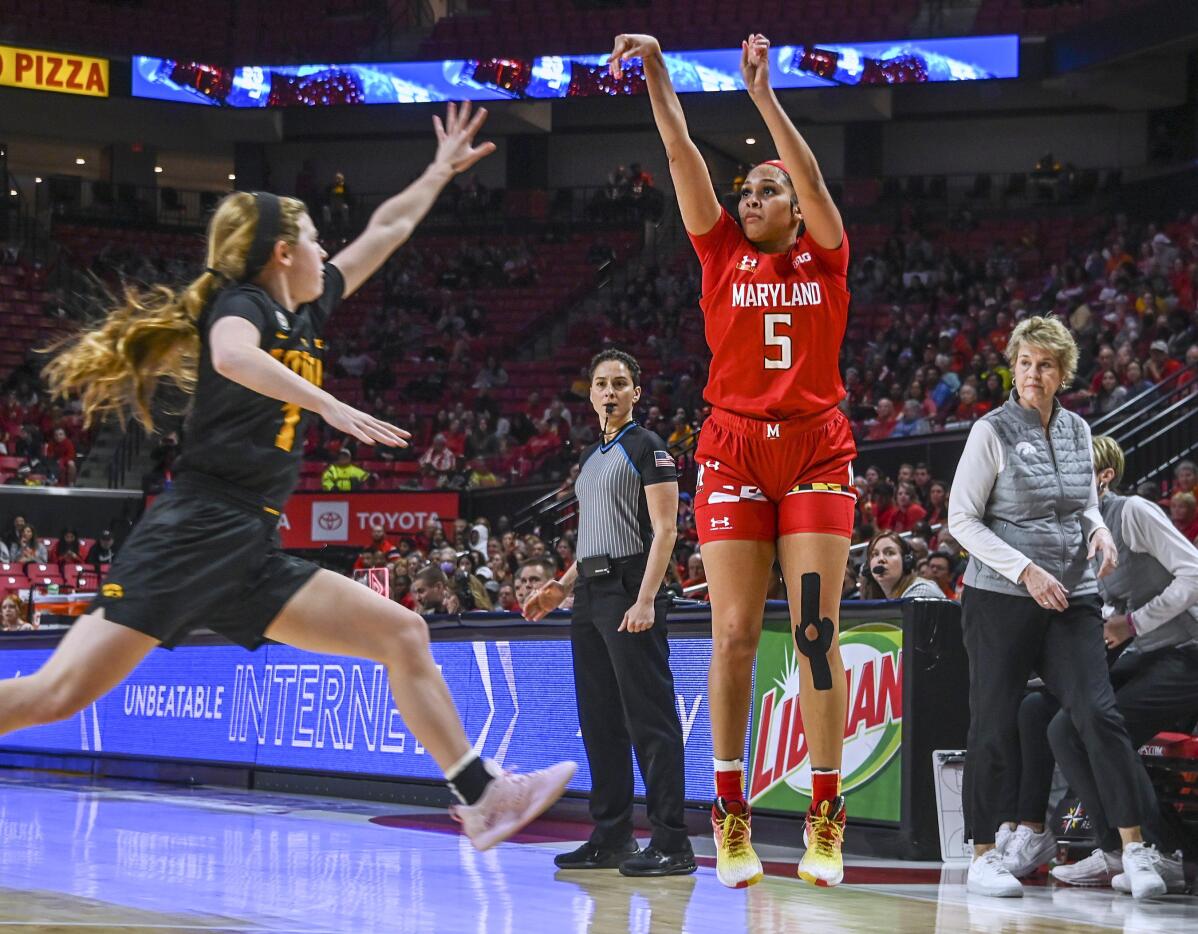 2 of 7

|
Maryland guard Brinae Alexander (5) hits a 3-pointer over Iowa's Molly Davis during an NCAA college basketball game Tuesday, Feb. 21, 2023, in College Park, Md. (Kevin Richardson/The Baltimore Sun via AP)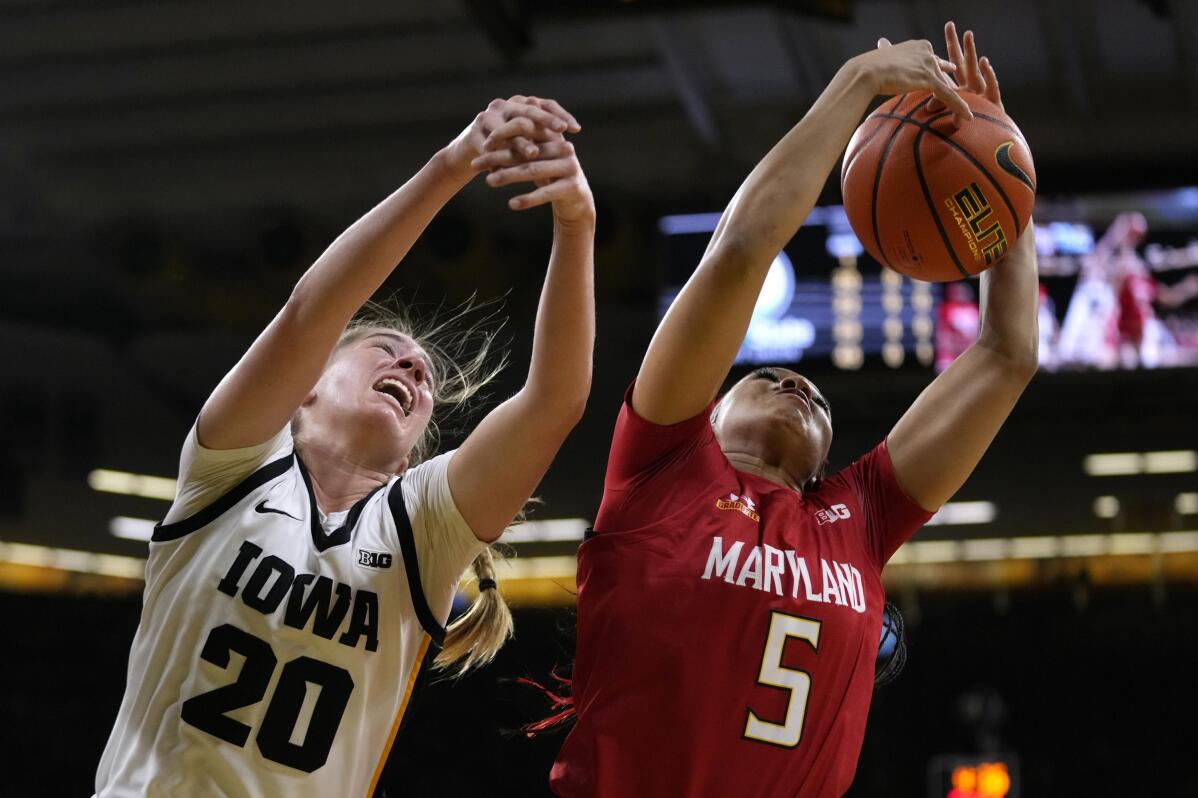 3 of 7

|
Iowa guard Kate Martin (20) fights for a rebound with Maryland guard Brinae Alexander (5) during the first half of an NCAA college basketball game, Thursday, Feb. 2, 2023, in Iowa City, Iowa. (AP Photo/Charlie Neibergall)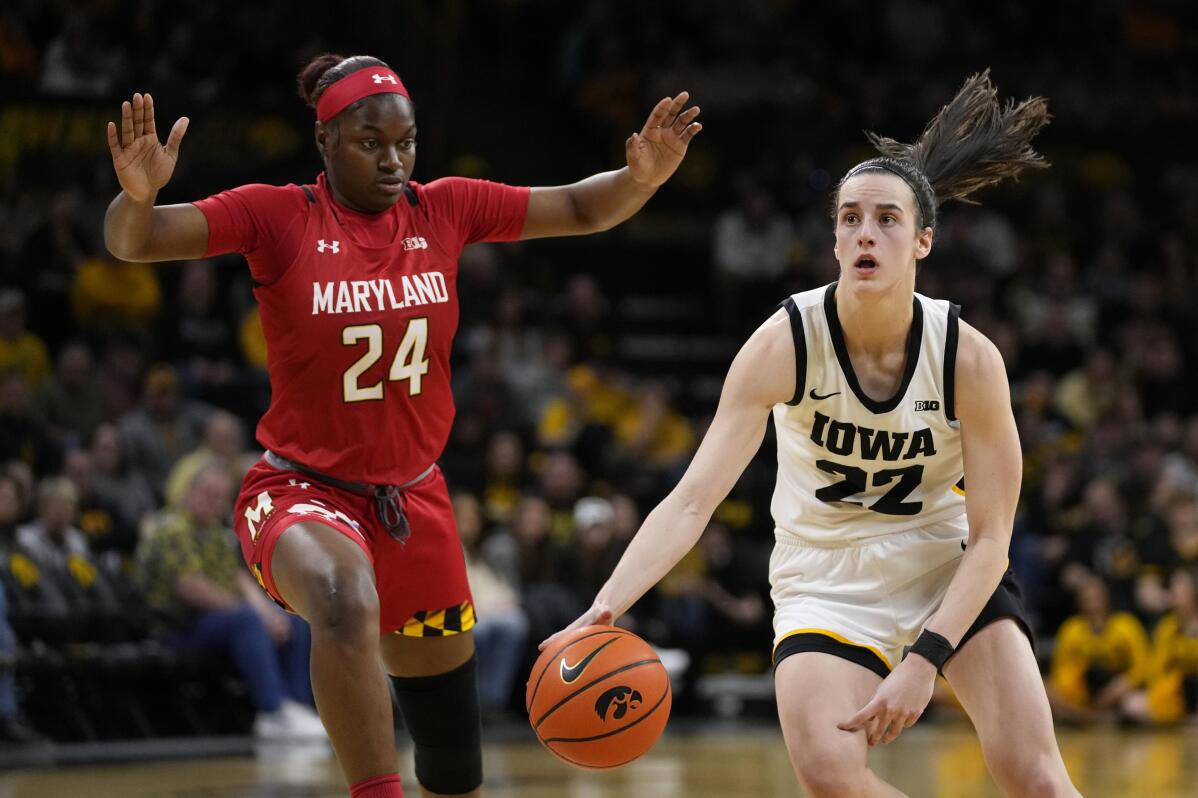 4 of 7

|
Iowa guard Caitlin Clark (22) drives up court past Maryland guard Bri McDaniel (24) during the second half of an NCAA college basketball game, Thursday, Feb. 2, 2023, in Iowa City, Iowa. Iowa won 96-82. (AP Photo/Charlie Neibergall)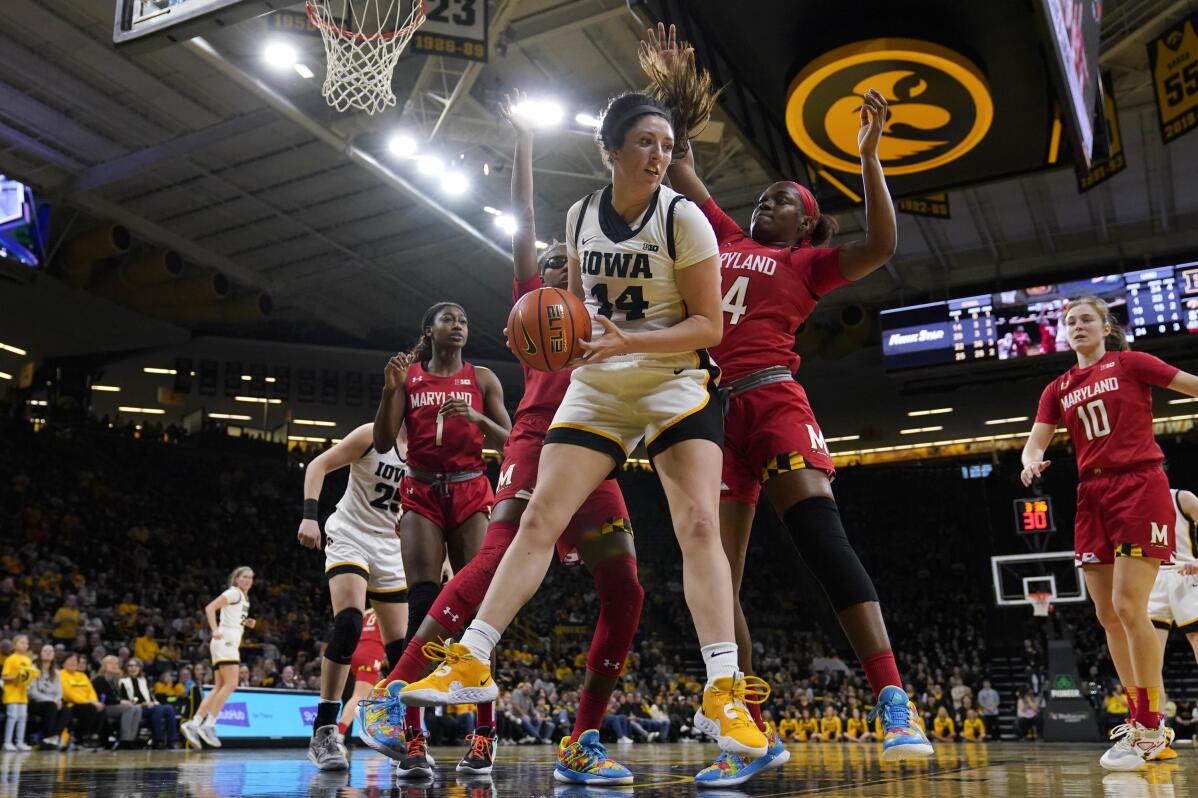 5 of 7

|
Iowa forward McKenna Warnock (14) grabs a rebound on front of Maryland guard Bri McDaniel (24) during the second half of an NCAA college basketball game, Thursday, Feb. 2, 2023, in Iowa City, Iowa. Iowa won 96-82. (AP Photo/Charlie Neibergall)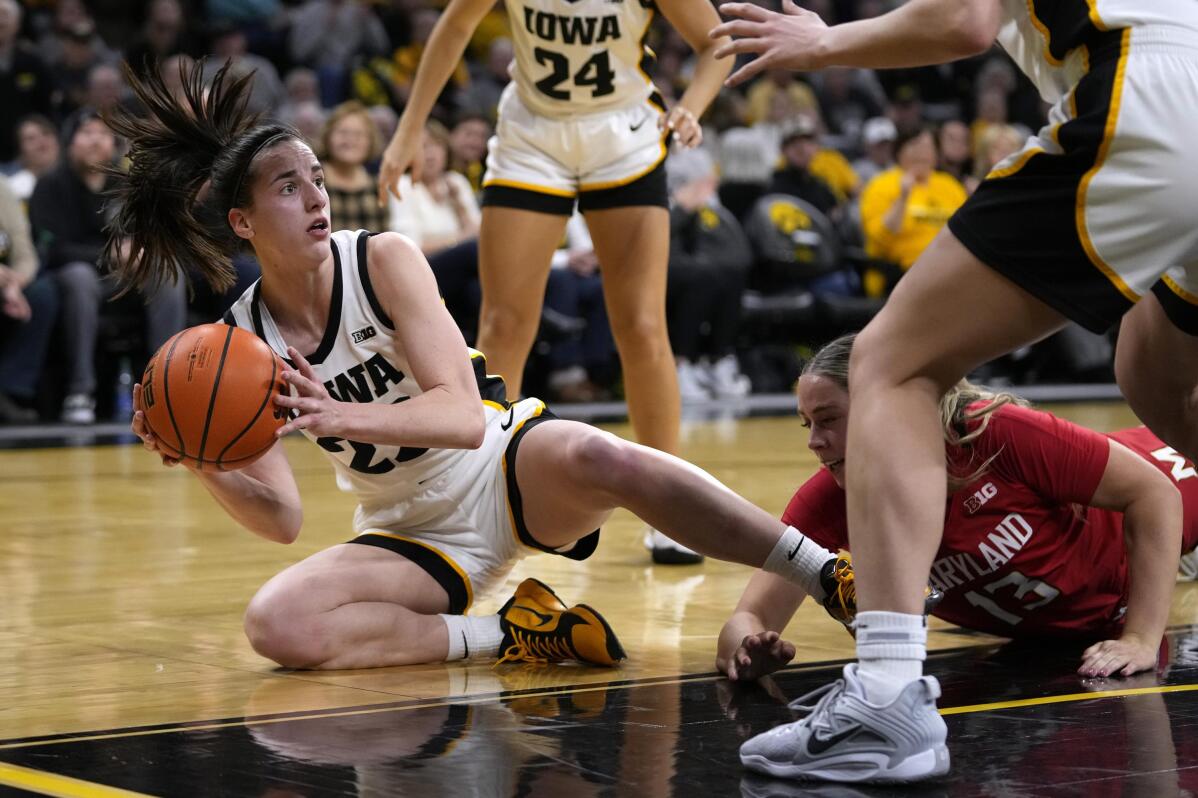 6 of 7

|
Iowa guard Caitlin Clark, left, picks up a loose ball in front of Maryland guard Faith Masonius, right, during the first half of an NCAA college basketball game, Thursday, Feb. 2, 2023, in Iowa City, Iowa. (AP Photo/Charlie Neibergall)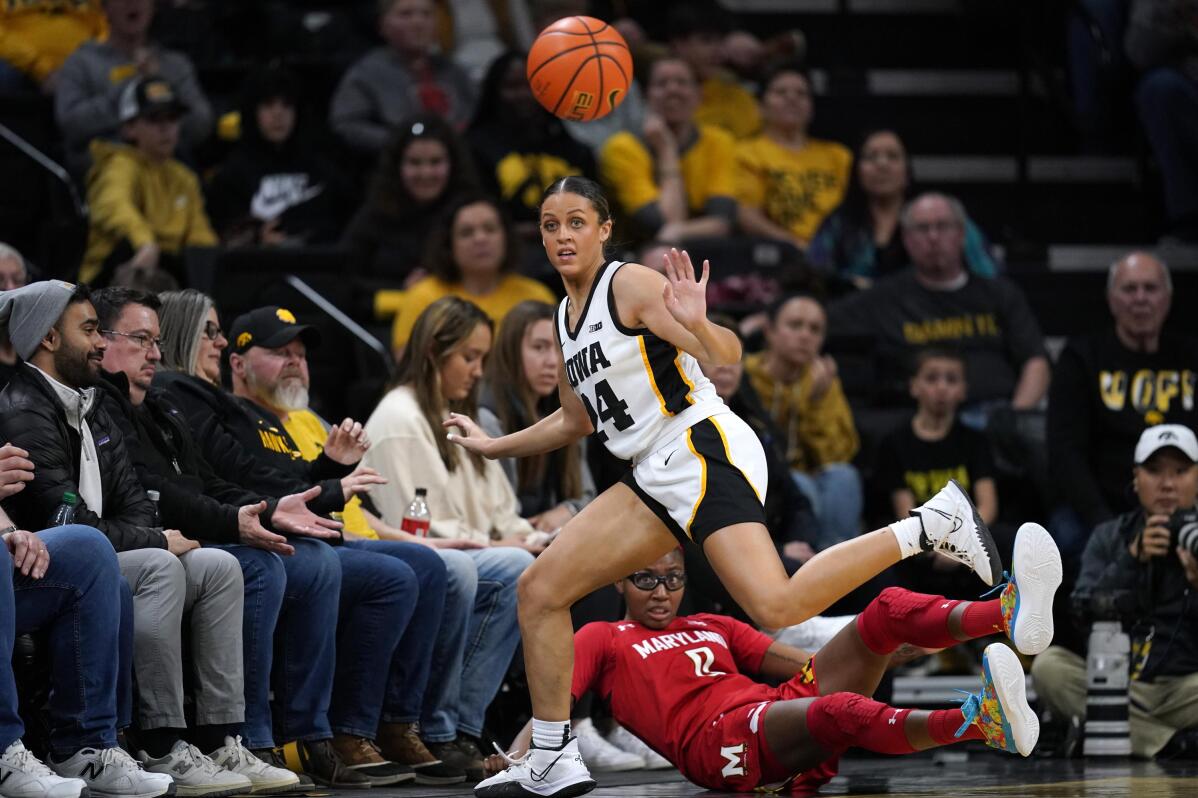 7 of 7

|
Iowa guard Gabbie Marshall (24) fights for a loose ball with Maryland guard Shyanne Sellers (0) during the second half of an NCAA college basketball game, Thursday, Feb. 2, 2023, in Iowa City, Iowa. (AP Photo/Charlie Neibergall)
Alexander leads No. 7 Maryland women to rout of No. 6 Iowa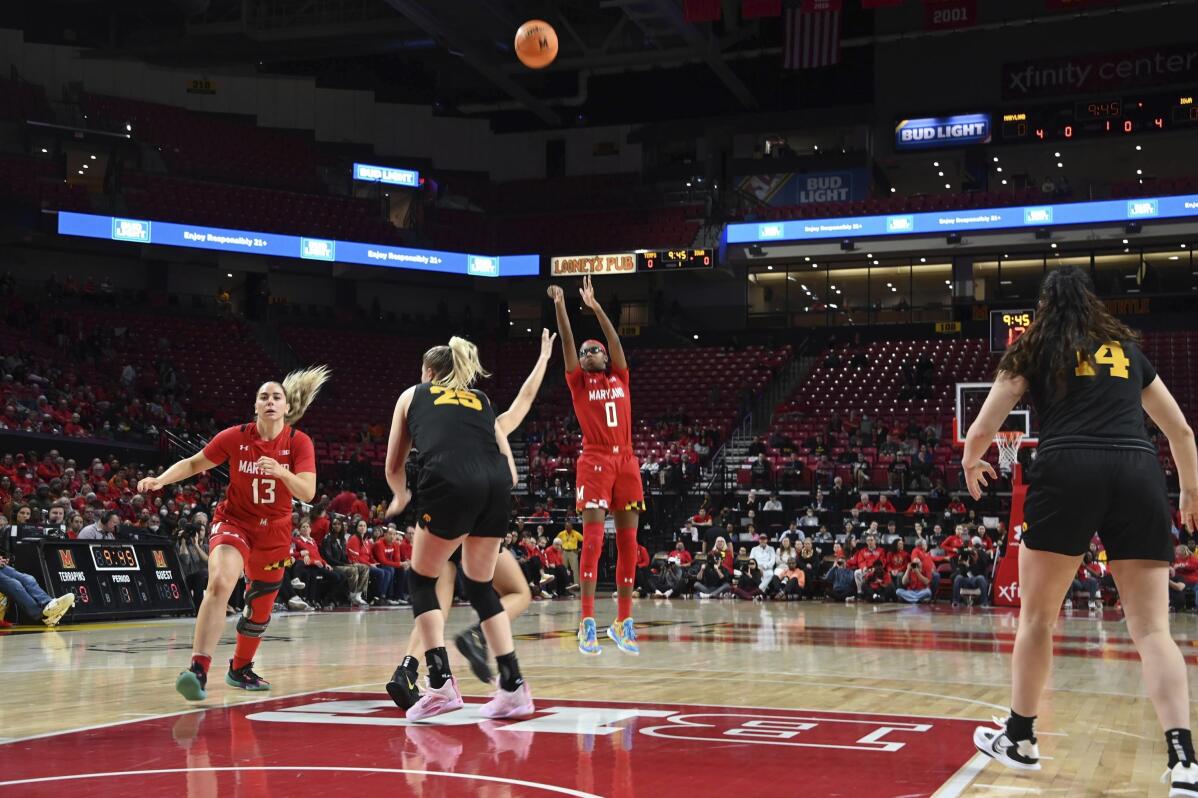 1 of 7

|
Maryland's Shyanne Sellers shoots against Iowa during first half of an NCAA college basketball game Tuesday, Feb. 21, 2023, in College Park, Md. (Kevin Richardson/The Baltimore Sun via AP)
1 of 7
Maryland's Shyanne Sellers shoots against Iowa during first half of an NCAA college basketball game Tuesday, Feb. 21, 2023, in College Park, Md. (Kevin Richardson/The Baltimore Sun via AP)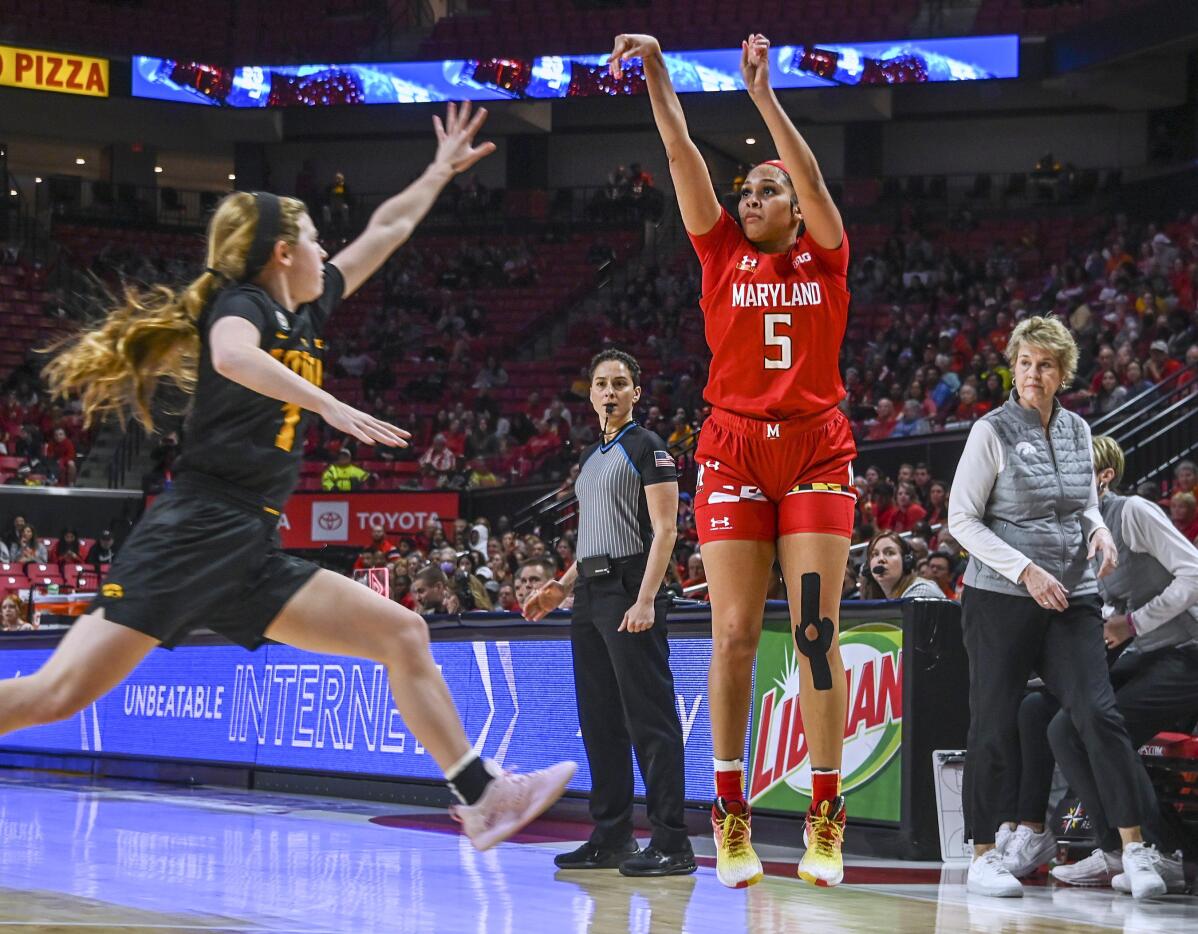 2 of 7

|
Maryland guard Brinae Alexander (5) hits a 3-pointer over Iowa's Molly Davis during an NCAA college basketball game Tuesday, Feb. 21, 2023, in College Park, Md. (Kevin Richardson/The Baltimore Sun via AP)
2 of 7
Maryland guard Brinae Alexander (5) hits a 3-pointer over Iowa's Molly Davis during an NCAA college basketball game Tuesday, Feb. 21, 2023, in College Park, Md. (Kevin Richardson/The Baltimore Sun via AP)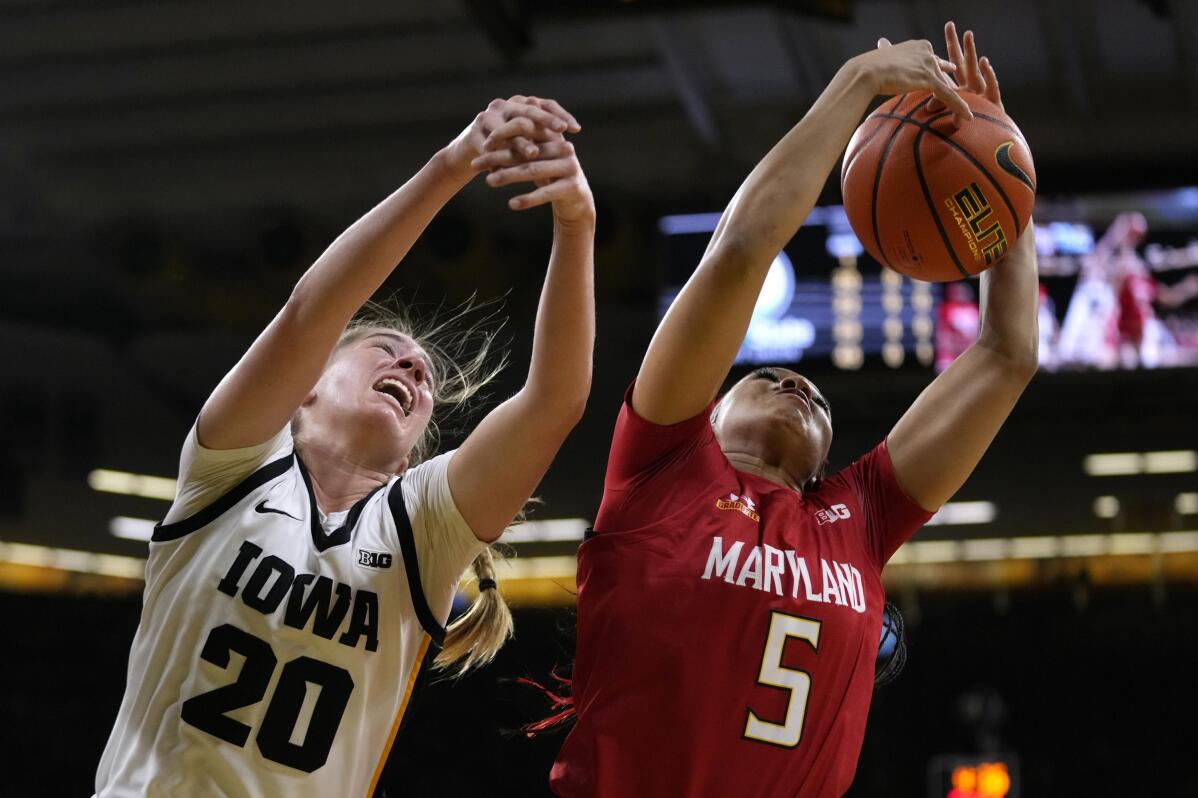 3 of 7

|
Iowa guard Kate Martin (20) fights for a rebound with Maryland guard Brinae Alexander (5) during the first half of an NCAA college basketball game, Thursday, Feb. 2, 2023, in Iowa City, Iowa. (AP Photo/Charlie Neibergall)
3 of 7
Iowa guard Kate Martin (20) fights for a rebound with Maryland guard Brinae Alexander (5) during the first half of an NCAA college basketball game, Thursday, Feb. 2, 2023, in Iowa City, Iowa. (AP Photo/Charlie Neibergall)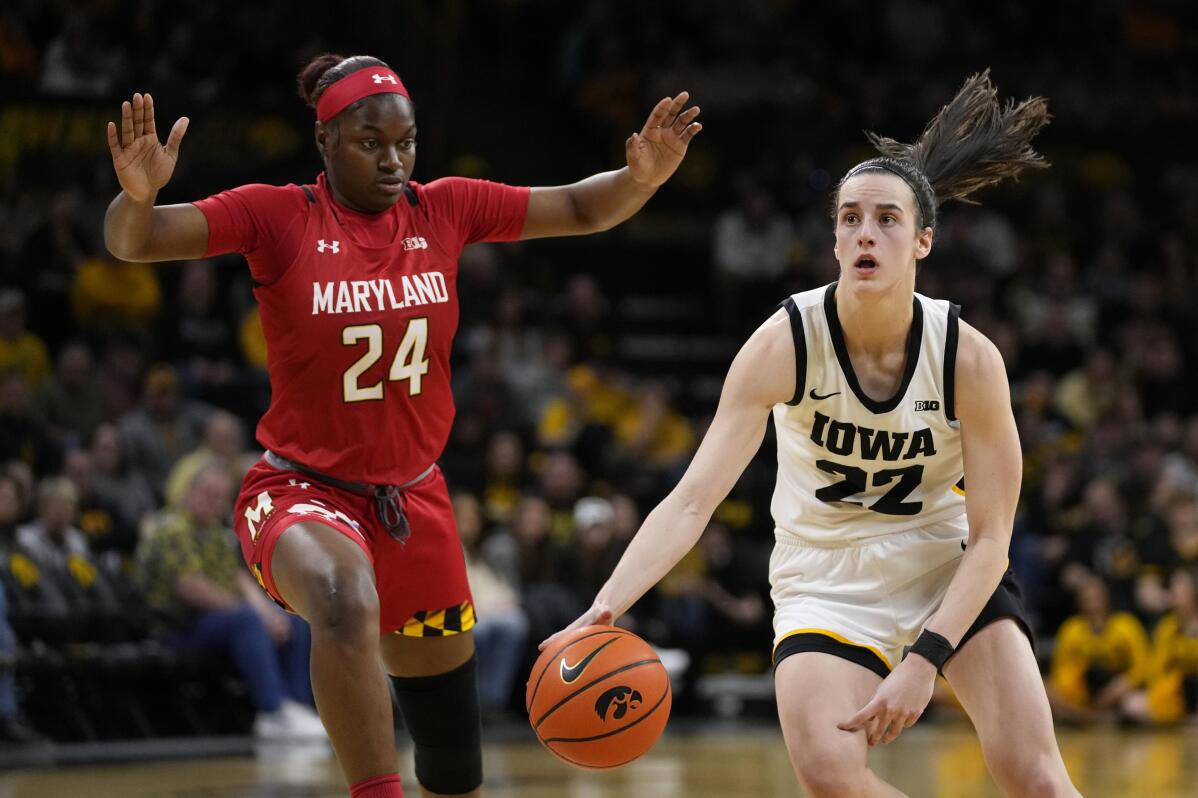 4 of 7

|
Iowa guard Caitlin Clark (22) drives up court past Maryland guard Bri McDaniel (24) during the second half of an NCAA college basketball game, Thursday, Feb. 2, 2023, in Iowa City, Iowa. Iowa won 96-82. (AP Photo/Charlie Neibergall)
4 of 7
Iowa guard Caitlin Clark (22) drives up court past Maryland guard Bri McDaniel (24) during the second half of an NCAA college basketball game, Thursday, Feb. 2, 2023, in Iowa City, Iowa. Iowa won 96-82. (AP Photo/Charlie Neibergall)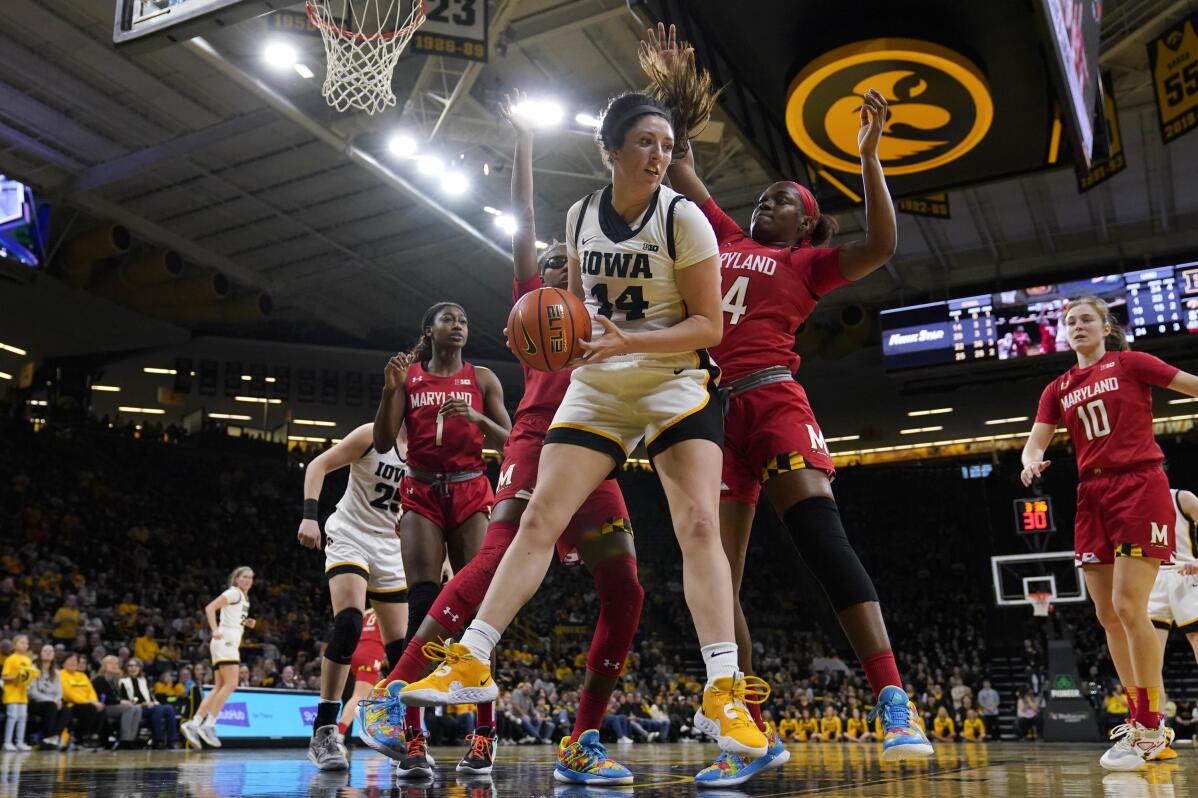 5 of 7

|
Iowa forward McKenna Warnock (14) grabs a rebound on front of Maryland guard Bri McDaniel (24) during the second half of an NCAA college basketball game, Thursday, Feb. 2, 2023, in Iowa City, Iowa. Iowa won 96-82. (AP Photo/Charlie Neibergall)
5 of 7
Iowa forward McKenna Warnock (14) grabs a rebound on front of Maryland guard Bri McDaniel (24) during the second half of an NCAA college basketball game, Thursday, Feb. 2, 2023, in Iowa City, Iowa. Iowa won 96-82. (AP Photo/Charlie Neibergall)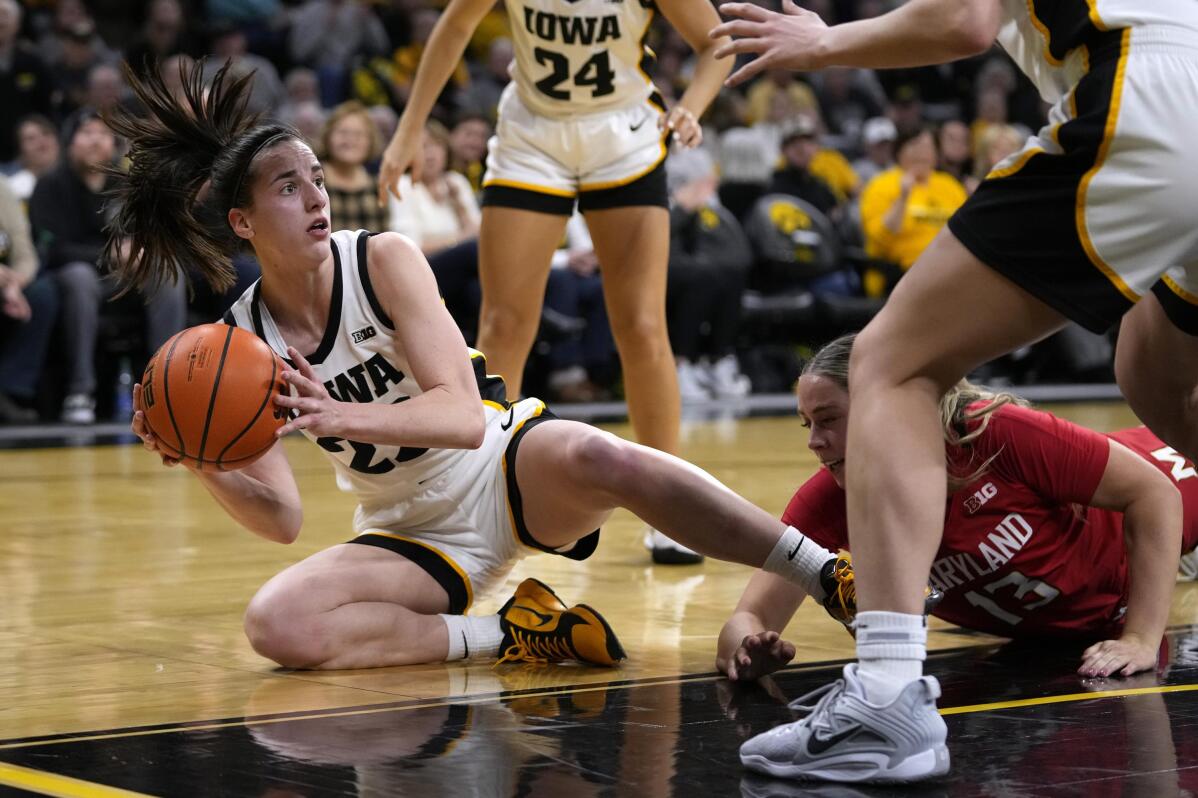 6 of 7

|
Iowa guard Caitlin Clark, left, picks up a loose ball in front of Maryland guard Faith Masonius, right, during the first half of an NCAA college basketball game, Thursday, Feb. 2, 2023, in Iowa City, Iowa. (AP Photo/Charlie Neibergall)
6 of 7
Iowa guard Caitlin Clark, left, picks up a loose ball in front of Maryland guard Faith Masonius, right, during the first half of an NCAA college basketball game, Thursday, Feb. 2, 2023, in Iowa City, Iowa. (AP Photo/Charlie Neibergall)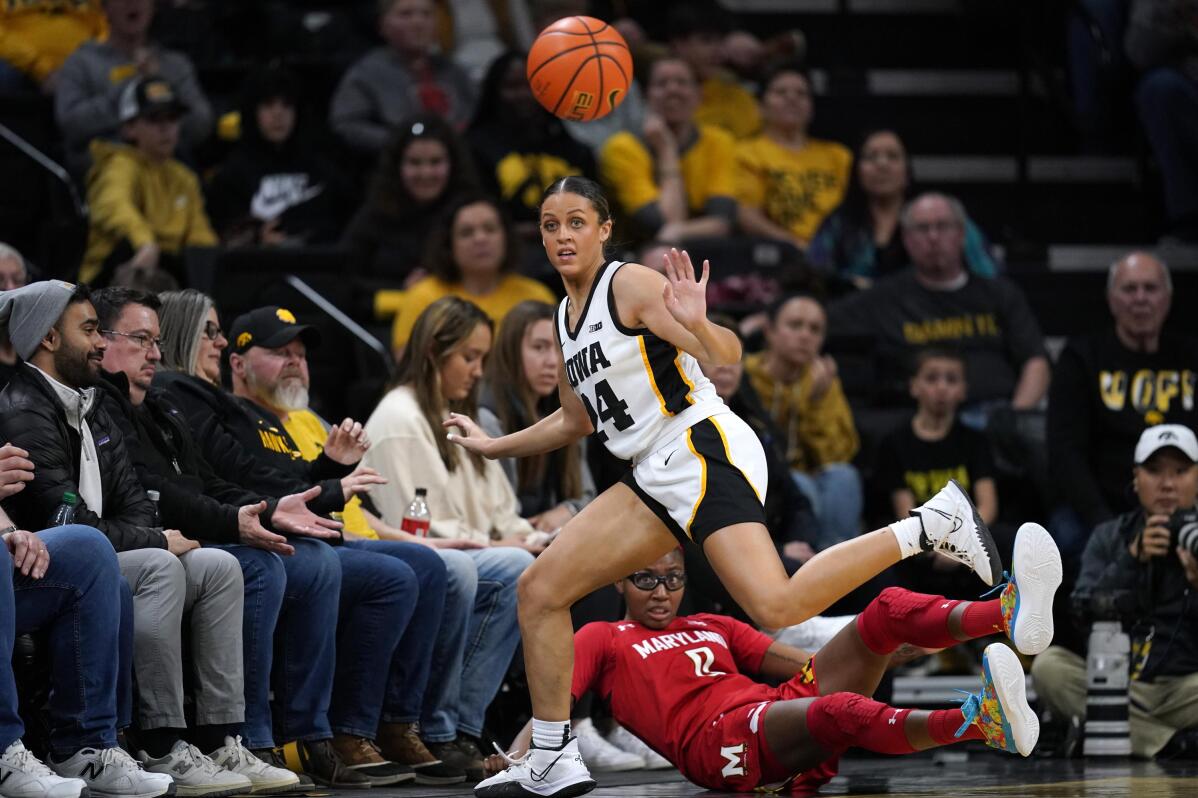 7 of 7

|
Iowa guard Gabbie Marshall (24) fights for a loose ball with Maryland guard Shyanne Sellers (0) during the second half of an NCAA college basketball game, Thursday, Feb. 2, 2023, in Iowa City, Iowa. (AP Photo/Charlie Neibergall)
7 of 7
Iowa guard Gabbie Marshall (24) fights for a loose ball with Maryland guard Shyanne Sellers (0) during the second half of an NCAA college basketball game, Thursday, Feb. 2, 2023, in Iowa City, Iowa. (AP Photo/Charlie Neibergall)
COLLEGE PARK, Md. (AP) — Brinae Alexander and Lavender Briggs were starters in the Southeastern Conference before transferring in the offseason to shore up a depleted Maryland team, and they've mostly come off the bench for the Terps.
Against the potent offense of Caitlin Clark and Iowa, Alexander and Briggs showed how deep — and dangerous — coach Brenda Frese's team can be.
Alexander scored a season-high 24 points and matched a career best with six 3-pointers, Briggs added a season-high 19 points while bottling up Clark, and No. 7 Maryland handed No. 6 Iowa its worst loss of the season, 96-68 on Tuesday night.
"Really proud of those two," Frese said. "When you look at our bench points, and the 43 bench points came from those two, it absolutely was the X-factor. It's the reason why we dominated this game."
The Hawkeyes' loss clinched the Big Ten regular-season title for No. 2 Indiana, which visits Iowa on Sunday in the regular-season finale for both teams.
Shyanne Sellers had 17 points, 10 rebounds and seven assists for the Terrapins (23-5, 14-3 Big Ten), who held Iowa — the nation's top-scoring and best-shooting team — to season worsts in points and field-goal percentage (34.8%).
Briggs was the primary defender on Clark, who had 18 points, her second lowest-scoring game of the season. Gabbie Marshall made five 3s and scored 15 points for the Hawkeyes (22-6, 14-3).
"We really tried to take Caitlin out of the game. We played pressure for 40 minutes. I was chasing her around all over the court, picking her up full court," Briggs said. "It was really just my focus to force her to the right because she likes to do everything going left."
Maryland has won five straight since falling 96-82 at Iowa on Feb. 2, a game that featured 42 points by Clark.
"They denied the heck out of her, right?" Iowa coach Lisa Bluder said. "They face-guarded her the whole time, so that was great. They did a really good job of that. That was really the best we've seen all year."
Alexander and Briggs, both reserves, were so dominant that Maryland didn't need much from leading scorer Diamond Miller, who picked up her second foul early in the second quarter and played only 8 minutes in the first half.
"I wanted to choke her, although I would never do that. I love Diamond," Frese said. "I was waiting to see if we were going to get her back in and in that second quarter, her teammates just took over."
Maryland took control with a 22-2 run in the second, a burst that included three 3s by Alexander, and led by as many as 30 points in the fourth.
"Once I started felling it, I got hot, the basket just felt so open, like anything I threw up was going to go in," Alexander said.
Miller came on strong late and finished with 16 points.
The Terrapins held the Hawkeyes to 30.3% shooting overall and 20% (4 of 20) from 3-point range in the first half, including an airball by Clark that the Maryland student section taunted her about for the rest of the game. She didn't make another 3 until the fourth quarter. Maryland also made Monika Czinano a nonfactor, holding her to four points.
Maryland shot 47.9% overall and 53.8% (14 of 26) from 3-point range.
BIG PICTURE
Clark has never won at Xfinity Center, where she made a career best nine 3-pointers as a freshman two years ago.
The Terps have won 10 of 11 overall and would finish second in the league if Indiana wins on Sunday. Maryland improved to 11-5 all-time against Iowa and 6-0 at home. The Terps are 11-2 at home this season and haven't lost in College Park since Nebraska beat them on Dec. 4.
VETERANS RETURNING
Clark, a junior who turned 21 in January, is not eligible for the WNBA draft until next year under the league's age requirement. Two key members of her supporting cast, Marshall and Kate Martin, announced this week they would return to play their fifth seasons for the Hawkeyes.
UP NEXT
Iowa: Hosts No. 2 Indiana on Sunday.
Maryland: At No. 16 Ohio State on Friday night.
___
Follow Ben Nuckols at https://twitter.com/APBenNuckols
___
AP women's college basketball: https://apnews.com/hub/womens-college-basketball and https://apnews.com/hub/ap-top-25-womens-college-basketball-poll and https://twitter.com/AP_Top25