Miami, San Diego State complete improbable Final Four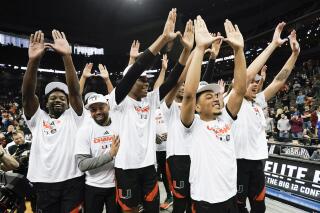 KANSAS CITY, Mo. (AP) — Jordan Miller and Isaiah Wong rallied Miami from a 13-point second-half deficit, Norchad Omier made two big free throws and an even more important steal down the stretch, and the fifth-seeded Hurricanes stunned No. 2 seed Texas 88-81 on Sunday to reach the Final Four for the first time in school history.
Miller finished with 27 points, going 7 of 7 from the field and 13 of 13 from the foul line, while Wong scored 12 of his 14 points in the second half to beat the Longhorns, who had been the top remaining seed in a topsy-turvy NCAA Tournament.
After falling short in the Elite Eight a year ago, the fifth-seeded Hurricanes (29-7) won the Midwest Region and are headed to NRG Stadium in Houston for a date with No. 4 seed UConn on Saturday night.
It's the first time since seeding began in 1979 that no team seeded better than No. 4 made the Final Four, so perhaps it is fitting that Miami coach Jim Larrañaga is involved. He took George Mason there as an 11 seed in 2006.
Miami and Texas were tied 79-all when Omier was fouled by the Longhorns' Brock Cunningham. He made both of the foul shots to give the Hurricanes the lead, then stole the ball from Texas star Marcus Carr, and Wong made to more free throws with 34 seconds remaining.
Wooga Poplar scored 16 points and Nijel Pack had 15.
Carr led the Longhorns (29-9) with 17 points, though he was bothered by a hamstring injury late in the game. Timmy Allen added 16 points and Sir'Jabari Rice had 15.
SOUTH REGION
SAN DIEGO STATE 57, CREIGHTON 56
LOUISVILLE, Ky. (AP) — Darrion Trammell converted a go-ahead free throw after he was fouled on a floater with 1.2 seconds left, and San Diego State muscled its way past Creighton and into its first Final Four.
Lamont Butler scored 18 points and Trammell had 12 for the fifth-seeded Aztecs (31-6), who slowed down the high-scoring, sixth-seeded Bluejays (24-13) and became the first Mountain West Conference team to reach the national semifinals.
The experienced Aztecs, in their sixth season under coach Brian Dutcher, will play the surprising East Region champion, ninth-seeded Florida Atlantic, on Saturday in Houston for a spot in the national title game.
With the game tied at 56-all on San Diego State's final possession, Trammell drove toward the free-throw line, elevated for the shot and was fouled by Creighton's Ryan Nembhard. Trammell missed the first free throw but converted the second.
Creighton's Baylor Scheierman threw the ensuing inbound pass the length of the floor. San Diego State's Aguek Arop and Creighton's Arthur Kaluma both jumped for it and the ball deflected out of bounds. Officials reviewed the play and determined that time had expired.
Ryan Kalkbrenner scored 17 points and Scheierman and Kaluma had 12 apiece for the Bluejays, who went 2 of 17 from 3-point range.
___
AP March Madness coverage: https://apnews.com/hub/march-madness and bracket: https://apnews.com/hub/ncaa-mens-bracket and https://apnews.com/hub/ap-top-25-college-basketball-poll and https://twitter.com/AP_Top25