Browns, quarterback Josh McCown agree to terms on contract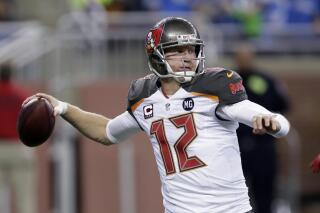 The Browns have yet another new quarterback, and this one has a familiar last name.
Josh McCown, who went 1-10 as Tampa Bay's starter last season, agreed to terms on a three-year contract with Cleveland on Friday. McCown's younger brother, Luke, played for the Browns in 2004 — one of 22 different starting quarterbacks the Browns have used since 1999.
The 35-year-old McCown had also been in contract talks with the Buffalo Bills, who like the Browns have QB issues.
While McCown didn't play well in 2014, he does give the Browns options as they try to solidify a problematic position. McCown will likely compete for the starting job, but if he doesn't win it, he can serve as a mentor for Johnny Manziel and Connor Shaw. Or possibly be a backup if the Browns sign another veteran in free agency or draft one of the top college prospects in this year's draft.
"I just want to serve our team and help everybody in that locker room, do my best to help everybody in the locker room be better at their job, and they're going to help me, too," McCown said. "It's a two-way street. I'm just excited about coming in and being a part of a team."
McCown's signing also likely means the Browns have decided not to re-sign Brian Hoyer, who won 10 games for them the past two seasons. Poised to become a free agent next month, Hoyer made 13 starts last season before he was benched in favor of Manziel, who entered a rehab facility last month. Hoyer had hoped to meet with Browns general manager Ray Farmer next week to discuss his future, but now that meeting might be unnecessary.
Farmer trusts McCown will have a positive impact on the Browns.
"Josh is your consummate professional," Farmer said. "He's known to be a great guy in the locker room and will be great for the quarterback room. He knows how to get an entire offense on the same page and get a team to rally behind him. He has been exposed to a lot of different types of offenses and we think still has the drive and skill set to be a successful quarterback in this league.
"We are excited to get him and believe he will help continue to move us in the right direction, and help us build the type of team that will bring winning football to Cleveland."
McCown, who also visited Chicago and the New York Jets, previously worked with new Browns offensive coordinator John DeFilippo in Oakland. He's 17-32 with six teams during 12 seasons in the NFL.
McCown said a positive connection with coach Mike Pettine and his staff, as well as Cleveland's strong offensive line anchored by Pro Bowler Joe Thomas at tackle and center Alex Mack made him pick the Browns.
"That's kind of what drove the ship for me," he said.
In 2013, McCown replaced an injured Jay Cutler as Chicago's starter and went 3-2. He passed for 1,829 yards and 13 touchdowns during the five-game span and had 348 or more yards passing in three straight games.
Pettine is excited by what McCown can bring the Browns.
"Josh is a high-character, savvy, veteran quarterback that has a lot to offer to our team," Pettine said. "When you hear from people that have been around Josh, they speak of the leadership qualities and the positive impact he has on a locker room. I really enjoyed spending time with him during his visit. He has great passion for playing the quarterback position and wants to show that he can still be successful in this league."
___
AP NFL website: www.pro32.ap.org and www.twitter.com/AP_NFL