Oklahoma St. rallies, beats Missouri State 29-15 in regional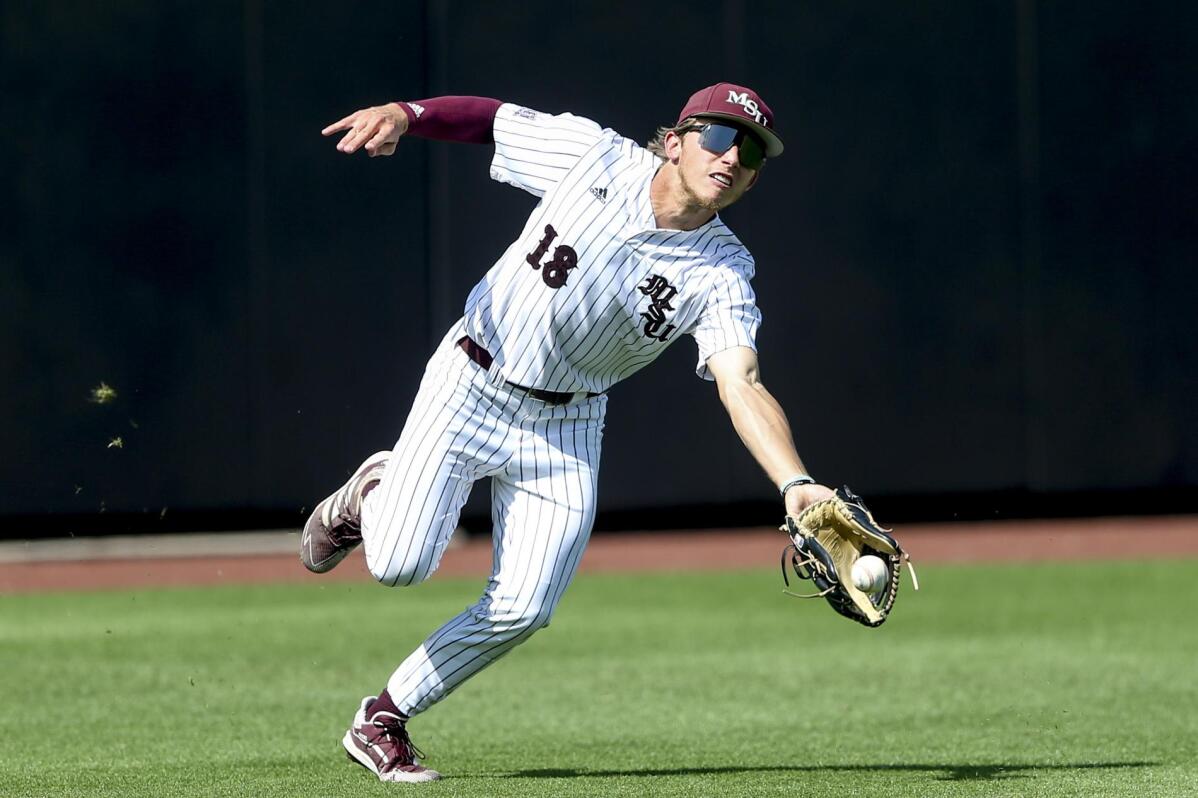 1 of 10

|
Missouri State outfielder Spencer Nivens (18) fields a hit during an NCAA college baseball tournament regional game against Oklahoma State, Sunday, June 5, 2022, in Stillwater, Okla. (Ian Maule/Tulsa World via AP)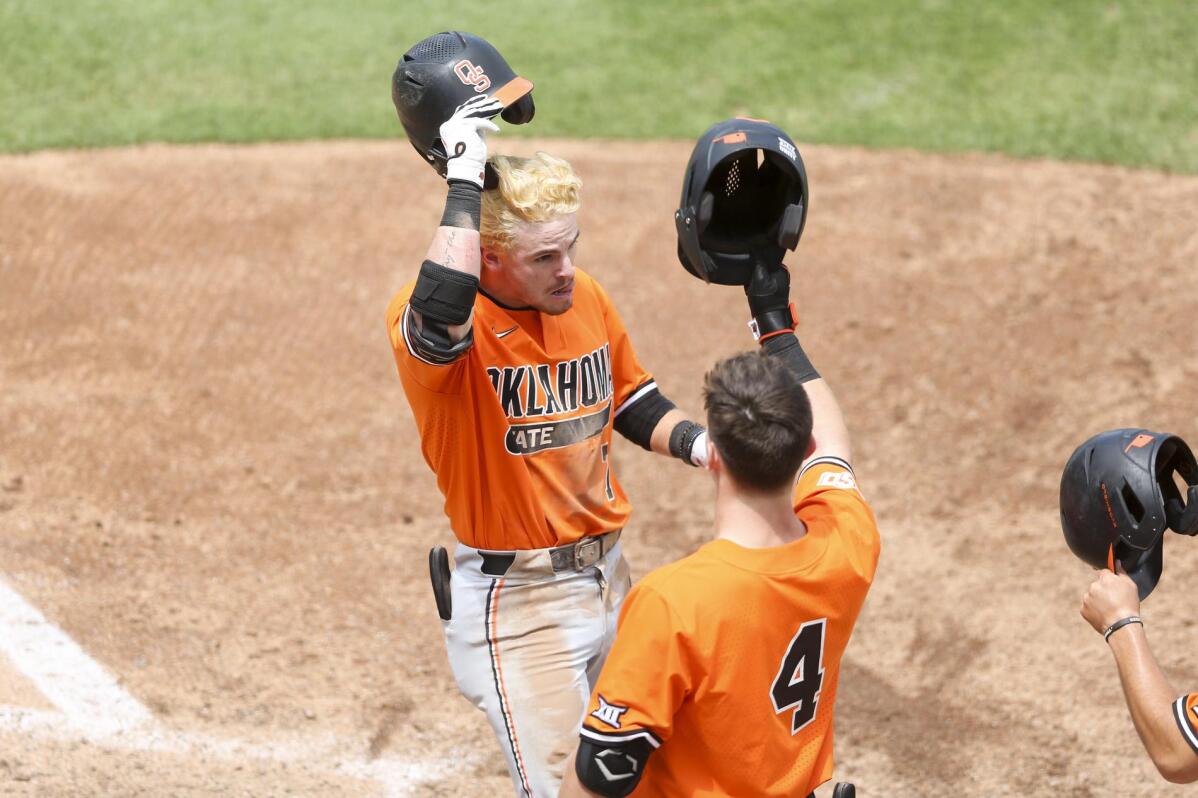 2 of 10

|
Oklahoma State utility Roc Riggio, left, celebrates with utility Zach Ehrhard (4) after hitting a home run against Missouri State during an NCAA college baseball tournament regional game Sunday, June 5, 2022, in Stillwater, Okla. (Ian Maule/Tulsa World via AP)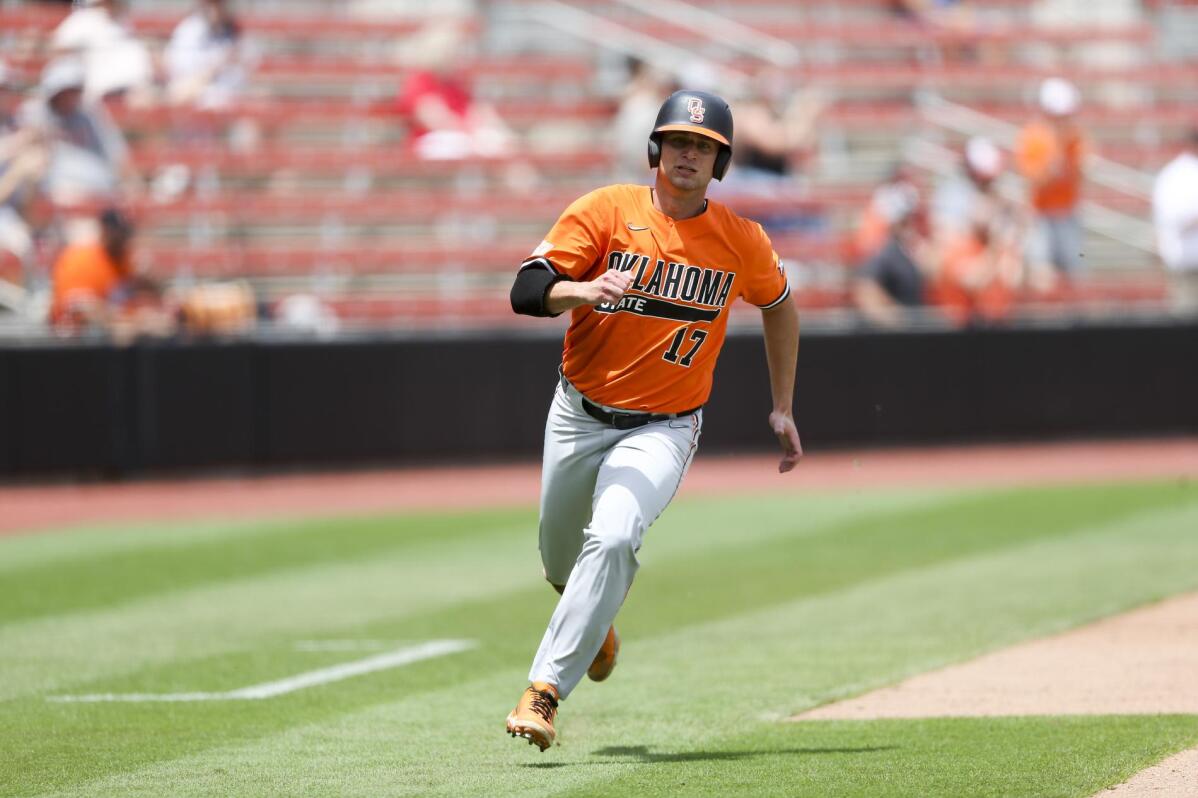 3 of 10

|
Oklahoma State utility Jake Thompson rounds third while scoring a run against Missouri State during an NCAA college baseball tournament regional game Sunday, June 5, 2022, in Stillwater, Okla. (Ian Maule/Tulsa World via AP)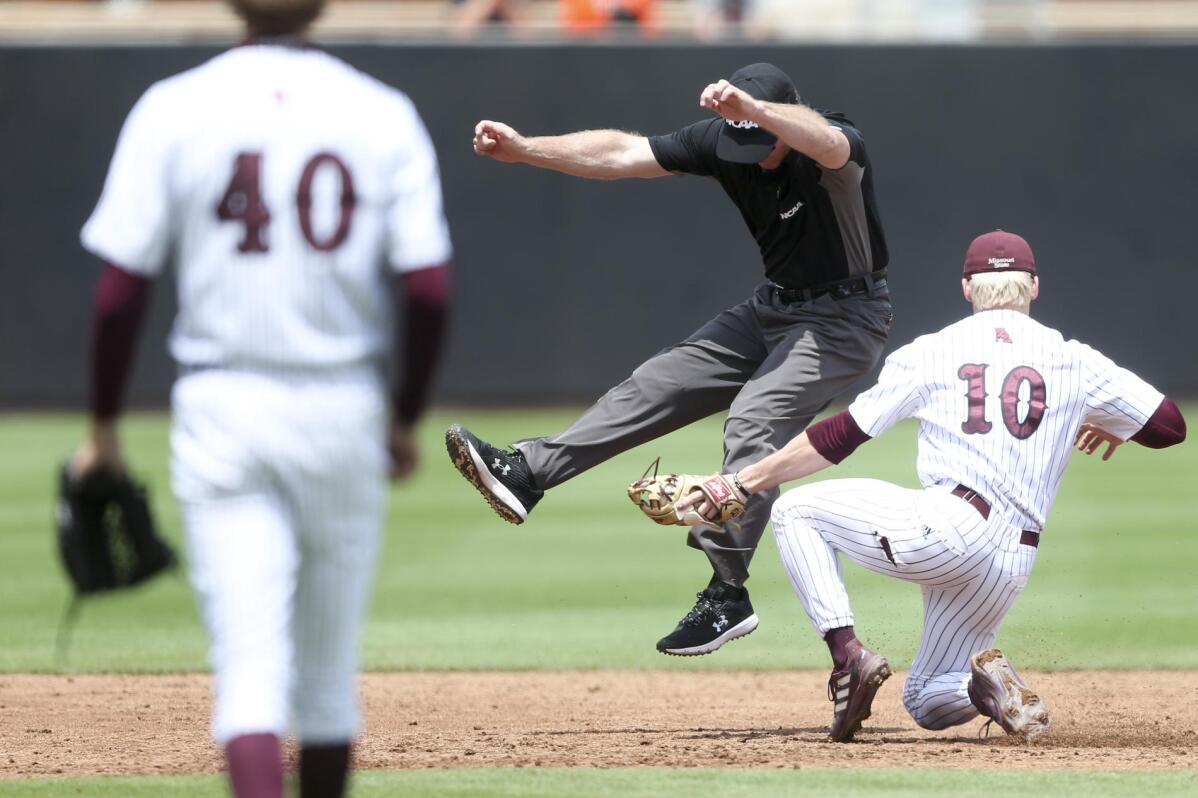 4 of 10

|
Missouri State pitcher Trey Ziegenbein (40) watches as infielder Walker Jenkins (10) collides with an umpire while attempting to field a throw from the outfield during an NCAA college baseball tournament regional game Sunday, June 5, 2022, in Stillwater, Okla. (Ian Maule/Tulsa World via AP)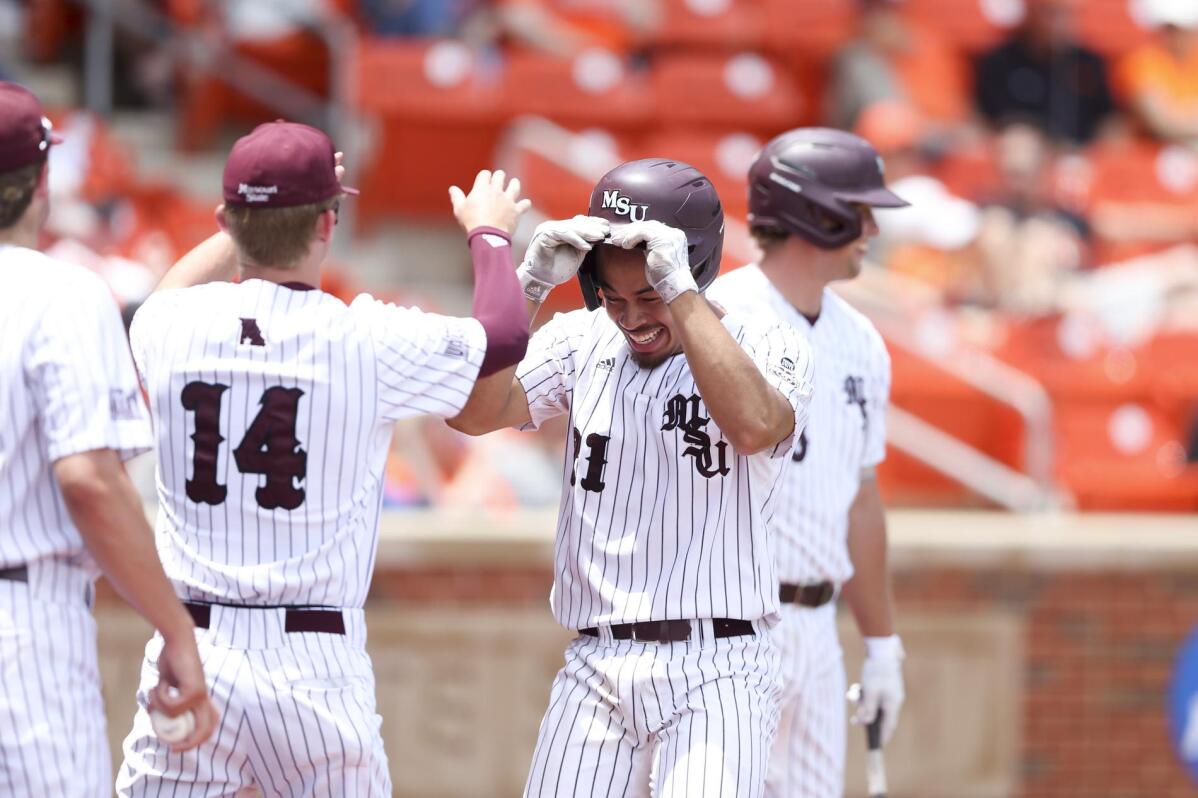 5 of 10

|
Missouri State's Drake Baldwin (21) smiles while celebrating with Hayden Moore (14) after hitting a home run against Oklahoma State during an NCAA college baseball tournament regional game Sunday, June 5, 2022, in Stillwater, Okla. (Ian Maule/Tulsa World via AP)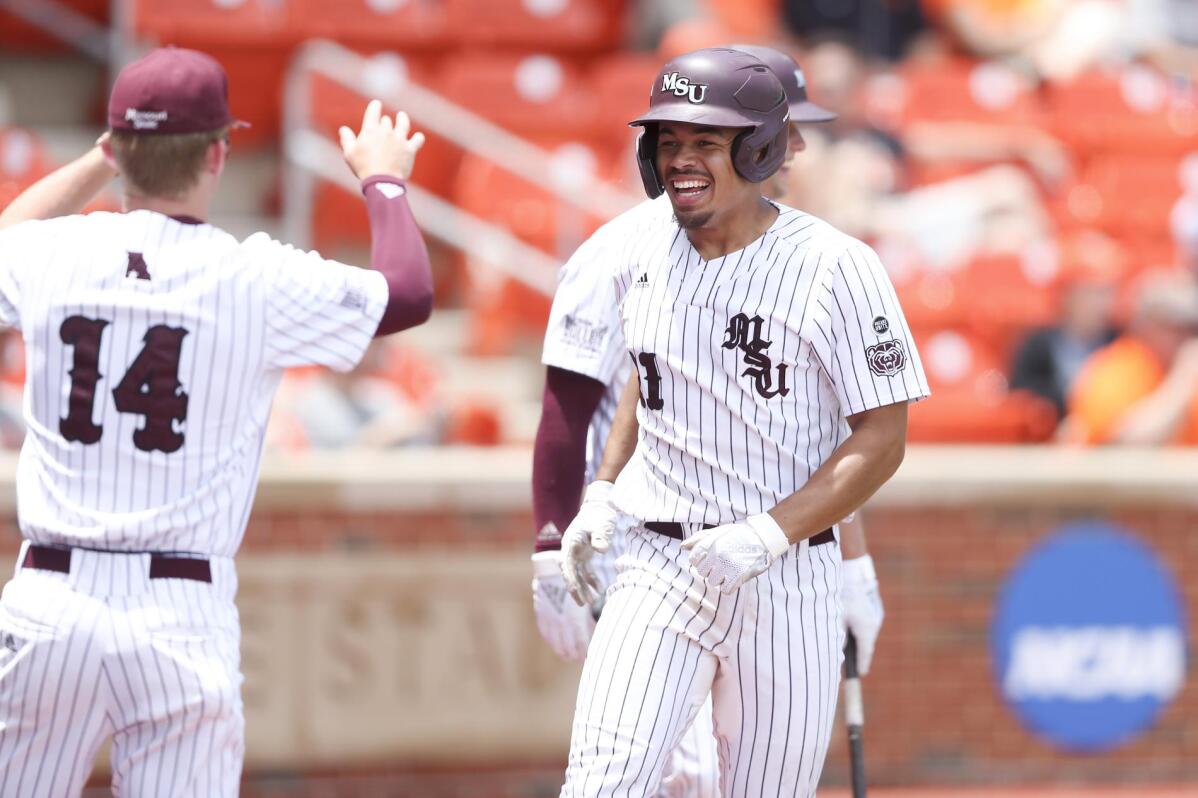 6 of 10

|
Missouri State's Drake Baldwin, right, smiles while celebrating with Hayden Moore (14) after hitting a home run against Oklahoma State during an NCAA college baseball tournament regional game Sunday, June 5, 2022, in Stillwater, Okla. (Ian Maule/Tulsa World via AP)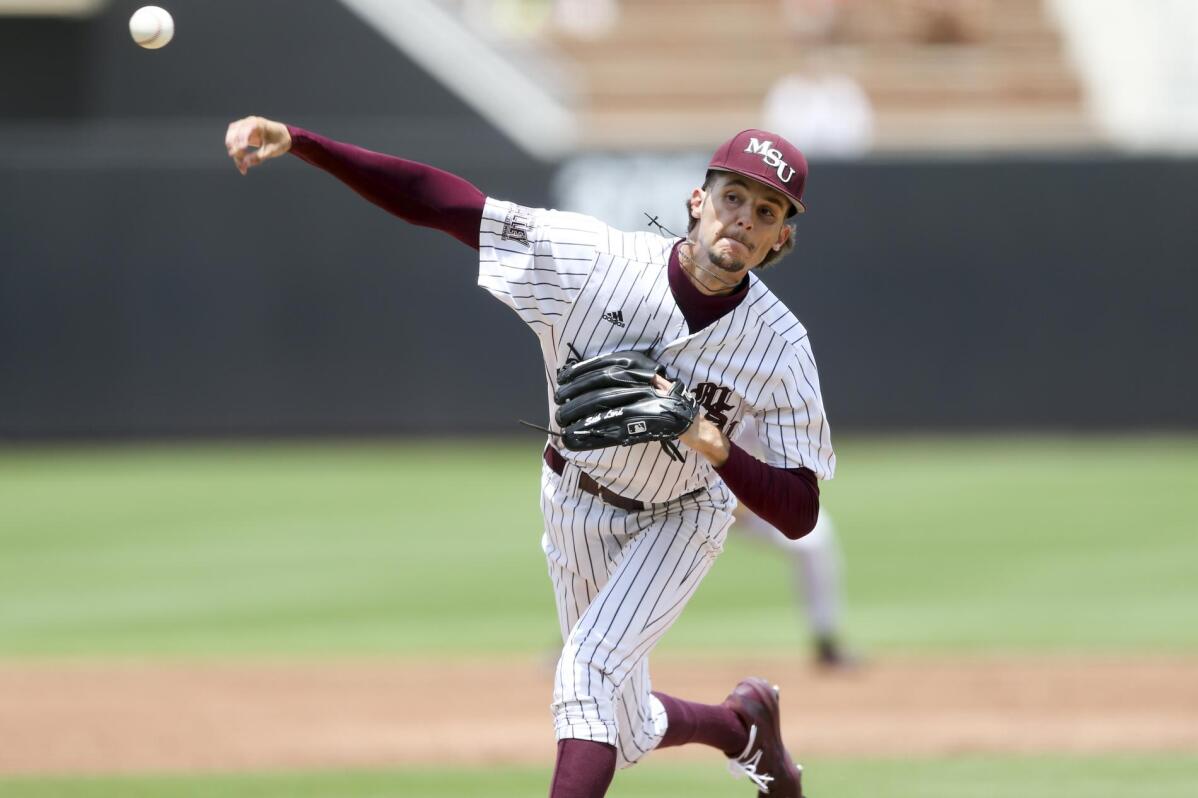 7 of 10

|
Missouri State pitcher Trey Ziegenbein delivers against Oklahoma State during an NCAA college baseball tournament regional game Sunday, June 5, 2022, in Stillwater, Okla. (Ian Maule/Tulsa World via AP)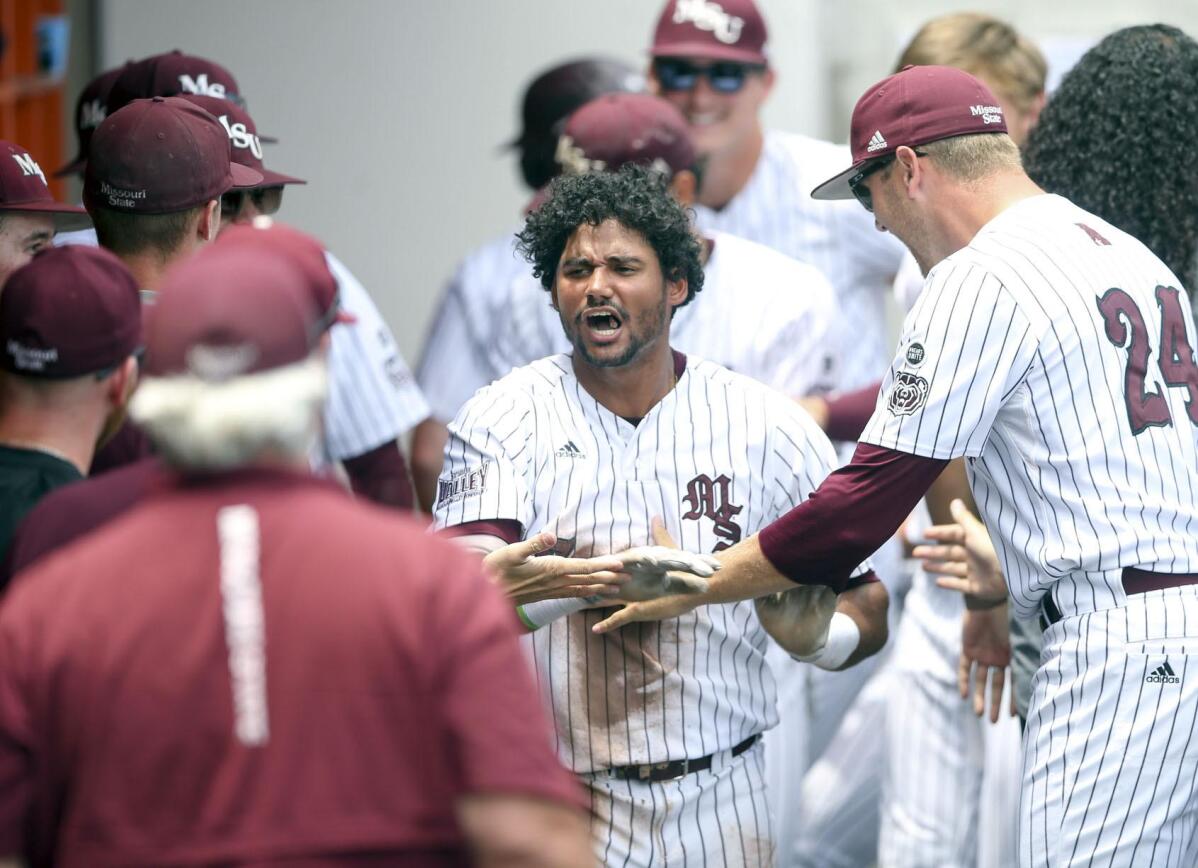 8 of 10

|
Missouri State's Cam Cratic, center, celebrates with teammates after hitting a grand slam against Oklahoma State in the second inning during an NCAA college baseball tournament regional game Sunday, June 5, 2022, in Stillwater, Okla. (Ian Maule/Tulsa World via AP)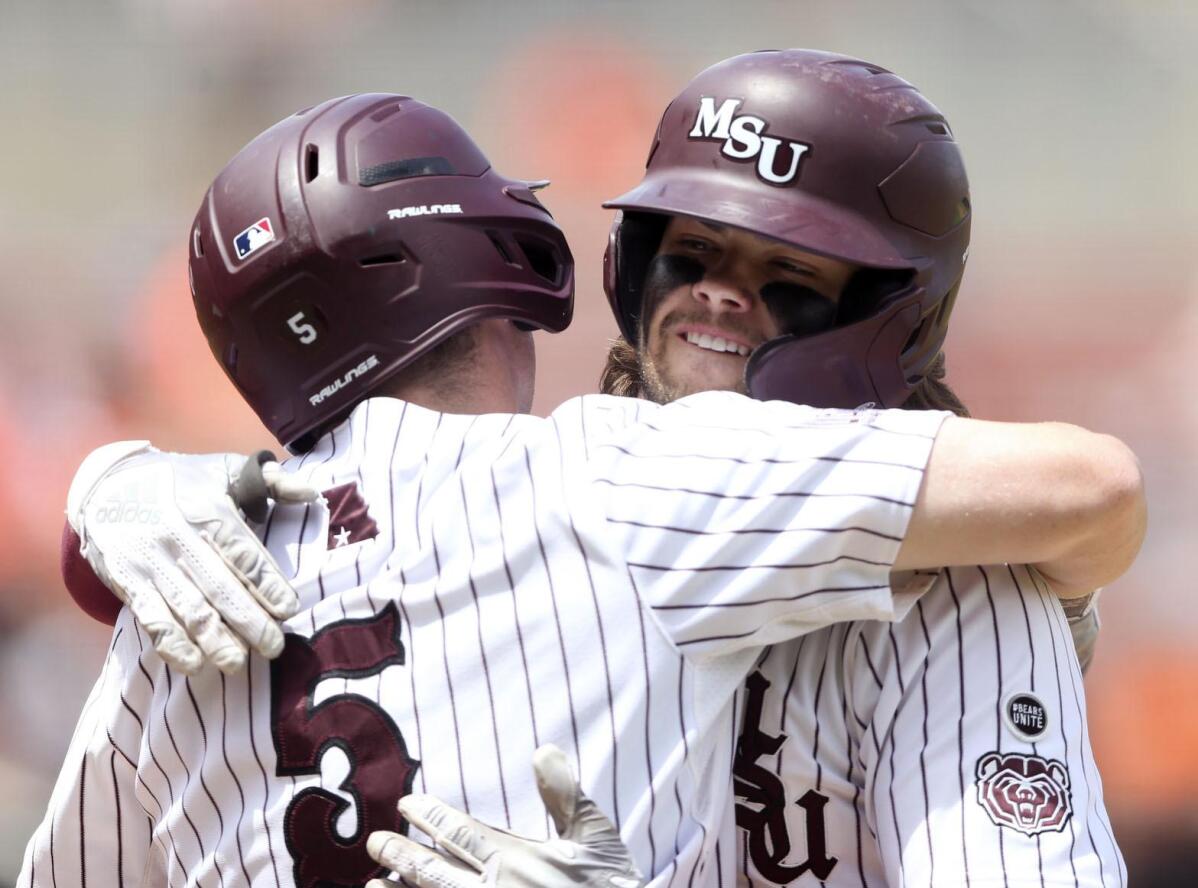 9 of 10

|
Missouri State's Grant Wood, right, hugs teammate Will Duff (5) after a home run against Oklahoma State during an NCAA college baseball tournament regional game Sunday, June 5, 2022, in Stillwater, Okla. (Ian Maule/Tulsa World via AP)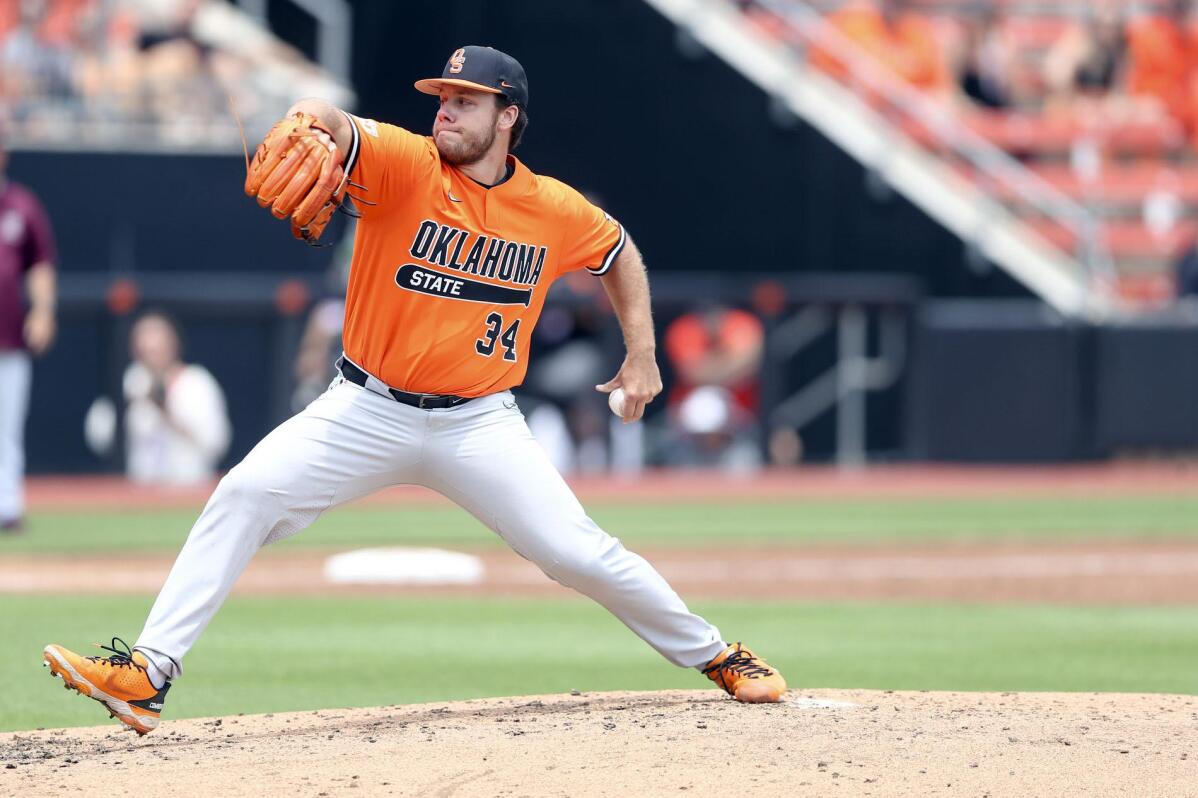 10 of 10

|
Oklahoma State pitcher Dillon Marsh delivers against Missouri State during an NCAA college baseball tournament regional game Sunday, June 5, 2022, in Stillwater, Okla. (Ian Maule/Tulsa World via AP)
Oklahoma St. rallies, beats Missouri State 29-15 in regional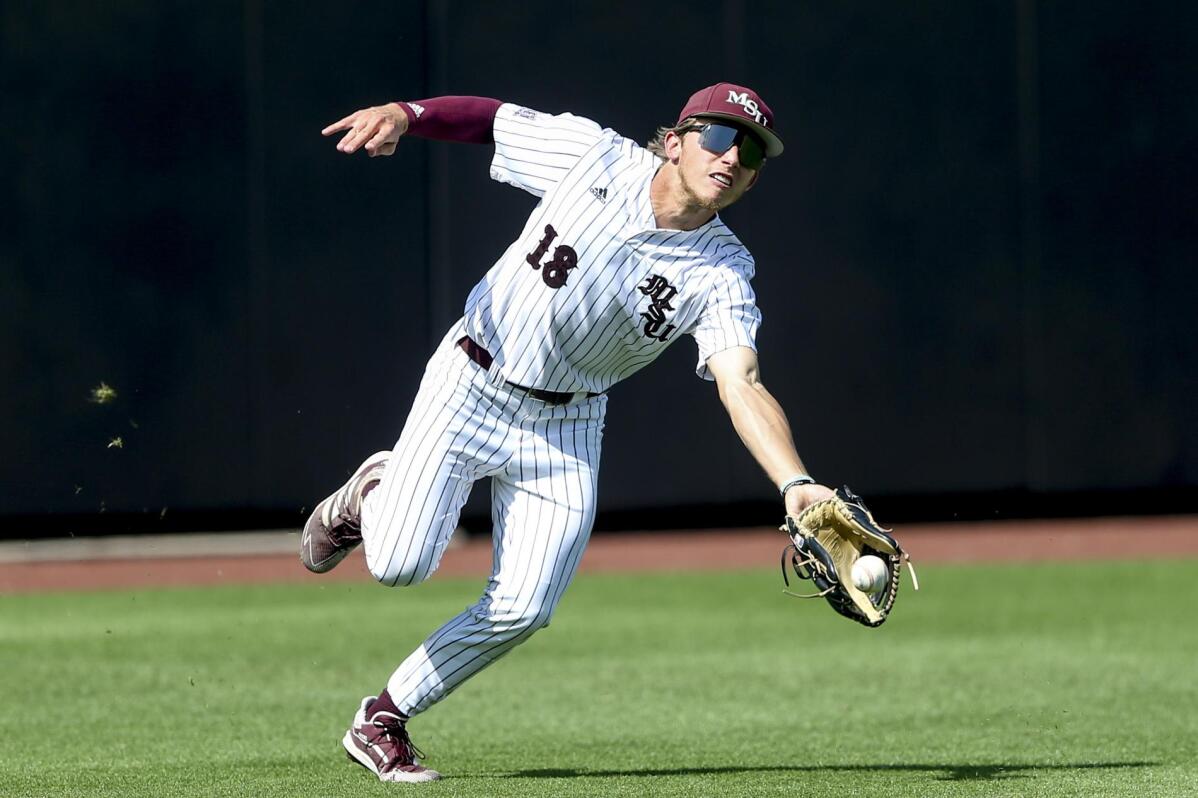 1 of 10

|
Missouri State outfielder Spencer Nivens (18) fields a hit during an NCAA college baseball tournament regional game against Oklahoma State, Sunday, June 5, 2022, in Stillwater, Okla. (Ian Maule/Tulsa World via AP)
1 of 10
Missouri State outfielder Spencer Nivens (18) fields a hit during an NCAA college baseball tournament regional game against Oklahoma State, Sunday, June 5, 2022, in Stillwater, Okla. (Ian Maule/Tulsa World via AP)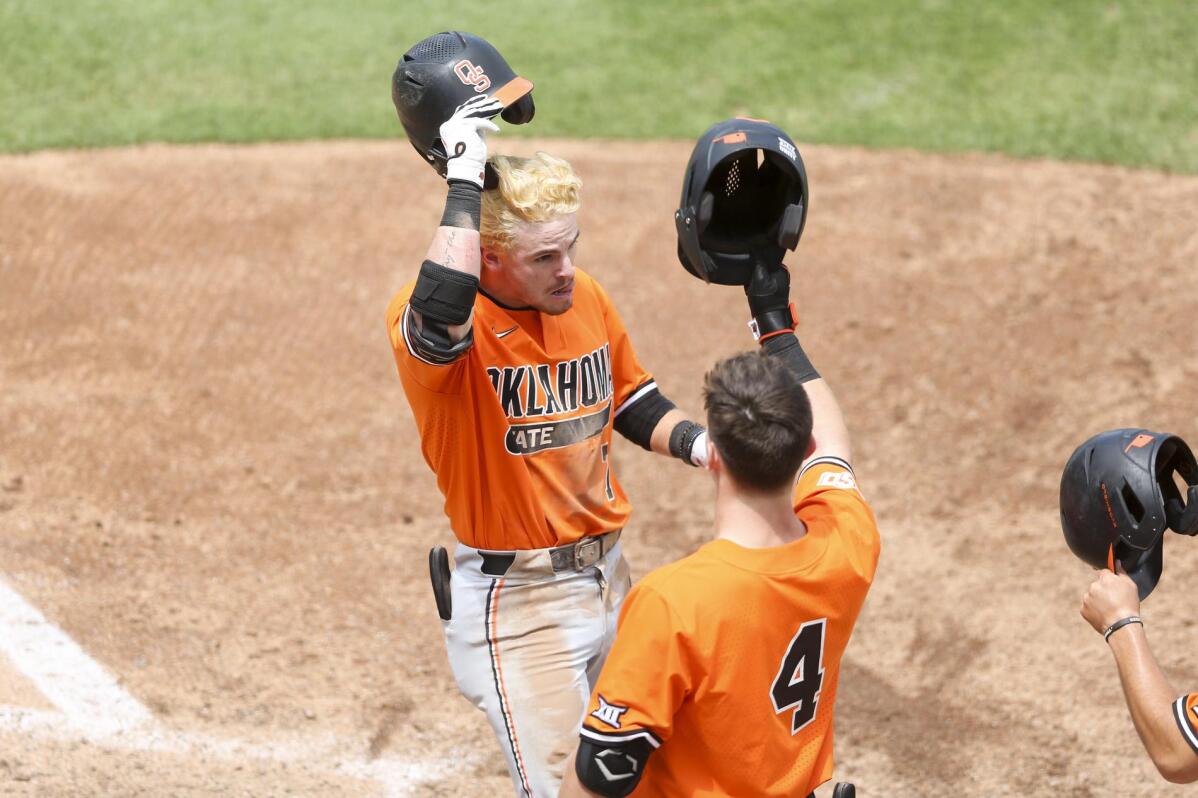 2 of 10

|
Oklahoma State utility Roc Riggio, left, celebrates with utility Zach Ehrhard (4) after hitting a home run against Missouri State during an NCAA college baseball tournament regional game Sunday, June 5, 2022, in Stillwater, Okla. (Ian Maule/Tulsa World via AP)
2 of 10
Oklahoma State utility Roc Riggio, left, celebrates with utility Zach Ehrhard (4) after hitting a home run against Missouri State during an NCAA college baseball tournament regional game Sunday, June 5, 2022, in Stillwater, Okla. (Ian Maule/Tulsa World via AP)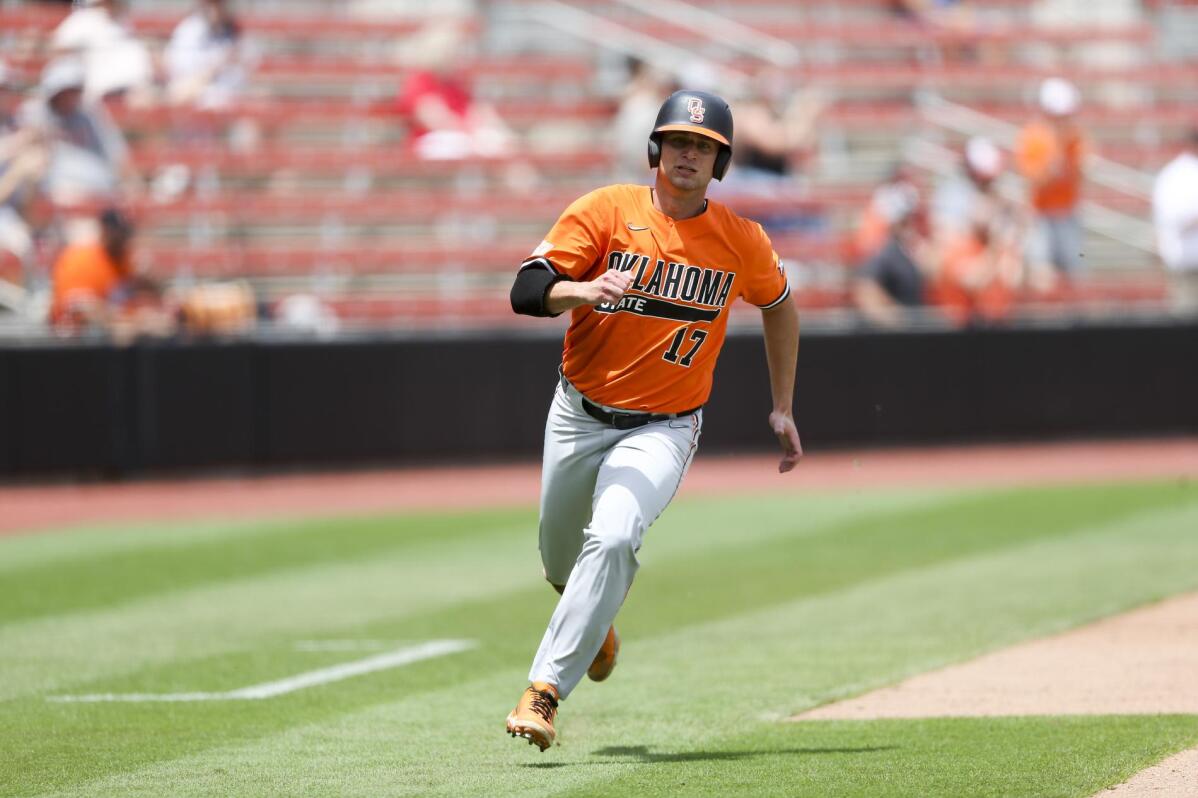 3 of 10

|
Oklahoma State utility Jake Thompson rounds third while scoring a run against Missouri State during an NCAA college baseball tournament regional game Sunday, June 5, 2022, in Stillwater, Okla. (Ian Maule/Tulsa World via AP)
3 of 10
Oklahoma State utility Jake Thompson rounds third while scoring a run against Missouri State during an NCAA college baseball tournament regional game Sunday, June 5, 2022, in Stillwater, Okla. (Ian Maule/Tulsa World via AP)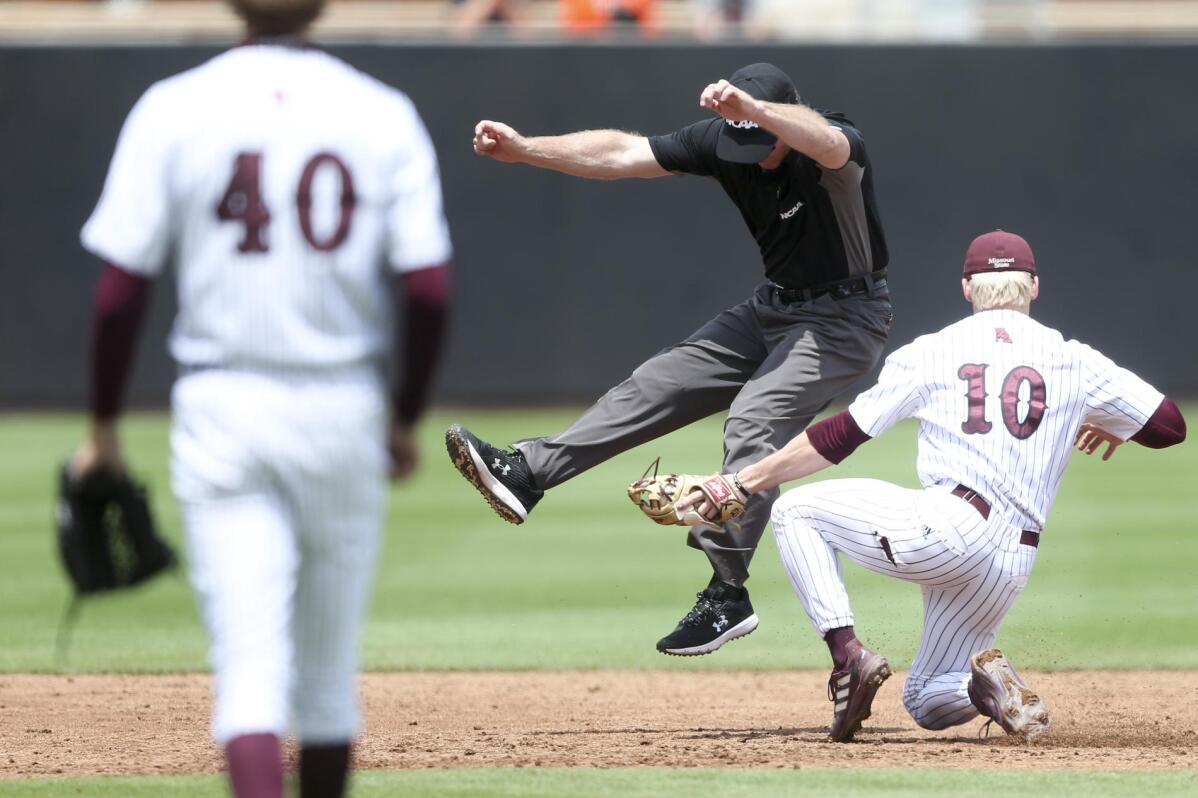 4 of 10

|
Missouri State pitcher Trey Ziegenbein (40) watches as infielder Walker Jenkins (10) collides with an umpire while attempting to field a throw from the outfield during an NCAA college baseball tournament regional game Sunday, June 5, 2022, in Stillwater, Okla. (Ian Maule/Tulsa World via AP)
4 of 10
Missouri State pitcher Trey Ziegenbein (40) watches as infielder Walker Jenkins (10) collides with an umpire while attempting to field a throw from the outfield during an NCAA college baseball tournament regional game Sunday, June 5, 2022, in Stillwater, Okla. (Ian Maule/Tulsa World via AP)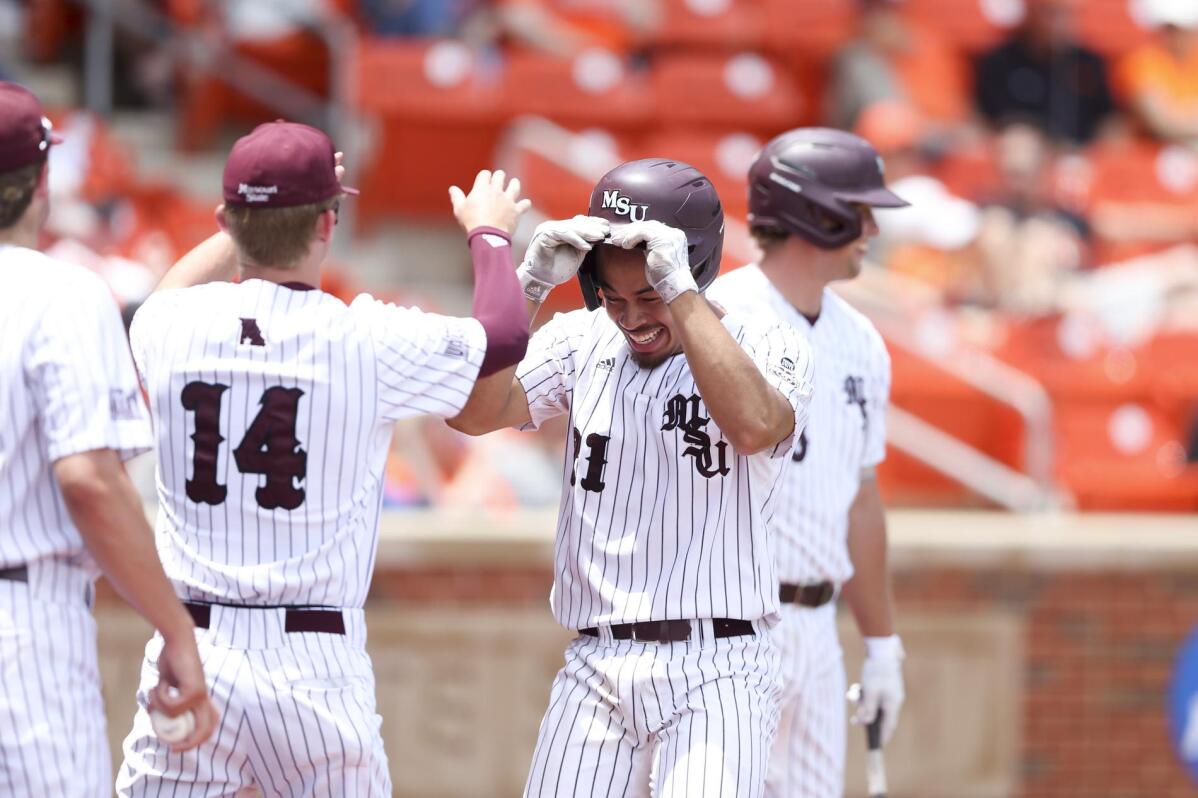 5 of 10

|
Missouri State's Drake Baldwin (21) smiles while celebrating with Hayden Moore (14) after hitting a home run against Oklahoma State during an NCAA college baseball tournament regional game Sunday, June 5, 2022, in Stillwater, Okla. (Ian Maule/Tulsa World via AP)
5 of 10
Missouri State's Drake Baldwin (21) smiles while celebrating with Hayden Moore (14) after hitting a home run against Oklahoma State during an NCAA college baseball tournament regional game Sunday, June 5, 2022, in Stillwater, Okla. (Ian Maule/Tulsa World via AP)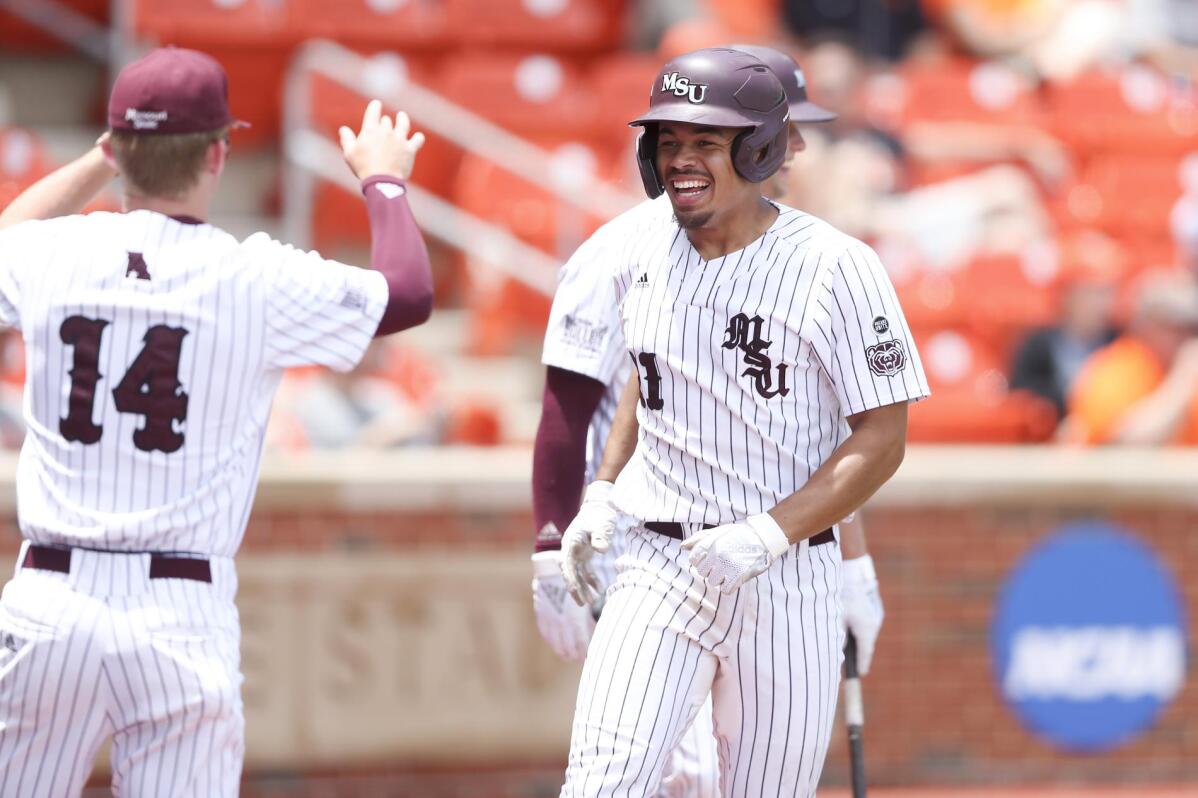 6 of 10

|
Missouri State's Drake Baldwin, right, smiles while celebrating with Hayden Moore (14) after hitting a home run against Oklahoma State during an NCAA college baseball tournament regional game Sunday, June 5, 2022, in Stillwater, Okla. (Ian Maule/Tulsa World via AP)
6 of 10
Missouri State's Drake Baldwin, right, smiles while celebrating with Hayden Moore (14) after hitting a home run against Oklahoma State during an NCAA college baseball tournament regional game Sunday, June 5, 2022, in Stillwater, Okla. (Ian Maule/Tulsa World via AP)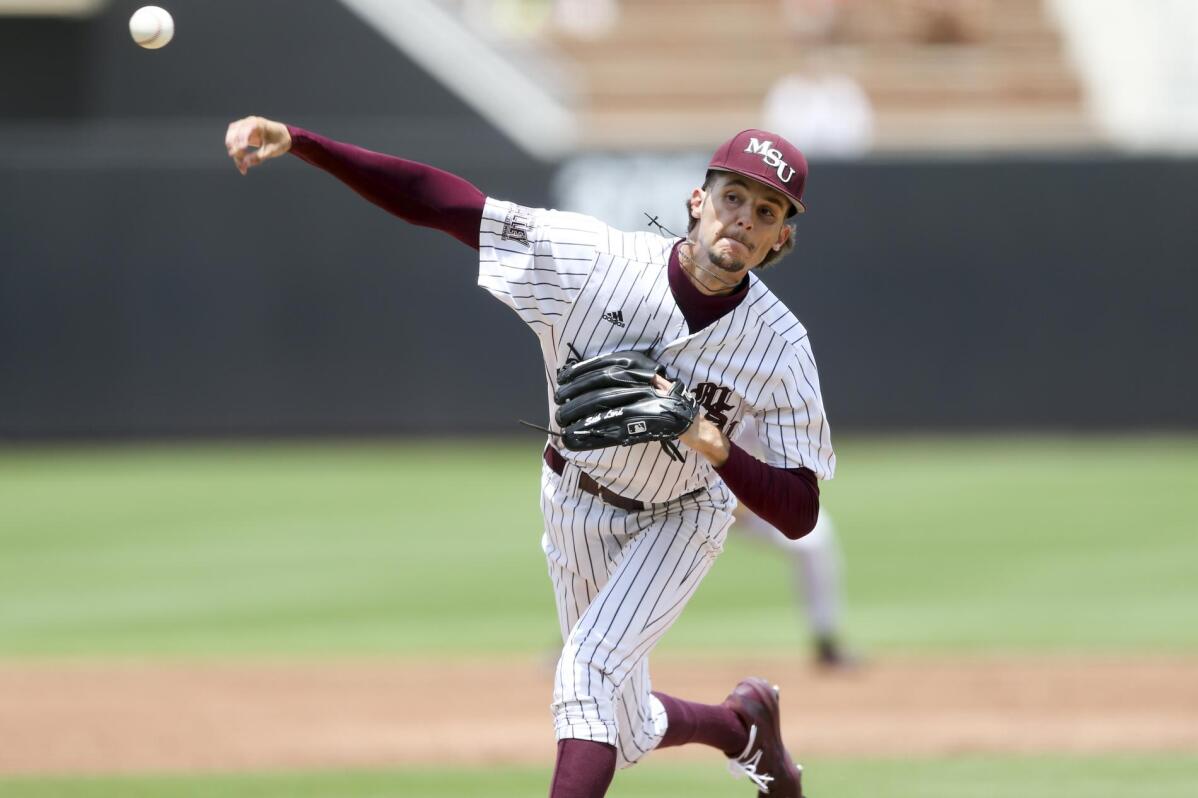 7 of 10

|
Missouri State pitcher Trey Ziegenbein delivers against Oklahoma State during an NCAA college baseball tournament regional game Sunday, June 5, 2022, in Stillwater, Okla. (Ian Maule/Tulsa World via AP)
7 of 10
Missouri State pitcher Trey Ziegenbein delivers against Oklahoma State during an NCAA college baseball tournament regional game Sunday, June 5, 2022, in Stillwater, Okla. (Ian Maule/Tulsa World via AP)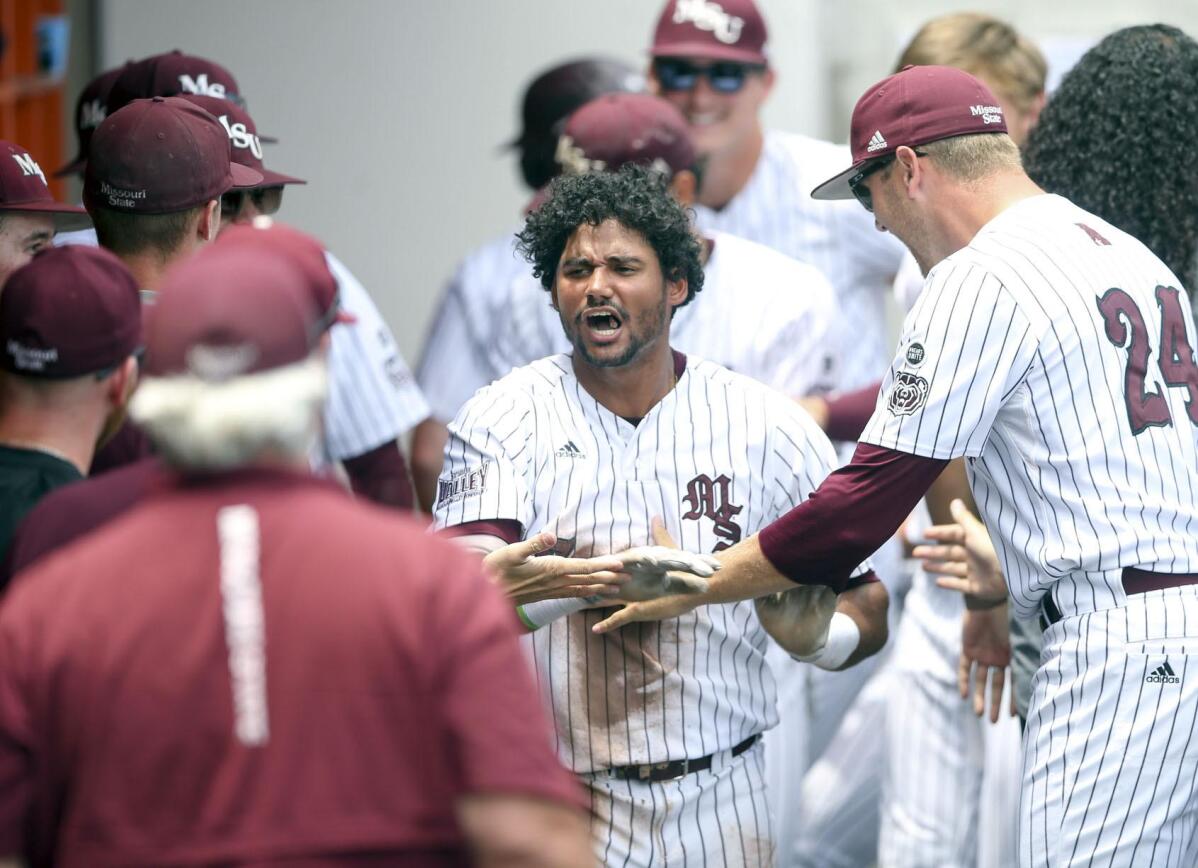 8 of 10

|
Missouri State's Cam Cratic, center, celebrates with teammates after hitting a grand slam against Oklahoma State in the second inning during an NCAA college baseball tournament regional game Sunday, June 5, 2022, in Stillwater, Okla. (Ian Maule/Tulsa World via AP)
8 of 10
Missouri State's Cam Cratic, center, celebrates with teammates after hitting a grand slam against Oklahoma State in the second inning during an NCAA college baseball tournament regional game Sunday, June 5, 2022, in Stillwater, Okla. (Ian Maule/Tulsa World via AP)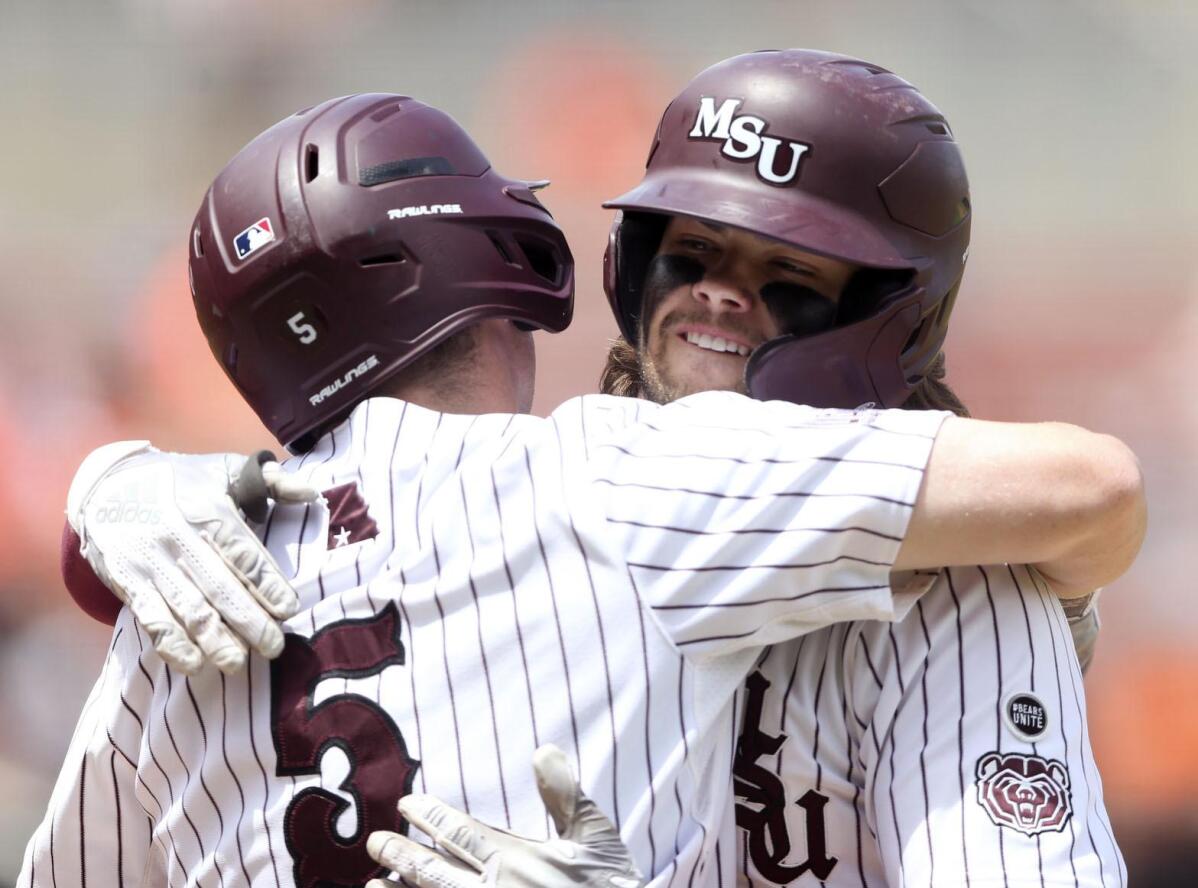 9 of 10

|
Missouri State's Grant Wood, right, hugs teammate Will Duff (5) after a home run against Oklahoma State during an NCAA college baseball tournament regional game Sunday, June 5, 2022, in Stillwater, Okla. (Ian Maule/Tulsa World via AP)
9 of 10
Missouri State's Grant Wood, right, hugs teammate Will Duff (5) after a home run against Oklahoma State during an NCAA college baseball tournament regional game Sunday, June 5, 2022, in Stillwater, Okla. (Ian Maule/Tulsa World via AP)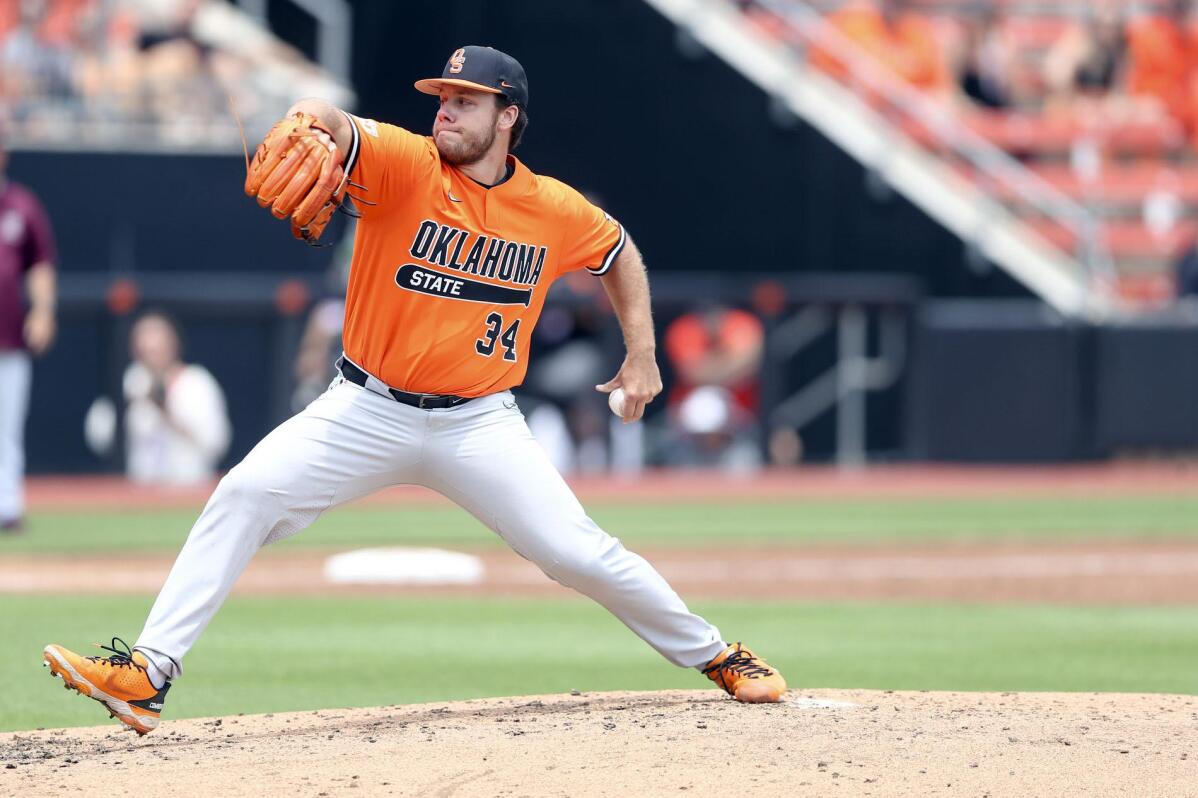 10 of 10

|
Oklahoma State pitcher Dillon Marsh delivers against Missouri State during an NCAA college baseball tournament regional game Sunday, June 5, 2022, in Stillwater, Okla. (Ian Maule/Tulsa World via AP)
10 of 10
Oklahoma State pitcher Dillon Marsh delivers against Missouri State during an NCAA college baseball tournament regional game Sunday, June 5, 2022, in Stillwater, Okla. (Ian Maule/Tulsa World via AP)
STILLWATER, Okla. (AP) — Roc Riggio had seven RBIs, Griffin Doersching hit the go-ahead grand slam to cap Oklahoma State's seven-run sixth inning and the Cowboys rallied to beat Missouri State 29-15 Sunday to avoid elimination at the Stillwater Regional.
Oklahoma State (41-21), which beat the Bears 10-5 in the opening round of the regional, plays Arkansas in the championship round. A loss by the Razorbacks, who beat OSU 10-5 Saturday to knock the Cowboys into the loser's bracket, would force a Monday finale.
Missouri State scored nine runs in the second inning and three more in the bottom of the third to take a 12-0 lead but the Cowboys scored at least four runs in five of the final six innings - including seven apiece in the sixth and ninth.
Reliever Trevor Martin (4-3) pitched the final 6 2/3 innings and struck out 16 batters to earn the win.
Nolan McLean hit a home run to lead off the sixth and Doersching capped the top of the inning with a bases-loaded shot to give Oklahoma State the lead for good at 17-14.
Riggio finished 5-for-7 with two doubles and a two-run homer in the fifth. Jake Thompson went 4-for-6 with two doubles and three RBIs and Marcus Brown was 5-for-7 with three doubles, three RBIs and five runs scored.
Drake Baldwin had a double, two home runs and drove in seven runs for Missouri State (31-29). Spencer Nivens, Cam Cratic, Grant Wood and Will Duff each hit homers for the Bears.
The 44 runs scored is an NCAA Tournament single-game record.
___
More AP college sports: https://apnews.com/hub/college-sports and https://twitter.com/AP_Top25