Kentucky overcomes negativity, beats No. 5 Tennessee 63-56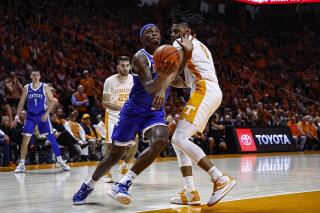 KNOXVILLE, Tenn. (AP) — Antonio Reeves scored 18 points and Oscar Tshiebwe had 15 points and 13 rebounds to lead Kentucky to a 63-56 victory over No. 5 Tennessee on Saturday.
The Wildcats (11-6, 2-3 Southeastern Conference) showed a physical presence and dominated the Volunteers (14-3, 4-1) on the boards.
C.J. Fredrick scored 10 of his 13 points in the first half as the Wildcats led by seven at halftime.
Tennessee's Uros Plavsic, who scored 19 points, was the only Vol to match Kentucky's physicality. Santiago Vescovi scored 13.
NO. 2 KANSAS 62, NO, 14 IOWA STATE 60
LAWRENCE, Kan. (AP) — KJ Adams scored in the paint, breaking a tie with under 12 seconds left and Kansas held off Iowa State.
Kansas (16-1, 5-0 Big 12) was led by Gradey Dick with 21 points. Jalen Wilson had 16 points and 11 rebounds, and Adams had 15 points.
Gabe Kalscheur scored 23 points for the Cyclones (13-3, 4-1). Osun Osunniyi chipped in 14.
NO. 4 ALABAMA 106, LSU 66
TUSCALOOSA, Ala. (AP) — Brandon Miller finished with 31 points and had six 3-pointers by halftime to lead Alabama to its most lopsided win over LSU.
Miller, the nation's top scoring freshman and a potential NBA lottery pick, matched LSU's 22 first-half points by himself for the streaking Crimson Tide (15-2, 5-0 Southeastern Conference).
Mark Sears, Rylan Griffen and Jahvon Quinerly each scored 12 points for Alabama. Quinerly made 4 of 8 3s. Nick Pringle added 10 points.
KJ Williams, whose 18.5-point average trailed only Miller in the SEC, scored 10 for LSU (12-5, 1-4). He picked up his fourth foul with 17 minutes to play and was 4-of-12 shooting.
NO. 7 UCLA 68, COLORADO 54
LOS ANGELES (AP) — Jaime Jaquez Jr. had 23 points, Jaylen Clark added 18 and UCLA rallied in the second half.
Jaquez also tied a career-high with 13 rebounds for his second double-double of the season as the Bruins (16-2, 7-0 Pac-12) extended their winning streak to 13.
KJ Simpson led Colorado (11-8, 3-5) with 17 points and Javon Ruffin scored 11.
NO. 8 GONZAGA 115, PORTLAND 75
SPOKANE, Wash. (AP) — Malachi Smith led six teammates in double figures with his season high 27 points, seven 3-pointers and a team-leading eight rebounds, and Gonzaga used a dominant first half to earn its NCAA-best 75th straight home victory and 15th straight win over Portland.
Drew Timme scored 18 for Gonzaga (16-3, 5-0 West Coast Conference), Julian Strawther added 14 and seven rebounds while Nolan Hickman scored 13 and Anton Watson and Ben Gregg each added 12. Ten players scored for the Bulldogs who have now won 11 straight.
Moses Wood led the Pilots (9-11, 1-4) with 19 points, shooting six of 13, and Kristian Sjolund added 17 points and a team-leading 12 rebounds.
OREGON 87, NO. 9 ARIZONA 68
EUGENE, Ore. (AP) — Jermaine Couisnard scored 27 points in his first start of the season as Oregon beat Arizona.
Couisnard, a transfer from South Carolina who missed the first 14 games of the season due to injury, made six 3-pointers, including one that was intended to be an assist on an alley-oop.
Senior center N'Faly Dante added 22 points, including a highlight dunk early in the game, and 10 rebounds as the Ducks (10-8, 4-3 Pac-12) shot 54 percent from the field. Will Richardson added 14 points and Nate Bittle scored 10.
Kylan Boswell scored 15 points to pace the Wildcats (15-3, 4-3). Azuolas Tubelis had 14 points and six rebounds while Courtney Ramey made four 3-pointers for 12 points and Oumar Ballo added 10 points and seven rebounds.
NO. 10 TEXAS 72, TEXAS TECH 70
AUSTIN, Texas (AP) — Marcus Carr scored 20 points, Sir'Jabari Rice added 18 and Texas rallied in the second half, snapping the Red Raiders' four-game win streak on the Longhorns' home court.
Timmy Allen scored 17 for the Longhorns (15-2, 4-1 Big 12).
Pop Issacs scored 23 points to lead Texas Tech (10-7), which fell to 0-5 in conference play for the first time since 2015. A season after reaching the NCAA Tournament Sweet 16, the Red Raiders share the Big 12 basement with West Virginia.
NO. 17 TCU 82, NO. 11 KANSAS STATE 68
FORT WORTH, Texas (AP) — Emanuel Miller scored 23 points, Eddie Lampkin Jr. had a season-high 17 with several key inside baskets and TCU ended Kansas State's nine-game winning streak.
Mike Miles Jr. had 13 points with 11 assists for the Horned Frogs (14-3, 3-2 Big 12), who were coming off back-to-back losses after an 11-game winning streak of their own. Damion Baugh had 11 points.
Keyontae Johnson had 18 for the Wildcats (15-2, 4-1), who trailed by as many as 25 points midway through the second half before some late baskets. Markquis Nowell finished with 16 points, after having four consecutive 20-point games.
NO. 13 VIRGINIA 67, FLORIDA STATE 58
TALLAHASSEE, Fla. (AP) — Armaan Franklin scored 20 points and Ben Vander Plas added 15 points and seven rebounds as Virginia controlled from the opening minutes.
The Cavaliers (13-3, 5-2 Atlantic Coast Conference) made 11 of 22 3-pointers, the fifth time in 16 games they have connected on 10 or more from beyond the arc.
Matthew Cleveland recorded a double-double for the seventh straight game, a feat no Seminole has achieved since Reggie Royals in the 1971-72 season. He had a basket in the final minute to finish with 10 points and 10 rebounds.
Freshman forward Cameron Corhen added 15 points for the Seminoles (5-13, 3-4), who lost at home for the first time in ACC play.
VANDERBILT 97, NO. 15 ARKANSAS 84
NASHVILLE, Tenn. (AP) -- Tyrin Lawrence scored 22 points as Vanderbilt rallied from a 10-point deficit in the second half and snapped a two-game skid.
Vanderbilt (9-8, 2-2 Southeastern Conference) trailed by 10 points before the 3s started falling. Arkansas (12-5, 1-4) lost its third straight and never got closer than seven down the stretch as the Commodores knocked down all 12 free throws in the final 1:57.
Jordan Wright finished with 17 points for Vanderbilt. Myles Stute had 15, and Trey Thomas added 13 in a chippy game that featured three reviews with a Flagrant 1 for Arkansas and Vanderbilt guard Ezra Manjon ejected before halftime.
Ricky Council IV led the Razorbacks with 24 points, and Anthony Black added 18. Davonte Davis had 17 and Makhi Mitchell finished with 11.
N.C. STATE 83, NO. 16 MIAMI 81, OT
RALEIGH, N.C. (AP) -- Ernest Ross scored a go-ahead putback in traffic with 33 seconds left in overtime and the Wolfpack made a pair of late stops to hold off Miami.
Ross finished with career highs of 17 points and nine rebounds for the Wolfpack (14-4, 4-3 Atlantic Coast Conference). Terquavion Smith scored 20 points and DJ Burns added 13 points, nine rebounds and seven assists.
Isaiah Wong had 25 points and six rebounds to lead Miami (14-3, 5-2). Jordan Miller had 13 and an overtime-forcing 3-pointer over Ross with 28.6 seconds left in regulation.
INDIANA 63, NO. 18 WISCONSIN 45
BLOOMINGTON, Ind. (AP) -- Trayce Jackson-Davis had 18 points and 12 rebounds and Jalen Hood-Schifino added 16 points as Indiana won for the first time in three weeks and ended a three-game skid.
The Hoosiers (12-4, 2-4 Big Ten) were without two injured starters, guard Xavier Johnson (foot) and forward Race Thompson (knee).
Connor Essegian returned to his home state and had 14 points and 11 rebounds to lead the Badgers (11-5, 3-3). Wisconsin has lost all three games since starting forward Tyler Wahl went down with an injured leg — this one in a series they had dominated for more than a decade.
CREIGHTON 73, NO. 19 PROVIDENCE 67
OMAHA, Neb. (AP) -- Ryan Kalkbrenner scored 13 of his 21 points in the final 15 minutes and Creighton ended Providence's nine-game win streak.
The Bluejays (10-8, 4-3 Big East) got 20 points from Trey Alexander and 19 from Baylor Scheierman.
Creighton was up 16 points two minutes into the second half before Providence went on a 25-9 run with Scheierman on the bench in foul trouble for most of it.
Bryce Hopkins had 20 points to lead the Friars (14-4, 6-1), who entered with their longest win streak since 1988-89. Devin Carter added 13 points and Noah Locke had 12.
FLORIDA 73, NO. 20 MISSOURI 64
GAINESVILLE, Fla. (AP) — Colin Castleton had 16 points and 13 rebounds for his third double-double of the season, and Florida rallied from 11 down to beat Missouri.
Castleton chipped in six assists, three steals and two blocks as the Gators (10-7, 3-2 Southeastern Conference) won their third consecutive game. He made 7 of 11 shots and finished with five offensive boards.
Will Richard added 18 points thanks mostly to four 3-pointers for Florida, and Riley Kugel chipped in 13 points and five rebounds. The Gators hit 10 of 23 from 3-point range, including 6 of 13 in the second half.
Kobe Brown led the Tigers (13-4, 2-3) with 21 points. Noah Carter added 12, and Tre Gomillion chipped in 11.
NO. 21 AUBURN 69, MISSISSIPPI STATE 63
AUBURN, Ala. (AP) — Jaylin Williams scored a season-high 21 points, Wendell Green Jr. added 17 and Auburn won its 28 straight games inside Neville Arena.
The Tigers (14-3, 4-1 Southeastern Conference) have the second-longest home winning streak in Division I men's basketball, trailing Gonzaga.
Mississippi State (12-5, 1-4) was led by the inside presence of fifth-year senior Tolu Smith, who had 20 points and 10 rebounds. Senior forward D.J. Jeffries added 12 points and eight rebounds.
NO. 22 COLLEGE OF CHARLESTON 78, ELON 60
CHARLESTON, S.C. (AP) — Dalton Bolon made six 3s and scored 21 points as College of Charleston extended the nation's longest win streak to 17.
Ante Brzovic added 17 points for the Cougars (18-1, 6-0 Colonial Athletic Association), who struggled early but rallied after halftime to turn back Elon (2-16, 0-5). Reyne Smith, who was 4 of 13 on 3s, finished with 14 points and Ryan Larson had 12 for the Cougars.
Max Mackinnon led Elon with 17 points.
NEW MEXICO 76, NO. 23 SAN DIEGO STATE 67
SAN DIEGO (AP) — Jaelen House scored 29 points, including three clutch 3-pointers down the stretch, and Jamal Mashburn Jr. had 22 for the spirited New Mexico Lobos, who used a 12-0 run to take control.
House, who played better the more he was booed by the home crowd, had 10 points during the 12-0 run.
Morris Udeze had 10 points and 15 rebounds, and Javonte Johnson had 10 points for the Lobos (16-2, 3-2 Mountain West). The Lobos fell out of The Associated Press Top 25 after two losses last week while the Aztecs jumped back into the poll.
Matt Bradley scored 14, Adam Seiko 13 and Keshad Johnson 10 for the Aztecs (13-4, 4-1), who had their six-game winning streak snapped.
CLEMSON 72, NO. 24 DUKE 64
CLEMSON, S.C. (AP) — PJ Hall scored 26 points and Brevin Galloway had 17, including a 3-pointer that put Clemson ahead to stay as the Tigers continued their perfect ACC start.
Clemson (15-3), picked to finish 11th in the league before the season began, is now 7-0 in the Atlantic Coast Conference for the first time in team history. The Tigers beat the Blue Devils (13-5, 4-3) for just the second time in nine games.
Fans flooded the court after the final buzzer, celebrating Clemson's unexpected success.
Kyle Filipowski, the 7-foot freshman, led Duke with 18 points and 14 rebounds before fouling out in the final minute. Fellow freshman Tyrese Proctor had 17 points for the Blue Devils.
___
AP college basketball: https://apnews.com/hub/college-basketball and https://apnews.com/hub/ap-top-25-college-basketball-poll and https://twitter.com/AP_Top25