Edey, No. 3 Purdue hand Ohio State its 8th straight loss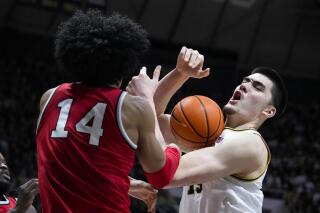 Zach Edey had 26 points and 11 rebounds for his 21st double-double this season to lead No. 3 Purdue past Ohio State 82-55 on Sunday.
Trey Kaufman-Renn scored 11 points and David Jenkins Jr. added nine points for the Boilermakers (24-4, 13-4 Big Ten). Mason Gillis contributed seven points and 10 rebounds for Purdue, which had a 44-21 rebounding edge.
Brice Sensabaugh led the Buckeyes (11-16, 3-13) with 20 points. Sean McNeil added 10 points for Ohio State, which lost its eighth consecutive game.
NO. 2 HOUSTON 72, MEMPHIS 64
HOUSTON (AP) — J'Wan Roberts had a career-high 20 points and 12 rebounds, and Marcus Sasser also scored 20 points as Houston won its seven straight game.
Jamal Shead added 10 points for Houston (25-2, 13-1 American Athletic Conference). The Cougars shot 45% but struggled from deep, going 3 of 17 on 3-pointers.
Elijah McCadden had 20 points and six rebounds, DeAndre Williams added 18 points and Damaria Franklin scored 10 for Memphis (20-7, 10-4). The Tigers shot 44%, including 6 of 15 on 3-pointers.
NO. 23 NORTH CAROLINA STATE 77, NORTH CAROLINA 69
RALEIGH, N.C. (AP) — Jarkel Joiner took over for No. 23 North Carolina State during a critical second-half stretch, matching his season high with 29 points to lead the Wolfpack past rival North Carolina.
Joiner had 20 of his points after the break for the Wolfpack (21-7, 11-6 Atlantic Coast Conference). That included an impressive flurry in a tight game that finally gave N.C. State some breathing room.
Caleb Love scored 23 points to lead the Tar Heels (16-11, 8-8), who continued a February crash that has put their NCAA Tournament chances in growing jeopardy. UNC lost for the fifth time in six games this month after shooting just 35.5%, a performance that a dominating rebounding effort (48-34) couldn't offset.
___
AP college basketball: https://apnews.com/hub/college-basketball and https://apnews.com/hub/ap-top-25-college-basketball-poll and https://twitter.com/AP_Top25