Big 4th quarter lifts No. 3 Ohio State women past Minnesota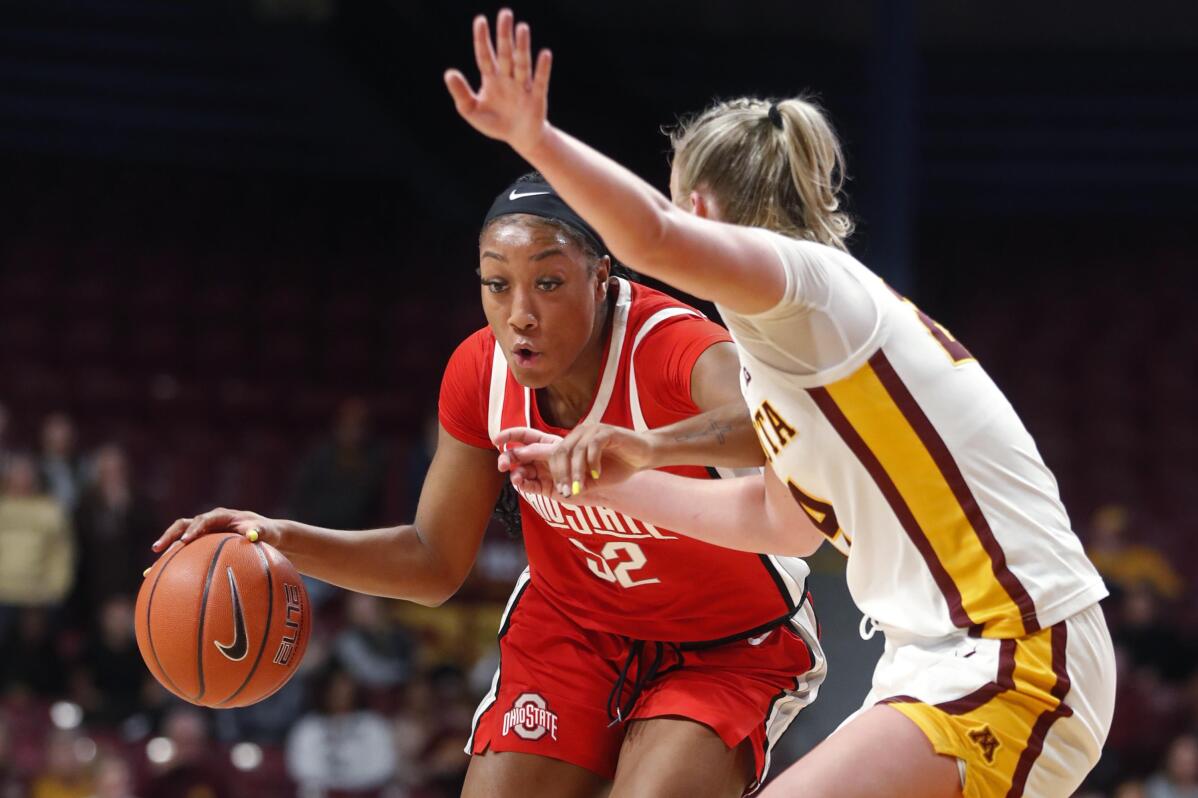 1 of 4

|
Ohio State forward Cotie McMahon (32) works around Minnesota forward Mallory Heyer during the second half of an NCAA college basketball game Thursday, Jan. 5, 2023, in Minneapolis. Ohio State won 83-71. (AP Photo/Bruce Kluckhohn)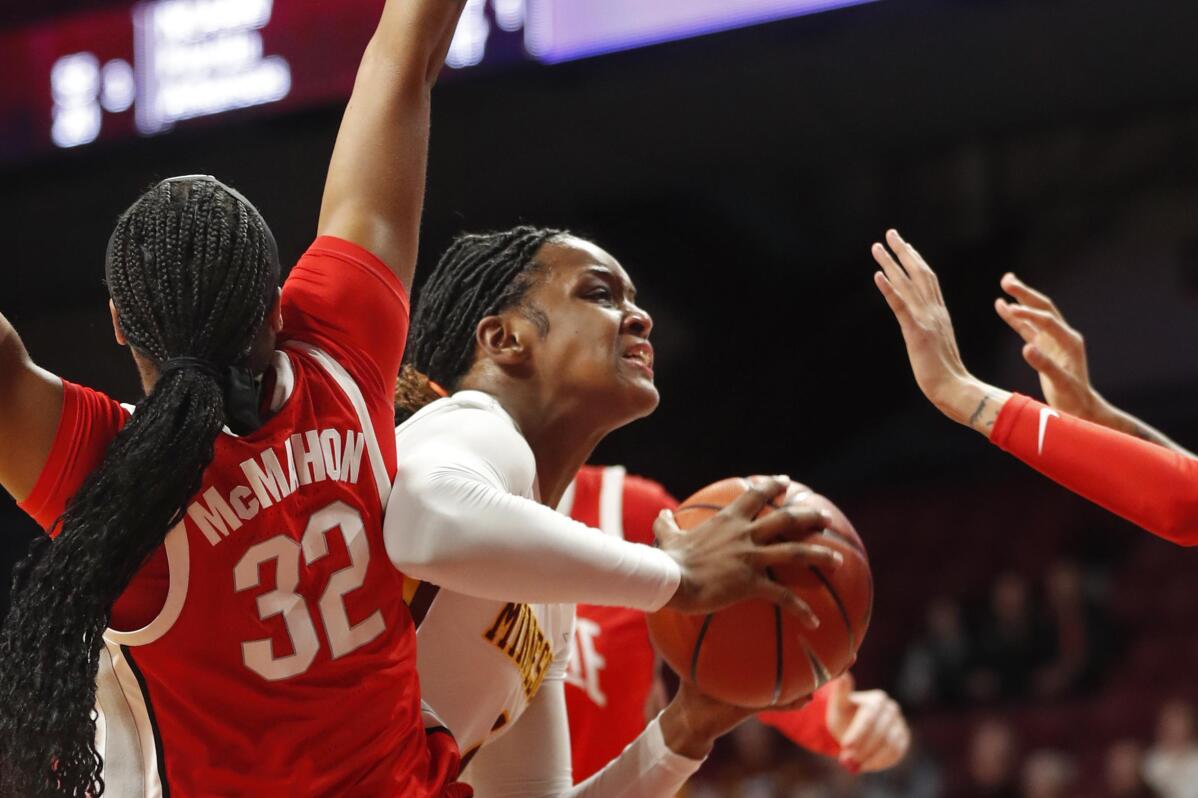 2 of 4

|
Minnesota forward Alanna Micheaux works past Ohio State forward Cotie McMahon (32) during the first half of an NCAA college basketball game Thursday, Jan. 5, 2023, in Minneapolis. (AP Photo/Bruce Kluckhohn)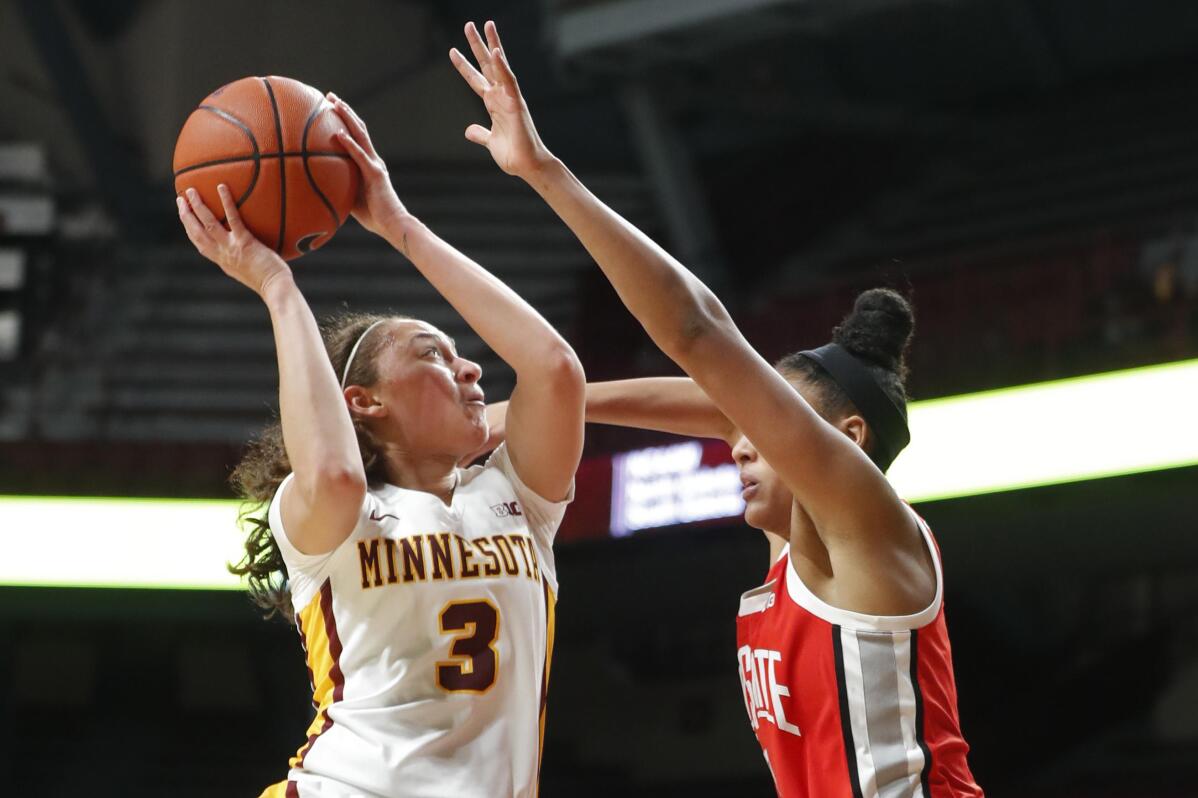 3 of 4

|
Minnesota guard Amaya Battle (3) goes to the basket as Ohio State guard Taylor Thierry (2) defends during the first half of an NCAA college basketball game Thursday, Jan. 5, 2023, in Minneapolis. (AP Photo/Bruce Kluckhohn)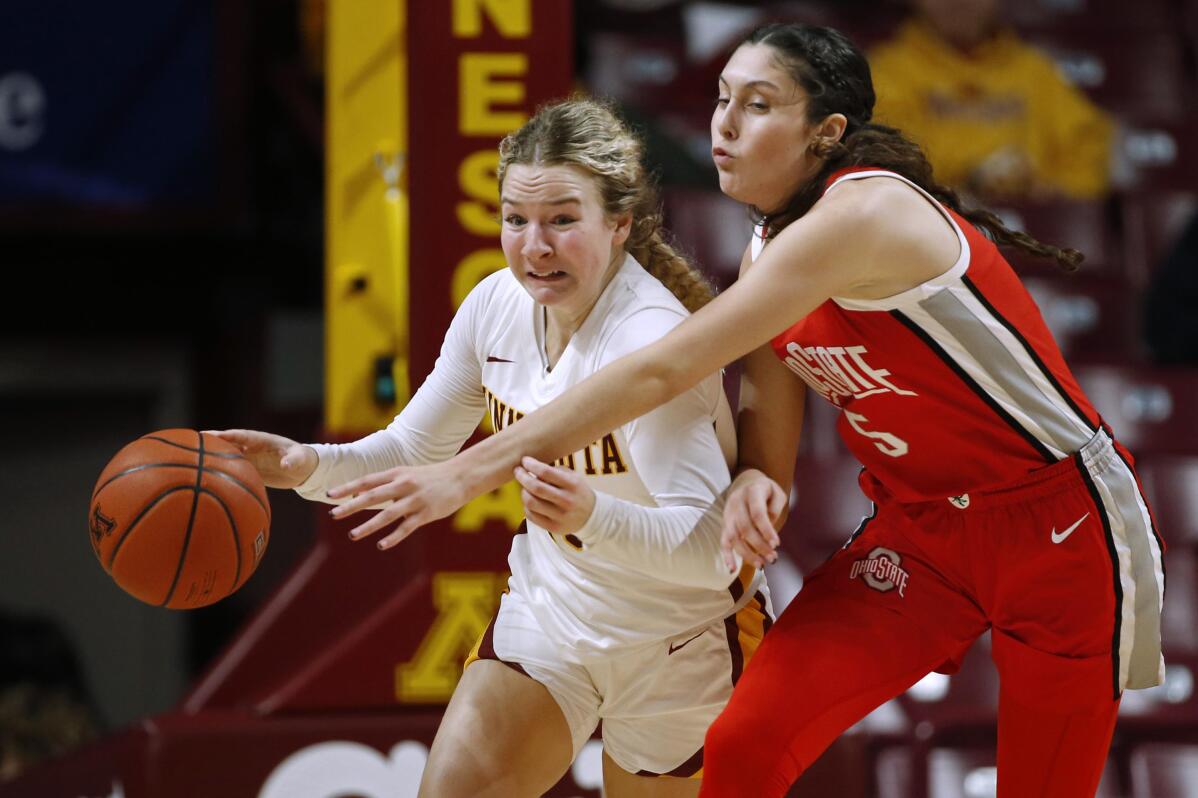 4 of 4

|
Minnesota guard Katie Borowicz, left, brings the ball up as Ohio State guard Emma Shumate defends during the first quarter of an NCAA college basketball game Thursday, Jan. 5, 2023, in Minneapolis. (AP Photo/Bruce Kluckhohn)
Big 4th quarter lifts No. 3 Ohio State women past Minnesota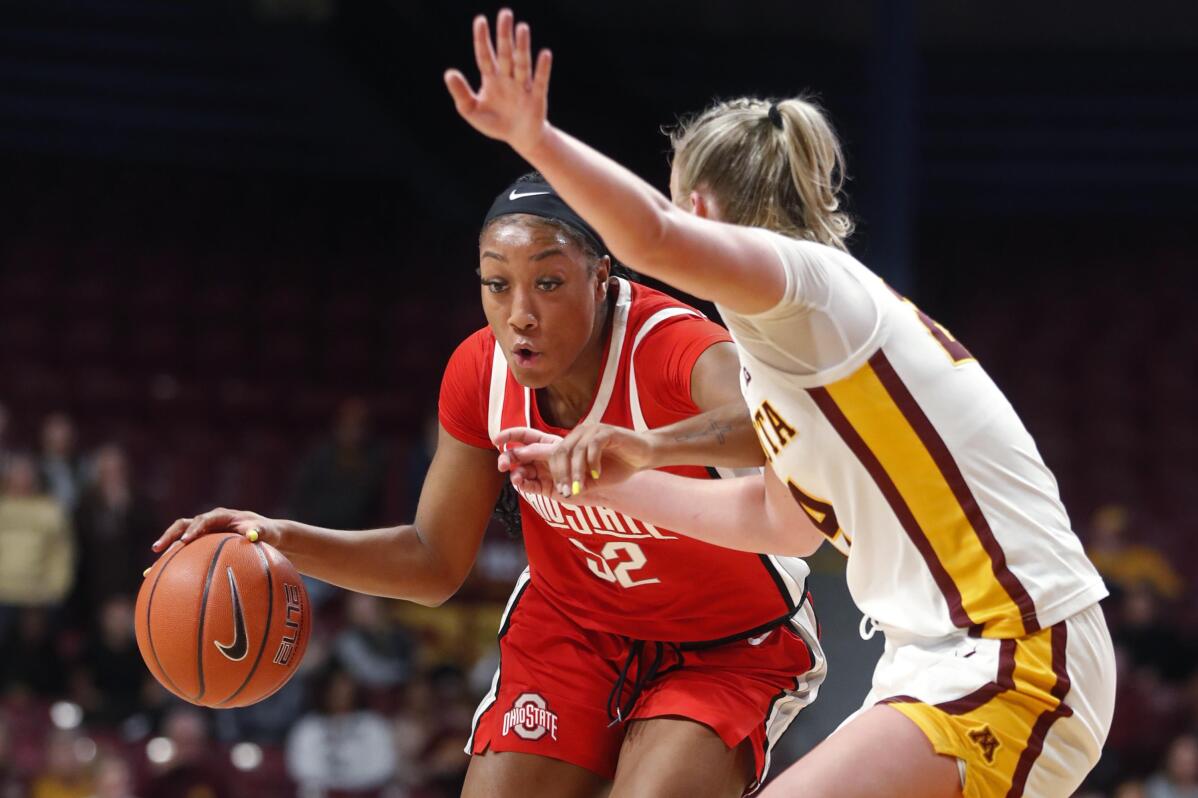 1 of 4

|
Ohio State forward Cotie McMahon (32) works around Minnesota forward Mallory Heyer during the second half of an NCAA college basketball game Thursday, Jan. 5, 2023, in Minneapolis. Ohio State won 83-71. (AP Photo/Bruce Kluckhohn)
1 of 4
Ohio State forward Cotie McMahon (32) works around Minnesota forward Mallory Heyer during the second half of an NCAA college basketball game Thursday, Jan. 5, 2023, in Minneapolis. Ohio State won 83-71. (AP Photo/Bruce Kluckhohn)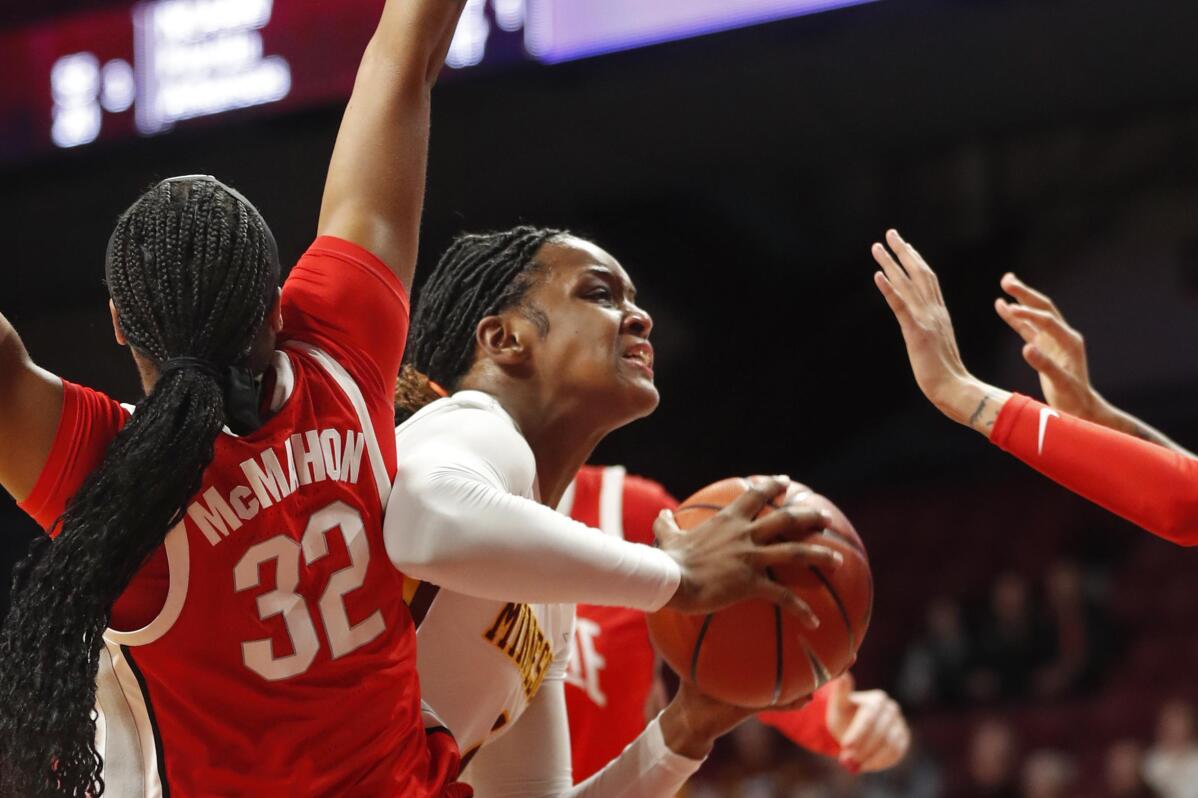 2 of 4

|
Minnesota forward Alanna Micheaux works past Ohio State forward Cotie McMahon (32) during the first half of an NCAA college basketball game Thursday, Jan. 5, 2023, in Minneapolis. (AP Photo/Bruce Kluckhohn)
2 of 4
Minnesota forward Alanna Micheaux works past Ohio State forward Cotie McMahon (32) during the first half of an NCAA college basketball game Thursday, Jan. 5, 2023, in Minneapolis. (AP Photo/Bruce Kluckhohn)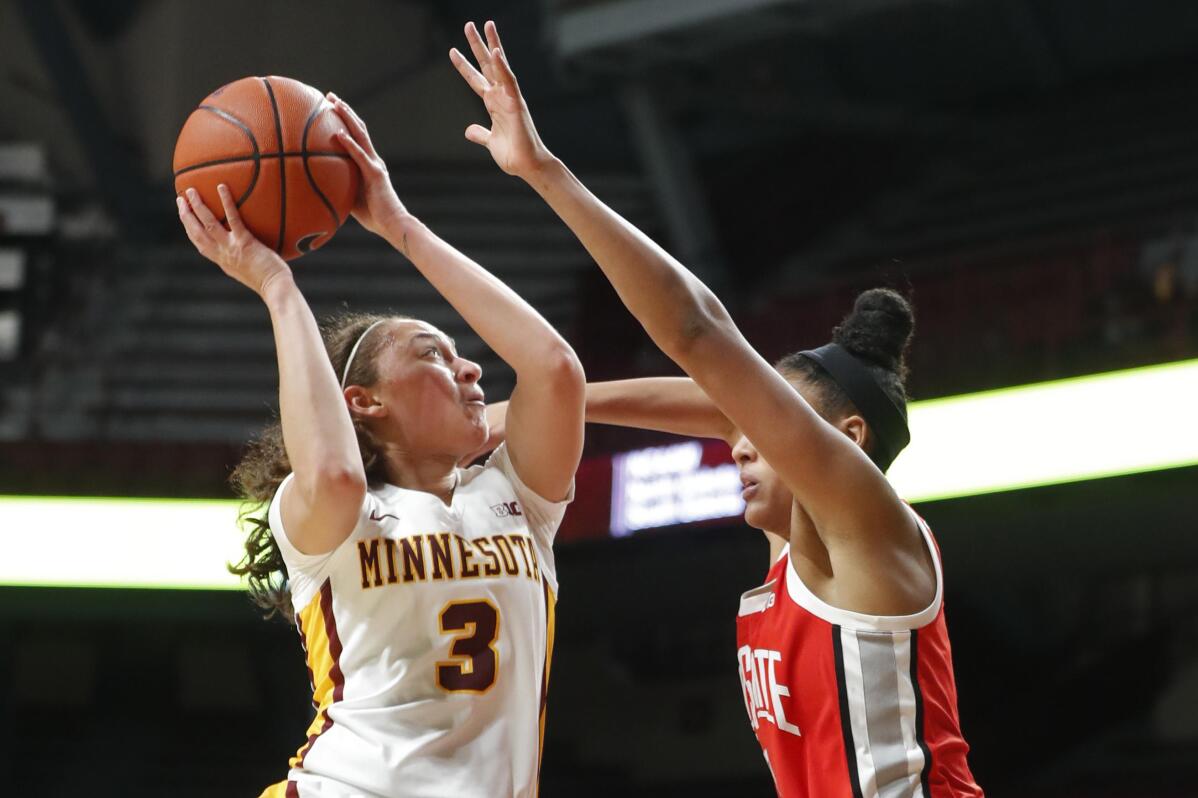 3 of 4

|
Minnesota guard Amaya Battle (3) goes to the basket as Ohio State guard Taylor Thierry (2) defends during the first half of an NCAA college basketball game Thursday, Jan. 5, 2023, in Minneapolis. (AP Photo/Bruce Kluckhohn)
3 of 4
Minnesota guard Amaya Battle (3) goes to the basket as Ohio State guard Taylor Thierry (2) defends during the first half of an NCAA college basketball game Thursday, Jan. 5, 2023, in Minneapolis. (AP Photo/Bruce Kluckhohn)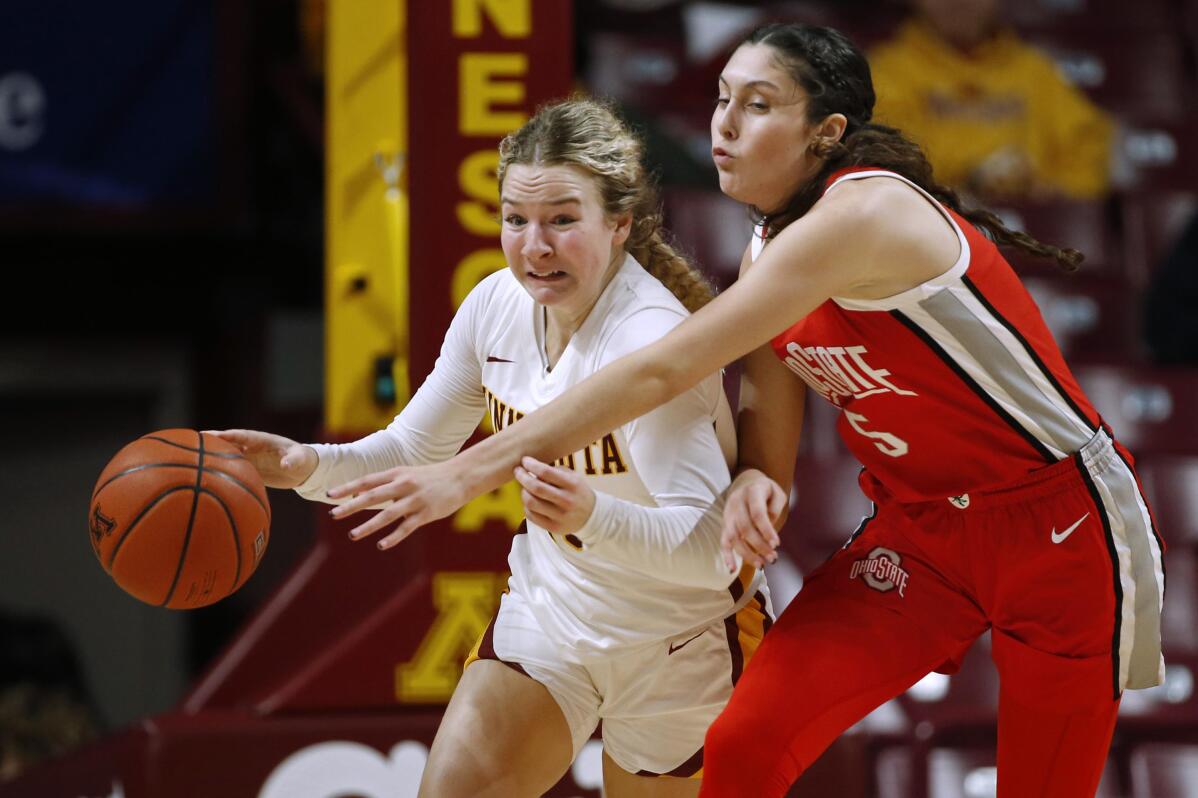 4 of 4

|
Minnesota guard Katie Borowicz, left, brings the ball up as Ohio State guard Emma Shumate defends during the first quarter of an NCAA college basketball game Thursday, Jan. 5, 2023, in Minneapolis. (AP Photo/Bruce Kluckhohn)
4 of 4
Minnesota guard Katie Borowicz, left, brings the ball up as Ohio State guard Emma Shumate defends during the first quarter of an NCAA college basketball game Thursday, Jan. 5, 2023, in Minneapolis. (AP Photo/Bruce Kluckhohn)
MINNEAPOLIS (AP) — Taylor Mikesell scored 22 points and Rikki Harris added 19 as No. 3 Ohio State rallied to beat Minnesota 83-71 on Thursday night.
Rebeka Mikulasikova contributed 15 points on five 3-pointers for the Buckeyes (16-0, 5-0 Big Ten), who outscored Minnesota 28-10 in the fourth quarter.
Mallory Heyer led Minnesota (8-7, 1-3) with 15 points and 12 rebounds, while Amaya Battle and Alanna Micheaux each scored 14.
The Buckeyes aren't accustomed to playing from behind, having trailed at the half only three times in their first 15 games. But Minnesota's young team — its starting lineup featured three true freshmen, a redshirt freshman and a sophomore — made Ohio State work.
"They came out and wanted it more than us in the first half," Mikesell said. "Being down five or six, that's not something we're used to. But it's a Big Ten game on the road — it's not going to be easy."
In the fourth quarter, Minnesota shot 20% and was outrebounded 13-4. Coach Lindsay Whalen found some positives in the loss.
"They're a tough team, and we stood there with them for the most part," Whalen said. "I'm proud of the group. I'd rather learn from wins, but we took one on the chin a little bit in the fourth. But we'll regroup."
Ohio State trailed by as many as 10 in the third quarter before a jumper by Eboni Walker sparked an 8-0 run that cut Minnesota's lead to 56-54.
Heyer restored order for Minnesota, grabbing two big defensive boards and hitting a 3 that gave the Gophers a 61-55 lead after three quarters.
But after making just 5 of 20 shots in the third quarter, Ohio State caught fire in the fourth. The Buckeyes went 4-for-5 from the floor and 5-for-6 from the line during a 14-0 run over the first three minutes of the period.
A five-point possession was key to the game-changing run. Cotie McMahon was fouled while shooting, and Minnesota's Mi'Cole Cayton was given a technical for disputing the call.
McMahon hit one of her two free throws before Mikesell made both shots from the technical. Harris then capped the possession with a jumper to give the Buckeyes a 64-61 lead.
"That was a critical play," Ohio State coach Kevin McGuff said. "I don't know exactly what happened but I like the way we capitalized and made free throws and executed on the out-of-bounds play to get a bucket."
Ohio State ended up making 9 of 13 shots while holding Minnesota to 3 of 15 from the floor in the fourth quarter.
"We buckled down, we were a little better defensively, and we got some rebounds," said McGuff, whose team leads the Big Ten in scoring average but ranks 11th in rebounding.
A SHOOTER SHOOTS
Mikesell, Ohio State's leading scorer at 17.8 points per game, was 4 of 16 from the floor in the Buckeyes' win over Michigan on Saturday. She recovered on Thursday, going 9 for 19.
"At the end of the day, it's got to go in," she said, "so you just keep shooting."
BIG PICTURE
Ohio State: The Buckeyes' 16th straight victory gives them the best start in program history, topping the record from 2011-12.
Minnesota: Whalen's Gophers missed a chance at a signature win but their young lineup showed big potential.
UP NEXT
Ohio State: Hosts Illinois on Sunday.
Minnesota: Visits Wisconsin on Sunday.
___
AP women's college basketball: https://apnews.com/hub/womens-college-basketball and https://apnews.com/hub/ap-top-25-womens-college-basketball-poll and https://twitter.com/AP_Top25