Oklahoma State women end skid against No. 18 Baylor 70-65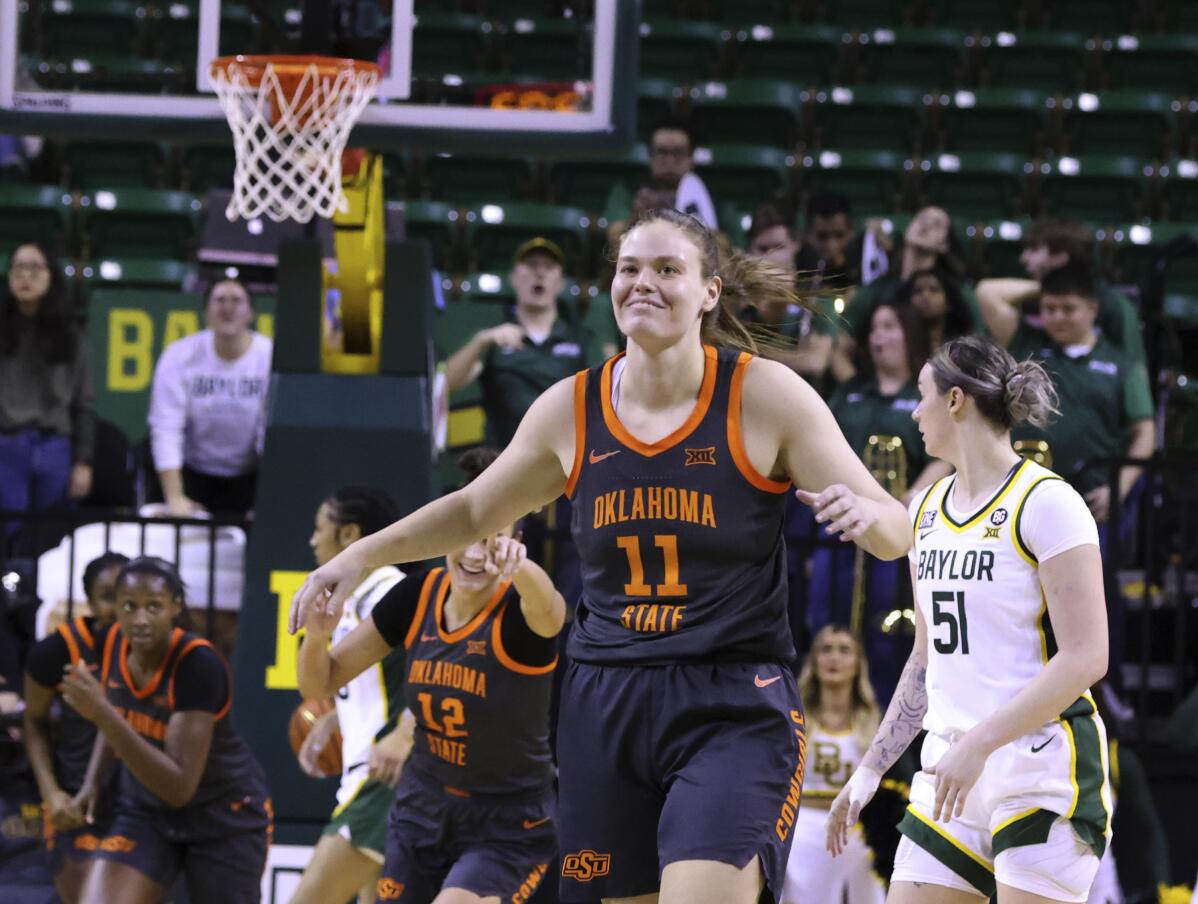 1 of 6

|
Oklahoma State forward Lior Garzon (11) reacts to her three-point basket in the second half of an NCAA college basketball game against Baylor, Wednesday, Jan. 11, 2023, in Waco, Texas. (Rod Aydelotte/Waco Tribune-Herald via AP)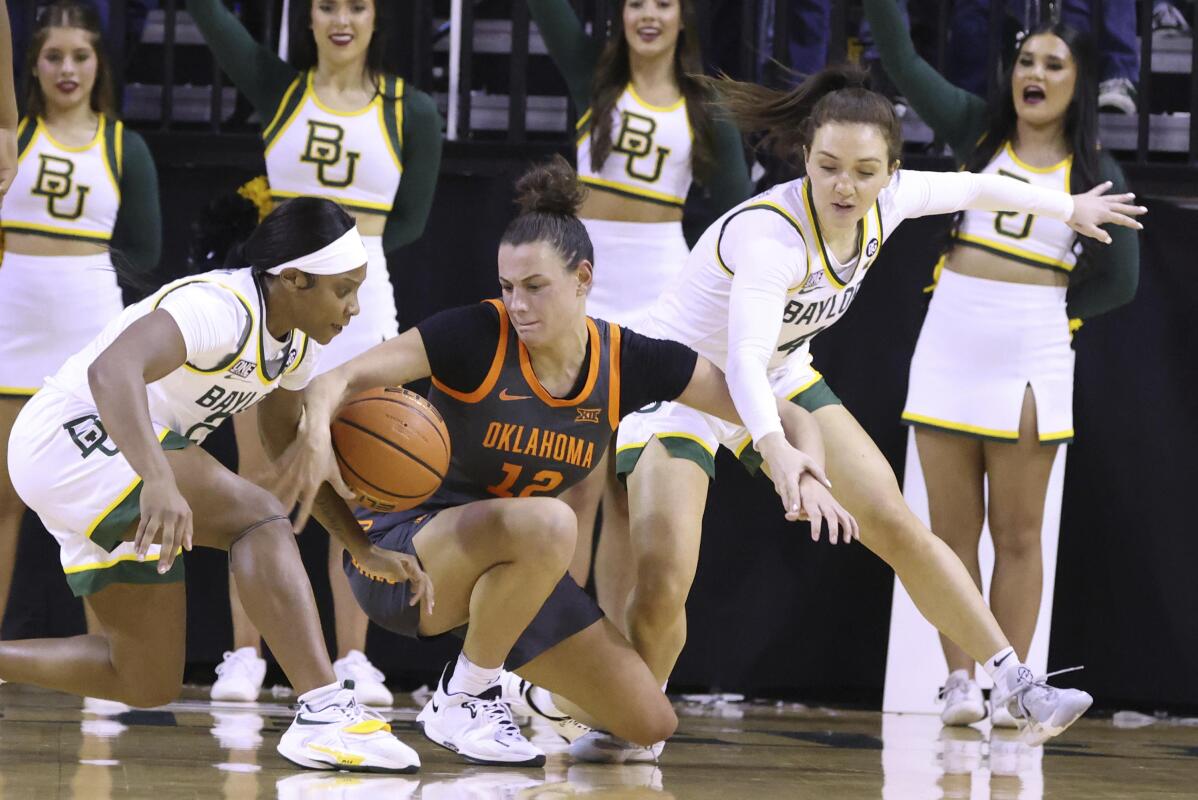 2 of 6

|
Oklahoma State guard Claire Chastain (12) tries to maintain control of the ball between Baylor guard Ja'Mee Asberry, left, and Jana Van Gytenbeek, right, in the second half of an NCAA college basketball game, Wednesday, Jan. 11, 2023, in Waco, Texas. (Rod Aydelotte/Waco Tribune-Herald via AP)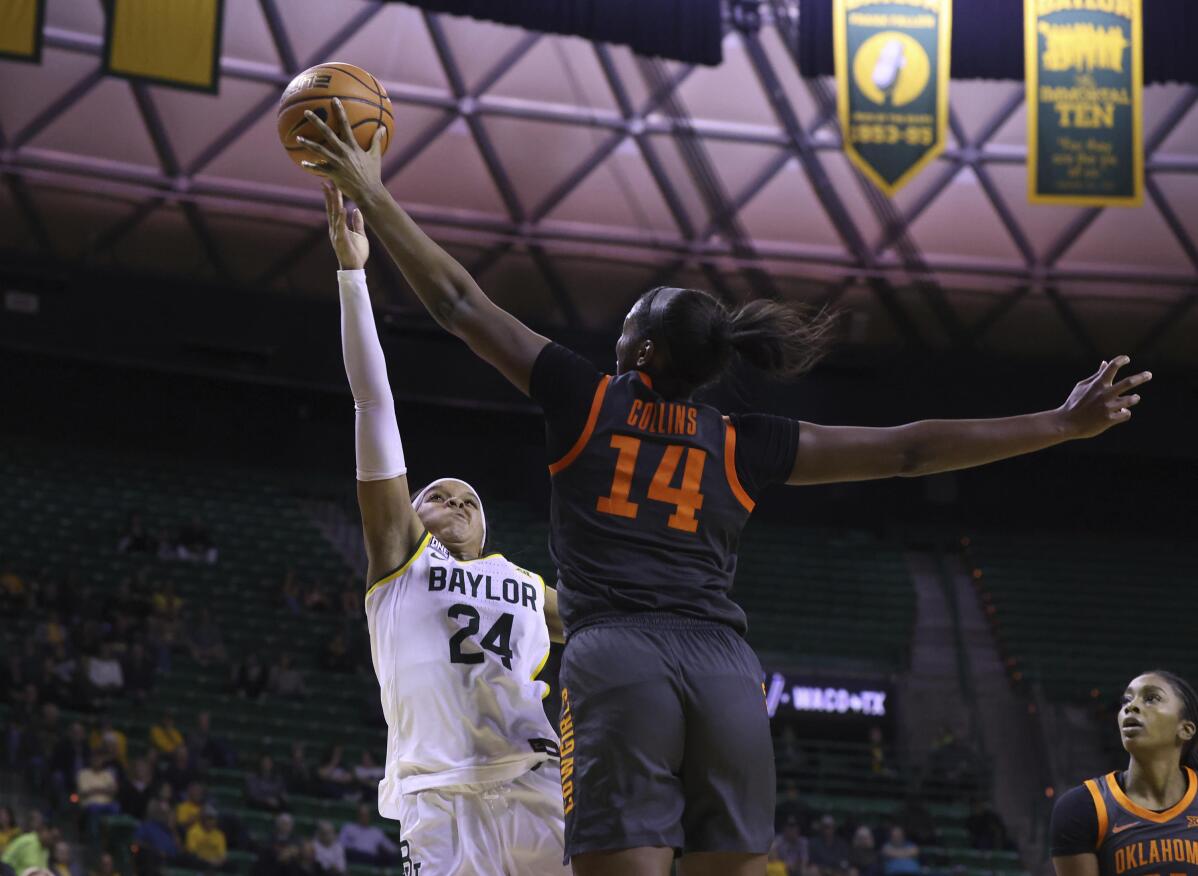 3 of 6

|
Baylor guard Sarah Andrews (24) attempts a shot over Oklahoma State forward Taylen Collins (14) in the second half of an NCAA college basketball game, Wednesday, Jan. 11, 2023, in Waco, Texas. (Rod Aydelotte/Waco Tribune-Herald via AP)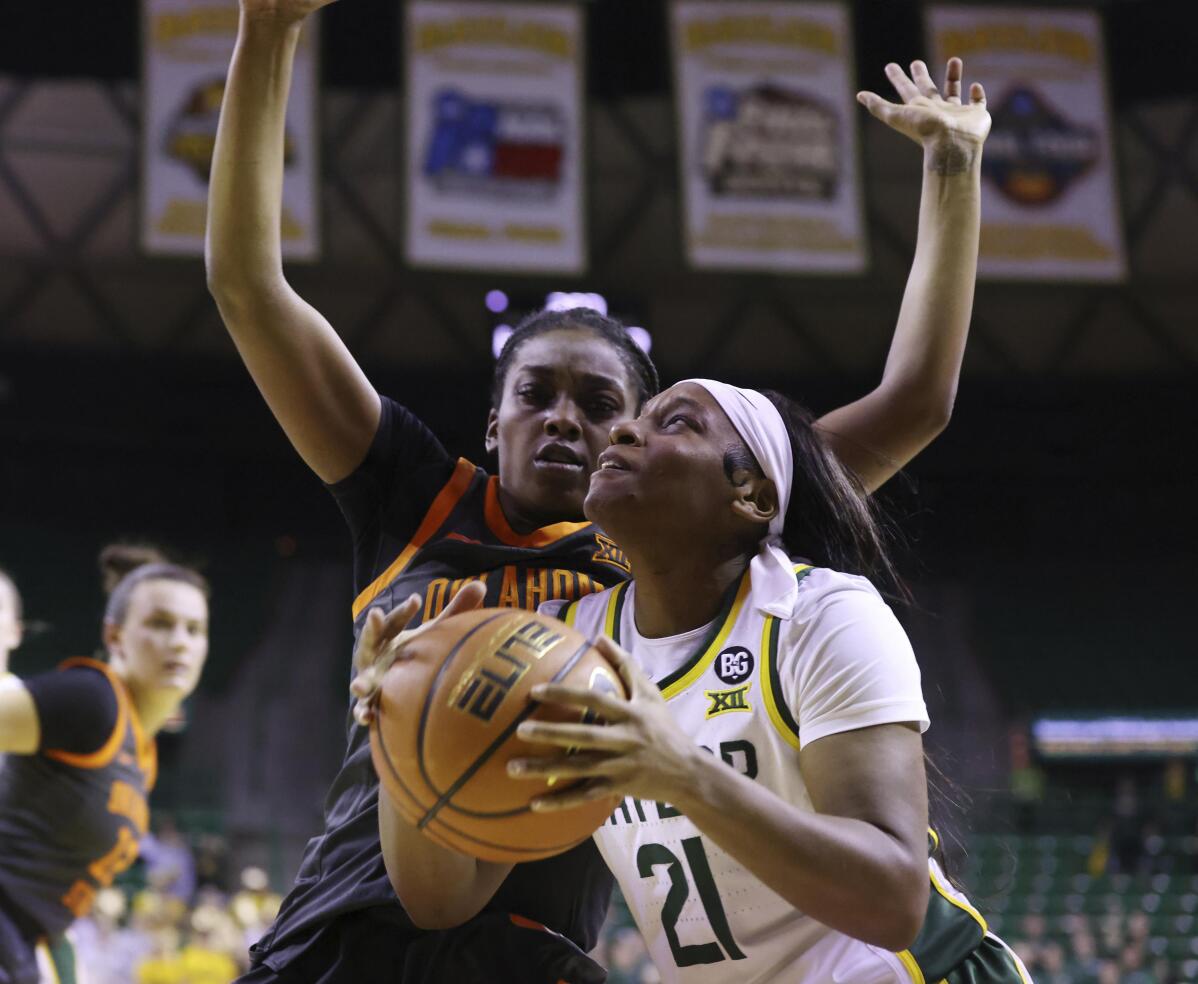 4 of 6

|
Baylor guard Ja'Mee Asberry (21) is guarded by Oklahoma State guard Terryn Milton (21) while driving to the basket in the second half of an NCAA college basketball game, Wednesday, Jan. 11, 2023, in Waco, Texas. (Rod Aydelotte/Waco Tribune-Herald via AP)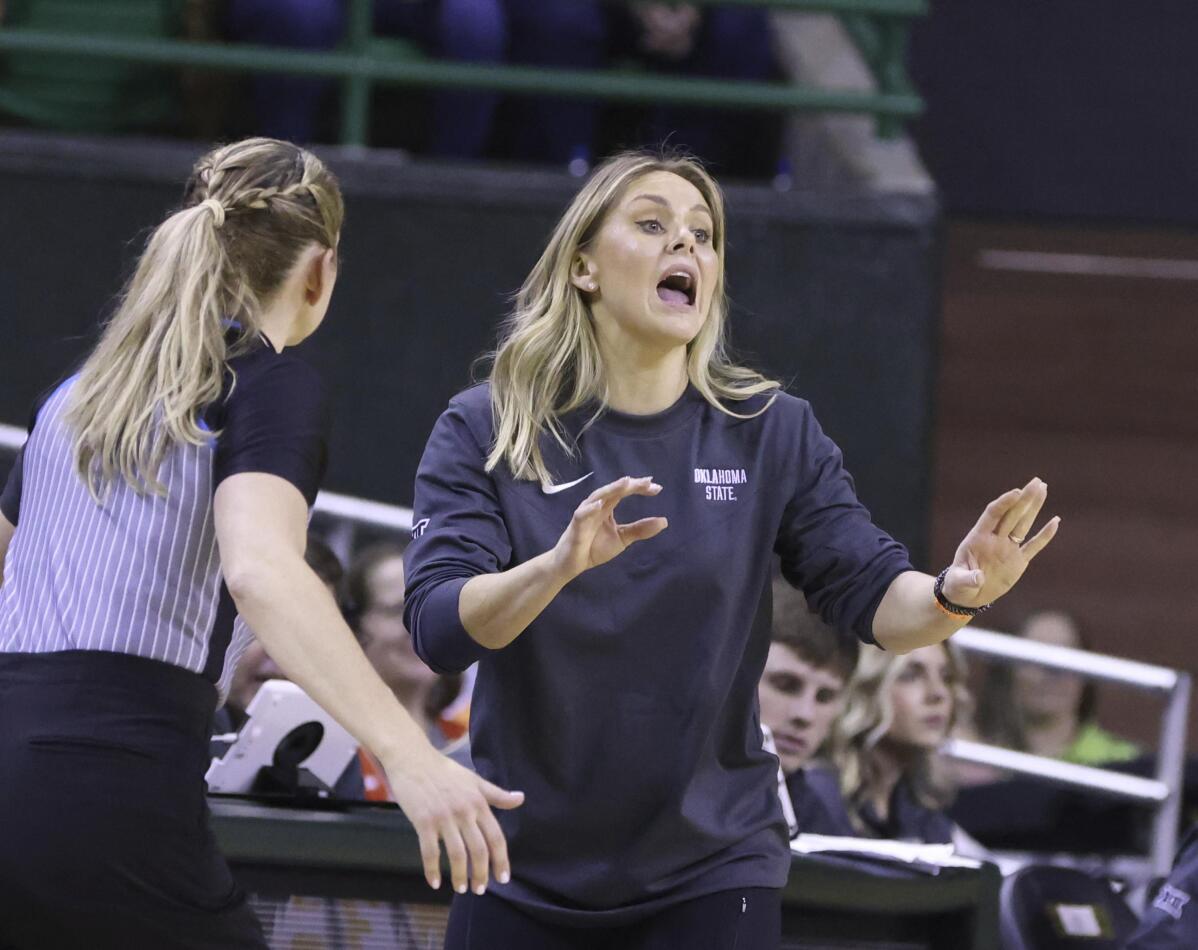 5 of 6

|
Oklahoma State head coach Jacie Hoyt calls in a play against Baylor in the second half of an NCAA college basketball game, Wednesday, Jan. 11, 2023, in Waco, Texas. (Rod Aydelotte/Waco Tribune-Herald via AP)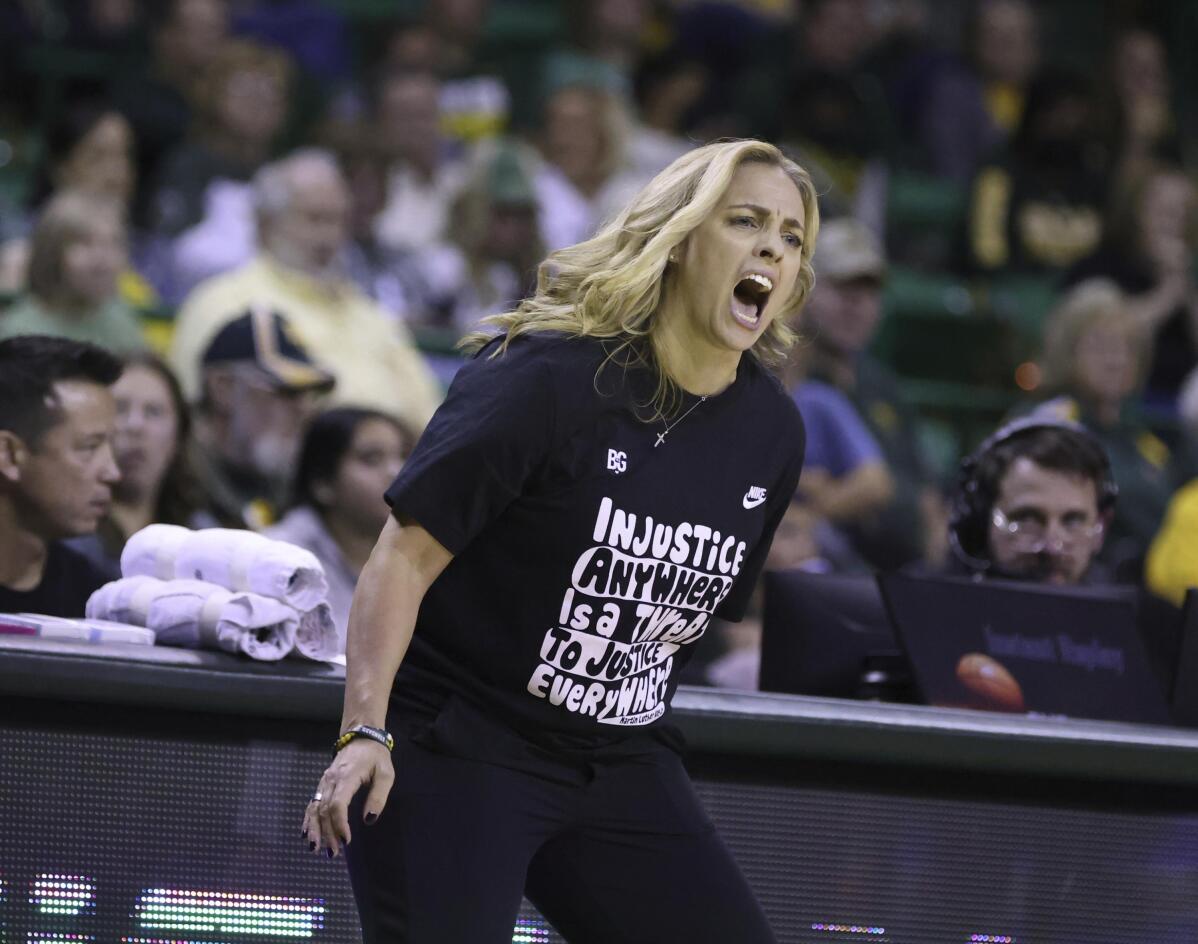 6 of 6

|
Baylor head coach Nicki Collen reacts to a play against Oklahoma State in the second half of an NCAA college basketball game, Wednesday, Jan. 11, 2023, in Waco, Texas. (Rod Aydelotte/Waco Tribune-Herald via AP)
Oklahoma State women end skid against No. 18 Baylor 70-65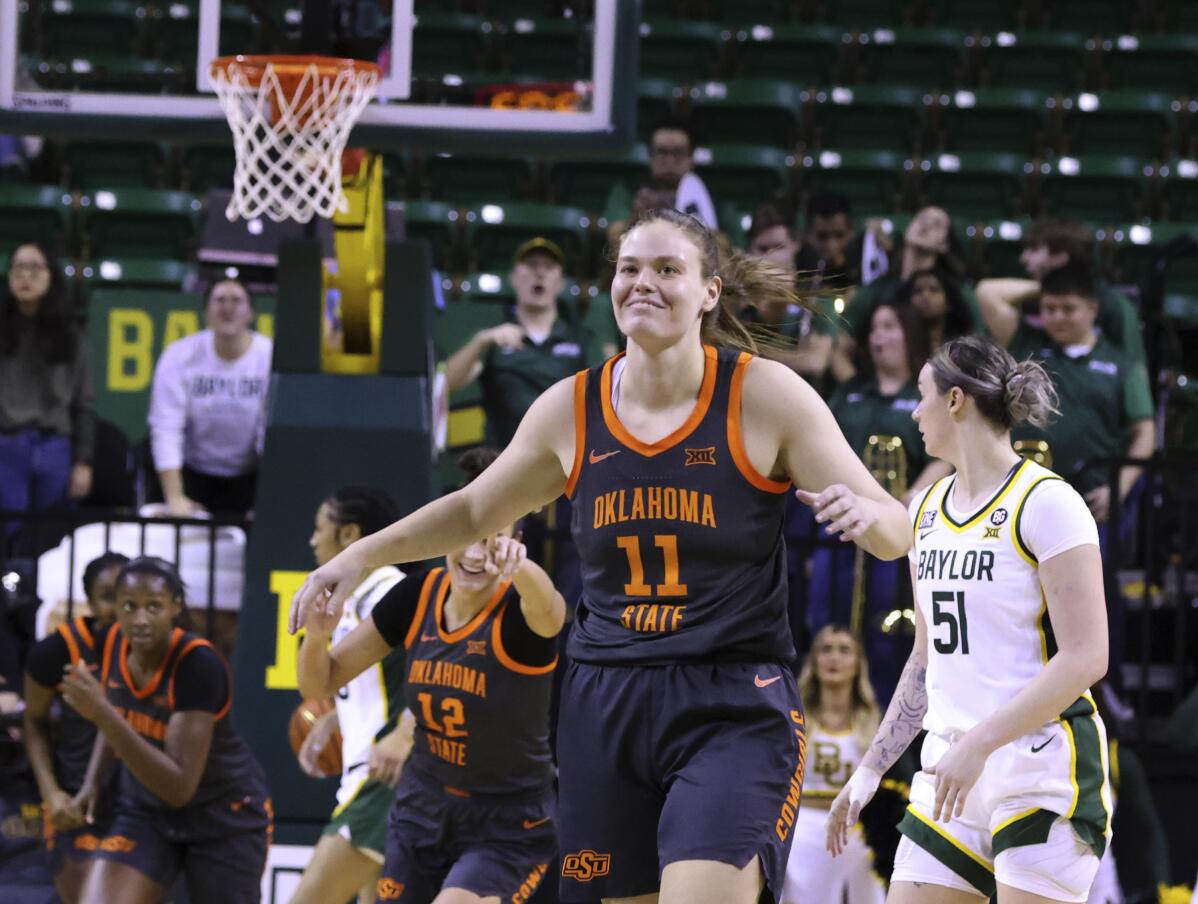 1 of 6

|
Oklahoma State forward Lior Garzon (11) reacts to her three-point basket in the second half of an NCAA college basketball game against Baylor, Wednesday, Jan. 11, 2023, in Waco, Texas. (Rod Aydelotte/Waco Tribune-Herald via AP)
1 of 6
Oklahoma State forward Lior Garzon (11) reacts to her three-point basket in the second half of an NCAA college basketball game against Baylor, Wednesday, Jan. 11, 2023, in Waco, Texas. (Rod Aydelotte/Waco Tribune-Herald via AP)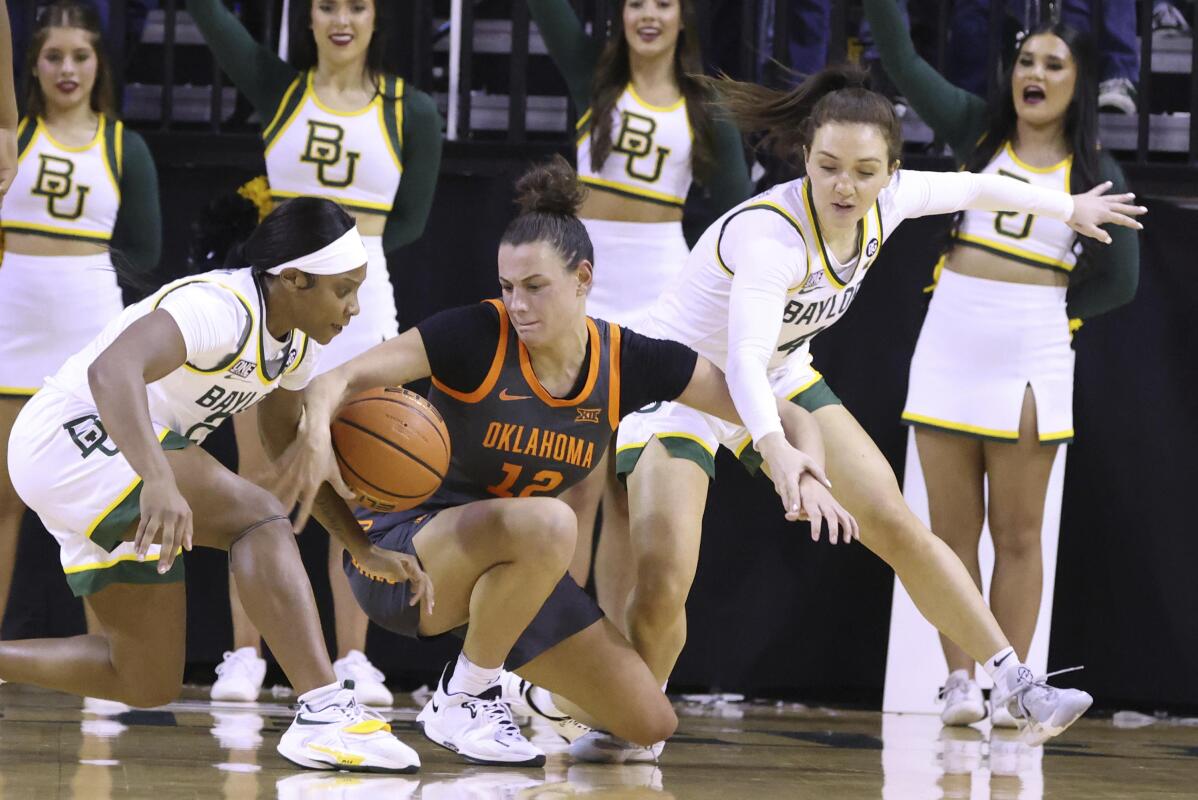 2 of 6

|
Oklahoma State guard Claire Chastain (12) tries to maintain control of the ball between Baylor guard Ja'Mee Asberry, left, and Jana Van Gytenbeek, right, in the second half of an NCAA college basketball game, Wednesday, Jan. 11, 2023, in Waco, Texas. (Rod Aydelotte/Waco Tribune-Herald via AP)
2 of 6
Oklahoma State guard Claire Chastain (12) tries to maintain control of the ball between Baylor guard Ja'Mee Asberry, left, and Jana Van Gytenbeek, right, in the second half of an NCAA college basketball game, Wednesday, Jan. 11, 2023, in Waco, Texas. (Rod Aydelotte/Waco Tribune-Herald via AP)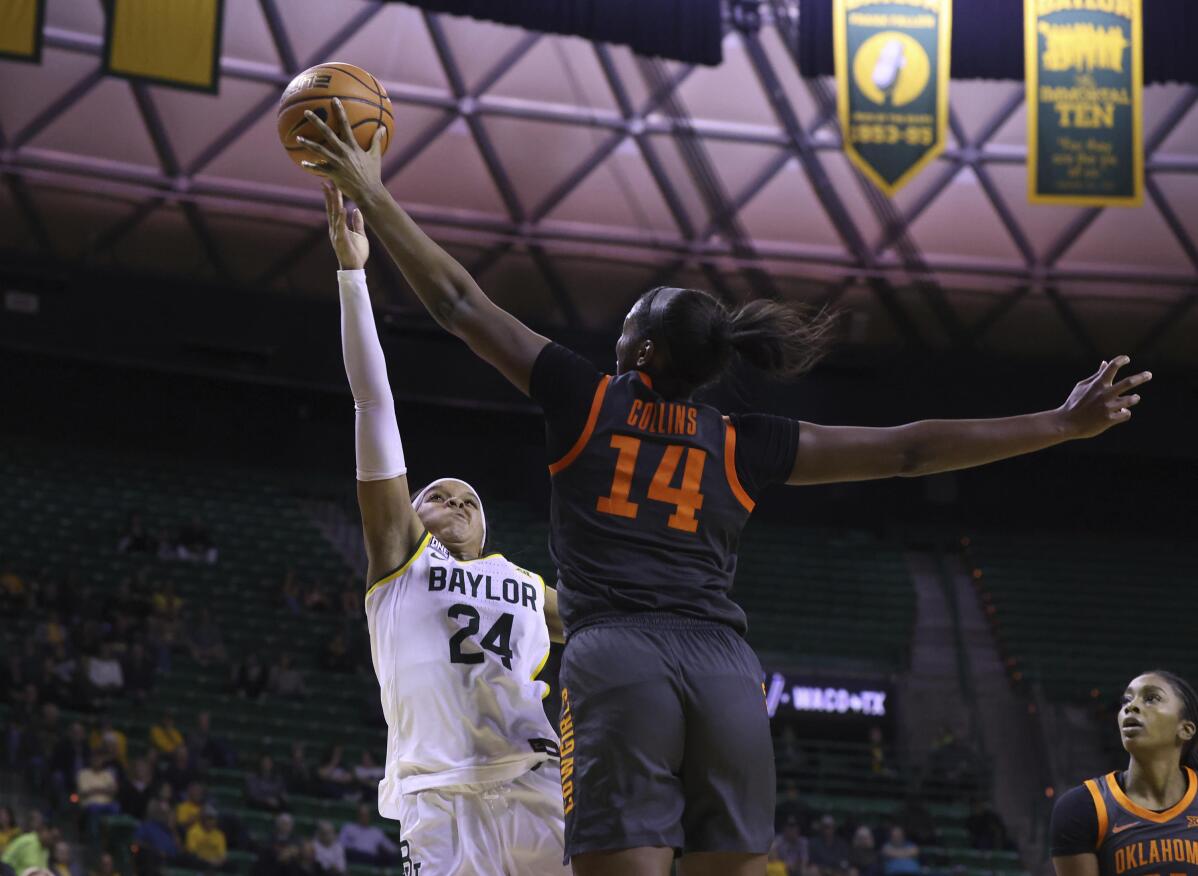 3 of 6

|
Baylor guard Sarah Andrews (24) attempts a shot over Oklahoma State forward Taylen Collins (14) in the second half of an NCAA college basketball game, Wednesday, Jan. 11, 2023, in Waco, Texas. (Rod Aydelotte/Waco Tribune-Herald via AP)
3 of 6
Baylor guard Sarah Andrews (24) attempts a shot over Oklahoma State forward Taylen Collins (14) in the second half of an NCAA college basketball game, Wednesday, Jan. 11, 2023, in Waco, Texas. (Rod Aydelotte/Waco Tribune-Herald via AP)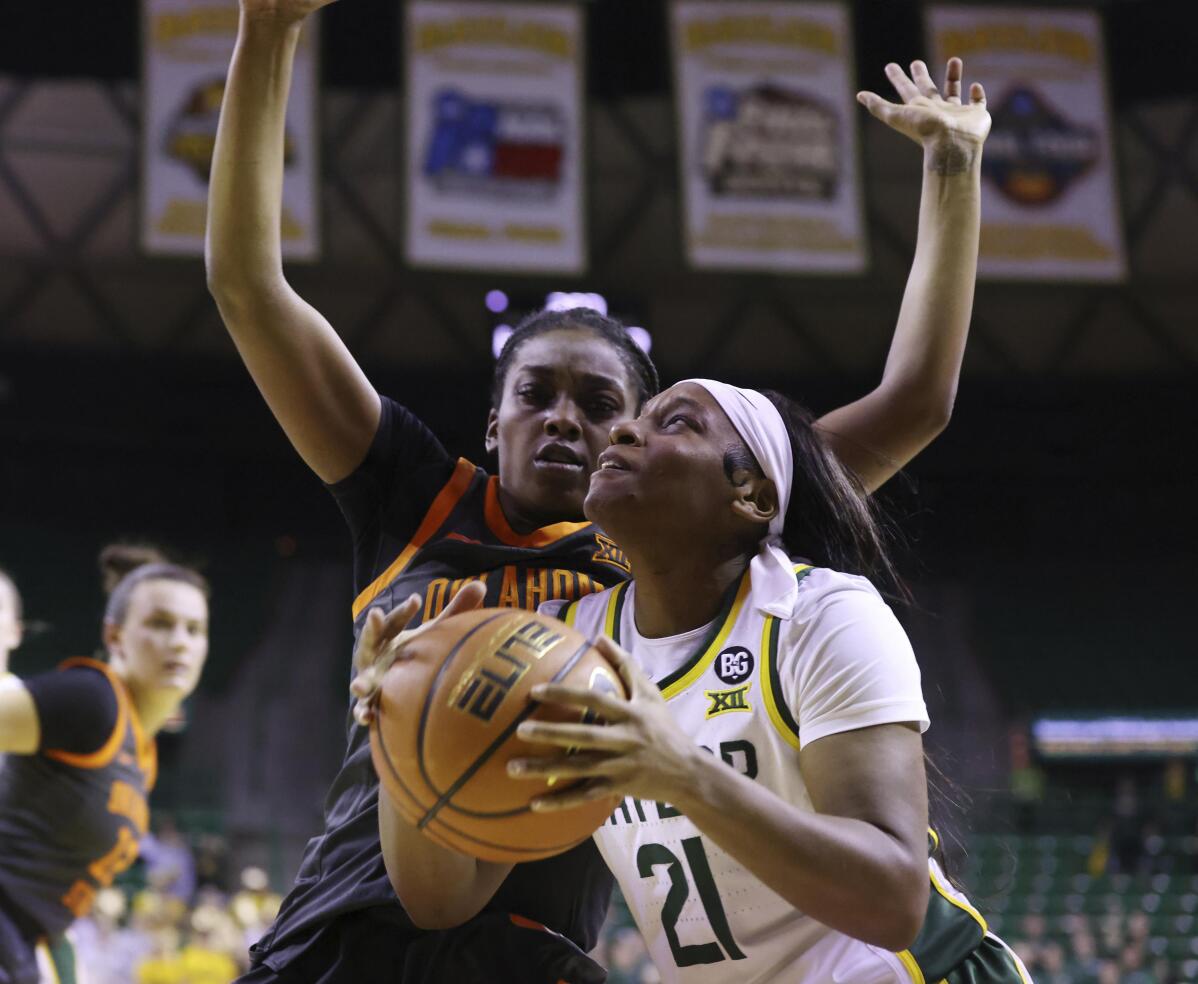 4 of 6

|
Baylor guard Ja'Mee Asberry (21) is guarded by Oklahoma State guard Terryn Milton (21) while driving to the basket in the second half of an NCAA college basketball game, Wednesday, Jan. 11, 2023, in Waco, Texas. (Rod Aydelotte/Waco Tribune-Herald via AP)
4 of 6
Baylor guard Ja'Mee Asberry (21) is guarded by Oklahoma State guard Terryn Milton (21) while driving to the basket in the second half of an NCAA college basketball game, Wednesday, Jan. 11, 2023, in Waco, Texas. (Rod Aydelotte/Waco Tribune-Herald via AP)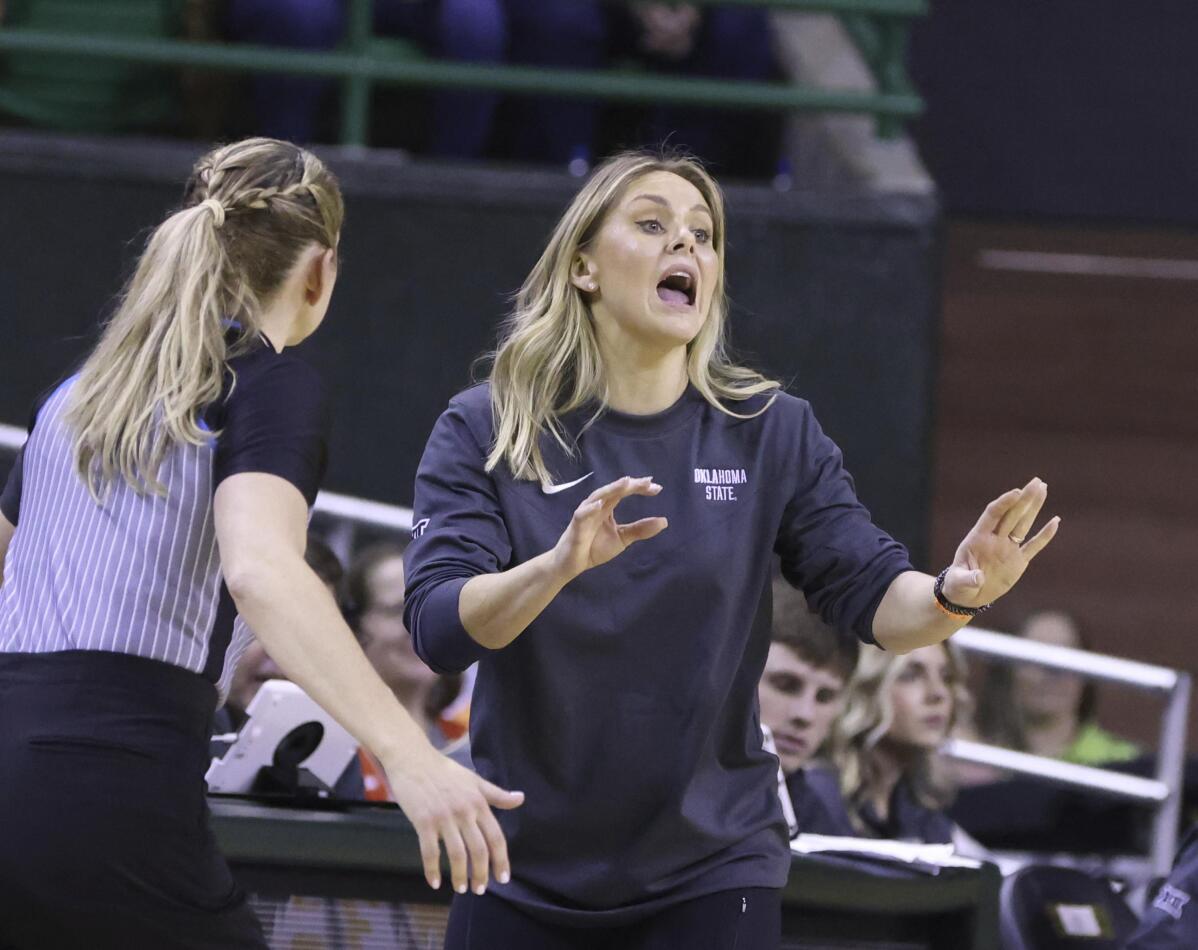 5 of 6

|
Oklahoma State head coach Jacie Hoyt calls in a play against Baylor in the second half of an NCAA college basketball game, Wednesday, Jan. 11, 2023, in Waco, Texas. (Rod Aydelotte/Waco Tribune-Herald via AP)
5 of 6
Oklahoma State head coach Jacie Hoyt calls in a play against Baylor in the second half of an NCAA college basketball game, Wednesday, Jan. 11, 2023, in Waco, Texas. (Rod Aydelotte/Waco Tribune-Herald via AP)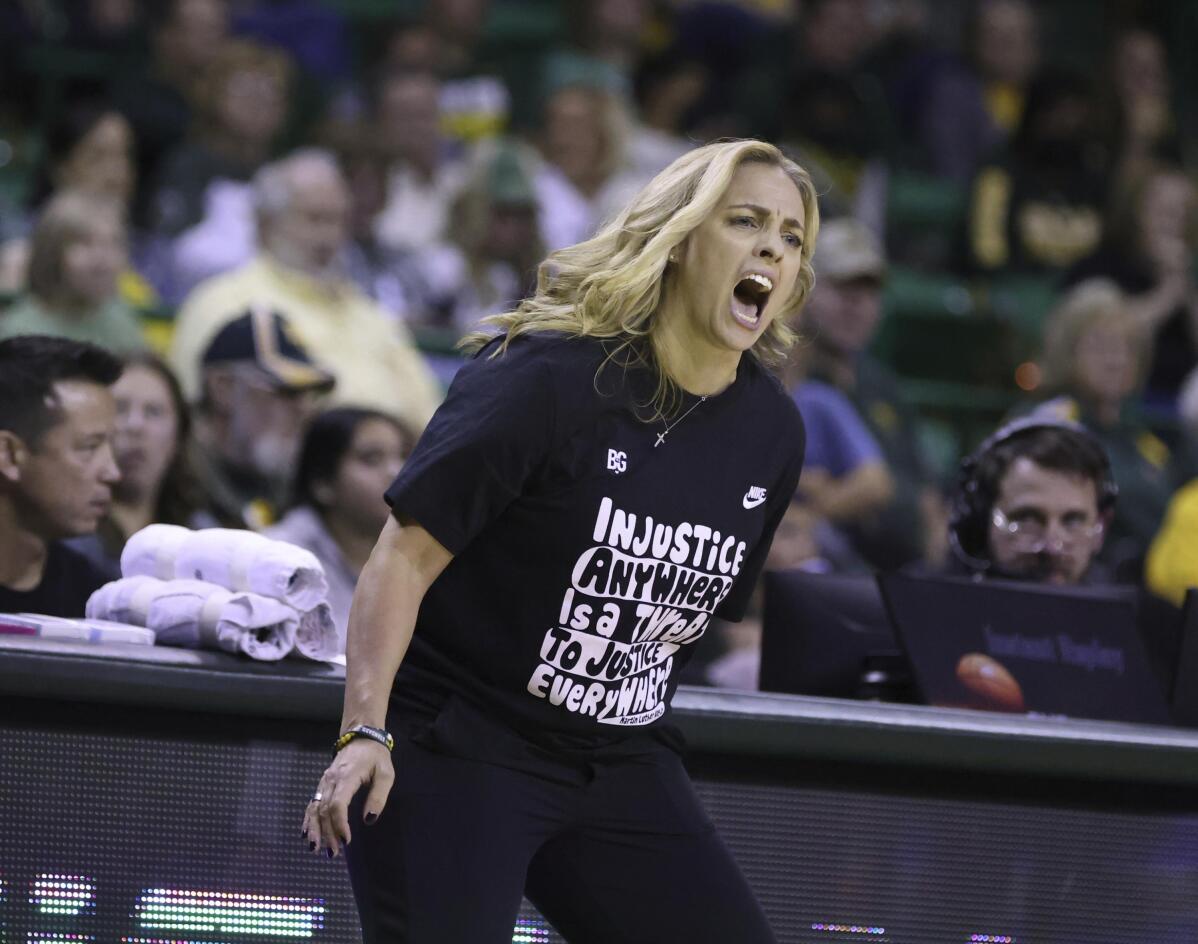 6 of 6

|
Baylor head coach Nicki Collen reacts to a play against Oklahoma State in the second half of an NCAA college basketball game, Wednesday, Jan. 11, 2023, in Waco, Texas. (Rod Aydelotte/Waco Tribune-Herald via AP)
6 of 6
Baylor head coach Nicki Collen reacts to a play against Oklahoma State in the second half of an NCAA college basketball game, Wednesday, Jan. 11, 2023, in Waco, Texas. (Rod Aydelotte/Waco Tribune-Herald via AP)
WACO, Texas (AP) — Lior Garzon scored 18 points, Naomi Alnatas had 11 of her 17 in the fourth quarter and Oklahoma State ended a 13-game losing against Baylor with a 70-65 win over the No. 18 Bears on Wednesday.
Claire Chastain had a jumper and a 3-pointer and Alnatas a 3 and a three-point play for an 11-0 run that gave Oklahoma State a 16-7 lead in the middle of the first quarter and Baylor never led again.
Sarah Andrews had 12 points in the fourth quarter and she started off with a pair of 3s and Ja'Mee Asberry's 3 pulled the Bears even at 52 with 6 1/2 minutes to play. But Alnatas and Anna Gret Asi hit 3s for Oklahoma State, which quickly reeled off eight points.
The Bears made six free throws with pull within two with 2:59 to play and Asberry's 3 made it a one point game with 21/2 minutes to go. The Bears then missed two free throws and had a turnover when they had a chance to grab the lead.
Alnatas hit a 3 and the Cowgirls made 5 of 8 free throws in the last 30 seconds to pull out the win.
Terryn Milton had 10 points for the Cowgirls (12-4, 2-2 Big 12 Conference).
Asberry had 19 points and Andrews 16 for the Bears (12-4, 3-1), who were the last unbeaten team in league play.
TCU is at Oklahoma State on Saturday and Baylor plays at West Virginia on Sunday.
___
AP women's college basketball: https://apnews.com/hub/womens-college-basketball and https://apnews.com/hub/ap-top-25-womens-college-basketball-poll and https://twitter.com/AP