Baylor leaves Oklahoma St. in the dark in 74-58 win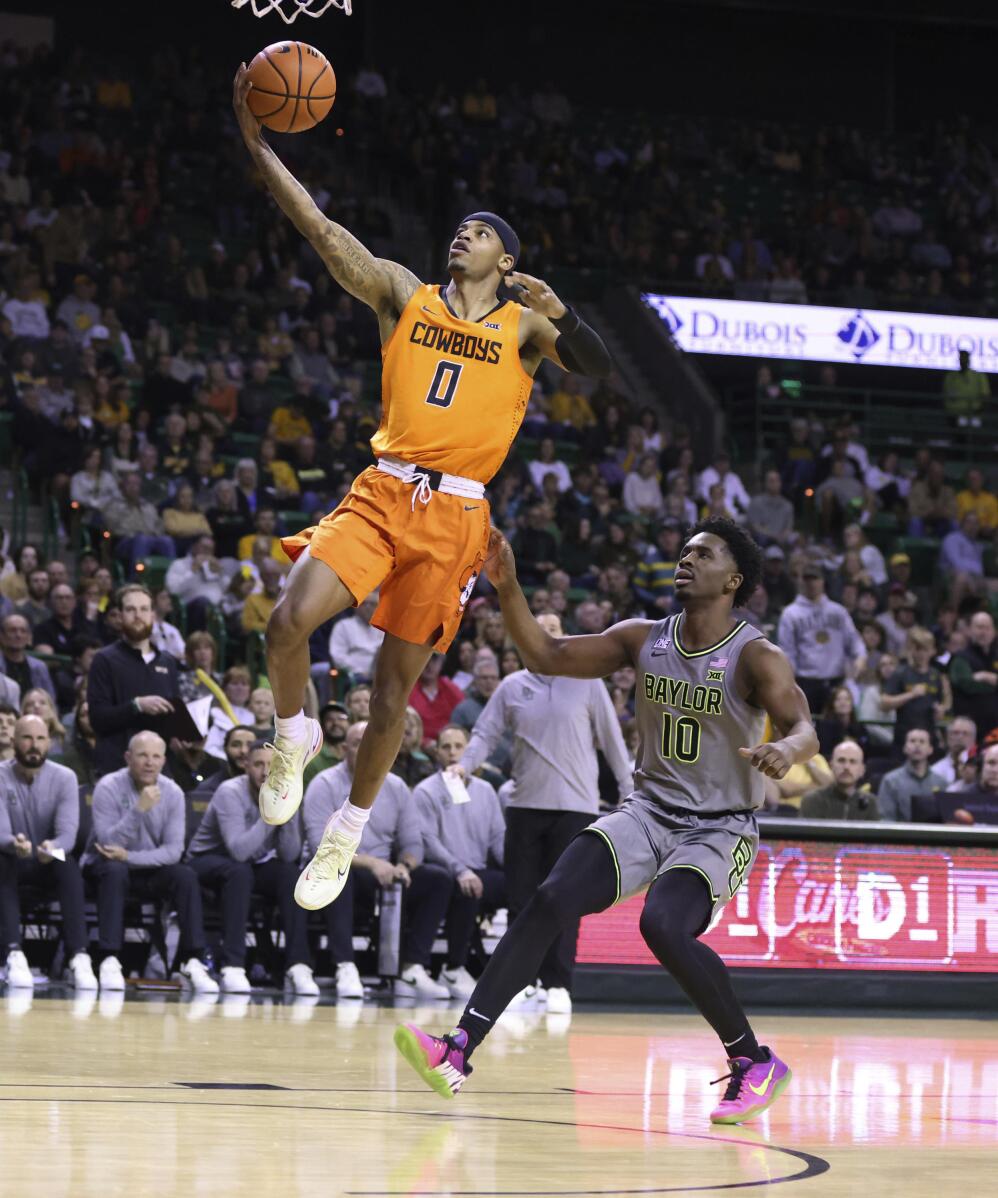 1 of 10

|
Oklahoma State guard Avery Anderson III (0) scores over Baylor guard Adam Flagler (10) during the first half of an NCAA college basketball game Saturday, Jan. 14, 2023, in Waco, Texas. (Rod Aydelotte/Waco Tribune-Herald via AP)
2 of 10

|
Baylor guard Keyonte George (1) slaps hands with coach Scott Drew after a Baylor score against Oklahoma State during the first half of an NCAA college basketball game Saturday, Jan. 14, 2023, in Waco, Texas. (Rod Aydelotte/Waco Tribune-Herald via AP)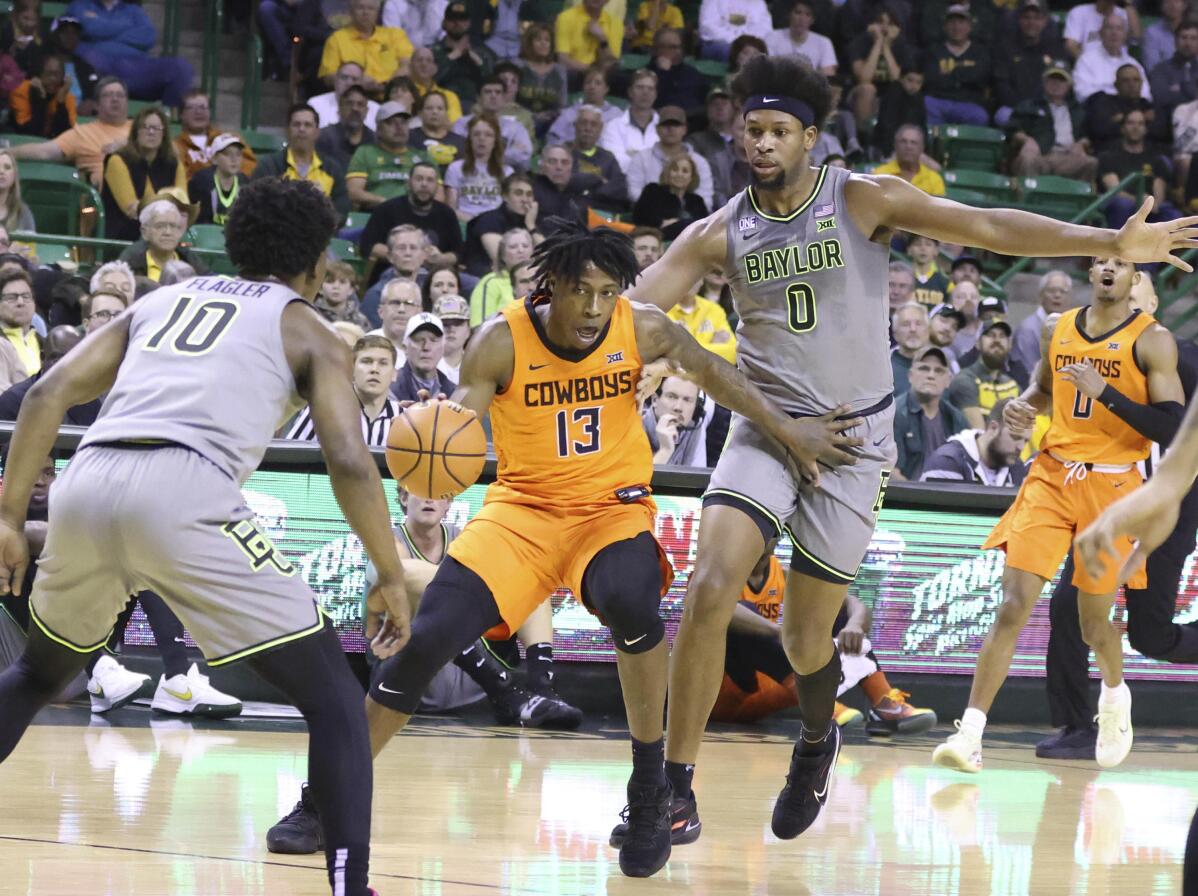 3 of 10

|
Oklahoma State guard Quion Williams (13) is defended by Baylor guard Adam Flagler (10) and forward Jalen Bridges (11) in the first half of an NCAA college basketball game, Saturday, Jan. 14, 2023, in Waco, Texas. (Rod Aydelotte/Waco Tribune-Herald, via AP)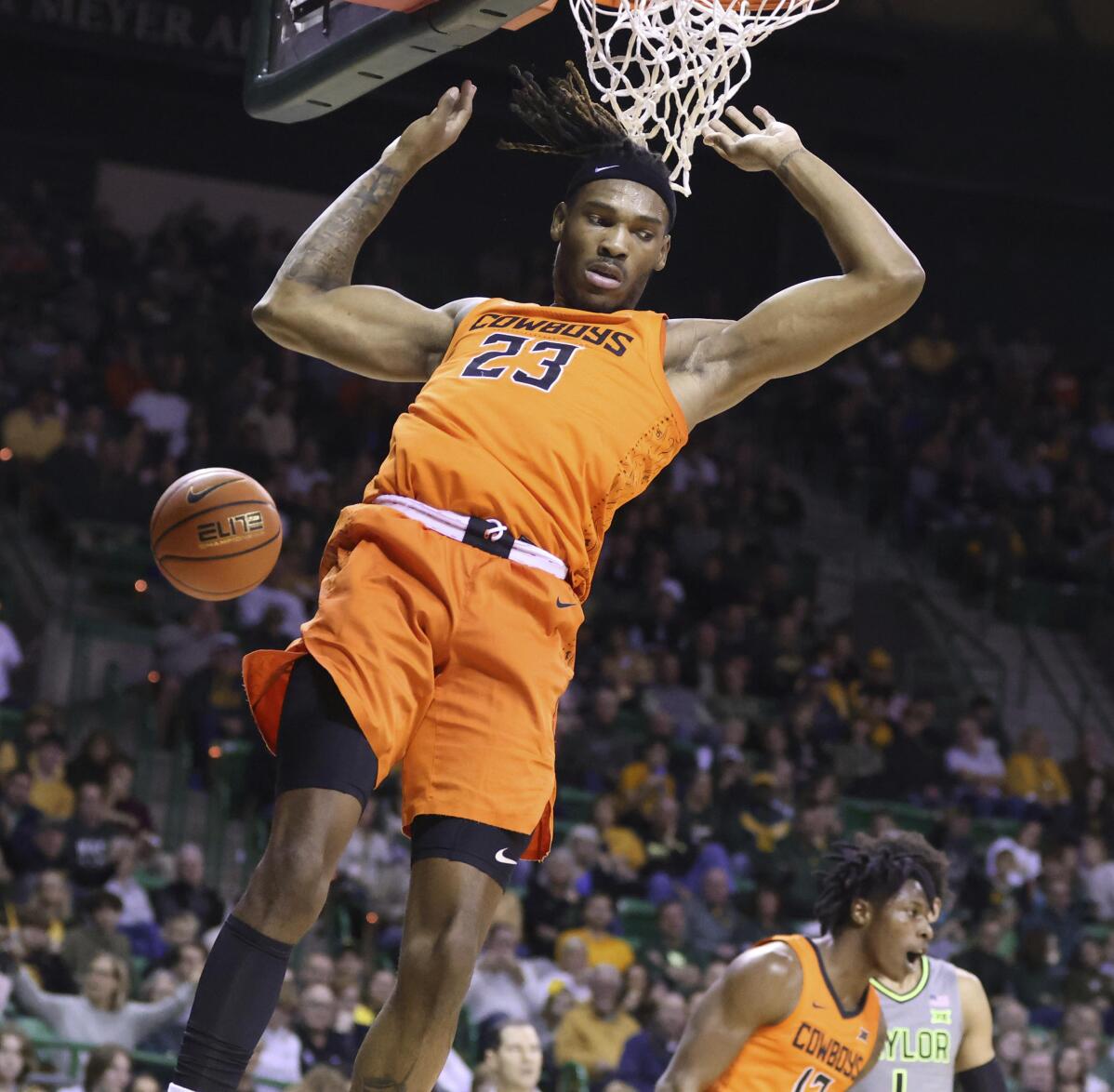 4 of 10

|
Oklahoma State forward Tyreek Smith (23) dunks over Baylor in the first half of an NCAA college basketball game, Saturday, Jan. 14, 2023, in Waco, Texas. (Rod Aydelotte/Waco Tribune-Herald, via AP)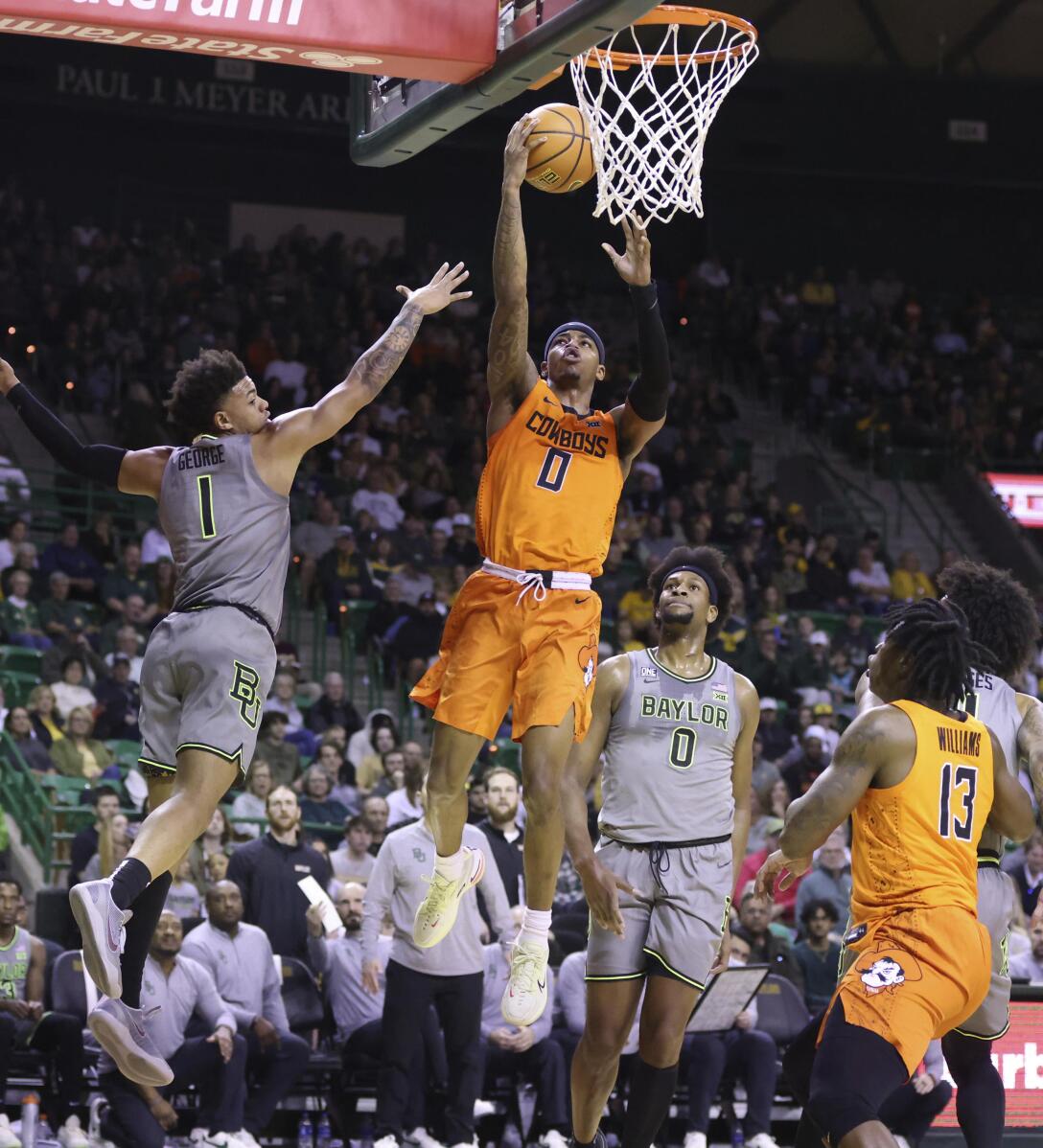 5 of 10

|
Oklahoma State guard Avery Anderson III, second from left, scores against Baylor guard Keyonte George (1) in the first half of an NCAA college basketball game, Saturday, Jan. 14, 2023, in Waco, Texas. (Rod Aydelotte/Waco Tribune-Herald, via AP)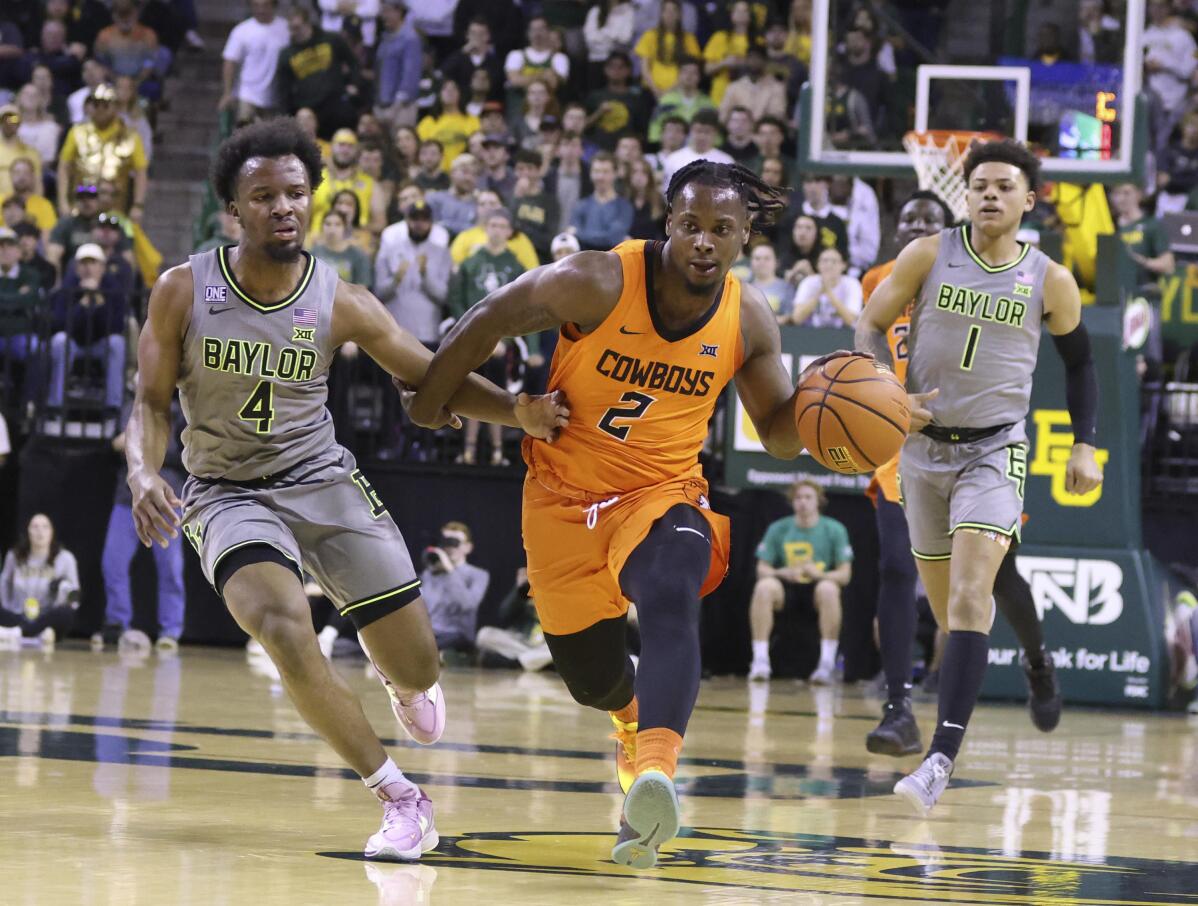 6 of 10

|
Oklahoma State guard Chris Harris Jr. (2) brings the ball upcourt past Baylor guard LJ Cryer (4) in the first half of an NCAA college basketball game, Saturday, Jan. 14, 2023, in Waco, Texas. (Rod Aydelotte/Waco Tribune-Herald, via AP)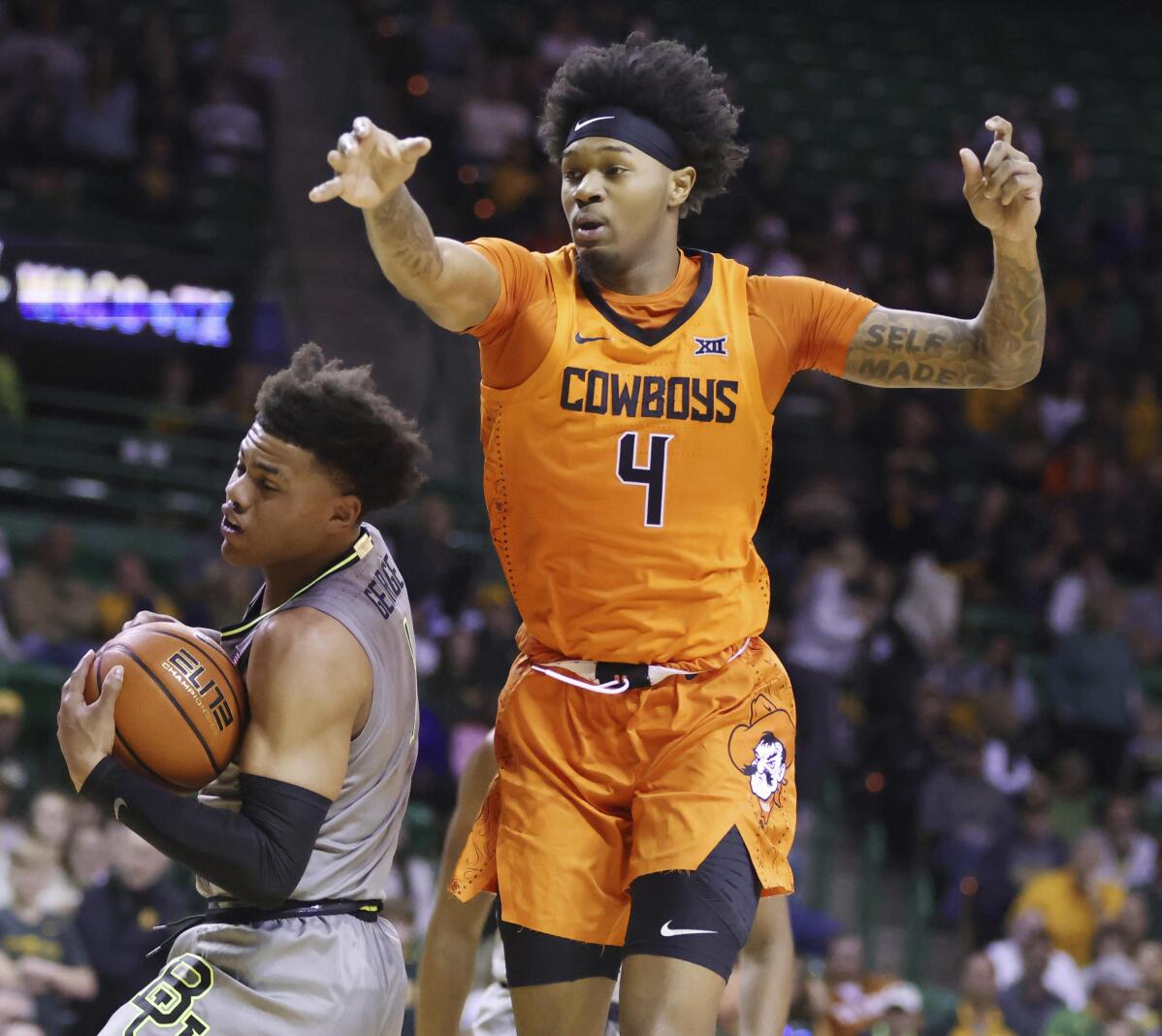 7 of 10

|
Baylor guard Keyonte George, left, pulls down a rebound over Oklahoma State guard Woody Newton (4) in the first half of an NCAA college basketball game, Saturday, Jan. 14, 2023, in Waco, Texas. (Rod Aydelotte/Waco Tribune-Herald, via AP)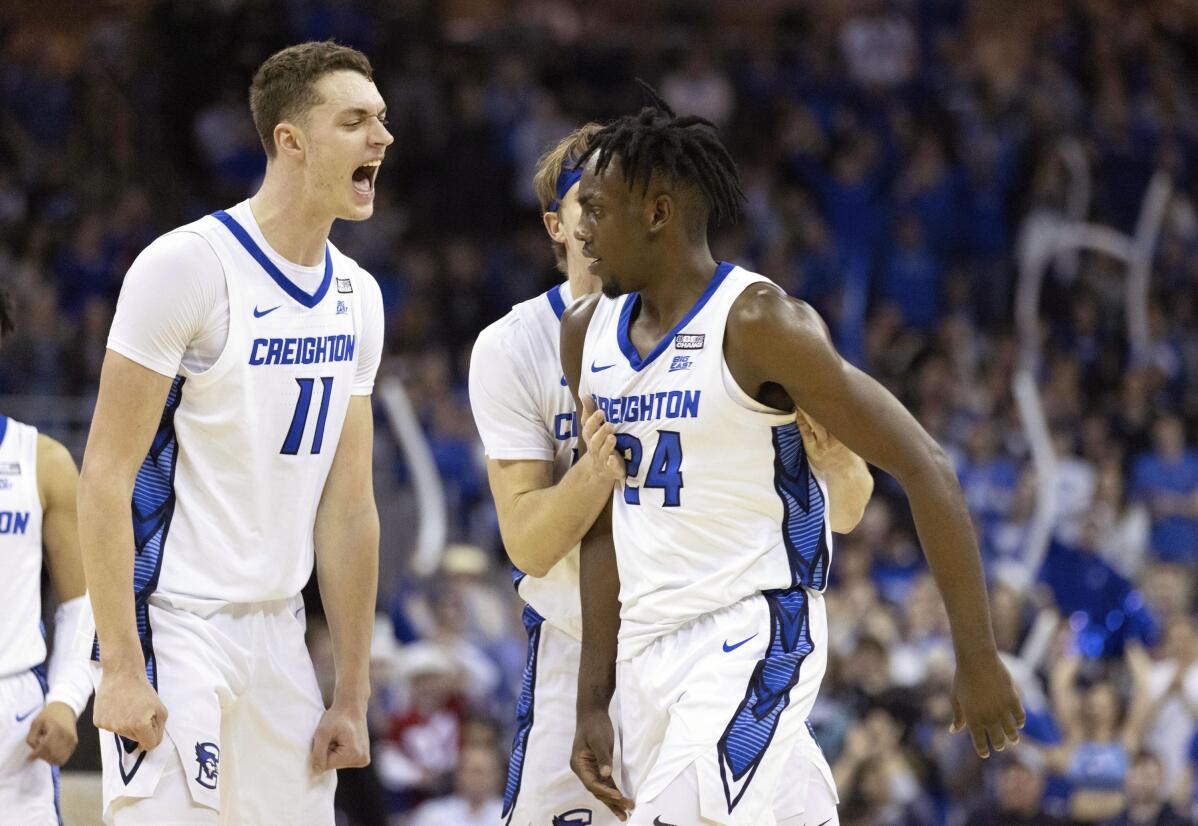 8 of 10

|
From left to right, Creighton's Ryan Kalkbrenner, Baylor Scheierman and Arthur Kaluma celebrate after Kaluma's basket against Providence during the second half of an NCAA college basketball game Saturday, Jan. 14, 2023, in Omaha, Neb. (AP Photo/Rebecca S. Gratz)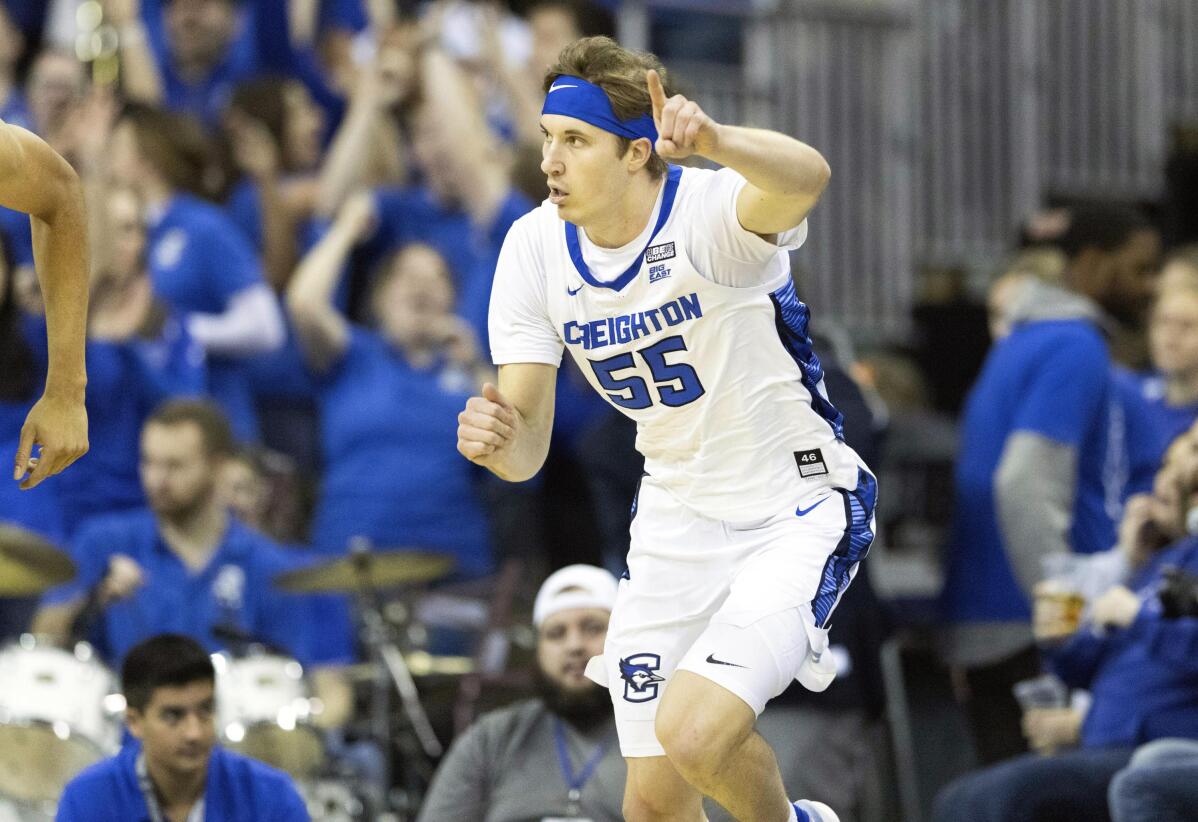 9 of 10

|
Creighton's Baylor Scheierman (55) reacts after hitting a 3-pointer against Providence during the first half of an NCAA college basketball game on Saturday, Jan. 14, 2023, in Omaha, Neb. (AP Photo/Rebecca S. Gratz)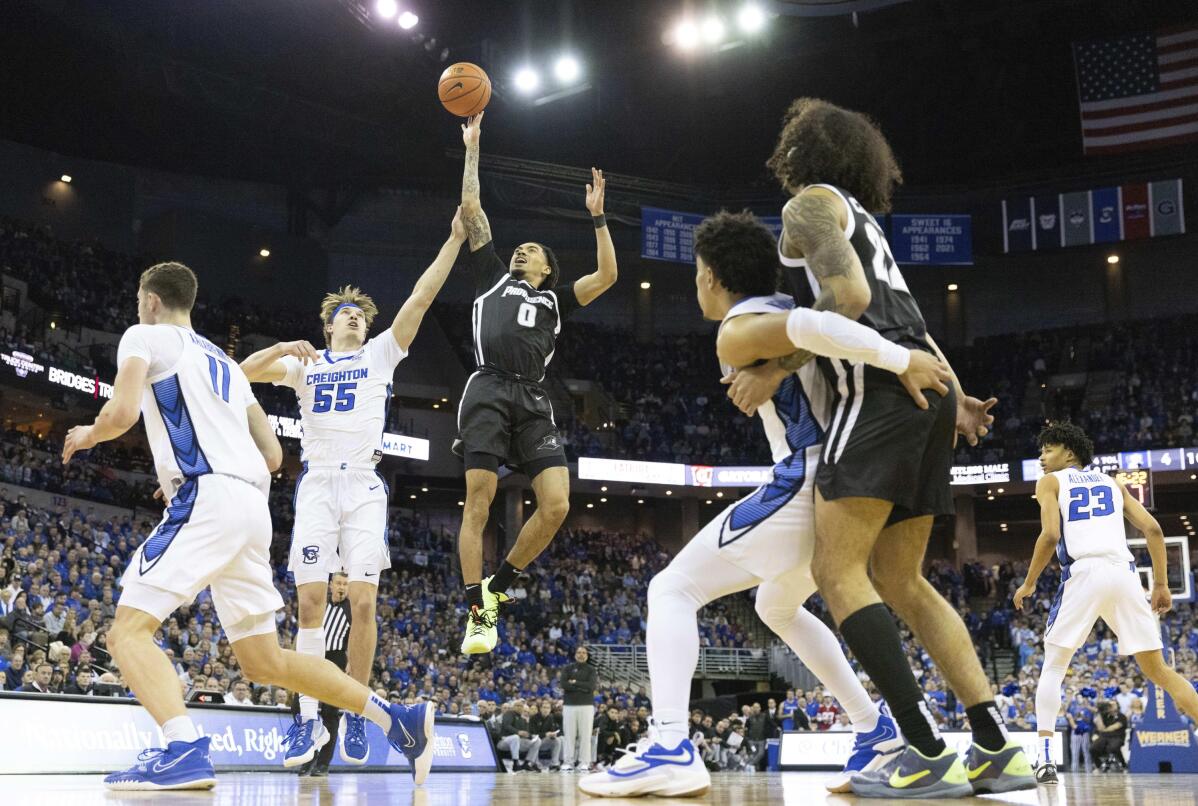 10 of 10

|
Providence's Alyn Breed (0) shoots over Creighton's Baylor Scheierman (55) during the first half of an NCAA college basketball game on Saturday, Jan. 14, 2023, in Omaha, Neb. (AP Photo/Rebecca S. Gratz)
Baylor leaves Oklahoma St. in the dark in 74-58 win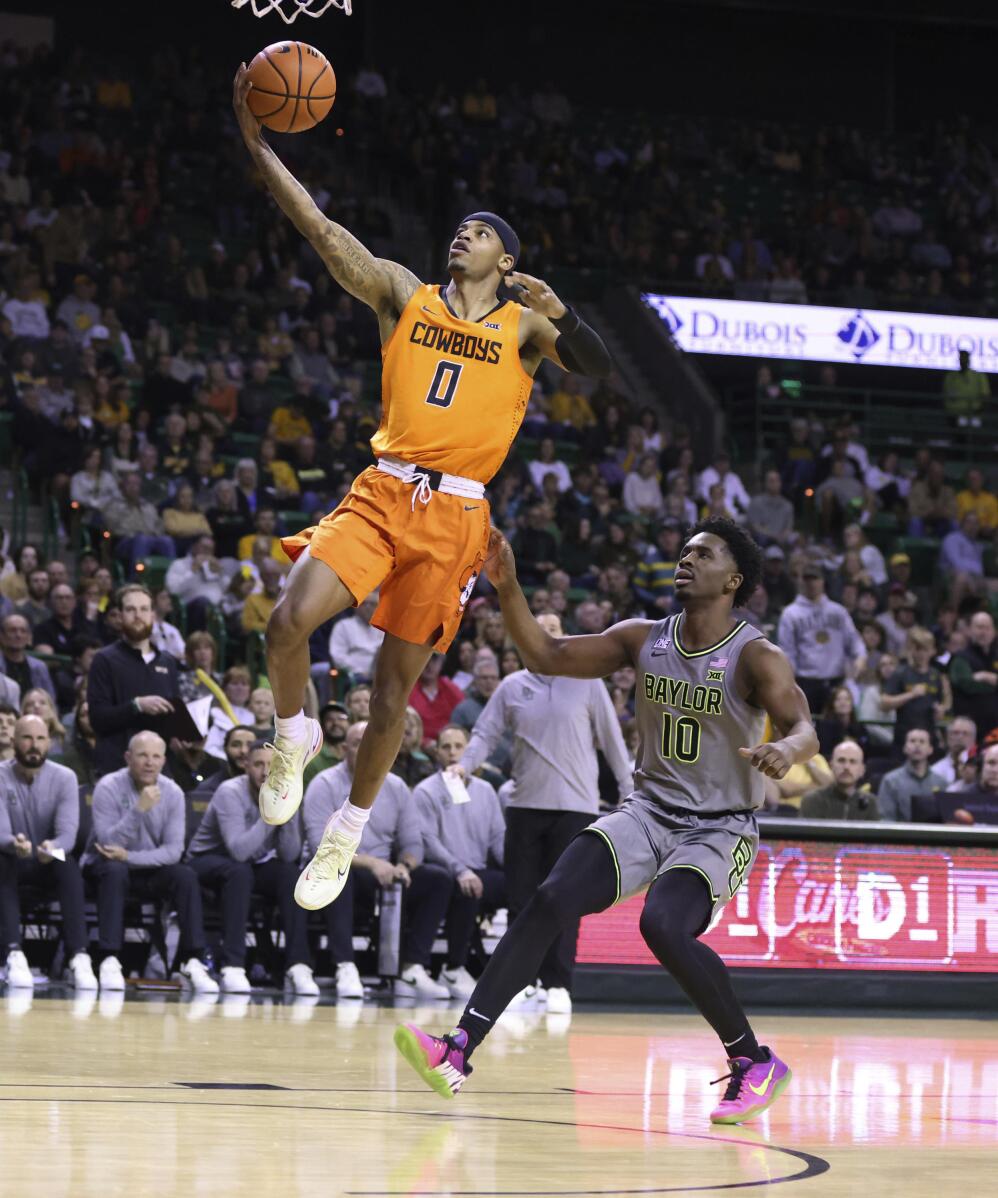 1 of 10

|
Oklahoma State guard Avery Anderson III (0) scores over Baylor guard Adam Flagler (10) during the first half of an NCAA college basketball game Saturday, Jan. 14, 2023, in Waco, Texas. (Rod Aydelotte/Waco Tribune-Herald via AP)
1 of 10
Oklahoma State guard Avery Anderson III (0) scores over Baylor guard Adam Flagler (10) during the first half of an NCAA college basketball game Saturday, Jan. 14, 2023, in Waco, Texas. (Rod Aydelotte/Waco Tribune-Herald via AP)
2 of 10

|
Baylor guard Keyonte George (1) slaps hands with coach Scott Drew after a Baylor score against Oklahoma State during the first half of an NCAA college basketball game Saturday, Jan. 14, 2023, in Waco, Texas. (Rod Aydelotte/Waco Tribune-Herald via AP)
2 of 10
Baylor guard Keyonte George (1) slaps hands with coach Scott Drew after a Baylor score against Oklahoma State during the first half of an NCAA college basketball game Saturday, Jan. 14, 2023, in Waco, Texas. (Rod Aydelotte/Waco Tribune-Herald via AP)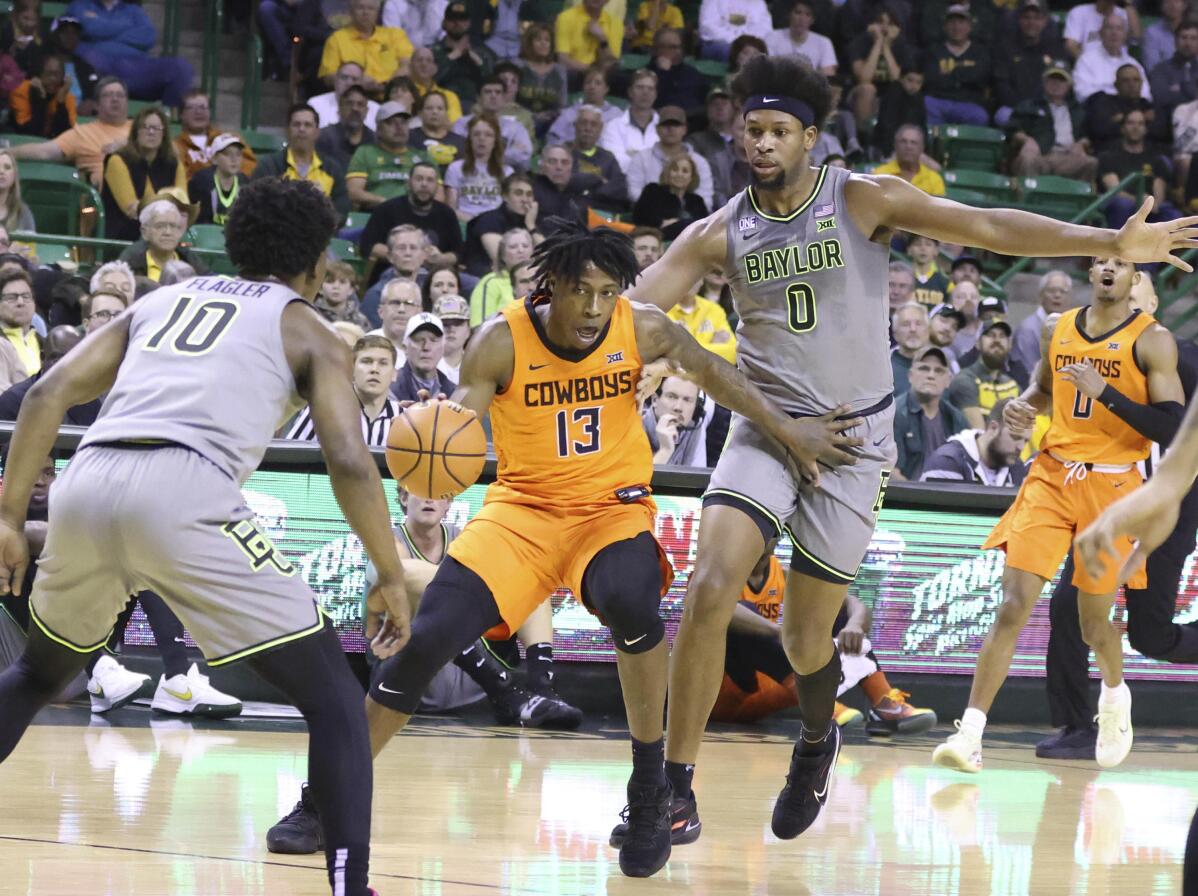 3 of 10

|
Oklahoma State guard Quion Williams (13) is defended by Baylor guard Adam Flagler (10) and forward Jalen Bridges (11) in the first half of an NCAA college basketball game, Saturday, Jan. 14, 2023, in Waco, Texas. (Rod Aydelotte/Waco Tribune-Herald, via AP)
3 of 10
Oklahoma State guard Quion Williams (13) is defended by Baylor guard Adam Flagler (10) and forward Jalen Bridges (11) in the first half of an NCAA college basketball game, Saturday, Jan. 14, 2023, in Waco, Texas. (Rod Aydelotte/Waco Tribune-Herald, via AP)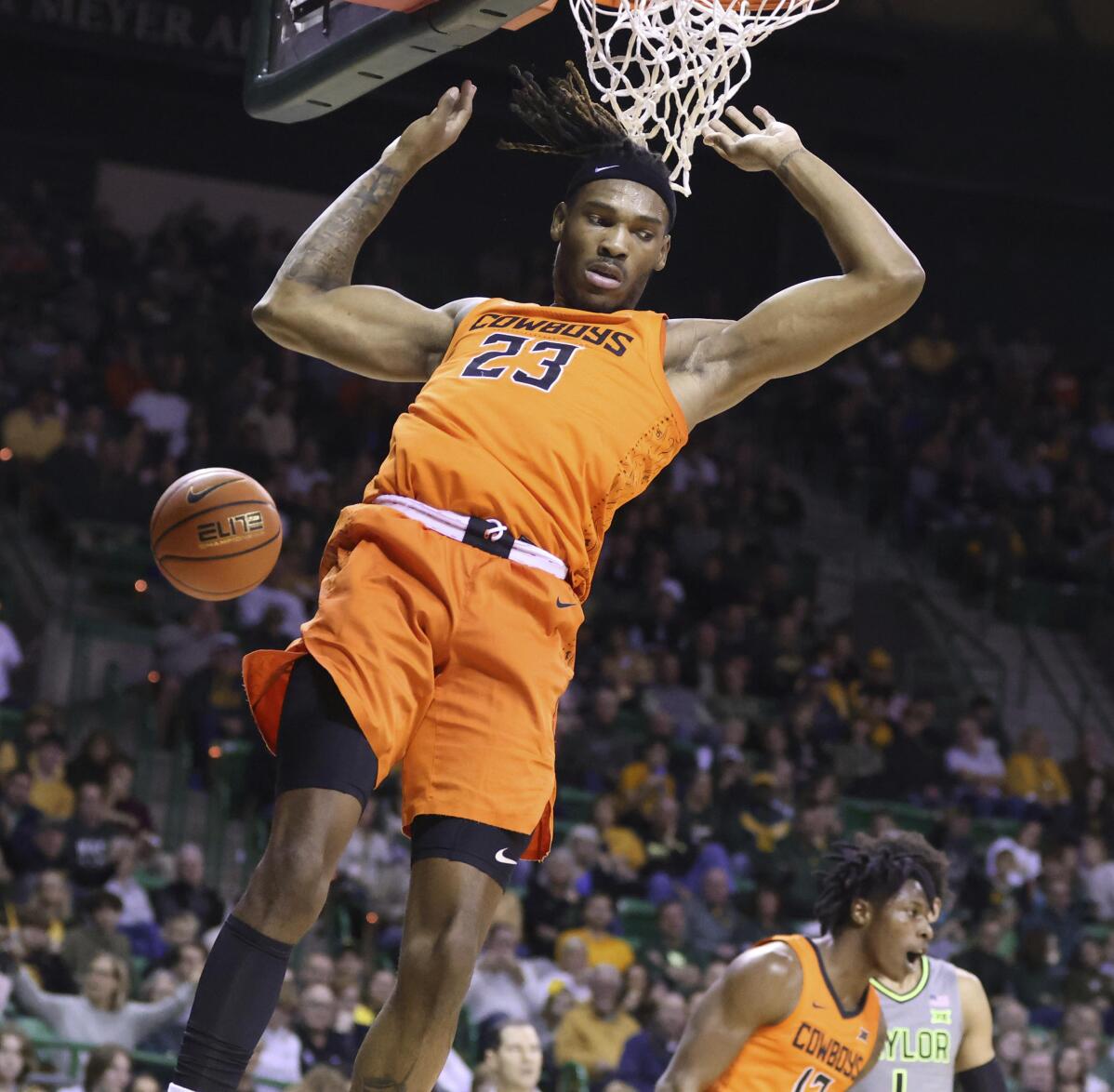 4 of 10

|
Oklahoma State forward Tyreek Smith (23) dunks over Baylor in the first half of an NCAA college basketball game, Saturday, Jan. 14, 2023, in Waco, Texas. (Rod Aydelotte/Waco Tribune-Herald, via AP)
4 of 10
Oklahoma State forward Tyreek Smith (23) dunks over Baylor in the first half of an NCAA college basketball game, Saturday, Jan. 14, 2023, in Waco, Texas. (Rod Aydelotte/Waco Tribune-Herald, via AP)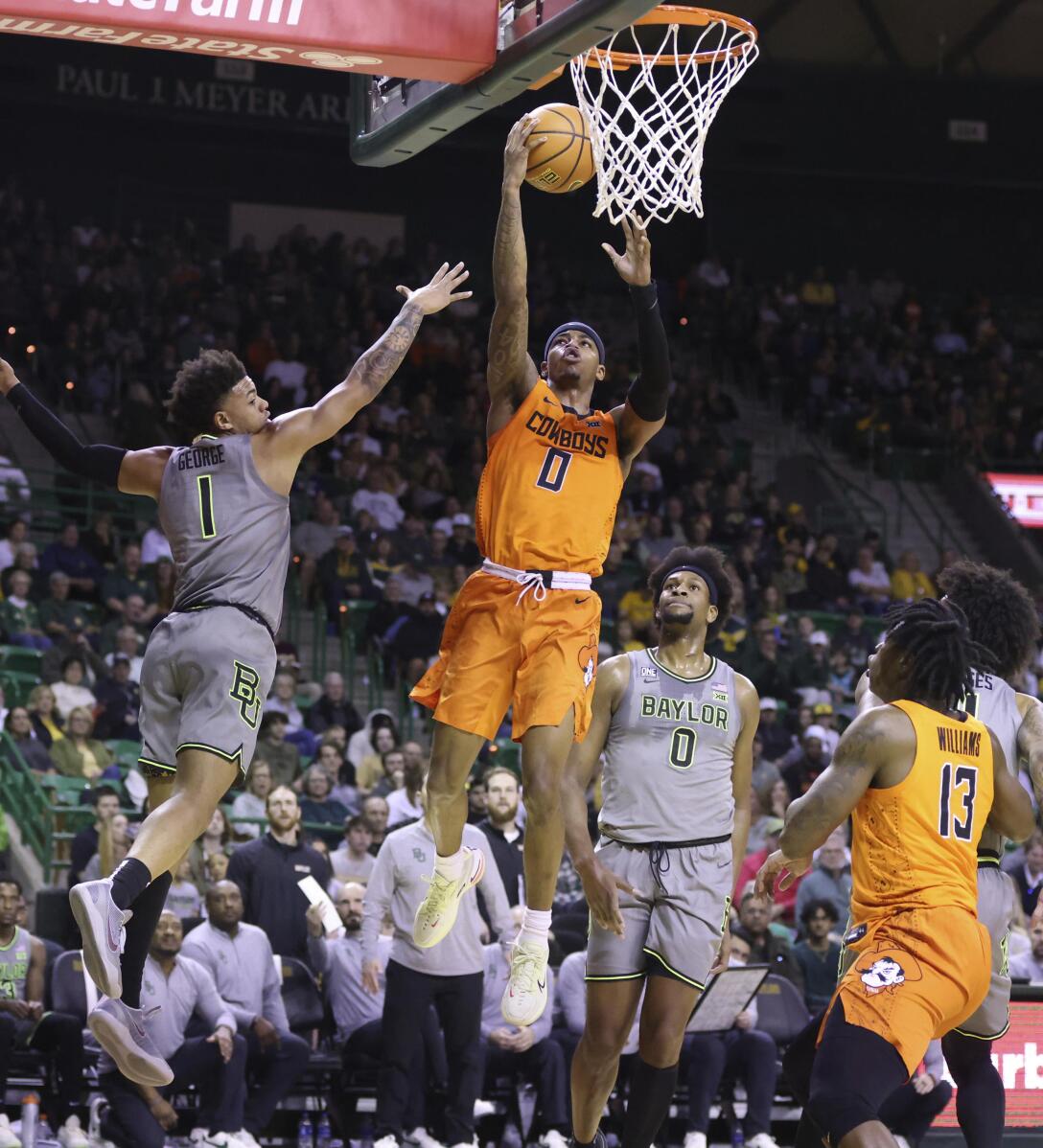 5 of 10

|
Oklahoma State guard Avery Anderson III, second from left, scores against Baylor guard Keyonte George (1) in the first half of an NCAA college basketball game, Saturday, Jan. 14, 2023, in Waco, Texas. (Rod Aydelotte/Waco Tribune-Herald, via AP)
5 of 10
Oklahoma State guard Avery Anderson III, second from left, scores against Baylor guard Keyonte George (1) in the first half of an NCAA college basketball game, Saturday, Jan. 14, 2023, in Waco, Texas. (Rod Aydelotte/Waco Tribune-Herald, via AP)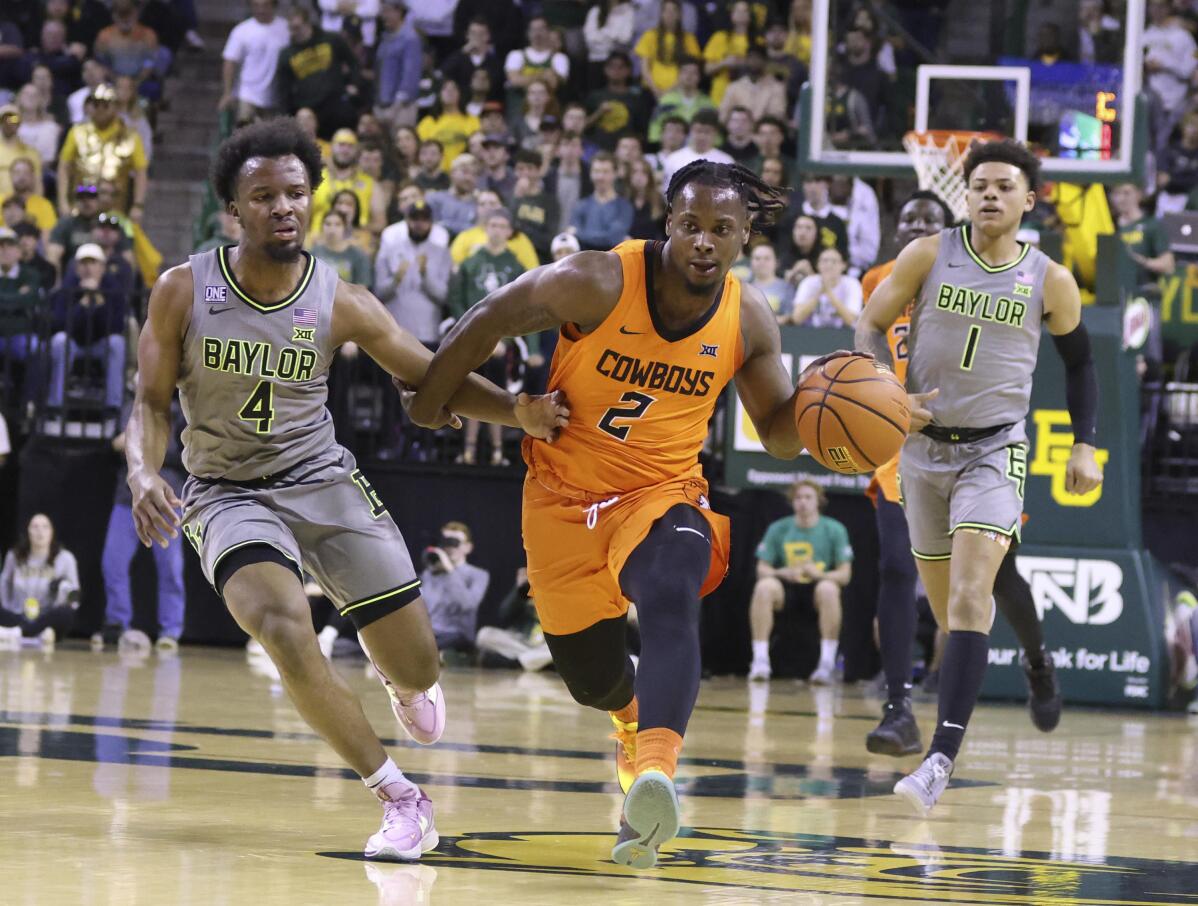 6 of 10

|
Oklahoma State guard Chris Harris Jr. (2) brings the ball upcourt past Baylor guard LJ Cryer (4) in the first half of an NCAA college basketball game, Saturday, Jan. 14, 2023, in Waco, Texas. (Rod Aydelotte/Waco Tribune-Herald, via AP)
6 of 10
Oklahoma State guard Chris Harris Jr. (2) brings the ball upcourt past Baylor guard LJ Cryer (4) in the first half of an NCAA college basketball game, Saturday, Jan. 14, 2023, in Waco, Texas. (Rod Aydelotte/Waco Tribune-Herald, via AP)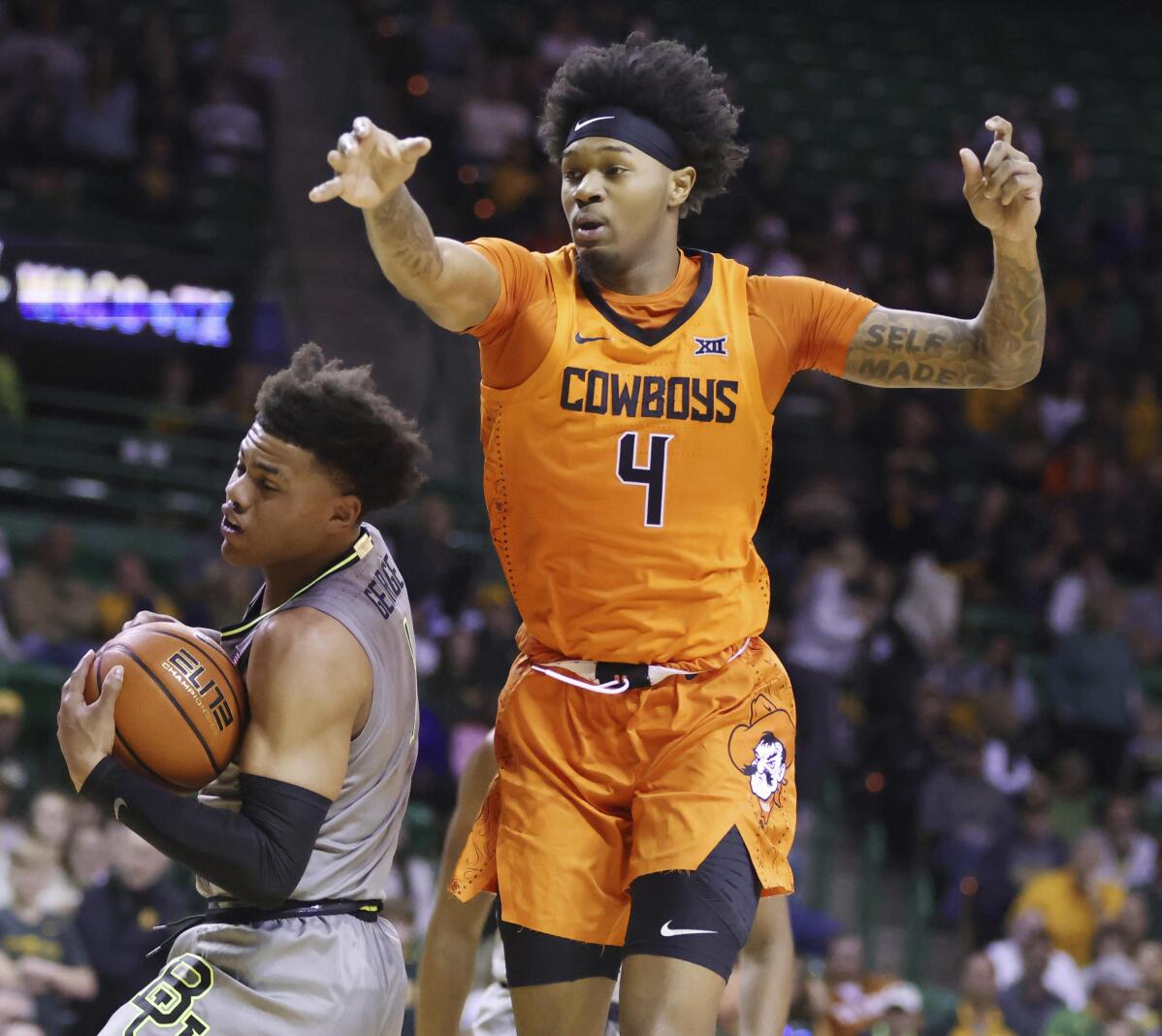 7 of 10

|
Baylor guard Keyonte George, left, pulls down a rebound over Oklahoma State guard Woody Newton (4) in the first half of an NCAA college basketball game, Saturday, Jan. 14, 2023, in Waco, Texas. (Rod Aydelotte/Waco Tribune-Herald, via AP)
7 of 10
Baylor guard Keyonte George, left, pulls down a rebound over Oklahoma State guard Woody Newton (4) in the first half of an NCAA college basketball game, Saturday, Jan. 14, 2023, in Waco, Texas. (Rod Aydelotte/Waco Tribune-Herald, via AP)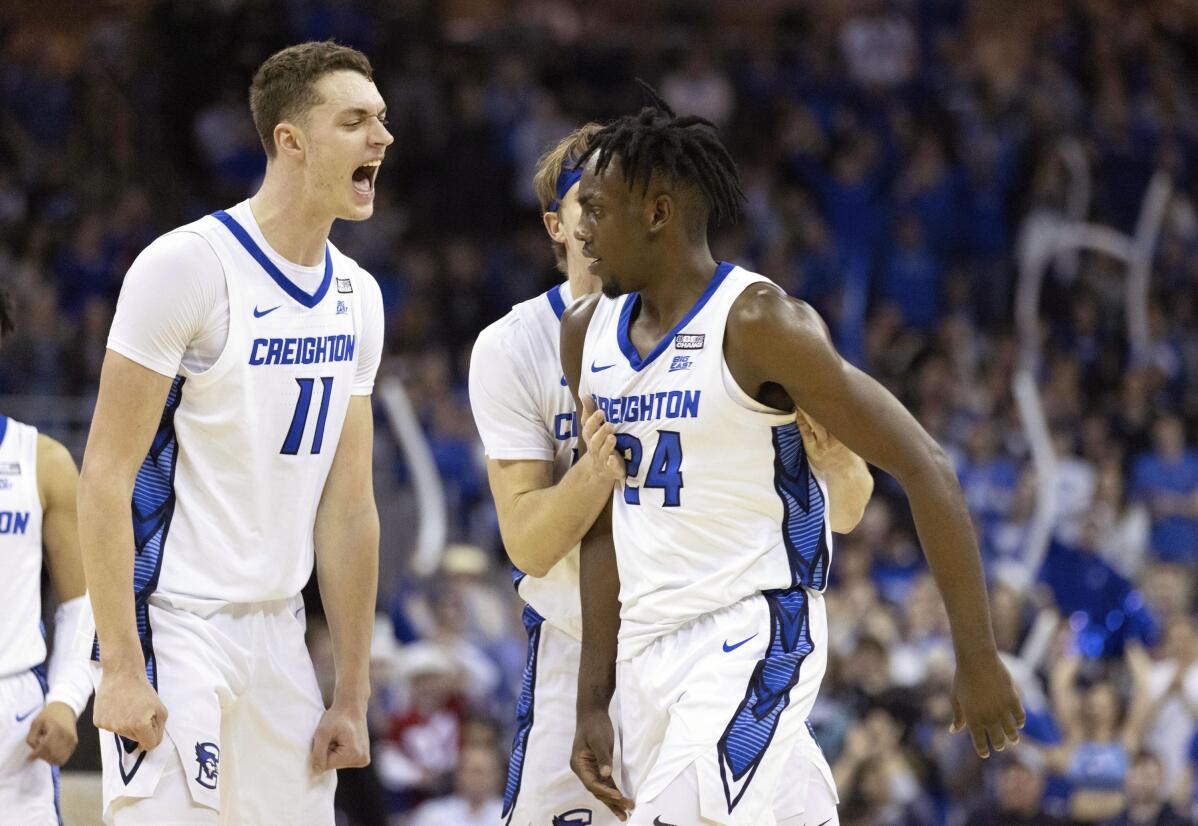 8 of 10

|
From left to right, Creighton's Ryan Kalkbrenner, Baylor Scheierman and Arthur Kaluma celebrate after Kaluma's basket against Providence during the second half of an NCAA college basketball game Saturday, Jan. 14, 2023, in Omaha, Neb. (AP Photo/Rebecca S. Gratz)
8 of 10
From left to right, Creighton's Ryan Kalkbrenner, Baylor Scheierman and Arthur Kaluma celebrate after Kaluma's basket against Providence during the second half of an NCAA college basketball game Saturday, Jan. 14, 2023, in Omaha, Neb. (AP Photo/Rebecca S. Gratz)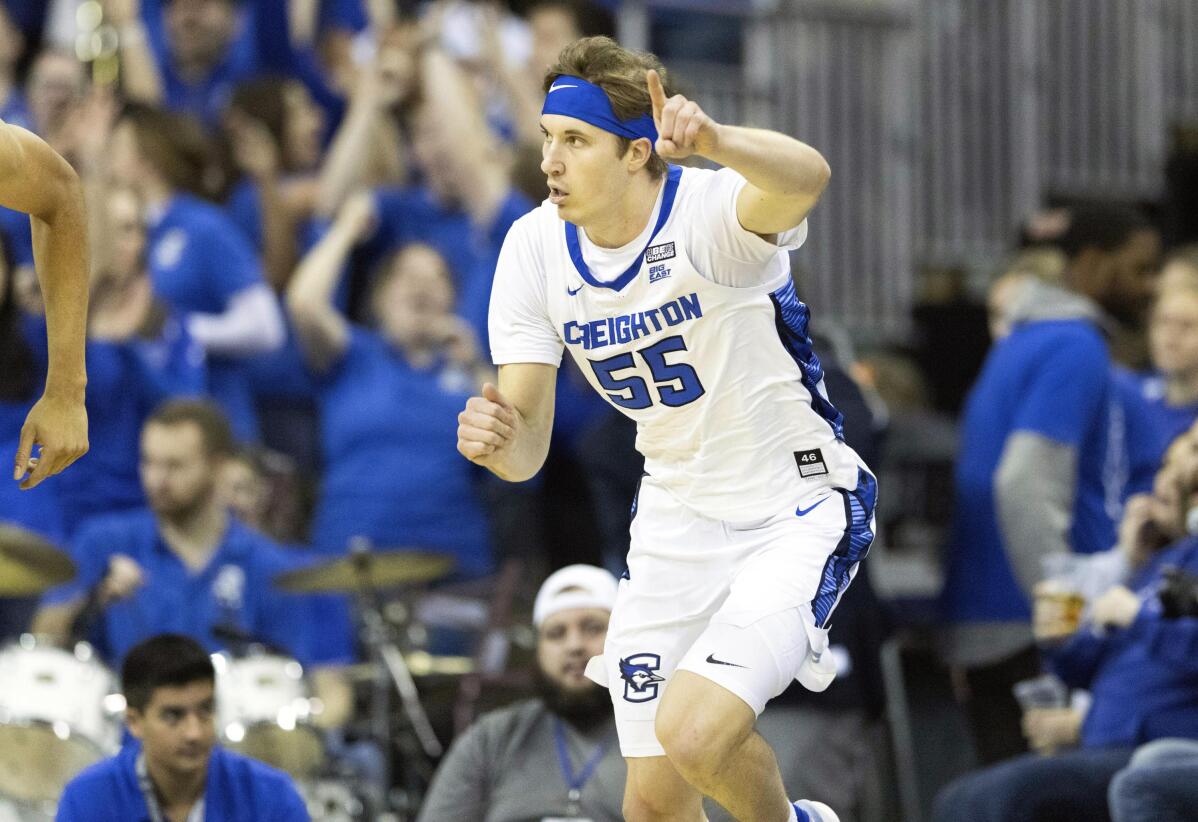 9 of 10

|
Creighton's Baylor Scheierman (55) reacts after hitting a 3-pointer against Providence during the first half of an NCAA college basketball game on Saturday, Jan. 14, 2023, in Omaha, Neb. (AP Photo/Rebecca S. Gratz)
9 of 10
Creighton's Baylor Scheierman (55) reacts after hitting a 3-pointer against Providence during the first half of an NCAA college basketball game on Saturday, Jan. 14, 2023, in Omaha, Neb. (AP Photo/Rebecca S. Gratz)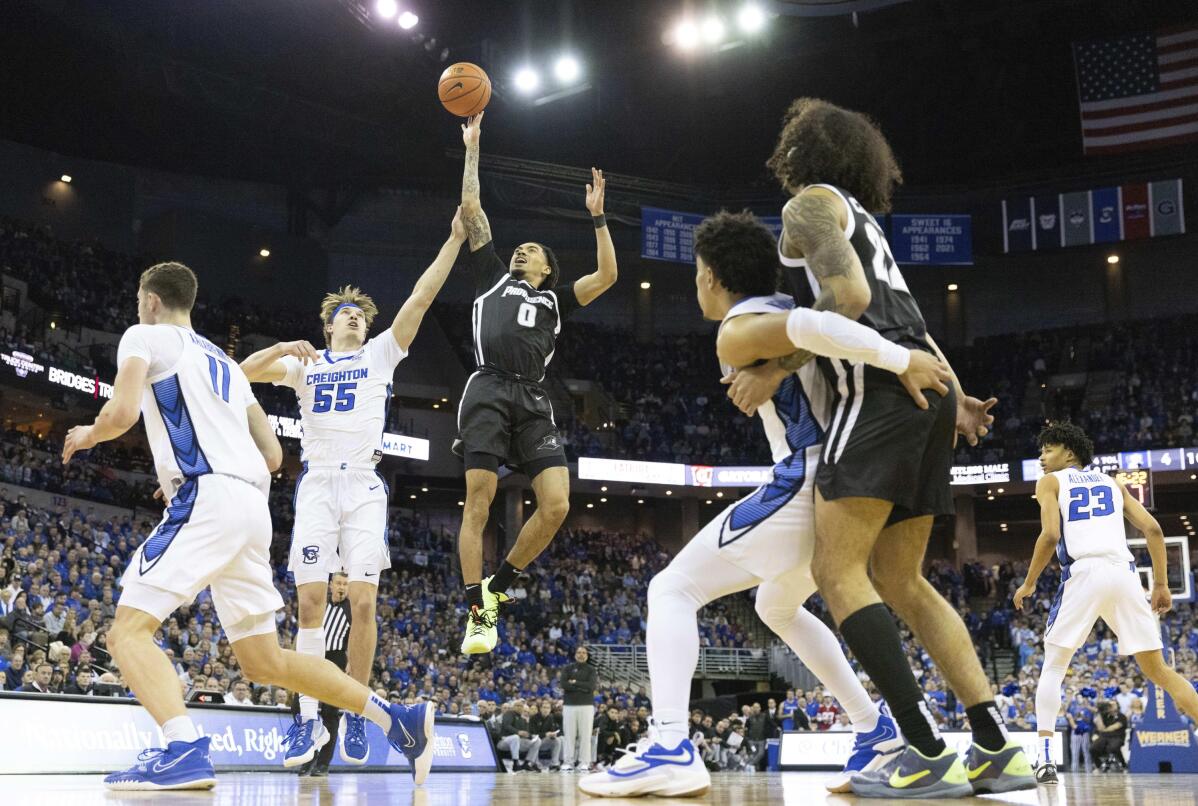 10 of 10

|
Providence's Alyn Breed (0) shoots over Creighton's Baylor Scheierman (55) during the first half of an NCAA college basketball game on Saturday, Jan. 14, 2023, in Omaha, Neb. (AP Photo/Rebecca S. Gratz)
10 of 10
Providence's Alyn Breed (0) shoots over Creighton's Baylor Scheierman (55) during the first half of an NCAA college basketball game on Saturday, Jan. 14, 2023, in Omaha, Neb. (AP Photo/Rebecca S. Gratz)
WACO, Texas (AP) — LJ Cryer scored 16 points with four 3-pointers and Baylor ended a three-game skid beating Oklahoma State 74-58 on Saturday.
The Bears have won 12 of their last 16 against Oklahoma State. The Cowboys have lost three straight.
Baylor mostly had the Cowboys in the dark well before a 20-minute power failure at Farrell Center in the second half stopped play.
Baylor (12-5, 2-3 Big 12) built a 13-0 lead with help of a pair of 3-pointers from LJ Cryer and another from Jalen Bridges. Oklahoma State didn't score until Avery Anderson III made a layup a little more than four-and-a-half minutes in.
The Cowboys (9-8, 1-4) turned it around and used a 13-1 run to reduce their deficit to 17-15 when reserve Caleb Asberry made a 3 with 10:24 left before intermission. But Baylor closed the half the way it started, outscored Oklahoma State 22-8 before intermission and led 39-23 at halftime.
Bridges and Flo Thamba each scored 12 and Adam Flagler 11 to reach double-digit scoring in 17 straight games for Baylor.
Asberry scored 14 points and Anderson 11 for the Cowboys.
Oklahoma State hosts Oklahoma on Wednesday. Baylor travels to Texas Tech on Tuesday.
___
More AP college basketball: https://apnews.com/hub/college-basketball and https://apnews.com/hub/ap-top-25-college-basketball-poll and https://twitter.com/AP_Top25