Nowell scores 36 as Kansas State beats No. 6 Texas 116-103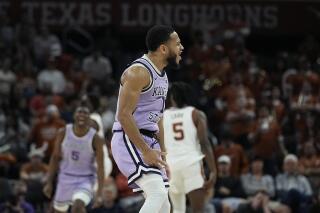 AUSTIN, Texas (AP) — Markquis Nowell had 36 points and nine assists as Kansas State beat No. 6 Texas 116-103 on Tuesday night with a stunning offensive outburst that gave first-year Wildcats coach Jerome Tang his biggest victory.
The Wildcats poured in 58 points in the first half behind 64% shooting and eight 3-pointers. Kansas State then held off a Texas rally as the Longhorns made 11 consecutive shots in the second half and shaved a 20-point deficit to single digits with just under five minutes left.
Nowell's two free throws with 3:23 remaining made it 100-88 before he swished a step-back 3-pointer on the next possession to put an exclamation point on the night for the Wildcats (13-1, 2-0 Big 12). Keyontae Johnson added 28 points and nine rebounds for Kansas State.
Tyrese Hunter scored 29 points and Marcus Carr had 27 for the Longhorns (12-2, 1-1), who lost for the first time in their new arena, the Moody Center. It was Texas' first loss since head coach Chris Beard was suspended indefinitely without pay following his Dec. 12 arrest on a felony family violence charge.
NO. 3 KANSAS 75, TEXAS TECH 72
LUBBOCK, Texas (AP) — KJ Adams scored the last of his 16 points on a breakaway dunk with 7 seconds remaining, and Kansas ended Texas Tech's home winning streak at 29 games.
Dajuan Harris scored 18 points for the Jayhawks (13-1, 2-0 Big 12), who led by a dozen points early in the second half but allowed the Red Raiders to make it close at the finish. Jalen Wilson had 14 points and Gradey Dick scored 11.
Kevin Obanor scored 26 points for Texas Tech (10-4, 0-2), which had not lost at home since February of 2021. Pop Isaacs added 18 points.
The Red Raiders (10-4, 0-2) trailed 67-57 with seven minutes left but twice got within one point late.
NO. 7 ALABAMA 84, MISSISSIPPI 62
TUSCALOOSA, Ala. (AP) — Brandon Miller scored 17 points, Marc Sears had 18 and Alabama beat Mississippi.
The Crimson Tide (12-2, 2-0 Southeastern Conference) raced to a 21-point halftime lead, shot 9 of 20 on 3-pointers and placed five scorers in double figures. The Rebels (8-5, 0-2) finished just 2 of 24 on 3s (8.3%) in their third straight loss.
Jaden Bradley added 14 points for Alabama, hitting 10 of 12 free throws. Jahvon Quinerly had 11 points while Noah Clowney scored 10 to go with eight rebounds.
Jaemyn Brakefield led Ole Miss with 14 points. Daeshun Ruffin scored 13 but missed all seven 3-point attempts.
NO. 8 TENNESSEE 87, MISSISSIPPI STATE 53
KNOXVILLE, Tenn. (AP) — Santiago Vescovi scored 14 points, Zakai Zeigler had 11 points and 10 assists, and Tennessee beat Mississippi State.
The Volunteers (12-2, 2-0 Southeastern Conference) scored the first 16 points of the game and won for the 24th consecutive time at home, dating to the last game of the 2020-21 season. Julian Phillips scored 11 points and Olivier Nkamhoua and Uros Plavsic had 10 each.
Tyler Stevenson scored 15 points to lead the Bulldogs (11-3, 0-2), who dropped their third straight.
PITTSBURGH 68, NO. 11 VIRGINIA 65
PITTSBURGH (AP) — Blake Hinson scored 16 points, Jamarius Burton added 15 and Pittsburgh rallied past Virginia.
The Panthers (11-4, 4-0 Atlantic Coast Conference) used a 14-0 second-half run to get back in it and then took charge late to keep Cavaliers coach Tony Bennett at 326 career wins at Virginia, still tied with Terry Holland for the most in program history.
A layup by Federiko Federiko with 59 seconds left put the Panthers up 62-60 and Pitt forced the Cavaliers (10-3, 2-2) into a shot-clock violation on their ensuing possession. Six straight made free throws in the final seconds pushed the Panthers to their best start in ACC play since the 2013-14 season.
Kihei Clark scored 17 points for the Cavaliers and Armaan Franklin added 14.
NO. 14 WISCONSIN 63, MINNESOTA 60
MADISON, Wis. (AP) — Steven Crowl scored 17 points, Chucky Hepburn had 16 and Wisconsin held off Minnesota for its sixth straight win.
Connor Essegian scored 11 points off the bench for the Badgers (11-2, 3-0 Big Ten), who have won 14 of 16 games against Minnesota.
Ta'Lon Cooper scored 16 points for the Gophers (6-7, 0-3), who were playing their first game in 12 days because of a Dec. 29 cancellation. Dawson Garcia scored 14 points and Jamison Battle had 13 for Minnesota, which had 20 turnovers.
FRESNO STATE 71, NO. 21 NEW MEXICO 67
FRESNO, Calif. (AP) — Isaih Moore scored 16 points and Fresno State upended New Mexico, the last unbeaten team in the nation.
Isaiah Hill added 14 points, making three free throws in the final seconds to seal it for the Bulldogs (6-8, 2-1 Mountain West). Jemarl Baker had 13 points and 6-foot-11 Eduardo Andre, averaging just over four points a game, scored a career-high 12 and grabbed eight rebounds.
Jamal Mashburn Jr. finished with 22 points for New Mexico (14-1, 2-1). Morris Udeze added 18.
The Lobos were the last undefeated Division I team after No. 1 Purdue's loss to Rutgers on Monday. The 14-0 start was their best since a school-record 17-0 in 1967-68.
Fresno State snapped a 28-game losing streak to teams in The Associated Press Top 25, the previous victory coming over No. 14 Oklahoma State on Feb. 10, 2002.
___
AP college basketball: https://apnews.com/hub/college-basketball and https://apnews.com/hub/ap-top-25-college-basketball-poll and https://twitter.com/AP_Top25