Bayern Munich winless in 2023 and searching for answers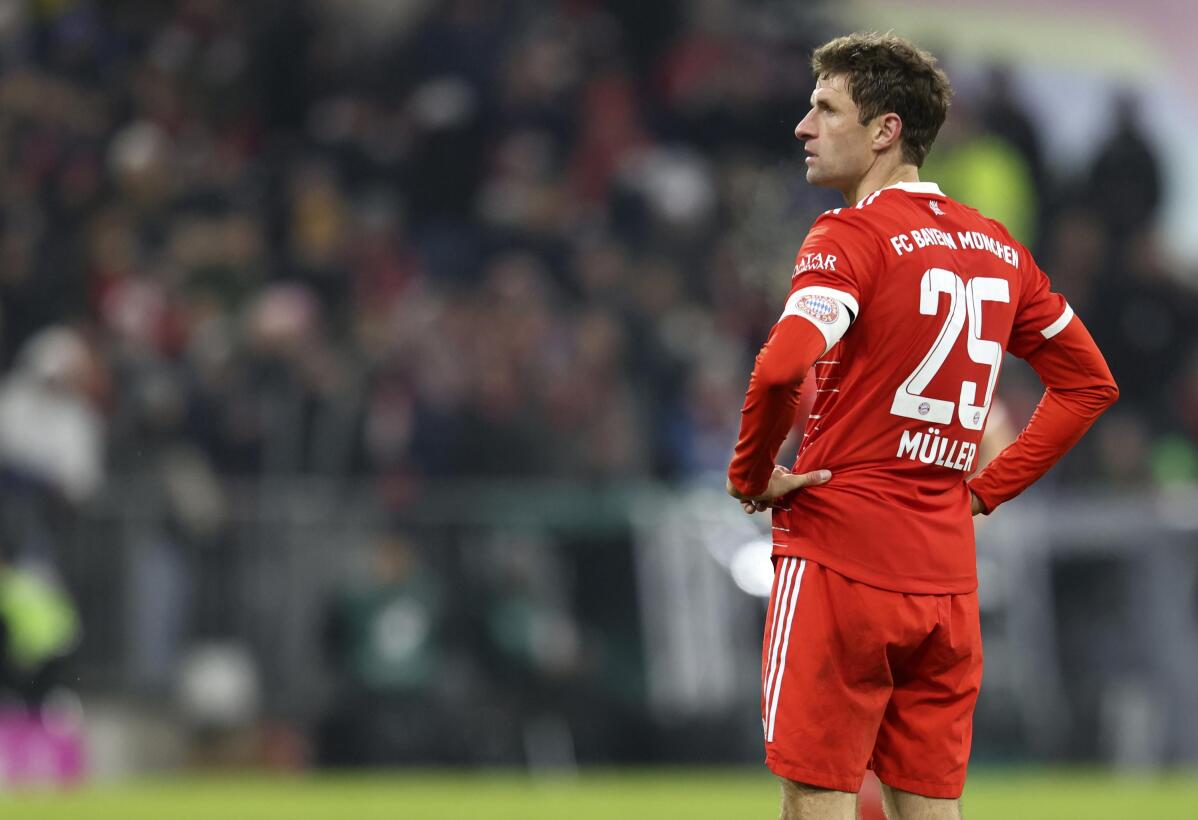 1 of 4

|
Bayern's Thomas Mueller reacts at the end of the Bundesliga soccer match between Bayern Munich and Eintracht Frankfurt at the Allianz Arena in Munich, Germany, Saturday, Jan. 28, 2023. (AP Photo/Alexandra Beier)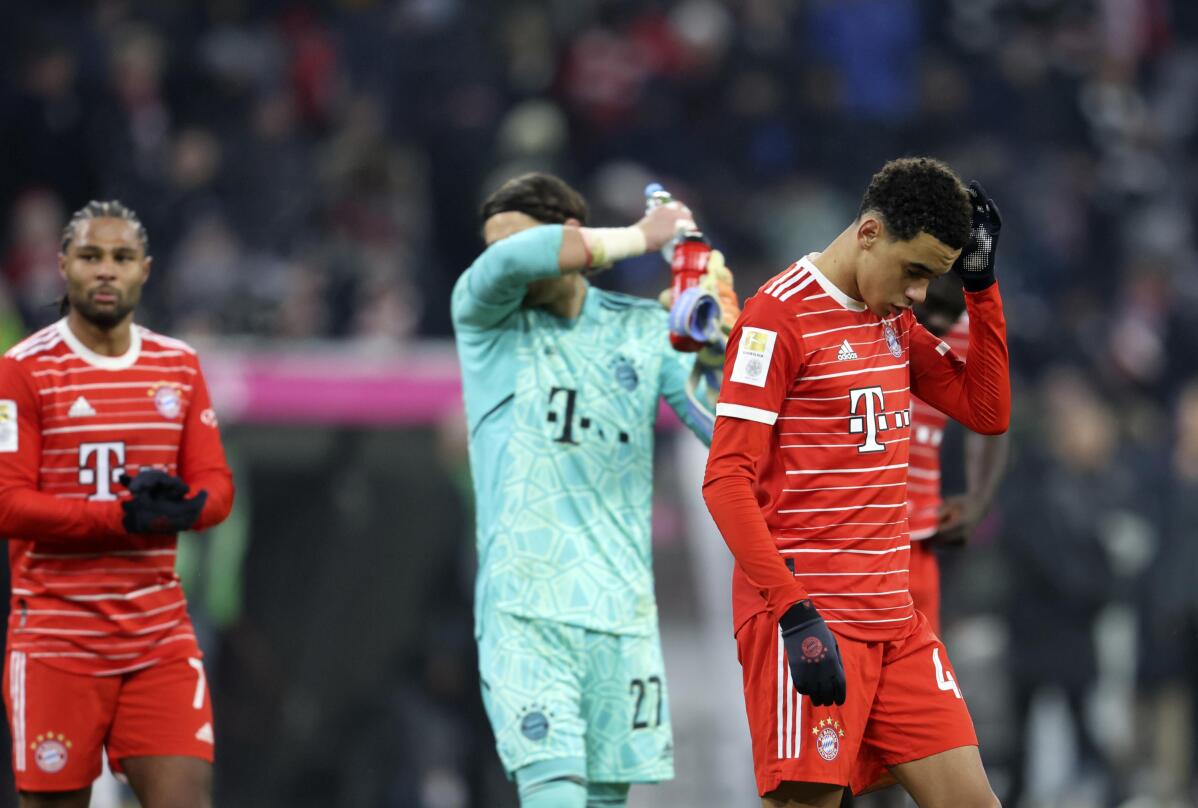 2 of 4

|
Bayern players walk on the pitch at the end of the Bundesliga soccer match between Bayern Munich and Eintracht Frankfurt at the Allianz Arena in Munich, Germany, Saturday, Jan. 28, 2023. (AP Photo/Alexandra Beier)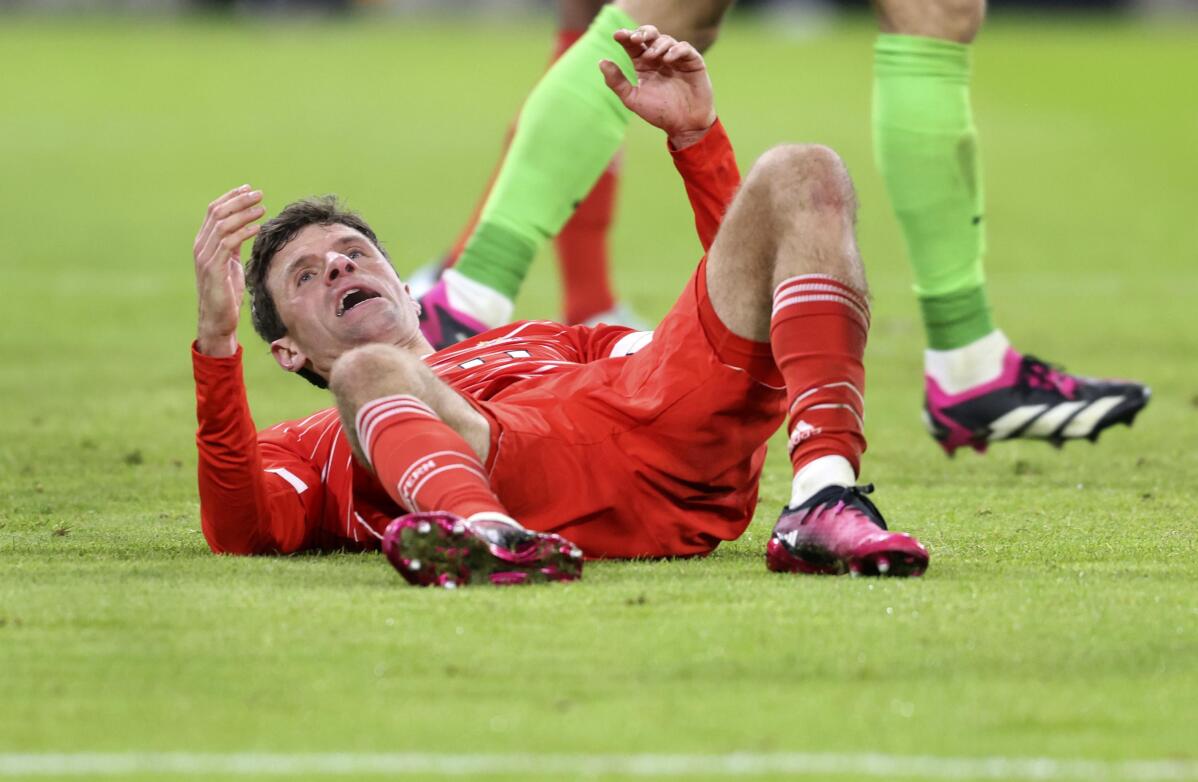 3 of 4

|
Bayern's Thomas Mueller reacts after missing a chance to score during the Bundesliga soccer match between Bayern Munich and Eintracht Frankfurt at the Allianz Arena in Munich, Germany, Saturday, Jan. 28, 2023. (AP Photo/Alexandra Beier)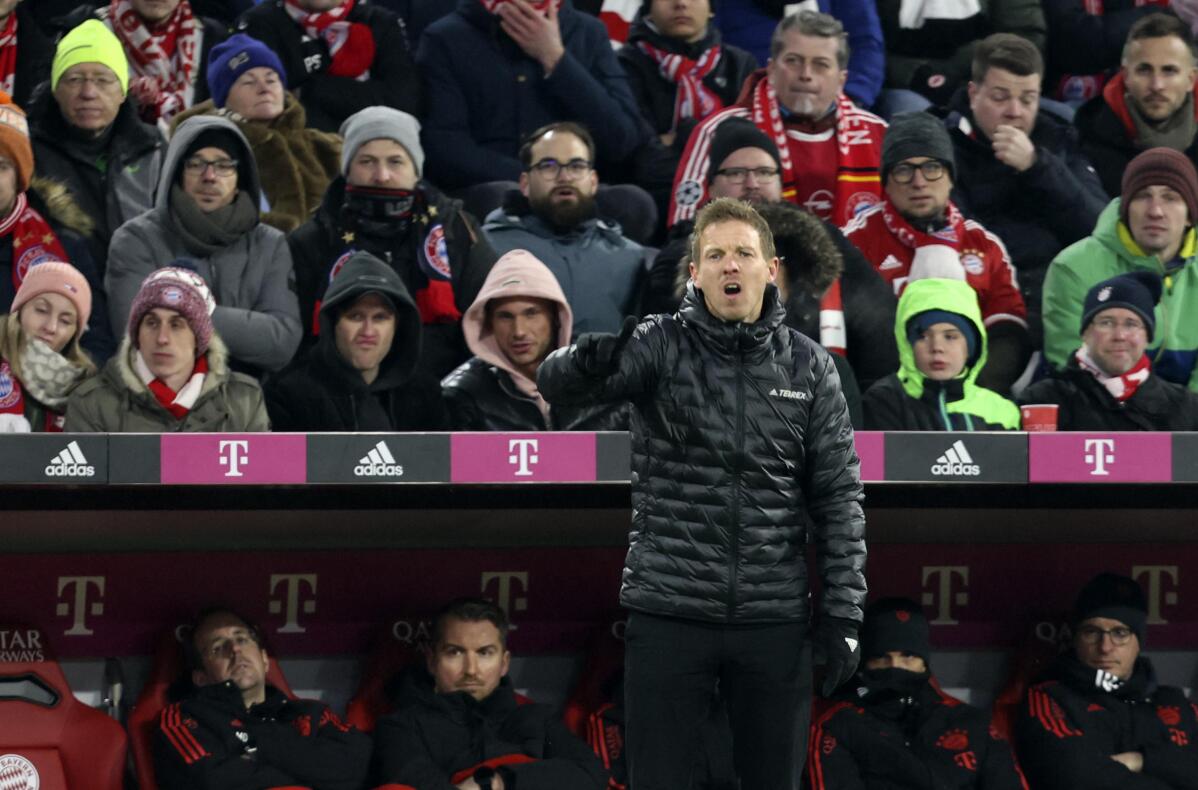 4 of 4

|
Bayern's head coach Julian Nagelsmann gives instructions to his players during the Bundesliga soccer match between Bayern Munich and Eintracht Frankfurt at the Allianz Arena in Munich, Germany, Saturday, Jan. 28, 2023. (AP Photo/Alexandra Beier)
Bayern Munich winless in 2023 and searching for answers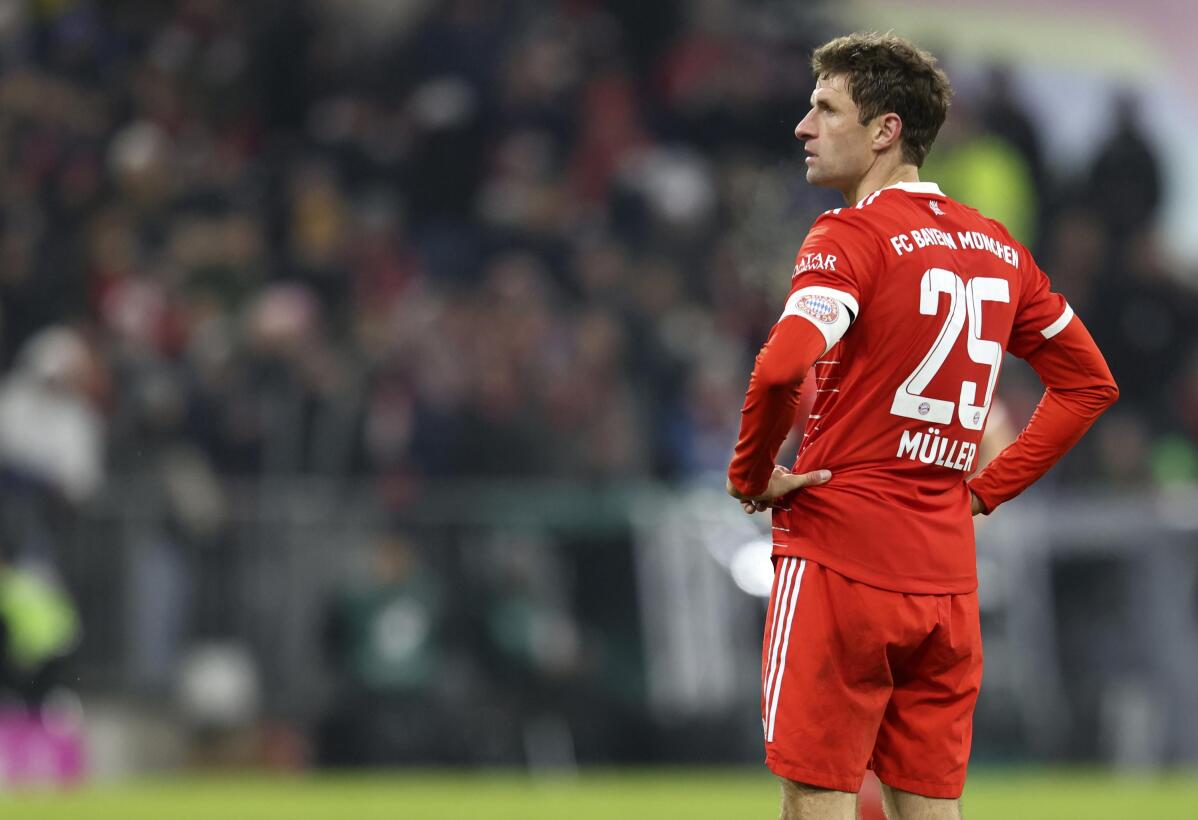 1 of 4

|
Bayern's Thomas Mueller reacts at the end of the Bundesliga soccer match between Bayern Munich and Eintracht Frankfurt at the Allianz Arena in Munich, Germany, Saturday, Jan. 28, 2023. (AP Photo/Alexandra Beier)
1 of 4
Bayern's Thomas Mueller reacts at the end of the Bundesliga soccer match between Bayern Munich and Eintracht Frankfurt at the Allianz Arena in Munich, Germany, Saturday, Jan. 28, 2023. (AP Photo/Alexandra Beier)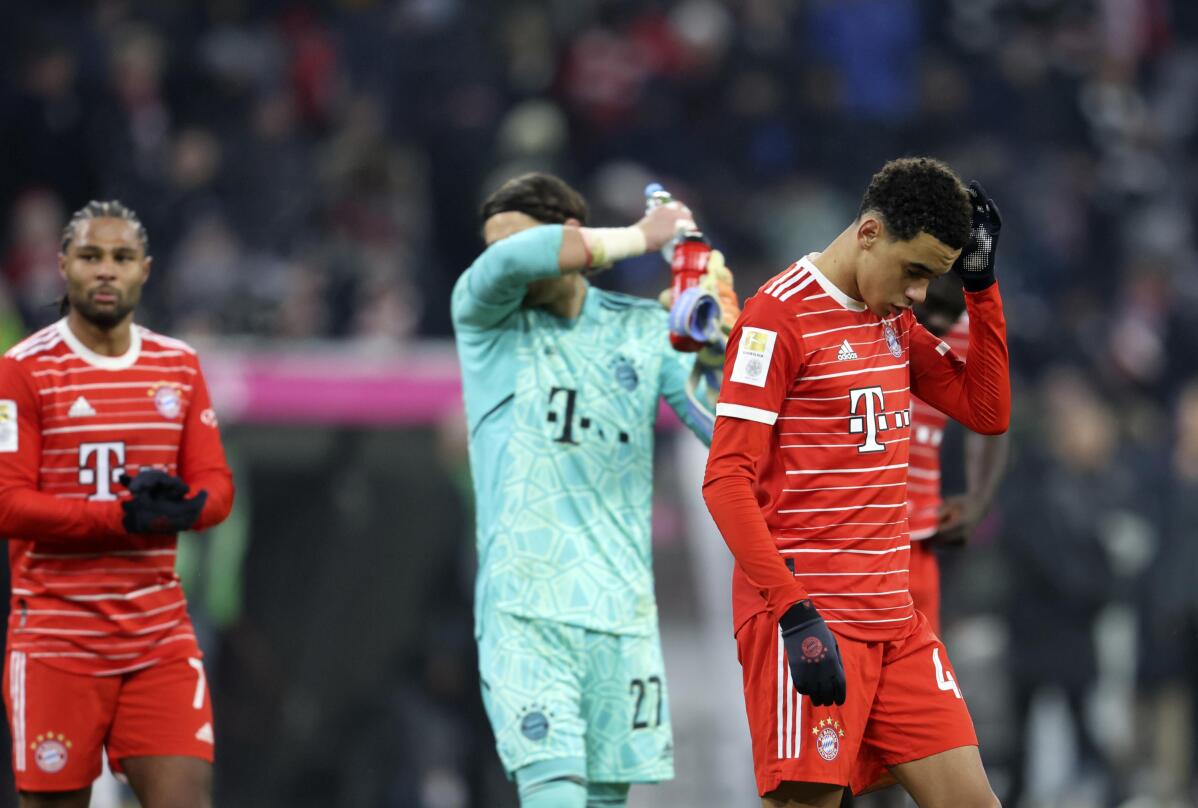 2 of 4

|
Bayern players walk on the pitch at the end of the Bundesliga soccer match between Bayern Munich and Eintracht Frankfurt at the Allianz Arena in Munich, Germany, Saturday, Jan. 28, 2023. (AP Photo/Alexandra Beier)
2 of 4
Bayern players walk on the pitch at the end of the Bundesliga soccer match between Bayern Munich and Eintracht Frankfurt at the Allianz Arena in Munich, Germany, Saturday, Jan. 28, 2023. (AP Photo/Alexandra Beier)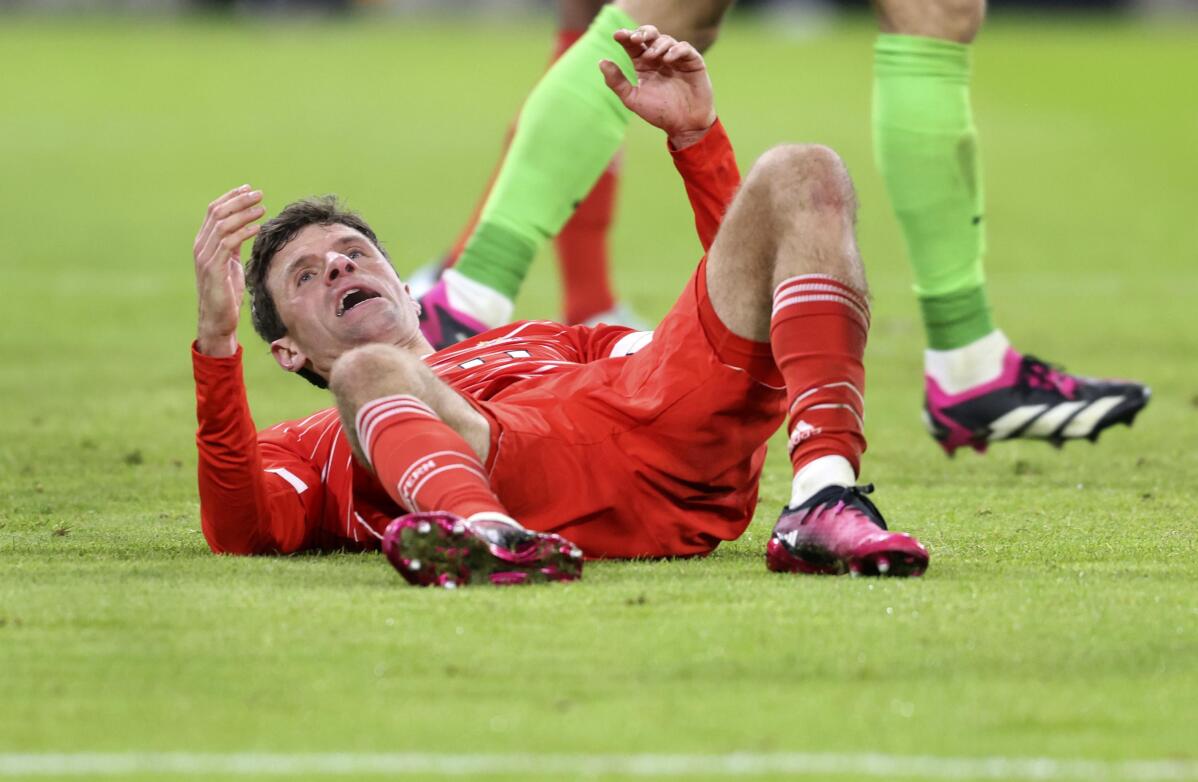 3 of 4

|
Bayern's Thomas Mueller reacts after missing a chance to score during the Bundesliga soccer match between Bayern Munich and Eintracht Frankfurt at the Allianz Arena in Munich, Germany, Saturday, Jan. 28, 2023. (AP Photo/Alexandra Beier)
3 of 4
Bayern's Thomas Mueller reacts after missing a chance to score during the Bundesliga soccer match between Bayern Munich and Eintracht Frankfurt at the Allianz Arena in Munich, Germany, Saturday, Jan. 28, 2023. (AP Photo/Alexandra Beier)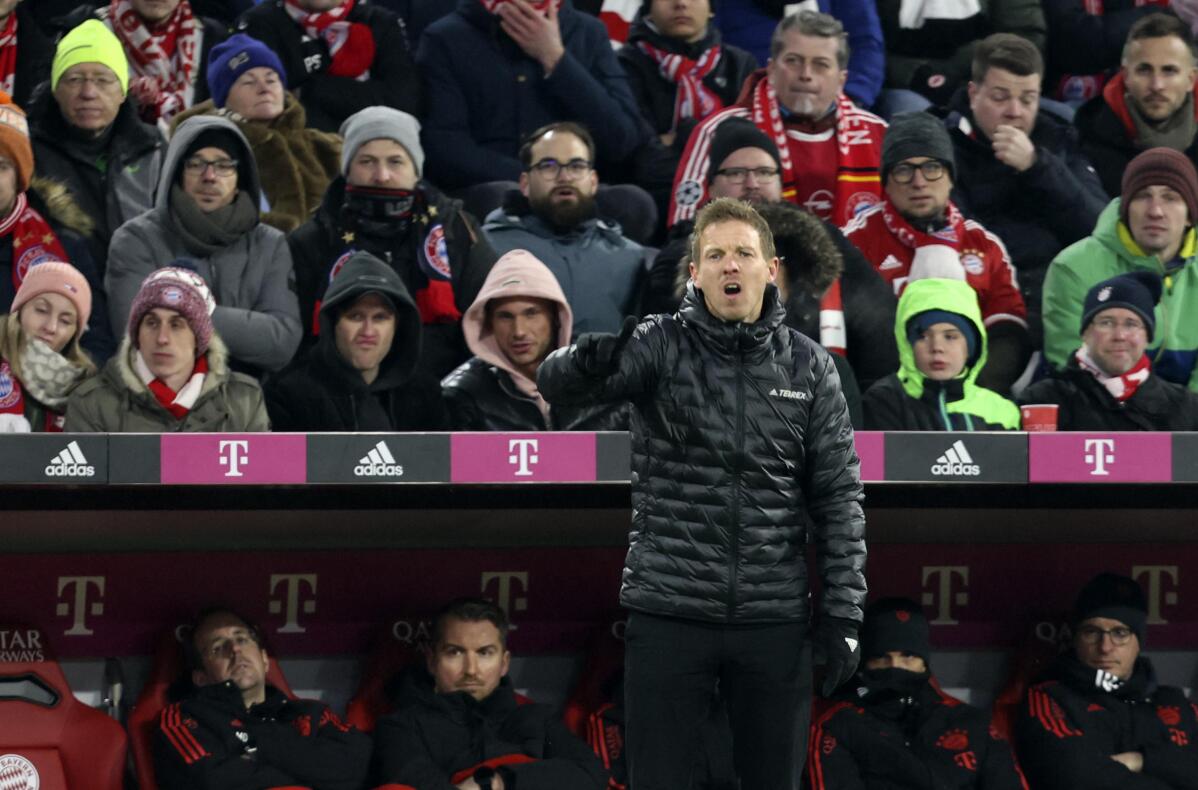 4 of 4

|
Bayern's head coach Julian Nagelsmann gives instructions to his players during the Bundesliga soccer match between Bayern Munich and Eintracht Frankfurt at the Allianz Arena in Munich, Germany, Saturday, Jan. 28, 2023. (AP Photo/Alexandra Beier)
4 of 4
Bayern's head coach Julian Nagelsmann gives instructions to his players during the Bundesliga soccer match between Bayern Munich and Eintracht Frankfurt at the Allianz Arena in Munich, Germany, Saturday, Jan. 28, 2023. (AP Photo/Alexandra Beier)
BERLIN (AP) — Bayern Munich hasn't won a game yet this year.
The Bavarian powerhouse has seen its Bundesliga lead shrink from four points before the World Cup to just one since the league's return.
Three draws in three games — all 1-1 — to Leipzig, Cologne, then Eintracht Frankfurt on Saturday, have prompted another round of introspection and piled the pressure on coach Julian Nagelsmann ahead of the decisive stage of the season.
Bayern visits Mainz in the third round of the German Cup on Wednesday, two weeks before the team's trip to Paris Saint-Germain for the first leg of their Champions League knockout clash.
Though it hadn't been expected to make any further winter signings, Bayern was reportedly close Monday to tying up a surprise loan deal for Portugal left back João Cancelo from Manchester City. It would give Bayern more security in defense and an added attacking threat on the left.
It's not the first time Bayern has slumped this season — the 10-time defending champions went four Bundesliga games without a win in September — but this time there's little room for error and less time to correct them.
Bayern had two weeks off to regroup after the team's 1-0 loss at Augsburg on Sept. 17. At the time, Nagelsmann was reportedly summoned for intensive discussions with his superiors and he prepared a detailed analysis of the entire team. Kicker magazine reported that the players were amazed when Nagelsmann later pointed out their individual mistakes in personal consultations with each.
On Saturday, Nagelsmann complained that the players were making the same mistakes and a lack of confidence is playing a role. It's a vicious circle.
"When you don't win, confidence isn't so high," Nagelsmann said. "We can do a lot more to regain confidence. There are many things we could do better, and speeding up the game is a very important one."
Bayern struggled to create chances against Frankfurt, Cologne and Leipzig's well-organized defenses.
"We only play through the wings, hardly ever through the center," Nagelsmann said after the draw with Frankfurt.
After the draw against Cologne — also at home — Nagelsmann said off-field distractions such as Serge Gnabry's criticized trip to Paris Fashion Week and injuries to team captain Manuel Neuer and Senegal star Sadio Mané were just "excuses" for the team's poor form.
"We're all professionals, they want to win games," Nagelsmann said.
Before the league's extended winter break, Bayern had won 10 games straight across all competitions, including wins over Inter Milan and Barcelona in the Champions League.
"We're not getting our power on the field," Bayern CEO Oliver Kahn said. "I'd rather we went through a difficult phase now than at the end of the season. But of course, there's a lot at stake now. We really have to step it up in Mainz."
___
More AP soccer: https://apnews.com/hub/soccer and https://twitter.com/AP_Sports