Man United targets win against City and EPL title statement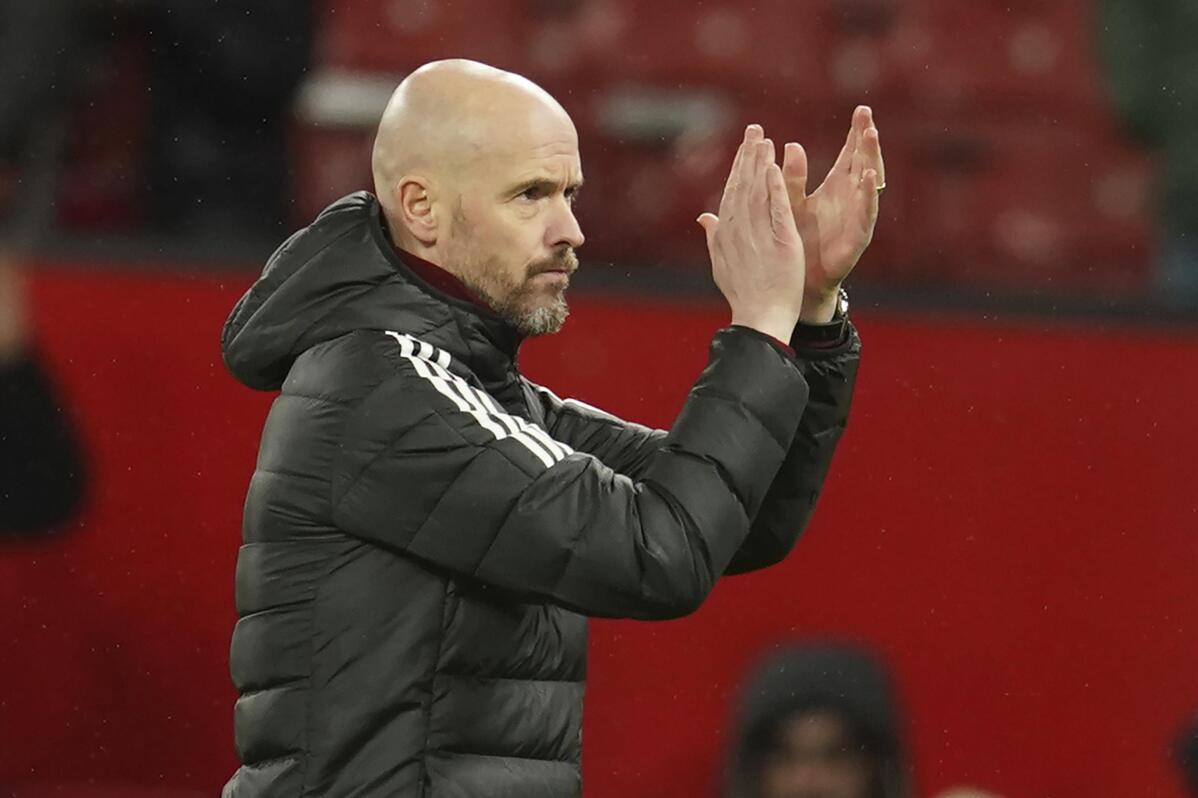 1 of 4

|
Manchester United's head coach Erik ten Hag celebrates after the English League Cup quarter final soccer match between Manchester United and Charlton Athletic at Old Trafford in Manchester, England, Tuesday, Jan. 10, 2023. (AP Photo/Dave Thompson)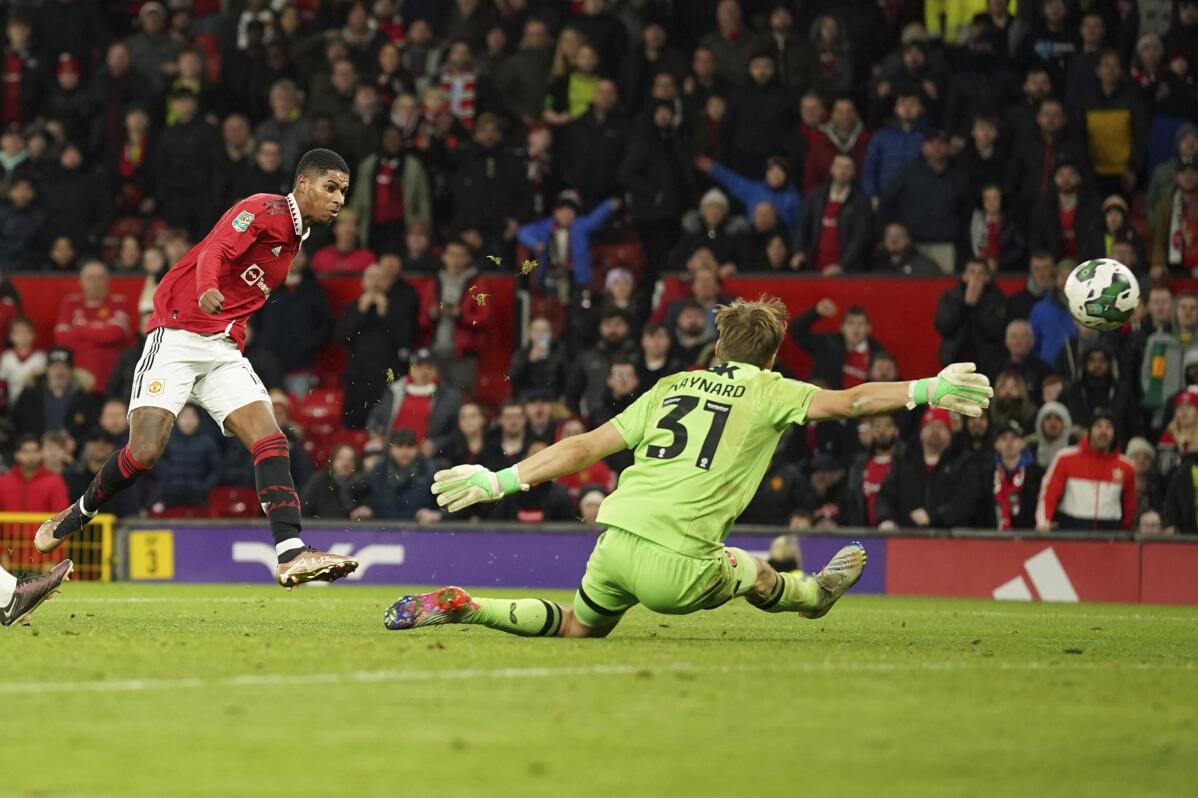 2 of 4

|
Manchester United's Marcus Rashford, left, scores his side's third goal past Charlton's goalkeeper Ashley Maynard-Brewer during the English League Cup quarter final soccer match between Manchester United and Charlton Athletic at Old Trafford in Manchester, England, Tuesday, Jan. 10, 2023. (AP Photo/Dave Thompson)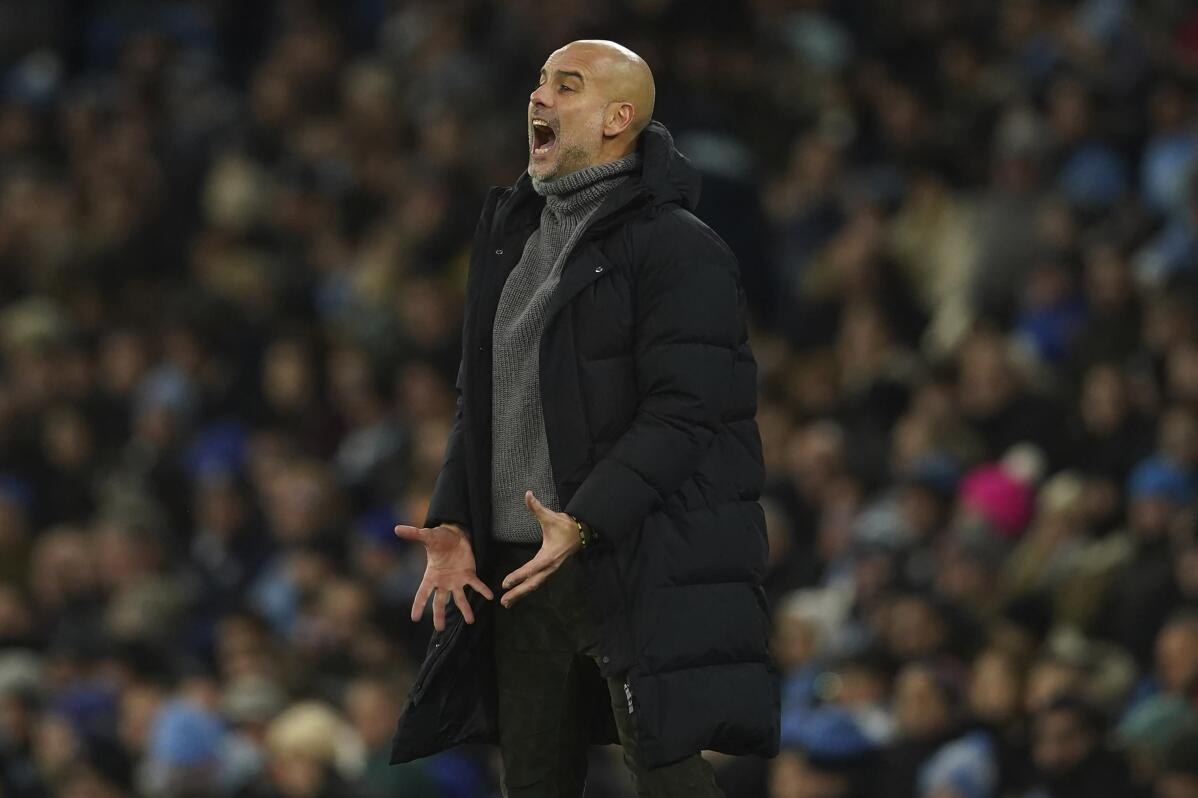 3 of 4

|
Manchester City's head coach Pep Guardiola reacts during the English FA Cup soccer match between Manchester City and Chelsea at the Etihad Stadium in Manchester, England, Sunday, Jan. 8, 2023. (AP Photo/Dave Thompson)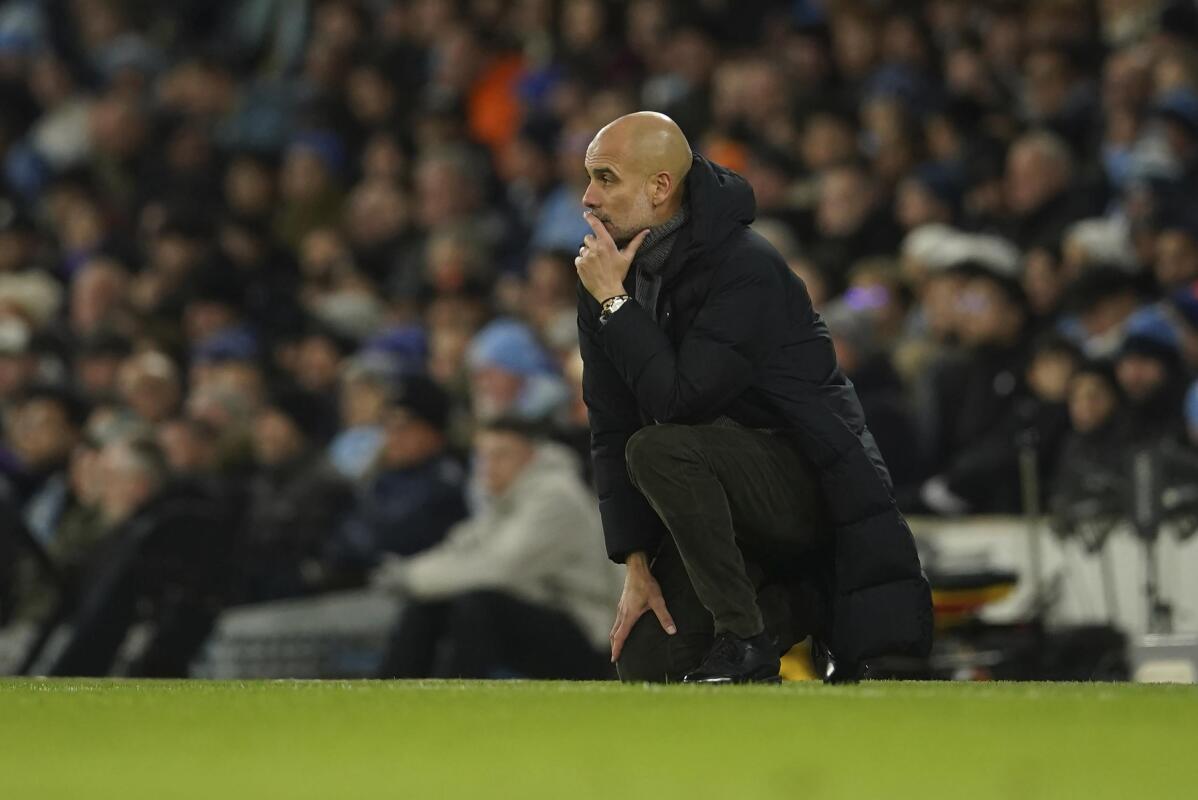 4 of 4

|
Manchester City's head coach Pep Guardiola watches during the English FA Cup soccer match between Manchester City and Chelsea at the Etihad Stadium in Manchester, England, Sunday, Jan. 8, 2023. (AP Photo/Dave Thompson)
Man United targets win against City and EPL title statement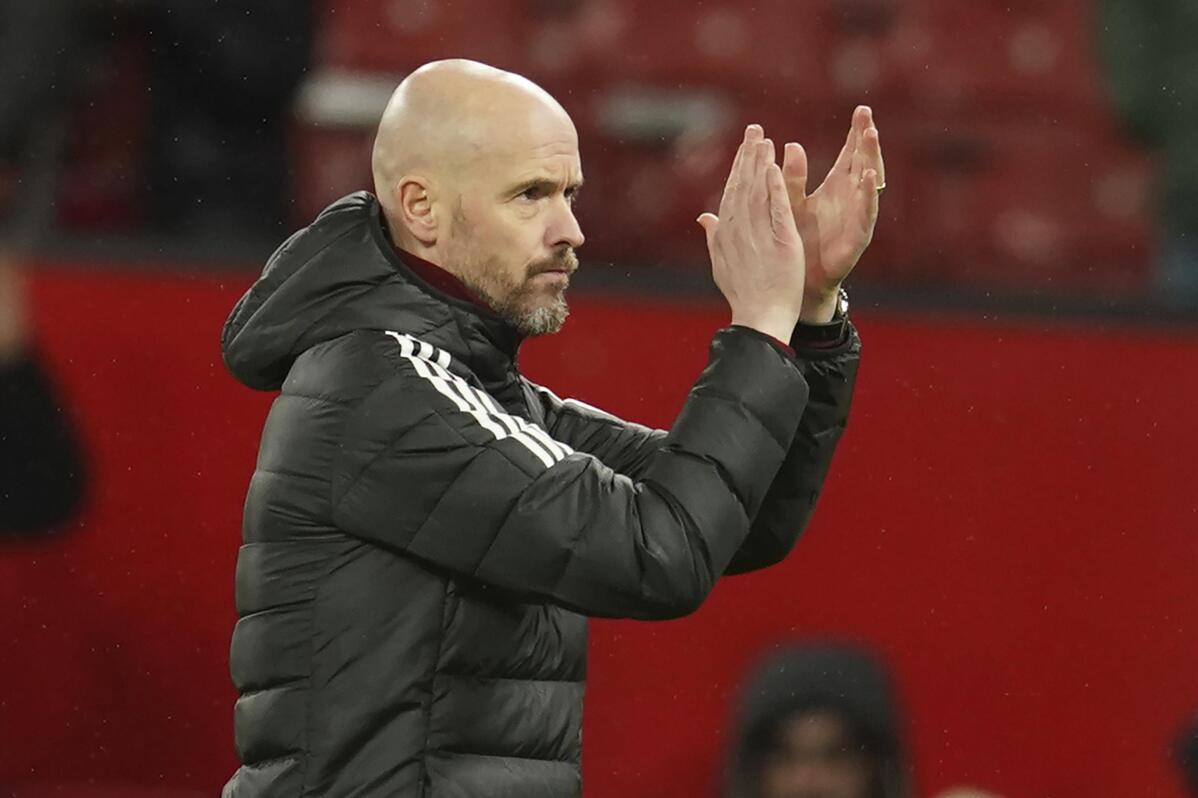 1 of 4

|
Manchester United's head coach Erik ten Hag celebrates after the English League Cup quarter final soccer match between Manchester United and Charlton Athletic at Old Trafford in Manchester, England, Tuesday, Jan. 10, 2023. (AP Photo/Dave Thompson)
1 of 4
Manchester United's head coach Erik ten Hag celebrates after the English League Cup quarter final soccer match between Manchester United and Charlton Athletic at Old Trafford in Manchester, England, Tuesday, Jan. 10, 2023. (AP Photo/Dave Thompson)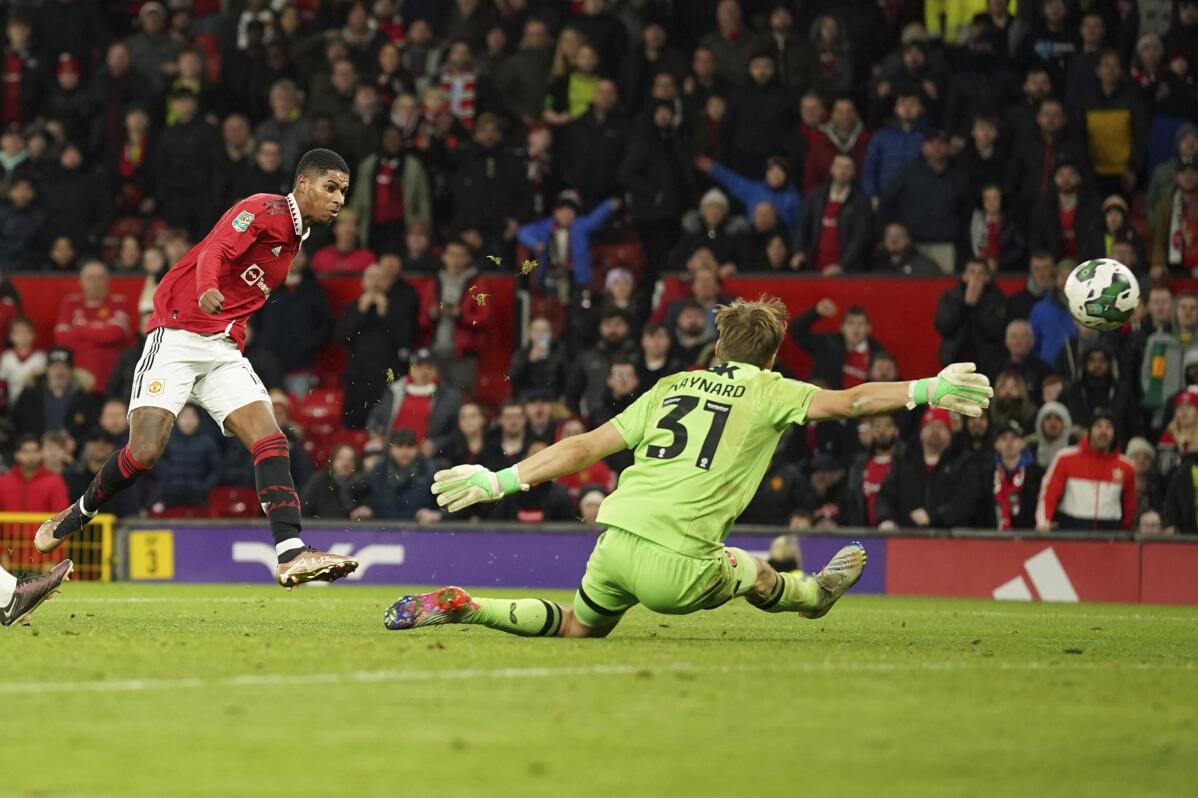 2 of 4

|
Manchester United's Marcus Rashford, left, scores his side's third goal past Charlton's goalkeeper Ashley Maynard-Brewer during the English League Cup quarter final soccer match between Manchester United and Charlton Athletic at Old Trafford in Manchester, England, Tuesday, Jan. 10, 2023. (AP Photo/Dave Thompson)
2 of 4
Manchester United's Marcus Rashford, left, scores his side's third goal past Charlton's goalkeeper Ashley Maynard-Brewer during the English League Cup quarter final soccer match between Manchester United and Charlton Athletic at Old Trafford in Manchester, England, Tuesday, Jan. 10, 2023. (AP Photo/Dave Thompson)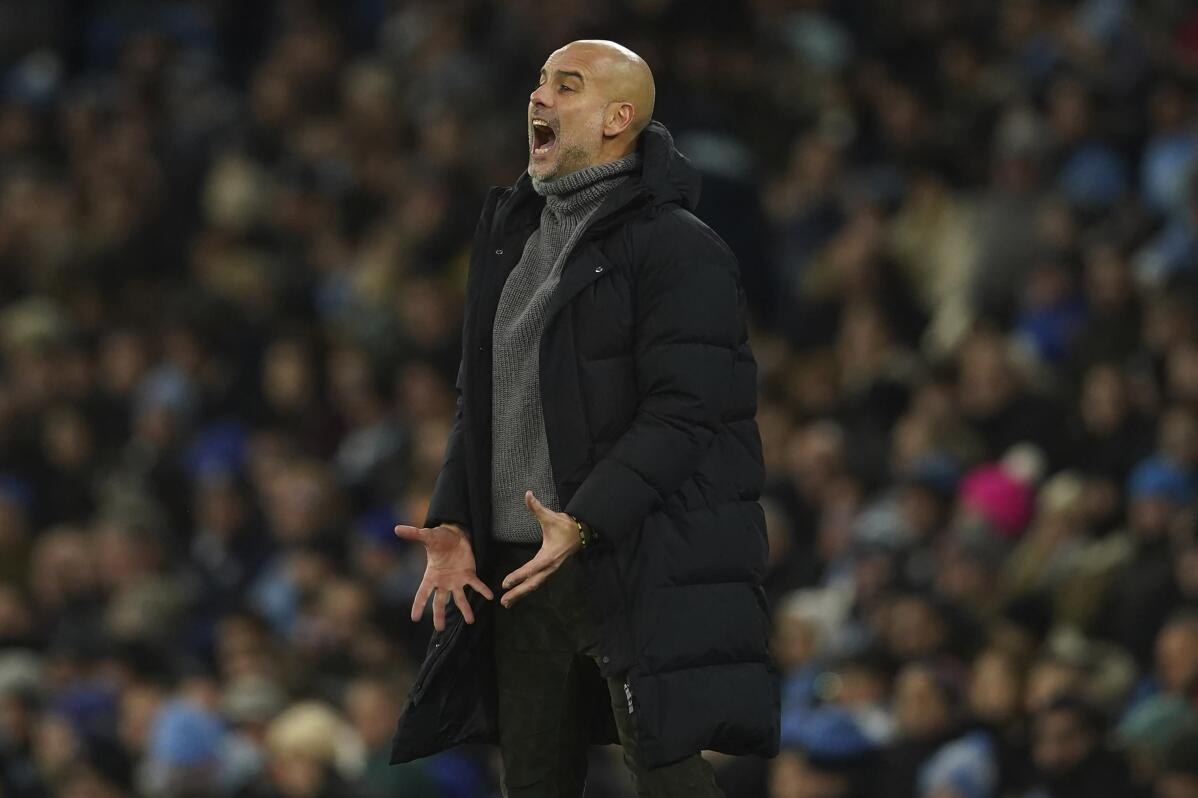 3 of 4

|
Manchester City's head coach Pep Guardiola reacts during the English FA Cup soccer match between Manchester City and Chelsea at the Etihad Stadium in Manchester, England, Sunday, Jan. 8, 2023. (AP Photo/Dave Thompson)
3 of 4
Manchester City's head coach Pep Guardiola reacts during the English FA Cup soccer match between Manchester City and Chelsea at the Etihad Stadium in Manchester, England, Sunday, Jan. 8, 2023. (AP Photo/Dave Thompson)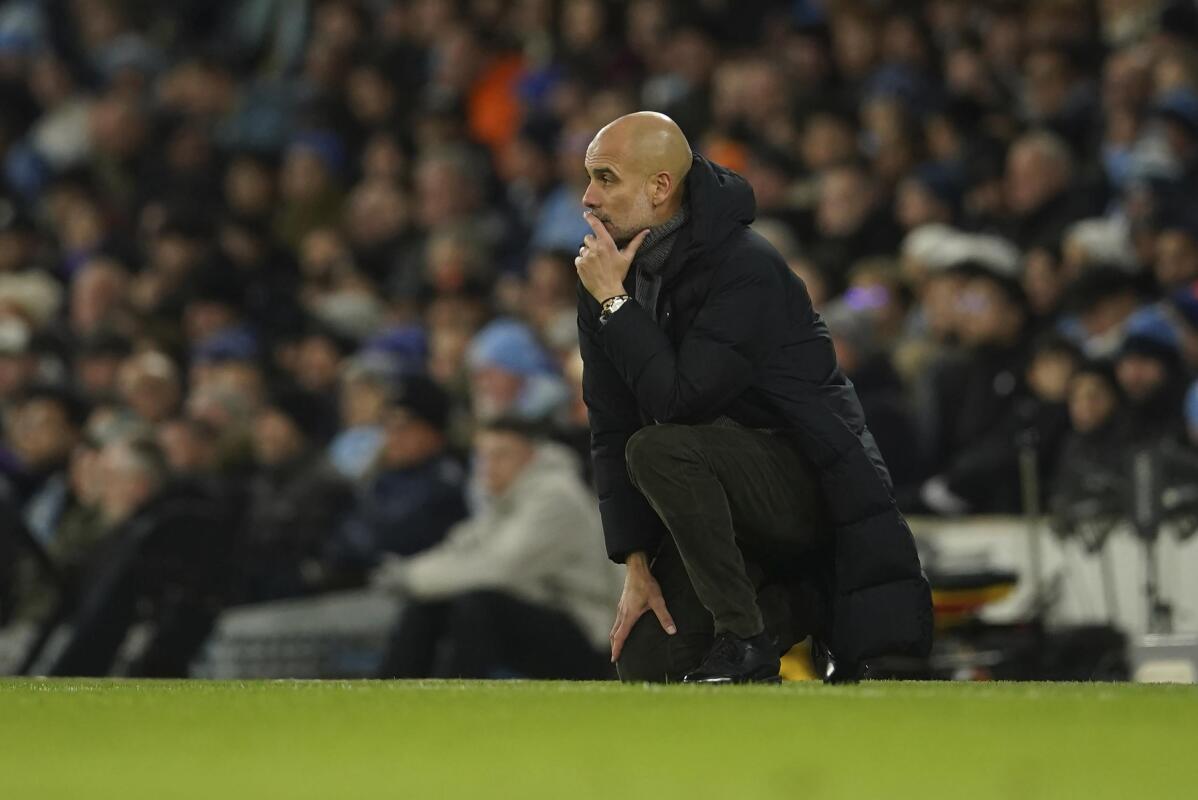 4 of 4

|
Manchester City's head coach Pep Guardiola watches during the English FA Cup soccer match between Manchester City and Chelsea at the Etihad Stadium in Manchester, England, Sunday, Jan. 8, 2023. (AP Photo/Dave Thompson)
4 of 4
Manchester City's head coach Pep Guardiola watches during the English FA Cup soccer match between Manchester City and Chelsea at the Etihad Stadium in Manchester, England, Sunday, Jan. 8, 2023. (AP Photo/Dave Thompson)
MANCHESTER, England (AP) — Erik ten Hag's first experience of the Manchester derby ended in a humiliating 6-3 defeat.
Three months later, much has changed for the Manchester United manager, whose team can move to within a point of Manchester City by beating the English Premier League champion on Saturday.
"It was a lesson and we took that lesson," Ten Hag said on Friday. "And from that point on we made huge progress."
The Dutchman actually thanked City manager Pep Guardiola in the wake of the derby in October.
City, he believed, showed his side the standard it needed to reach if United was to win a first title since 2013.
"That was how I analysed the situation, so I expressed so honestly," Ten Hag said.
There was no talk of a title challenge in October. And while United is still an outsider to be in contention by the end of the season, its resurgence under Ten Hag has sparked hope among fans.
United has lost just once in all competitions since being thrashed by City, winning 15 of a possible 18 games.
It is up to fourth on the table, level on points with third-placed Newcastle, having played a game fewer.
Victory against City would be a statement of intent, and perhaps an indication that United is ready to end the dominance of its neighbor, which has won four league titles in the last five years under Guardiola.
"There is only one truth, always on the pitch," Ten Hag said. "Tomorrow, we have to do better. We know what we have to do work on. It is not coming overnight. No, there was a process in the last months and now we have to face it against the better teams. It is about the mental approach and attitude. We have to be brave, act with belief, and play our game."
Ten Hag coached Bayern Munich's reserve team when Guardiola was head coach at the German giant.
Guardiola has already noted the impact his former colleague has had at United.
" I have a feeling that United is coming," Guardiola said in October.
On Friday, he added, "A new manager has arrived, many things have settled, and the improvement is clear, not just in terms of results, but everything."
Ten Hag has had his challenges in his first months. Consecutive losses at the start of the season put him under immediate pressure. Then there was an unhappy Cristiano Ronaldo, who ultimately had his contract terminated after an explosive interview in which he criticized Ten Hag and United's owners.
Brazil midfielder Casemiro, who was one of Ten Hag's summer recruits, is far more complimentary in his assessment of the former Ajax coach.
"He's certainly a manager who is obsessed with winning. Few managers in my career had the same obsession to win," Casemiro said. "He's someone who always wants to win even in training, he always wants the best. He's a hard-working manager who demands a lot of his players so that we're always at our best, and that's important for us.
"I also view him as a manager with the desire to see Manchester United grow and develop. That's one of his most important characteristics, not just his, but all the coaching staff who follow his lead."
For a manager who was hired, in part, to restore United's swagger on the field, Ten Hag attributes his team's progress to the "boring" work carried out at the training ground since losing to City.
It has paid off. United has conceded just one goal in its last six games and kept 11 clean sheets following the six conceded in that match at Etihad Stadium.
His work on individual players has also been evident with Marcus Rashford rejuvenated and scoring 15 times.
"Maybe it is boring, but things are like that. That game (against City) was a setback, we can all find reasons why, but always you have to act, to deliver," Ten Hag said.
"As a manager, a coach, you have to go to certain steps, you need a clear philosophy, a clear point where you want to go. Then it is about development and that is what we did. But like many things in life, particularly football, there is never an end point."
___
More AP soccer: https://apnews.com/hub/soccer and https://twitter.com/AP_Sports
___
James Robson is at https://twitter.com/jamesalanrobson