More talent, same exit from Europe for Barcelona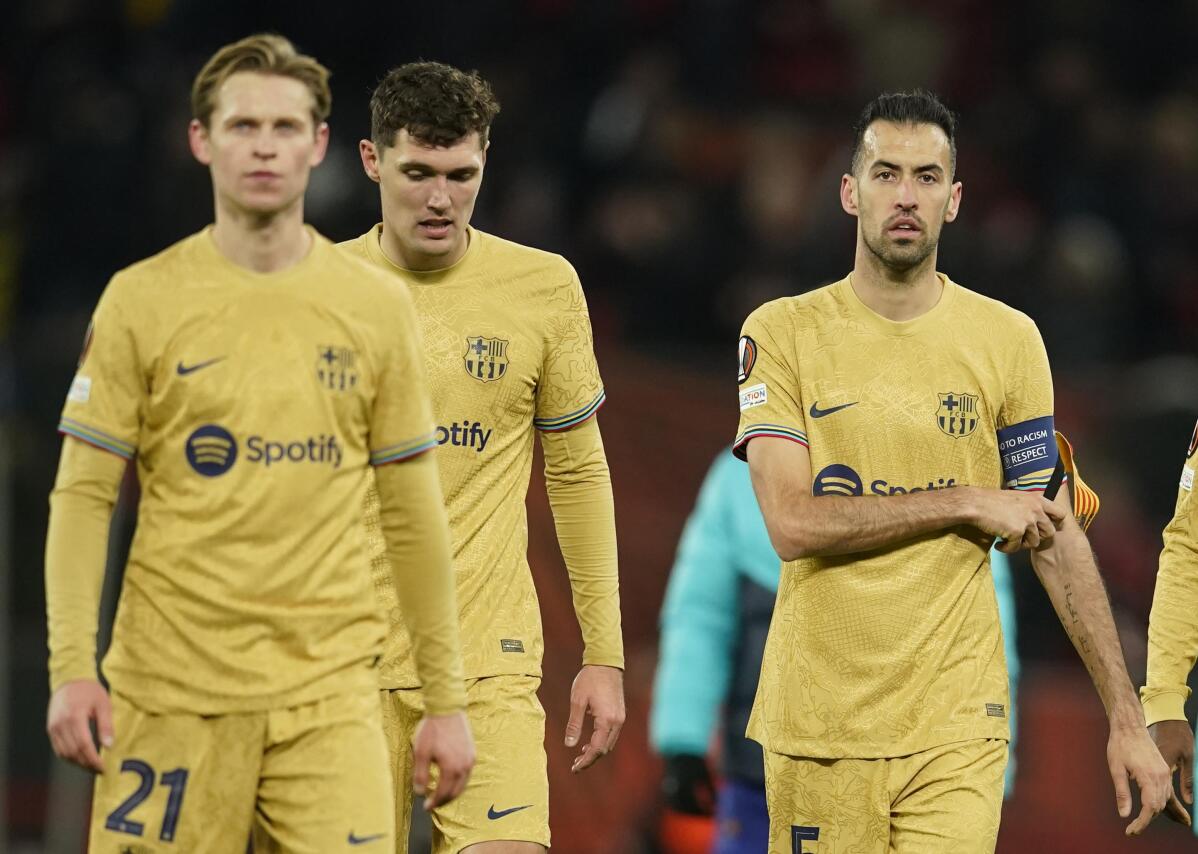 1 of 3

|
Barcelona's Frenkie de Jong, left, Barcelona's Andreas Christensen, centre, and Barcelona's Sergio Busquets walk off the field at the end of the Europa League playoff second leg soccer match between Manchester United and Barcelona at Old Trafford stadium in Manchester, England, Thursday, Feb. 23, 2023. Manchester United won 2-1. (AP Photo/Dave Thompson)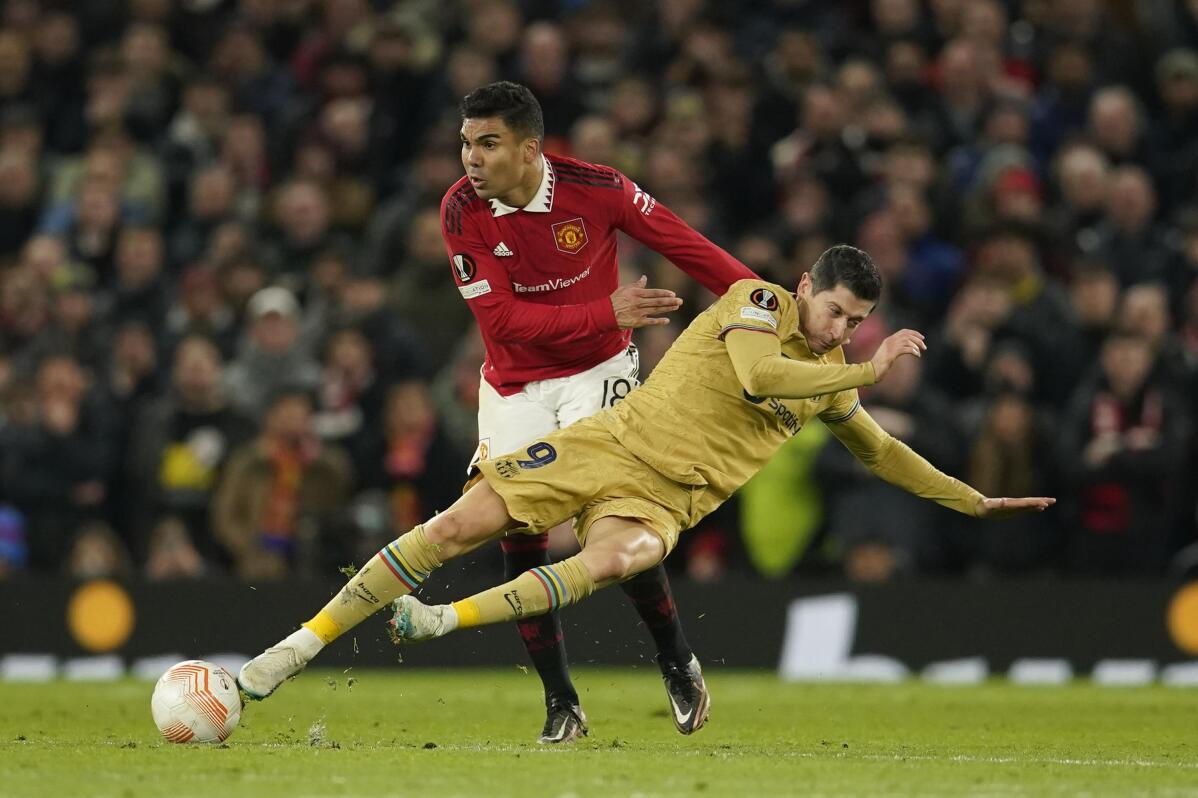 2 of 3

|
Barcelona's Robert Lewandowski, foreground, is challenged by Manchester United's Casemiro during the Europa League playoff second leg soccer match between Manchester United and Barcelona at Old Trafford stadium in Manchester, England, Thursday, Feb. 23, 2023. (AP Photo/Dave Thompson)
3 of 3

|
Manchester United's Fred, right, is challenged by Barcelona's Jules Kounde during the Europa League playoff second leg soccer match between Manchester United and Barcelona at Old Trafford stadium in Manchester, England, Thursday, Feb. 23, 2023. (AP Photo/Dave Thompson)
More talent, same exit from Europe for Barcelona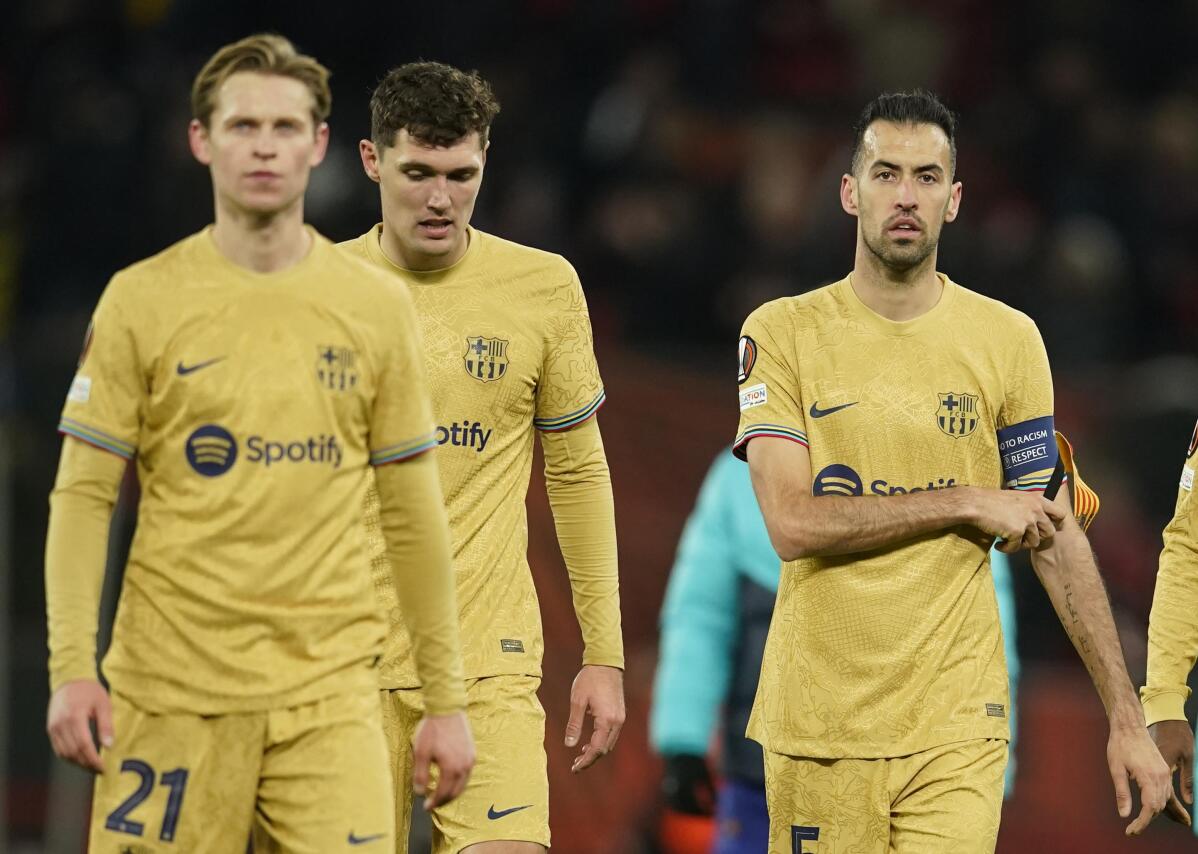 1 of 3

|
Barcelona's Frenkie de Jong, left, Barcelona's Andreas Christensen, centre, and Barcelona's Sergio Busquets walk off the field at the end of the Europa League playoff second leg soccer match between Manchester United and Barcelona at Old Trafford stadium in Manchester, England, Thursday, Feb. 23, 2023. Manchester United won 2-1. (AP Photo/Dave Thompson)
1 of 3
Barcelona's Frenkie de Jong, left, Barcelona's Andreas Christensen, centre, and Barcelona's Sergio Busquets walk off the field at the end of the Europa League playoff second leg soccer match between Manchester United and Barcelona at Old Trafford stadium in Manchester, England, Thursday, Feb. 23, 2023. Manchester United won 2-1. (AP Photo/Dave Thompson)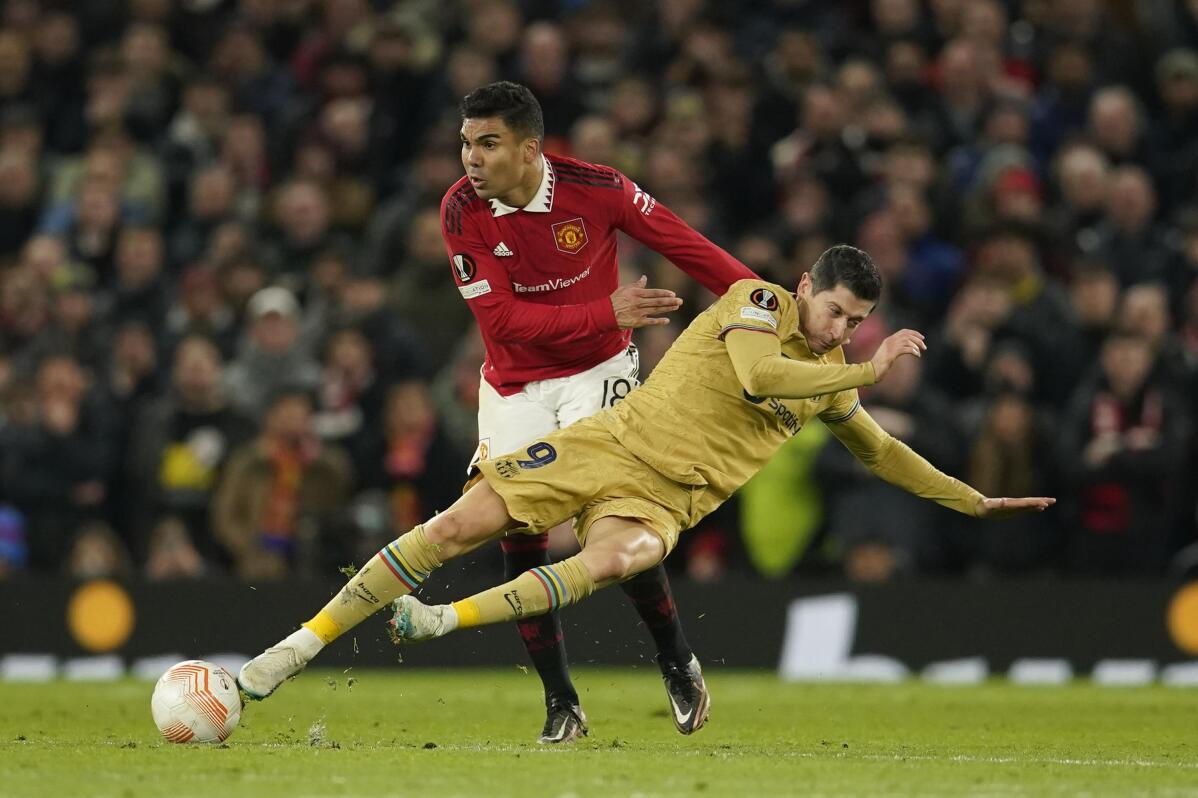 2 of 3

|
Barcelona's Robert Lewandowski, foreground, is challenged by Manchester United's Casemiro during the Europa League playoff second leg soccer match between Manchester United and Barcelona at Old Trafford stadium in Manchester, England, Thursday, Feb. 23, 2023. (AP Photo/Dave Thompson)
2 of 3
Barcelona's Robert Lewandowski, foreground, is challenged by Manchester United's Casemiro during the Europa League playoff second leg soccer match between Manchester United and Barcelona at Old Trafford stadium in Manchester, England, Thursday, Feb. 23, 2023. (AP Photo/Dave Thompson)
3 of 3

|
Manchester United's Fred, right, is challenged by Barcelona's Jules Kounde during the Europa League playoff second leg soccer match between Manchester United and Barcelona at Old Trafford stadium in Manchester, England, Thursday, Feb. 23, 2023. (AP Photo/Dave Thompson)
3 of 3
Manchester United's Fred, right, is challenged by Barcelona's Jules Kounde during the Europa League playoff second leg soccer match between Manchester United and Barcelona at Old Trafford stadium in Manchester, England, Thursday, Feb. 23, 2023. (AP Photo/Dave Thompson)
BARCELONA, Spain (AP) — Barcelona's risky financial decision last year to trade future revenues for much-needed cash to rebuild its squad is so far paying dividends in Spanish competitions.
But it's a different story on the wider European stage — whether in the elite Champions League or the second-tier Europa League — which remains full of pitfalls for the once dominant Catalan club.
Barcelona exited the Europa League on Thursday after Manchester United fought back for a 2-1 win and advanced to the round of 16 on a 4-3 aggregate result.
That made it two seasons running that Barcelona hasn't come close to fighting for a Europa League title after failing to even advance from the Champions League group stage.
"We are missing that little edge and have to learn to compete better in Europe," Barcelona veteran captain Sergio Busquets said after his team's latest elimination.
Busquets, a World Cup and three-time Champions League winner, knows the standard required for success. But the magic that made Barcelona an almost untouchable force in Europe had long faded even before Lionel Messi left the club two summers ago, with Barcelona accumulating several painful Champions League eliminations topped by its 8-2 debacle to Bayern Munich in 2020.
Barcelona is caught in a prolonged crisis of its own making. With an underperforming team and a debt that stood at 1 billion euros ($1 billion) at the start of the season, club president Joan Laporta came to the conclusion that the only way to turn the club's fortunes around was to spend money it did not immediately have. So the club sold off stakes of its future television revenues and other assets to be able to make several signings, including Poland striker Robert Lewandowski, Brazil forward Raphinha and France defender Jules Koundé.
All three started against United, but the result was another disappointment.
Barcelona coach Xavi said that perhaps his team could have kept control of the game — after going ahead through Lewandowski's first-half penalty — if midfielders Pedri (injured) and Gavi (suspended) had been available.
But Xavi still had Busquets and Netherlands midfielder Frenkie de Jong on the field, and it was his decision to give a rare start in midfield to workman Sergi Roberto, instead of providing more punch to his attack with Ansu Fati or Ferran Torres. When the pair of Spain forwards went on late as substitutes, United already had turned the game around with goals by Fred and Antony.
Last April, Barcelona was stunned in the Europa League by Frankfurt, whose 3-2 victory at Camp Nou sent the German side through to the semifinals on a 4-3 aggregate score.
This time, Barcelona is out of European competition in February. The only solace is that they went down to in-form United.
Barcelona failed to get any win in home-and-away games against Bayern Munich and Inter Milan in their Champions League group, where it finished with seven points from six games.
"We have faced very strong rivals and we have competed, not like last season when we weren't able to," Xavi said after the defeat at Old Trafford. "It just got away from us in the details. We just have to try again next year, learn from our mistakes, be self-critical, and turn our focus to the league and the cup."
Not all is lost for Barcelona, though. It has a commanding eight-point lead over Real Madrid in the Spanish league and is set to play its fierce rival in the Copa del Rey semifinals next week. First it visits Almeria in the league on Sunday. Laporta has said that reclaiming the league, which it hasn't won since 2019, is the top priority.
But Laporta and his club have more pressing problems. A Spanish state prosecutor is probing Barcelona's payment of millions of euros over several years to a company that belonged to the vice president of the refereeing committee in Spain. Barcelona says the money was for technical reports on referees and youth players, and denies any attempt to influence referees.
Even if the official investigation fails to come up with any wrongdoing, the potential reputational damage to Barcelona, and to the legacy of its most glorious era under Messi, may already be beyond repair for some soccer fans.
___
More AP soccer: https://apnews.com/hub/soccer and https://twitter.com/AP_Sports