Rampant Man United wins again, not missing departed Ronaldo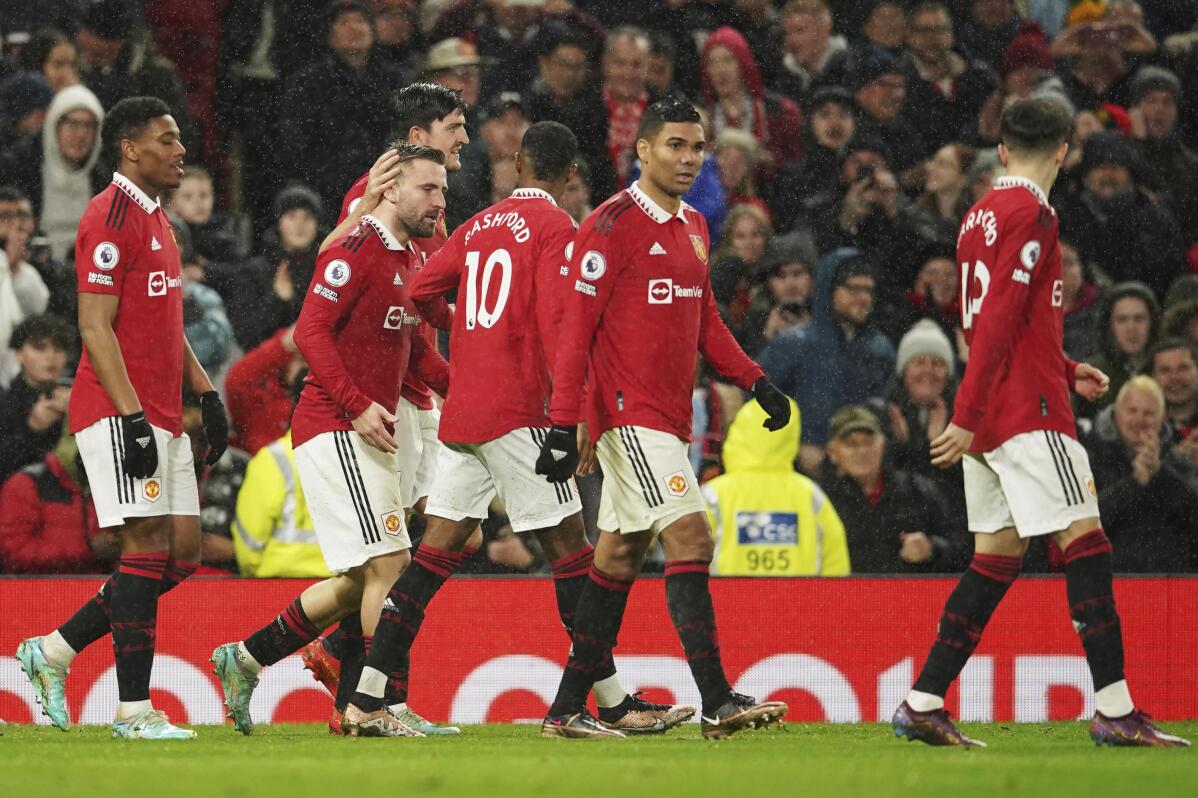 1 of 7

|
Manchester United's Luke Shaw, second from left, celebrates with teammates after scoring his side's second goal during the English Premier League soccer match between Manchester United and Bournemouth at Old Trafford in Manchester, England, Tuesday, Jan. 3, 2023. (AP Photo/Dave Thompson)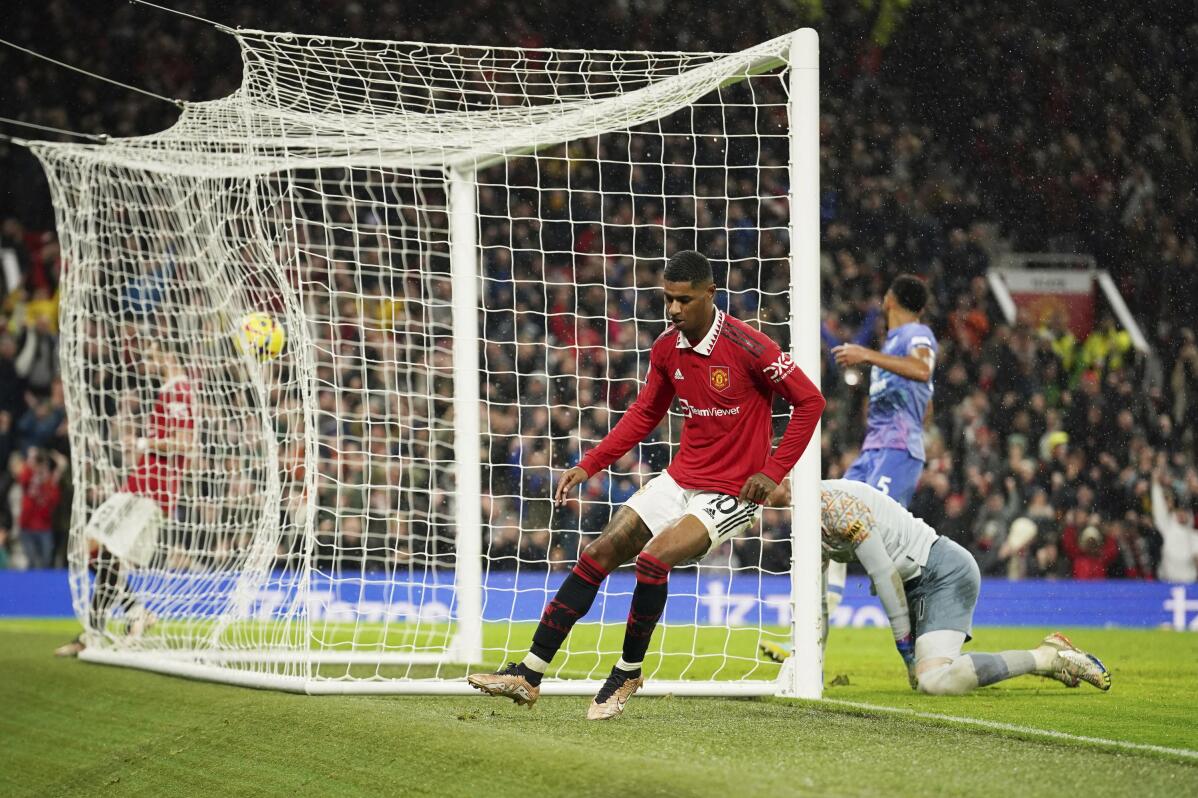 2 of 7

|
Manchester United's Marcus Rashford, centre, celebrates after scoring his side's third goal during the English Premier League soccer match between Manchester United and Bournemouth at Old Trafford in Manchester, England, Tuesday, Jan. 3, 2023. (AP Photo/Dave Thompson)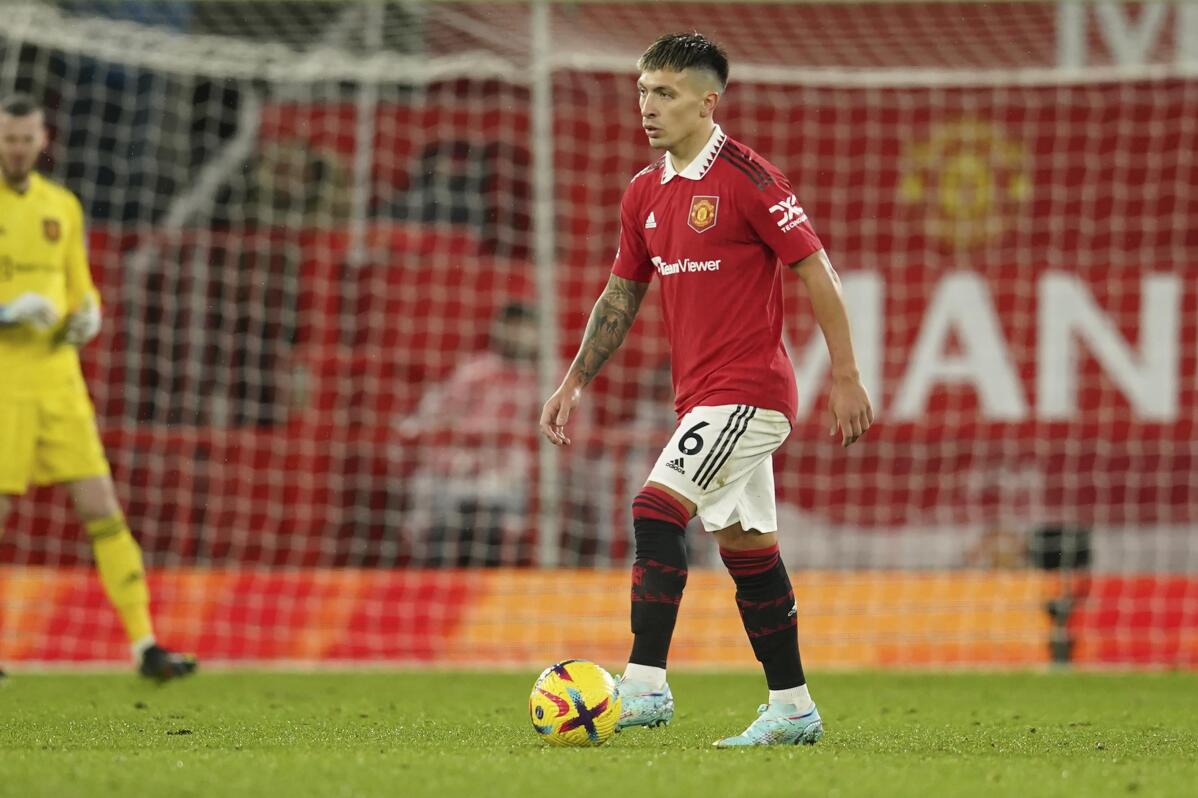 3 of 7

|
Manchester United's Lisandro Martinez controls the ball during the English Premier League soccer match between Manchester United and Bournemouth at Old Trafford in Manchester, England, Tuesday, Jan. 3, 2023. (AP Photo/Dave Thompson)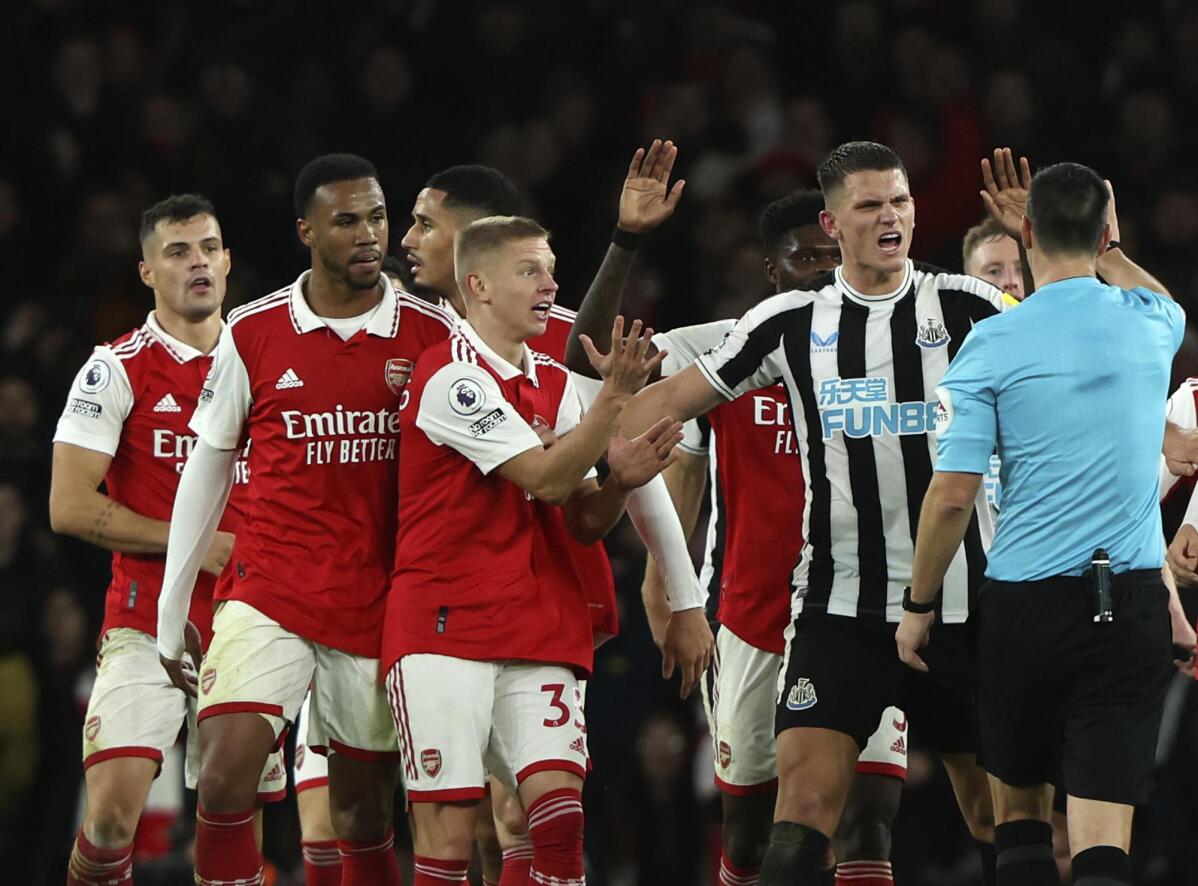 4 of 7

|
Referee Andy Madley discusses with players during the English Premier League soccer match between Arsenal and Newcastle United at Emirates stadium in London, Tuesday, Jan. 3, 2023. (AP Photo/Ian Walton)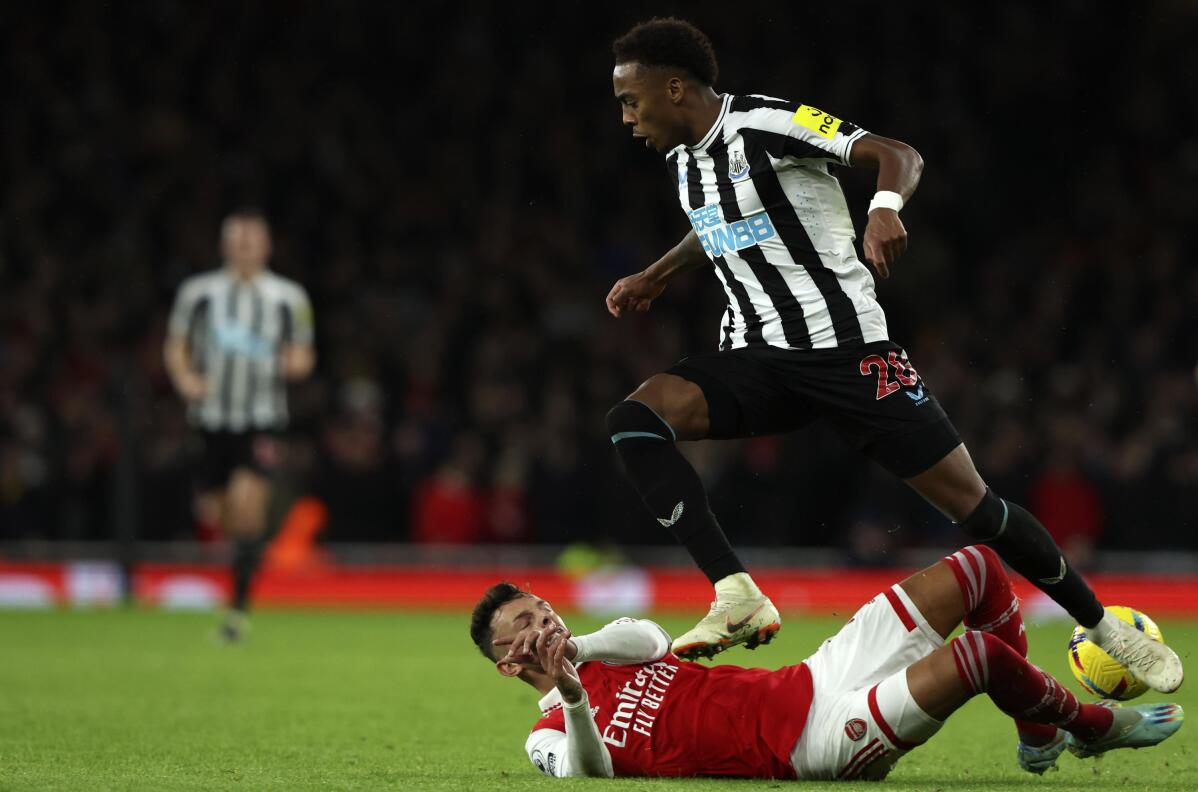 5 of 7

|
Newcastle's Joe Willock, top, duels for the ball with Arsenal's Ben White during the English Premier League soccer match between Arsenal and Newcastle United at Emirates stadium in London, Tuesday, Jan. 3, 2023. (AP Photo/Ian Walton)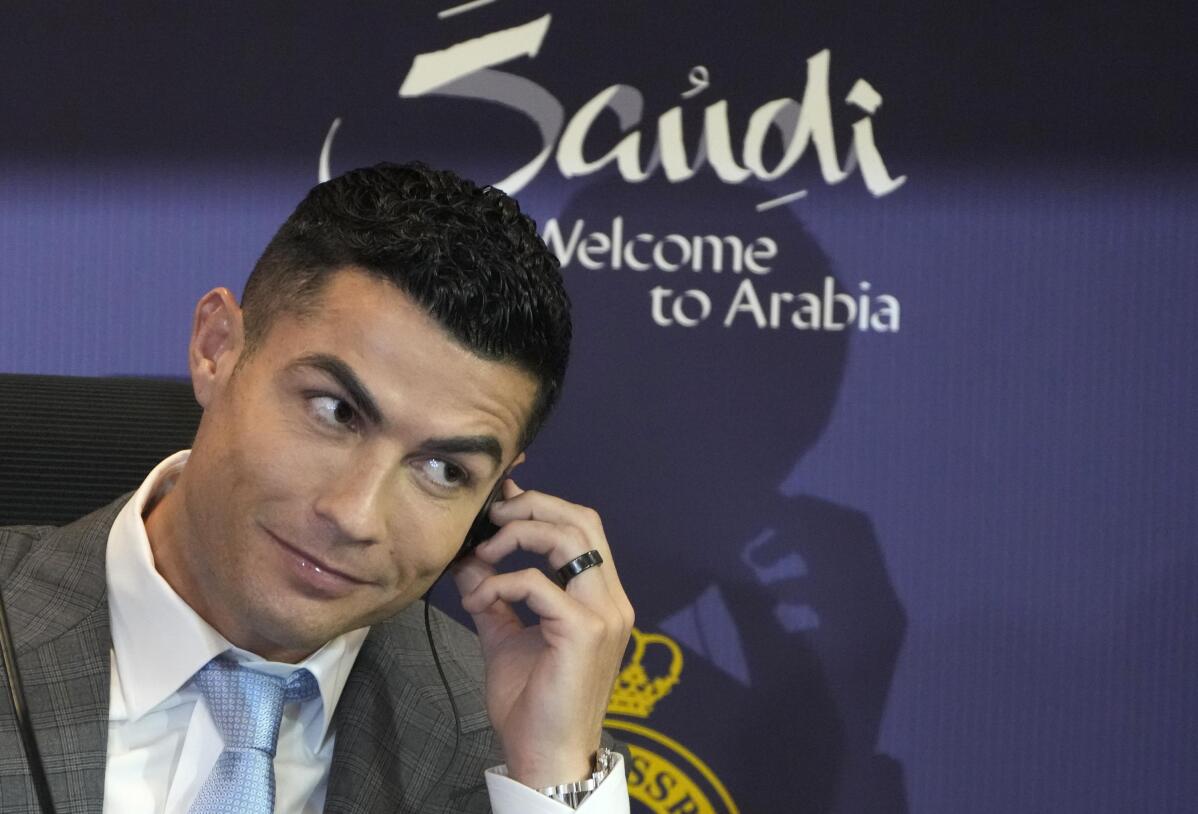 6 of 7

|
Cristiano Ronaldo speaks during a press conference for his official unveiling as a new member of Al Nassr soccer club in in Riyadh, Saudi Arabia, Tuesday, Jan. 3, 2023. Ronaldo, who has won five Ballon d'Ors awards for the best soccer player in the world and five Champions League titles, will play outside of Europe for the first time in his storied career. (AP Photo/Amr Nabil)
7 of 7

|
Cristiano Ronaldo smiles during a press conference for his official unveiling as a new member of Al Nassr soccer club in in Riyadh, Saudi Arabia, Tuesday, Jan. 3, 2023. Ronaldo, who has won five Ballon d'Ors awards for the best soccer player in the world and five Champions League titles, will play outside of Europe for the first time in his storied career. (AP Photo/Amr Nabil)
Rampant Man United wins again, not missing departed Ronaldo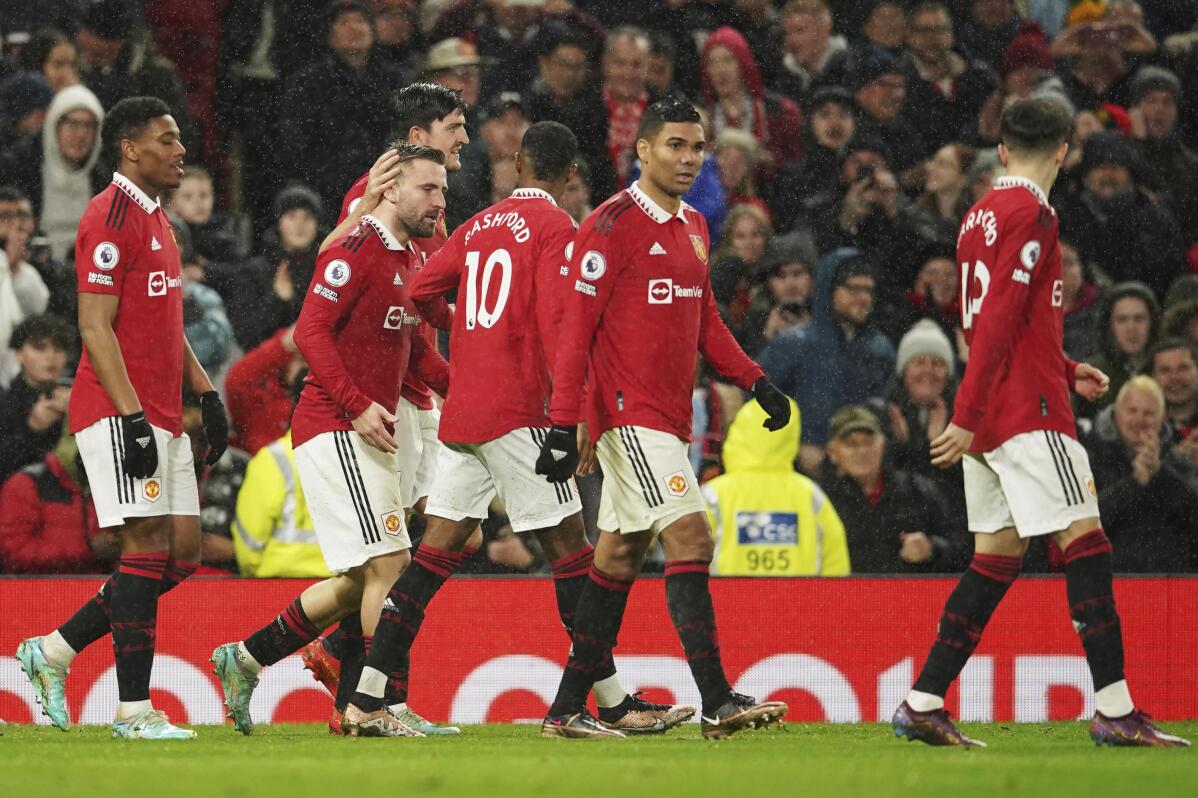 1 of 7

|
Manchester United's Luke Shaw, second from left, celebrates with teammates after scoring his side's second goal during the English Premier League soccer match between Manchester United and Bournemouth at Old Trafford in Manchester, England, Tuesday, Jan. 3, 2023. (AP Photo/Dave Thompson)
1 of 7
Manchester United's Luke Shaw, second from left, celebrates with teammates after scoring his side's second goal during the English Premier League soccer match between Manchester United and Bournemouth at Old Trafford in Manchester, England, Tuesday, Jan. 3, 2023. (AP Photo/Dave Thompson)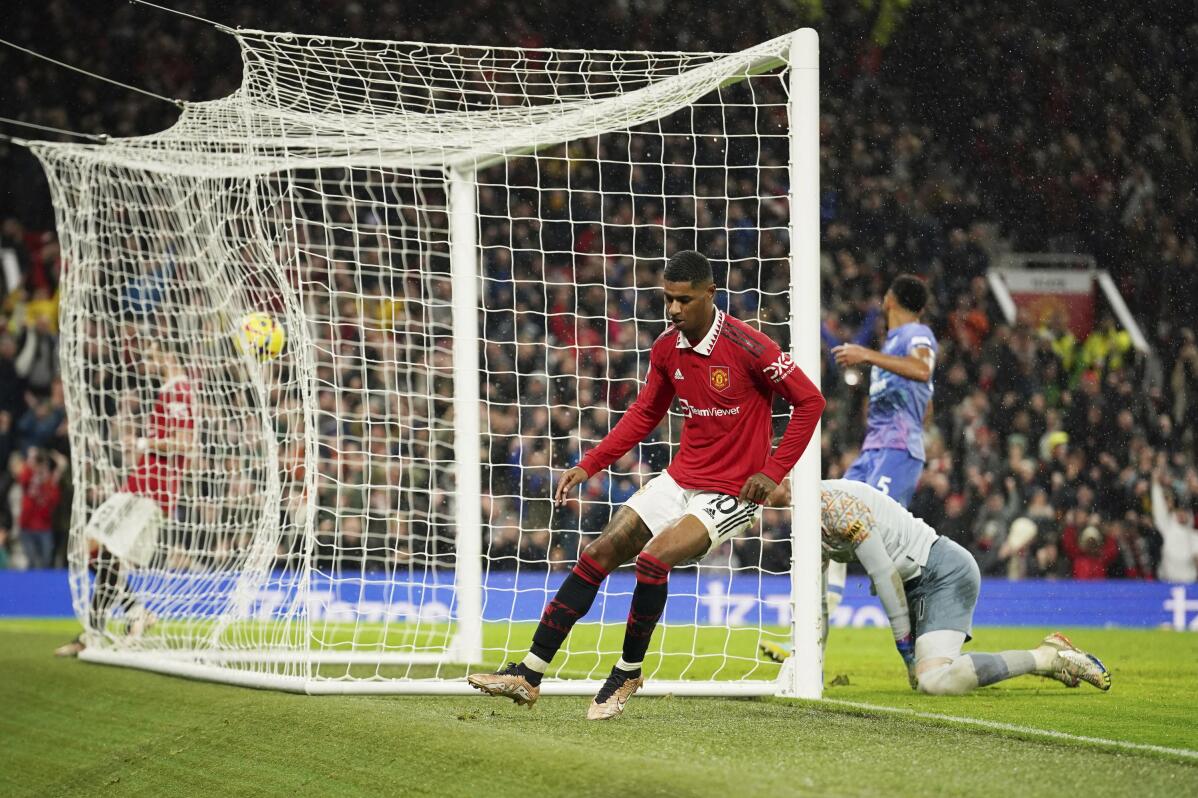 2 of 7

|
Manchester United's Marcus Rashford, centre, celebrates after scoring his side's third goal during the English Premier League soccer match between Manchester United and Bournemouth at Old Trafford in Manchester, England, Tuesday, Jan. 3, 2023. (AP Photo/Dave Thompson)
2 of 7
Manchester United's Marcus Rashford, centre, celebrates after scoring his side's third goal during the English Premier League soccer match between Manchester United and Bournemouth at Old Trafford in Manchester, England, Tuesday, Jan. 3, 2023. (AP Photo/Dave Thompson)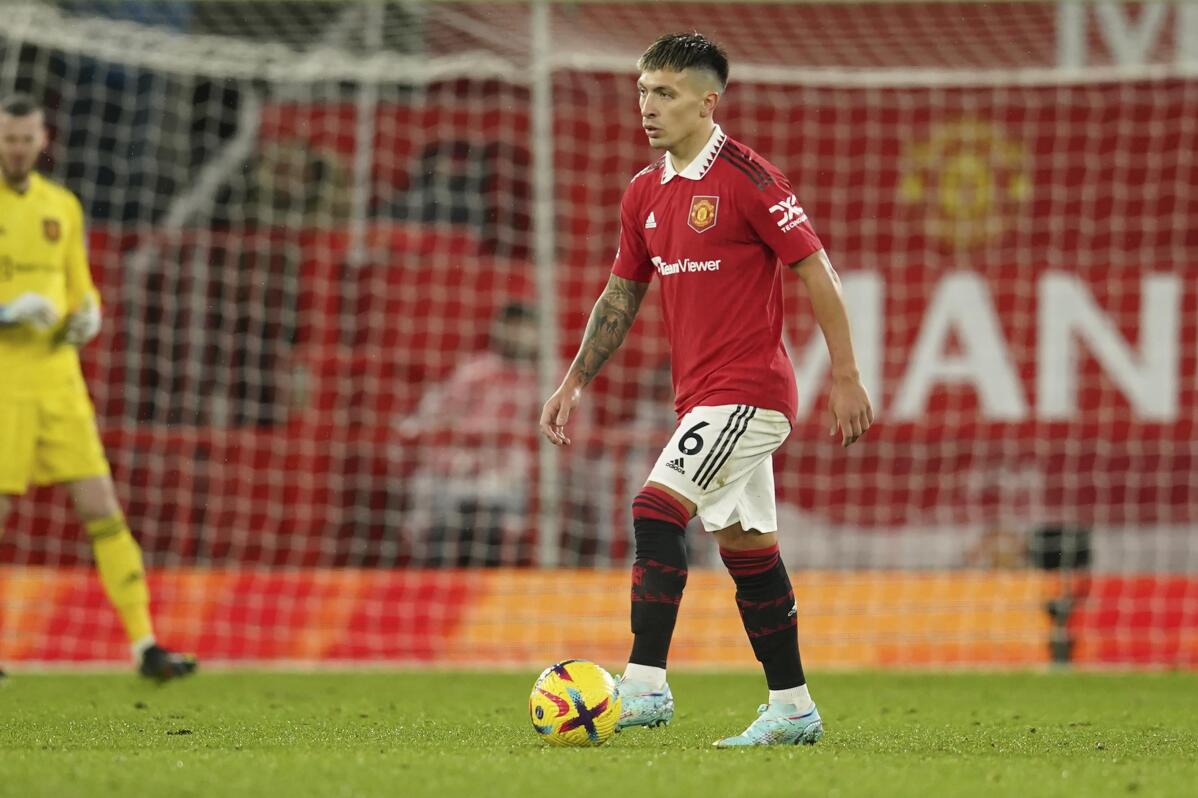 3 of 7

|
Manchester United's Lisandro Martinez controls the ball during the English Premier League soccer match between Manchester United and Bournemouth at Old Trafford in Manchester, England, Tuesday, Jan. 3, 2023. (AP Photo/Dave Thompson)
3 of 7
Manchester United's Lisandro Martinez controls the ball during the English Premier League soccer match between Manchester United and Bournemouth at Old Trafford in Manchester, England, Tuesday, Jan. 3, 2023. (AP Photo/Dave Thompson)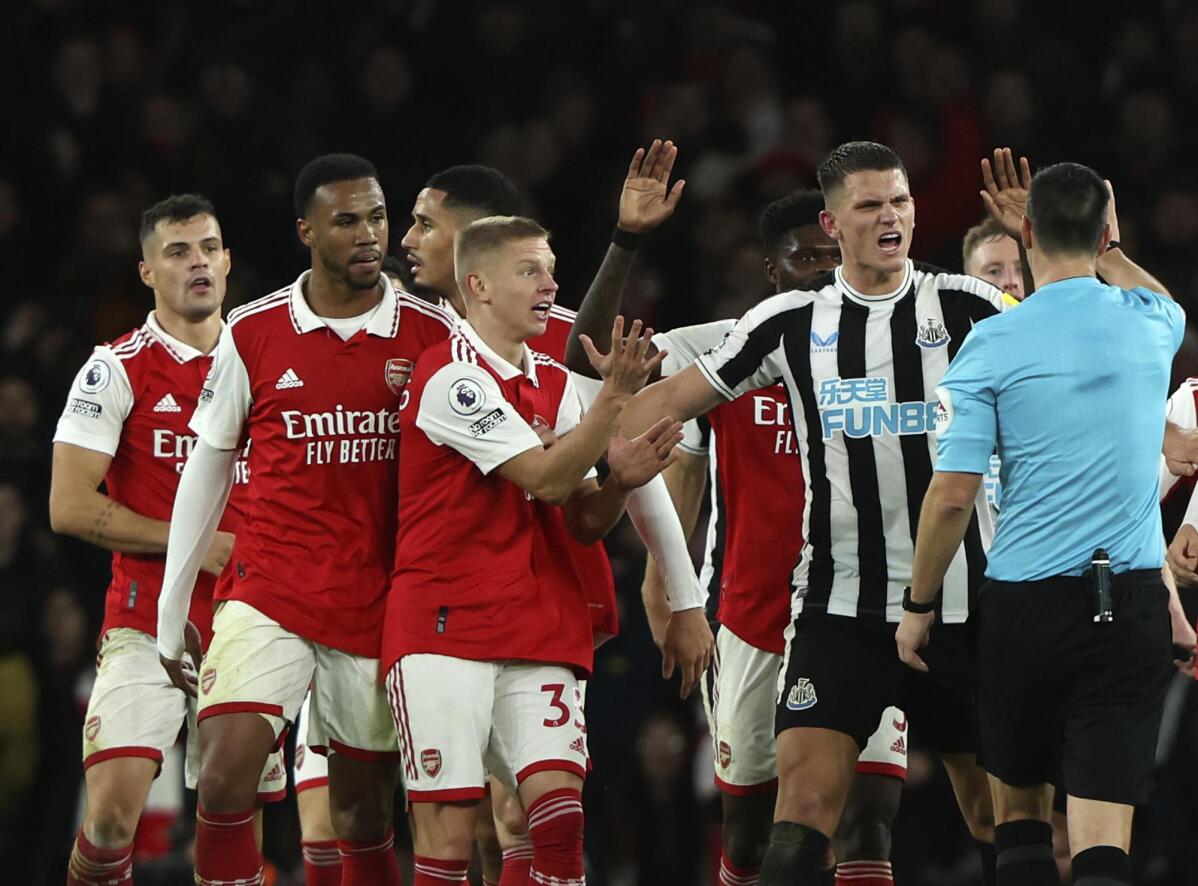 4 of 7

|
Referee Andy Madley discusses with players during the English Premier League soccer match between Arsenal and Newcastle United at Emirates stadium in London, Tuesday, Jan. 3, 2023. (AP Photo/Ian Walton)
4 of 7
Referee Andy Madley discusses with players during the English Premier League soccer match between Arsenal and Newcastle United at Emirates stadium in London, Tuesday, Jan. 3, 2023. (AP Photo/Ian Walton)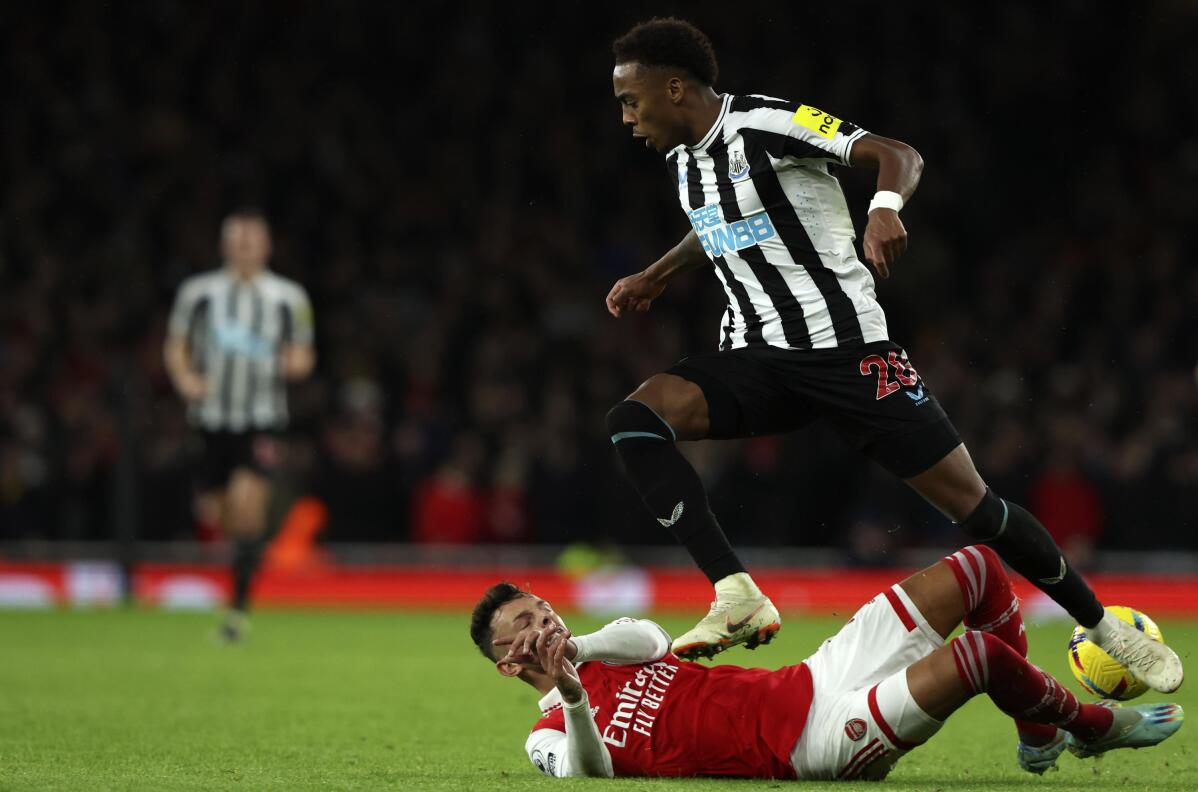 5 of 7

|
Newcastle's Joe Willock, top, duels for the ball with Arsenal's Ben White during the English Premier League soccer match between Arsenal and Newcastle United at Emirates stadium in London, Tuesday, Jan. 3, 2023. (AP Photo/Ian Walton)
5 of 7
Newcastle's Joe Willock, top, duels for the ball with Arsenal's Ben White during the English Premier League soccer match between Arsenal and Newcastle United at Emirates stadium in London, Tuesday, Jan. 3, 2023. (AP Photo/Ian Walton)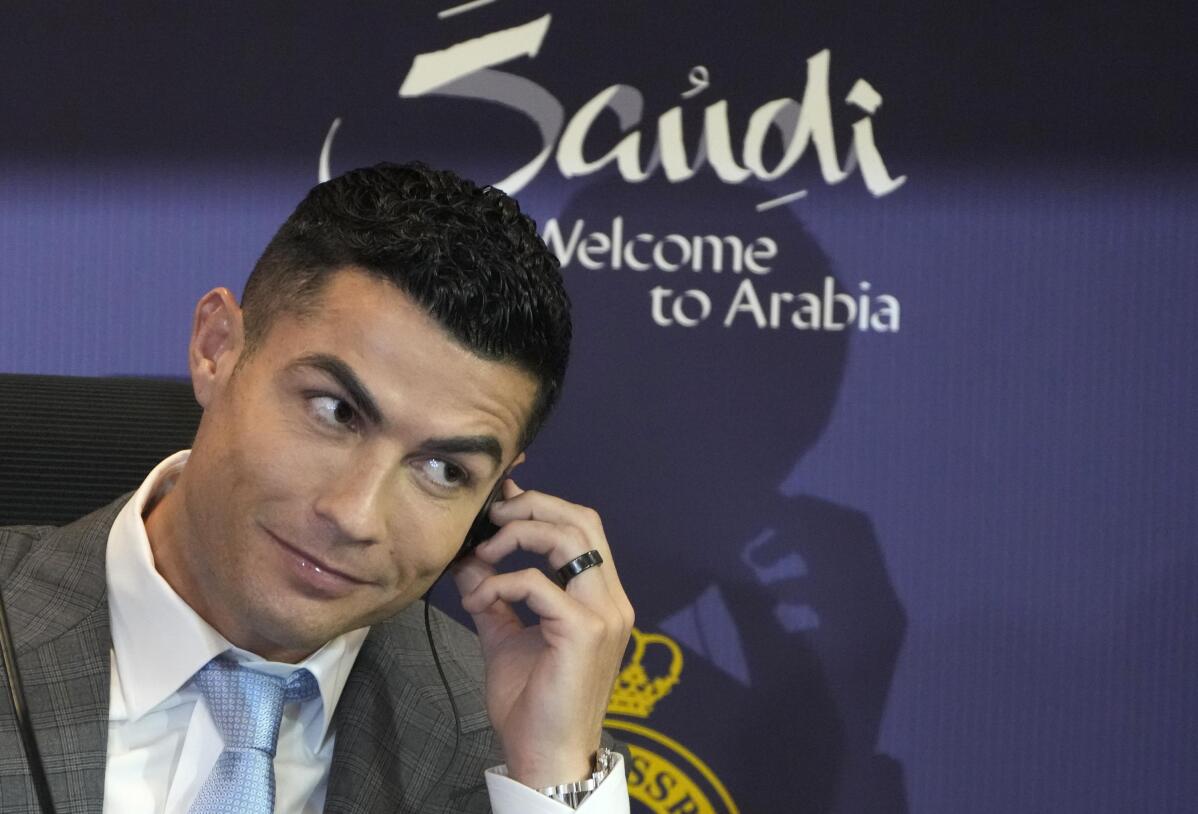 6 of 7

|
Cristiano Ronaldo speaks during a press conference for his official unveiling as a new member of Al Nassr soccer club in in Riyadh, Saudi Arabia, Tuesday, Jan. 3, 2023. Ronaldo, who has won five Ballon d'Ors awards for the best soccer player in the world and five Champions League titles, will play outside of Europe for the first time in his storied career. (AP Photo/Amr Nabil)
6 of 7
Cristiano Ronaldo speaks during a press conference for his official unveiling as a new member of Al Nassr soccer club in in Riyadh, Saudi Arabia, Tuesday, Jan. 3, 2023. Ronaldo, who has won five Ballon d'Ors awards for the best soccer player in the world and five Champions League titles, will play outside of Europe for the first time in his storied career. (AP Photo/Amr Nabil)
7 of 7

|
Cristiano Ronaldo smiles during a press conference for his official unveiling as a new member of Al Nassr soccer club in in Riyadh, Saudi Arabia, Tuesday, Jan. 3, 2023. Ronaldo, who has won five Ballon d'Ors awards for the best soccer player in the world and five Champions League titles, will play outside of Europe for the first time in his storied career. (AP Photo/Amr Nabil)
7 of 7
Cristiano Ronaldo smiles during a press conference for his official unveiling as a new member of Al Nassr soccer club in in Riyadh, Saudi Arabia, Tuesday, Jan. 3, 2023. Ronaldo, who has won five Ballon d'Ors awards for the best soccer player in the world and five Champions League titles, will play outside of Europe for the first time in his storied career. (AP Photo/Amr Nabil)
On the day Cristiano Ronaldo was presented at his new Saudi Arabian club, his former team Manchester United again showed it is not missing the Portugal superstar.
United has won four straight matches since agreeing to terminate Ronaldo's contract during the World Cup, the latest coming Tuesday in a 3-0 victory over Bournemouth in the Premier League.
And without Ronaldo, who hours earlier was presented to thousands of fans at Al Nassr against a backdrop of fireworks and smoke machines, United is firmly ensconced in the top four and looking good to qualify for the Champions League on current form.
Winning the title might be a stretch, though.
Arsenal is still in the driver's seat after a 0-0 draw at home to third-place Newcastle that pushed Mikel Arteta's team eight points clear of Manchester City, whose game in hand is against Chelsea on Thursday.
Newcastle is tied on points with Man United — one behind City — but is ahead courtesy of a superior goal difference. Newcastle and United are five points clear of fifth-place Tottenham.
In other games Tuesday, Brighton routed Everton 4-1 away as Argentina's World Cup winner Alexis Mac Allister made a successful return to league play and Fulham won 1-0 at Leicester to consolidate seventh place.
CRUISE FOR UNITED
Marcus Rashford scored for a fourth consecutive game as Man United eased to the win at Old Trafford.
Goals from Casemiro and Luke Shaw had already put United in command.
The result had a routine feel to it, something that has been missing at United in recent times but which is returning as manager Erik ten Hag shifts the mentality of the club.
Since the World Cup, United has beaten Nottingham Forest, Wolverhampton and now Bournemouth in the league and Burnley in the English League Cup.
Tough tests are coming, though, with United playing City and Arsenal in its next two league games.
ARSENAL HELD
Arsenal failed to score in a league game for the first time this season, though it had a late chance when Newcastle goalkeeper Nick Pope made a save with his left foot to deny Eddie Nketiah a stoppage-time winner.
The draw at Emirates Stadium allowed both teams to extend unbeaten runs in league play. Newcastle's streak rose to 13; Arsenal's to 11.
Arsenal started strong but faded and rarely threatened to penetrate the defense of Newcastle, which has the best defensive record in the league, conceding only 11 times.
The match produced eight yellow cards and a brief exchange of words between managers Arteta and Eddie Howe near the end.
TROUBLE FOR LAMPARD
A new year brought no change in fortune for beleaguered Everton manager Frank Lampard.
Goodison Park turned toxic after Brighton recorded its biggest away win — 4-1 — in the Premier League to leave Everton a point above the relegation zone. All four teams below Everton have a game in hand.
Any confidence gained from a 1-1 draw at Manchester City last weekend was shattered by a performance that was greeted with loud boos at the final whistle.
It was typified by a seven-minute spell at the start of the second half in which Everton conceded three soft goals — to 18-year-old Evan Ferguson, Solly March and Pascal Gross — to add to Kaoru Mitoma's early strike.
Demarai Gray's stoppage-time penalty consolation merely prompted yet more chants of "Sack the board" from Everton fans.
MITROVIC STRIKES
Aleksandar Mitrovic boosted Fulham's European charge with the winner against Leicester.
The Serbia striker's 17th-minute goal fired Marco Silva's team to a third straight win and put Fulham on 28 points — the same amount the club was relegated with in 2021.
Fulham is tied for points with sixth-place Liverpool.
It was a third straight defeat for Leicester.
___
More AP sports: https://apnews.com/hub/sports and https://twitter.com/AP_Sports
___
Steve Douglas is at https://twitter.com/sdouglas80