Valladolid suspends 12 season ticket holders for racism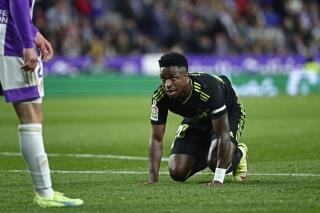 BARCELONA, Spain (AP) — Spanish soccer club Valladolid has suspended 12 season ticket holders while it and authorities investigate their alleged use of verbal racist attacks against Real Madrid player Vinícius Júnior.
The Spanish club, which made the announcement Thursday evening, said the dozen club members would not be allowed to use their tickets to attend games while the probe was ongoing into the incidents that occurred during Madrid's 2-0 win at Valladolid on Dec. 30. Valladolid said it collaborated with police to identify them.
Vinícius, a 22-year-old Brazil forward who is Black, has been subjected to racist abuse since his arrival in Spain in 2018, but it has intensified this season. He was targeted last weekend during a game at Mallorca. Last month, his effigy hung off a bridge in Madrid before the derby against Atletico Madrid.
Madrid coach Carlo Ancelotti denounced the suffering of his player earlier this week, saying that the racist attacks he is receiving "is a problem of Spanish football."
Teammate Aurélien Tchouameni, a France midfielder who is also Black, spoke out about his situation on Friday ahead of the Club World Cup final in Morocco.
"As the coach said, the problem with Vinicius is a general issue and society's problem with racism. It doesn't matter if you are white, Black or red. We have to show zero tolerance. We must eradicate it at all costs. The Spanish league can take action and hopefully change this situation."
The Spanish league said earlier this week it filed a complaint with the courts regarding the incident at Mallorca. It had filed similar legal complaints in cases involving racist insults against Vinícius five other times, with three of them being archived and two still being analyzed.
The league has also issued a call for fans to send images of racist acts at games either by email or by message via a Telegram messaging channel.
Authorities have yet to find those responsible for hanging Vinícius' effigy last month. Nor have any teams been punished for the racist insults inside their stadiums.
___
More AP soccer: https://apnews.com/hub/soccer and https://twitter.com/AP_Sports