Conte's return ruined as Tottenham loses at Leicester 4-1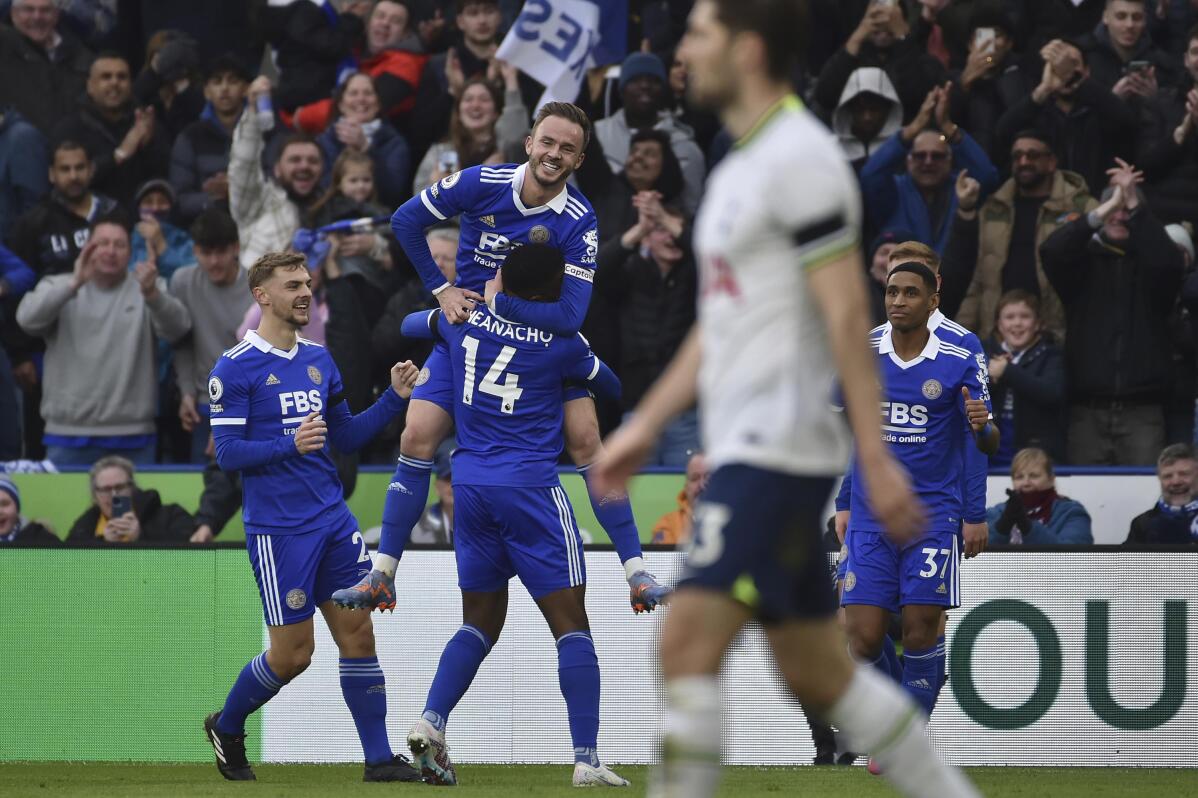 1 of 7

|
Leicester City players celebrate after Leicester's James Maddison, centre, scored his side's second goal during the English Premier League soccer match between Leicester City and Tottenham Hotspur at King Power stadium in Leicester, England, Saturday, Feb. 11, 2023. (AP Photo/Rui Vieira)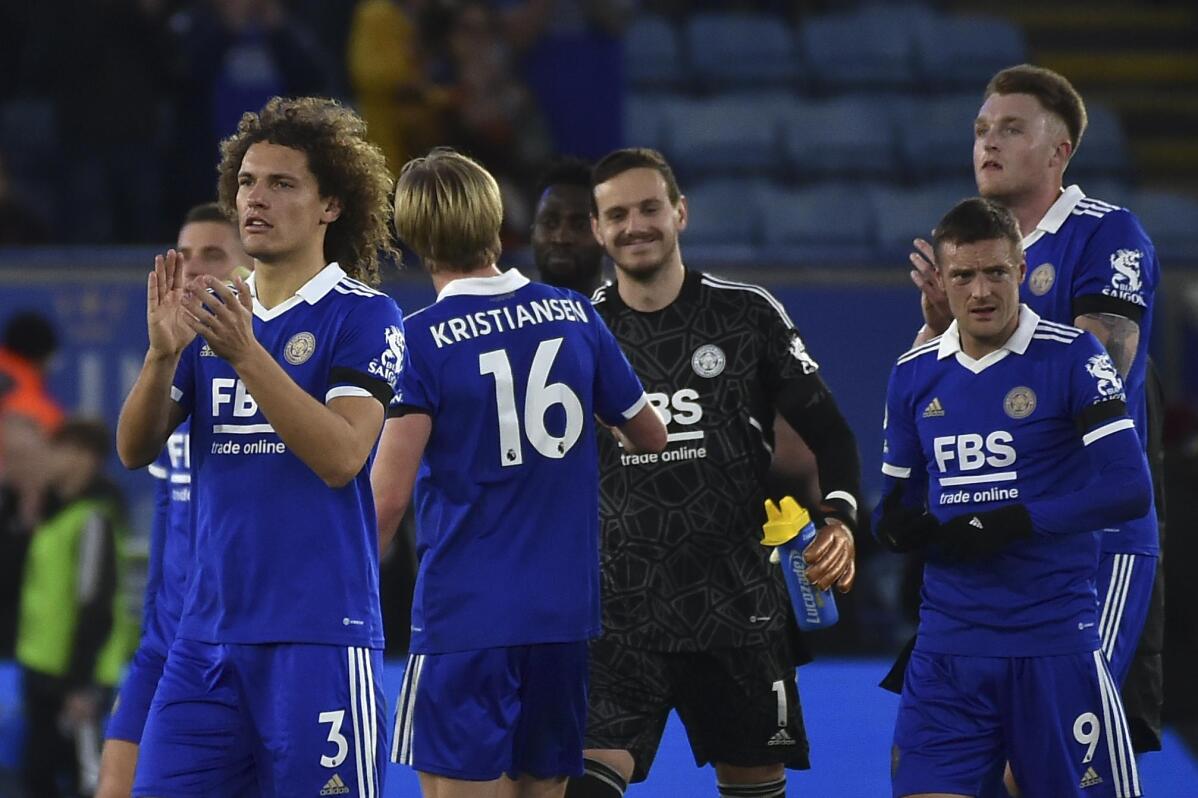 2 of 7

|
Leicester City players celebrate their victory at the English Premier League soccer match between Leicester City and Tottenham Hotspur at King Power stadium in Leicester, England, Saturday, Feb. 11, 2023. (AP Photo/Rui Vieira)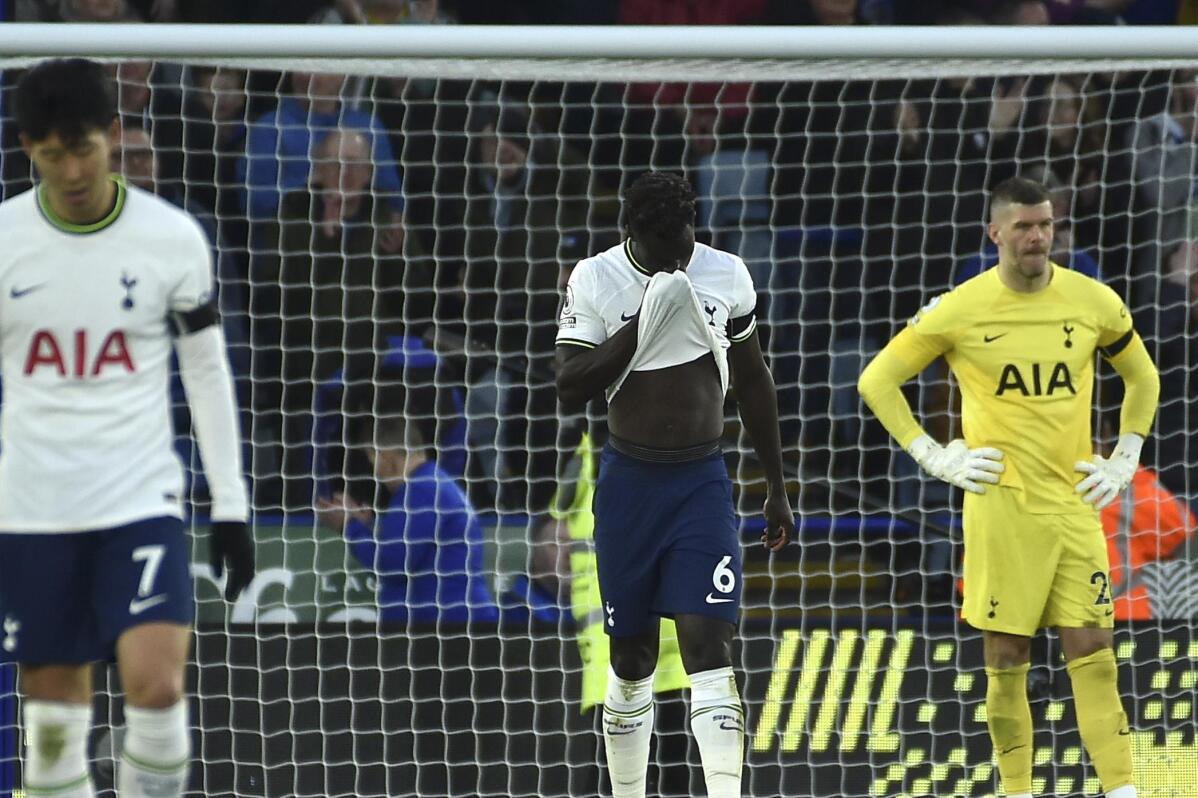 3 of 7

|
Tottenham's Davinson Sanchez, centre, reacts during the English Premier League soccer match between Leicester City and Tottenham Hotspur at King Power stadium in Leicester, England, Saturday, Feb. 11, 2023. (AP Photo/Rui Vieira)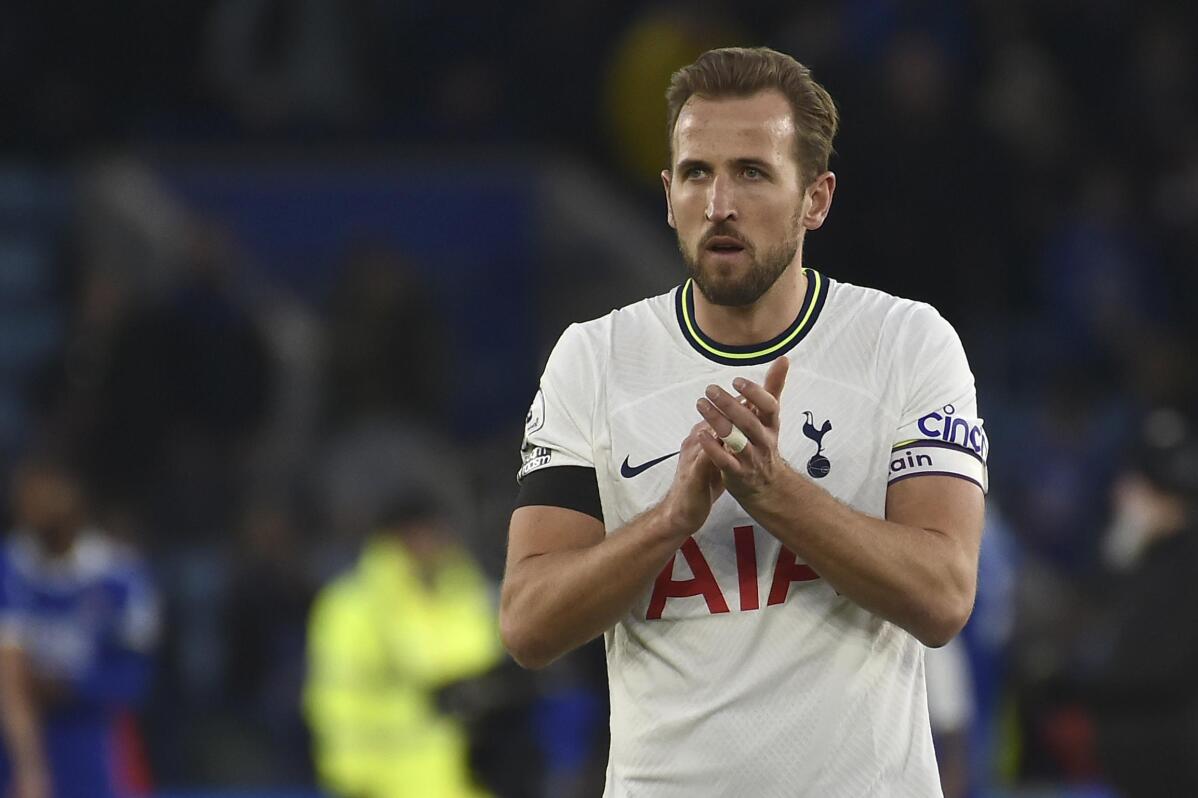 4 of 7

|
Tottenham's Harry Kane reacts after the English Premier League soccer match between Leicester City and Tottenham Hotspur at King Power stadium in Leicester, England, Saturday, Feb. 11, 2023. (AP Photo/Rui Vieira)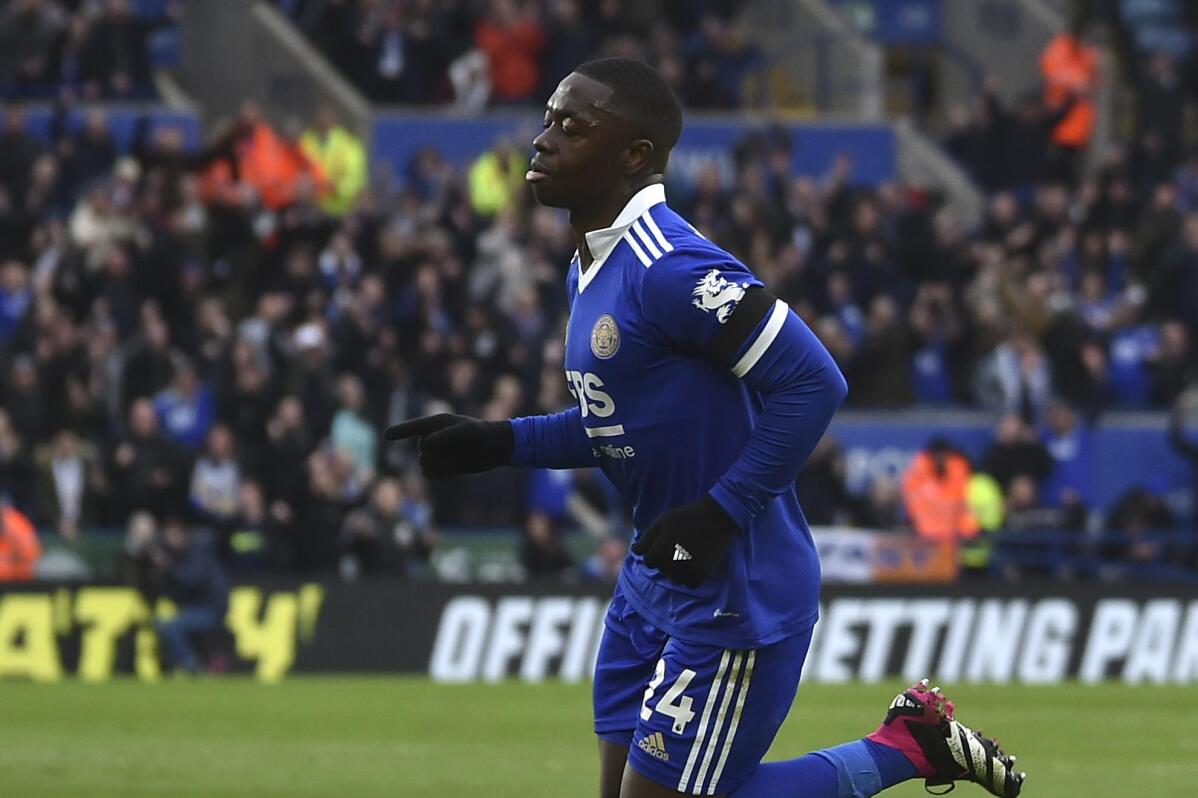 5 of 7

|
Leicester's Nampalys Mendy reacts after scoring his side's opening goal during the English Premier League soccer match between Leicester City and Tottenham Hotspur at King Power stadium in Leicester, England, Saturday, Feb. 11, 2023. (AP Photo/Rui Vieira)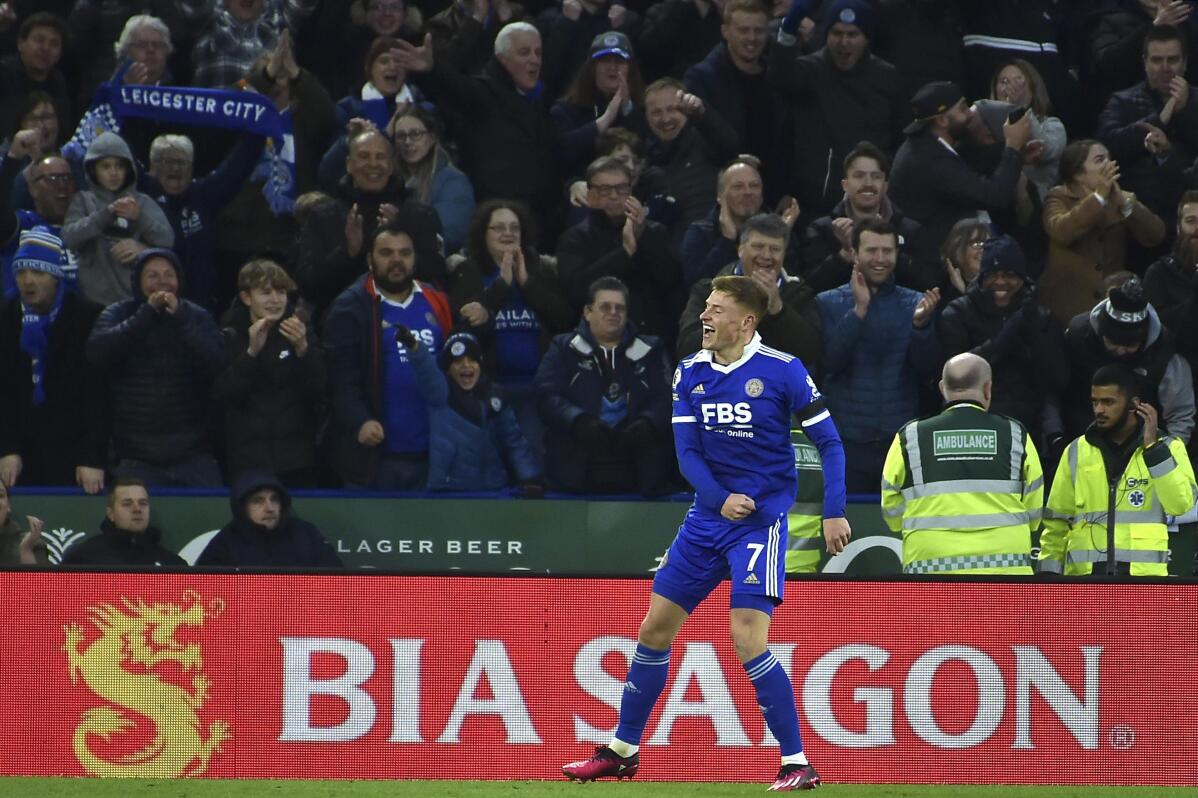 6 of 7

|
Leicester's Harvey Barnes celebrates after scoring his side's fourth goal during the English Premier League soccer match between Leicester City and Tottenham Hotspur at King Power stadium in Leicester, England, Saturday, Feb. 11, 2023. (AP Photo/Rui Vieira)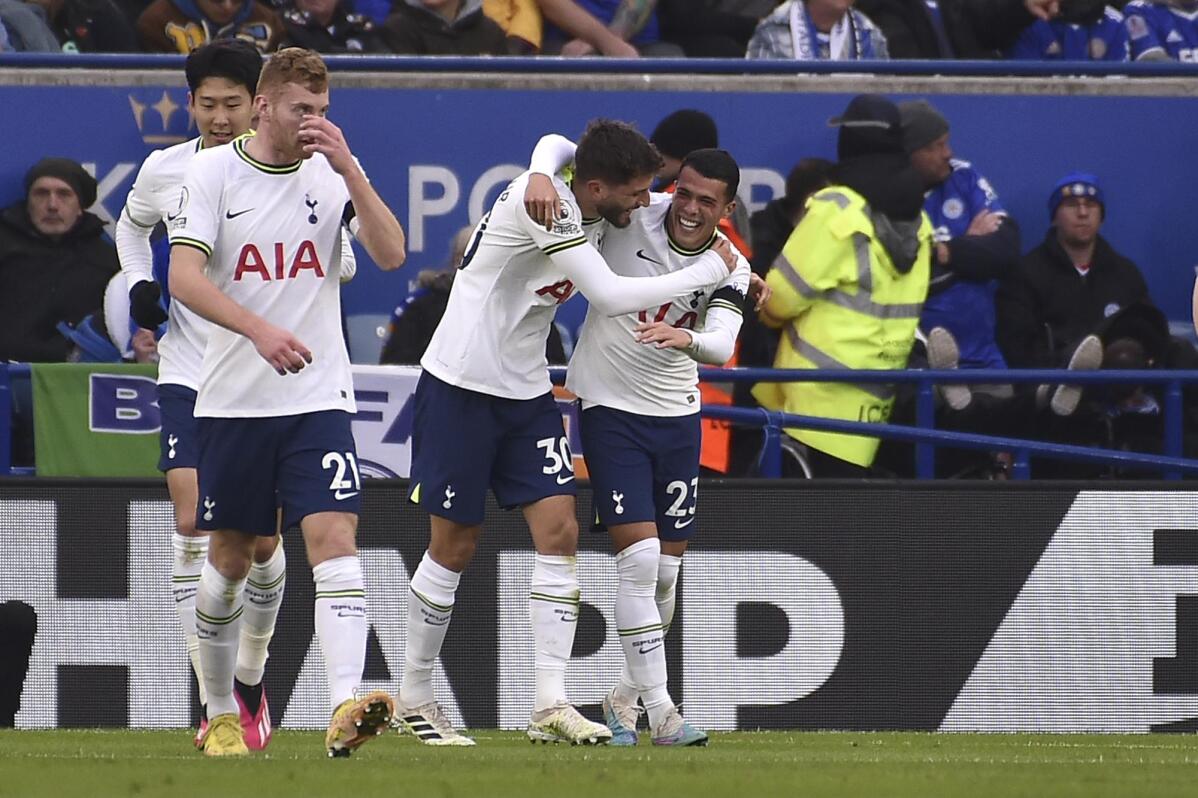 7 of 7

|
Tottenham's Rodrigo Bentancur, centre, celebrates with teammates after scoring his side's opening goal during the English Premier League soccer match between Leicester City and Tottenham Hotspur at King Power stadium in Leicester, England, Saturday, Feb. 11, 2023. (AP Photo/Rui Vieira)
Conte's return ruined as Tottenham loses at Leicester 4-1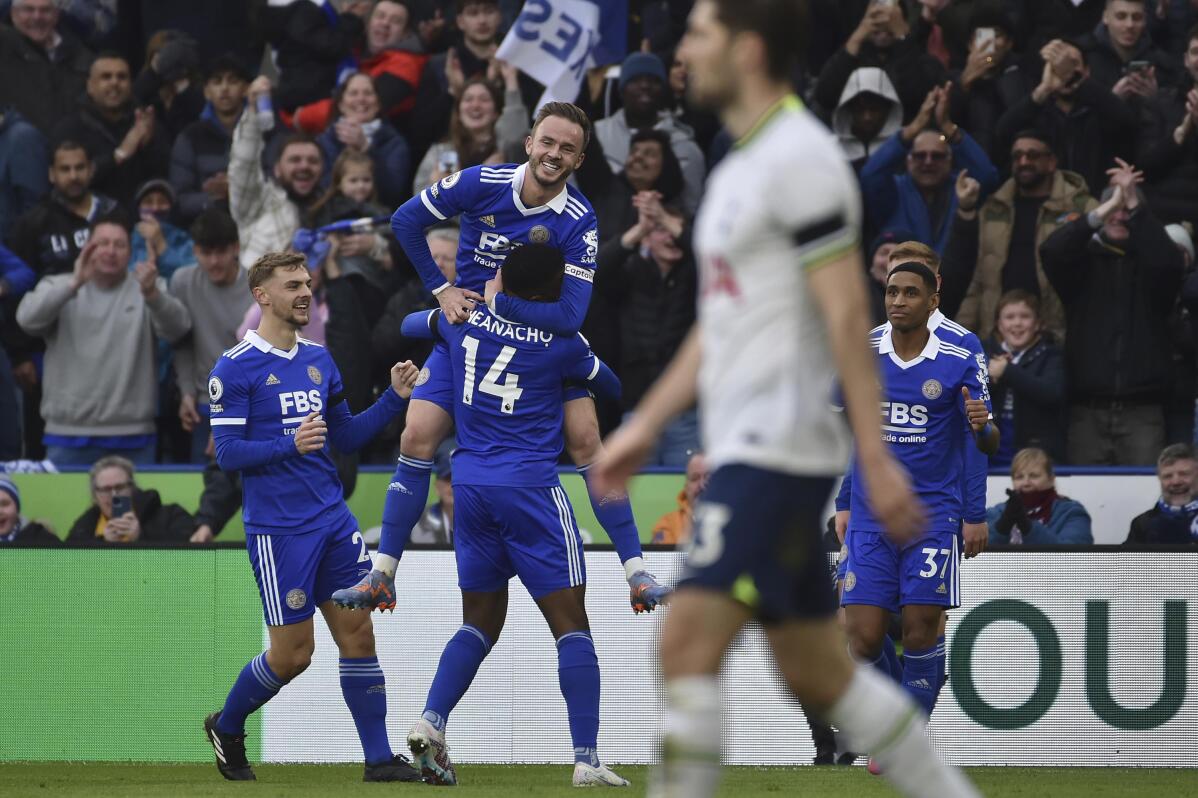 1 of 7

|
Leicester City players celebrate after Leicester's James Maddison, centre, scored his side's second goal during the English Premier League soccer match between Leicester City and Tottenham Hotspur at King Power stadium in Leicester, England, Saturday, Feb. 11, 2023. (AP Photo/Rui Vieira)
1 of 7
Leicester City players celebrate after Leicester's James Maddison, centre, scored his side's second goal during the English Premier League soccer match between Leicester City and Tottenham Hotspur at King Power stadium in Leicester, England, Saturday, Feb. 11, 2023. (AP Photo/Rui Vieira)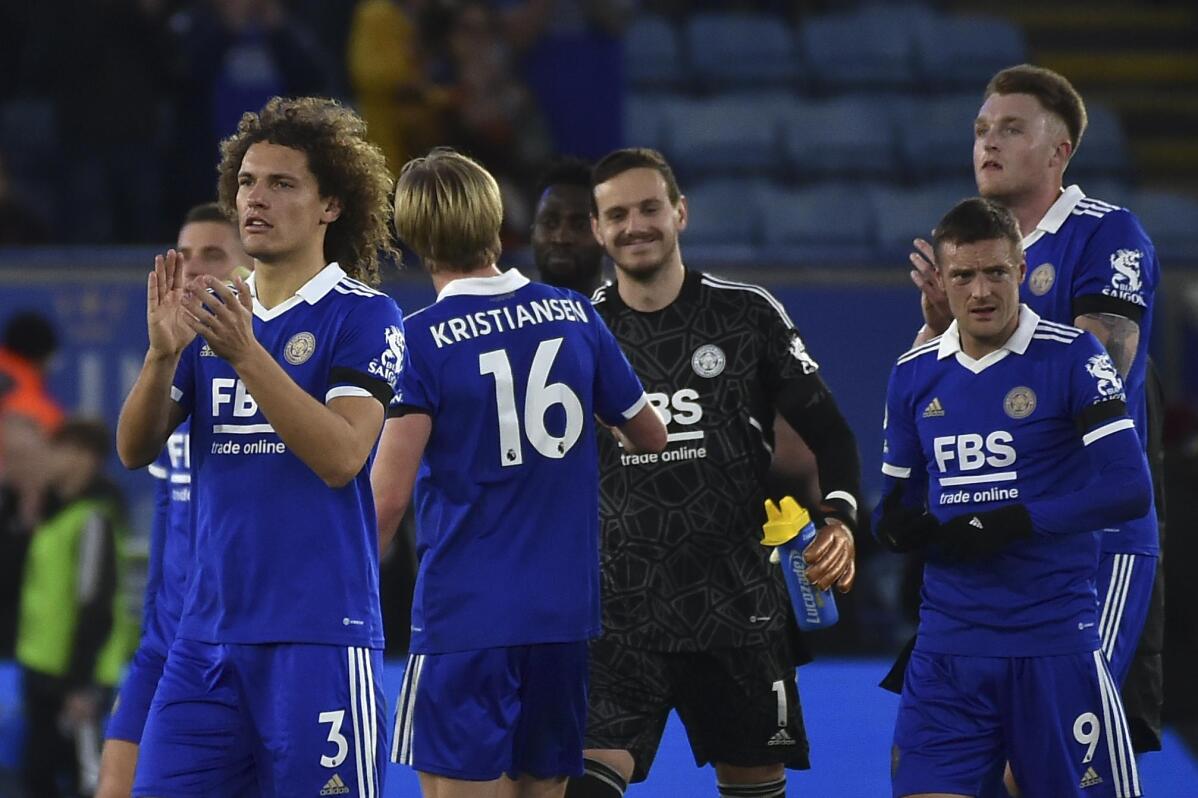 2 of 7

|
Leicester City players celebrate their victory at the English Premier League soccer match between Leicester City and Tottenham Hotspur at King Power stadium in Leicester, England, Saturday, Feb. 11, 2023. (AP Photo/Rui Vieira)
2 of 7
Leicester City players celebrate their victory at the English Premier League soccer match between Leicester City and Tottenham Hotspur at King Power stadium in Leicester, England, Saturday, Feb. 11, 2023. (AP Photo/Rui Vieira)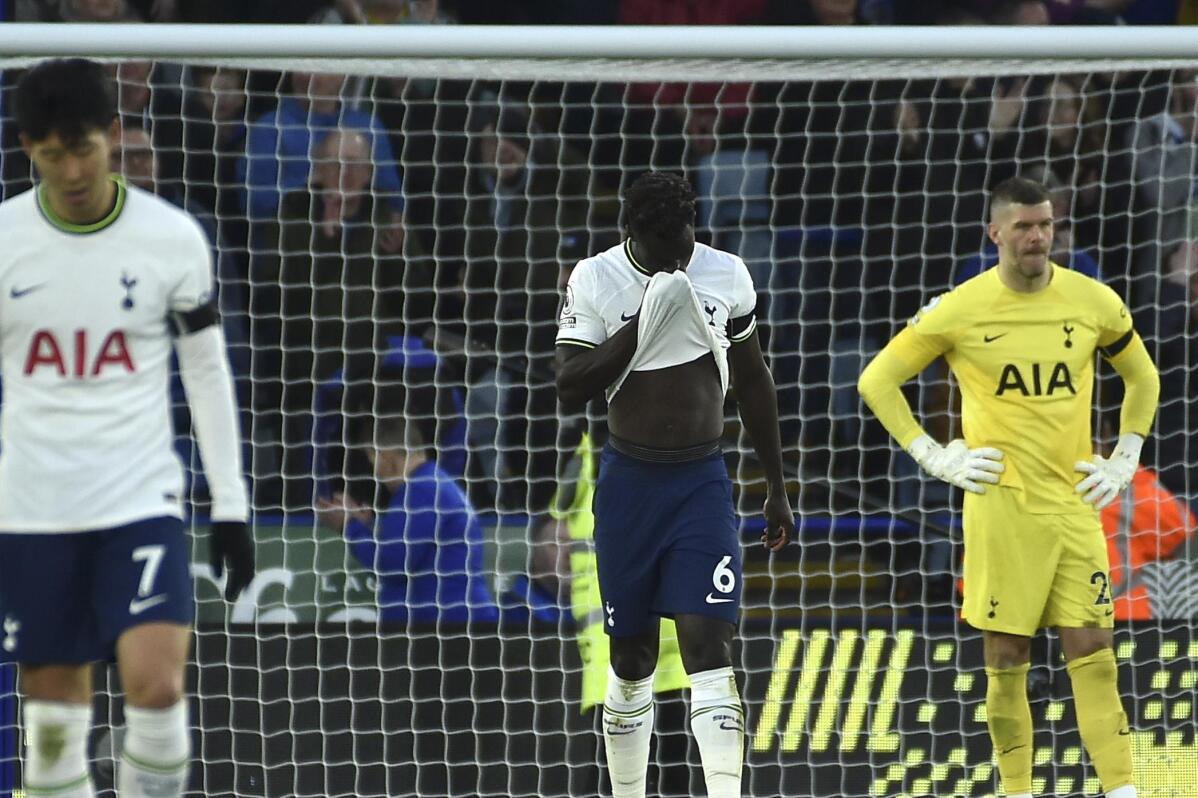 3 of 7

|
Tottenham's Davinson Sanchez, centre, reacts during the English Premier League soccer match between Leicester City and Tottenham Hotspur at King Power stadium in Leicester, England, Saturday, Feb. 11, 2023. (AP Photo/Rui Vieira)
3 of 7
Tottenham's Davinson Sanchez, centre, reacts during the English Premier League soccer match between Leicester City and Tottenham Hotspur at King Power stadium in Leicester, England, Saturday, Feb. 11, 2023. (AP Photo/Rui Vieira)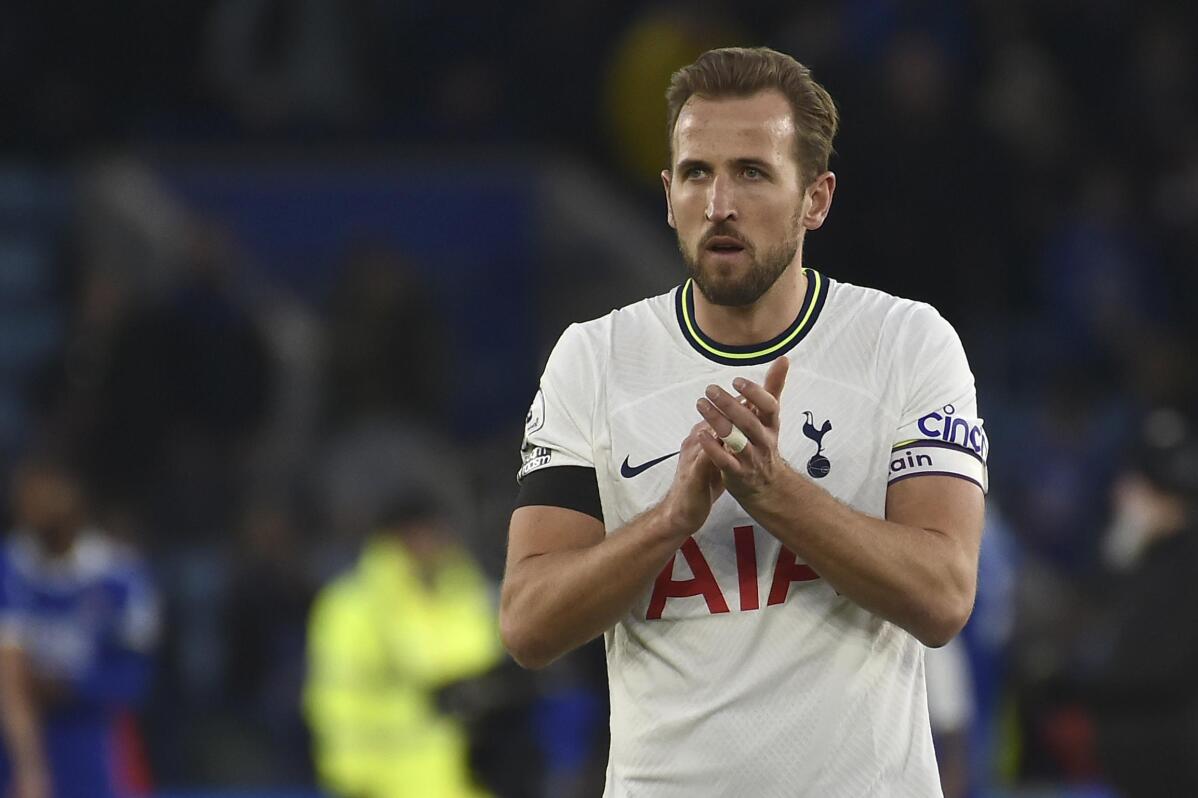 4 of 7

|
Tottenham's Harry Kane reacts after the English Premier League soccer match between Leicester City and Tottenham Hotspur at King Power stadium in Leicester, England, Saturday, Feb. 11, 2023. (AP Photo/Rui Vieira)
4 of 7
Tottenham's Harry Kane reacts after the English Premier League soccer match between Leicester City and Tottenham Hotspur at King Power stadium in Leicester, England, Saturday, Feb. 11, 2023. (AP Photo/Rui Vieira)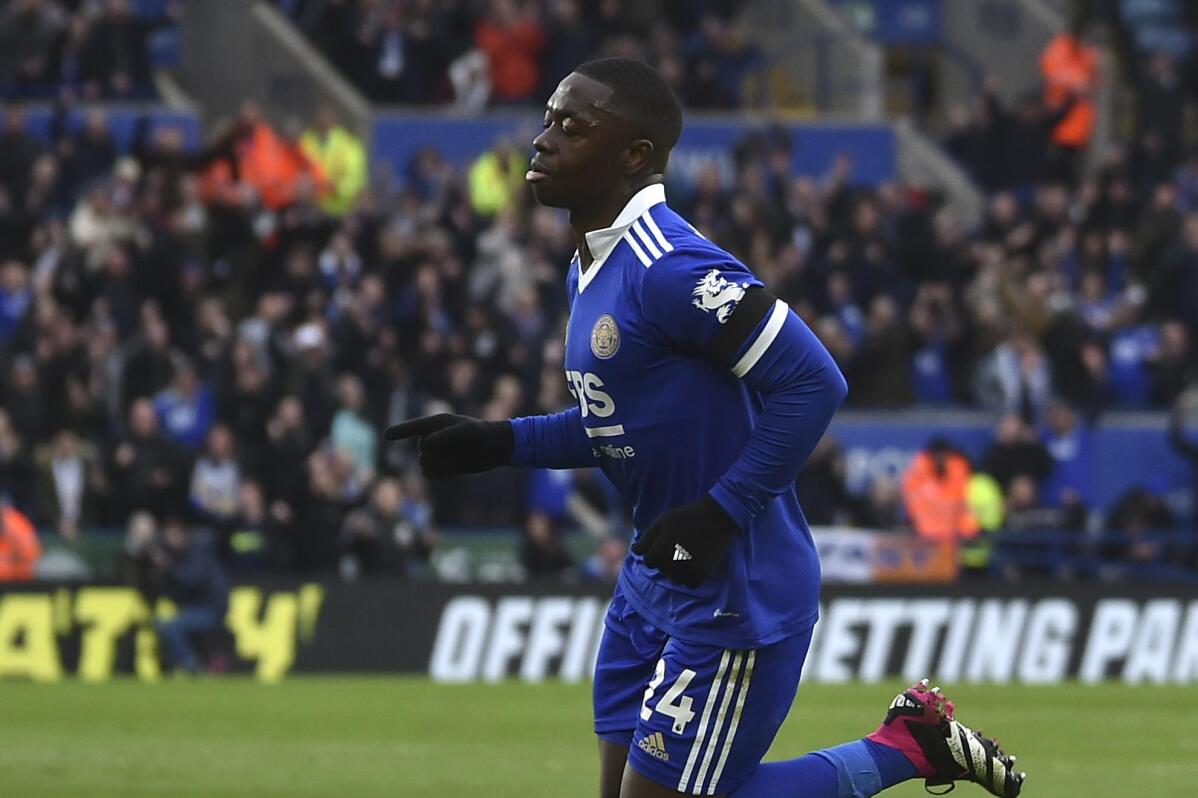 5 of 7

|
Leicester's Nampalys Mendy reacts after scoring his side's opening goal during the English Premier League soccer match between Leicester City and Tottenham Hotspur at King Power stadium in Leicester, England, Saturday, Feb. 11, 2023. (AP Photo/Rui Vieira)
5 of 7
Leicester's Nampalys Mendy reacts after scoring his side's opening goal during the English Premier League soccer match between Leicester City and Tottenham Hotspur at King Power stadium in Leicester, England, Saturday, Feb. 11, 2023. (AP Photo/Rui Vieira)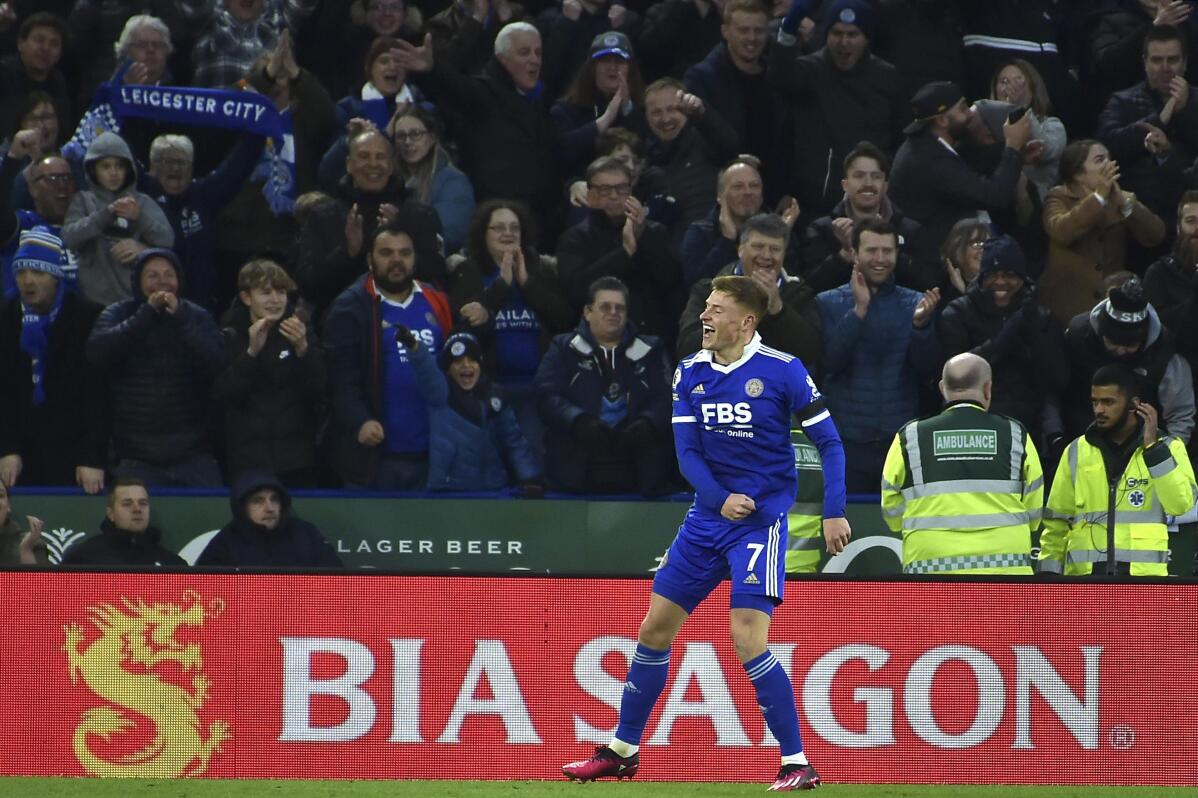 6 of 7

|
Leicester's Harvey Barnes celebrates after scoring his side's fourth goal during the English Premier League soccer match between Leicester City and Tottenham Hotspur at King Power stadium in Leicester, England, Saturday, Feb. 11, 2023. (AP Photo/Rui Vieira)
6 of 7
Leicester's Harvey Barnes celebrates after scoring his side's fourth goal during the English Premier League soccer match between Leicester City and Tottenham Hotspur at King Power stadium in Leicester, England, Saturday, Feb. 11, 2023. (AP Photo/Rui Vieira)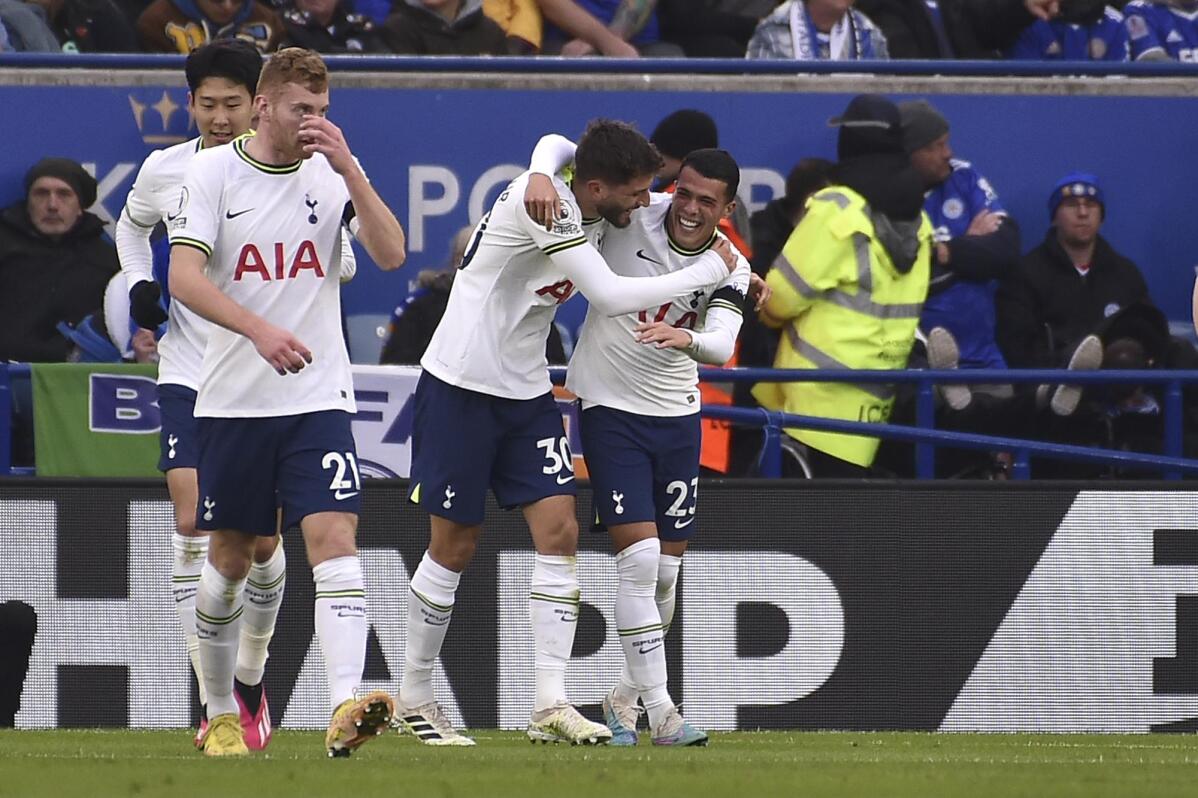 7 of 7

|
Tottenham's Rodrigo Bentancur, centre, celebrates with teammates after scoring his side's opening goal during the English Premier League soccer match between Leicester City and Tottenham Hotspur at King Power stadium in Leicester, England, Saturday, Feb. 11, 2023. (AP Photo/Rui Vieira)
7 of 7
Tottenham's Rodrigo Bentancur, centre, celebrates with teammates after scoring his side's opening goal during the English Premier League soccer match between Leicester City and Tottenham Hotspur at King Power stadium in Leicester, England, Saturday, Feb. 11, 2023. (AP Photo/Rui Vieira)
LEICESTER, England (AP) — Manager Antonio Conte's return to the dugout was a miserable one as his Tottenham was humiliated at Leicester 4-1 in the English Premier League on Saturday.
Nampalys Mendy's first goal in more than six years inspired Leicester to the comeback win after Rodrigo Bentancur briefly gave Spurs the lead.
James Maddison, Kelechi Iheanacho and Harvey Barnes also netted for the hosts and Leicester scored four for the second straight game.
Conte returned after gallbladder surgery but his team failed to build on its impressive victory over Manchester City. The error-strewn performance left it a point adrift of the top four having played two games more. Tottenham visits AC Milan in the Champions League on Tuesday.
For Leicester, its second revival of the season continues after last week's 4-2 win at Aston Villa.
Victory even came after a poor start where it gifted Tottenham a 14th-minute opener as Leicester defender Victor Kristiansen attempted to clear a corner but succeeded in only finding Bentancur who tapped in from close range.
Spurs were on top but it took just 11 minutes for the Foxes to turn the game. They had barely threatened but levelled through an unlikely source.
Mendy had not scored in his previous 108 Leicester appearances after joining in 2016 but when Bentancur's header reached the midfielder on the edge of the box he unleashed an angled rocket which flew past Fraser Forster.
Two minutes later, it got better for the hosts and captain for the day Maddison. Ben Davies' loose pass was cleared by Wout Faes to Iheanacho, who turned and found the unmarked Maddison to sweep in his ninth goal of the season.
Leicester was suddenly rampant and Forster kept out Iheanacho as the Spurs defense imploded.
It was a game littered with errors and Spurs added another gaffe to the catalogue when the Foxes went 3-1 up in first-half injury time.
Harry Souttar launched a clearance upfield and Iheanacho was given too much space to run at Eric Dier. He checked inside to the edge of the area, dummied and then found the bottom corner.
Ragged Tottenham hardly improved after the break and Forster needed to save from Barnes.
With 20 minutes remaining, the visitors needed VAR to rescue them when Barnes converted Iheanacho's pass. But there was no stopping the winger adding a fourth and sealing victory 11 minutes later.
The generous Tottenham defense first allowed Maddison to advance and slip Barnes in and he turned and beat Forster from 20 yards.
___
More AP soccer: https://apnews.com/hub/soccer and https://twitter.com/AP_Sports