Valencia hires former player Rubén Baraja to replace Gattuso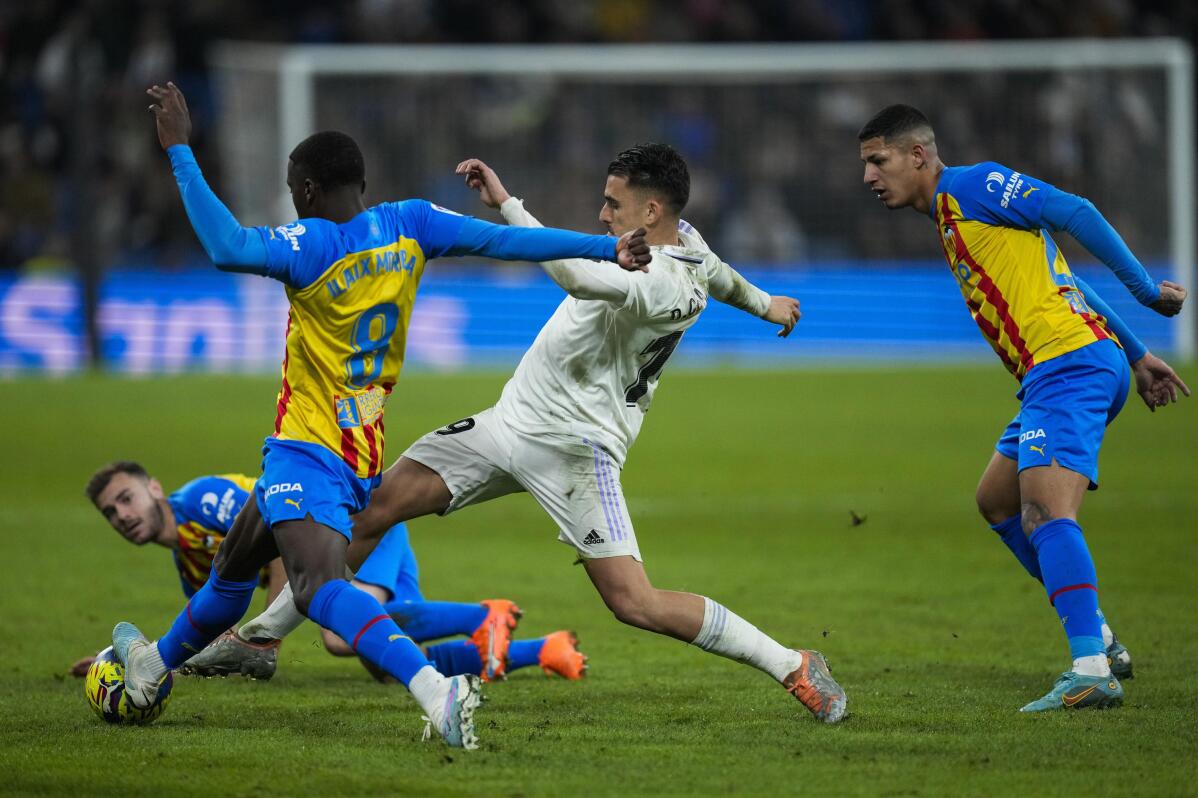 1 of 3

|
Real Madrid's Dani Ceballos, center, vies for the ball with Valencia defenders during the Spanish La Liga soccer match between Real Madrid and Valencia at Santiago Bernabeu stadium in Madrid, Thursday, Feb. 2, 2023. (AP Photo/Bernat Armangue)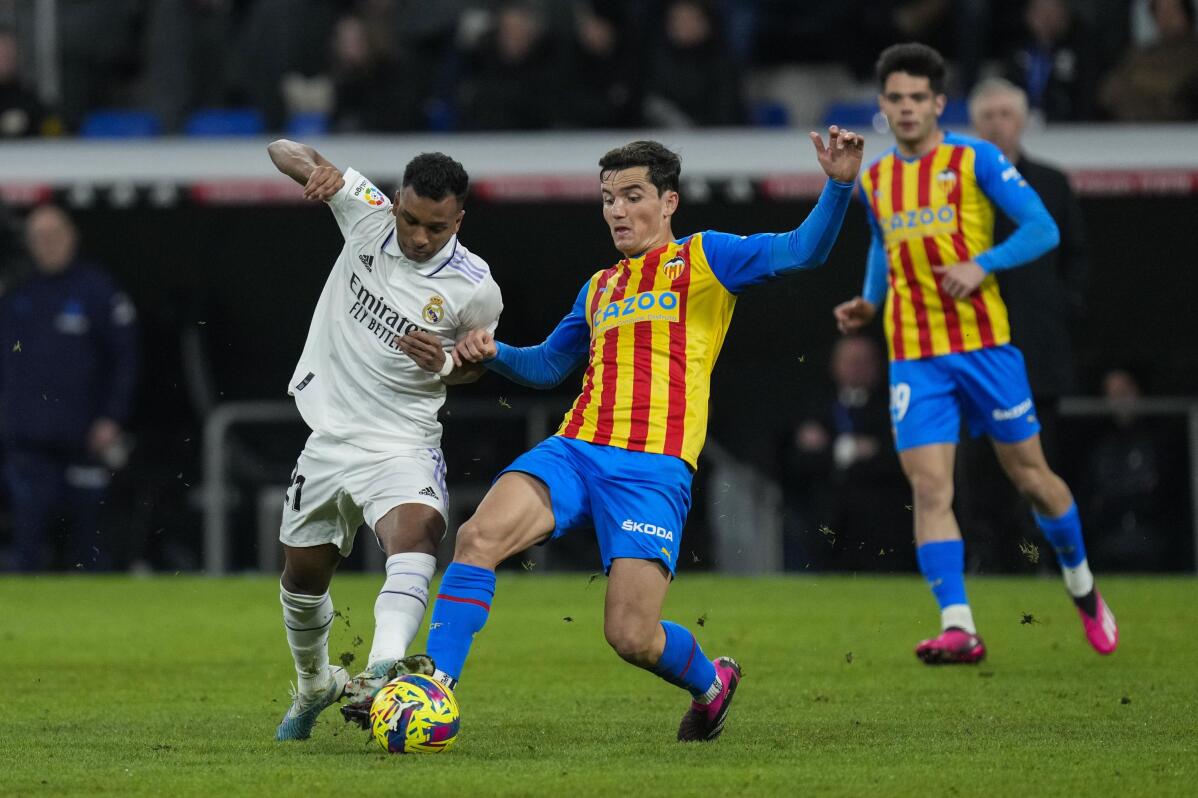 2 of 3

|
Real Madrid's Rodrygo, left, fights for the ball with Valencia's Hugo Guillamon during the Spanish La Liga soccer match between Real Madrid and Valencia at Santiago Bernabeu stadium in Madrid, Thursday, Feb. 2, 2023. (AP Photo/Bernat Armangue)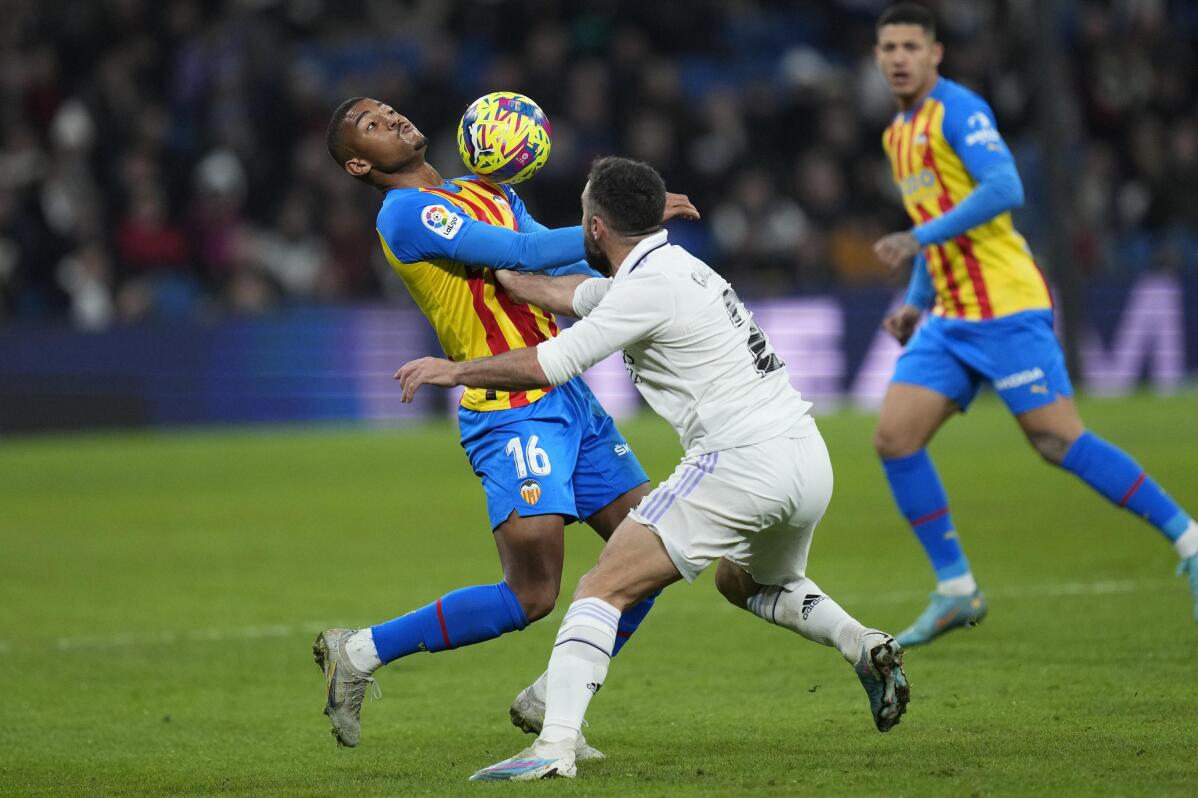 3 of 3

|
Valencia's Samuel Lino, left, vies for the ball with Real Madrid's Dani Carvajal during the Spanish La Liga soccer match between Real Madrid and Valencia at Santiago Bernabeu stadium in Madrid, Thursday, Feb. 2, 2023. (AP Photo/Bernat Armangue)
Valencia hires former player Rubén Baraja to replace Gattuso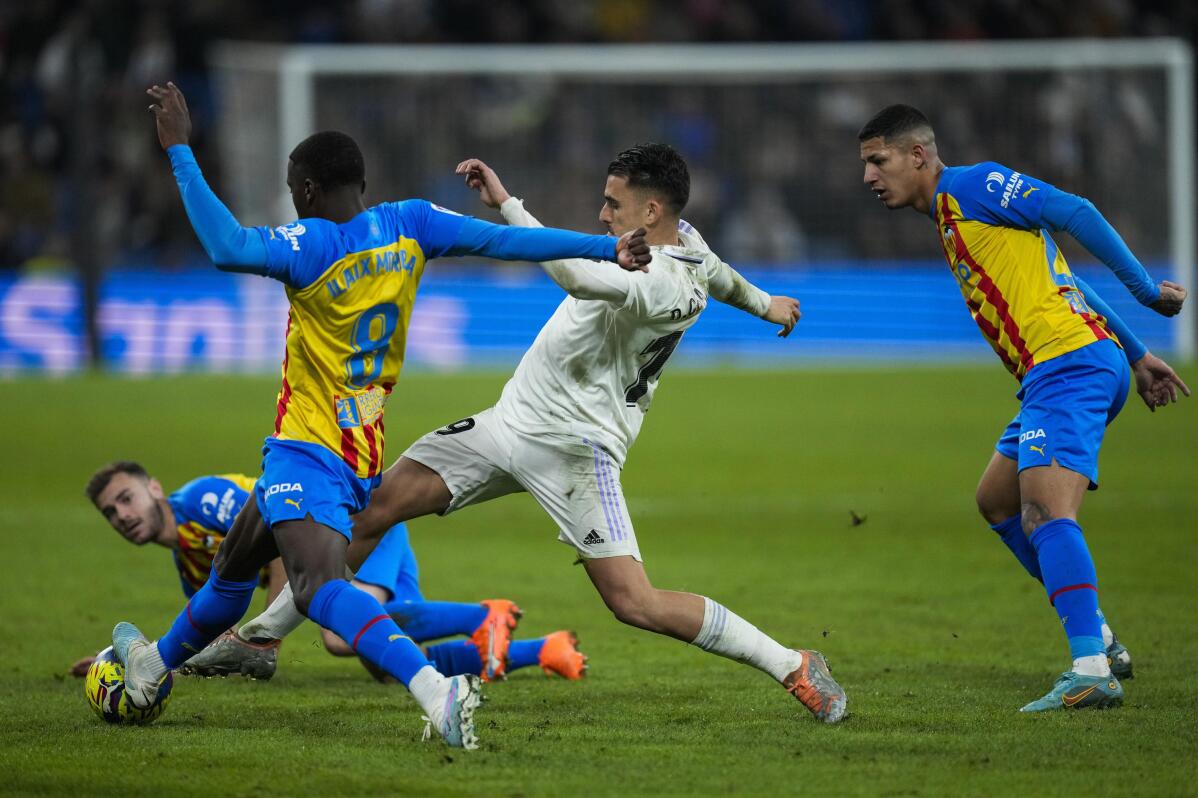 1 of 3

|
Real Madrid's Dani Ceballos, center, vies for the ball with Valencia defenders during the Spanish La Liga soccer match between Real Madrid and Valencia at Santiago Bernabeu stadium in Madrid, Thursday, Feb. 2, 2023. (AP Photo/Bernat Armangue)
1 of 3
Real Madrid's Dani Ceballos, center, vies for the ball with Valencia defenders during the Spanish La Liga soccer match between Real Madrid and Valencia at Santiago Bernabeu stadium in Madrid, Thursday, Feb. 2, 2023. (AP Photo/Bernat Armangue)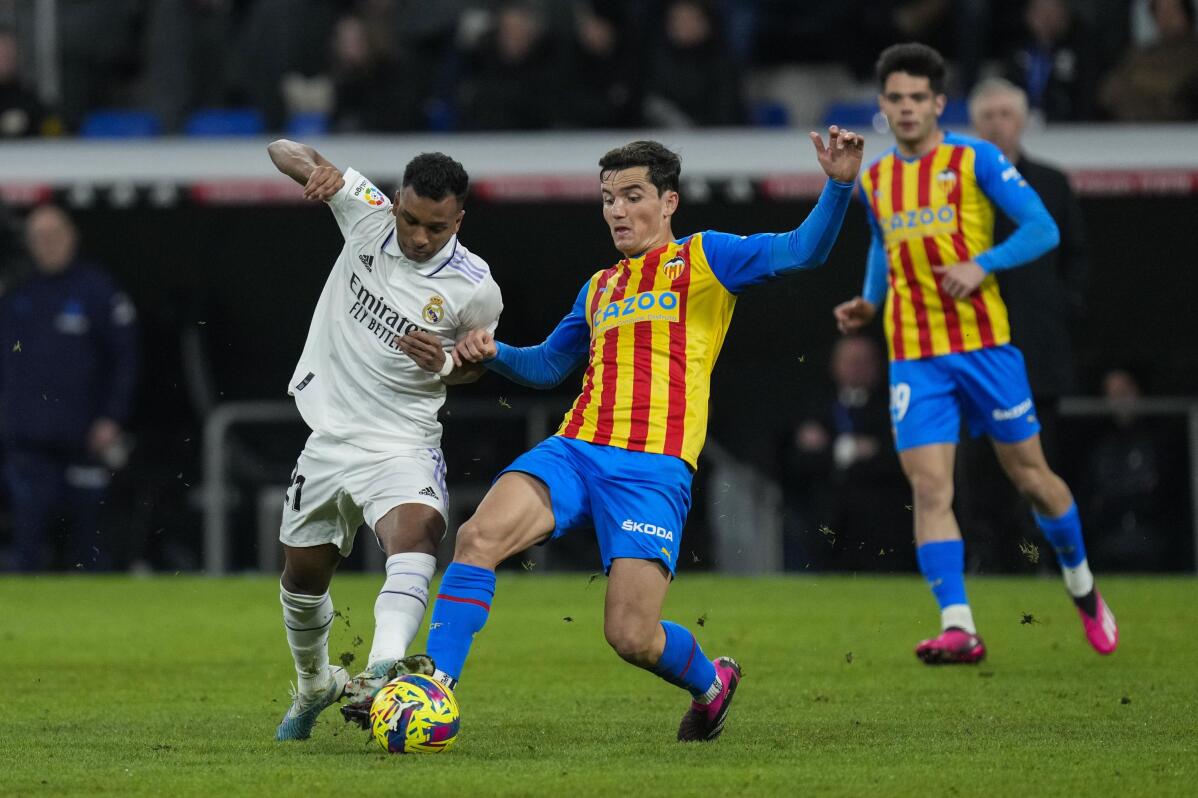 2 of 3

|
Real Madrid's Rodrygo, left, fights for the ball with Valencia's Hugo Guillamon during the Spanish La Liga soccer match between Real Madrid and Valencia at Santiago Bernabeu stadium in Madrid, Thursday, Feb. 2, 2023. (AP Photo/Bernat Armangue)
2 of 3
Real Madrid's Rodrygo, left, fights for the ball with Valencia's Hugo Guillamon during the Spanish La Liga soccer match between Real Madrid and Valencia at Santiago Bernabeu stadium in Madrid, Thursday, Feb. 2, 2023. (AP Photo/Bernat Armangue)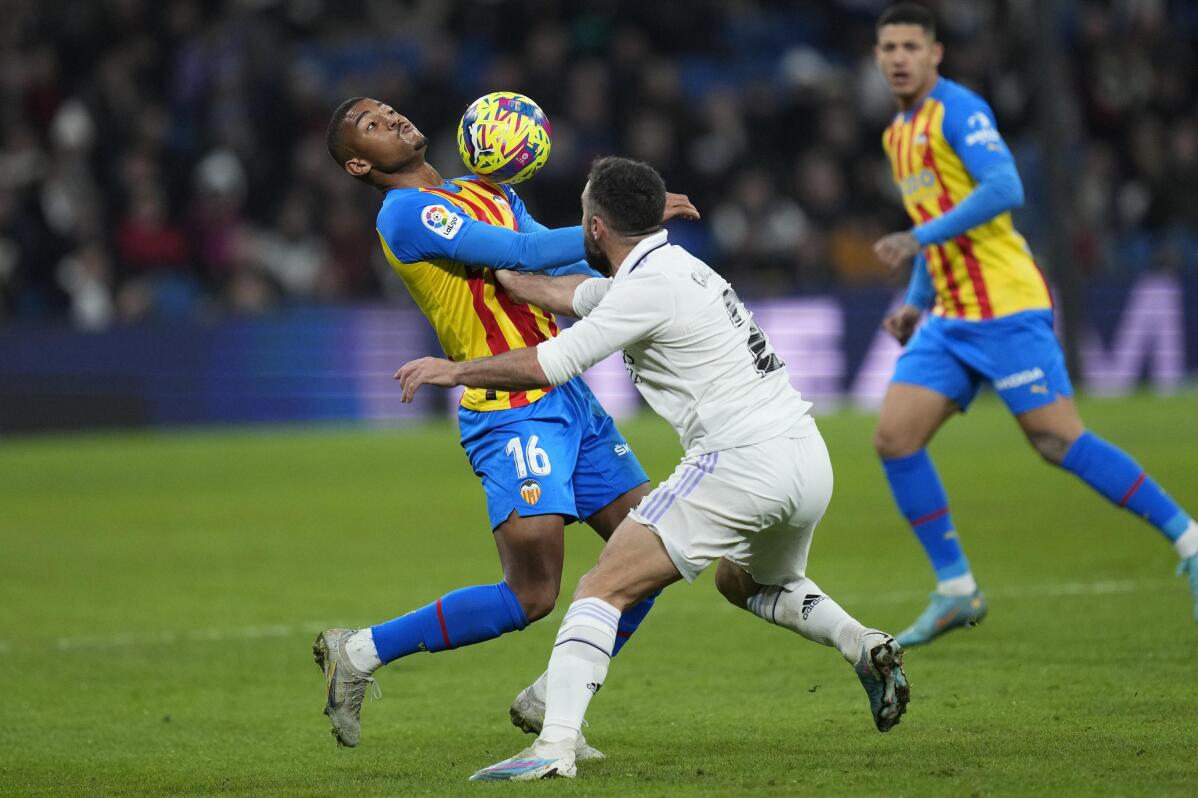 3 of 3

|
Valencia's Samuel Lino, left, vies for the ball with Real Madrid's Dani Carvajal during the Spanish La Liga soccer match between Real Madrid and Valencia at Santiago Bernabeu stadium in Madrid, Thursday, Feb. 2, 2023. (AP Photo/Bernat Armangue)
3 of 3
Valencia's Samuel Lino, left, vies for the ball with Real Madrid's Dani Carvajal during the Spanish La Liga soccer match between Real Madrid and Valencia at Santiago Bernabeu stadium in Madrid, Thursday, Feb. 2, 2023. (AP Photo/Bernat Armangue)
MADRID (AP) — Struggling Spanish soccer club Valencia hired former player Rubén Baraja as coach on Tuesday to replace Gennaro Gattuso and help the team avoid relegation.
Baraja, who previously coached several second-division clubs in Spain, arrives with Valencia sitting in 18th place after 21 matches, inside the relegation zone.
Gattuso left last month after a series of poor results. Interim coach Voro González had been in charge until now, losing all three matches in which he was in command. Gattuso arrived in June on a two-year contract. The Italian coach left with the team in 14th place.
The 47-year-old Baraja, a former Valencia and Spain midfielder, previously coached teams such as Real Zaragoza, Tenerife, Sporting Gijón, Rayo Vallecano and Elche. He also had a stint in charge of a Valencia youth squad. Baraja had not been coaching since leaving Real Zaragoza in 2020.
As a player, Baraja helped Valencia win Spanish league titles in 2002 and 2004, in addition to a UEFA Cup, a European Super Cup and a Copa del Rey.
Valencia said in a statement that Baraja "knows the idiosyncrasies of the club and returns home to contribute with his professionalism and commitment as a coach after forging his legendary figure in the 2000s."
Another former Valencia player, Carlos Marchena, will be part of Baraja's coaching staff. He was a former teammate of Baraja at the club.
Valencia has lost five straight games in all competitions, including four in a row in the league. It has only one league win in its last 13 matches in the competition — against Real Betis in November, before the World Cup. The team lost at home to Athletic Bilbao 2-1 on Saturday, when fans against protested against club owners.
Several hundred Valencia fans rallied outside Mestalla Stadium against Singaporean businessman Peter Lim, who they blame for selling off Valencia's best players year after year. Several held up fans saying "Lim Go Home."
Valencia's next league match is at 19th-place Getafe on Monday.
___
More AP soccer: https://apnews.com/hub/soccer and https://twitter.com/AP_Sports