Loyola Marymount ends No. 6 Gonzaga's home streak at 75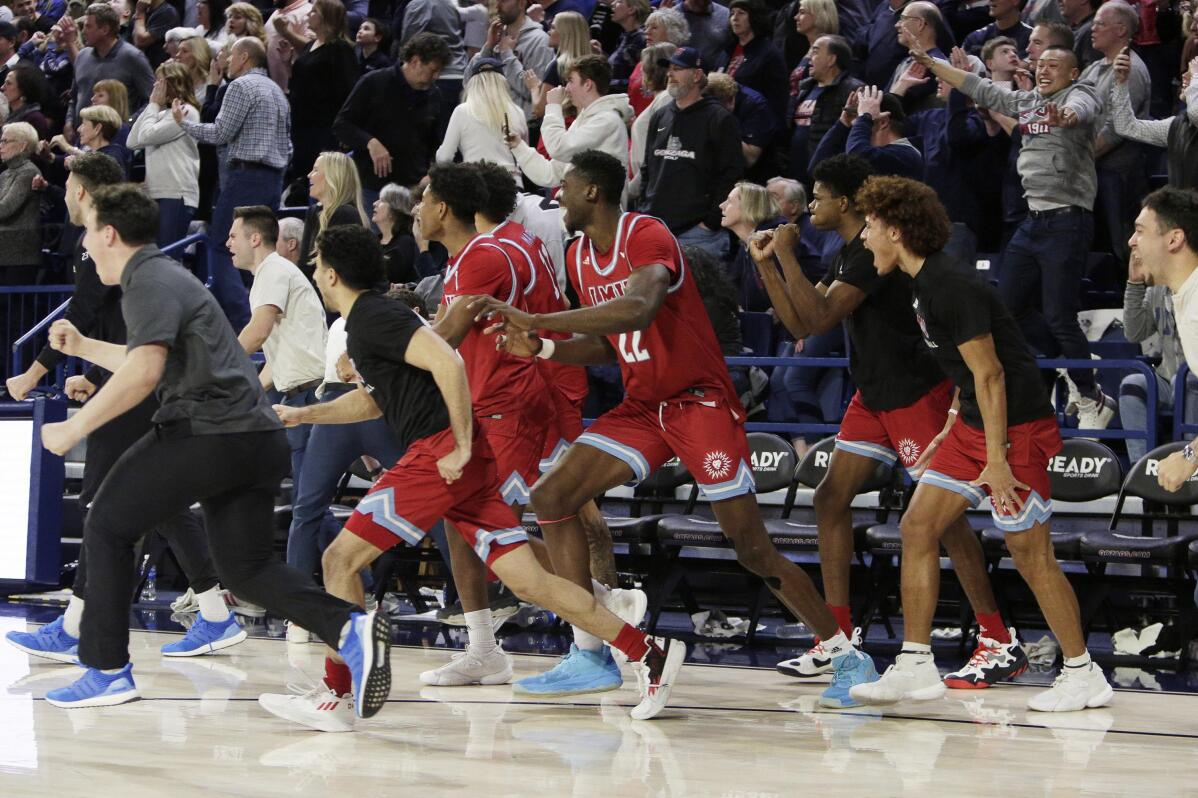 1 of 6

|
Loyola Marymount celebrates their 68-67 win against Gonzaga at the end of an NCAA college basketball game, Thursday, Jan. 19, 2023, in Spokane, Wash. (AP Photo/Young Kwak)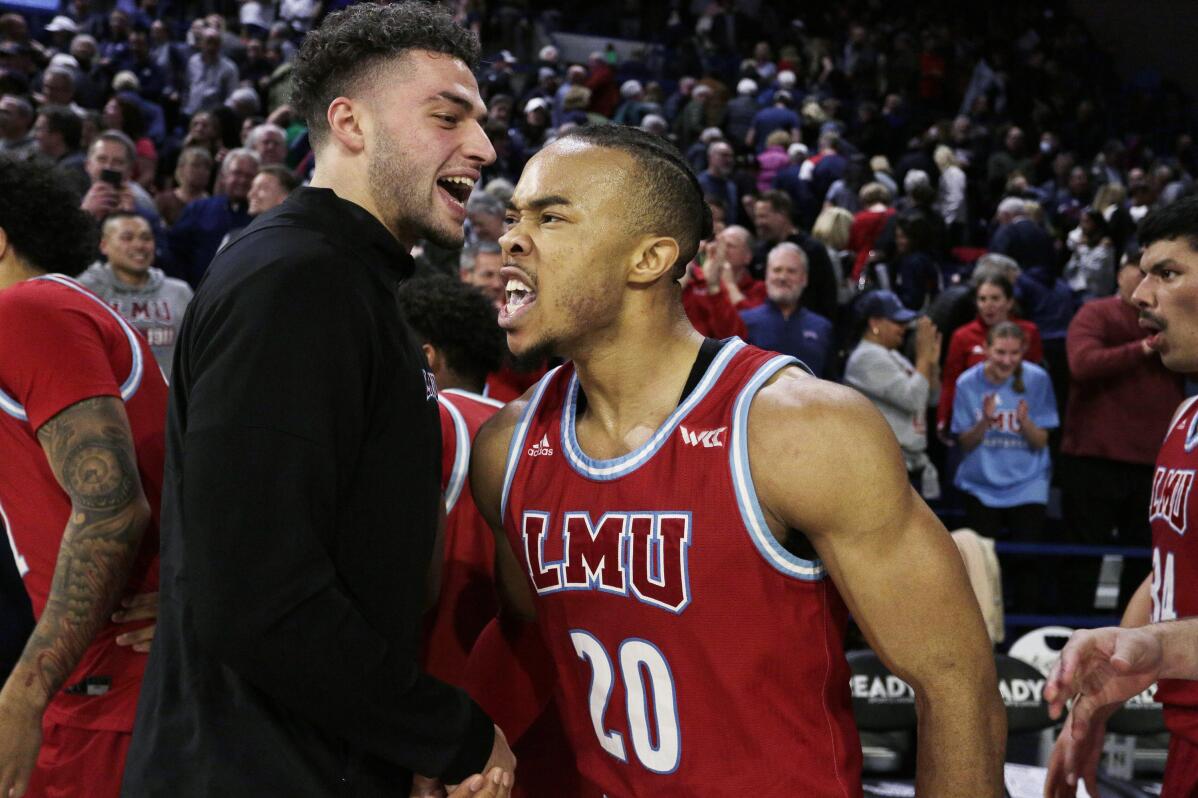 2 of 6

|
Loyola Marymount guard Cam Shelton (20) celebrates the team's 68-67 win against Gonzaga after an NCAA college basketball game, Thursday, Jan. 19, 2023, in Spokane, Wash. (AP Photo/Young Kwak)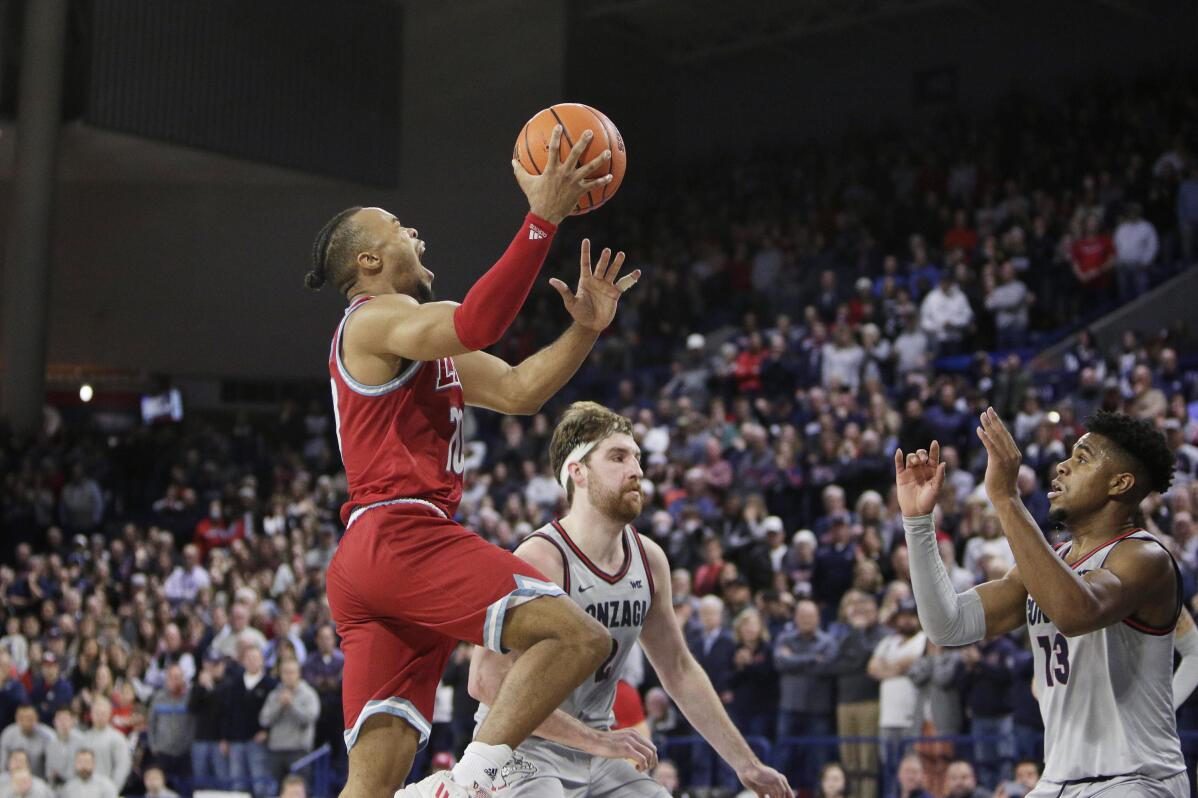 3 of 6

|
Loyola Marymount guard Cam Shelton, left, shoots the go-ahead basket in front of Gonzaga guard Malachi Smith, right, and forward Drew Timme during the second half of an NCAA college basketball game, Thursday, Jan. 19, 2023, in Spokane, Wash. Loyola Marymount won 68-67. (AP Photo/Young Kwak)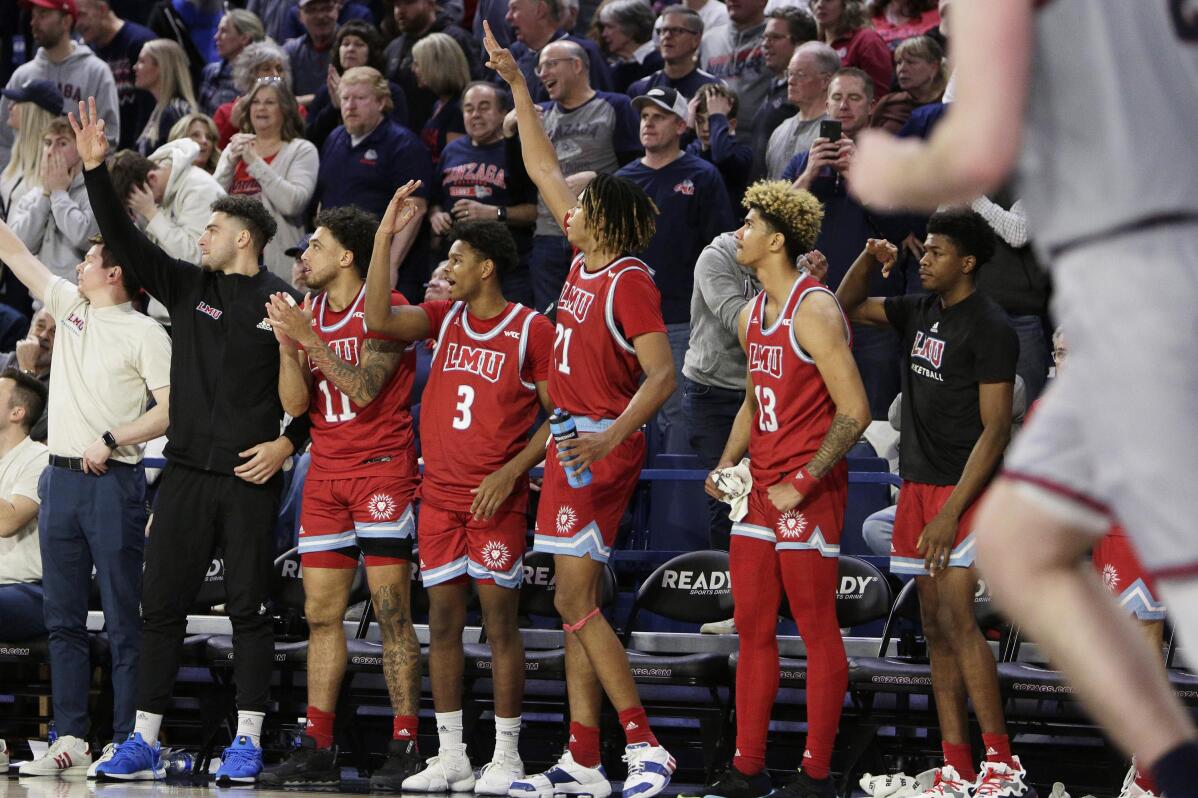 4 of 6

|
Loyola Marymount guard Kwane Marble (11), guard Chance Stephens (3), forward Michael Graham (21), guard Lamaj Lewis (13) and other members of the team celebrate a basket during the second half of an NCAA college basketball game against Gonzaga, Thursday, Jan. 19, 2023, in Spokane, Wash. Loyola Marymount won 68-67. (AP Photo/Young Kwak)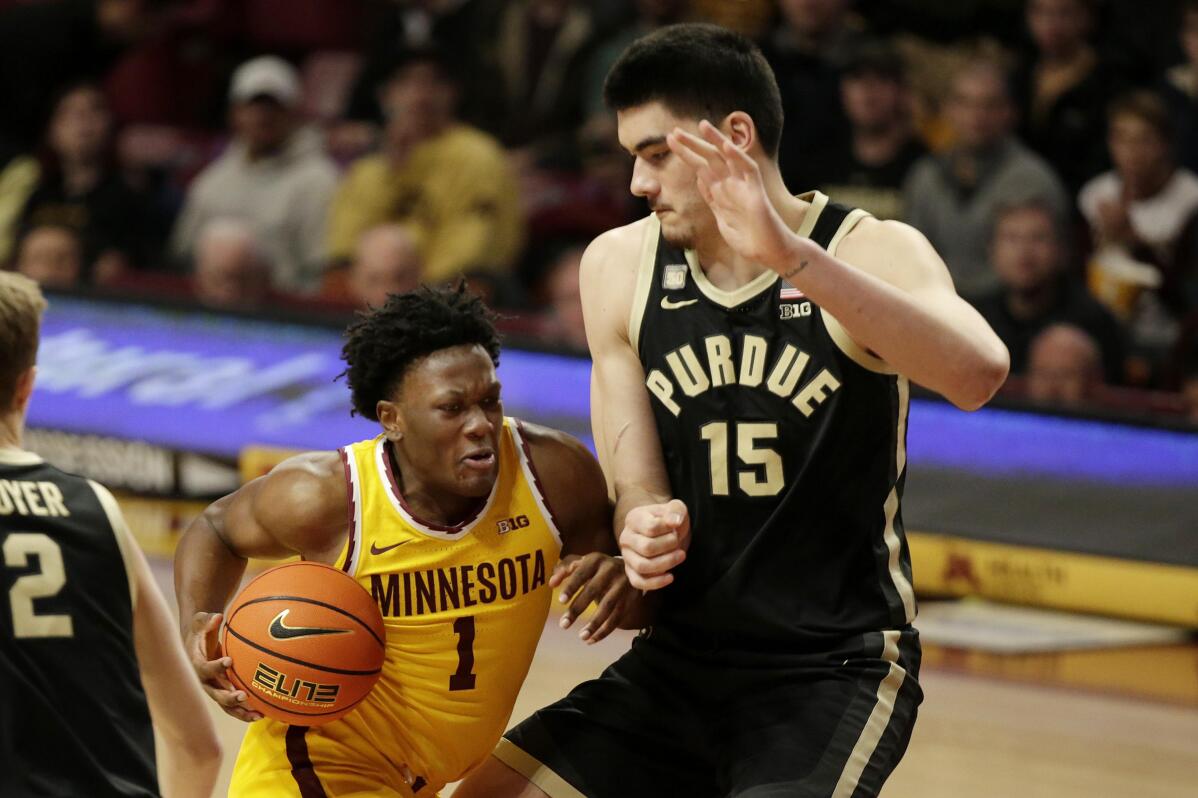 5 of 6

|
Minnesota forward Joshua Ola-Joseph (1) drives against Purdue center Zach Edey (15) in the first half of an NCAA college basketball game, Thursday, Jan. 19, 2023, in Minneapolis. (AP Photo/Andy Clayton-King)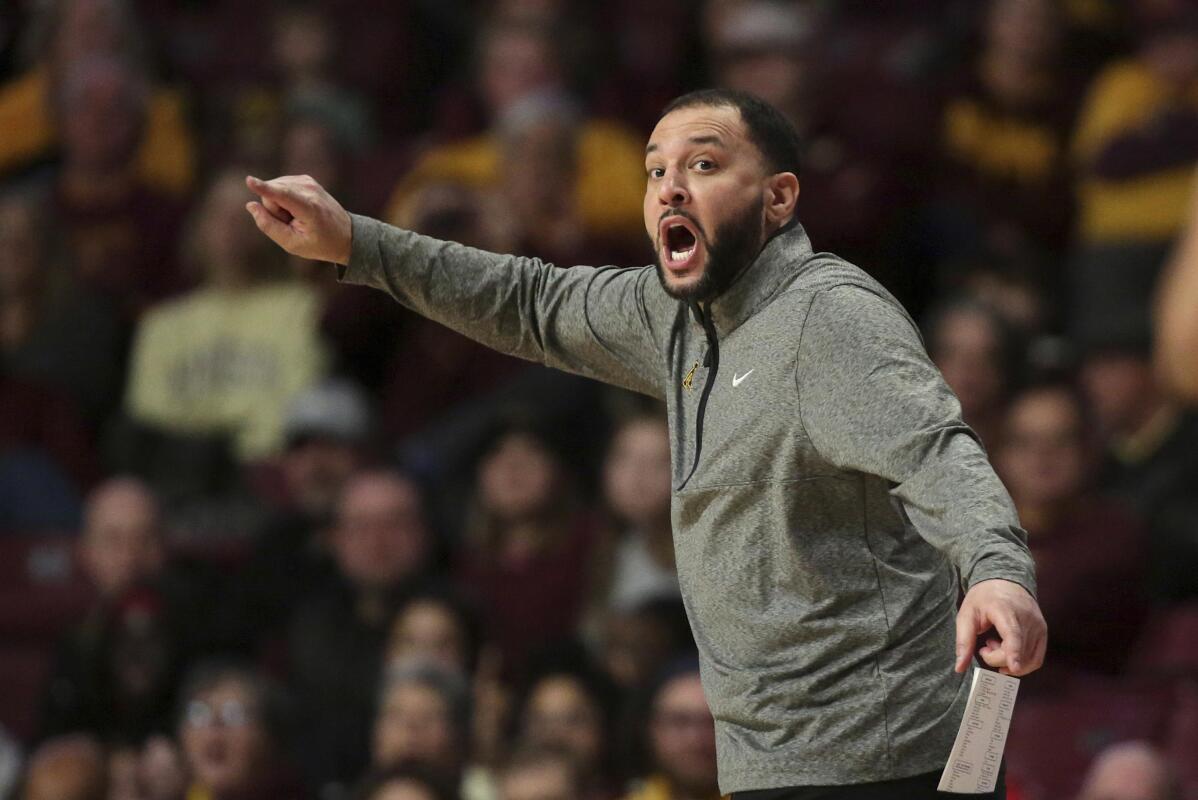 6 of 6

|
Minnesota head coach Ben Johnson gestures in the second half of an NCAA college basketball game against Purdue, Thursday, Jan. 19, 2023, in Minneapolis. (AP Photo/Andy Clayton-King)
Loyola Marymount ends No. 6 Gonzaga's home streak at 75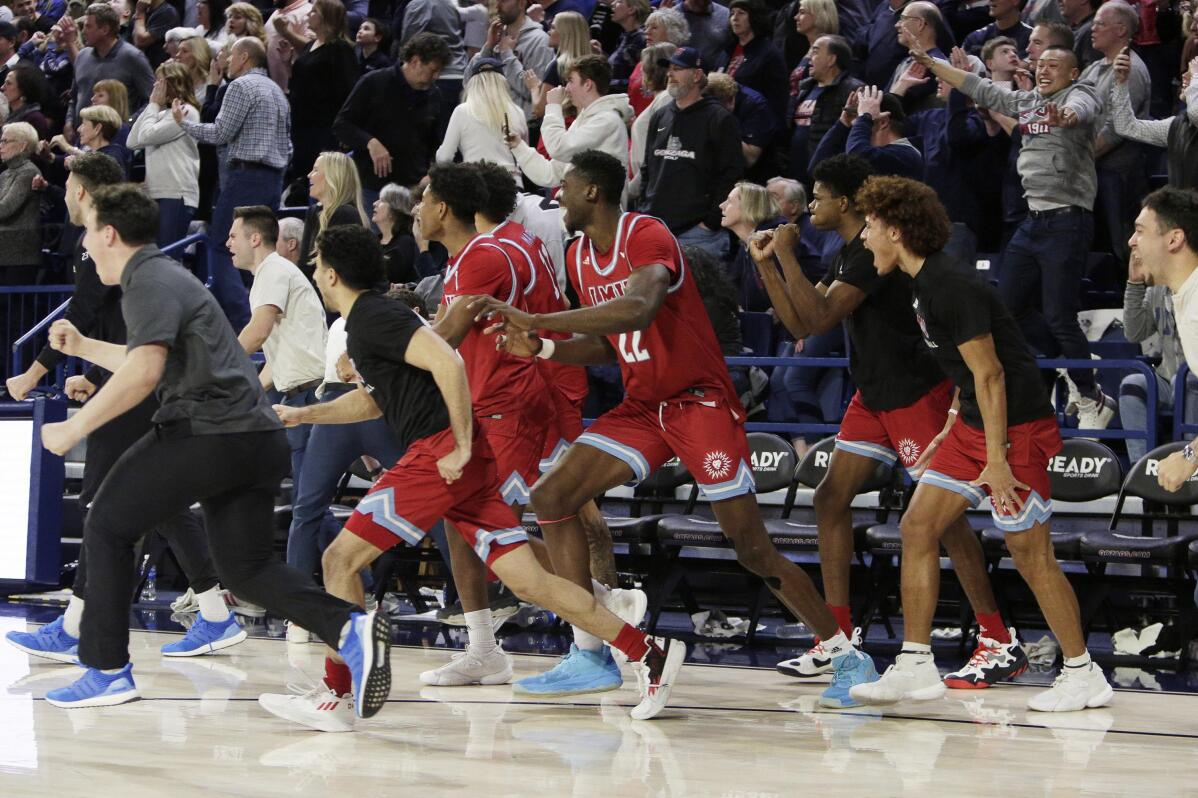 1 of 6

|
Loyola Marymount celebrates their 68-67 win against Gonzaga at the end of an NCAA college basketball game, Thursday, Jan. 19, 2023, in Spokane, Wash. (AP Photo/Young Kwak)
1 of 6
Loyola Marymount celebrates their 68-67 win against Gonzaga at the end of an NCAA college basketball game, Thursday, Jan. 19, 2023, in Spokane, Wash. (AP Photo/Young Kwak)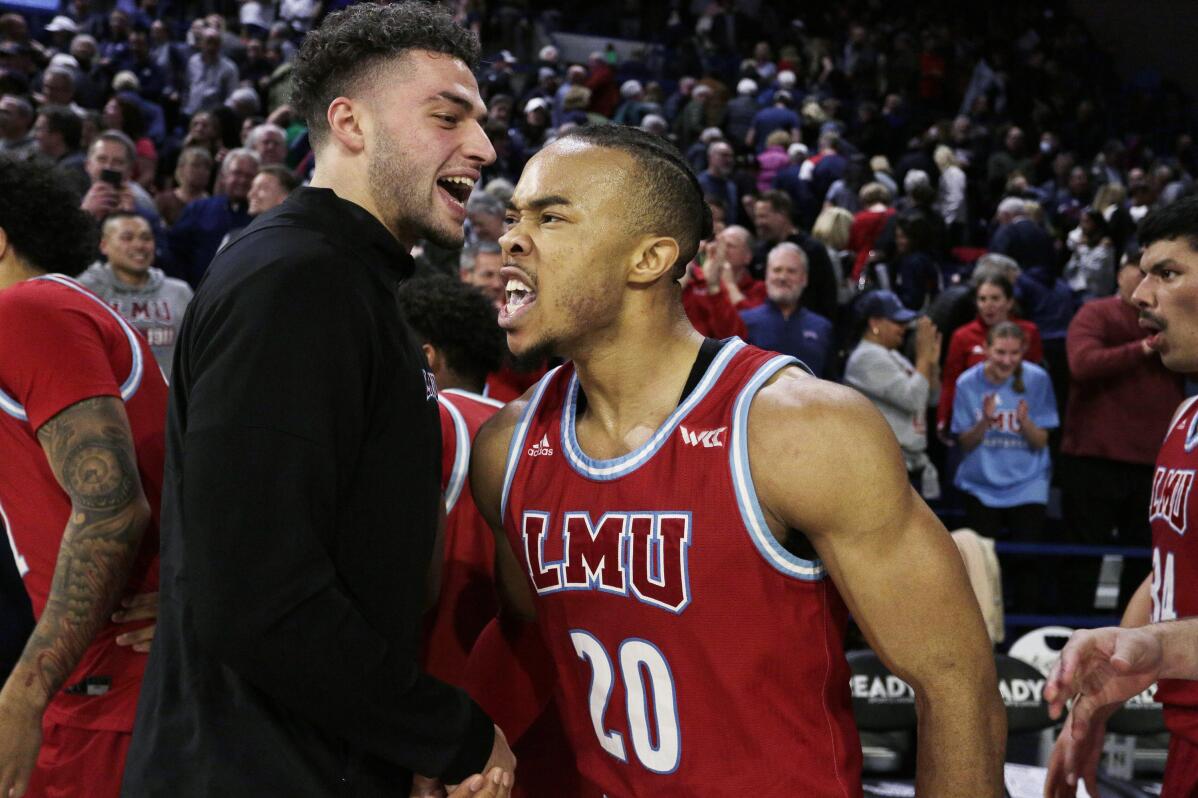 2 of 6

|
Loyola Marymount guard Cam Shelton (20) celebrates the team's 68-67 win against Gonzaga after an NCAA college basketball game, Thursday, Jan. 19, 2023, in Spokane, Wash. (AP Photo/Young Kwak)
2 of 6
Loyola Marymount guard Cam Shelton (20) celebrates the team's 68-67 win against Gonzaga after an NCAA college basketball game, Thursday, Jan. 19, 2023, in Spokane, Wash. (AP Photo/Young Kwak)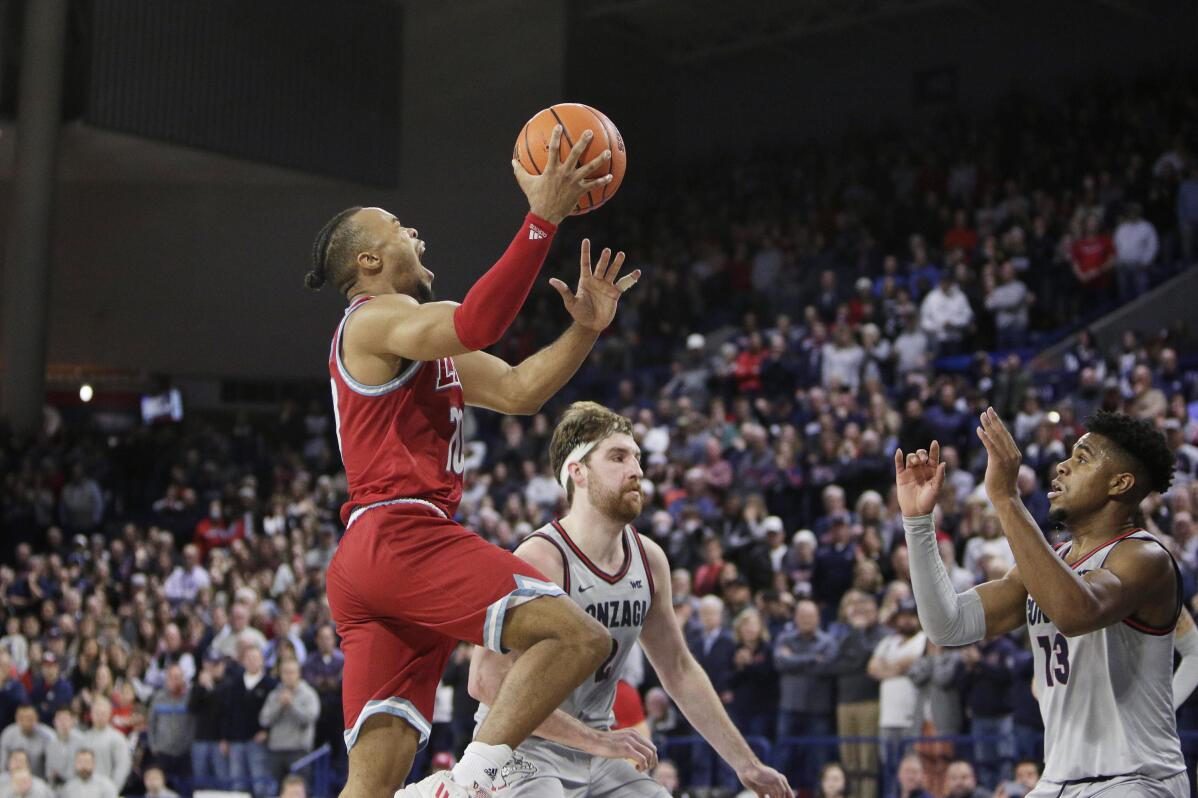 3 of 6

|
Loyola Marymount guard Cam Shelton, left, shoots the go-ahead basket in front of Gonzaga guard Malachi Smith, right, and forward Drew Timme during the second half of an NCAA college basketball game, Thursday, Jan. 19, 2023, in Spokane, Wash. Loyola Marymount won 68-67. (AP Photo/Young Kwak)
3 of 6
Loyola Marymount guard Cam Shelton, left, shoots the go-ahead basket in front of Gonzaga guard Malachi Smith, right, and forward Drew Timme during the second half of an NCAA college basketball game, Thursday, Jan. 19, 2023, in Spokane, Wash. Loyola Marymount won 68-67. (AP Photo/Young Kwak)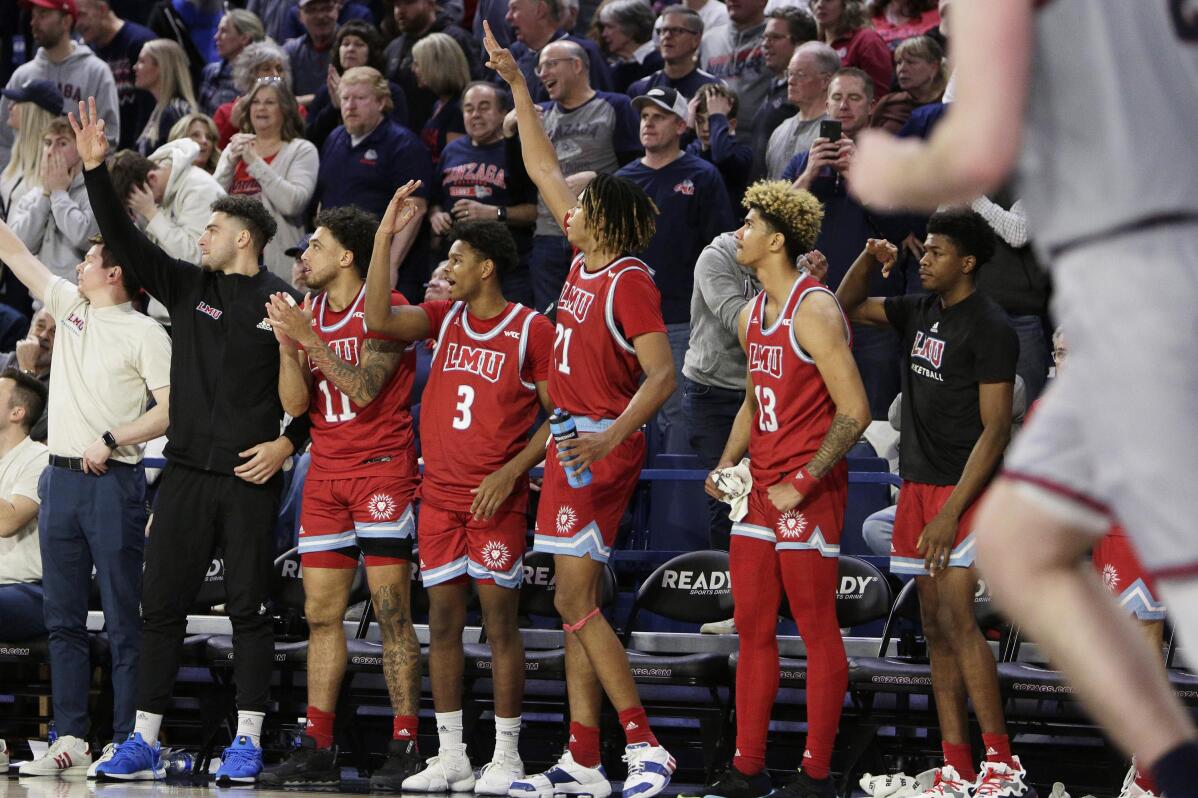 4 of 6

|
Loyola Marymount guard Kwane Marble (11), guard Chance Stephens (3), forward Michael Graham (21), guard Lamaj Lewis (13) and other members of the team celebrate a basket during the second half of an NCAA college basketball game against Gonzaga, Thursday, Jan. 19, 2023, in Spokane, Wash. Loyola Marymount won 68-67. (AP Photo/Young Kwak)
4 of 6
Loyola Marymount guard Kwane Marble (11), guard Chance Stephens (3), forward Michael Graham (21), guard Lamaj Lewis (13) and other members of the team celebrate a basket during the second half of an NCAA college basketball game against Gonzaga, Thursday, Jan. 19, 2023, in Spokane, Wash. Loyola Marymount won 68-67. (AP Photo/Young Kwak)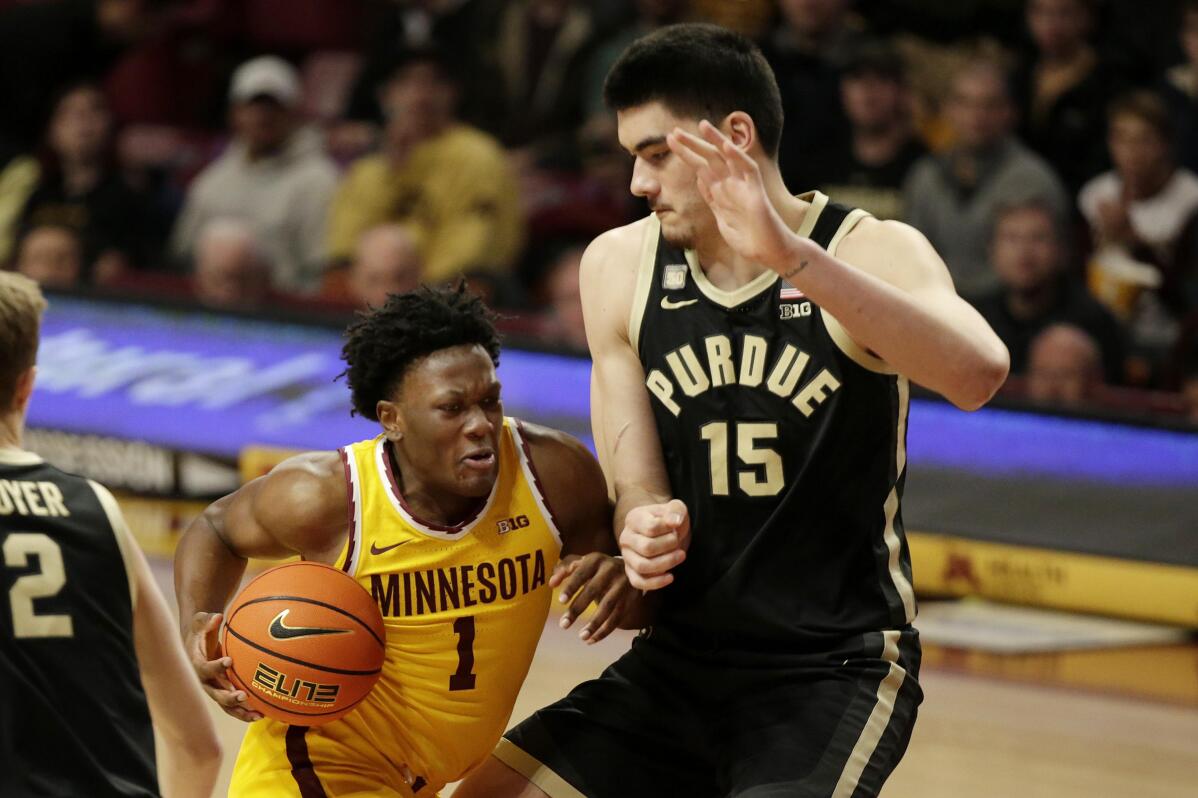 5 of 6

|
Minnesota forward Joshua Ola-Joseph (1) drives against Purdue center Zach Edey (15) in the first half of an NCAA college basketball game, Thursday, Jan. 19, 2023, in Minneapolis. (AP Photo/Andy Clayton-King)
5 of 6
Minnesota forward Joshua Ola-Joseph (1) drives against Purdue center Zach Edey (15) in the first half of an NCAA college basketball game, Thursday, Jan. 19, 2023, in Minneapolis. (AP Photo/Andy Clayton-King)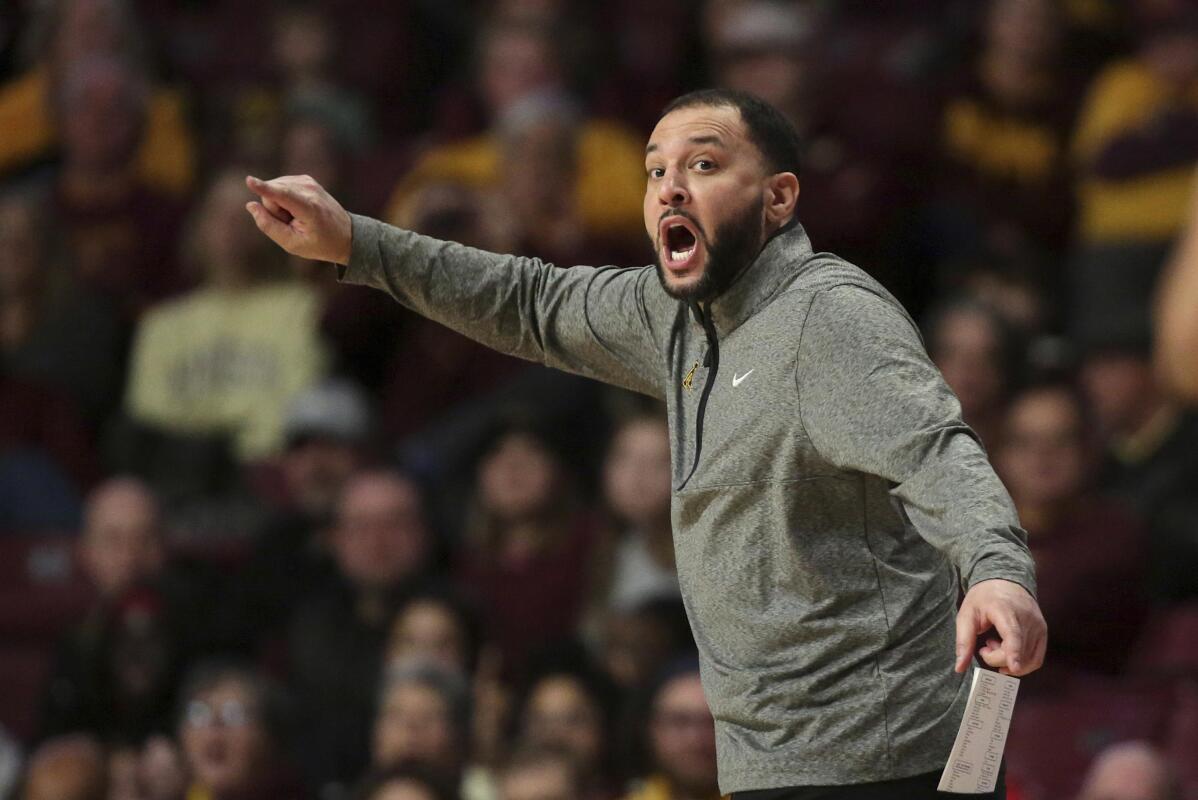 6 of 6

|
Minnesota head coach Ben Johnson gestures in the second half of an NCAA college basketball game against Purdue, Thursday, Jan. 19, 2023, in Minneapolis. (AP Photo/Andy Clayton-King)
6 of 6
Minnesota head coach Ben Johnson gestures in the second half of an NCAA college basketball game against Purdue, Thursday, Jan. 19, 2023, in Minneapolis. (AP Photo/Andy Clayton-King)
SPOKANE, Wash. (AP) — Cam Shelton banked in a go-ahead runner with 13 seconds left and Loyola Marymount snapped No. 6 Gonzaga's 75-game home winning streak with a 68-67 victory Thursday night.
The home streak for the Bulldogs (16-4, 5-1 West Coast Conference) tied Long Beach State (from 1968-74) for the eighth-longest in Division I history.
Shelton scored 27 points to lead the Lions (14-7, 4-3). They hadn't won in Spokane since 1991 and had lost 25 straight overall to the Zags.
Gonzaga had won 93 straight games against unranked opponents with 69 of those coming at home, and had won its previous 116 WCC games against teams other than Saint Mary's and BYU.
Gonzaga's streak of 36 straight wins in the month of January also ended. The Bulldogs had won 11 straight overall since losing to Baylor on Dec. 2.
Drew Timme led Gonzaga with 17 points.
NO. 3 PURDUE 61, MINNESOTA 39
MINNEAPOLIS (AP) — Braden Smith had 19 points, seven rebounds and seven assists to help Purdue overwhelm Minnesota.
Zach Edey had 12 points, six rebounds and four blocks for the Big Ten-leading Boilermakers (18-1, 7-1). They won their fifth consecutive game after taking their lone loss of the season to now-No. 23 Rutgers on Jan. 2.
Three days after Edey's short turnaround shot with 2.2 seconds left lifted Purdue to a 64-63 victory at Michigan State, the boys in black and gold gave themselves a breather by smothering the last-place Gophers (7-10, 1-6) from start to finish.
Joshua Ola-Joseph led Minnesota with 13 points.
NO. 5 UCLA 75, ARIZONA STATE 62
TEMPE, Ariz. (AP) — Tyger Campbell matched a season high with 22 points, David Singleton had a season-high 21 and UCLA extended its winning streak to 14 games, beating Arizona State.
Jamie Jaquez, bothered by foul trouble, scored five of his 12 points in the final 2 1/2 minutes as the Bruins took control. UCLA closed on a 16-2 run after Frankie Collins' 3-pointer with 6:13 remaining gave Arizona State a 60-58 lead.
The Bruins (17-2, 8-0 Pac-12) overcame a six-point deficit in the final 11 minutes and opened a two-game lead in the conference standings over Arizona State (15-4, 6-2), which had won four in a row.
Desmond Cambridge Jr. had 15 points and D.J. Horne scored all 14 of his points in the final half for Arizona State.
NO. 11 ARIZONA 81, SOUTHERN CALIFORNIA 66
TUCSON, Ariz. (AP) — Courtney Ramey scored 16 points, Azuolas Tubelis had 15 points and 17 rebounds and Arizona used a revamped lineup to beat Southern California.
Coach Tommy Lloyd changed up his starting lineup in hopes of shaking up Arizona's struggling offense and unproductive bench.
The Wildcats (16-3, 5-3 Pac-12) had a much better flow with Cedric Henderson Jr. starting and Pelle Larsson coming off the bench, racing to a 15-point halftime lead.
Drew Peterson led the Trojans (13-6, 5-3) with 15 points.
NO. 18 CHARLESTOWN 69, MONMOUTH 55
WEST LONG BRANCH, N.J. (AP) — Reyne Smith made seven 3-pointers and scored 27 points, Dalton Bolon added 15 points and Charleston beat Monmouth for its 19th straight victory.
The Cougars (20-1, 8-0 Colonial Athletic Association), whose 20 wins are the most in Division I, extended the nation's longest winning streak. Charleston is ranked in the AP Top 25 poll for the third consecutive week, jumping four spots this week for its highest ranking since being No. 16 in the 1998-99 season.
Andrew Ball scored 16 points for Monmouth (1-18, 0-6).
MICHIGAN STATE 70, NO. 23 RUTGERS 57
EAST LANSING, Mich. (AP) — A.J. Hoggard had 16 points and seven assists and Michigan State beat Rutgers.
The Spartans (13-6, 5-3 Big Ten) overcame an awful start, trailing by nine in the opening minutes, to lead 36-30 at halftime and by 16 points in the second half.
Clifford Omoruyi had 12 points and 12 rebounds and Paul Mulcahy also scored 12 points for Rutgers (13-6, 5-3).
NO. 24 FLORIDA ATLANTIC 83, UTSA 64
SAN ANTONIO (AP) — Johnell Davis scored 14 points, Brandon Weatherspoon had 12 points and Florida Atlantic won its 17th straight game, beating UTSA.
Reserve Alijah Martin added 11 points and Nate Boyd had 10 for the Owls (18-1, 8-0 Conference USA). They put the game away with a 20-4 run in the second half.
Jacob Germany had 13 points and 11 rebounds and DJ Richards also scored 13 points for the Roadrunners (7-13, 1-8).
___
AP college basketball: https://apnews.com/hub/college-basketball and https://apnews.com/hub/ap-top-25-college-basketball-poll and https://twitter.com/AP_Top25