Asberry's late flurry helps Baylor past No. 12 Iowa State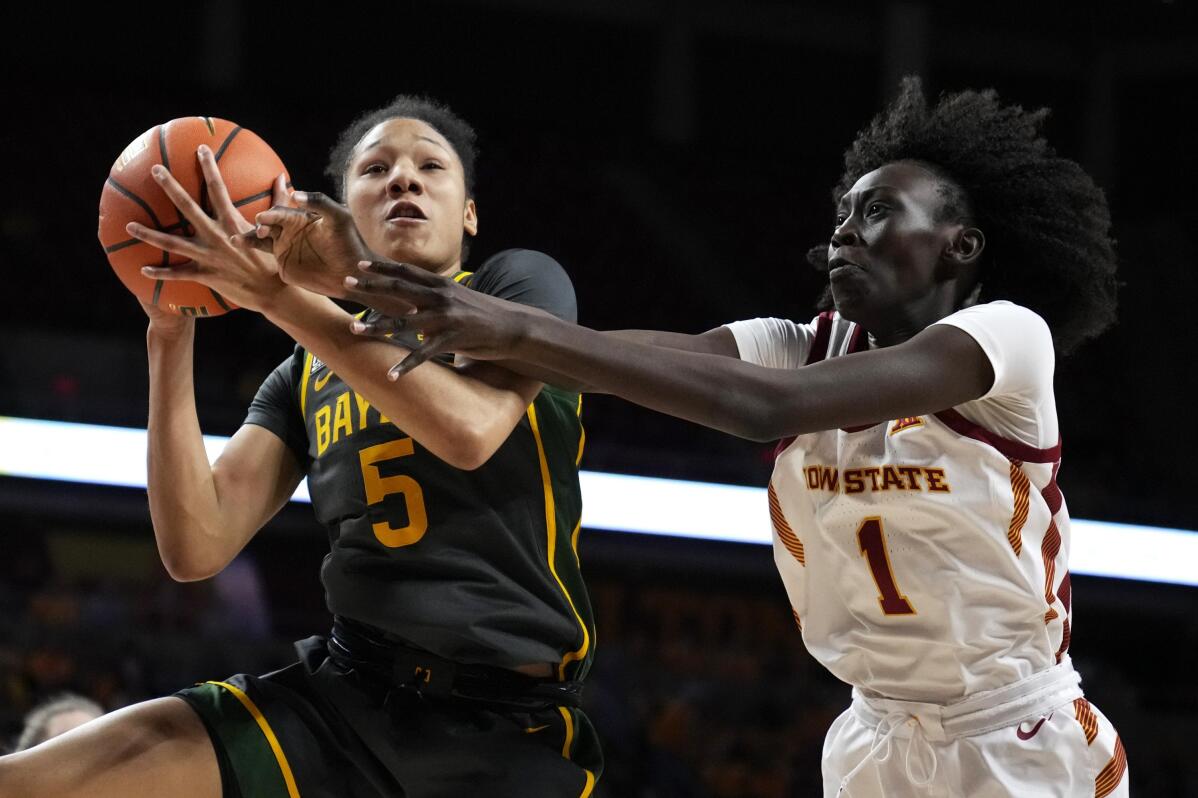 1 of 2

|
Baylor guard Darianna Littlepage-Buggs (5) grabs a rebound in front of Iowa State forward Nyamer Diew (1) during the first half of an NCAA college basketball game, Saturday, Feb. 4, 2023, in Ames, Iowa. (AP Photo/Charlie Neibergall)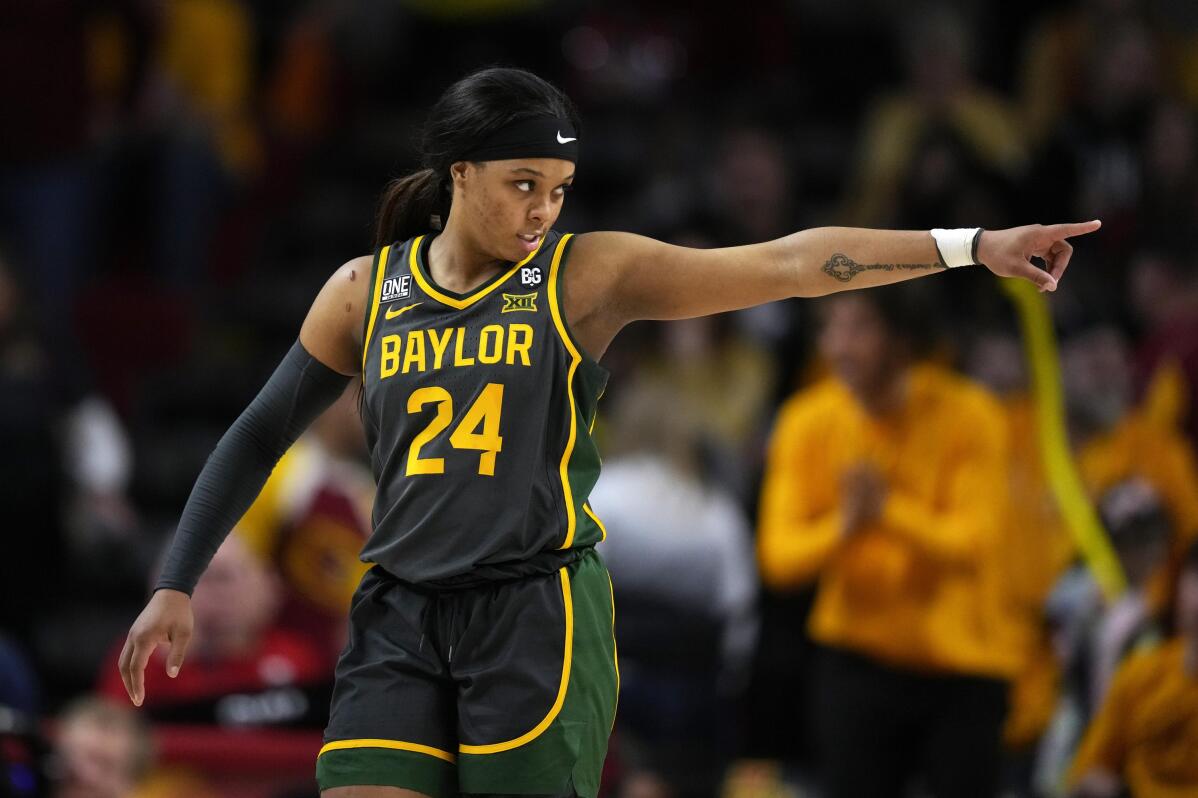 2 of 2

|
Baylor guard Sarah Andrews celebrates at the end of an NCAA college basketball game against Iowa State, Saturday, Feb. 4, 2023, in Ames, Iowa. Baylor won 76-70. (AP Photo/Charlie Neibergall)
Asberry's late flurry helps Baylor past No. 12 Iowa State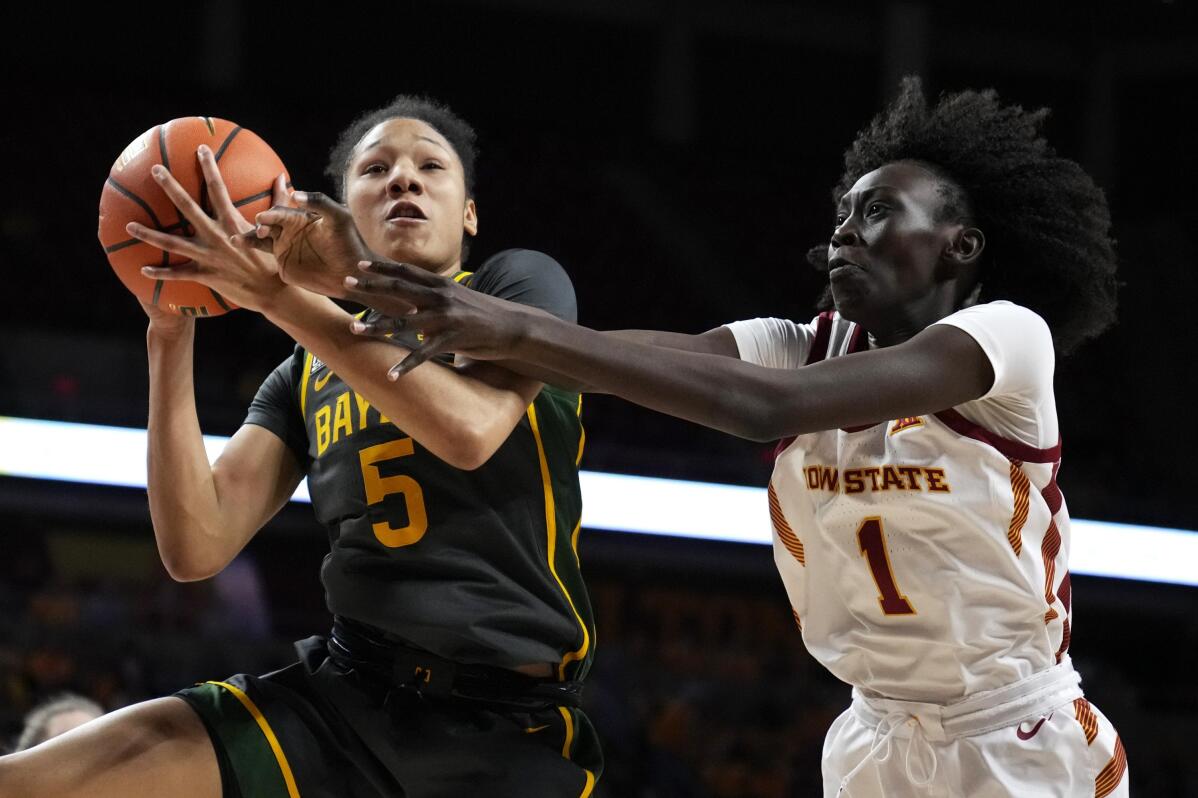 1 of 2

|
Baylor guard Darianna Littlepage-Buggs (5) grabs a rebound in front of Iowa State forward Nyamer Diew (1) during the first half of an NCAA college basketball game, Saturday, Feb. 4, 2023, in Ames, Iowa. (AP Photo/Charlie Neibergall)
1 of 2
Baylor guard Darianna Littlepage-Buggs (5) grabs a rebound in front of Iowa State forward Nyamer Diew (1) during the first half of an NCAA college basketball game, Saturday, Feb. 4, 2023, in Ames, Iowa. (AP Photo/Charlie Neibergall)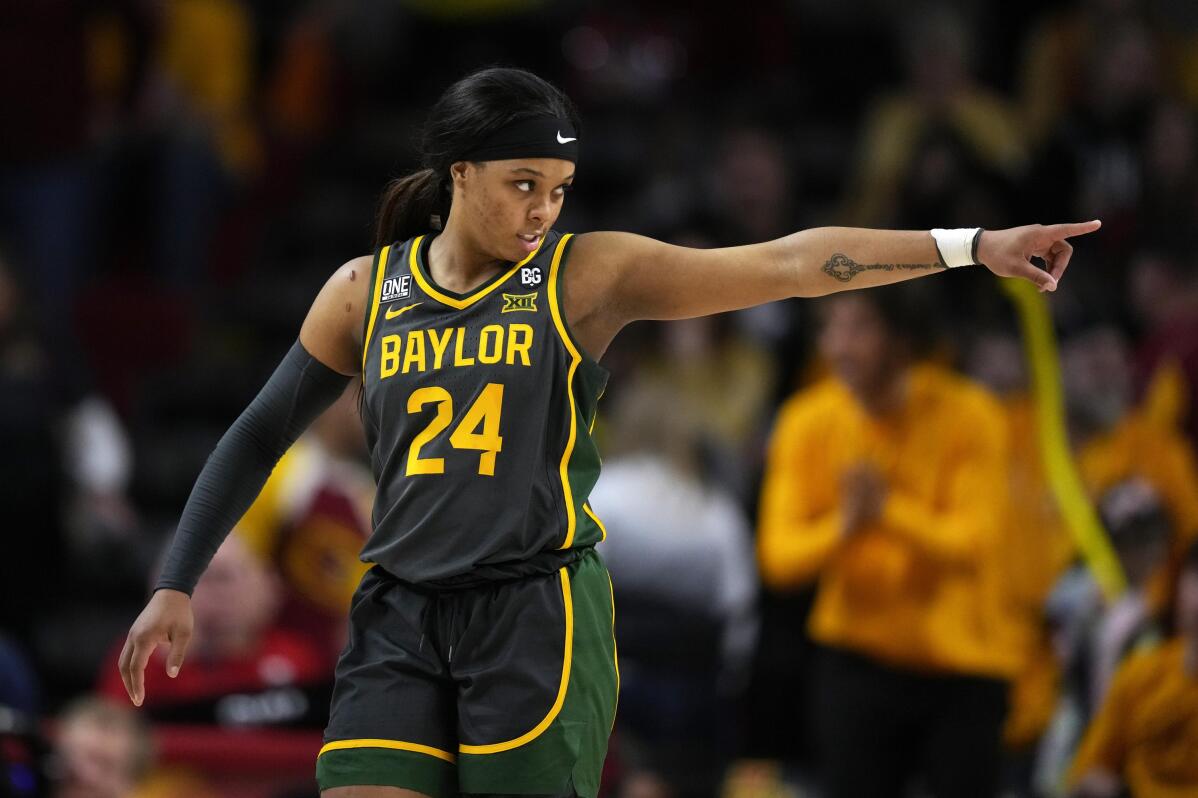 2 of 2

|
Baylor guard Sarah Andrews celebrates at the end of an NCAA college basketball game against Iowa State, Saturday, Feb. 4, 2023, in Ames, Iowa. Baylor won 76-70. (AP Photo/Charlie Neibergall)
2 of 2
Baylor guard Sarah Andrews celebrates at the end of an NCAA college basketball game against Iowa State, Saturday, Feb. 4, 2023, in Ames, Iowa. Baylor won 76-70. (AP Photo/Charlie Neibergall)
AMES, Iowa (AP) — Sarah Andrews scored 21 points, Ja'Mee Asberry led a key fourth-quarter surge and Baylor defeated No. 12 Iowa State 76-70 on Saturday night.
Andrews hit a 3-pointer and a three-point play to give Baylor a 62-57 lead with 6:05 left in the fourth. Lexi Donarski scored six points for Iowa State to get the Cyclones within 66-64 before Asberry hit a jumper and a pair of free throws to put the Bears up 70-64 with 1:13 to go. Baylor maintained at least a five-point lead in the final minute.
Andrews scored 20 points, Asberry and Caitlin Bickle each had 14 points and Darianna Littlepage-Buggs added 13 points and 12 rebounds for the Bears (16-6, 7-3 Big 12).
Baylor's win overshadowed a milestone night for Iowa State's Ashley Joens, who scored 23 points and cracked the top 30 in NCAA Division I career scoring. The loss denied Iowa State coach Bill Fennelly his 750th career win.
Nyamer Diew led Iowa State (15-6, 7-4) with 25 points.
NO. 17 GONZAGA 78, SAN FRANCISCO 56
SAN FRANCISCO (AP) — Kaylynne Truong had career highs of seven 3-pointers and 27 points and added six rebounds, five assists and three steals in Gonzaga's win.
McKayla Williams made 3 of 4 3-pointers and scored 17 points for Gonzaga (22-3, 12-1 West Coast Conference). Yvonne Ejim added 16 points and nine rebounds.
The Bulldogs remain tied for the league lead with Portland heading into next Saturday's game in Spokane, Washington.
Jasmine Gayles scored 14 points for the Dons (15-9, 5-7). Kennedy Dickie added 12 points.
NO. 19 VILLANOVA 78, BUTLER 58
INDIANAPOLIS (AP) — Maddy Siegrist scored 31 points in her 10th 30-point game of the season and Christina Dalce had a double-double for Villanova.
Behind Siegrist's 13-of-19 shooting, the Wildcats shot 68% in the first half and remained over 60% well into the fourth quarter until finishing at 53%. The Bulldogs shot 37%.
Lucy Olsen scored 18 points for Villanova (20-4, 11-2 Big East Conference). Dalce had 13 points and 12 rebounds for her second straight and third career double-double.
Sydney Jaynes scored 16 points for Butler (7-16, 2-12), which lost its sixth straight.
NO. 20 OKLAHOMA 93, WEST VIRGINIA 68
NORMAN, Okla. (AP) — Skylar Vann had 16 points, eight rebounds, three steals and three assists coming off the bench and Oklahoma used a hot start to race past West Virginia.
Ana Llanusa and Liz Scott added 15 points for the Sooners (18-4, 8-3 Big 12 Conference), who opened league play with a 98-77 win over the Mountaineers. Nevaeh Tott scored 12 points and Madi Williams had 12.
Ja'Na Quinerly scored 24 points and Madisen Smith added 12 for the Mountaineers (14-7, 5-5), who were outrebounded 41-26 and outscored 22-8 on second-chance points.
UTSA 58, NO. 21 MIDDLE TENNESSEE 53
SAN ANTONIO (AP) — Jordyn Jenkins had 20 points and 16 rebounds and Elyssa Coleman scored 18 points to lead UTSA.
Kyra White added 13 rebounds and eight assists for UTSA (6-16, 4-9 Conference USA).
Courtney Whitson scored 13 points for MTSU and Savannah Wheeler 11.
MTSU (18-4, 11-2) dropped its second straight following a 16-game winning streak.
NO. 24 TEXAS 68, KANSAS 65
LAWRENCE, Kan. (AP) — DeYona Gaston scored 24 points and intercepted a half-court pass as time ran out to preserve Texas' win over Kansas to remain in first place in the Big 12 Conference.
Texas had a chance to put the game away from the line in the closing seconds, but missed three of four attempts, leaving the Jayhawks with an opening to tie the game with three seconds left. Sanna Strom's long pass was picked off by Gaston and the Longhorns ran out the clock.
Gaston was 12 of 20 from the field, pulled down seven rebounds and had four steals to lead Texas (18-6, 9-2 Big 12). Sonya Morris had 13 points and Faye finished with 10 rebounds.
Taiyanna Jackson had 21 points and 13 rebounds to lead Kansas (14-7, 4-6). Zakiyah Franklin scored 20 points and Wyvette Mayberry added 12.
NO. 25 SOUTH FLORIDA 65, SMU 63
DALLAS (AP) — Dulcy Fankam Mendjiadeu scored 21 points, Sammie Puisis had a double-double of 14 points and 11 rebounds as South Florida won its 12th straight and matched the 2020-21 team for the program's best start in AAC play.
USF coach Jose Fernandez won for the 119th time in the American Athletic Conference and passed UConn coach Geno Auriemma for first place on the conference list.
Elena Tsineke scored 15 points for the Bulls (22-4, 11-0). Fankam Mendjiadeu grabbed eight rebounds.
Jasmine Smith scored 26 points and Savannah Wilkinson and Reagan Bradley scored 14 each for the Mustangs (14-7, 5-4).
___
AP women's college basketball: https://apnews.com/hub/womens-college-basketball and https://apnews.com/hub/ap-top-25-womens-college-basketball-poll and https://twitter.com/AP_Top25