Rogan responds to Spotify protest, COVID advisories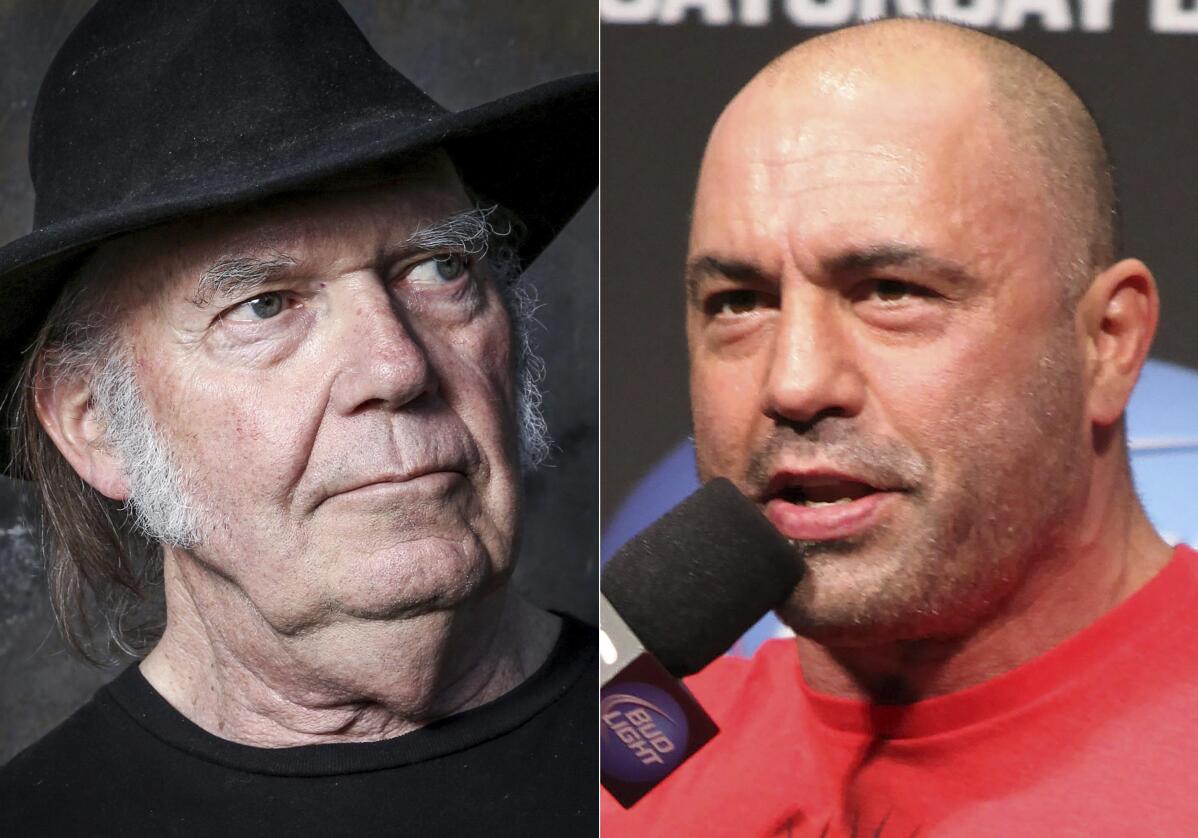 1 of 3

|
This combination photo shows Neil Young in Calabasas, Calif., on May 18, 2016, left, and UFC announcer and podcaster Joe Rogan before a UFC on FOX 5 event in Seattle, Dec. 7, 2012. Spotify said Sunday, Jan. 30, 2022, that it will add content advisories before podcasts discussing the coronavirus. The move follows protests of the music streaming service that were kicked off by Young over the spread of COVID-19 vaccine misinformation. On Wednesday, Young had his music removed from Spotify after the tech giant declined to remove episodes of "The Joe Rogan Experience," which has been criticized for spreading virus misinformation. (AP Photo)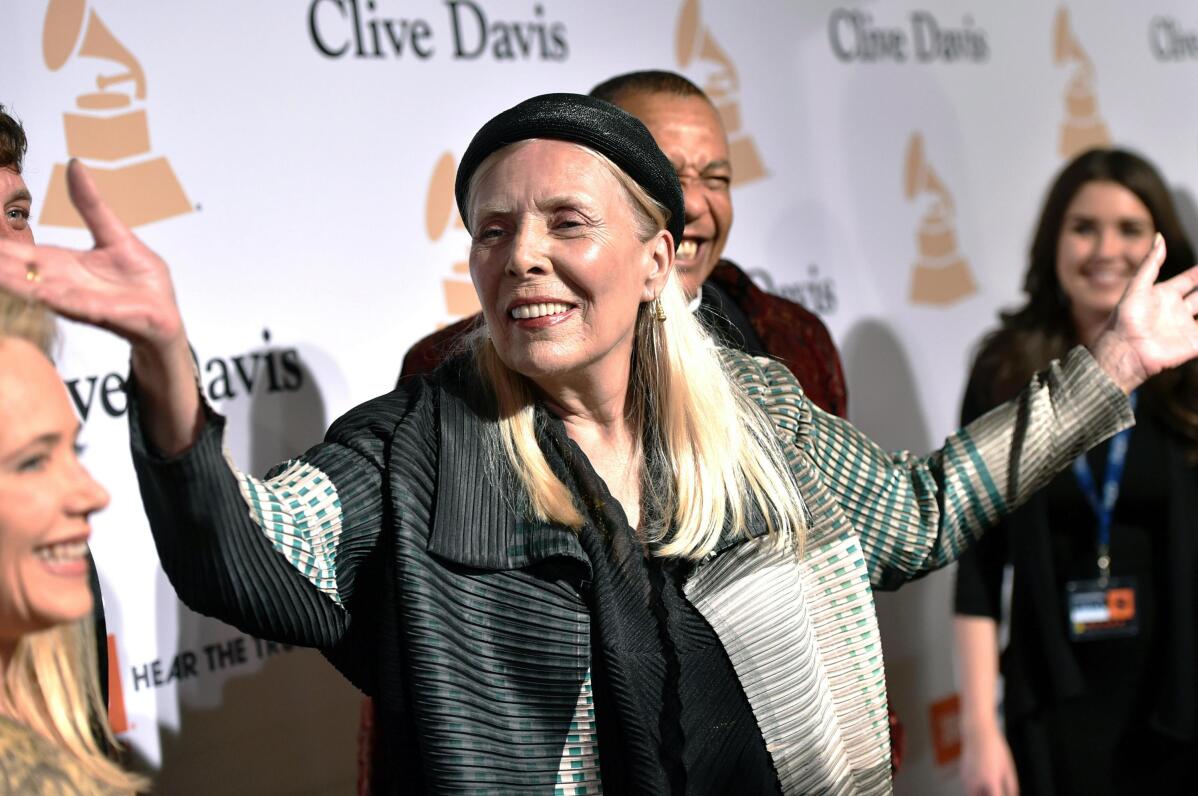 2 of 3

|
FILE - Joni Mitchell arrives at the 2015 Clive Davis Pre-Grammy Gala in Beverly Hills, Calif. Feb. 7, 2015. Joni Mitchell said Friday, Jan. 28, 2022, she seeks to remove all of her music in Spotify in solidarity with Neil Young, who ignited a protest against the streaming service for airing a podcast that featured a figure who has spread misinformation about the coronavirus. Following protests of Spotify over COVID-19 vaccine misinformation, the music streaming service said Sunday, Jan. 30, that it will add content advisories before podcasts discussing the virus. (Photo by John Shearer/Invision/AP, File)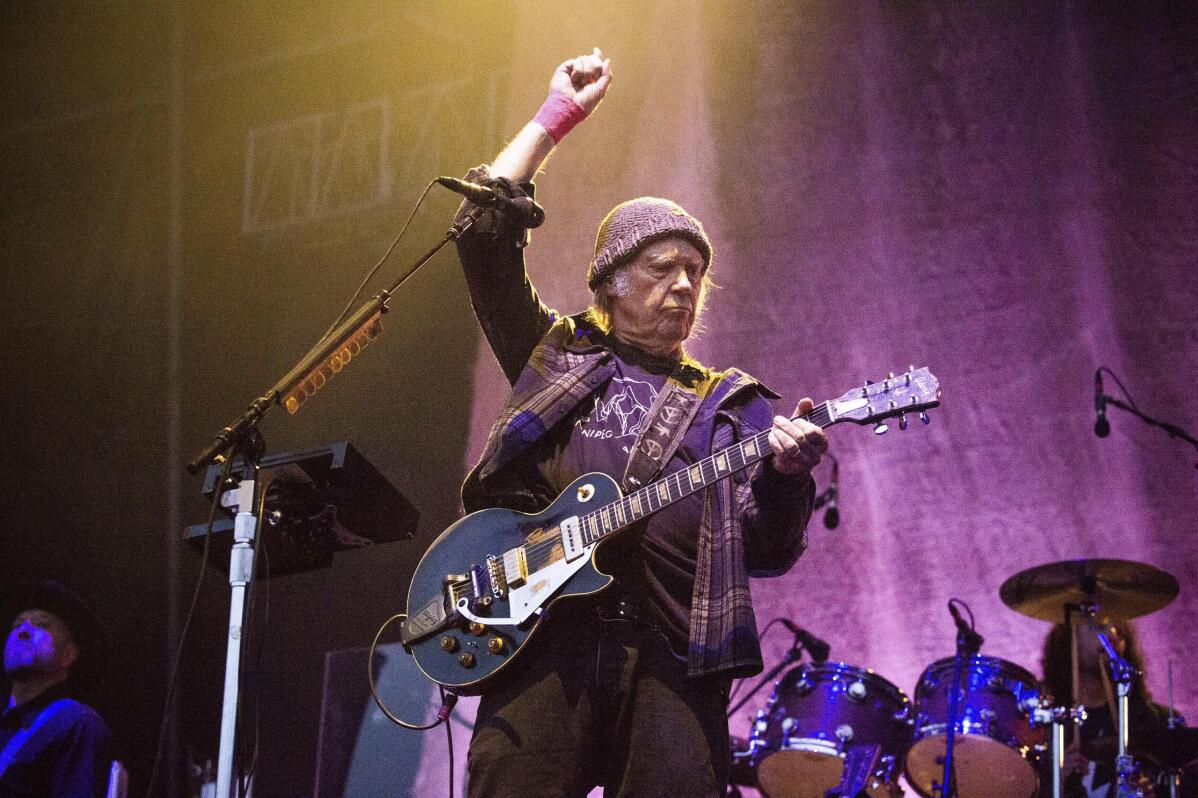 3 of 3

|
FILE - In this May 25, 2019, photo, Neil Young performs at the BottleRock Napa Valley Music Festival at Napa Valley Expo in Napa, Calif. Following protests of Spotify kicked off by Young over the spread of COVID-19 vaccine misinformation, the music streaming service said Sunday, Jan. 30, 2022, that it will add content advisories before podcasts discussing the virus. The singer on Wednesday, Jan. 26, had his music removed from Spotify after the tech giant declined to remove episodes of "The Joe Rogan Experience," which has been criticized for spreading virus misinformation. (Photo by Amy Harris/Invision/AP, File)
Rogan responds to Spotify protest, COVID advisories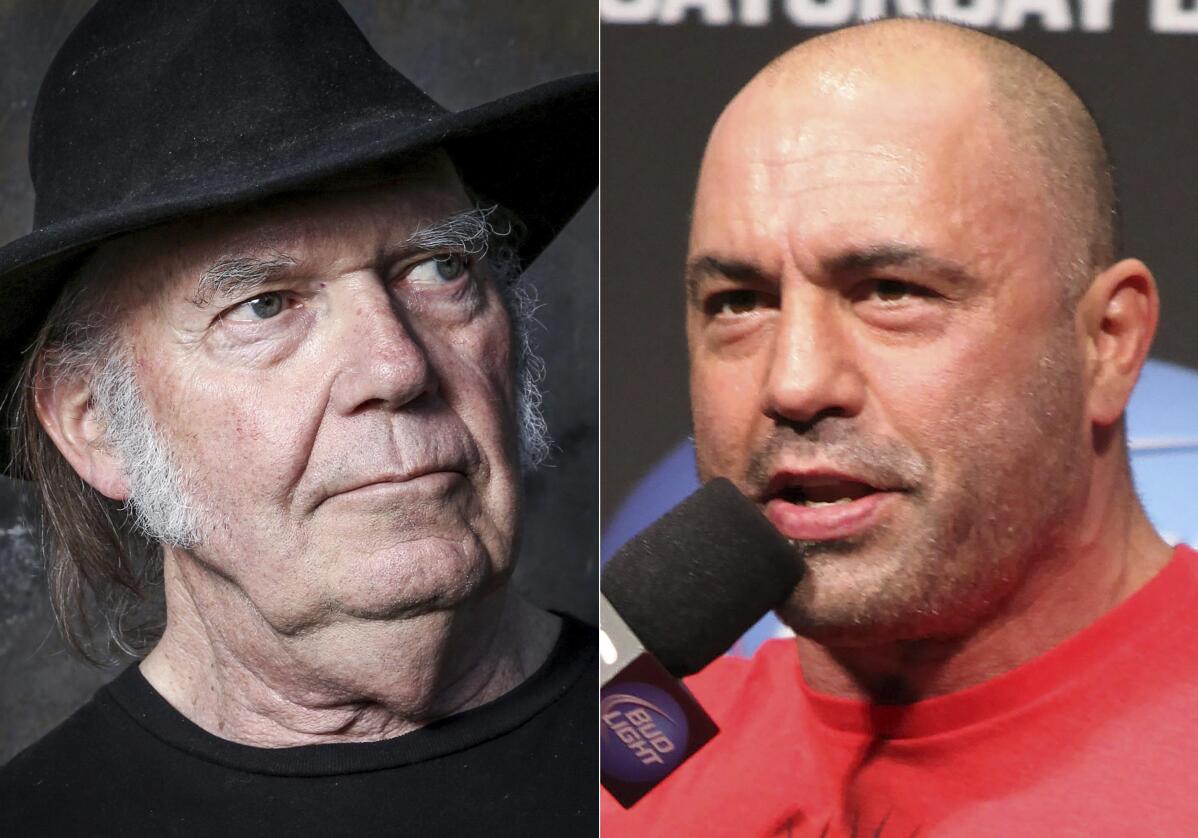 1 of 3

|
This combination photo shows Neil Young in Calabasas, Calif., on May 18, 2016, left, and UFC announcer and podcaster Joe Rogan before a UFC on FOX 5 event in Seattle, Dec. 7, 2012. Spotify said Sunday, Jan. 30, 2022, that it will add content advisories before podcasts discussing the coronavirus. The move follows protests of the music streaming service that were kicked off by Young over the spread of COVID-19 vaccine misinformation. On Wednesday, Young had his music removed from Spotify after the tech giant declined to remove episodes of "The Joe Rogan Experience," which has been criticized for spreading virus misinformation. (AP Photo)
1 of 3
This combination photo shows Neil Young in Calabasas, Calif., on May 18, 2016, left, and UFC announcer and podcaster Joe Rogan before a UFC on FOX 5 event in Seattle, Dec. 7, 2012. Spotify said Sunday, Jan. 30, 2022, that it will add content advisories before podcasts discussing the coronavirus. The move follows protests of the music streaming service that were kicked off by Young over the spread of COVID-19 vaccine misinformation. On Wednesday, Young had his music removed from Spotify after the tech giant declined to remove episodes of "The Joe Rogan Experience," which has been criticized for spreading virus misinformation. (AP Photo)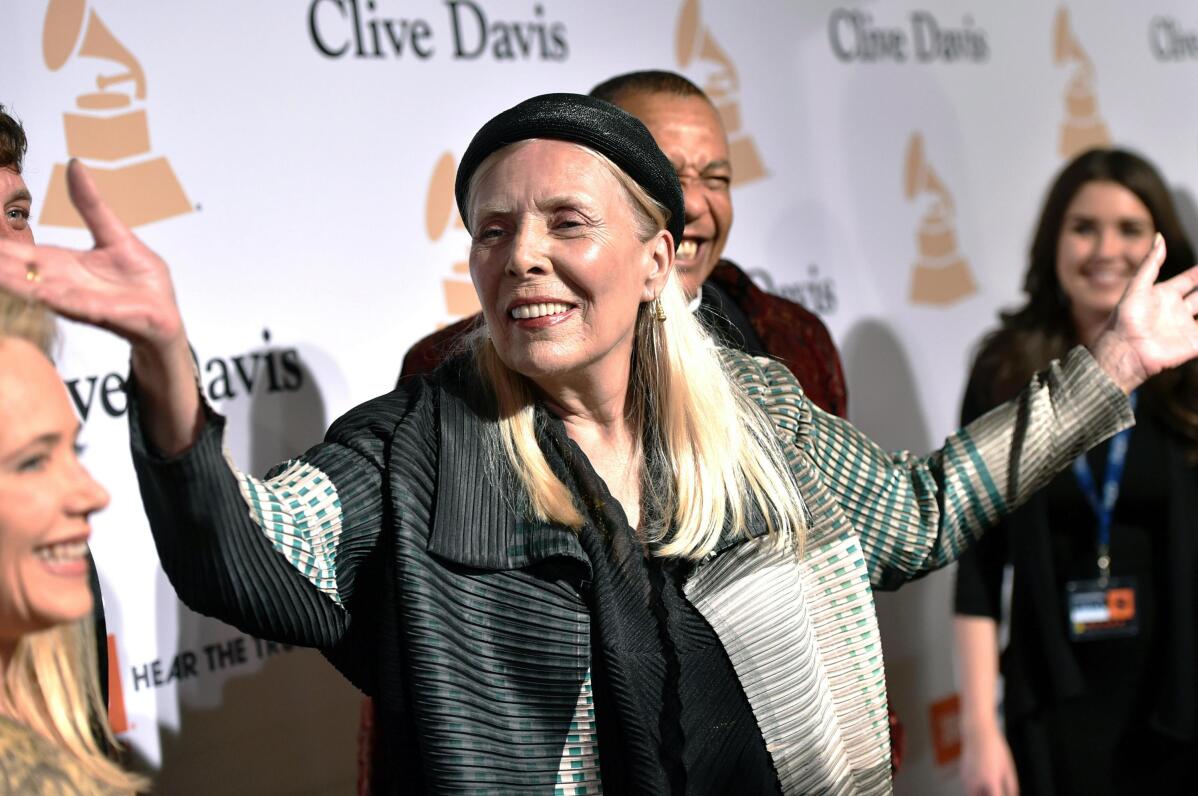 2 of 3

|
FILE - Joni Mitchell arrives at the 2015 Clive Davis Pre-Grammy Gala in Beverly Hills, Calif. Feb. 7, 2015. Joni Mitchell said Friday, Jan. 28, 2022, she seeks to remove all of her music in Spotify in solidarity with Neil Young, who ignited a protest against the streaming service for airing a podcast that featured a figure who has spread misinformation about the coronavirus. Following protests of Spotify over COVID-19 vaccine misinformation, the music streaming service said Sunday, Jan. 30, that it will add content advisories before podcasts discussing the virus. (Photo by John Shearer/Invision/AP, File)
2 of 3
FILE - Joni Mitchell arrives at the 2015 Clive Davis Pre-Grammy Gala in Beverly Hills, Calif. Feb. 7, 2015. Joni Mitchell said Friday, Jan. 28, 2022, she seeks to remove all of her music in Spotify in solidarity with Neil Young, who ignited a protest against the streaming service for airing a podcast that featured a figure who has spread misinformation about the coronavirus. Following protests of Spotify over COVID-19 vaccine misinformation, the music streaming service said Sunday, Jan. 30, that it will add content advisories before podcasts discussing the virus. (Photo by John Shearer/Invision/AP, File)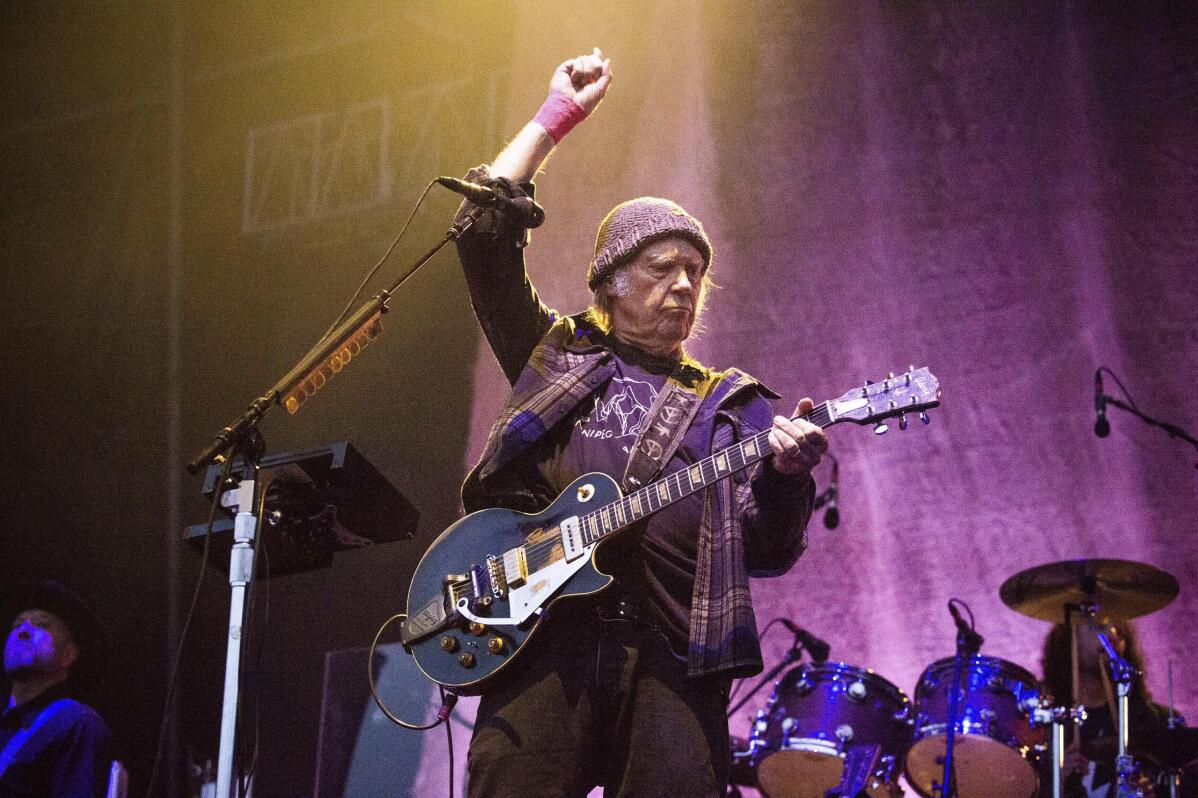 3 of 3

|
FILE - In this May 25, 2019, photo, Neil Young performs at the BottleRock Napa Valley Music Festival at Napa Valley Expo in Napa, Calif. Following protests of Spotify kicked off by Young over the spread of COVID-19 vaccine misinformation, the music streaming service said Sunday, Jan. 30, 2022, that it will add content advisories before podcasts discussing the virus. The singer on Wednesday, Jan. 26, had his music removed from Spotify after the tech giant declined to remove episodes of "The Joe Rogan Experience," which has been criticized for spreading virus misinformation. (Photo by Amy Harris/Invision/AP, File)
3 of 3
FILE - In this May 25, 2019, photo, Neil Young performs at the BottleRock Napa Valley Music Festival at Napa Valley Expo in Napa, Calif. Following protests of Spotify kicked off by Young over the spread of COVID-19 vaccine misinformation, the music streaming service said Sunday, Jan. 30, 2022, that it will add content advisories before podcasts discussing the virus. The singer on Wednesday, Jan. 26, had his music removed from Spotify after the tech giant declined to remove episodes of "The Joe Rogan Experience," which has been criticized for spreading virus misinformation. (Photo by Amy Harris/Invision/AP, File)
NEW YORK (AP) — Spotify is pledging to combat the spread of COVID-19 misinformation as part of a damage-control campaign sparked by musician Neil Young, who called out the streaming service's top podcaster for amplifying vaccine skepticism.
Spotify said Sunday it will soon add a warning before all podcasts that discuss COVID-19, directing listeners to factual, up-to-date information from scientists and public health experts. The company also sought to increase transparency about its publishing decisions by laying out the rules it uses to protect users' safety.
Young had his music removed from Spotify last week after the company declined to get rid of episodes of "The Joe Rogan Experience," which he criticized for spreading virus misinformation.
Rogan last month interviewed Dr. Robert Malone, an infectious disease specialist who has become a hero in the anti-vaccine community. Malone has been banned from Twitter for spreading COVID misinformation and has falsely suggested that millions of people have been hypnotized into believing that the vaccines work to prevent serious disease.
Spotify CEO Daniel Ek said there are "plenty of individuals and views on Spotify that I disagree with strongly." He added: "It is important to me that we don't take on the position of being content censor while also making sure that there are rules in place and consequences for those who violate them."
Rogan responded to the fallout on Sunday, saying in a video on Instagram that he was only seeking to have conversations on his podcast with people who have "differing opinions."
"I'm not trying to promote misinformation, I'm not trying to be controversial," Rogan said. "I've never tried to do anything with this podcast other than to just talk to people."
He also said that he schedules the guests on his podcast himself, and that he would try to book doctors with different opinions right after he talks to "the controversial ones." Rogan said he earlier sat down on the show with Dr. Sanjay Gupta, the chief medical correspondent for CNN, Dr. Michael Osterholm, who is a member of President Joe Biden's COVID-19 advisory board, and Dr. Peter Hotez from Baylor College of Medicine.
Rogan welcomed the idea of adding advisories before podcasts related to COVID-19.
"Sure, have that on there. I'm very happy with that," he said.
Britain's Prince Harry and his wife, Meghan, Duchess of Sussex, who have signed a multi-year deal to produce and host podcasts for Spotify under their production company Archewell Audio, on Sunday urged Spotify to tame virus misinformation.
"Last April, our co-founders began expressing concerns to our partners at Spotify about the all too real consequences of COVID-19 misinformation on its platform," an Archewell spokesperson said in a statement. "We have continued to express our concerns to Spotify to ensure changes to its platform are made to help address this public health crisis. We look to Spotify to meet this moment and are committed to continuing our work together as it does."
Earlier Sunday, Nils Lofgren, the Bruce Springsteen guitarist and a member of Crazy Horse, a frequent collaborator with Young, said he was joining Young's Spotify revolt. Lofgren said he had already had the last 27 years of his music removed and requested labels with his earlier music to do likewise.
"We encourage all musicians, artists and music lovers everywhere to stand with us and cut ties with Spotify," wrote Lofgren in a statement.
On Friday, Joni Mitchell said she is seeking to remove all of her music from Spotify in solidarity with Young. Earlier, hundreds of scientists, professors and public health experts called on Spotify "to immediately establish a clear and public policy to moderate misinformation on its platform." Their criticism focused on a Dec. 31 episode from "The Joe Rogan Experience" in which Rogan featured Dr. Robert Malone, an infectious-disease specialist who has been banned from Twitter for spreading COVID-19.