Now 40, Verlander still looks strong this spring for Mets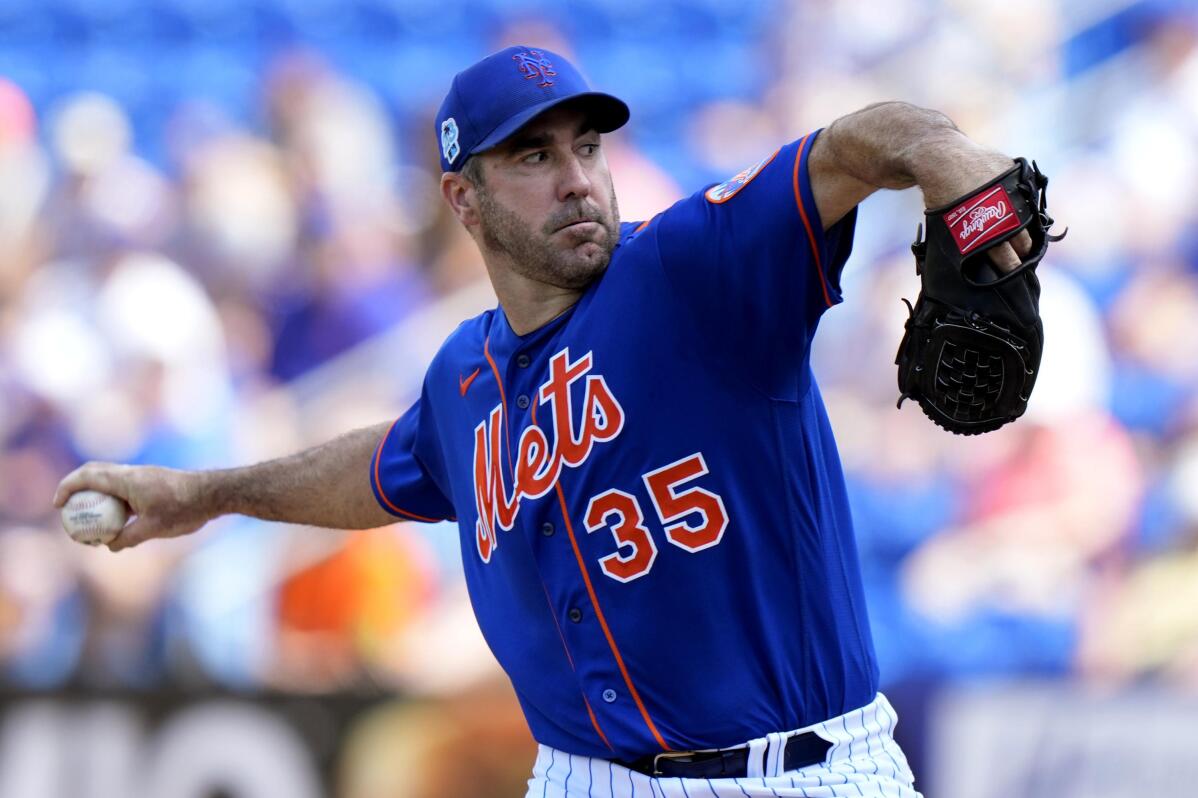 1 of 4

|
New York Mets starting pitcher Justin Verlander (35) throws during the first inning of a spring training baseball game against the Houston Astros, Friday, March 10, 2023, in Port St. Lucie, Fla. (AP Photo/Lynne Sladky)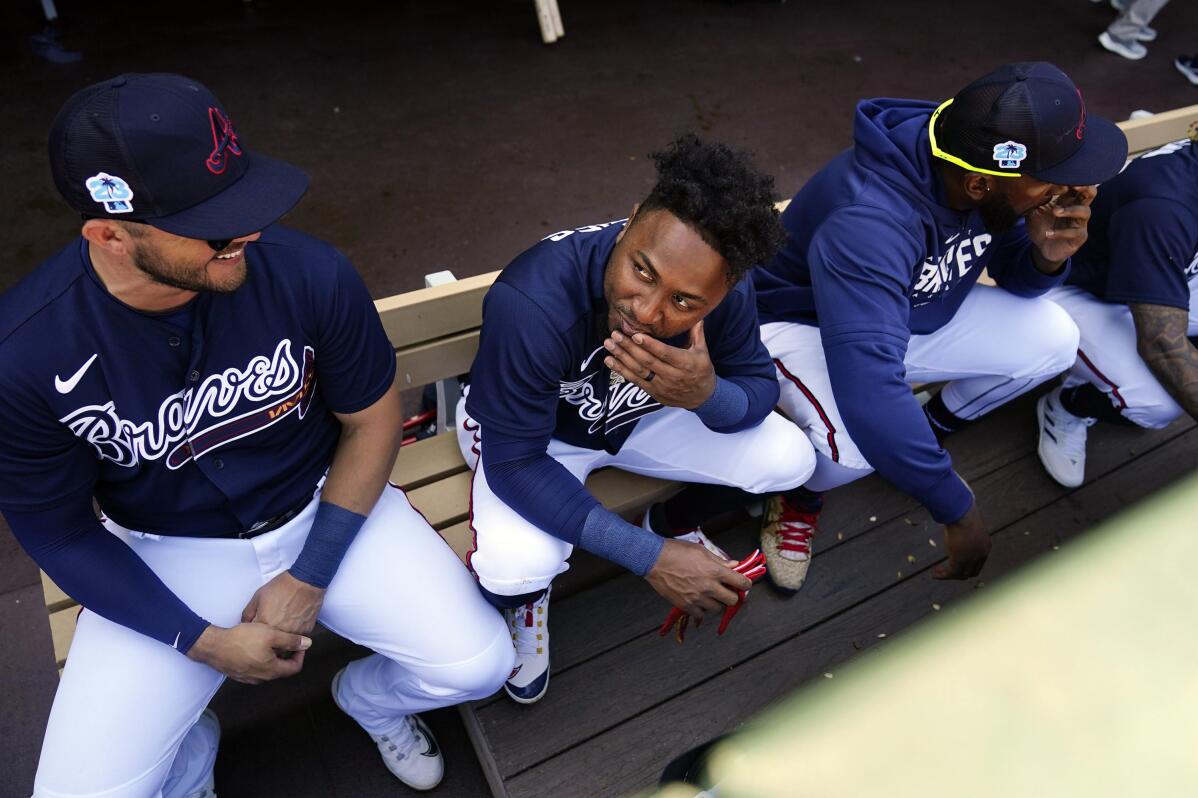 2 of 4

|
Atlanta Braves second baseman Ozzie Albies, center, sits in the dugout with teammates during a spring training baseball game against the Boston Red Sox on Saturday, Feb. 25, 2023, in North Port, Fla. (AP Photo/Brynn Anderson)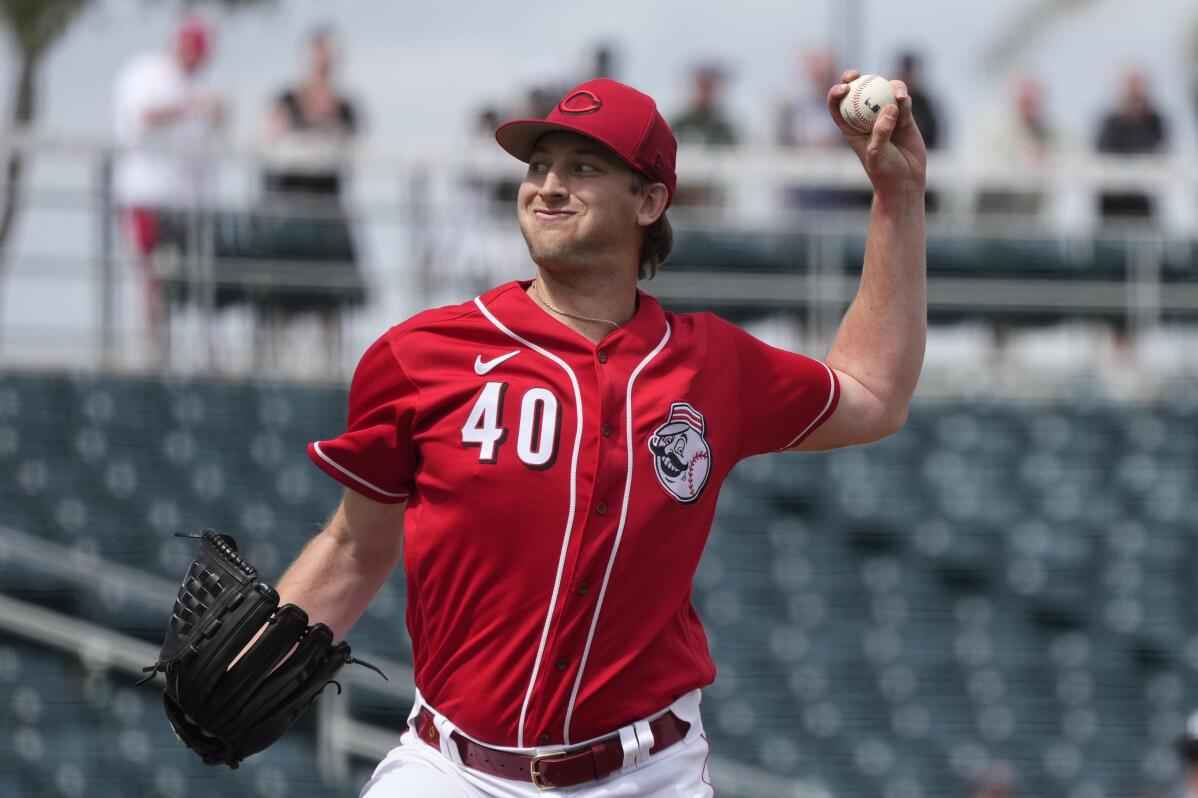 3 of 4

|
Cincinnati Reds starting pitcher Nick Lodolo throws against the Los Angeles Angels during the first inning of a spring training baseball game Monday, March 20, 2023, in Goodyear, Ariz. (AP Photo/Ross D. Franklin)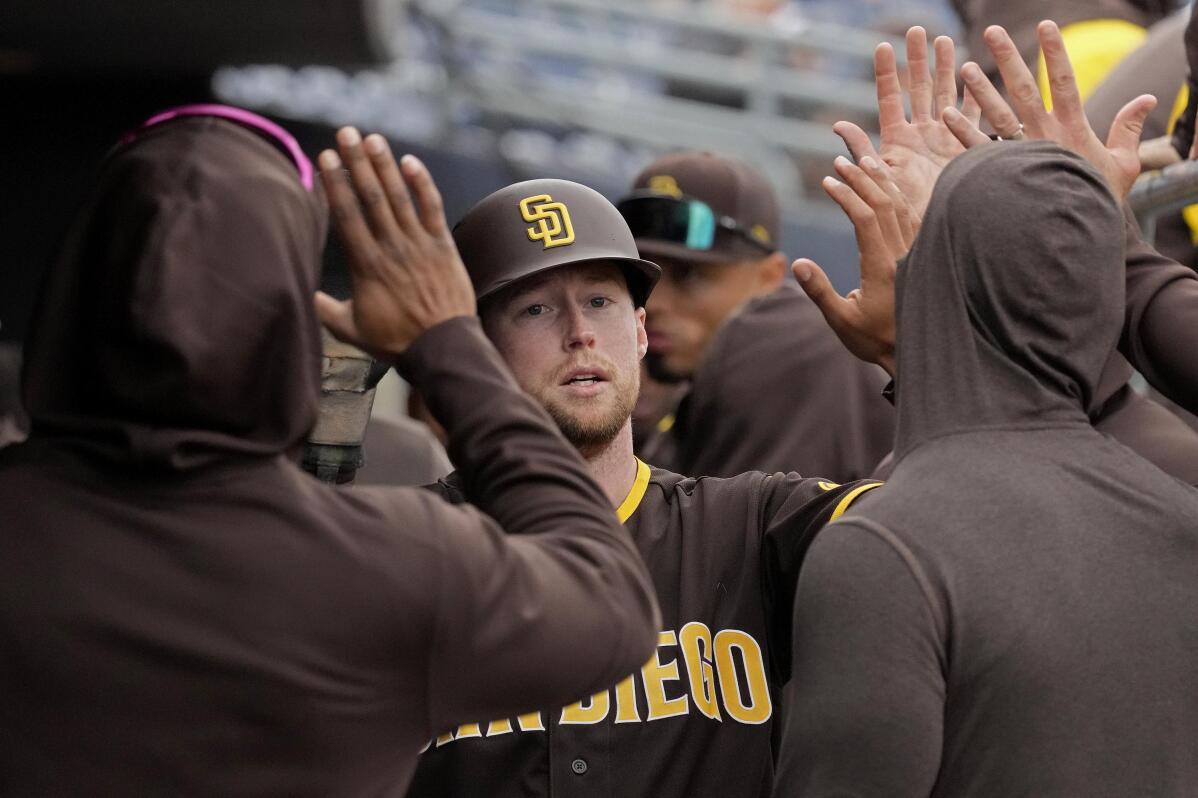 4 of 4

|
San Diego Padres' Jake Cronenworth celebrates with teammates after scoring on a double hit by Trent Grisham during the second inning of a spring training baseball game against the Texas Rangers Wednesday, March 1, 2023, in Peoria, Ariz. (AP Photo/Charlie Riedel)
Now 40, Verlander still looks strong this spring for Mets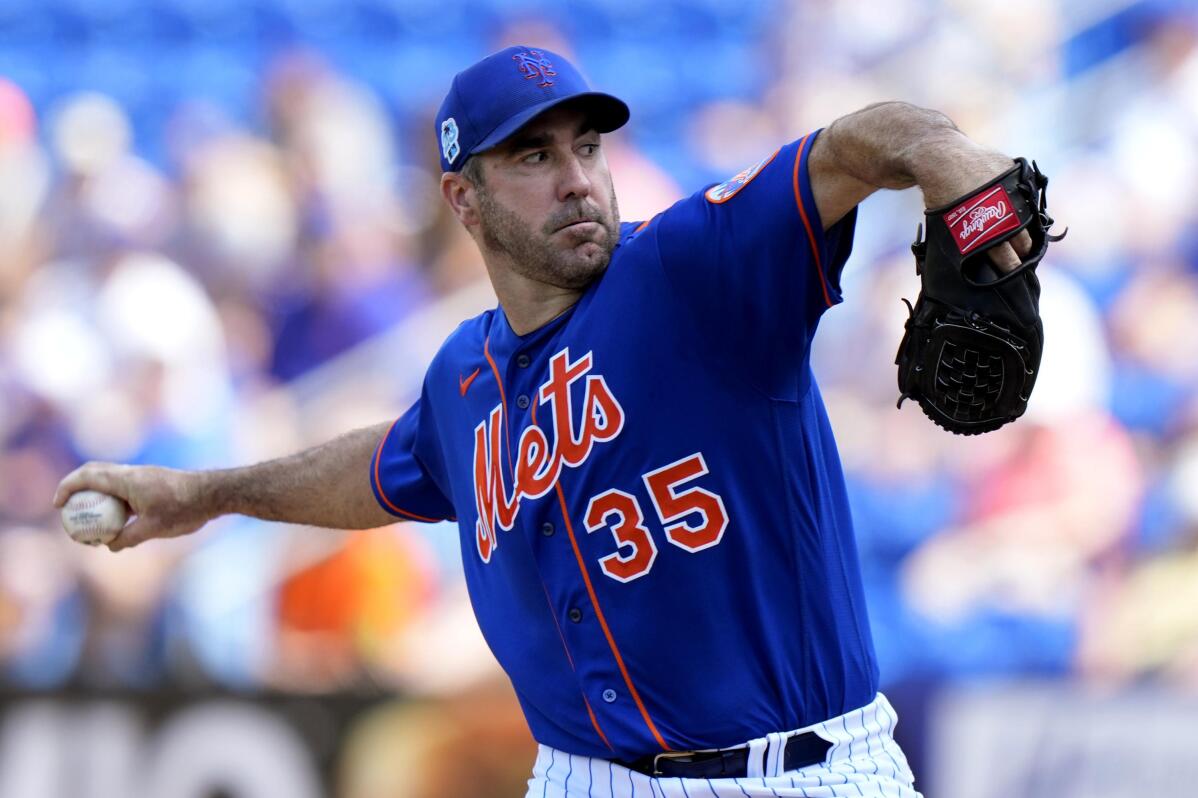 1 of 4

|
New York Mets starting pitcher Justin Verlander (35) throws during the first inning of a spring training baseball game against the Houston Astros, Friday, March 10, 2023, in Port St. Lucie, Fla. (AP Photo/Lynne Sladky)
1 of 4
New York Mets starting pitcher Justin Verlander (35) throws during the first inning of a spring training baseball game against the Houston Astros, Friday, March 10, 2023, in Port St. Lucie, Fla. (AP Photo/Lynne Sladky)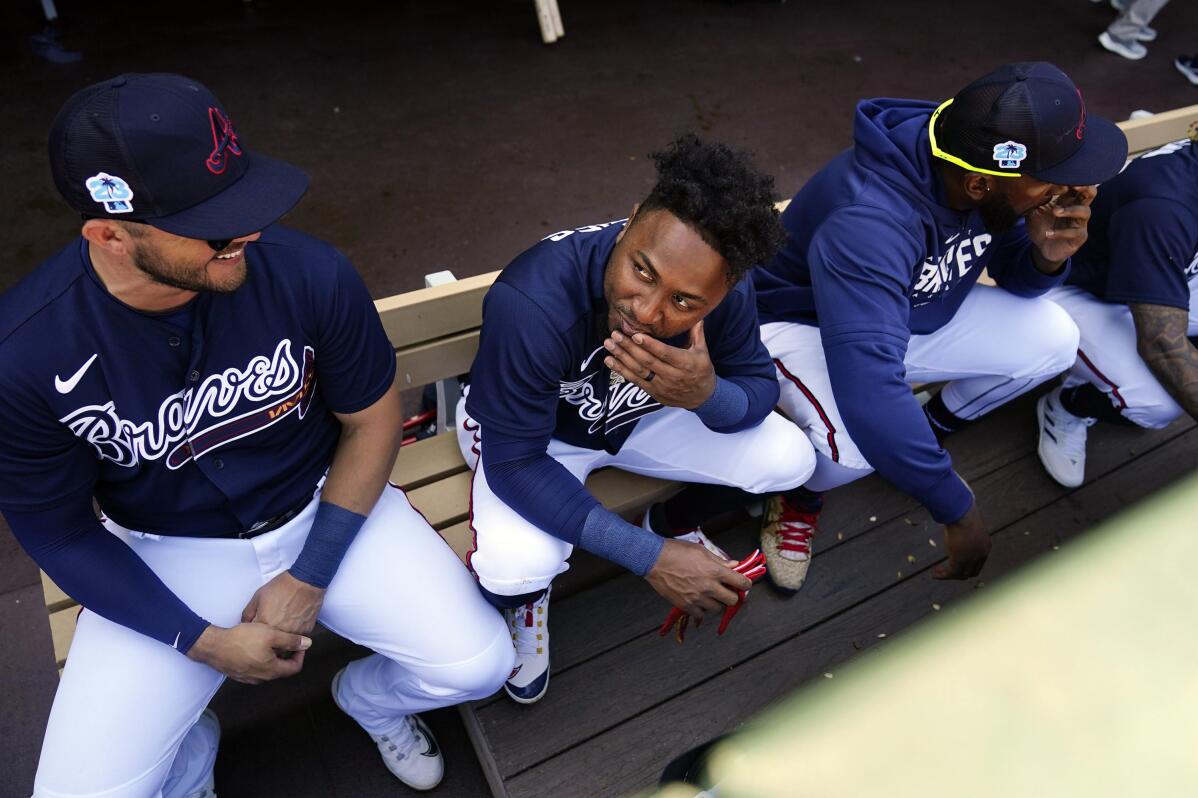 2 of 4

|
Atlanta Braves second baseman Ozzie Albies, center, sits in the dugout with teammates during a spring training baseball game against the Boston Red Sox on Saturday, Feb. 25, 2023, in North Port, Fla. (AP Photo/Brynn Anderson)
2 of 4
Atlanta Braves second baseman Ozzie Albies, center, sits in the dugout with teammates during a spring training baseball game against the Boston Red Sox on Saturday, Feb. 25, 2023, in North Port, Fla. (AP Photo/Brynn Anderson)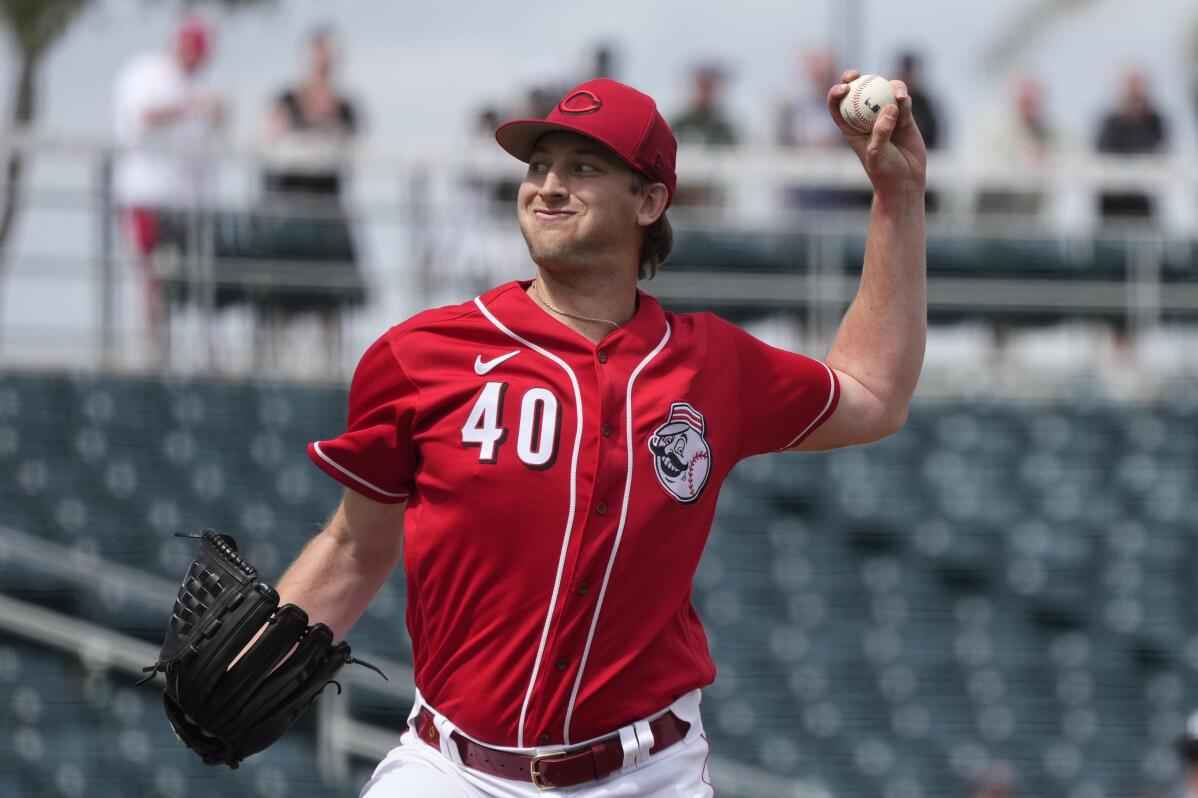 3 of 4

|
Cincinnati Reds starting pitcher Nick Lodolo throws against the Los Angeles Angels during the first inning of a spring training baseball game Monday, March 20, 2023, in Goodyear, Ariz. (AP Photo/Ross D. Franklin)
3 of 4
Cincinnati Reds starting pitcher Nick Lodolo throws against the Los Angeles Angels during the first inning of a spring training baseball game Monday, March 20, 2023, in Goodyear, Ariz. (AP Photo/Ross D. Franklin)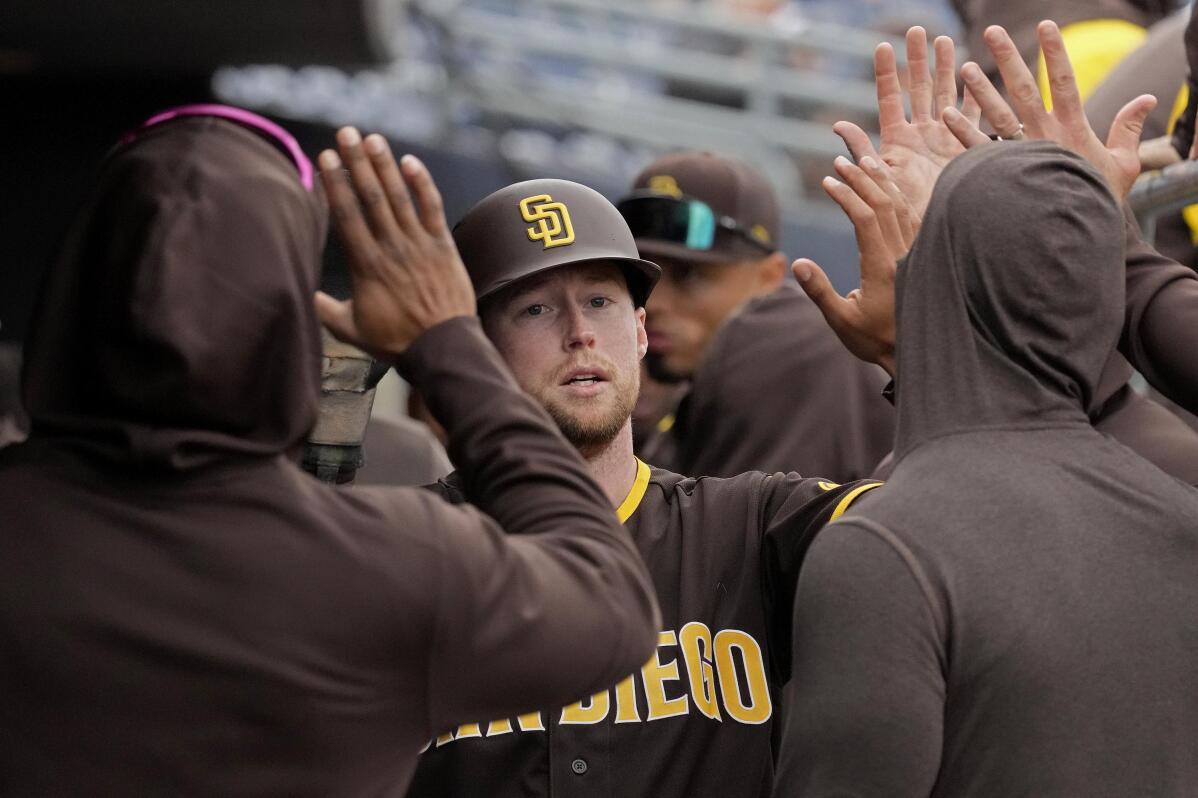 4 of 4

|
San Diego Padres' Jake Cronenworth celebrates with teammates after scoring on a double hit by Trent Grisham during the second inning of a spring training baseball game against the Texas Rangers Wednesday, March 1, 2023, in Peoria, Ariz. (AP Photo/Charlie Riedel)
4 of 4
San Diego Padres' Jake Cronenworth celebrates with teammates after scoring on a double hit by Trent Grisham during the second inning of a spring training baseball game against the Texas Rangers Wednesday, March 1, 2023, in Peoria, Ariz. (AP Photo/Charlie Riedel)
SCOTTSDALE, Ariz. (AP) — It's a fair assumption that Father Time will catch up with Justin Verlander one of these days.
The three-time AL Cy Young Award winner is putting up quite a fight.
The 40-year-old Verlander signed with the New York Mets during the offseason and looks like he's got plenty of good pitching left. The hard-throwing righty has a 2.25 ERA and 19 strikeouts in 16 innings in four starts during Grapefruit League action.
The Mets are hoping to squeeze another elite season out of Verlander and Max Scherzer, who is 38 years old. Scherzer has also had a solid spring training, giving up just one earned run over 11 2/3 innings.
Verlander is coming off one of the best seasons of his career, helping the Astros win the World Series and the Cy Young with an 18-4 record and 1.75 ERA.
Here are a few more standouts during MLB's spring training games in Arizona and Florida:
Ozzie Albies, 2B, Braves: The two-time All-Star is trying to bounce back from an injury-riddled 2022 season. The 26-year-old looks like he's back to his old self during Grapefruit League action with three homers and 11 RBIs.
Shane Bieber, RHP, Guardians: The 2020 AL Cy Young winner has quietly been one of the game's most dominant pitchers over the past four seasons. That success shows no signs of stopping: The 27-year-old has a 1.62 ERA through four spring starts.
Jonathan India, 2B, Reds: The 2021 NL Rookie of the Year went through a bit of a sophomore slump, batting just .249 with 10 homers last season. He's batting .286 in spring training with a .415 OBP, one homer, eight RBIs and three stolen bases.
Kevin Gausman, RHP, Blue Jays: The 32-year-old had a slow start to his career but has pitched his best the past two seasons. He was an All-Star with the Giants in 2021 before going to the Blue Jays last season and finishing with a 12-10 record and 3.35 ERA. He's looked great so far in the Grapefruit League, giving up just one unearned run and 18 strikeouts through 13 2/3 innings.
Jake Cronenworth, 2B, Padres: The two-time All-Star has turned into a versatile piece in the Padres lineup, playing first, second and third base. He's off to another good start this spring, batting .432 with two homers in 37 spring at-bats.
Nick Lodolo, LHP, Reds: The 6-foot-6 lefty had a encouraging start to his MLB career last season, with a 3.66 ERA and 131 strikeouts in his first 103 1/3 innings. The former first-round pick has solidifed his spot in the rotation with a great spring: He has a 1.93 ERA and 19 strikeouts in 14 innings through his first four starts.
___
AP MLB: https://apnews.com/hub/MLB and https://twitter.com/AP_Sports