St. Louis prosecutor: Ouster effort is politically motivated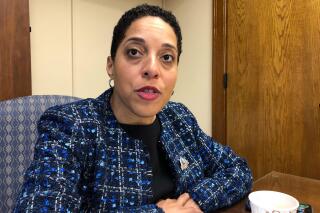 ST. LOUIS (AP) — The elected prosecutor in St. Louis, under intense criticism after a visiting teenage athlete lost her legs in a crash blamed on a man who remained free from jail despite multiple bond violations, is accusing Missouri's attorney general of seeking her ouster for political gain.
Democratic Circuit Attorney Kim Gardner filed a court response late Tuesday to Republican Attorney General Andrew Bailey's lawsuit that seeks to remove her from office. Bailey's effort includes criticism that too many cases, including homicides, go unpunished, that victims and their families are left uninformed, and that Gardner's office is too slow to take on cases brought by police.
Criticism of Gardner escalated last month after 17-year-old Janae Edmondson, a volleyball standout from Tennessee, was struck by a speeding car as she and her family walked to their hotel following a tournament game in downtown St. Louis. The driver, 21-year-old Daniel Riley, was out on bond on a robbery charge despite nearly 100 bond violations that included letting his GPS monitor die and breaking terms of his house arrest, according to court records. Critics of Gardner questioned why Riley was allowed to remain free despite so many bond violations.
"Mr. Bailey's Petition seeks to take advantage of a tragedy for political gain, while ignoring the will of the voters," Gardner's petition states.
Her response says Bailey has no right under the Missouri Constitution to remove her from office simply for what he perceives as mistakes.
"But every office will make some mistakes," according to her filing. It adds that letting the petition proceed would allow any attorney general "to thwart the will of the people of a locality who have elected the prosecutor of their choice, as the people of St. Louis twice have Ms. Gardner, and say, 'I know better, so she's fired.'"
Gardner was first elected in 2016 and easily won reelection in 2020. She is St. Louis' first Black circuit attorney. She and many civil rights leaders believe the effort to remove her is motivated not only by politics, but by race.
Gardner drew national attention in 2018 when she charged then-Gov. Eric Greitens with felony invasion of privacy, accusing him of taking a compromising photo of a woman during an extramarital affair. The charge was eventually dropped. But Greitens, a Republican who was also under investigation by Missouri lawmakers, resigned in June 2018.
The case drew scrutiny that led to the conviction of Gardner's investigator. Gardner received a written reprimand for failing to produce documents and mistakenly maintaining that all documents had been provided to Greitens' lawyers.
In 2019, she drew the ire of St. Louis police when she placed dozens of officers on an "exclusion list" prohibiting them from bringing cases. The list was developed after a national group accused the officers of posting racist and anti-Muslim comments on social media
The next year, Gardner filed a lawsuit accusing the city, a police union and others of a coordinated and racist conspiracy aimed at forcing her out of office.
In addition to the lawsuit, a Republican-led bill in the statehouse would give the governor authority to appoint a special prosecutor to take on violent crimes in counties with a homicide rate over a certain threshold, effectively stripping Gardner of power. Bill sponsor Rep. Lane Roberts said his legislation currently would apply only to St. Louis, but Jackson County, home to parts of Kansas City, is "dangerously close" to reaching the threshold.
Republicans also are pushing a bill that would give the state control of St. Louis police, arguing that the city is failing to control crime. Black St. Louis Democrats decried the majority white Legislature for trying to take away control from Black city leaders.
Edmondson has been moved from a St. Louis hospital to one in the Nashville area, said Jeff Wismer, one of the coaches at Mid-TN Volleyball Club. She is "trying to push forward in the new version of her life," Wismer said.