Superstorm Sandy: Inside the damaging storm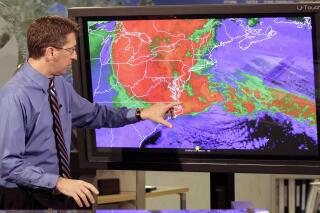 Superstorm Sandy roared ashore on Monday, Oct. 29, 2012, devastating the coastlines of New Jersey, New York and parts of Connecticut and becoming one of the costliest storms in U.S. history.
THE STORM: The former hurricane merged with other systems to create a meteorological hybrid storm that hit the nation's most populous metro area. It swamped coastline communities, knocked out power, flooded parts of New York City's transit system, set neighborhoods ablaze and killed dozens of people.
ITS PATH: Sandy became a tropical storm in the Caribbean Sea on Oct. 23 and struck Jamaica as a Category 1 storm a day later. It then rapidly intensified into a Category 3 before coming ashore as a Category 2 in Cuba. As it moved north in the Atlantic, the storm became an extratropical cyclone before hitting Brigantine, New Jersey, late on Oct. 29.
DEATH TOLL: The storm is blamed for 182 deaths, including 48 in New York and 12 in New Jersey. More than 70 were killed in the Caribbean, including 54 in Haiti.
DAMAGE: Tens of billions of dollars, including $36.8 billion in New Jersey and $32.8 billion in New York.
RECOVERY: Thousands of homes have been elevated in New York and New Jersey. New York City's utility, Con Edison, has spent $1 billion on storm hardening projects. Hundreds of properties have been purchased to be returned to nature. Money from state and federal programs continues to be paid out to people still working to fully recover from the storm.