As battle for Sudan continues, civilian deaths top 400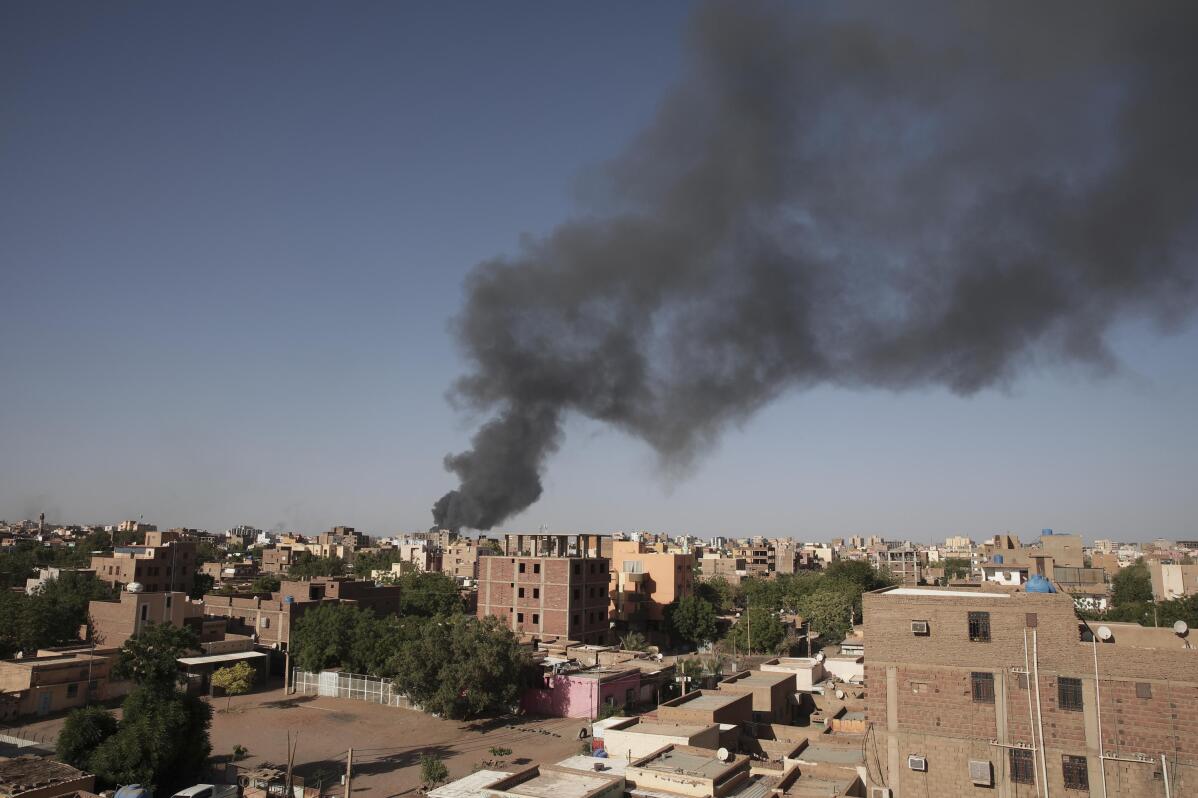 1 of 4

|
FILE - Smoke is seen in Khartoum, Sudan, Wednesday, April 19, 2023. The U.S. conducted its first organized evacuation of citizens and permanent residents from Sudan, the State Department said Saturday, April 29, two weeks into a conflict that has turned Khartoum into a war zone and thrown the country into turmoil. American unmanned aircraft, which have been keeping an eye on overland evacuation routes for days, were providing armed overwatch for the American operation, according to two people briefed on the operation who were not authorized to speak publicly. (AP Photo/Marwan Ali, File)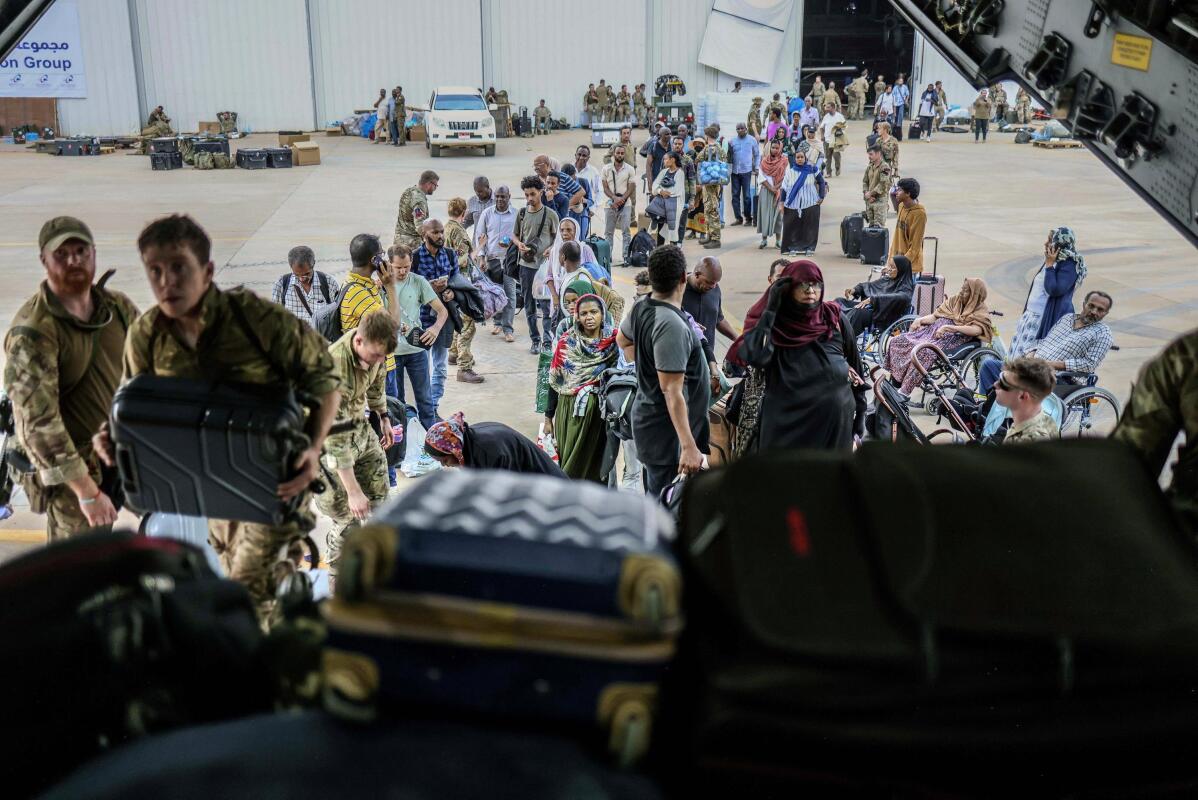 2 of 4

|
In this photo provided by the UK Ministry of Defence, British Nationals prepare to be evacuated onto a RAF aircraft at Wadi Seidna Air Base, in Sudan, Thursday, April 27, 2023. (PO Phot Arron Hoare/UK Ministry of Defence via AP)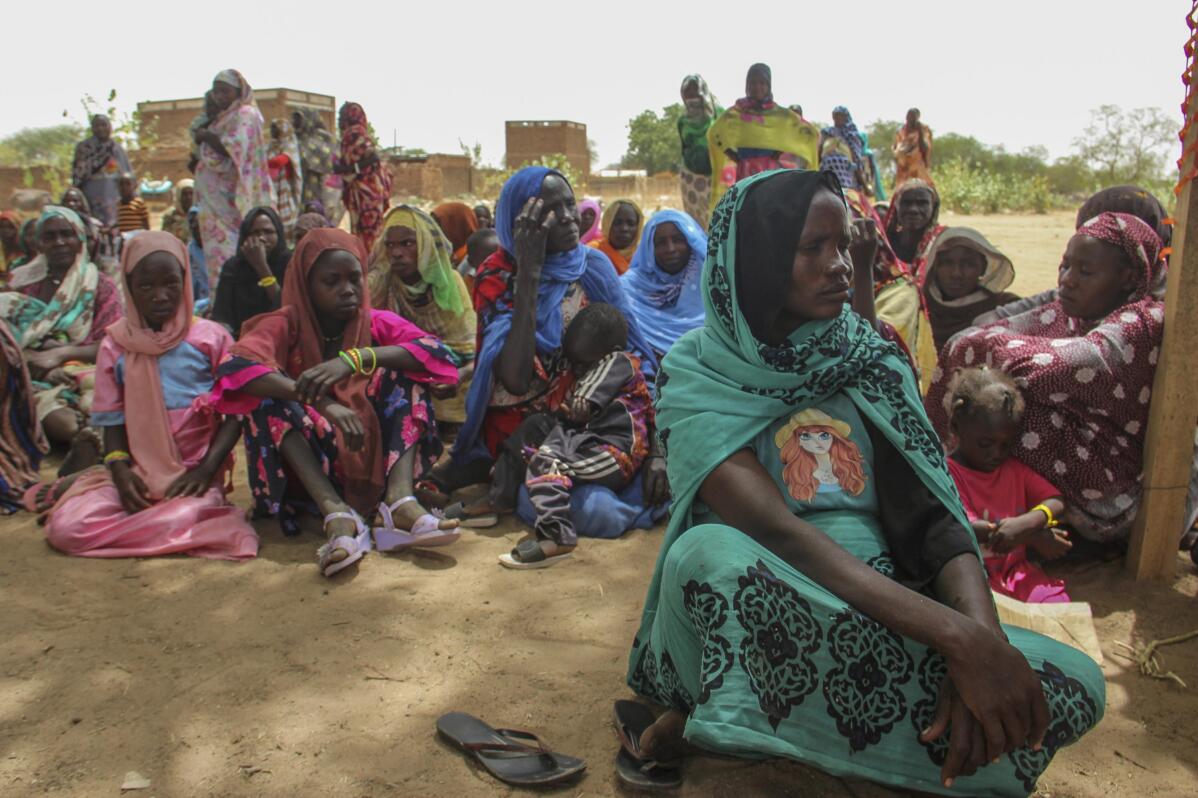 3 of 4

|
In this photo provided by UNICEF, a group of refugees rests under the shade of a tree to protect themselves from the sun and heat after crossing into the village of Koufroun, near the Chad-Sudan border, in Chad Thursday, April 27, 2023. Heavy explosions and gunfire rocked Sudan's capital early Friday, residents said, despite the extension of a fragile truce between the county's two top generals whose power struggle has killed hundreds. (Donaig Le Du/UNICEF via AP)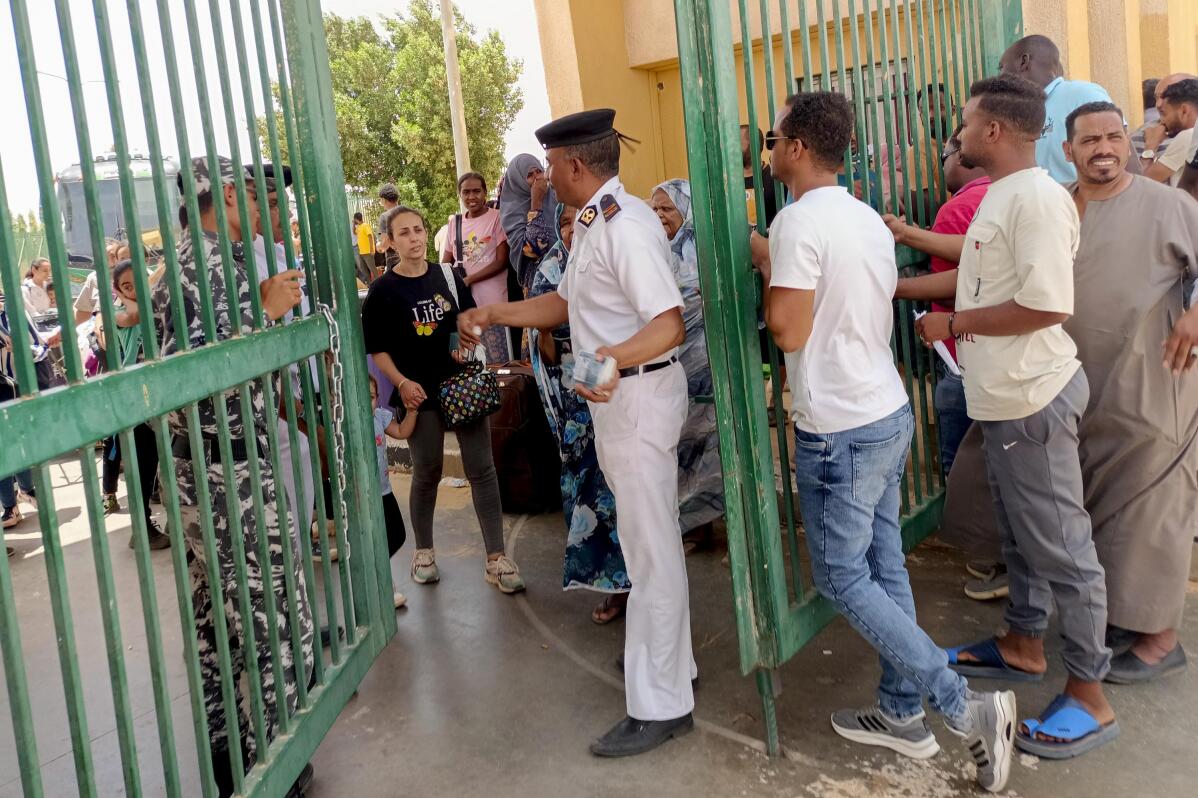 4 of 4

|
Evacuees cross into Egypt through the Argeen land port, after being evacuated from Sudan to escape the conflict, east of the High Dam Lake on the international border lines between Egypt and the Sudan, Thursday, April 27, 2023. (AP Photo)
As battle for Sudan continues, civilian deaths top 400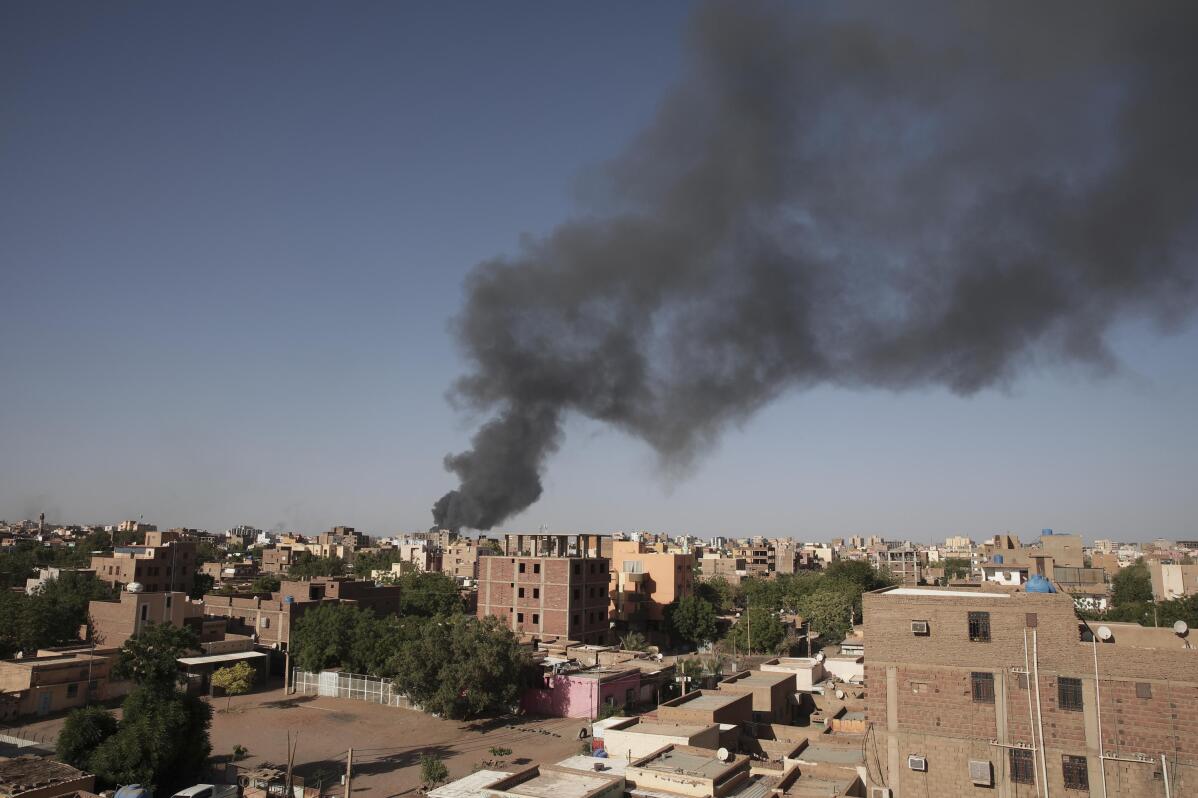 1 of 4

|
FILE - Smoke is seen in Khartoum, Sudan, Wednesday, April 19, 2023. The U.S. conducted its first organized evacuation of citizens and permanent residents from Sudan, the State Department said Saturday, April 29, two weeks into a conflict that has turned Khartoum into a war zone and thrown the country into turmoil. American unmanned aircraft, which have been keeping an eye on overland evacuation routes for days, were providing armed overwatch for the American operation, according to two people briefed on the operation who were not authorized to speak publicly. (AP Photo/Marwan Ali, File)
1 of 4
FILE - Smoke is seen in Khartoum, Sudan, Wednesday, April 19, 2023. The U.S. conducted its first organized evacuation of citizens and permanent residents from Sudan, the State Department said Saturday, April 29, two weeks into a conflict that has turned Khartoum into a war zone and thrown the country into turmoil. American unmanned aircraft, which have been keeping an eye on overland evacuation routes for days, were providing armed overwatch for the American operation, according to two people briefed on the operation who were not authorized to speak publicly. (AP Photo/Marwan Ali, File)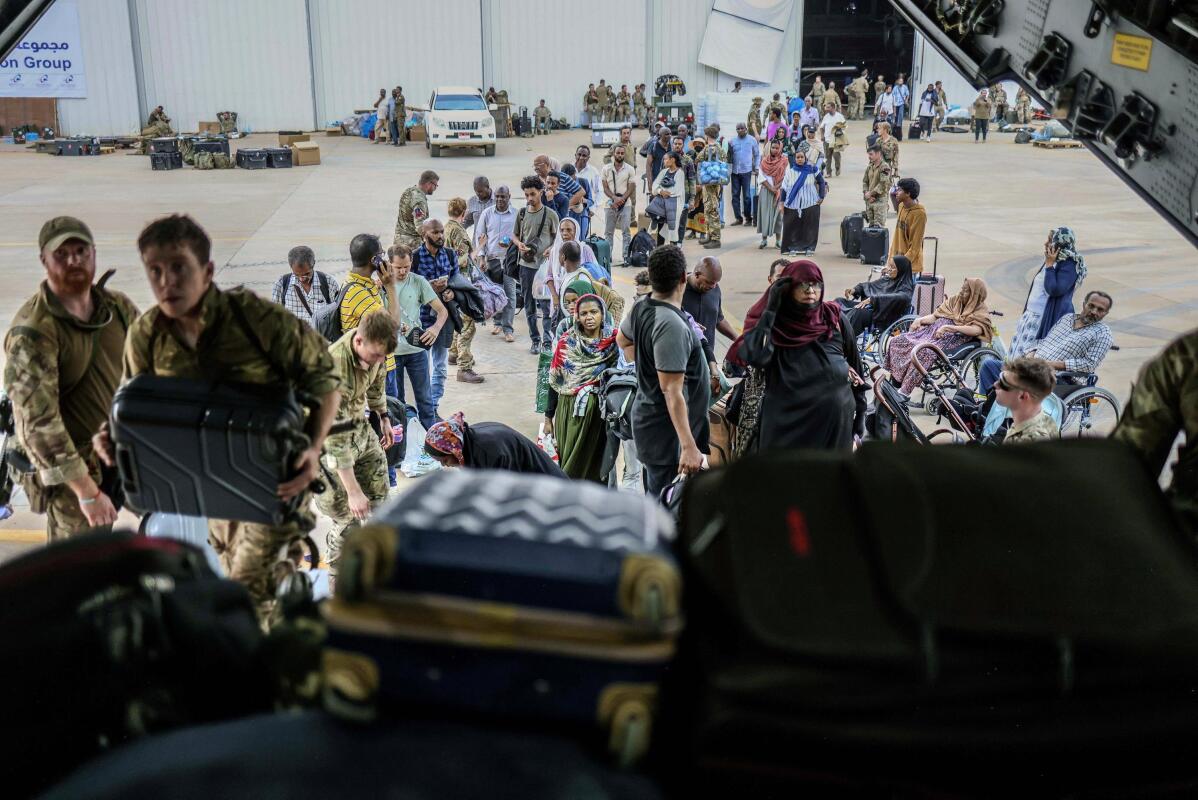 2 of 4

|
In this photo provided by the UK Ministry of Defence, British Nationals prepare to be evacuated onto a RAF aircraft at Wadi Seidna Air Base, in Sudan, Thursday, April 27, 2023. (PO Phot Arron Hoare/UK Ministry of Defence via AP)
2 of 4
In this photo provided by the UK Ministry of Defence, British Nationals prepare to be evacuated onto a RAF aircraft at Wadi Seidna Air Base, in Sudan, Thursday, April 27, 2023. (PO Phot Arron Hoare/UK Ministry of Defence via AP)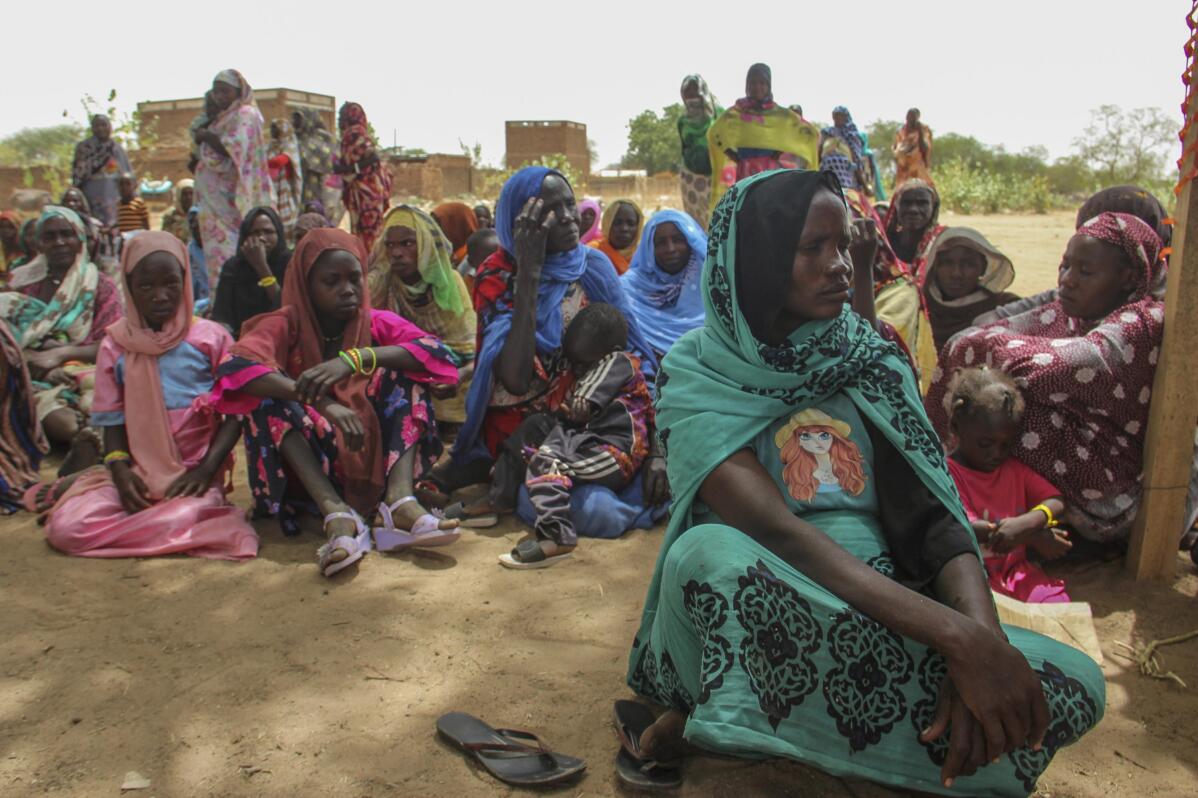 3 of 4

|
In this photo provided by UNICEF, a group of refugees rests under the shade of a tree to protect themselves from the sun and heat after crossing into the village of Koufroun, near the Chad-Sudan border, in Chad Thursday, April 27, 2023. Heavy explosions and gunfire rocked Sudan's capital early Friday, residents said, despite the extension of a fragile truce between the county's two top generals whose power struggle has killed hundreds. (Donaig Le Du/UNICEF via AP)
3 of 4
In this photo provided by UNICEF, a group of refugees rests under the shade of a tree to protect themselves from the sun and heat after crossing into the village of Koufroun, near the Chad-Sudan border, in Chad Thursday, April 27, 2023. Heavy explosions and gunfire rocked Sudan's capital early Friday, residents said, despite the extension of a fragile truce between the county's two top generals whose power struggle has killed hundreds. (Donaig Le Du/UNICEF via AP)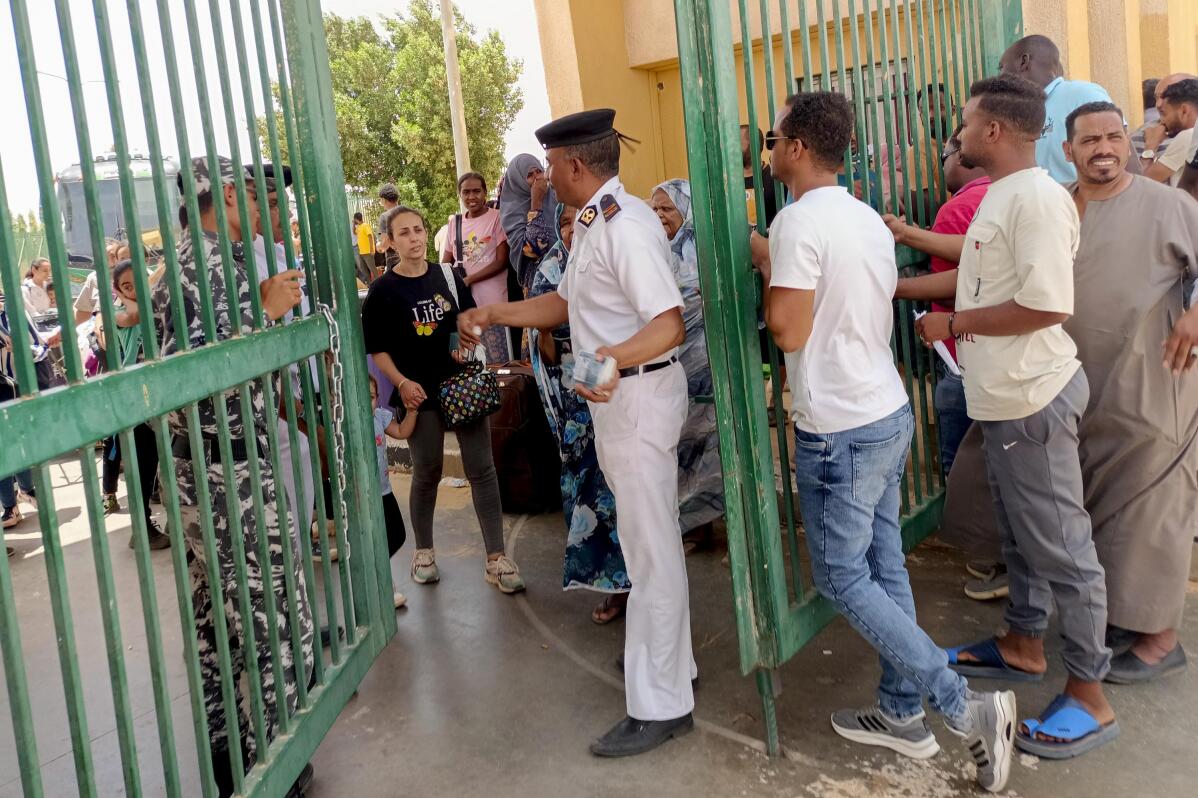 4 of 4

|
Evacuees cross into Egypt through the Argeen land port, after being evacuated from Sudan to escape the conflict, east of the High Dam Lake on the international border lines between Egypt and the Sudan, Thursday, April 27, 2023. (AP Photo)
4 of 4
Evacuees cross into Egypt through the Argeen land port, after being evacuated from Sudan to escape the conflict, east of the High Dam Lake on the international border lines between Egypt and the Sudan, Thursday, April 27, 2023. (AP Photo)
CAIRO (AP) — Gunfire and heavy artillery fire persisted Saturday in parts of Sudan's capital Khartoum, residents said, despite the extension of a cease-fire between the country's two top generals, whose battle for power has killed hundreds and sent thousands fleeing for their lives.
With ordinary Sudanese caught in the crossfire, the civilian death toll jumped Saturday to 411 people, according to the Sudan Doctors' Syndicate, which monitors casualties. In some areas in and around the capital, residents reported that shops were reopening and normalcy gradually returning as the scale of fighting dwindled after the shaky truce. But in other areas, terrified residents reported explosions thundering around them and fighters ransacking houses.
Now in its third week, the fighting has wounded 2,023 civilians, the syndicate added, although the true toll is expected to be much higher. The Sudanese Health Ministry put the overall death toll, including fighters, at 528, with 4,500 wounded. In the city of Genena, the provincial capital of war-ravaged West Darfur, intensified violence has killed 89 people, the Doctors' Syndicate said.
Khartoum, a city of some 5 million people, has been transformed into a front line in the grinding conflict between Gen. Abdel Fattah Burhan, the commander of Sudan's military, and Gen. Mohammed Hamdan Dagalo, who leads the powerful paramilitary group known as the Rapid Support Forces. The outbreak of violence has dashed once-euphoric hopes for a democratic transition in Sudan after a popular uprising helped oust former dictator Omar al-Bashir.
Foreign countries continued to evacuate their citizens while hundreds of thousands of Sudanese fled across borders. The first convoy organized by the United States to evacuate hundreds of American citizens from the conflict reached the coastal city of Port Sudan Saturday after a dangerous overland journey escorted by armed drones.
Britain meanwhile was ending its evacuation flights Saturday, after demand for spots on the planes declined. The United Arab Emirates announced Saturday it had started evacuating its own citizens along with nationals of 16 other countries.
Over 50,000 Sudanese refugees — mostly women and children — have crossed over to Chad, Egypt, South Sudan and the Central African Republic, the United Nations said, raising fears of regional instability. Ethnic fighting and turmoil has scarred South Sudan and the Central African Republic for years while a 2021 coup has derailed Chad's own democratic transition.
Those who escape the fighting in Khartoum face more dangers on their way to safety. The route to Port Sudan, where ships evacuate people via the Red Sea, has proven long, exhausting and risky. Hatim el-Madani, a former journalist, said that paramilitary fighters were stopping refugees at roadblocks outside Khartoum, demanding they hand over their phones and valuables.
"There's an outlaw, bandit-like nature to the RSF," he said, referring to Dagalo's Rapid Support Forces. "They don't have a supply line in place. That could get worse in the coming days."
Airlifts from the country amid the chaotic fighting also posed challenges, with a Turkish evacuation plane even hit by gunfire outside Khartoum on Friday.
On Saturday — despite a cease-fire extended under heavy international pressure early Friday — clashes continued around the presidential palace, headquarters of the state broadcaster and a military base in Khartoum, residents said. The battles sent thick columns of black smoke billowing over the city skyline.
But in other areas, residents reported signs that the cease-fire had taken hold.
"We are not hearing the bombs as we did before, so we're hoping that this means they will go back to a political process," said Osman Mirgany, a columnist and editor of the daily al-Tayar, who assessed it was safe enough on Friday to return home to Khartoum after seeking refuge in a far-flung village.
But Khartoum residents are forced to live side by side with armed fighters. Many RSF militants have moved into civilian homes and taken over stores and hospitals in the capital. The paramilitary group even transformed Mirgany's newsroom into a makeshift base, he said. Residents also must cope without sufficient electricity and running water, among other basic supplies.
"For the past 14 days we've suffered from a lack of everything," Mirgany said.
Residents in the city of Omdurman, west of Khartoum, have been waiting at least three days to get fuel — complicating their escape plans.
The U.N. relief coordinator, Martin Griffiths, said that U.N. offices in Khartoum, as well as the cities of Genena and Nyala in Darfur had been attacked and looted. Genena's main hospital was also leveled in the fighting, Sudan's health ministry said.
"This is unacceptable — and prohibited under international law," Griffiths said.
Over the past 15 days, the generals have failed to deal a decisive blow to the other in their struggle for control of Africa's third largest nation. The military has appeared to have the upper hand in the fighting, with its monopoly on air power, but it has been impossible to confirm its claims of advances.
"Soon, the Sudanese state with its well-grounded institutions will rise as victorious, and attempts to hijack our country will be aborted forever," the Sudanese military said Saturday.
Both sides in the conflict have a long history of human rights abuses. The RSF was born out of the Janjaweed militias, which were accused of widespread atrocities when the government deployed them to put down a rebellion in Sudan's western Darfur region in the early 2000s.
A unit of Sudan's armed forces, known as the Central Reserve Police, have been sanctioned by the United Staets for grave human rights violations against Sudan's pro-democracy protesters.
Accusations of rape, torture and other abuses against demonstrators carried out by the unit first surfaced in 2021, after Burhan and Dagalo joined forces in a military coup that ousted a civilian government. The Sudanese Interior Ministry confirmed the deployment of the Central Reserve Police in Khartoum on Saturday, posting photos of the fighters riding with heavy machine guns mounted on pickup trucks.
Former Prime Minister Abdalla Hamdok, who was ousted in the 2021 coup, appealed to the international community from a conference in Nairobi, Kenya, to push for an immediate halt to the conflict. He warned that a full-blown civil war in the strategically located country would have consequences not just for Sudan but for the world.
"God forbid if Sudan is to reach a proper civil war ... it is a huge country and very diverse ... it would be a nightmare for the world," he said.
But the generals have so far publicly dismissed attempts to reach a compromise. Regional mediators have been unable to travel to Khartoum because of the fighting.
African Union Chairperson Moussa Faki said he would nonetheless try to send peacekeepers to the country.
"I'm ready to go there myself, even by road," Faki said. "We ask the two generals to create the conditions for us to go to Khartoum."
___
DeBre reported from Jerusalem. Associated Press writer Evelyne Musambi from Nairobi, Kenya, contributed to this report.