Sudan army, rival force agree to extend truce after mediators show impatience with breaches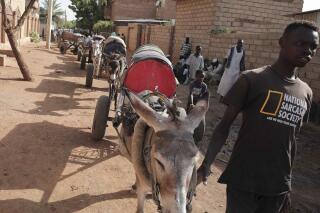 CAIRO (AP) — Sudan's warring sides on Monday agreed to extend a shaky cease-fire in their battle for control of the country, after two key international mediators signaled impatience with persistent truce violations.
The five-day extension of the cease-fire between Sudan's military and its rival, the paramilitary Rapid Support Forces, was announced in a joint statement late Monday by Saudi Arabia and the United States.
"The extension will provide time for further humanitarian assistance, restoration of essential services, and discussion of a potential longer-term extension," the statement said.
The development came after both Riyadh and Washington on Sunday called out both warring sides for specific breaches of a week-long truce that is to expire Monday evening rather than issue another general appeal to respect agreements.
Sudan descended into chaos after fighting erupted in mid-April between the military, led by Gen. Abdel- Fattah Burhan, and the RSF, commanded by Gen. Mohammed Hamdan Dagalo. The fighting has killed at least 866 civilians and wounded thousands more, according to the Sudan Doctors' Syndicate, which tracks civilian casualties. The toll could be much higher, the medical group said.
The conflict has turned the capital, Khartoum, and other urban areas into battlefields, forcing nearly 1.4 million people to flee their homes to safer areas inside Sudan or crossing into neighboring countries. Early on, foreign governments raced to evacuate their diplomats and nationals as thousands of foreign residents scrambled to get out of the African nation.
For weeks, the United States and Saudi Arabia have been mediating talks between the military and the RSF in the Saudi port city of Jeddah. So far, there have been seven declared cease-fires, all of which have been violated to some extent.
In Sunday's statement, the U.S. and Saudi Arabia noted that the military continued to carry out airstrikes, while the RSF was still occupying people's homes and seizing properties. Fuel, money, aid supplies and vehicles belonging to a humanitarian convoy were stolen, with theft occurring both in areas controlled by the military and by the RSF, the statement said.
Alan Boswell of the International Crisis Group think tank said the joint statement was meant to pressure both sides into greater compliance, at a time when the U.S. and Saudi Arabia don't have an alternative for the Jeddah talks.
"There is still no clear path to a successful cease-fire," said Boswell, who is project director for the Horn of Africa at the Crisis Group. "It's becoming clearer by the day that mediators can't afford to wait for a stable cease-fire to kick-start the wider political process needed to find a way out of the conflict."
Kholood Khalid, a Sudanese analyst with the Khartoum-based Confluence Advisory think tank, said the mediators' attention has apparently turned to negotiating an agreement on a cease-fire that's aimed at relaunching the political process.
"But with no consequences to cease-fire violations and the maintenance of flawed mediation logics, there seems to be little hope for success on those," she said.
The conflict has come to a stalemate as neither side has been able to deliver a decisive blow.
Cameron Hudson, a former U.S. diplomat, said selectively observed cease-fires and slow-moving talks in Jeddah are likely to continue.
"Washington and Riyadh have become too invested in the success of the cease-fire and the process they have in place because failure at this point would reflect poorly on them as much as the parties," said Hudson, a senior associate with the Center for Strategic and International Studies think tank.
"In the current scenario, the diplomats get their cease-fire and can claim progress towards peace," he said. "The parties get to keep fighting, and the only people who lose are the 45 million Sudanese,"
The war has inflicted widespread destruction in residential areas in Khartoum and its adjacent cities of Omdurman and Bahri. Residents reported storming and looting of their homes, mostly by the paramilitary troops. Many took to social media to condemn looting and seizing their homes allegedly by the RSF.
Aid groups' offices, healthcare facilities and other civilian infrastructure were also attacked and looted. Many hospitals have become inaccessible since fighting began in April 15.
There were reports of sexual violence including rape of woman and girls in Khartoum and the western Darfur region, which have seen some of the worst fighting in the conflict. Almost all reported cases of sexual attacks were blamed on the RSF, which didn't respond to repeated requests for comment.
Doctors and activists were also attacked by both sides of the war. The whereabouts of Dr. Alaa Eldin Awad Nogoud, a prominent surgeon and pro-democracy activist, remain unknown Monday, two days after armed people from the military and the intelligence service took him from his home in Khartoum.
Nogoud had told a television station last week that the military seized medical aid provided by the World Health Organization and stored it at a military hospital in Omdurman, according to local media. He said that doctors were denied access to the facility when they demanded a share of the supplies for other hospitals. They were told that permission was needed first to get access, he said.
Late on Sunday, RSF troops shot dead a political leader with the Umma party, Sudan's largest as he was trying to resolve a dispute between the paramilitary and citizens in Khartoum's neighborhood of Haj Youssef, the party said Monday.
In West Darfur province, villages and camps for displaced people were destroyed and burned to the ground in the past weeks, with tens of thousands of people, mostly women and children, fleeing their homes to neighboring Chad, said Dr. Salah Tour, who heads the Doctors' Syndicate in the province.
Nyala in South Darfur, al-Fasher in North Darfur and Zalingei in Central Darfur have experienced heavy fighting in the past few days. Houses and civilian infrastructure were destroyed and looted, forcing thousands to leave their homes, according to U.N. agencies.
Toby Harward, a coordinator with the U.N. refugee agency in Sudan, urged both parties to stop fighting in Darfur and work with local leaders to "restore security, rule of law and social fabric" in the war-torn region.