Sunderland goes from crisis club on Netflix to within reach of Premier League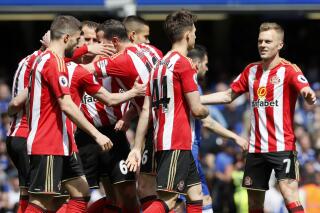 The seeds of the unlikely takeover of Wrexham by a pair of Hollywood celebrities were sewn by the binge-watching of a Netflix series charting the ups and mostly downs of another British soccer club with deep roots in its local community.
It was during the height of a pandemic-induced lockdown that Rob McElhenney, half of Wrexham's new ownership along with "Deadpool" star Ryan Reynolds, found himself racing through the episodes of fly-on-the-wall saga "Sunderland 'Til I Die."
Sunderland, a nearly 150-year-old club from northeastern England, had just been relegated from the Premier League and was looking to bounce back immediately to the top division. Instead, it went the other way — down to League One, the country's third tier, on a journey in 2017-18 that proved to be a gripping watch for viewers around the world but one of the darkest periods for those associated with an increasingly mocked club where chaos and often farce reigned.
Five long, long years later and the recovery is on for Sunderland.
The team managed to secure promotion back into the second division last season and has just finished among the four playoff spots in the Championship, which gives Sunderland an outside shot of a return to the Premier League.
The playoffs start Saturday, with Sunderland meeting Luton over two legs for the right to play in the May 27 final — often referred to as the world's most lucrative one-off soccer game because of guaranteed future earnings — at Wembley Stadium.
"'Til The End" — playing off the name of the Netflix documentary — has been the club's social media hashtag for the past two seasons. Reclaiming its Premier League status is the ultimate target for Sunderland and its long-suffering fans, some of whom had starring roles in the show that will release a third series in the upcoming months.
There were long lines outside Sunderland's ground, the Stadium of Light, on Thursday as supporters flocked to buy tickets for one of the club's biggest matches this century. Nearly 45,000 fans packed the stadium for Sunderland's home semifinal match in the playoffs last year, demonstrating the depth of support that remains for one of England's oldest soccer teams — a six-time top-flight champion, but not since 1936 — as well as the size of clubs operating in the country's lower leagues.
"It's an incredible scenario to see the people of Sunderland enjoying their football so much," manager Tony Mowbray said.
Mowbray took charge in August as a replacement for Alex Neil, who left to move to Championship-rival Stoke and wound up seeing the team he joined finish behind the one he departed.
Many players, coaches and even owners have fallen off the Sunderland rollercoaster since the club dropped out of the Premier League in 2017.
Its latest owner is Kyril Louis-Dreyfus, a French businessman who acquired a controlling stake in 2021 and became majority owner last year. He also has a minority shareholding in French club Marseille, where his late father, Robert, was the team's owner.
Mowbray is Sunderland's seventh permanent manager since 2017. Another of them was Phil Parkinson, who is now in charge of Wrexham and has just led the Welsh club to promotion out of the fifth-tier National League — much to the delight of Reynolds and McElhenney.
Taking the lead from "Sunderland 'Til I Die," the two celebrities have made their own TV documentary about Wrexham — entitled "Welcome to Wrexham."
And in one sense, Sunderland and Wrexham have shared a similar story. They are clubs from a working-class area who at times have been held back by unpopular former owners, some financial issues and maybe some misfortune on the field, but also pushed on by the backing on their loyal and passionate fans.
And Sunderland's supporters must still be pinching themselves at how the team got into the playoffs, given what transpired on Monday. Sunderland traveled to Preston knowing even victory might not be enough to reach the playoffs but a 3-0 victory — coupled with a remarkable capitulation by Millwall from 3-1 up to losing 4-3 at home against Blackburn — saw Mowbray's team snatch sixth place and keep alive its unlikely hopes of back-to-back promotions, a feat not achieved in 11 years.
Sunderland was in 12th place in the 24-team Championship as recently as March but was unbeaten in its final nine regular-season games, with players like on-loan Manchester United winger Amad Diallo and former Manchester City forward Patrick Roberts helping the team be the fourth leading scorer in the league.
No wonder down-to-earth Mowbray sounded confident Thursday ahead of the game against Luton, which will start as the favorite after finishing in third place.
"What I know is the Stadium of Light will be bouncing," he said. "We have to try to create an environment that will be uncomfortable for Luton."
___
More AP soccer: https://apnews.com/hub/soccer and https://twitter.com/AP_Sports