SUPREME COURT NOTEBOOK: Gender gap persists at arguments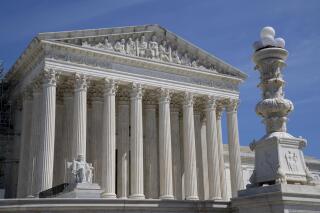 WASHINGTON (AP) — The Supreme Court wrapped up its arguments Wednesday with a case in which two of the three lawyers who took part are women. But that split was not at all reflective of the court's term, in which women presented less than a quarter of the arguments.
The percentages haven't changed much in years, even as women now account for roughly half of all law school graduates and a record four of the nine Supreme Court justices. Men presented 118 arguments and women, just 35.
"What can I say other than the numbers are embarrassing and discouraging," Lisa Blatt, whose 46 Supreme Court arguments are the most for a woman, wrote in an email.
Solicitor General Elizabeth Prelogar, the Biden administration's top Supreme Court lawyer, and seven other women in her Justice Department office accounted for 21 arguments. Prelogar argued eight cases herself, slightly more than is typical for the solicitor general.
Outside the government, it was rare for a deep-pocketed, corporate client to hire a woman to argue its case. The exception was Blatt, the head of the Supreme Court and appellate practice at the Williams & Connolly firm.
Among her four arguments, Blatt represented whiskey maker Jack Daniel's in a trademark dispute over a squeaky dog toy in the shape of the drink's signature bottle and Alphabet, Inc.'s Google in a case over lawsuits against social media companies. Two women at her firm argued another three cases between them.
Prelogar raised the gender gap when she argued in October in defense of taking account of race as a factor in college admissions.
"And I think it would be reasonable for a woman to look at that and wonder, is that a path that's open to me, to be a Supreme Court advocate? Are private clients willing to hire women to argue their Supreme Court cases? When there is that kind of gross disparity in representation, it can matter and it's common sense," she said.
Martha (Mattie) Hutton brought her mother and seven-year-old daughter to watch her make her first Supreme Court argument in an immigration case earlier in April. Hutton argued the case in a lower court and credited her firm, O'Melveny, with sticking with her in the nation's highest court, even though a colleague, Michael Dreeben, has argued more than 100 Supreme Court cases.
A more experienced lawyer easily could have taken the case from Hutton, she said. Instead, "they used that experience to support one of the more junior partners to become an advocate at that level," Hutton said.
GLACIAL PACE OF DECISIONS
The last words uttered in court Wednesday came from Supreme Court Marshal Gail Curley. The court, she said, "stands adjourned until May 11 at 10 a.m."
Curley was saying, in so many words, that the justices will not be handing down any more decisions until then, in a term in which they have so far decided cases at a glacial pace.
That will have to change soon, if they hope to finish their work by the end of June, as they usually do before taking a summer break.
Just 15 cases argued earlier in the term have been resolved, about half of what the court usually has decided by now, and 44 remain.
Another oddity: The three most senior members of the court, Chief Justice John Roberts and Justices Clarence Thomas and Samuel Alito, have not written a majority opinion at all. By this point in most years, everyone has produced at least one opinion for the court.
It's not clear what is slowing things down. The court says it has tightened its internal procedures following last year's leak of Alito's draft opinion overturning Roe v. Wade. Another possible consideration is that it's taking some time for the justices to get used to their newest colleague, Justice Ketanji Brown Jackson, and she is adjusting to the court, though Jackson has already written two majority opinions.
Then, too, there are a lot of high-profile cases awaiting resolution that are likely to divide the court. These often are among the last to be decided. In addition to affirmative action and social media company cases, the justices are weigh major disputes involving voting rights, elections, student loan forgiveness and a clash between LGBTQ and religious rights all are pending before the high court. The oldest of those is voting rights, which was argued nearly 7 months ago.
Asked back in January about the slow pace, Justice Brett Kavanaugh said it was just a coincidence and not something people should read anything into.
"I am confident they'll all be out by the end of June. So I don't think anyone needs to worry," he said.
JUSTICE JACKSON SPEAKS VOLUMES
Jackson led the court in one respect this term.
Over the course of the term's 59 arguments from October to April, Jackson spoke the most words. The tally: about 78,800, way more than the next most voluble justice. The approximate word counts were compiled by Adam Feldman, the creator of the Empirical SCOTUS blog, and Jake Truscott, a doctoral candidate in political science at the University of Georgia.
Jackson, the first Black woman on the court, said before the term began that she was "ready to work," and it was clear early on that she would be an active participant in arguments.
She spoke more in the affirmative action case involving the University of North Carolina than at any other argument. The court heard two cases about race in college admissions that day, and Jackson sat out the one involving Harvard because of her past role as a university trustee.
The other two liberal justices placed second and third in terms of words spoken. Justice Sonia Sotomayor spoke 50,100 words and Justice Elena Kagan, 48,800 words.
The conservative justices, in descending order, were: Neil Gorsuch, Samuel Alito, Amy Coney Barrett, Kavanaugh, John Roberts, the chief justice, and Clarence Thomas.
Thomas clocked in at 15,500 words. That's 15,500 more than he used to say because, for years, Thomas did not speak at arguments at all.