Abortion foes urge justices to allow limits on abortion drug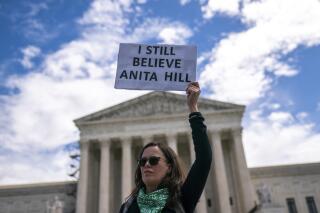 WASHINGTON (AP) — Lawyers for anti-abortion doctors on Tuesday urged the Supreme Court to allow restrictions to take effect on a drug used in the most common method of abortion in the United States, while a lawsuit continues.
The justices are weighing a request from the Biden administration and New York-based Danco Laboratories, maker of the drug mifepristone, to keep on hold lower-court rulings restricting mifepristone's use. The high court is expected to act in the fast-moving case from Texas by late Wednesday.
Alliance Defending Freedom, representing doctors and medical groups in a challenge to Food and Drug Administration approval of the drug, argued in a court filing that the FDA "has stripped away every meaningful and necessary safeguard on chemical abortion, demonstrating callous disregard for women's well-being, unborn life, and statutory limits."
The legal brief by the anti-abortion doctors called particular attention to what it termed "mail-order abortion," recent changes that allow women to obtain mifepristone by mail, without an in-person visit with a doctor.
President Joe Biden's administration and Danco have defended the drug as safe and effective, and warned of chaos for women and providers if the court-ordered changes take effect.
Pharmaceutical companies, leading medical organizations, former FDA officials, 250 Democratic members of Congress, Democratic-led cities and states and liberal interest groups are backing the administration and Danco. Women who say they were injured by abortion, medical groups opposed to abortion, nearly 150 congressional Republicans and Republican-led states are supporting limits on mifepristone.
The legal challenge to mifepristone, one of the two drugs used in medication abortions, quickly reached the Supreme Court after a federal judge issued a ruling on April 7 that would revoke its FDA approval.
Less than a week later, a federal appeals court modified the ruling so that mifepristone would remain available while the case continues, but with limits. The appeals court said the drug can't be mailed or dispensed as a generic, and patients who seek it need to make three in-person visits with a doctor, among other things.
The court also said the drug should only be approved through seven week of pregnancy for now, even though the FDA since 2016 has endorsed its use through 10 weeks of pregnancy.
Complicating the situation, a federal judge in Washington has ordered the FDA to preserve access to mifepristone under the current rules in 17 Democratic-led states and the District of Columbia that filed a separate lawsuit.
The administration has said the rulings conflict and create an untenable situation for the FDA.
In an order issued Friday by Justice Samuel Alito, the court put the restrictions on hold through Wednesday to give the court time to consider the emergency appeal. The court is expected to decide by then whether to preserve access to mifepristone, free of court-imposed restrictions, while the case proceeds.