Shinkai sticking to what he knows best: Japan, youth, anime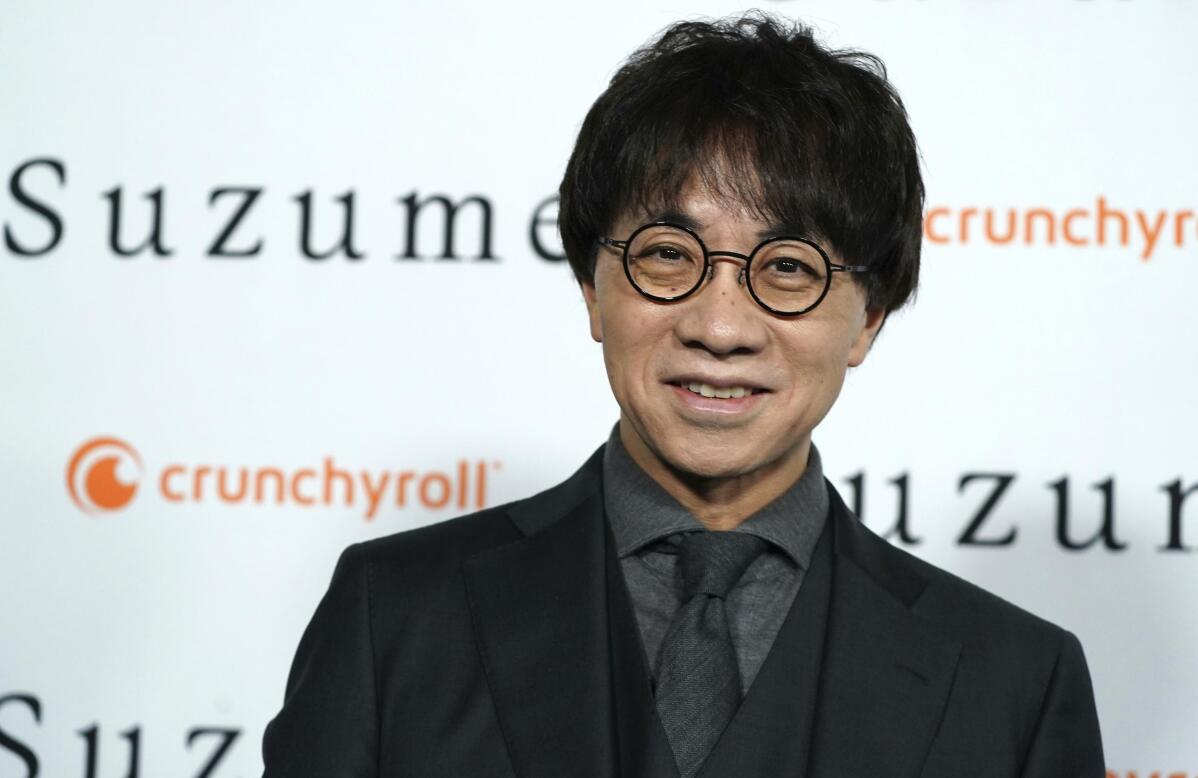 1 of 3

|
FILE - Makoto Shinkai arrives at the premiere of "Suzume" on April 3, 2023, at The Academy Museum of Motion Pictures in Los Angeles. Shinkai doesn't yet know the story he will tell in his next film, only that it will be about what he knows best. It will be set in Japan and will star someone with a heart of gold who fearlessly makes a coming-of-age journey. (Photo by Jordan Strauss/Invision/AP, File)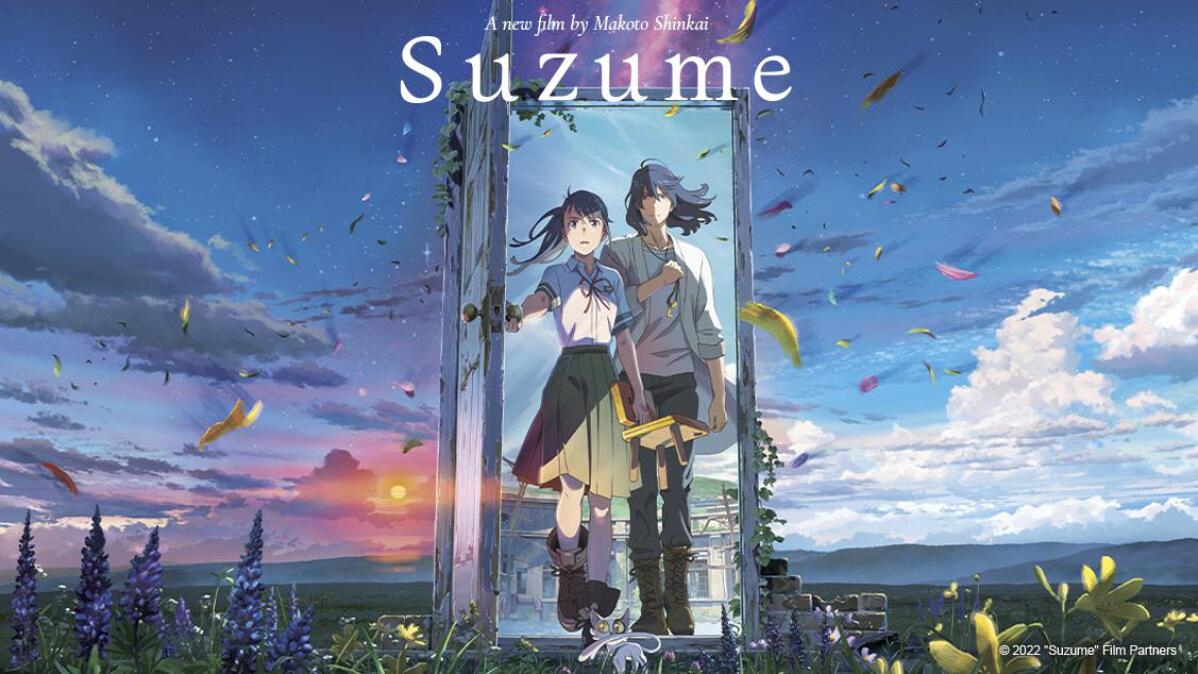 2 of 3

|
This image provided by Crunchyroll shows a scene from "Suzume," an animated film written and directed by Makato Shinkai. The Japanese filmmaker doesn't yet know the story he will tell in his next film, only that it will be about what he knows best. It will be set in Japan and will star someone with a heart of gold who fearlessly makes a coming-of-age journey. (Crunchyroll via AP)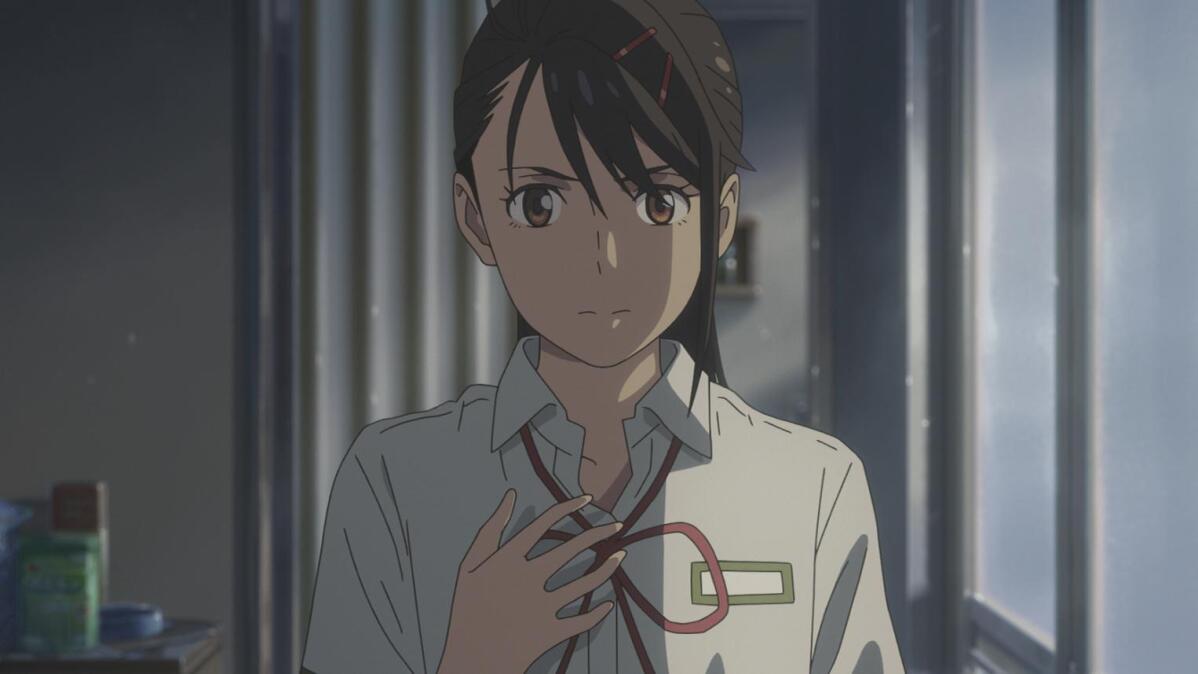 3 of 3

|
This image provided by Crunchyroll shows a scene from "Suzume," an animated film written and directed by Makoto Shinkai. The Japanese filmmaker doesn't yet know the story he will tell in his next film, only that it will be about what he knows best. It will be set in Japan and will star someone with a heart of gold who fearlessly makes a coming-of-age journey. (Crunchyroll via AP)
Shinkai sticking to what he knows best: Japan, youth, anime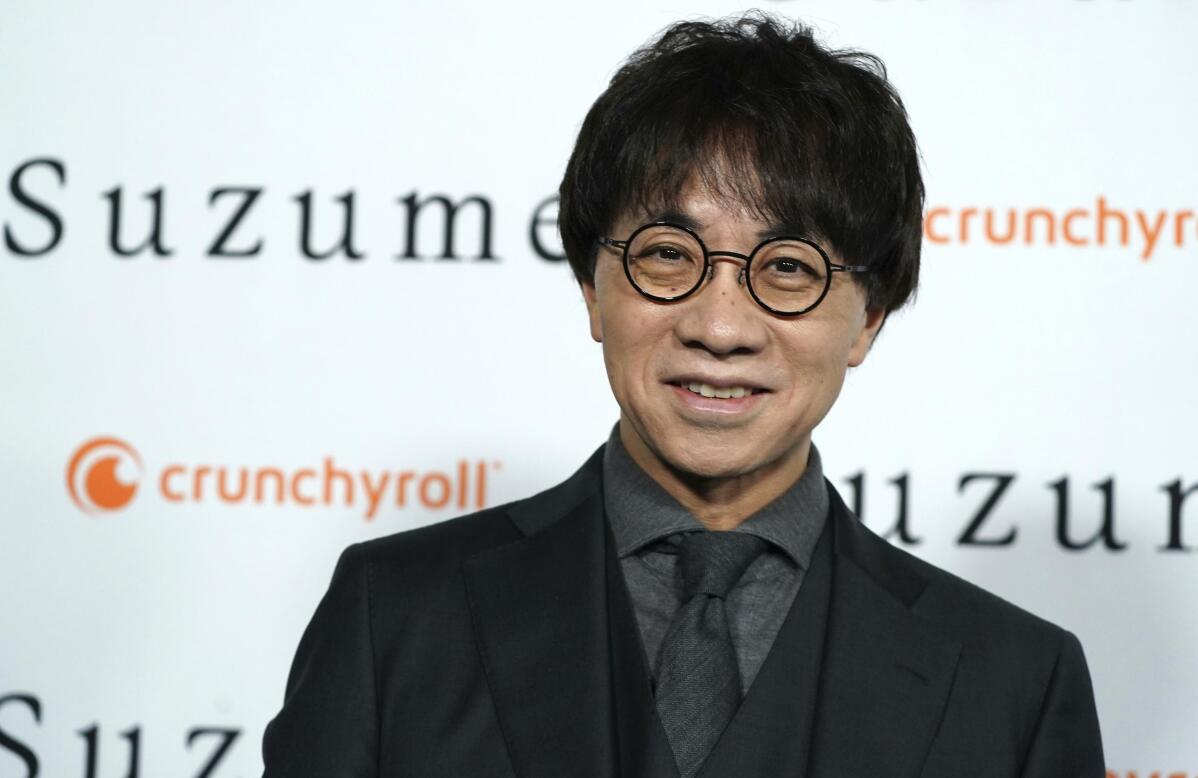 1 of 3

|
FILE - Makoto Shinkai arrives at the premiere of "Suzume" on April 3, 2023, at The Academy Museum of Motion Pictures in Los Angeles. Shinkai doesn't yet know the story he will tell in his next film, only that it will be about what he knows best. It will be set in Japan and will star someone with a heart of gold who fearlessly makes a coming-of-age journey. (Photo by Jordan Strauss/Invision/AP, File)
1 of 3
FILE - Makoto Shinkai arrives at the premiere of "Suzume" on April 3, 2023, at The Academy Museum of Motion Pictures in Los Angeles. Shinkai doesn't yet know the story he will tell in his next film, only that it will be about what he knows best. It will be set in Japan and will star someone with a heart of gold who fearlessly makes a coming-of-age journey. (Photo by Jordan Strauss/Invision/AP, File)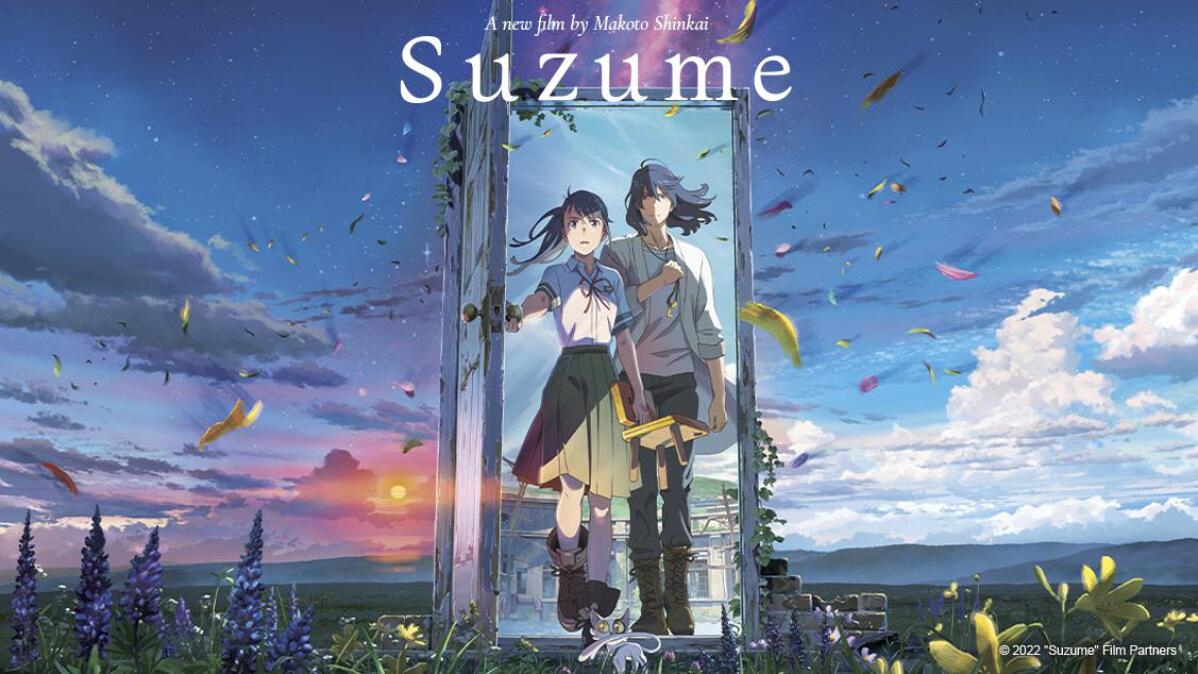 2 of 3

|
This image provided by Crunchyroll shows a scene from "Suzume," an animated film written and directed by Makato Shinkai. The Japanese filmmaker doesn't yet know the story he will tell in his next film, only that it will be about what he knows best. It will be set in Japan and will star someone with a heart of gold who fearlessly makes a coming-of-age journey. (Crunchyroll via AP)
2 of 3
This image provided by Crunchyroll shows a scene from "Suzume," an animated film written and directed by Makato Shinkai. The Japanese filmmaker doesn't yet know the story he will tell in his next film, only that it will be about what he knows best. It will be set in Japan and will star someone with a heart of gold who fearlessly makes a coming-of-age journey. (Crunchyroll via AP)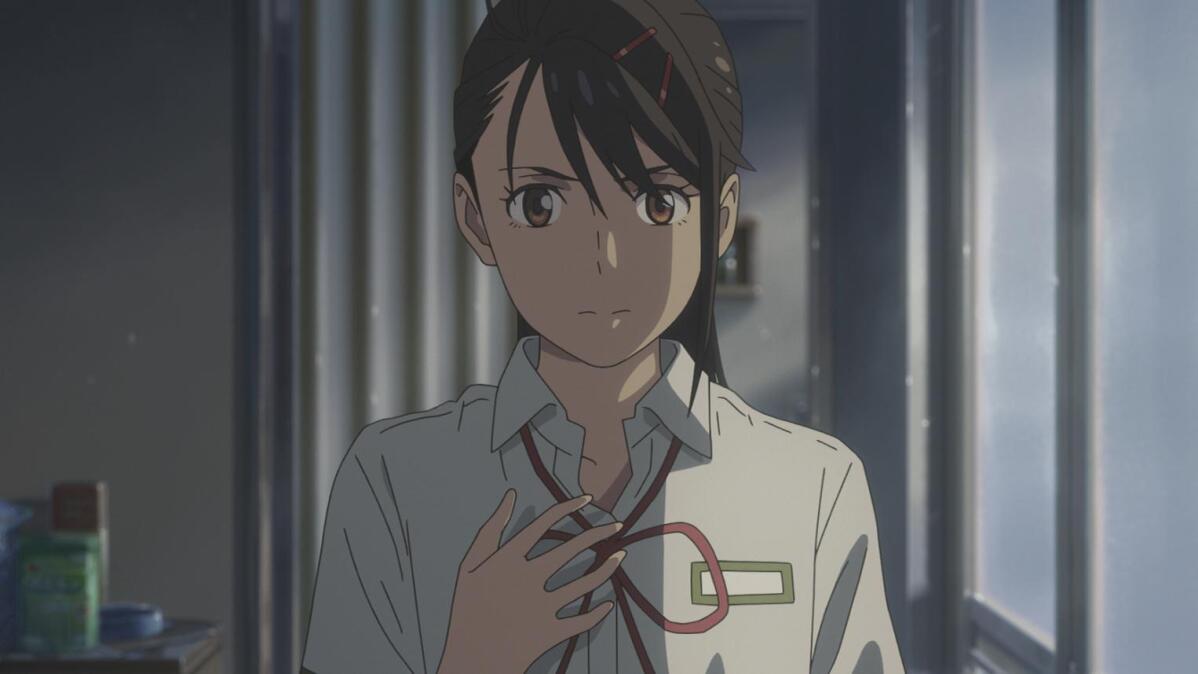 3 of 3

|
This image provided by Crunchyroll shows a scene from "Suzume," an animated film written and directed by Makoto Shinkai. The Japanese filmmaker doesn't yet know the story he will tell in his next film, only that it will be about what he knows best. It will be set in Japan and will star someone with a heart of gold who fearlessly makes a coming-of-age journey. (Crunchyroll via AP)
3 of 3
This image provided by Crunchyroll shows a scene from "Suzume," an animated film written and directed by Makoto Shinkai. The Japanese filmmaker doesn't yet know the story he will tell in his next film, only that it will be about what he knows best. It will be set in Japan and will star someone with a heart of gold who fearlessly makes a coming-of-age journey. (Crunchyroll via AP)
TOKYO (AP) — Makoto Shinkai doesn't yet know the story he will tell in his next film, only that it will be about what he knows best.
For one, it will be set in Japan, filled with those breathtakingly gorgeous landscapes he draws on his animation storyboards.
If he were to set his film outside Japan, he would have to live in that city for at least several months.
The narrative will almost certainly star a young hero or heroine, or both, with hearts of gold, who fearlessly embark on their coming-of-age journeys.
All his recent films have those characteristics. It's all he knows, Shinkai says, with a humble laugh.
"I am not the kind of person with varied interests or many skills. I can only do one thing. I can only make my animation," he told The Associated Press in a recent online interview from Los Angeles.
He can't even think of filmmakers or animators who have influenced him, except for being profoundly affected by Hayao Miyazaki's "My Neighbor Totoro,'' when he saw it as a youngster.
In his latest work, "Suzume," set for release in North America on Friday, the heroine literally closes the door on a disaster.
It references a real-life disaster, the 2011 tsunami, quake and nuclear catastrophe in northeastern Japan, which killed thousands, left swaths of coastline covered in mud and debris, and contaminated homes and farmland with radiation near a damaged nuclear power plant.
Shinkai's last two works focused on imaginary disasters.
In his 2016 work "Your Name," which juxtaposes a love story and gender identity switch, a comet smashes into earth.
His 2019 film, "Weathering With You," focuses on the friendship between a boy who has run away from home and a mysterious girl who can control the weather; it features the city of Tokyo getting flooded.
"Several years ago, I don't think I could have portrayed a real-life disaster in a story. Japanese society also was not ready several years ago to deal with entertainment about the disaster in northeastern Japan. 'Suzume' is that movie we can make now, and that movie the audience is willing to watch now," Shinkai said.
In "Suzume," which had its international premiere at the Berlin Film Festival in February, the title character, whose name means "sparrow," fights hard to close the doors to destruction.
As usual, Shinkai's imagery, more postcard-like than any postcard, spreads magic across the screen.
When the sun sets, or a raindrop lingers on a flower petal in a Shinkai film, the moments evoke splendor, almost the same way a museum masterpiece depicts a horizon or ocean waves with a sense of eternity.
"Animation, precisely because they are pictures drawn by a human hand, has the ability to teach us how to view reality. Paintings are like that. They show how the painter is looking at the world," said Shinkai.
Shinkai acknowledged even horrific scenes have a strange beauty about them, including the devastation of northeastern Japan he has chosen to portray in his latest film.
"When I saw the city that had been swept by the tsunami, I couldn't help but feel its beauty. There was nothing, and I felt it was beautiful. Of course, the scenery before me was also terribly cruel and horrifying. Just to imagine being there made my body tremble. But human beings are that kind of living creature who can't help but feel beauty in every landscape with light from the sun, shining and creating shadows," he said.
Since "Suzume" debuted in Japan in November, it has drawn more than 10 million people, earning 13.4 billion yen ($103 million) at the box office. It will now hit international markets, including the U.S., Europe, South Korea and other parts of Asia, distributed by Crunchyroll, in partnership with Sony Pictures Entertainment and other companies.
"Your Name" broke Japanese box office records and catapulted Shinkai to stardom, amassing awards at the Japan Academy, including for his screenplay and the score by Radwimps, who also did the music in "Suzume." "Your Name" also won the Los Angeles Film Critics Association award for best animated feature.
"Weathering With You" became a social movement of sorts in India, with fans signing a petition demanding its theatrical release, resulting in its becoming the first Japanese original animation to get a commercial theatrical release in India.
Shinkai has gotten offers to make live-action films, instead of animation, but he has turned them down.
"I'm simply not interested. I enjoy watching films, but there is so much more that I can do with animation. That is how I honestly feel," he said.
Shinkai is tickled he has fans around the world. There are various kinds of people in every country, he noted. But everyone who loves his films, no matter where they're from, exude that same feeling.
They are "otaku," he said, using the Japanese term that refers to animation fans, "nerds" or "geeks," in English. They tend to be gentle loners, who talk in the same way, and probably think in the same way, he said quietly, fondness in his tone.
Like Shinkai, at 50, those people still remember their haunting nightmares from childhood.
"Aren't those feelings you had as a teen still within you? Have they totally disappeared? At night, I still have those dreams when I am still a student. Those fears and those earnings never leave you," he said.
"They are always there."
___
Yuri Kageyama is on Twitter https://twitter.com/yurikageyama