Sweden: State actor likeliest culprit for pipeline sabotage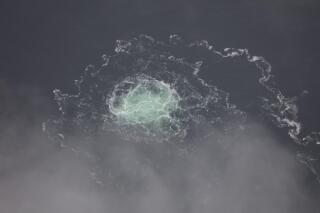 HELSINKI (AP) — Swedish prosecutors said Thursday a state actor was the most likely culprit for the explosions that incapacitated the Nord Stream gas pipelines in the Baltic Sea last year, an act deemed as sabotage. However, they cautioned that the identity of the perpetrator was still unclear and hinted that it was likely to remain so.
Public prosecutor Mats Ljungqvist from the Swedish Prosecution Authority said in a statement that his office's investigation is focused on examining if Swedish interests or Swedish security were threatened by the act.
The Swedish authorities are also keen to find out whether the explosions were prepared on their territory. "Our hope is to be able to confirm who has committed this crime" but "it should be noted that it likely will be difficult given the circumstances," Ljungqvist said.
Last month, a German media investigation quoted unnamed officials as saying that five men and a woman used a yacht hired by a Ukrainian-owned company in Poland to carry out the attack. The Ukrainian government has denied involvement.
Ljungqvist stressed that the case - labeled by Swedish prosecutors as "gross sabotage" - is complex, and hence time-consuming to investigate. The prosecutors' office gave no estimate on when the Swedish investigation would wrap up.
"This concerns a crime whose circumstances are difficult to investigate. The detonations took place 80 meters (262 feet) under the water on the ocean floor in the Baltic Sea," Ljungqvist said.
Separately, he told Swedish media that prosecutors' main line of investigation is on whether a state actor was behind the explosions, given the substantial resources and skills needed to carry out such an attack.
"We aren't ruling out that there could be non-state actors capable of doing this," Ljungqvist told the Swedish news agency TT. "But then we're dealing with very few companies or groups. Considering all the circumstances, our main (investigation) track is that it is a state that is behind it."
A total of four leaks were discovered on the Nord Stream 1 and 2 gas pipelines that run from Russia to Germany through the Baltic Sea, on Sept. 26 and 27 respectively.
Two of the leaks were in the Swedish economic zone, northeast of the Danish island of Bornholm, and two in the Danish economic zone, southeast of Bornholm. Both Swedish and Danish seismic measurements showed that explosions took place a few hours before the leaks were discovered.
Authorities and investigators in Denmark, Sweden and other countries early on suspected the explosions were deliberate attacks and consider them sabotage. The pipelines were not operational at the time, due to disputes between Russia and the European Union amid the war in Ukraine.
The United States and some of its allies have long criticized the pipelines, warning that they posed a risk to Europe's energy security by increasing the continent's dependence on Russian gas.