Austin hopes Turkey will act on Sweden NATO bid before July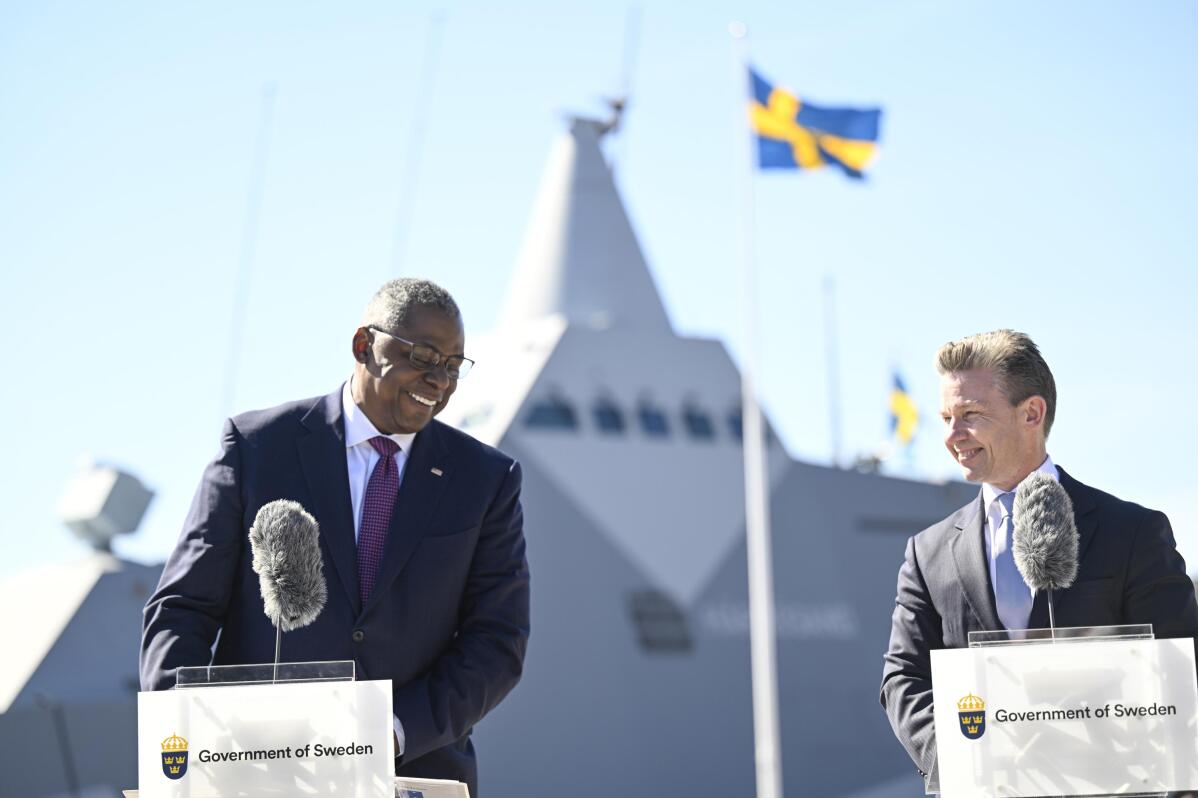 1 of 8

|
US Secretary of Defense, Lloyd J. Austin III, and Sweden's Minister for Defence, Pål Jonson, hold a joint press conference at the Muskö Naval Base, in Stockholm, Sweden, Wednesday, April 19, 2023. (Fredrik Sandberg/TT News Agency via AP)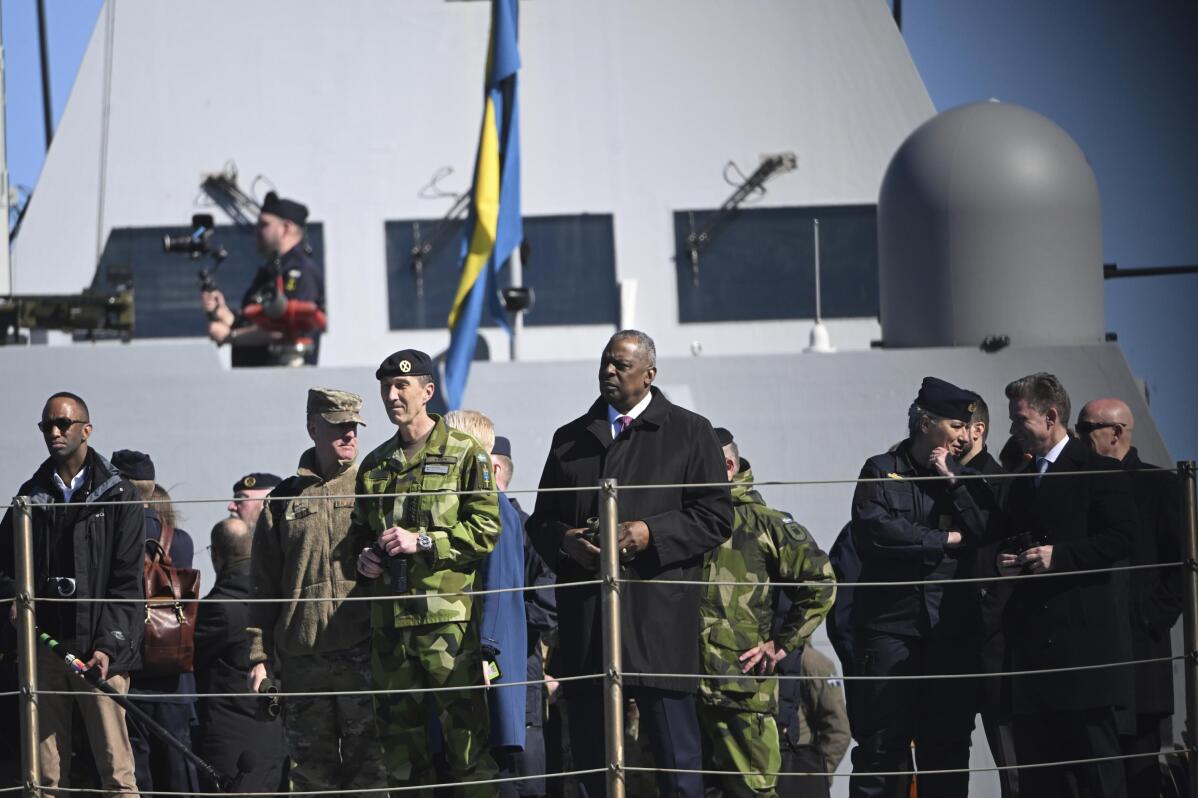 2 of 8

|
General Micael Bydén, Supreme Commander of the Swedish Armed Forces, and US Secretary of Defense, Lloyd J. Austin III, on board the Corvette HMS Härnösand (K33) at Muskö Naval Base, in Stockholm, Sweden, Wednesday, April 19, 2023. (Fredrik Sandberg/TT News Agency via AP)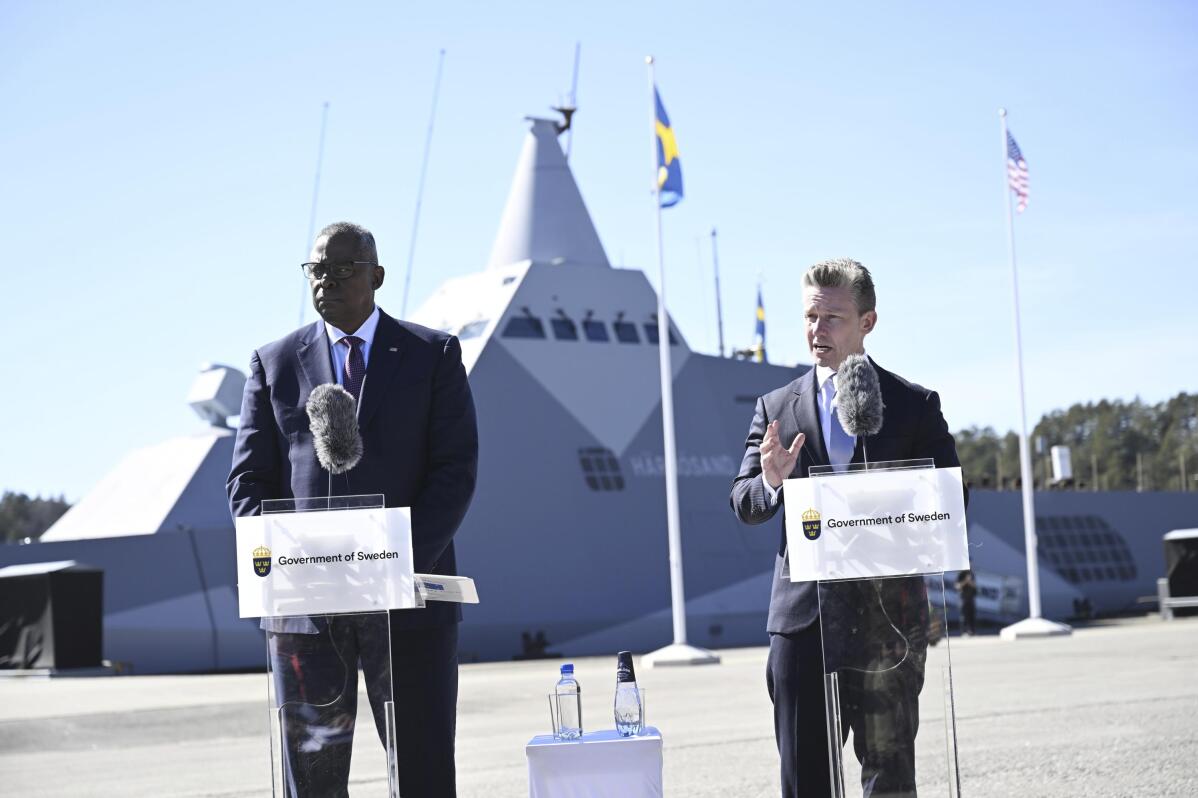 3 of 8

|
US Secretary of Defense, Lloyd J. Austin III, and Sweden's Minister for Defence, Pål Jonson, hold a joint press conference at the Muskö Naval Base, in Stockholm, Sweden, Wednesday, April 19, 2023. (Fredrik Sandberg/TT News Agency via AP)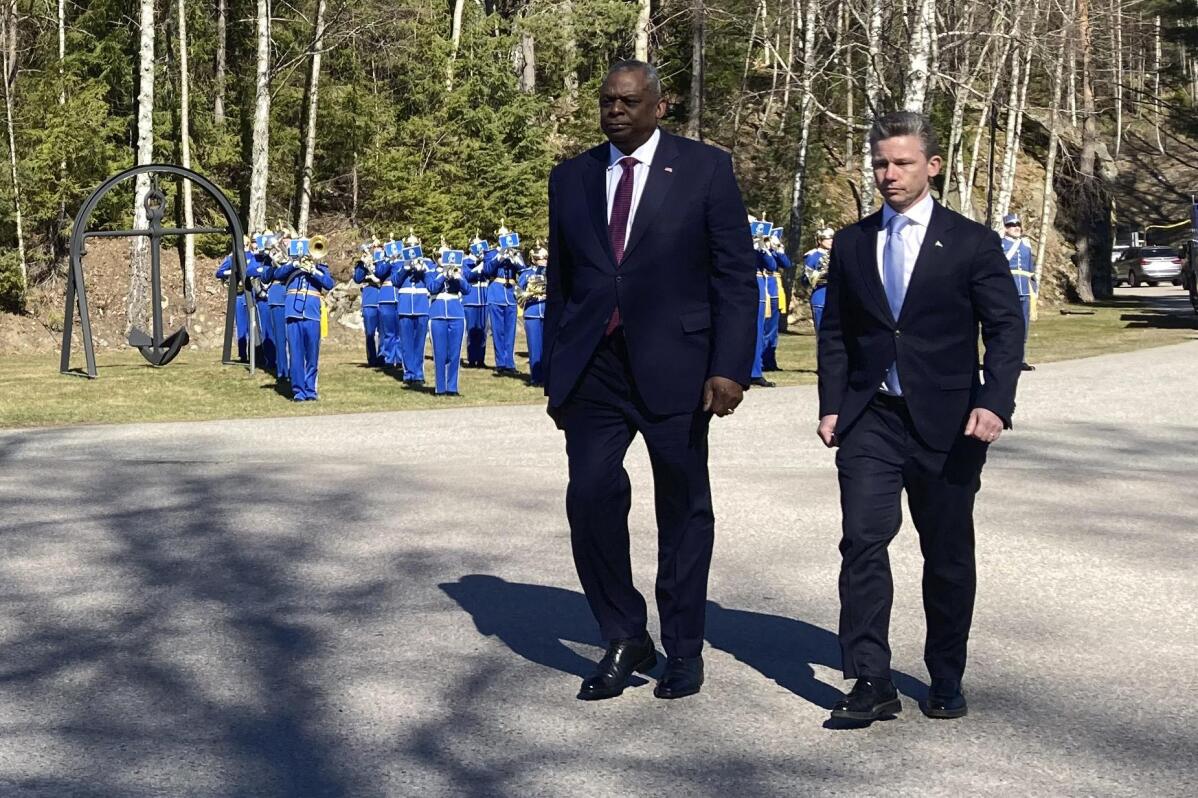 4 of 8

|
Defense Secretary Lloyd Austin visits Musko Naval Base in Sweden and meets with Swedish Defense Minister Pål Jonson, right, Wednesday, April 19, 2023. Austin is the first U.S. defense chief to go to Sweden since then-secretary William Cohen went in 2000. His visit comes as Sweden's admission to NATO remains stalled by opposition from Turkey and Hungary. (AP Photo/Lolita Baldor)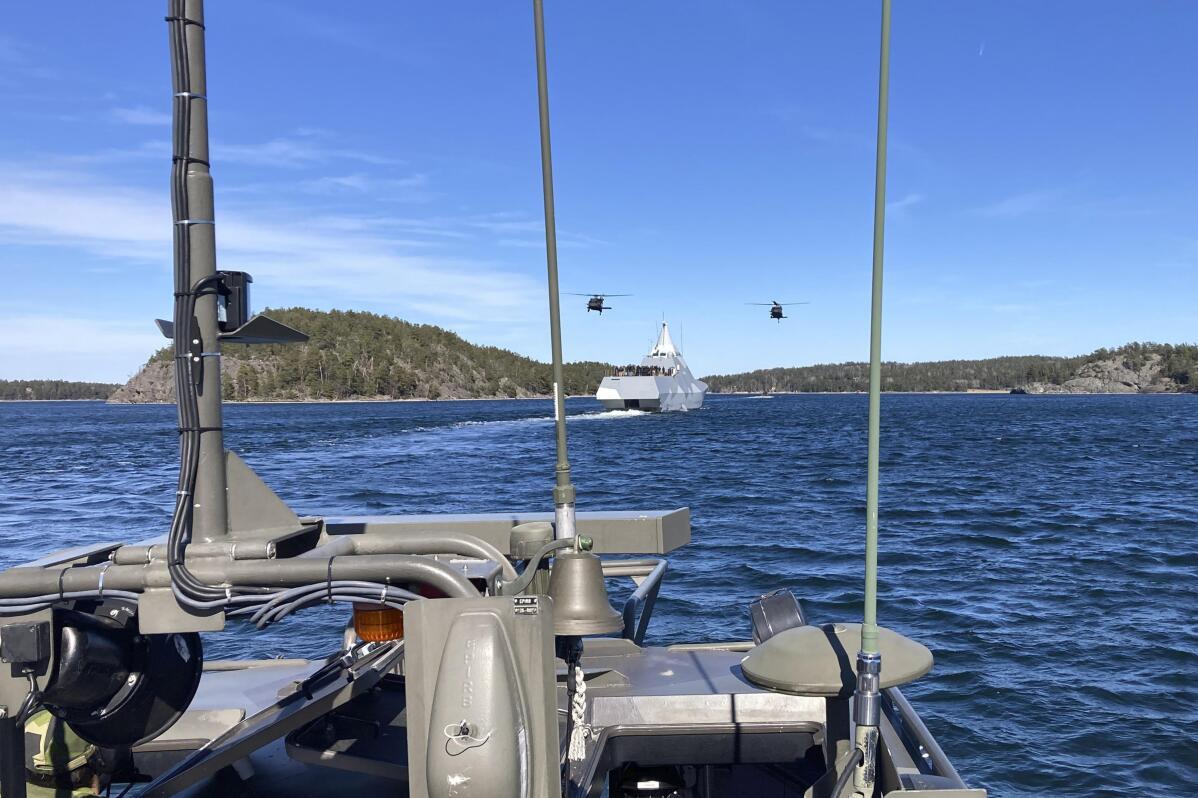 5 of 8

|
Swedish Black Hawk helicopters fly over the Navy ship that Defense Secretary Lloyd Austin travels on through the islands in the southern Stockholm archipelago Wednesday, April 19, 2023. Austin got to see several military demonstrations. (AP Photo/Lolita Baldor)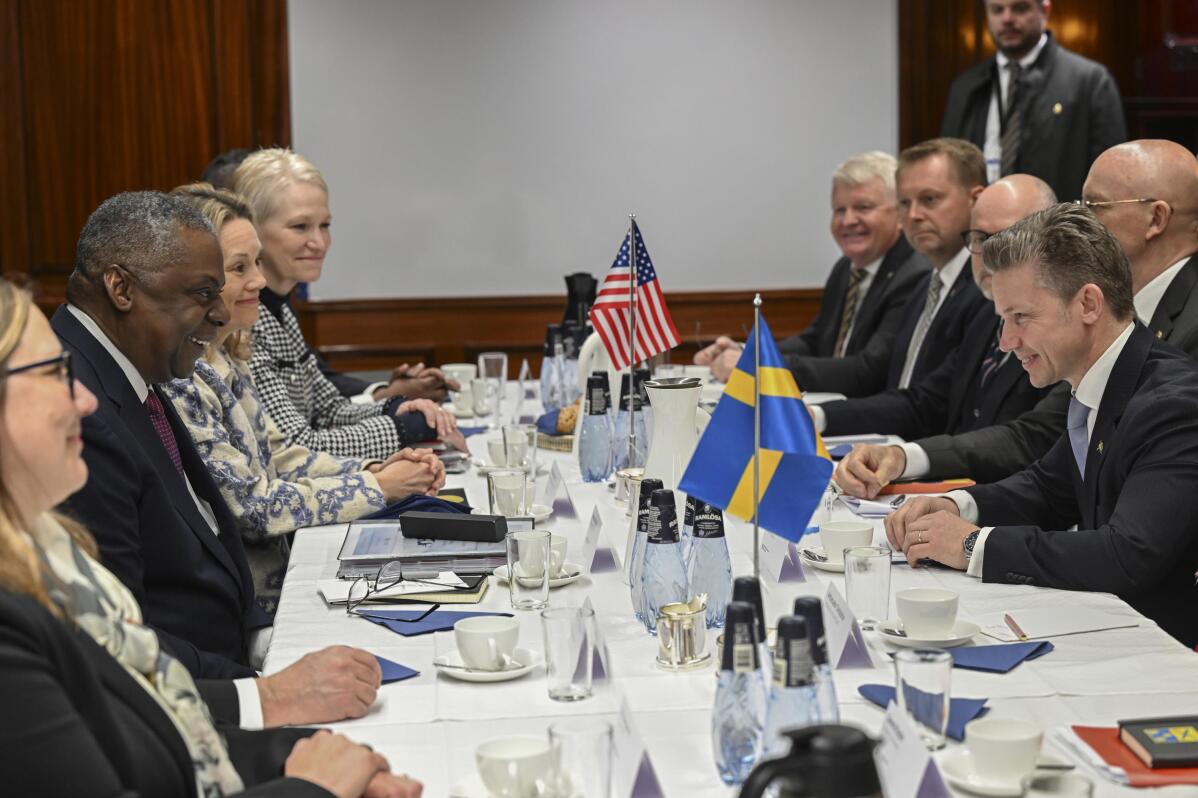 6 of 8

|
Sweden's Defence Minister, Pal Jonson, right, and US Secretary of Defense, Lloyd Austin, left, at the Musko Naval Base, in Stockholm, Sweden, Wednesday, April 19, 2023 for a bilateral meeting. (Fredrik Sandberg/TT News Agency via AP)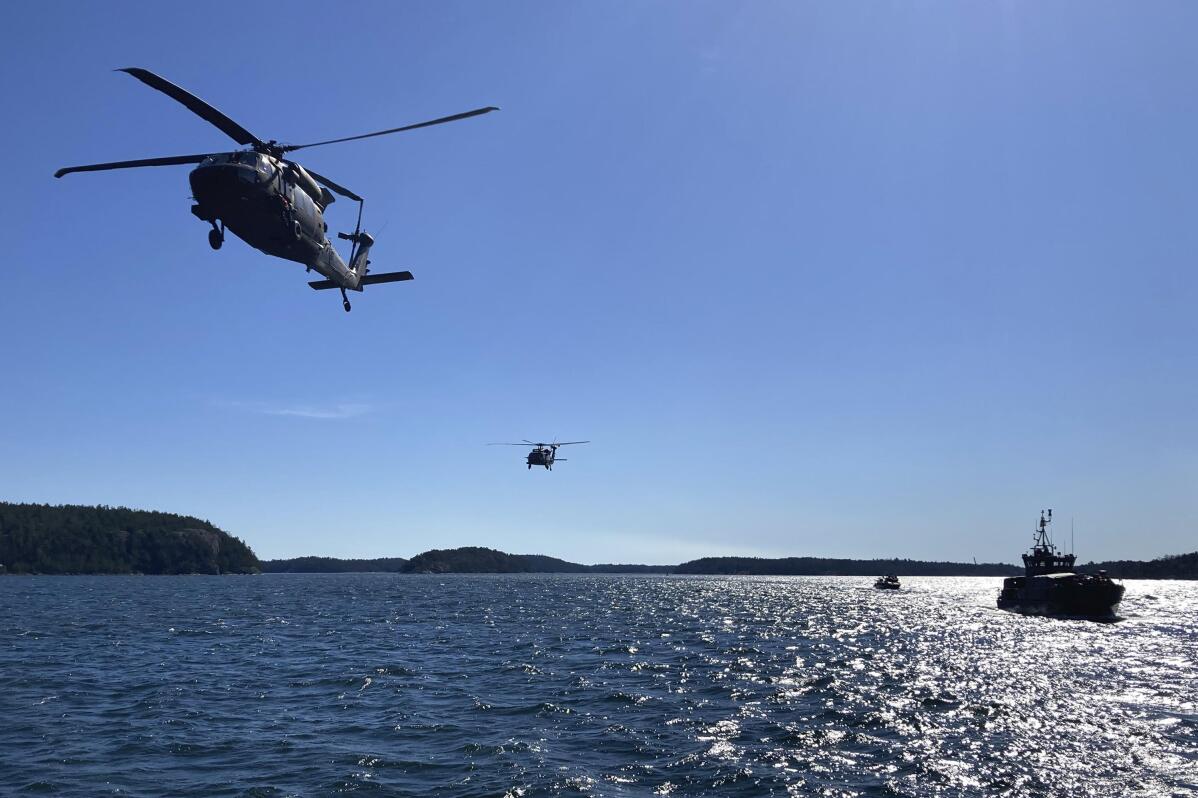 7 of 8

|
Swedish Black Hawk helicopters fly past the Navy ship that Defense Secretary Lloyd Austin travels on during a military demonstration through the islands in the southern Stockholm archipelago Wednesday, April 19, 2023. (AP Photo/Lolita Baldor)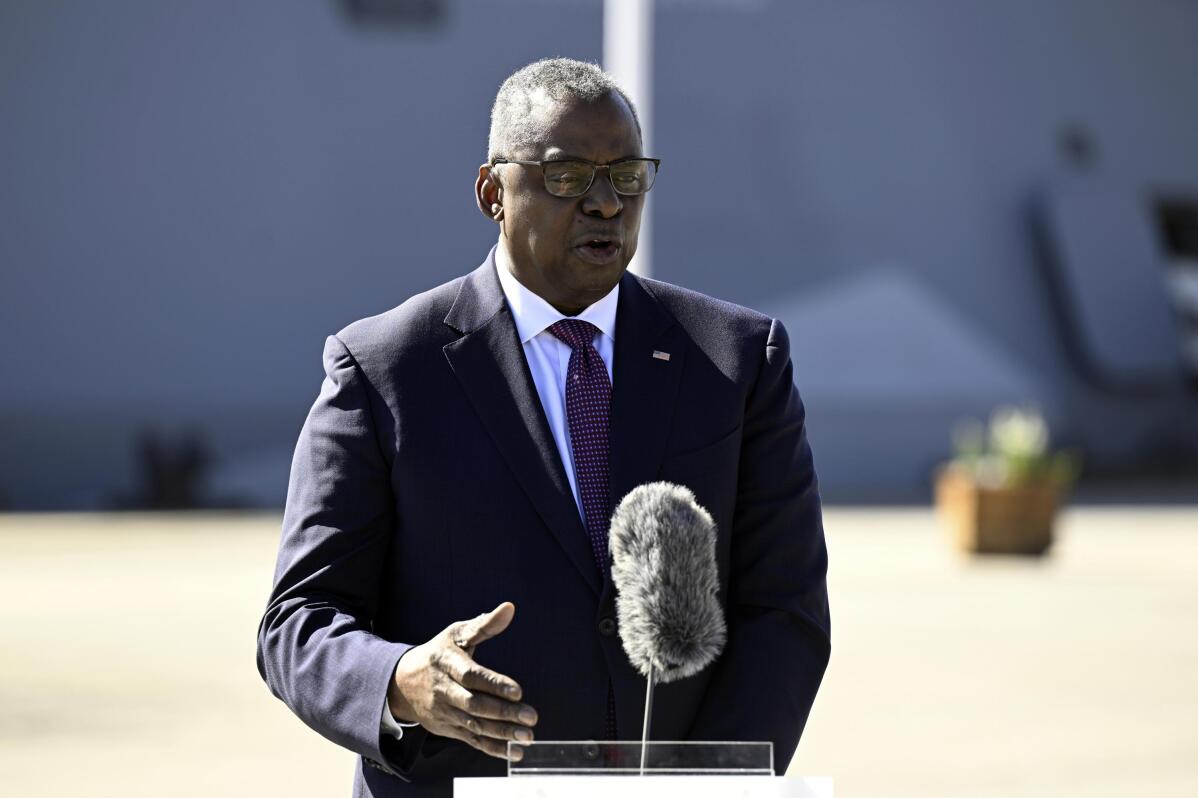 8 of 8

|
U.S. Defense Secretary Lloyd Austin and Sweden's Defense Minister Pal Jonson, unseen, speak at the Muskö Naval Base, in Stockholm, Sweden, Wednesday, April 19, 2023. (Fredrik Sandberg/TT News Agency via AP)
Austin hopes Turkey will act on Sweden NATO bid before July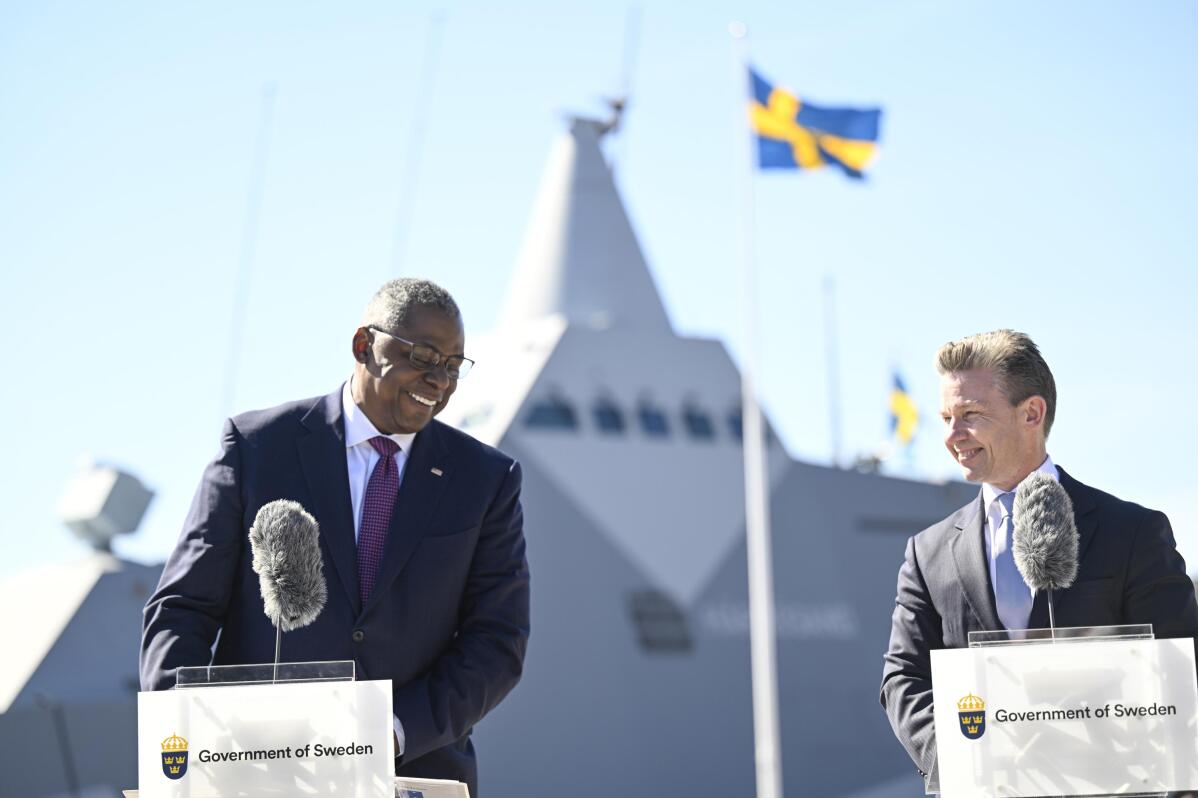 1 of 8

|
US Secretary of Defense, Lloyd J. Austin III, and Sweden's Minister for Defence, Pål Jonson, hold a joint press conference at the Muskö Naval Base, in Stockholm, Sweden, Wednesday, April 19, 2023. (Fredrik Sandberg/TT News Agency via AP)
1 of 8
US Secretary of Defense, Lloyd J. Austin III, and Sweden's Minister for Defence, Pål Jonson, hold a joint press conference at the Muskö Naval Base, in Stockholm, Sweden, Wednesday, April 19, 2023. (Fredrik Sandberg/TT News Agency via AP)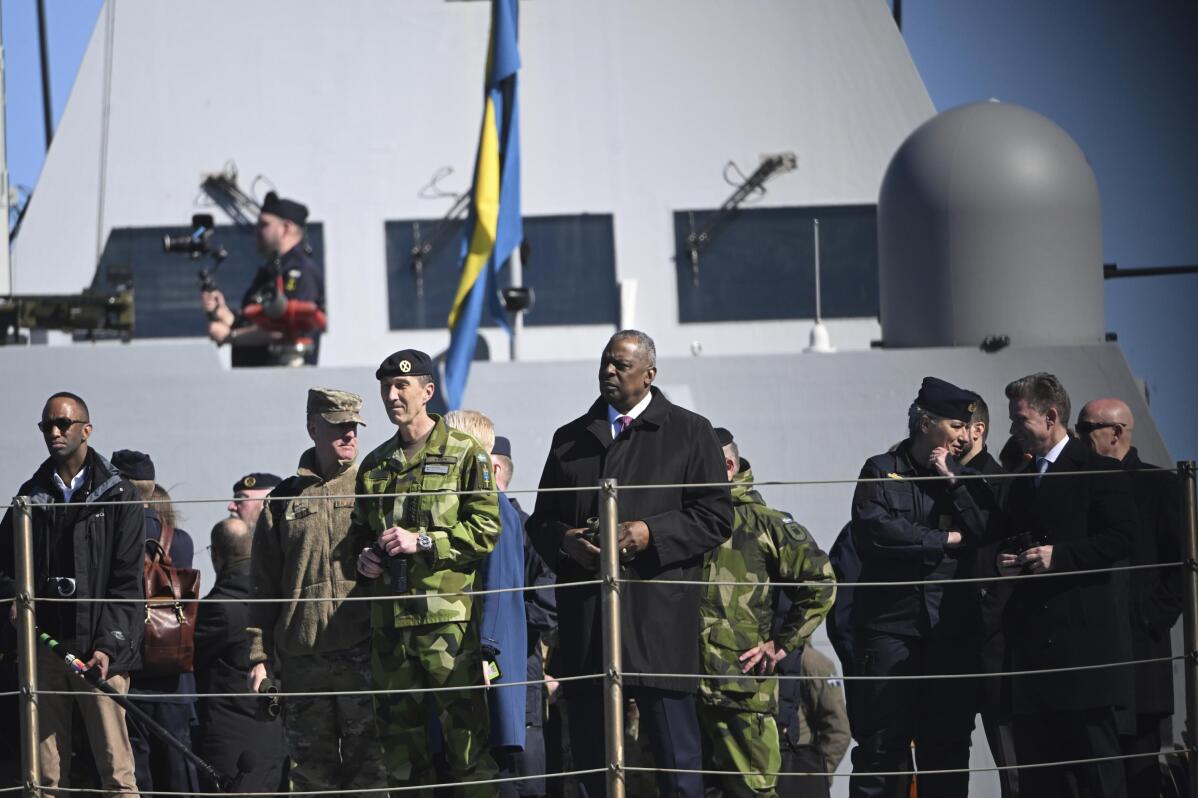 2 of 8

|
General Micael Bydén, Supreme Commander of the Swedish Armed Forces, and US Secretary of Defense, Lloyd J. Austin III, on board the Corvette HMS Härnösand (K33) at Muskö Naval Base, in Stockholm, Sweden, Wednesday, April 19, 2023. (Fredrik Sandberg/TT News Agency via AP)
2 of 8
General Micael Bydén, Supreme Commander of the Swedish Armed Forces, and US Secretary of Defense, Lloyd J. Austin III, on board the Corvette HMS Härnösand (K33) at Muskö Naval Base, in Stockholm, Sweden, Wednesday, April 19, 2023. (Fredrik Sandberg/TT News Agency via AP)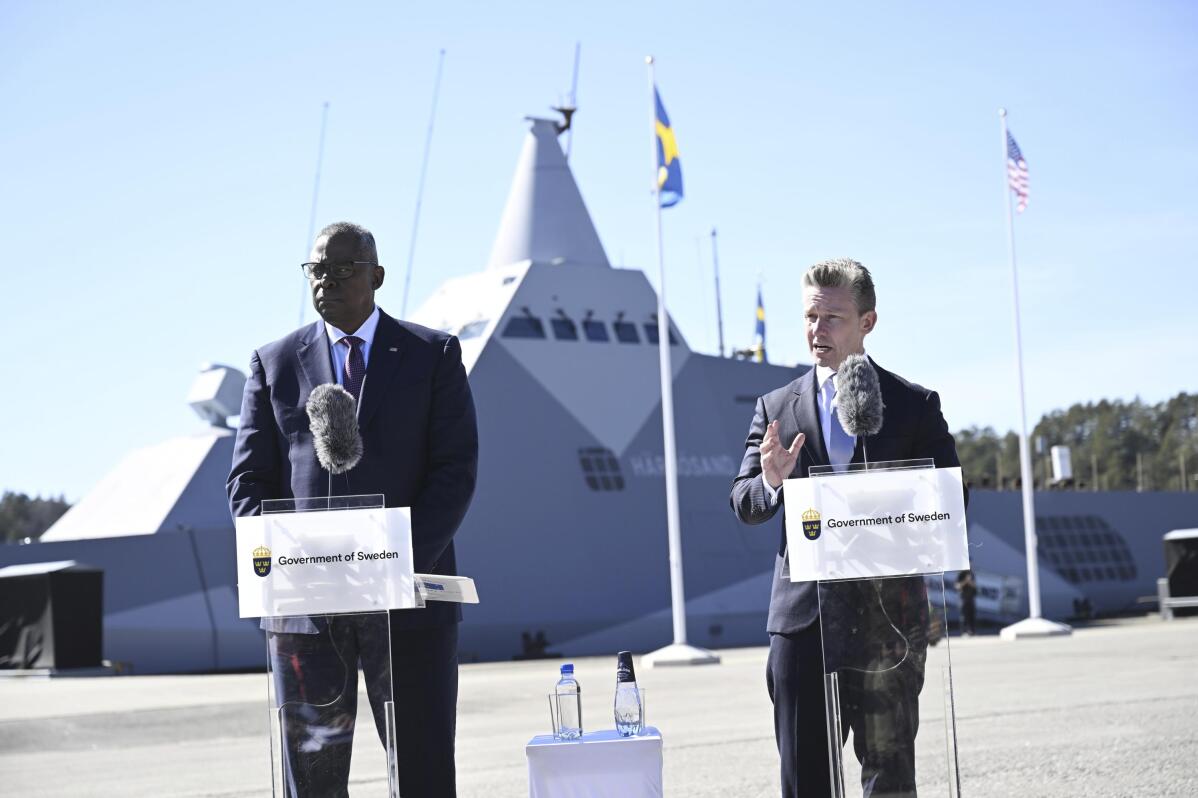 3 of 8

|
US Secretary of Defense, Lloyd J. Austin III, and Sweden's Minister for Defence, Pål Jonson, hold a joint press conference at the Muskö Naval Base, in Stockholm, Sweden, Wednesday, April 19, 2023. (Fredrik Sandberg/TT News Agency via AP)
3 of 8
US Secretary of Defense, Lloyd J. Austin III, and Sweden's Minister for Defence, Pål Jonson, hold a joint press conference at the Muskö Naval Base, in Stockholm, Sweden, Wednesday, April 19, 2023. (Fredrik Sandberg/TT News Agency via AP)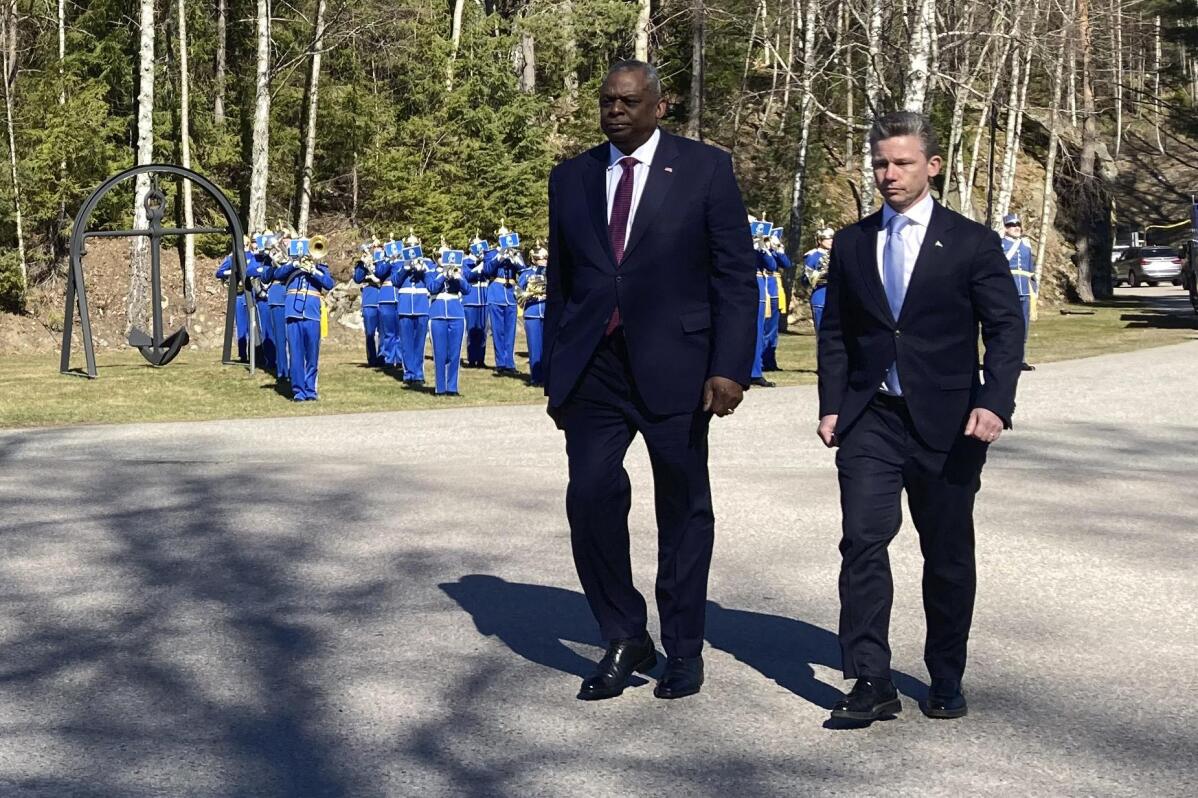 4 of 8

|
Defense Secretary Lloyd Austin visits Musko Naval Base in Sweden and meets with Swedish Defense Minister Pål Jonson, right, Wednesday, April 19, 2023. Austin is the first U.S. defense chief to go to Sweden since then-secretary William Cohen went in 2000. His visit comes as Sweden's admission to NATO remains stalled by opposition from Turkey and Hungary. (AP Photo/Lolita Baldor)
4 of 8
Defense Secretary Lloyd Austin visits Musko Naval Base in Sweden and meets with Swedish Defense Minister Pål Jonson, right, Wednesday, April 19, 2023. Austin is the first U.S. defense chief to go to Sweden since then-secretary William Cohen went in 2000. His visit comes as Sweden's admission to NATO remains stalled by opposition from Turkey and Hungary. (AP Photo/Lolita Baldor)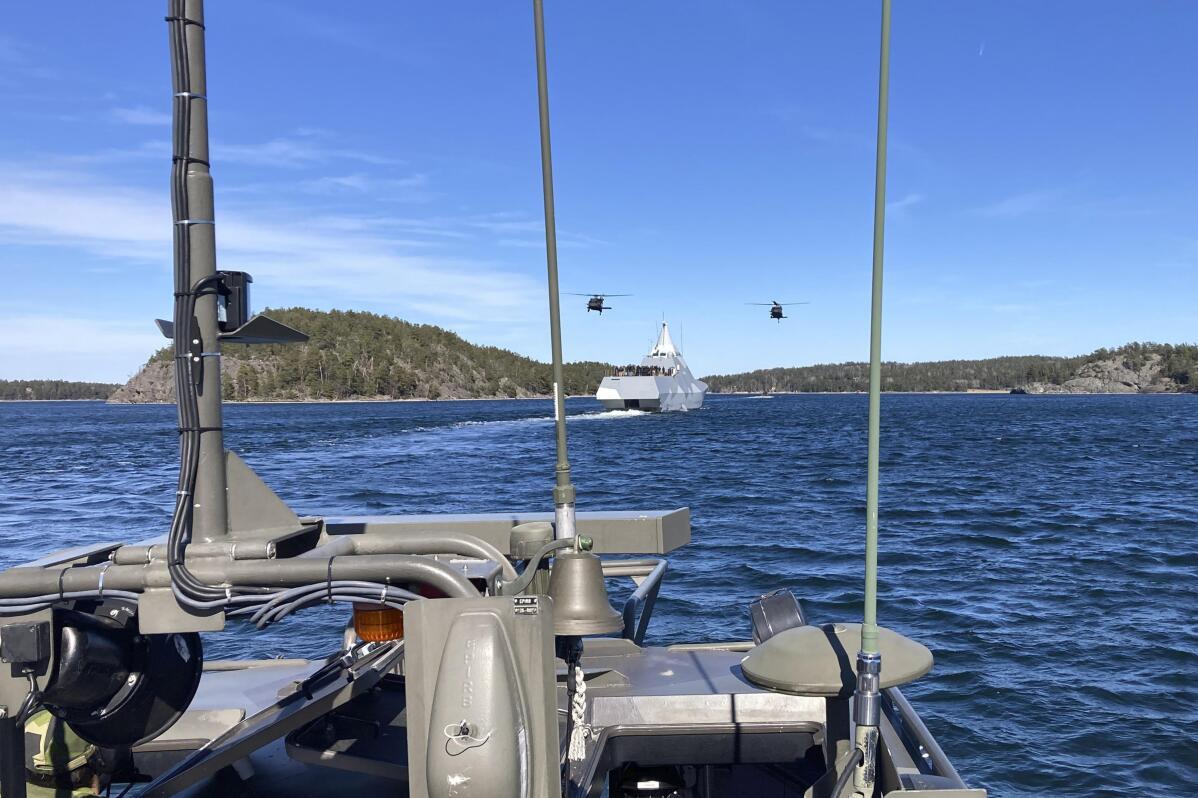 5 of 8

|
Swedish Black Hawk helicopters fly over the Navy ship that Defense Secretary Lloyd Austin travels on through the islands in the southern Stockholm archipelago Wednesday, April 19, 2023. Austin got to see several military demonstrations. (AP Photo/Lolita Baldor)
5 of 8
Swedish Black Hawk helicopters fly over the Navy ship that Defense Secretary Lloyd Austin travels on through the islands in the southern Stockholm archipelago Wednesday, April 19, 2023. Austin got to see several military demonstrations. (AP Photo/Lolita Baldor)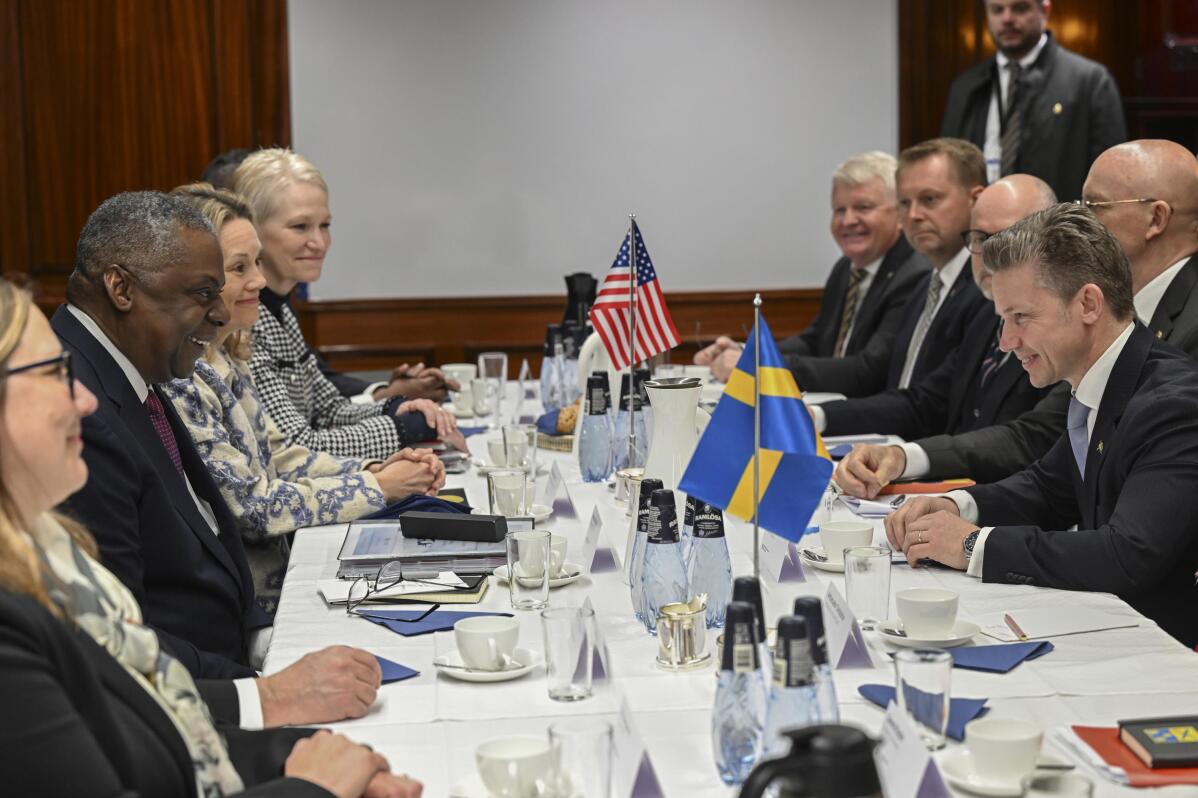 6 of 8

|
Sweden's Defence Minister, Pal Jonson, right, and US Secretary of Defense, Lloyd Austin, left, at the Musko Naval Base, in Stockholm, Sweden, Wednesday, April 19, 2023 for a bilateral meeting. (Fredrik Sandberg/TT News Agency via AP)
6 of 8
Sweden's Defence Minister, Pal Jonson, right, and US Secretary of Defense, Lloyd Austin, left, at the Musko Naval Base, in Stockholm, Sweden, Wednesday, April 19, 2023 for a bilateral meeting. (Fredrik Sandberg/TT News Agency via AP)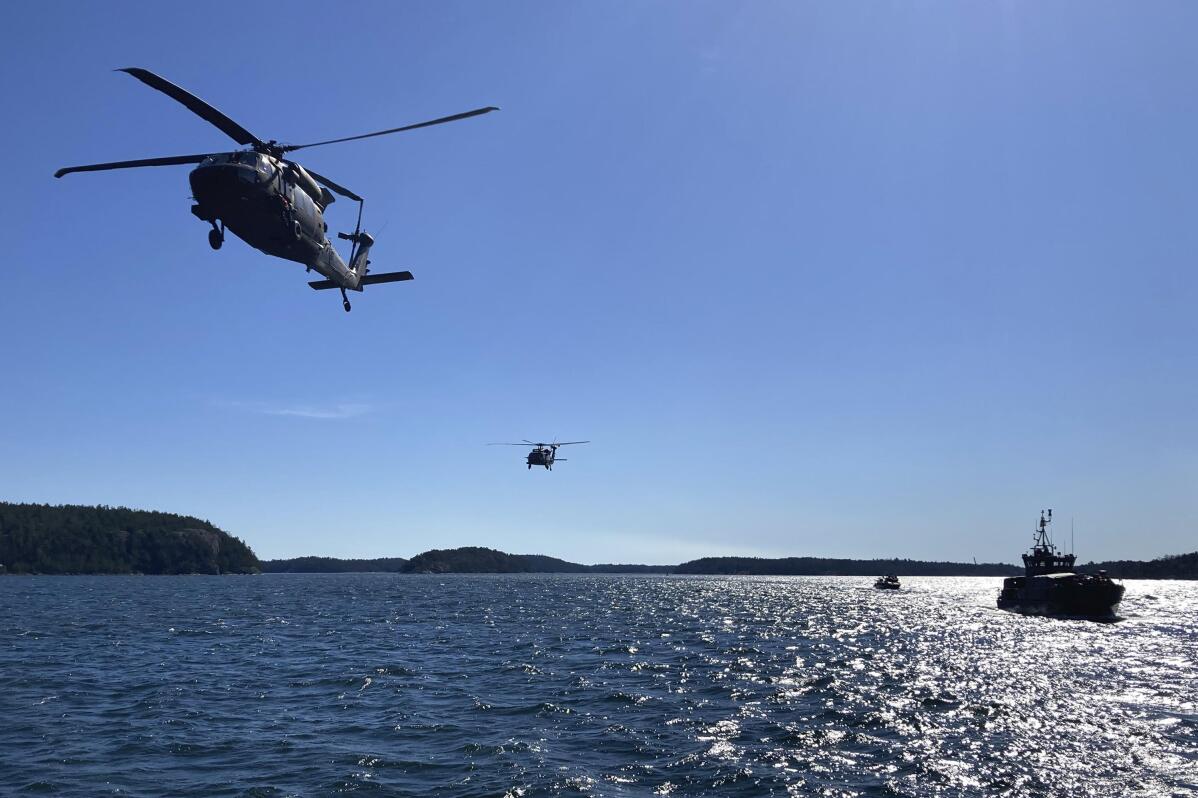 7 of 8

|
Swedish Black Hawk helicopters fly past the Navy ship that Defense Secretary Lloyd Austin travels on during a military demonstration through the islands in the southern Stockholm archipelago Wednesday, April 19, 2023. (AP Photo/Lolita Baldor)
7 of 8
Swedish Black Hawk helicopters fly past the Navy ship that Defense Secretary Lloyd Austin travels on during a military demonstration through the islands in the southern Stockholm archipelago Wednesday, April 19, 2023. (AP Photo/Lolita Baldor)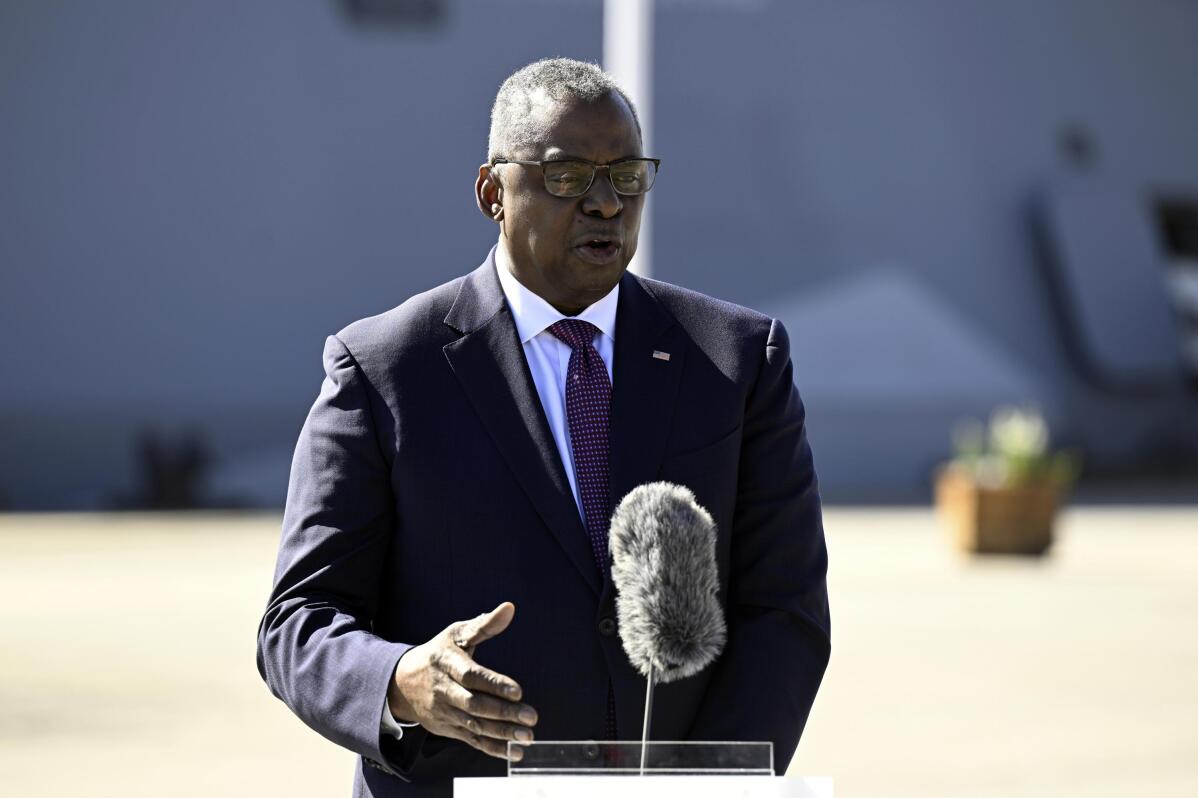 8 of 8

|
U.S. Defense Secretary Lloyd Austin and Sweden's Defense Minister Pal Jonson, unseen, speak at the Muskö Naval Base, in Stockholm, Sweden, Wednesday, April 19, 2023. (Fredrik Sandberg/TT News Agency via AP)
8 of 8
U.S. Defense Secretary Lloyd Austin and Sweden's Defense Minister Pal Jonson, unseen, speak at the Muskö Naval Base, in Stockholm, Sweden, Wednesday, April 19, 2023. (Fredrik Sandberg/TT News Agency via AP)
MUSKO NAVAL BASE, Sweden (AP) — U.S. Defense Secretary Lloyd Austin said Wednesday it's important that Turkey makes its decision to allow Sweden to join NATO "sooner versus later" and he "feels confident" it will happen before the alliance summit in July.
Speaking during a stop in Sweden, Austin declined, however, to say whether a recent U.S. deal to provide fighter jet upgrades to Turkey will provide enough incentive for Ankara to finally vote.
Standing alongside Austin, Swedish Defense Minister Pål Jonson told reporters he is hopeful Sweden will gain admittance by summer. He thanked Austin for America's military support "during this transition time into NATO," which he said has reassured Sweden and helped make the country more secure.
"We look forward to continuing to advocate for your swift admission to NATO, and we'll work hard to get that done before the summit," Austin said. The NATO summit will be in Lithuania in early July.
Sweden's bid to join NATO remains stalled by opposition from Turkey and Hungary, even weeks after both nations finally approved Finland's application. The two neighboring Nordic countries jointly applied for NATO membership in May 2022, abandoning decades of non-alignment in the wake of Russia's invasion of Ukraine.
Austin and Jonson spoke to reporters near the docks at the Musko Naval Base. Afterward, Austin boarded the HMS Harnosand, a Visby-class Corvette warship, for a chilly one-hour journey north to Berga Naval Base, passing by a number of islands in the southern Stockholm archipelago.
From aboard the ship, the U. S. defense secretary watched as Swedish Marines on small combat boats conducted an amphibious landing exercise, the sounds of their guns echoing off the water. Swedish fighter jets and military Black Hawk helicopters made several passes by the ship and a Swedish submarine nosed to the surface, identified only by its telltale periscope. Off to the side, as his ship moved by a smaller island, explosions went off, as a Swedish mine-clearing ship showed off its capabilities.
Austin said his visit comes at a crucial time for European security, and he urged Turkey and NATO to act soon to approve Sweden's membership in NATO. He said it will mean a stronger alliance and a more secure Europe, lauding Sweden's troops and their capabilities, particularly in the Baltic Sea region.
"It's important to all of us that they make the decision sooner versus later," Austin said.
The U.S. agreed Monday to sell Turkey $259 million in software it has long sought to upgrade its fleet of U.S. F-16 fighter jets. But Turkey also still wants to buy 40 new F-16s from the U.S. — a sale opposed by some in Congress who want to wait until Turkey approves Sweden's membership in NATO.
Austin is the first U.S. defense chief to visit Sweden since William Cohen visited in 2000. While the U.S. military has long trained with Sweden, it had not been a frequent stop for U.S. defense leaders, since they were more likely to visit NATO allies. Sweden had long resisted joining the alliance.
Austin got a sweeping look at Sweden's military, including a tour of the Musko cave complex and its maritime operations center, followed by the sail to Berga Naval Base.
While Sweden has long worked with NATO and is considered a "partner country," it does not enjoy the full protections afforded a member nation — most importantly Article 5 protection. That provision of the treaty states that if one member of the alliance is attacked in Europe or North America, it is considered an attack on all.
The only time the Article 5 mutual defense provision has been invoked was in support of the U.S. after the Sept. 11, 2001, attacks on New York and Washington. But after Russia's invasion of Ukraine in February 2022, a number of European nations feared they could be attacked next — triggering the NATO applications of Finland and Sweden.
Finland formally joined the alliance on April 5, just days after Turkey and Hungary finally voted to ratify its application. A unanimous vote of all 31 alliance members is required to admit new members.
In response to Finland's formal acceptance, Russia's Foreign Ministry said Moscow "will be forced to take military-technical and other retaliatory measures to counter the threats to our national security arising from Finland's accession to NATO." And Kremlin spokesman Dmitry Peskov said Finland's membership reflects the alliance's anti-Russian course and warned that Moscow will respond depending on what weapons NATO allies place there.
The Turkish government has accused Sweden of being too soft on groups that it deems to be terror organizations. President Recep Tayyip Erdogan has said Ankara needs further assurances before it will give its final approval.
The dispute grew when, in January, a far-right activist from Denmark got police permission to stage a protest outside the Turkish Embassy in Stockholm where he burned the Islamic holy book. The incident angered millions of Muslims around the world, and Turkey said it wouldn't allow Sweden to join NATO as long as Stockholm permits such protests. In Sweden, such demonstrations are protected by freedom of speech.
Austin spoke with Turkey's defense minister, Hulusi Akar, on April 6, and according to a statement from the defense ministry they discussed Finland's NATO membership and "it was emphasized that we always support NATO's Open Door Policy, Finland's membership shows this once again and it is hoped that Sweden will fulfill its commitments as soon as possible."