Syrian state media: Israeli airstrikes kill 5 in Damascus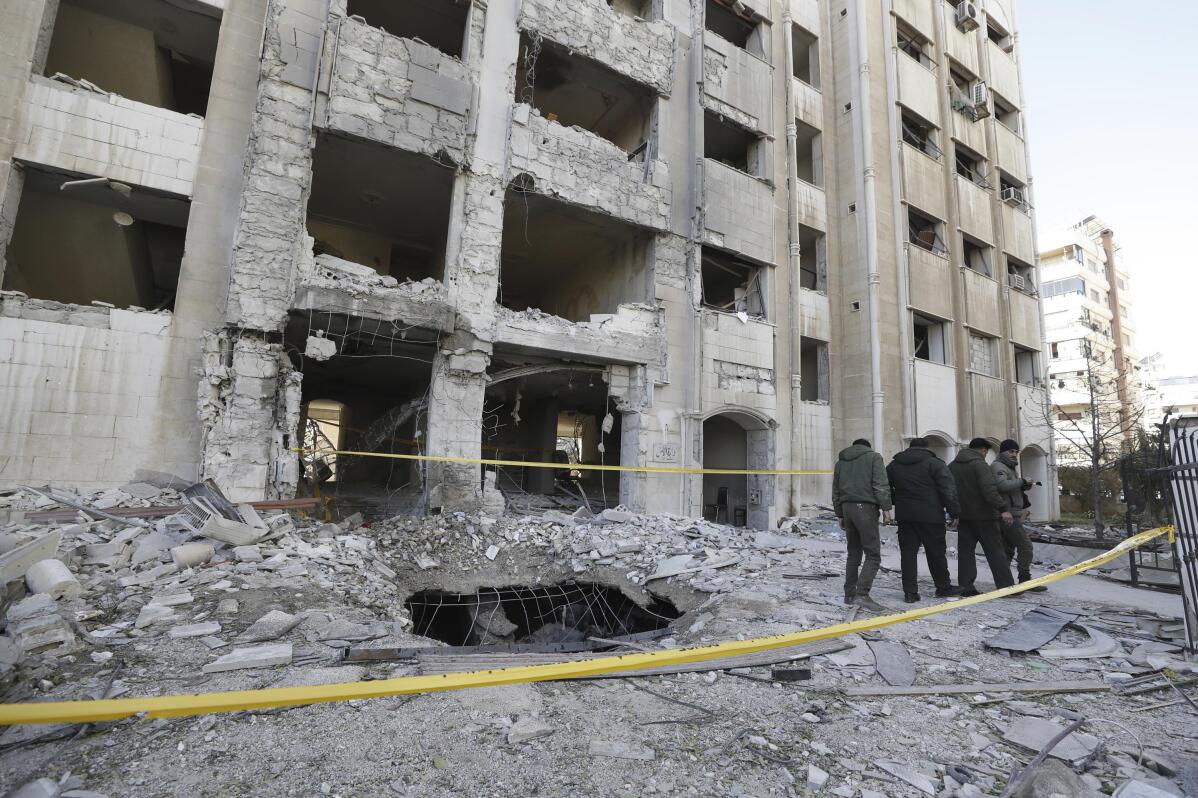 1 of 9

|
Syrian security officers inspect the damage in a residential neighborhood after an early morning Israeli airstrike in the capital city of Damascus, Syria, Sunday, Feb. 19, 2023. Syrian state news reported that Israeli airstrikes have targeted a residential neighborhood in central Damascus. (AP Photo/Omar Sanadiki)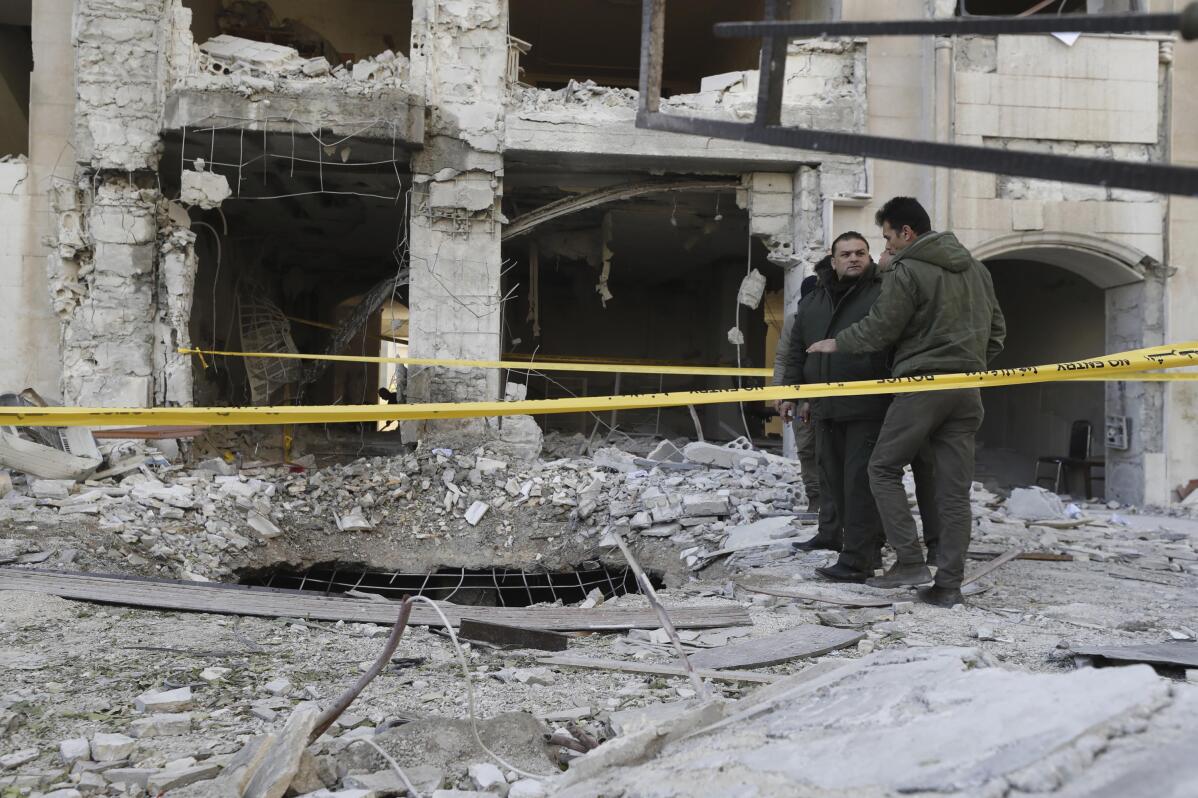 2 of 9

|
Syrian security officers inspect the damage in a residential neighborhood after an early morning Israeli airstrike in the capital city of Damascus, Syria, Sunday, Feb. 19, 2023. Syrian state news reported that Israeli airstrikes have targeted a residential neighborhood in central Damascus. (AP Photo/Omar Sanadiki)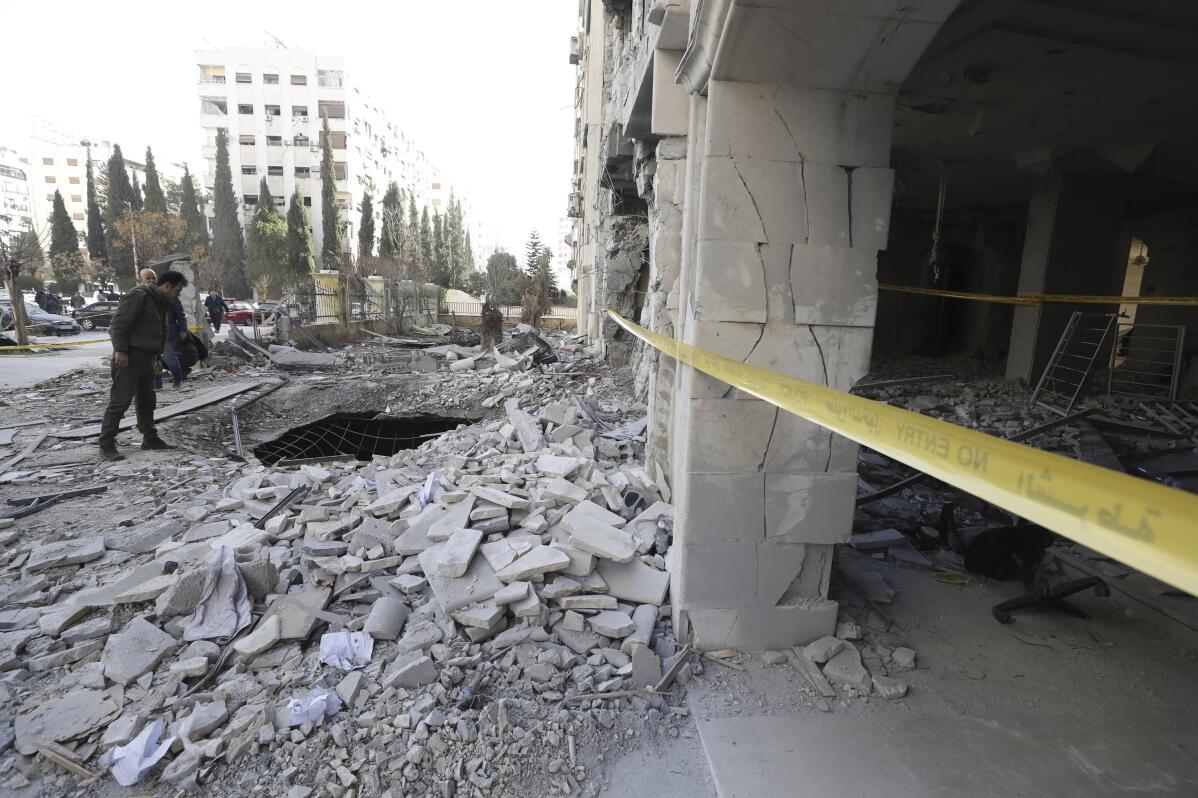 3 of 9

|
Syrian security officers inspect the damage in a residential neighborhood after an early morning Israeli airstrike in the capital city of Damascus, Syria, Sunday, Feb. 19, 2023. Syrian state news reported that Israeli airstrikes have targeted a residential neighborhood in central Damascus. (AP Photo/Omar Sanadiki)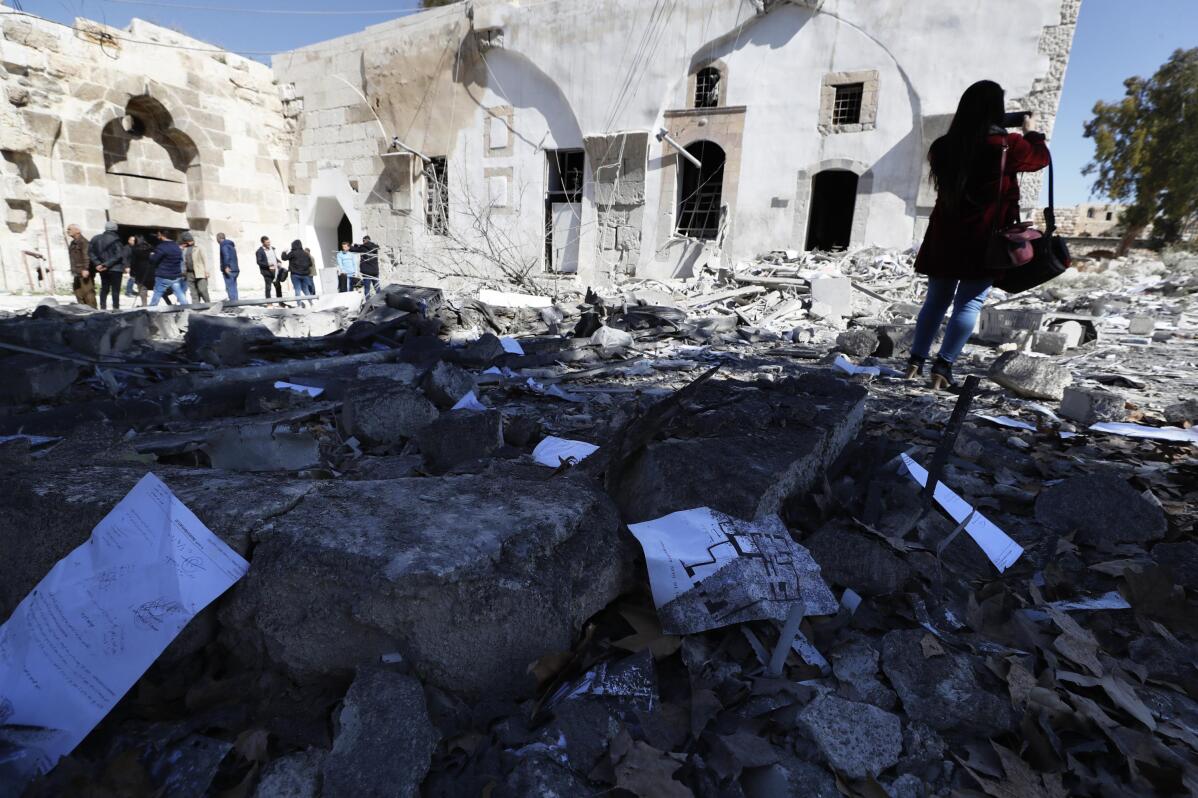 4 of 9

|
Syrian inspect the damage of a medieval citadel in central Damascus and an applied arts institute house after an early morning Israeli airstrike in the capital city of Damascus, Syria, Sunday, Feb. 19, 2023. Syrian state news reported that Israeli airstrikes have targeted a residential neighborhood in central Damascus. (AP Photo/Omar Sanadiki)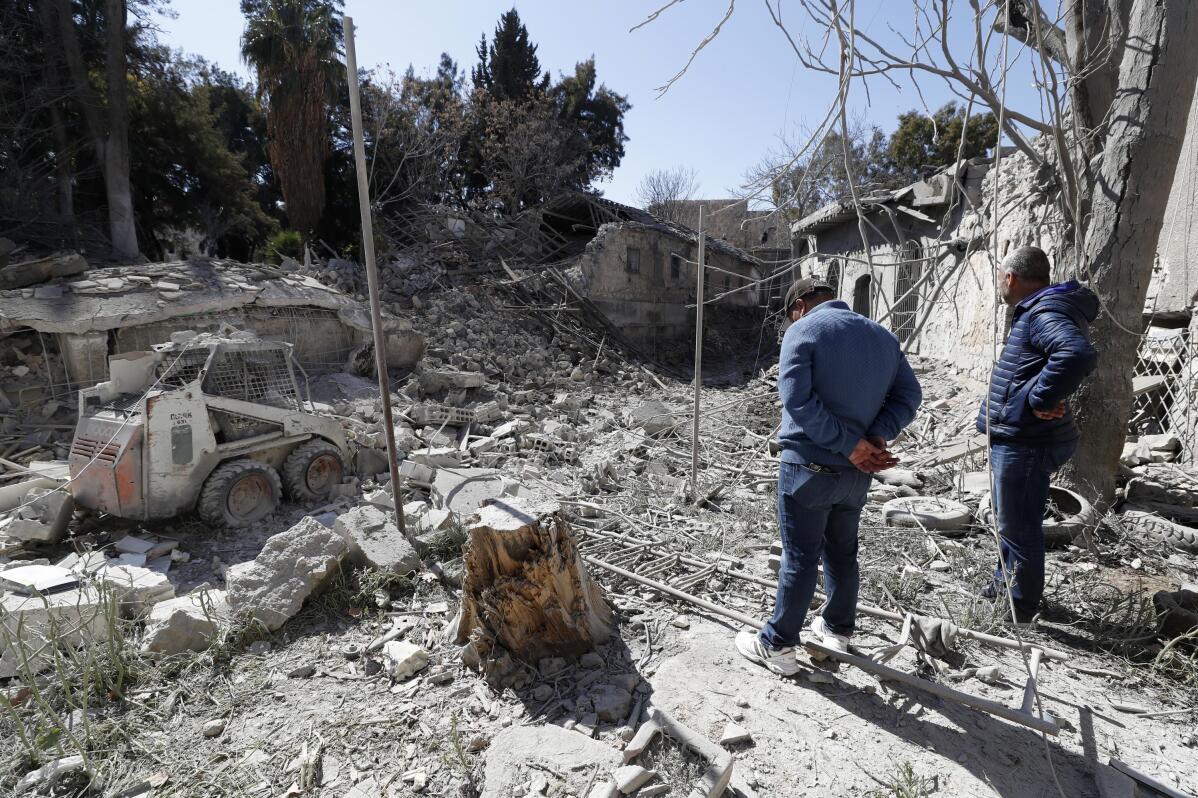 5 of 9

|
People inspect the damage of a medieval citadel after an early morning Israeli airstrike in the capital city of Damascus, Syria, Sunday, Feb. 19, 2023. Syrian state news reported that Israeli airstrikes have targeted a residential neighborhood in central Damascus. (AP Photo/Omar Sanadiki)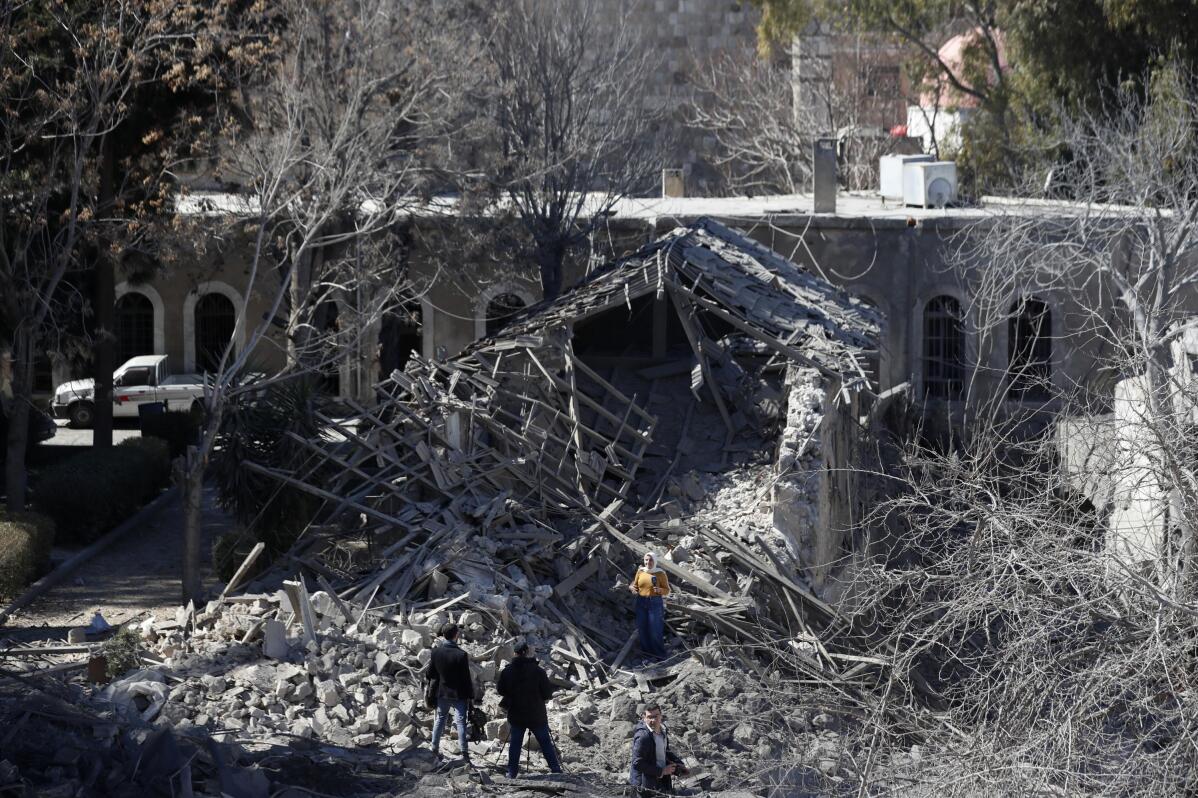 6 of 9

|
Journalists report from the damage of a medieval citadel after an early morning Israeli airstrike in the capital city of Damascus, Syria, Sunday, Feb. 19, 2023. Syrian state news reported that Israeli airstrikes have targeted a residential neighborhood in central Damascus. (AP Photo/Omar Sanadiki)
7 of 9

|
People inspect the damage of a medieval citadel after an early morning Israeli airstrike in the capital city of Damascus, Syria, Sunday, Feb. 19, 2023. Syrian state news reported that Israeli airstrikes have targeted a residential neighborhood in central Damascus. (AP Photo/Omar Sanadiki)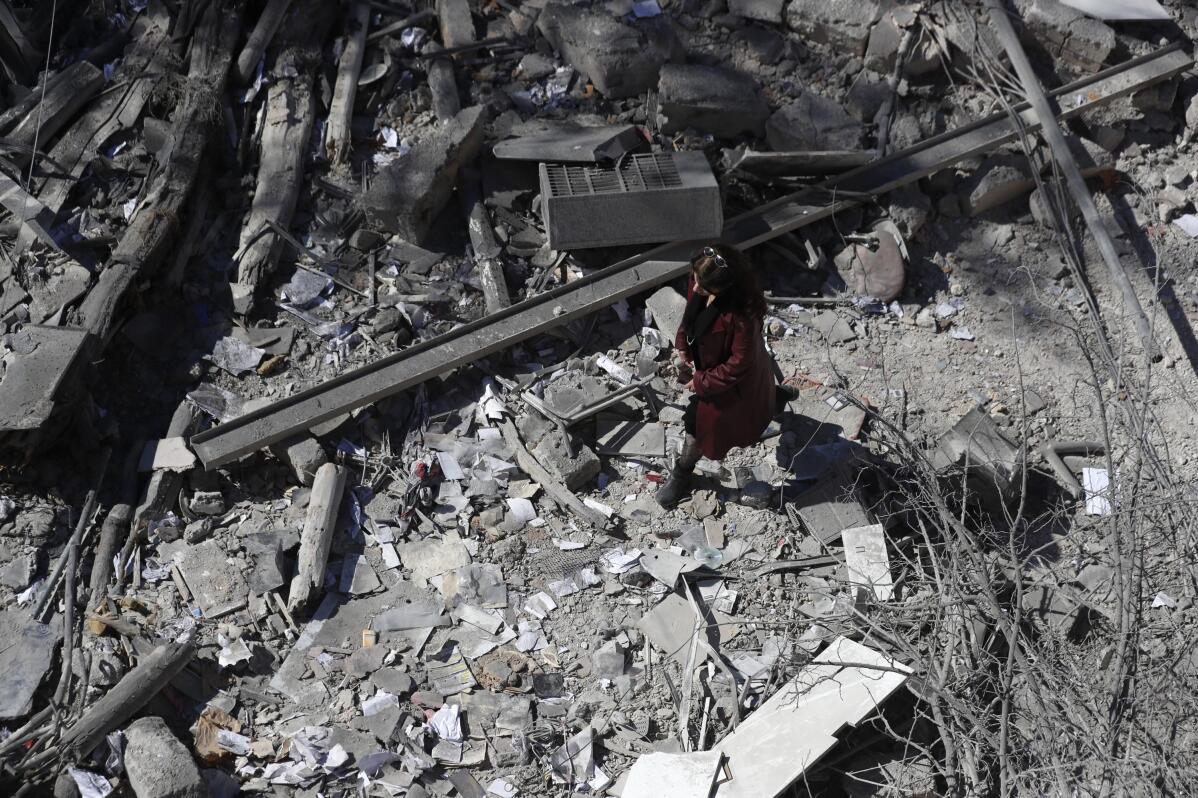 8 of 9

|
A woman inspects the damage of a medieval citadel and an applied arts institute house after an early morning Israeli airstrike in the capital city of Damascus, Syria, Sunday, Feb. 19, 2023. Syrian state news reported that Israeli airstrikes have targeted a residential neighborhood in central Damascus. (AP Photo/Omar Sanadiki)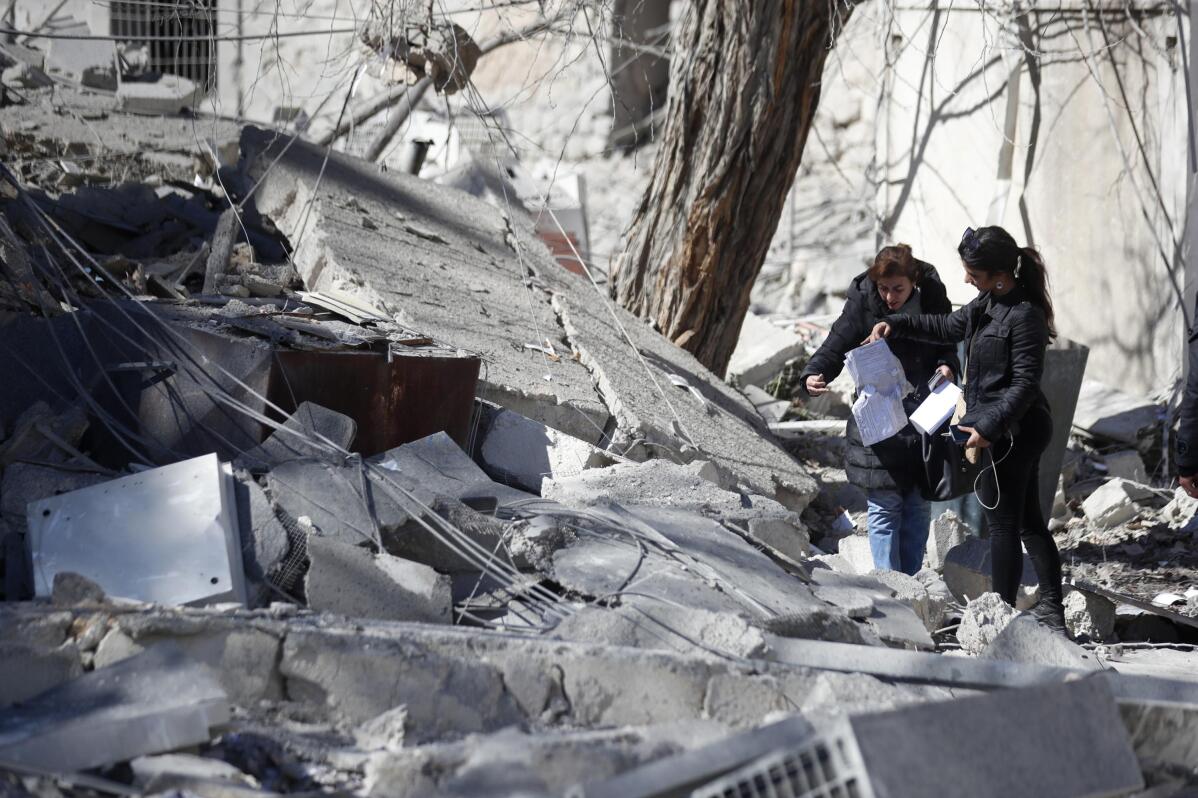 9 of 9

|
Syrian inspect the damage of a medieval citadel and an applied arts institute house after an early morning Israeli airstrike in the capital city of Damascus, Syria, Sunday, Feb. 19, 2023. Syrian state news reported that Israeli airstrikes have targeted a residential neighborhood in central Damascus. (AP Photo/Omar Sanadiki)
Syrian state media: Israeli airstrikes kill 5 in Damascus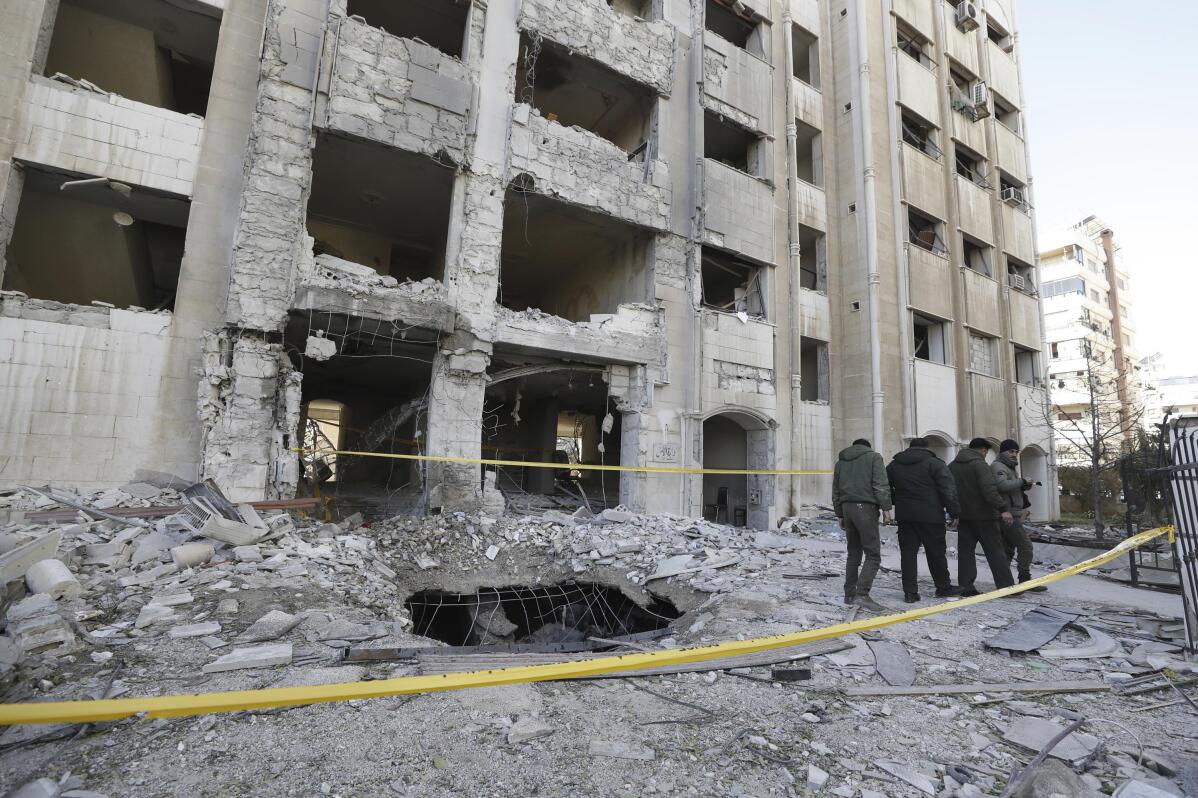 1 of 9

|
Syrian security officers inspect the damage in a residential neighborhood after an early morning Israeli airstrike in the capital city of Damascus, Syria, Sunday, Feb. 19, 2023. Syrian state news reported that Israeli airstrikes have targeted a residential neighborhood in central Damascus. (AP Photo/Omar Sanadiki)
1 of 9
Syrian security officers inspect the damage in a residential neighborhood after an early morning Israeli airstrike in the capital city of Damascus, Syria, Sunday, Feb. 19, 2023. Syrian state news reported that Israeli airstrikes have targeted a residential neighborhood in central Damascus. (AP Photo/Omar Sanadiki)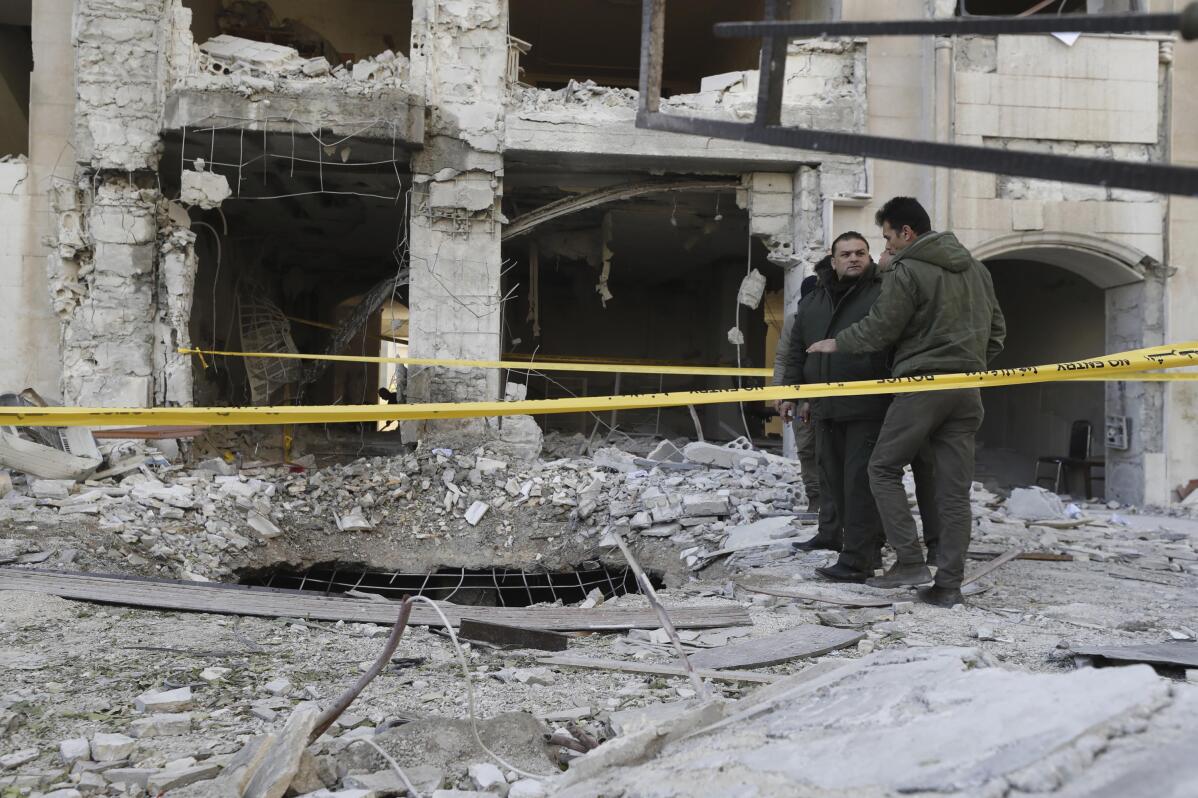 2 of 9

|
Syrian security officers inspect the damage in a residential neighborhood after an early morning Israeli airstrike in the capital city of Damascus, Syria, Sunday, Feb. 19, 2023. Syrian state news reported that Israeli airstrikes have targeted a residential neighborhood in central Damascus. (AP Photo/Omar Sanadiki)
2 of 9
Syrian security officers inspect the damage in a residential neighborhood after an early morning Israeli airstrike in the capital city of Damascus, Syria, Sunday, Feb. 19, 2023. Syrian state news reported that Israeli airstrikes have targeted a residential neighborhood in central Damascus. (AP Photo/Omar Sanadiki)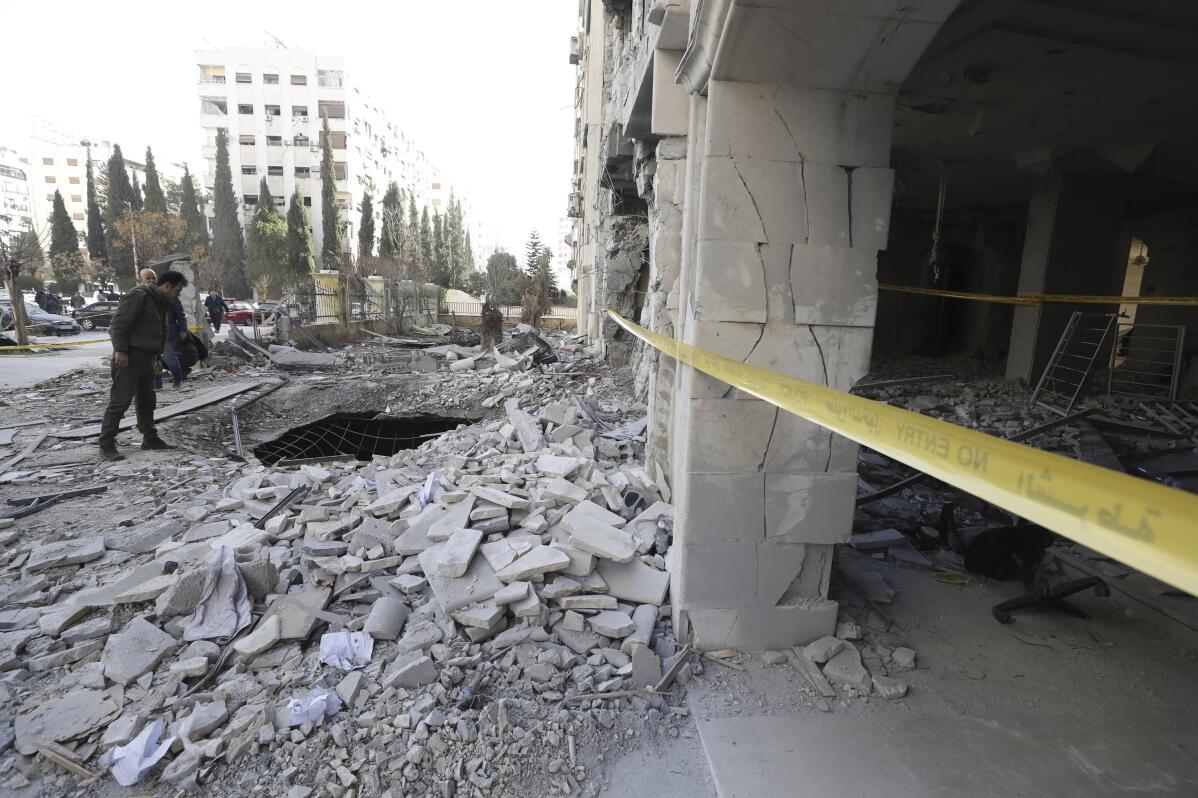 3 of 9

|
Syrian security officers inspect the damage in a residential neighborhood after an early morning Israeli airstrike in the capital city of Damascus, Syria, Sunday, Feb. 19, 2023. Syrian state news reported that Israeli airstrikes have targeted a residential neighborhood in central Damascus. (AP Photo/Omar Sanadiki)
3 of 9
Syrian security officers inspect the damage in a residential neighborhood after an early morning Israeli airstrike in the capital city of Damascus, Syria, Sunday, Feb. 19, 2023. Syrian state news reported that Israeli airstrikes have targeted a residential neighborhood in central Damascus. (AP Photo/Omar Sanadiki)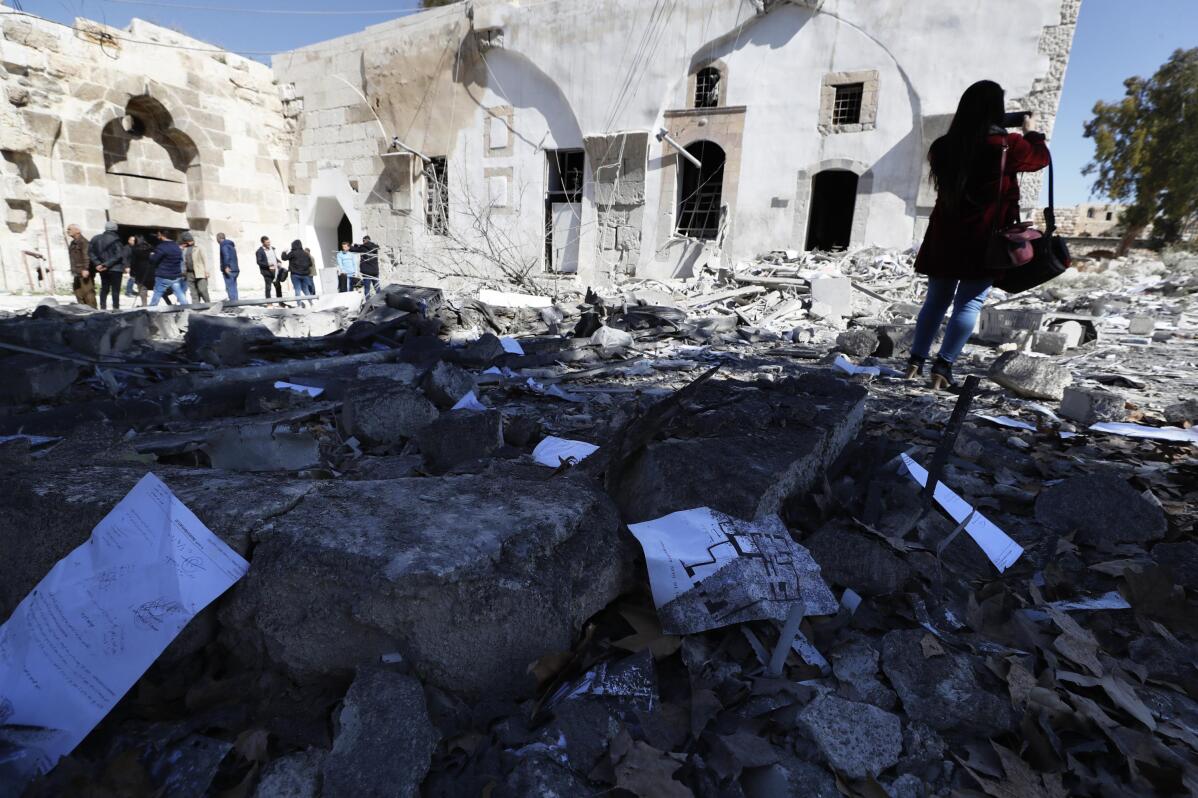 4 of 9

|
Syrian inspect the damage of a medieval citadel in central Damascus and an applied arts institute house after an early morning Israeli airstrike in the capital city of Damascus, Syria, Sunday, Feb. 19, 2023. Syrian state news reported that Israeli airstrikes have targeted a residential neighborhood in central Damascus. (AP Photo/Omar Sanadiki)
4 of 9
Syrian inspect the damage of a medieval citadel in central Damascus and an applied arts institute house after an early morning Israeli airstrike in the capital city of Damascus, Syria, Sunday, Feb. 19, 2023. Syrian state news reported that Israeli airstrikes have targeted a residential neighborhood in central Damascus. (AP Photo/Omar Sanadiki)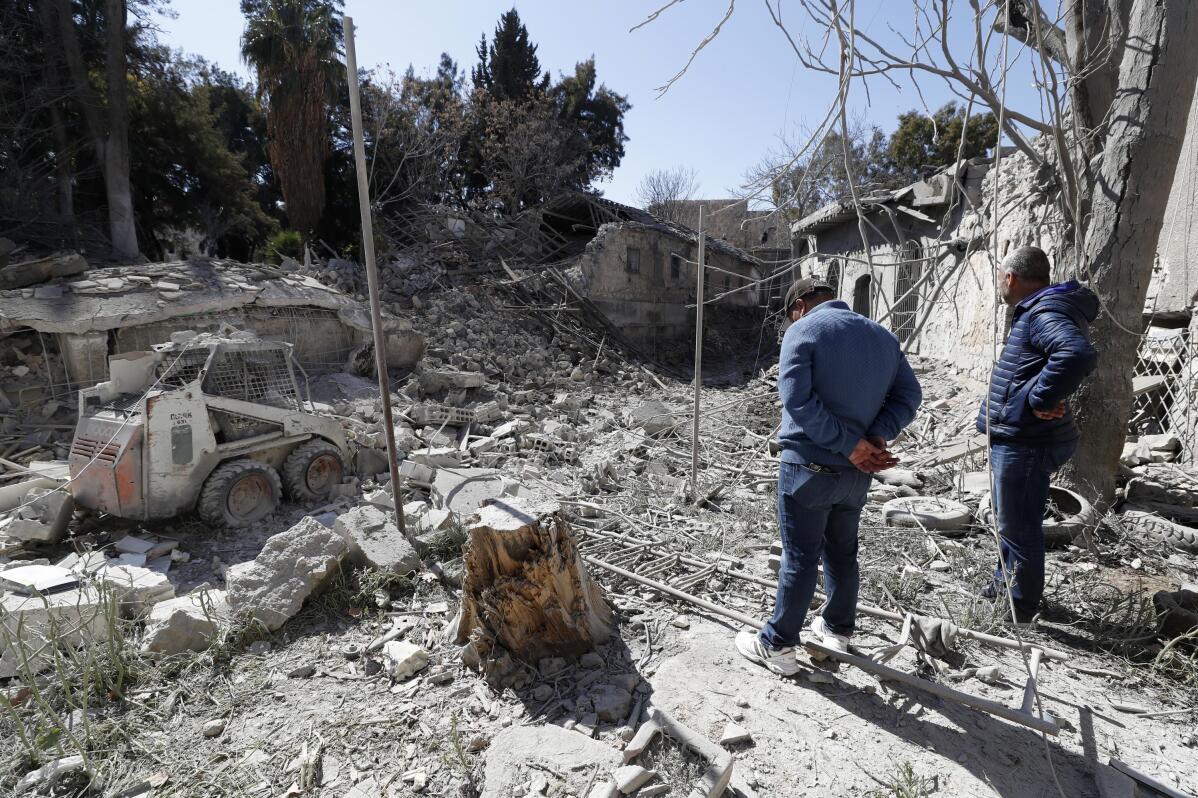 5 of 9

|
People inspect the damage of a medieval citadel after an early morning Israeli airstrike in the capital city of Damascus, Syria, Sunday, Feb. 19, 2023. Syrian state news reported that Israeli airstrikes have targeted a residential neighborhood in central Damascus. (AP Photo/Omar Sanadiki)
5 of 9
People inspect the damage of a medieval citadel after an early morning Israeli airstrike in the capital city of Damascus, Syria, Sunday, Feb. 19, 2023. Syrian state news reported that Israeli airstrikes have targeted a residential neighborhood in central Damascus. (AP Photo/Omar Sanadiki)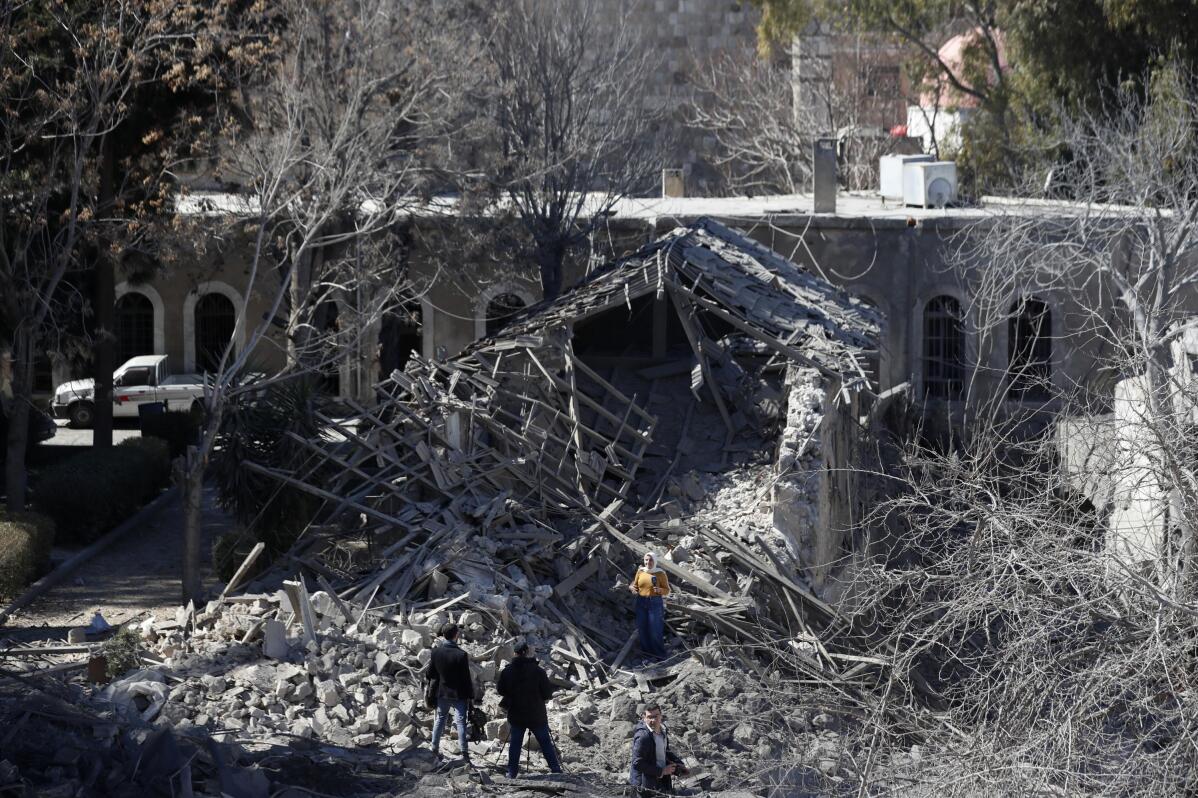 6 of 9

|
Journalists report from the damage of a medieval citadel after an early morning Israeli airstrike in the capital city of Damascus, Syria, Sunday, Feb. 19, 2023. Syrian state news reported that Israeli airstrikes have targeted a residential neighborhood in central Damascus. (AP Photo/Omar Sanadiki)
6 of 9
Journalists report from the damage of a medieval citadel after an early morning Israeli airstrike in the capital city of Damascus, Syria, Sunday, Feb. 19, 2023. Syrian state news reported that Israeli airstrikes have targeted a residential neighborhood in central Damascus. (AP Photo/Omar Sanadiki)
7 of 9

|
People inspect the damage of a medieval citadel after an early morning Israeli airstrike in the capital city of Damascus, Syria, Sunday, Feb. 19, 2023. Syrian state news reported that Israeli airstrikes have targeted a residential neighborhood in central Damascus. (AP Photo/Omar Sanadiki)
7 of 9
People inspect the damage of a medieval citadel after an early morning Israeli airstrike in the capital city of Damascus, Syria, Sunday, Feb. 19, 2023. Syrian state news reported that Israeli airstrikes have targeted a residential neighborhood in central Damascus. (AP Photo/Omar Sanadiki)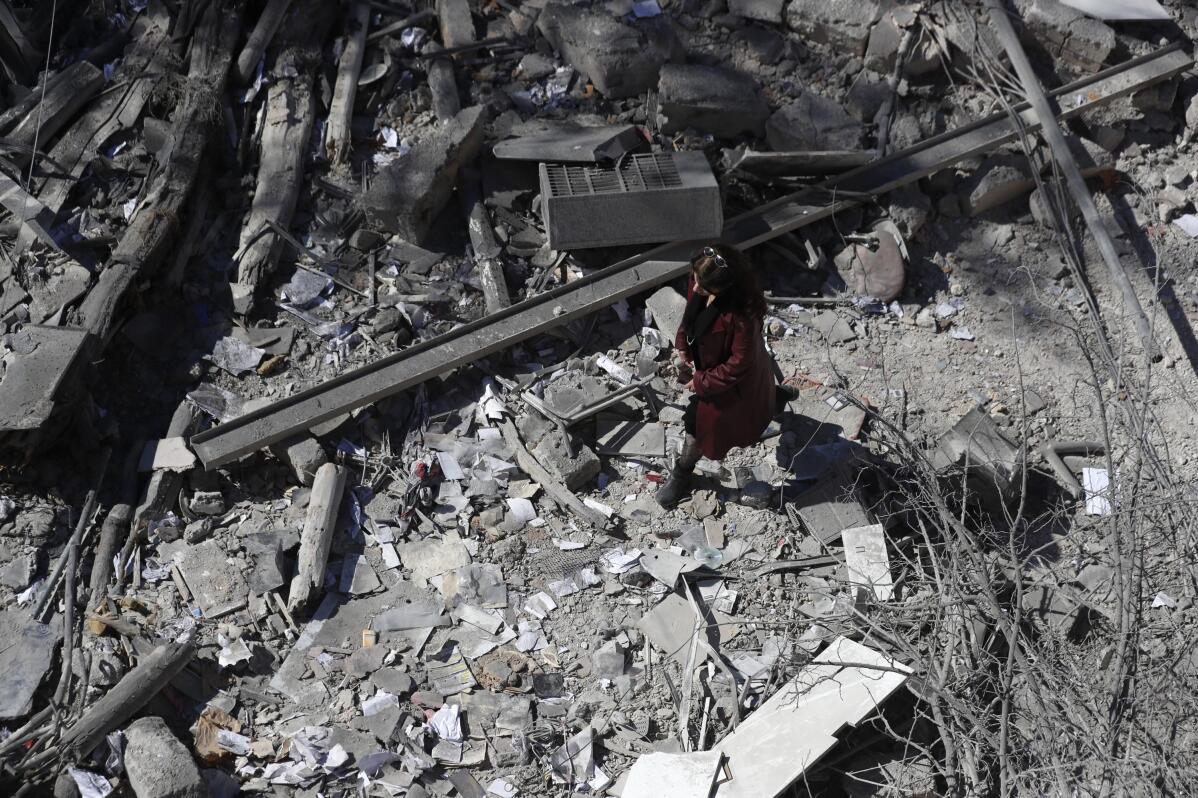 8 of 9

|
A woman inspects the damage of a medieval citadel and an applied arts institute house after an early morning Israeli airstrike in the capital city of Damascus, Syria, Sunday, Feb. 19, 2023. Syrian state news reported that Israeli airstrikes have targeted a residential neighborhood in central Damascus. (AP Photo/Omar Sanadiki)
8 of 9
A woman inspects the damage of a medieval citadel and an applied arts institute house after an early morning Israeli airstrike in the capital city of Damascus, Syria, Sunday, Feb. 19, 2023. Syrian state news reported that Israeli airstrikes have targeted a residential neighborhood in central Damascus. (AP Photo/Omar Sanadiki)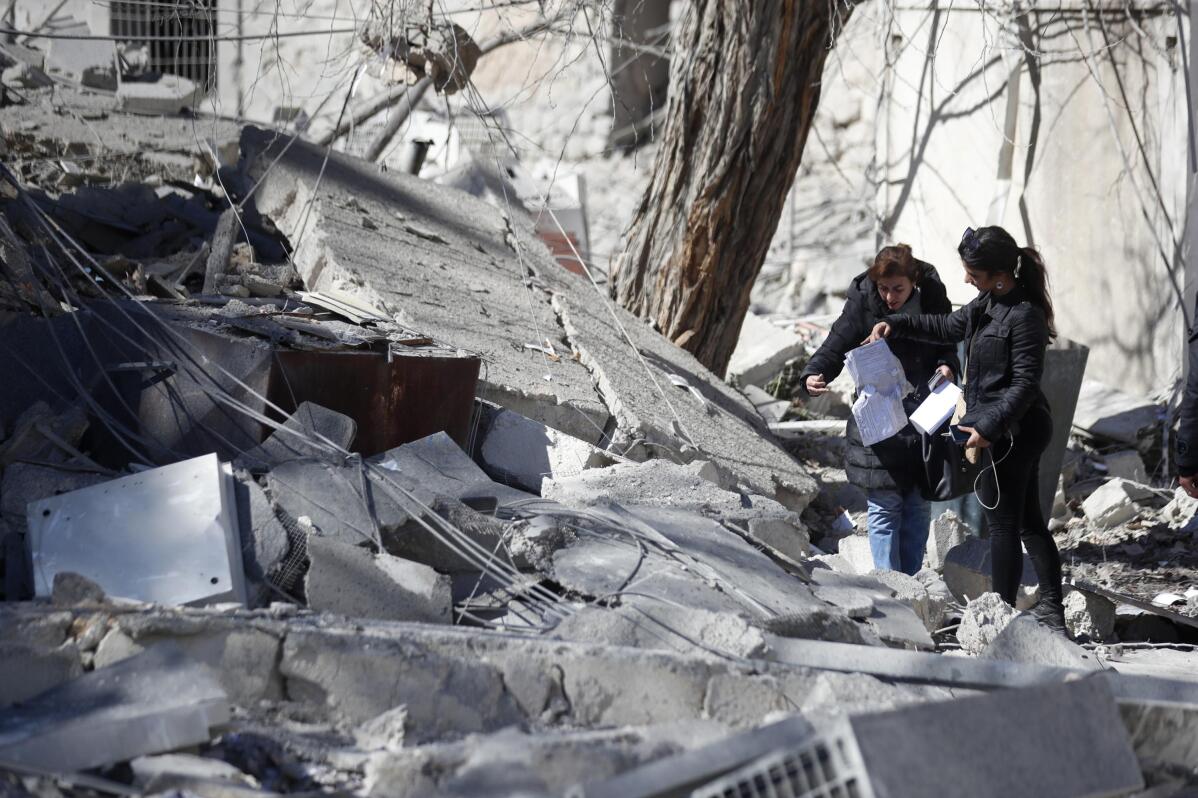 9 of 9

|
Syrian inspect the damage of a medieval citadel and an applied arts institute house after an early morning Israeli airstrike in the capital city of Damascus, Syria, Sunday, Feb. 19, 2023. Syrian state news reported that Israeli airstrikes have targeted a residential neighborhood in central Damascus. (AP Photo/Omar Sanadiki)
9 of 9
Syrian inspect the damage of a medieval citadel and an applied arts institute house after an early morning Israeli airstrike in the capital city of Damascus, Syria, Sunday, Feb. 19, 2023. Syrian state news reported that Israeli airstrikes have targeted a residential neighborhood in central Damascus. (AP Photo/Omar Sanadiki)
BEIRUT (AP) — Israeli airstrikes targeted residential areas in Syria's capital Damascus early Sunday, killing at least five people and wounding 15, Syrian state news reported.
The strikes come amid a wider shadow war between Israel and its archenemy Iran, a close ally of Syria's President Bashar Assad in the country's ongoing war.
Loud explosions were heard over a central area of Damascus around 12:30 a.m. local time.
Syrian state media agency SANA reported that air defenses were "confronting hostile targets in the sky around Damascus." Citing a military source, it reported that five people had been killed, among them a soldier, and 15 civilians wounded.
The news agency also said that the strikes destroyed several residential buildings and damaged areas connected to Damascus' famous medieval citadel and an applied arts institute housed there.
The Syrian Observatory for Human Rights, a U.K.-based war monitor, reported that 15 people, including a woman, were killed in strikes targeting sites connected with Iranian militias and the Lebanese militant group Hezbollah. The group said the strikes hit sites in the capital's Kafr Sousa neighborhood, including an Iranian school there, and outlying areas of the city.
There was no immediate statement from Israel on the attack. A spokesperson for the Israeli military declined to comment.
Samer Abdo, an engineer living on an upscale residential street in Kafr Sousa that was struck by missiles, was picking through shattered glass and broken wood in his apartment Sunday morning. Abdo told The Associated Press that his family had woken up in terror to the building shaking.
"We thought at first that it was an earthquake like the one that happened two weeks ago," he said.
Mohamad Dulo, another resident of the neighborhood, said, "All the windows fell into the street, and people ran down to the streets as well."
Dulo said he did not understand why the area was targeted. "It's a residential area," he said. "There is nothing (military) here."
Director General of Antiquities and Museums Mohamad Awad told the AP that the damaged buildings around the Damascus Citadel were arts and heritage institutes, as well as the offices for managing the historical site.
"It will cost a lot to rebuild or restore some of the buildings that were destroyed in the attack," Awad said, adding that the strike destroyed "rare and expensive" equipment and machinery that has been hard to obtain due to sanctions and the country's economic crisis.
An official with an Iran-backed group denied media reports that the strike on Kafr Sousa targeted Iranian or Palestinian officials.
The strike hit a parking garage under a building and killed 10 civilians and troops all of them Syrians, he said. He denied that there had been any Iranians or Hezbollah members killed.
The official spoke on condition of anonymity because he was not authorized to speak to the media.
An official with the Palestinian Islamic Jihad, an Iran-backed militant group, warned Israel in a statement Sunday that there would be "a decisive response without delay to any assassination attempt (on) the leaders of the resistance," and in particular its senior official Akram "Abu Mohamad" Ajouri, whose home in Damascus has previously been targeted by airstrikes.
Israeli airstrikes frequently target sites in the vicinity of Damascus, but it is rare for them to target residential areas in the city. The Saturday night strikes were the first since a devastating 7.8 magnitude earthquake hit Turkey and Syria on Feb. 6.
Syria's foreign ministry condemned the attack, coming "at a time when Syria was healing its wounds, burying its martyrs, and receiving condolences, sympathy, and international humanitarian support in the face of the devastating earthquake." It called on the United Nations Security Council to condemn it.
Iran's semiofficial Tasnim news agency Sunday said no Iranian nationals were harmed in Israel's strike on Damascus. It said one of the rockets hit the same place where former Hezbollah commander Imad Moghnieh was killed in 2008.
The last reported attack on Damascus was on Jan. 2, when the Syrian army reported that Israel's military fired missiles toward the capital's international airport, putting it out of service and killing two soldiers.
The attack came amid Israeli fears that the Damascus airport was being used to funnel Iranian weaponry into the country.
Israel has carried out hundreds of strikes on targets inside government-controlled parts of Syria in recent years, but rarely acknowledges or discusses the operations.
Israel has acknowledged, however, that it targets bases of Iran-allied militant groups, such as Lebanon's Hezbollah, which has sent thousands of fighters to support President Assad's forces.
While he did not directly mention the strikes, Israeli Prime Minister Benjamin Netanyahu told a meeting of his Cabinet on Sunday that Israel would continue to defend itself from what it sees as Iran's aggression.
"We will not allow Iran to acquire nuclear weapons and we will not allow it to entrench itself along our northern borders. We are doing everything and we will do everything to protect our citizens and we respond with intensity to the attacks against us," he said.
___
Associated Press journalists Abdelrahman Shaheen in Damascus, Tia Goldenberg in Jerusalem and Bassem Mroue in Beirut contributed to this report.