The Latest: No answer at home of school's ex-armed officer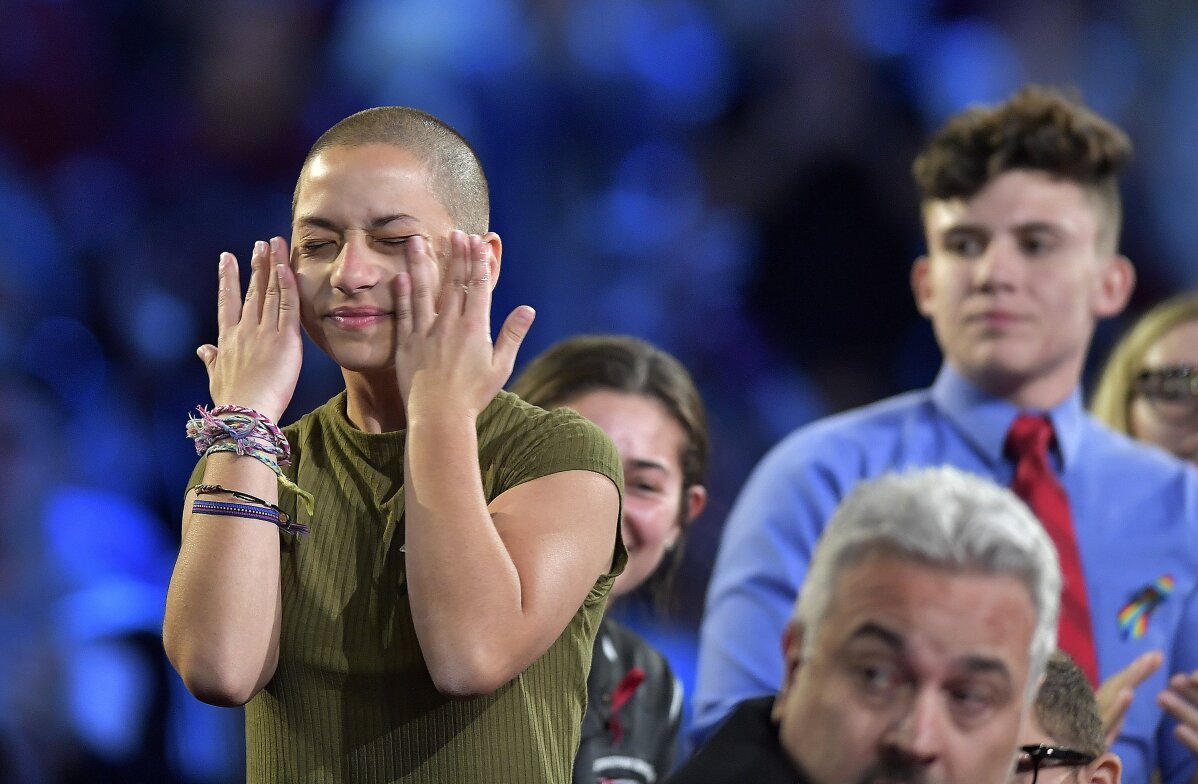 1 of 4

|
Marjory Stoneman Douglas High School student Emma Gonzalez wipes away tears during a CNN town hall meeting, Wednesday, Feb. 21, 2018, at the BB&T Center, in Sunrise, Fla. (Michael Laughlin/South Florida Sun-Sentinel via AP)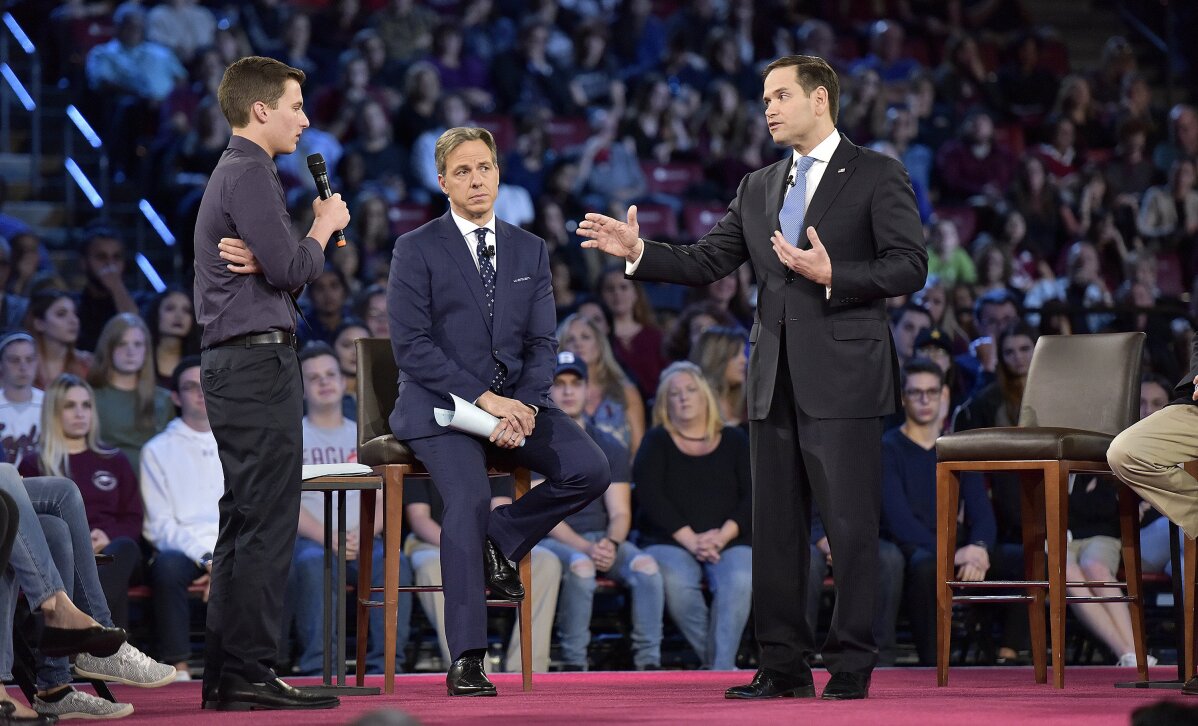 2 of 4

|
Marjory Stoneman Douglas High School student Cameron Kasky asks a question to Sen. Marco Rubio during a CNN town hall meeting at the BB&T Center in Sunrise, Fla., Wednesday, Feb. 21, 2018. Rubio was put on the defensive Wednesday by angry students, teachers and parents who are demanding stronger gun-control measures after the shooting rampage that claimed 17 lives at a Florida high school. (Michael Laughlin/South Florida Sun-Sentinel via AP)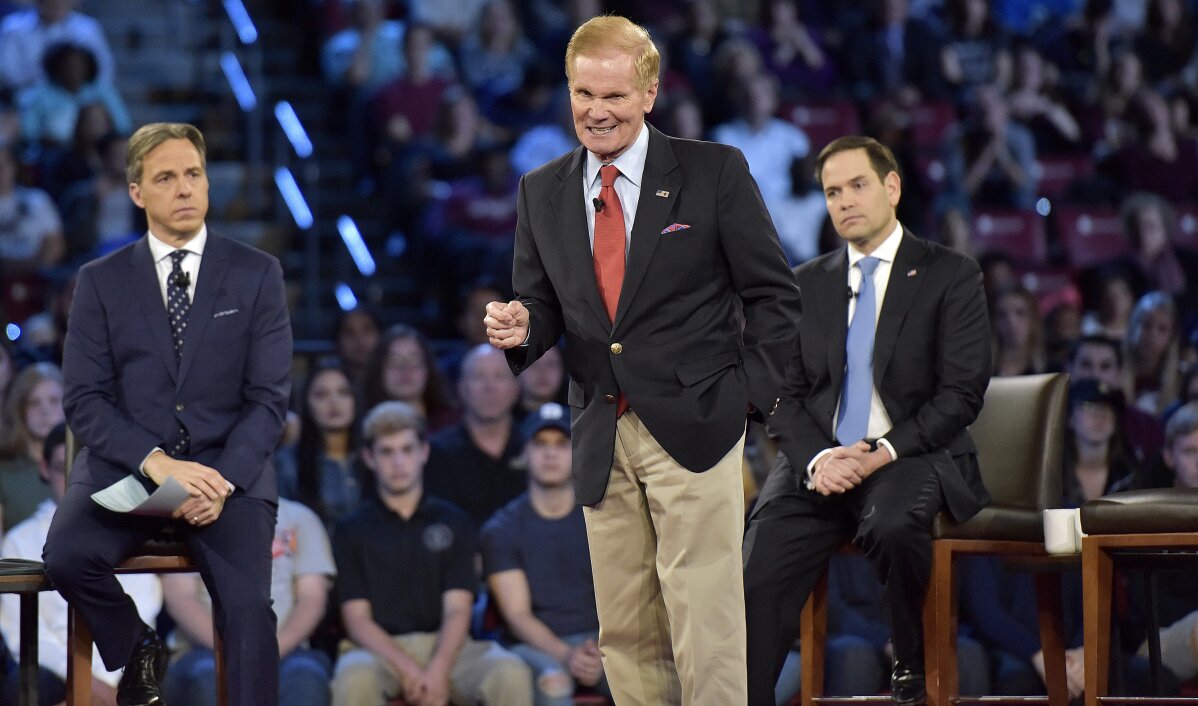 3 of 4

|
Sen. Bill Nelson asks for assault rifles to be removed from the streets during a CNN town hall meeting, Wednesday, Feb. 21, 2018, at the BB&T Center, in Sunrise, Fla. (Michael Laughlin/South Florida Sun-Sentinel via AP)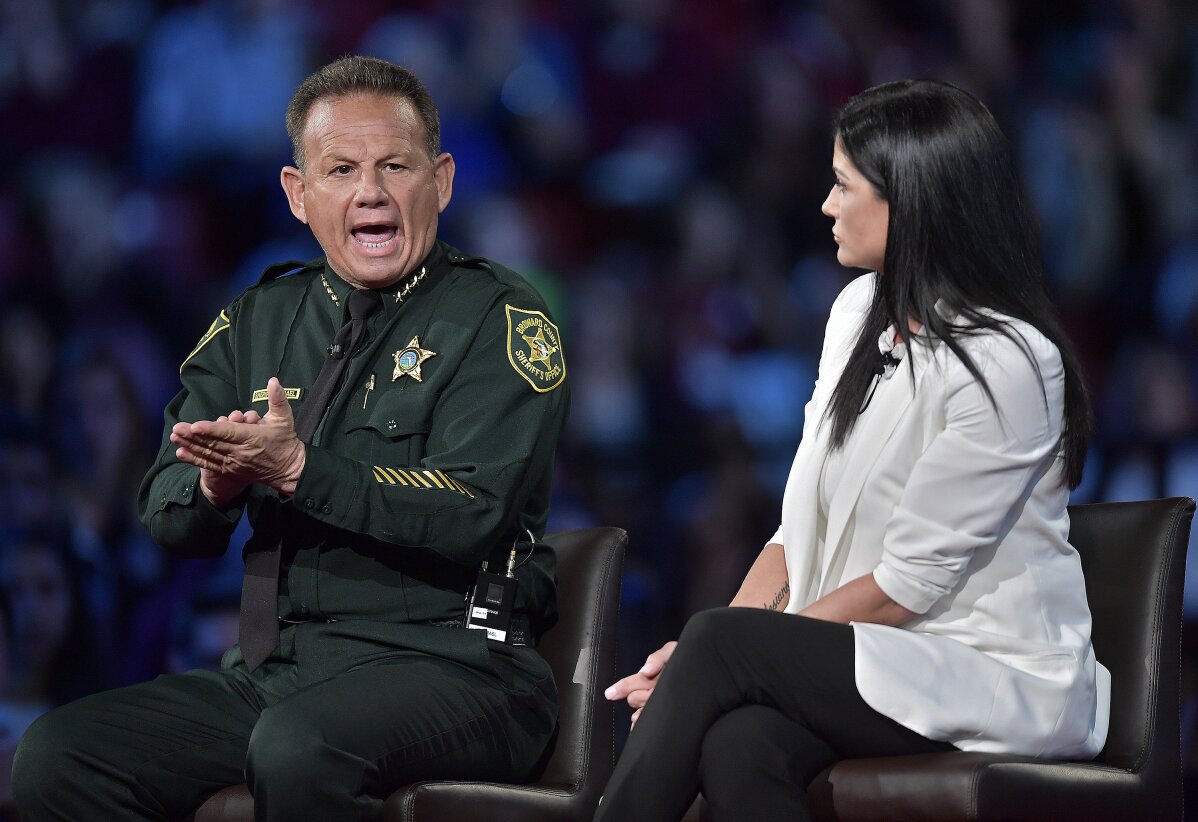 4 of 4

|
Broward Sheriff Scott Israel makes a point to NRA Spokesperson Dana Loesch during a CNN town hall meeting, Wednesday, Feb. 21, 2018, at the BB&T Center, in Sunrise, Fla. (Michael Laughlin/South Florida Sun-Sentinel via AP)
The Latest: No answer at home of school's ex-armed officer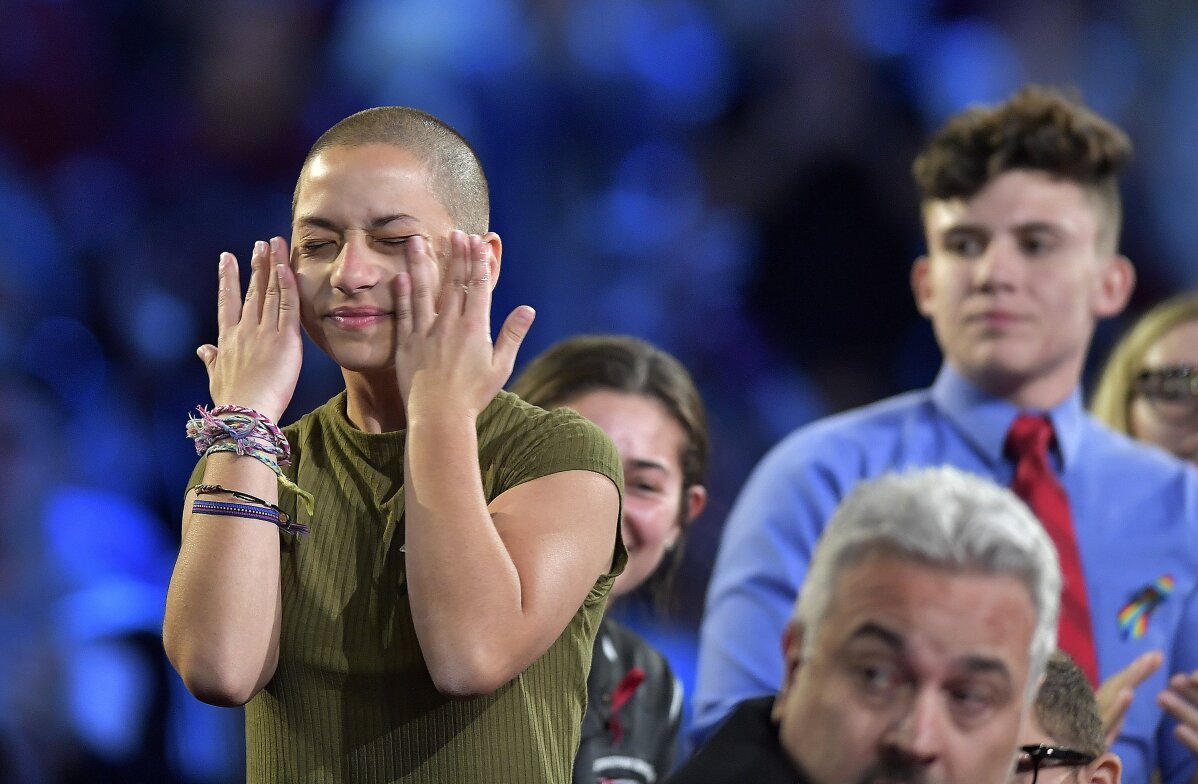 1 of 4

|
Marjory Stoneman Douglas High School student Emma Gonzalez wipes away tears during a CNN town hall meeting, Wednesday, Feb. 21, 2018, at the BB&T Center, in Sunrise, Fla. (Michael Laughlin/South Florida Sun-Sentinel via AP)
1 of 4
Marjory Stoneman Douglas High School student Emma Gonzalez wipes away tears during a CNN town hall meeting, Wednesday, Feb. 21, 2018, at the BB&T Center, in Sunrise, Fla. (Michael Laughlin/South Florida Sun-Sentinel via AP)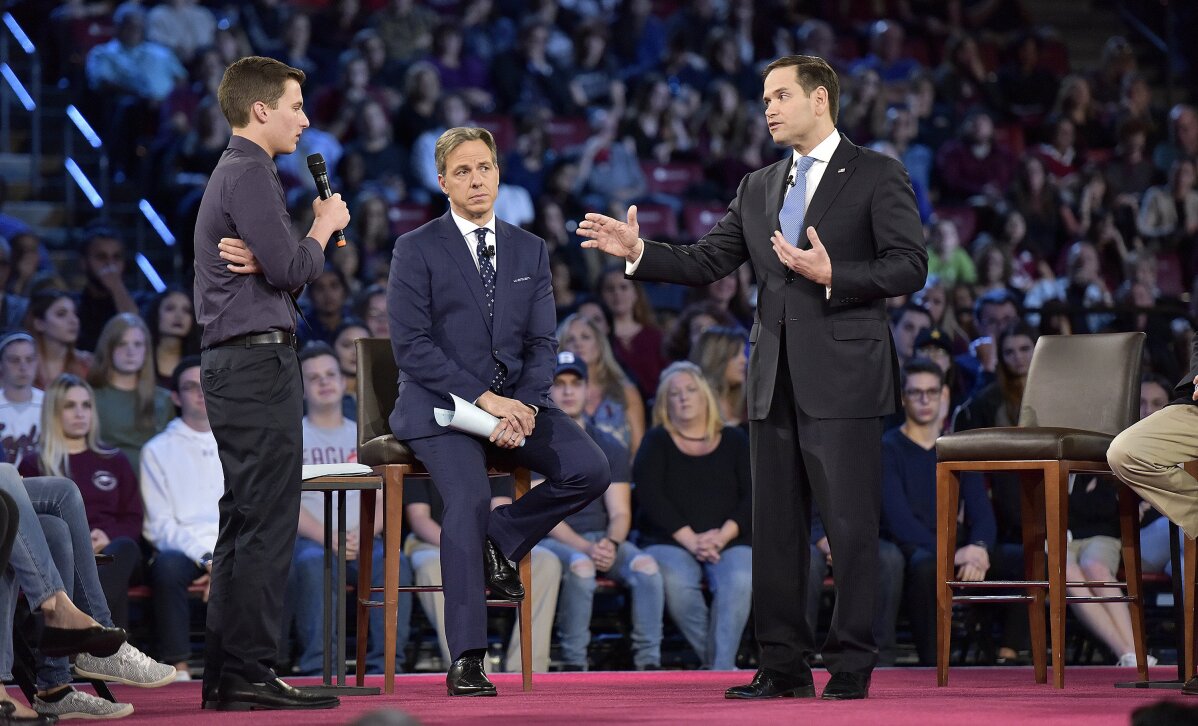 2 of 4

|
Marjory Stoneman Douglas High School student Cameron Kasky asks a question to Sen. Marco Rubio during a CNN town hall meeting at the BB&T Center in Sunrise, Fla., Wednesday, Feb. 21, 2018. Rubio was put on the defensive Wednesday by angry students, teachers and parents who are demanding stronger gun-control measures after the shooting rampage that claimed 17 lives at a Florida high school. (Michael Laughlin/South Florida Sun-Sentinel via AP)
2 of 4
Marjory Stoneman Douglas High School student Cameron Kasky asks a question to Sen. Marco Rubio during a CNN town hall meeting at the BB&T Center in Sunrise, Fla., Wednesday, Feb. 21, 2018. Rubio was put on the defensive Wednesday by angry students, teachers and parents who are demanding stronger gun-control measures after the shooting rampage that claimed 17 lives at a Florida high school. (Michael Laughlin/South Florida Sun-Sentinel via AP)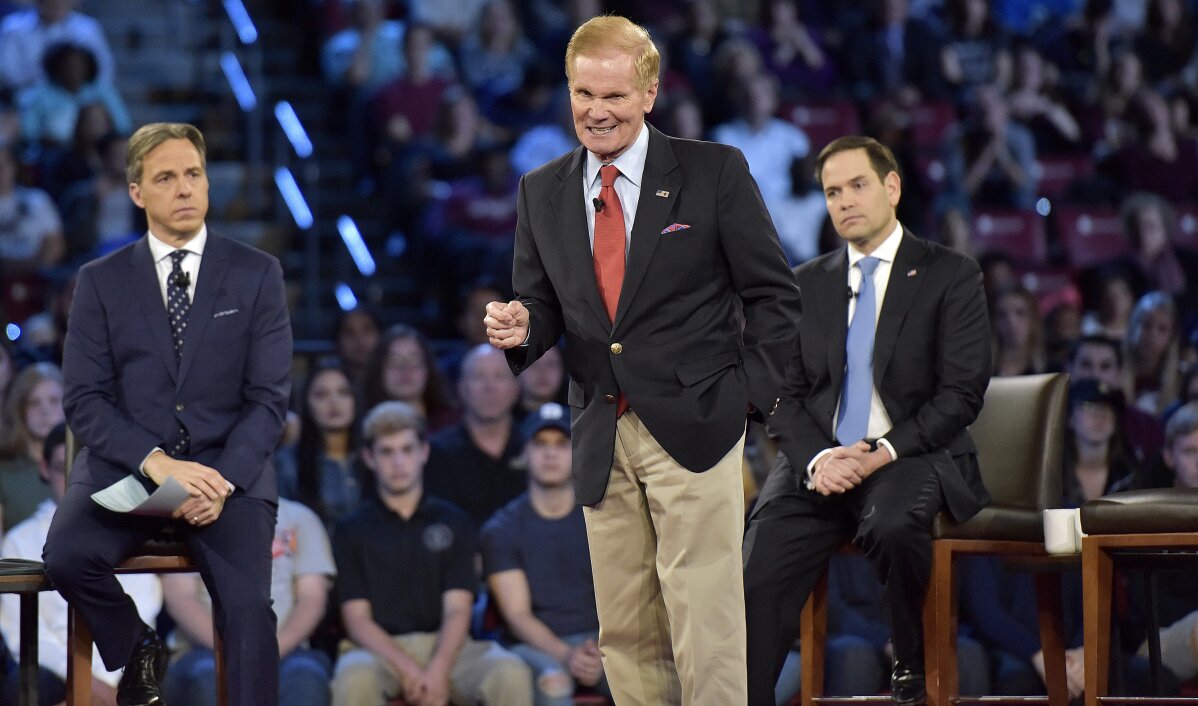 3 of 4

|
Sen. Bill Nelson asks for assault rifles to be removed from the streets during a CNN town hall meeting, Wednesday, Feb. 21, 2018, at the BB&T Center, in Sunrise, Fla. (Michael Laughlin/South Florida Sun-Sentinel via AP)
3 of 4
Sen. Bill Nelson asks for assault rifles to be removed from the streets during a CNN town hall meeting, Wednesday, Feb. 21, 2018, at the BB&T Center, in Sunrise, Fla. (Michael Laughlin/South Florida Sun-Sentinel via AP)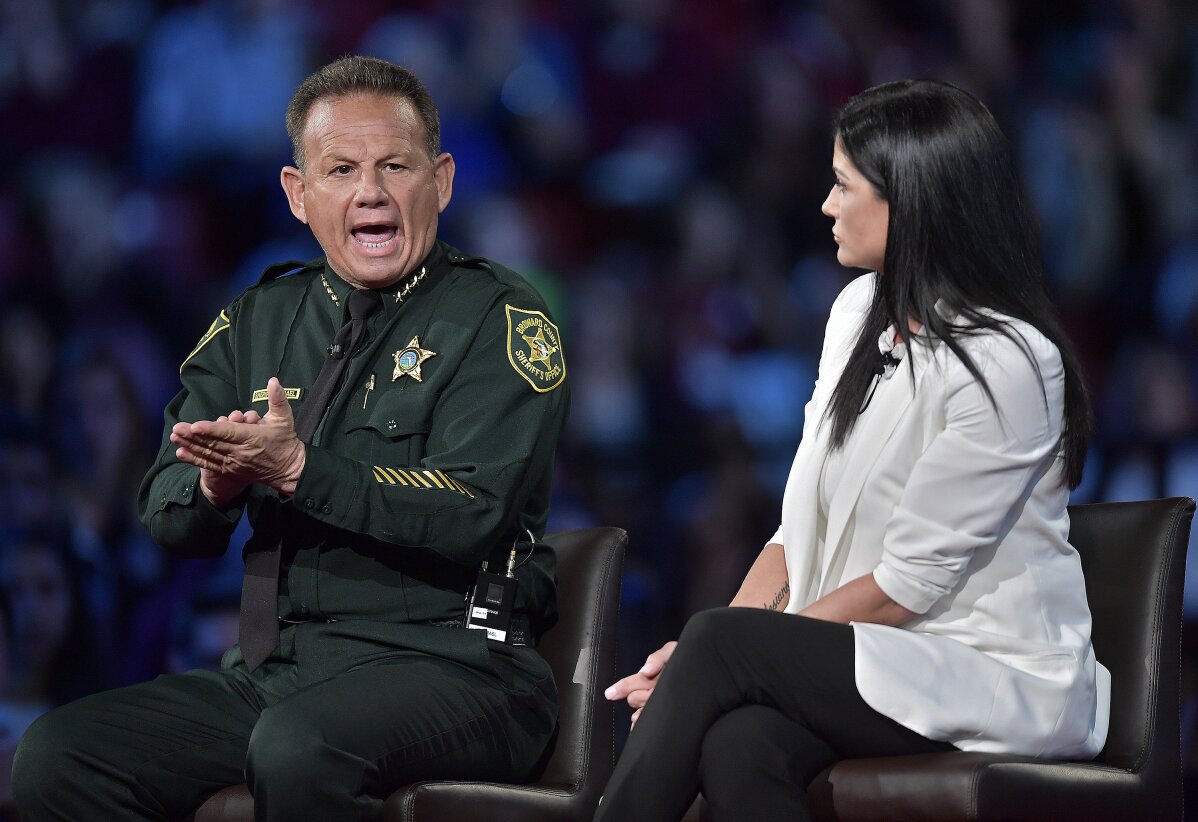 4 of 4

|
Broward Sheriff Scott Israel makes a point to NRA Spokesperson Dana Loesch during a CNN town hall meeting, Wednesday, Feb. 21, 2018, at the BB&T Center, in Sunrise, Fla. (Michael Laughlin/South Florida Sun-Sentinel via AP)
4 of 4
Broward Sheriff Scott Israel makes a point to NRA Spokesperson Dana Loesch during a CNN town hall meeting, Wednesday, Feb. 21, 2018, at the BB&T Center, in Sunrise, Fla. (Michael Laughlin/South Florida Sun-Sentinel via AP)
TALLAHASSEE, Fla. (AP) — The Latest on the deadly Florida school shooting (all times local):
9:15 p.m.
Lights in the home were on and cars were parked in the driveway, but no one answered the door bell during attempts to reach a former armed officer on duty at the Parkland, Florida, school where a shooter killed 17 people last week.
Authorities announced Thursday that the Stoneman Douglas High School resource officer, Scot Peterson, never went into the building to engage the gunman and has been placed under investigation. Broward County Sheriff Scott Israel says Peterson was suspended without pay, then chose to resign.
An Associated Press reporter says he tried twice ringing the doorbell at Peterson's home in a suburb of West Palm Beach and saw lights on inside and cars present. But no one answered.
A telephone message left earlier Thursday at a listing for Peterson by The Associated Press wasn't returned.
___
7:15 p.m.
A sheriff's office report says the suspect in a Florida school shooting that left 17 dead was involved in a fight with the adult son of a woman he was staying with shortly after his mother died.
The Palm Beach County Sheriff's Office report says a deputy responded to the Lantana Cascade mobile home community in Lake Worth on Nov. 28.
The 22-year-old man there told the deputy that he tried to calm down 19-year-old Nikolas Cruz, who had been punching holes in walls and breaking objects. The man said Cruz hit him in the jaw, and the man hit Cruz back. He then tried to restrain Cruz, but the younger man got away.
The deputy found Cruz a short time later at a nearby park. Cruz told the deputy he had been angry because he misplaced a photo of his recently deceased mother, and he apologized for losing his temper.
The other man told the deputy he didn't want Cruz arrested. He just wanted Cruz to calm down before coming home.
___
Florida's speaker of the House says his chamber is going to recommend creating a special commission to investigate the "abject breakdown at all levels" that led to the shooting deaths of 17 people at a Florida high school.
House Speaker Richard Corcoran made the comments Thursday evening shortly after it became known that a deputy at the school waited outside the building where the shooting was taking place but did not go in.
The Land O' Lakes Republican said that the commission would likely be led by a parent of one of the children killed and vowed the commission would have subpoena power.
Corcoran said the news did not dissuade him from moving ahead with what he was calling the "marshal" plan to let local law-enforcement officials train and deputize someone at the school who would be authorized to carry a gun.
___
5:55 p.m.
Florida authorities are asking the federal government for at least $1 million in emergency grant funds to reimburse state and local agencies for the cost of responding to last week's school shooting.
Petrina Tuttle Herring, a bureau chief over grants for the Florida Department of Law Enforcement, made the request Tuesday in a letter to the U.S. Department of Justice.
Herring wrote that the total cost of the response to the shooting can't yet be determined, but local agencies say they incurred "significant costs." She called the $1 million an initial amount to help cover the personnel costs for investigative, intelligence and custody/supervision work, plus ongoing and capital expenses stemming from the incident.
The Feb. 14 shooting claimed the lives of 17 people at Marjory Stoneman Douglas High School in Parkland.
__
5:40 p.m.
A Florida sheriff says the deputy who was on duty at a high school where 17 people were massacred waited outside the building for about four minutes without ever going in.
Broward County Sheriff Scott Israel announced during a Thursday news conference that Deputy Scot Peterson resigned after being suspended without pay.
Israel said he made the decision after reviewing video surveillance and interviewing witnesses, including the deputy himself. The sheriff says Peterson responded to the building where the shooting took place, took up a position outside a door and never went in.
When asked what Peterson should have done, Israel said the deputy should have "went in, addressed the killer, killed the killer."
Authorities say 19-year-old Nikolas Cruz fatally shot 17 people at Marjory Stoneman Douglas High School in Parkland on Feb. 14.
___
3:45 p.m.
U.S. Sen. Marco Rubio says a visit to a Florida high school where 17 people were fatally shot has prompted him to change his stance on large capacity magazines.
Rubio visited Marjory Stoneman Douglas high school and a few days later met with its teachers. He said he was told that several people were able to escape because 19-year-old suspect Nikolas Cruz stopped and reloaded the rifle he used during the Feb. 14 attack.
The Florida Republican, who was challenged by survivors and family members during a contentious meeting broadcast on CNN on Wednesday, said this is "evidence in this case that it saved the lives of some people."
Rubio has been sharply criticized since the shooting because he has received support from groups like the National Rifle Association during his political career.
___
1:15 p.m.
Hundreds have gathered to remember a 37-year-old assistant football coach and security guard gunned down while helping students to safety during a mass shooting at a Florida high school on Valentine's Day.
Aaron Feis was remembered Thursday as a loyal friend and a hero during an emotional funeral service that began with football players carrying the casket into the Church by the Glades in Coral Springs, not far from Marjory Stoneman Douglas High School in Parkland.
Joe LaGuardia, who attended high school with Feis at Stoneman Douglas, described him as "one of the greatest people I have ever known." He recalled hearing about the Feb. 14 shooting while preparing to go to an Ash Wednesday service.
He said, "I knew that Aaron would be running to save lives, I just knew it."
Former student Brandon Corona called Feis a "counselor to those who had no father figure."
___
Noon
The daughter of slain civil rights leader Martin Luther King says she stands in solidarity with the survivors of the Florida school shooting as they seek solutions to school violence.
Speaking Thursday at The King Center in Atlanta, the Rev. Bernice King said the Feb. 14 massacre of 17 people at Marjory Stoneman Douglas High School "gives us an opportunity to lay aside for a moment our differences and really look at how we can come together as humanity and move forward with these injustices and these evils that continue to beset us."
King commended the surviving students and said she plans to join and support them during the March for Our Lives in Washington next month and in other planned efforts.
King said that as the 50th anniversary of her father's assassination approaches, she hopes we can "look toward solutions as these young people are forcing us to have the conversations, bipartisan conversations."
___
11 a.m.
Democratic U.S. Sen. Bill Nelson of Florida is giving fellow Sen. Marco Rubio credit for being the only Republican to attend a televised town hall meeting after the school shooting in their state.
He also criticized Republican Gov. Rick Scott for not showing up at the Wednesday meeting.
Nelson told a group of Democratic state senators on Thursday that Rubio "had the guts to be there when Governor Scott did not."
Scott is likely to challenge Nelson as he seeks a fourth term in the Senate this November. Nelson questioned Scott's commitment to make meaningful change after the shootings at Marjory Stoneman Douglas High School that left 17 dead.
___
7:35 a.m.
For almost a half-hour after a school shooter dropped his assault-style rifle and escaped Marjory Stoneman Douglas High School, police officers thought they were seeing his actions live on the school's security system.
They soon realized the images were tape delayed, which Coral Springs Police Chief Tony Pustizzi told the Sun Sentinel made a chaotic situation more confusing.
The 19-year-old suspect Nikolas Cruz was captured an hour later in a neighborhood about 2 miles (3 kilometers) from the school where 17 people died Feb. 14.
The newspaper reports police transmissions show that police initially couldn't get to security cameras. Sheriff Scott Israel said at a news conference he didn't know about the security system delays but would look into it.
___
12:30 a.m.
The students who swarmed Florida's state capitol in the wake of the Marjory Stoneman Douglas High massacre want the Legislature to enact stricter limits on guns. What that might entail remains debatable — if any changes are forthcoming at all.
The 100 Stoneman Douglas survivors who traveled 400 miles to Tallahassee were welcomed into the gun-friendly halls of power Wednesday, but the students' goal of a ban on assault-style rifles such as the weapon used in the shooting was taken off the table a day earlier.
More limited measures are still possible.
Republican legislative leaders may raise the age limit for rifle purchases. They may also increase funding for mental health programs and police officers assigned to schools and enact a waiting period for rifle purchases.