Taylor eyes Cameron rematch, questions linger over location, weight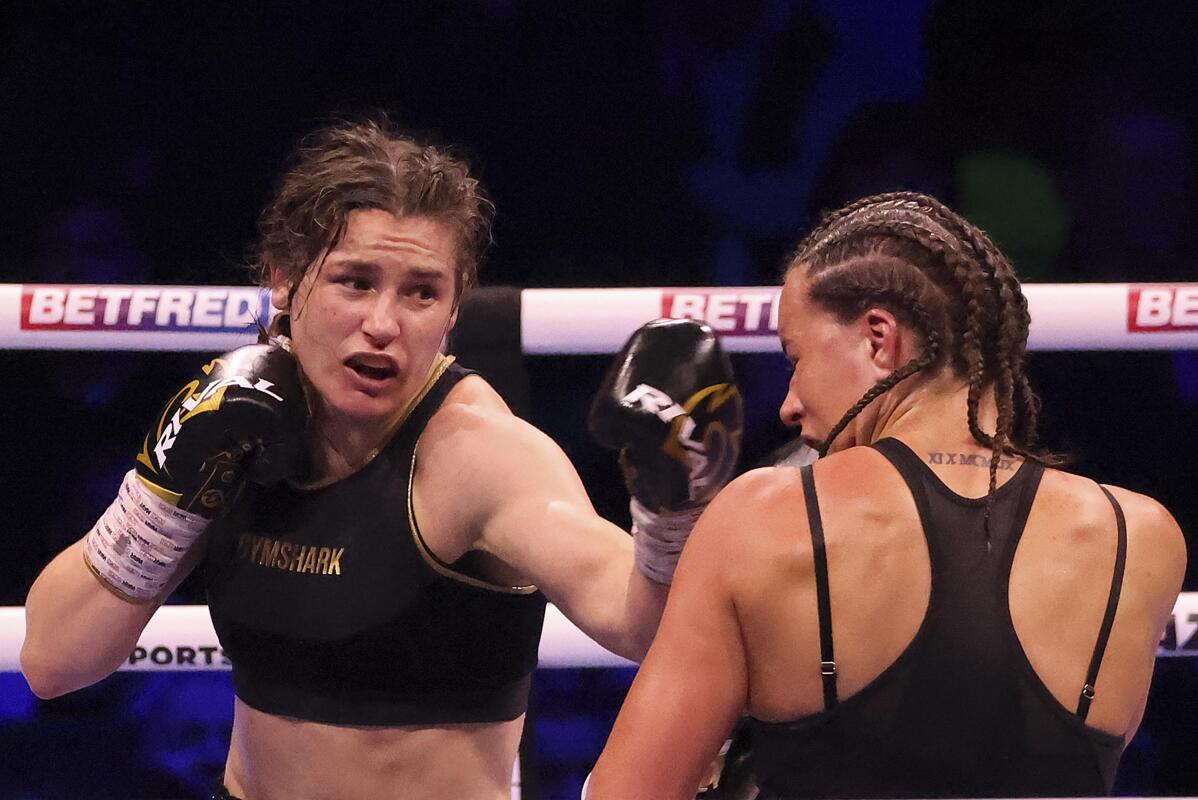 1 of 5

|
Ireland's Katie Taylor, left, lands a punch on Britain's Chantelle Cameron during their light-welterweight boxing world title fight at the 3Arena in Dublin, Ireland, Saturday, May 20, 2023.(AP Photo/Peter Morrison)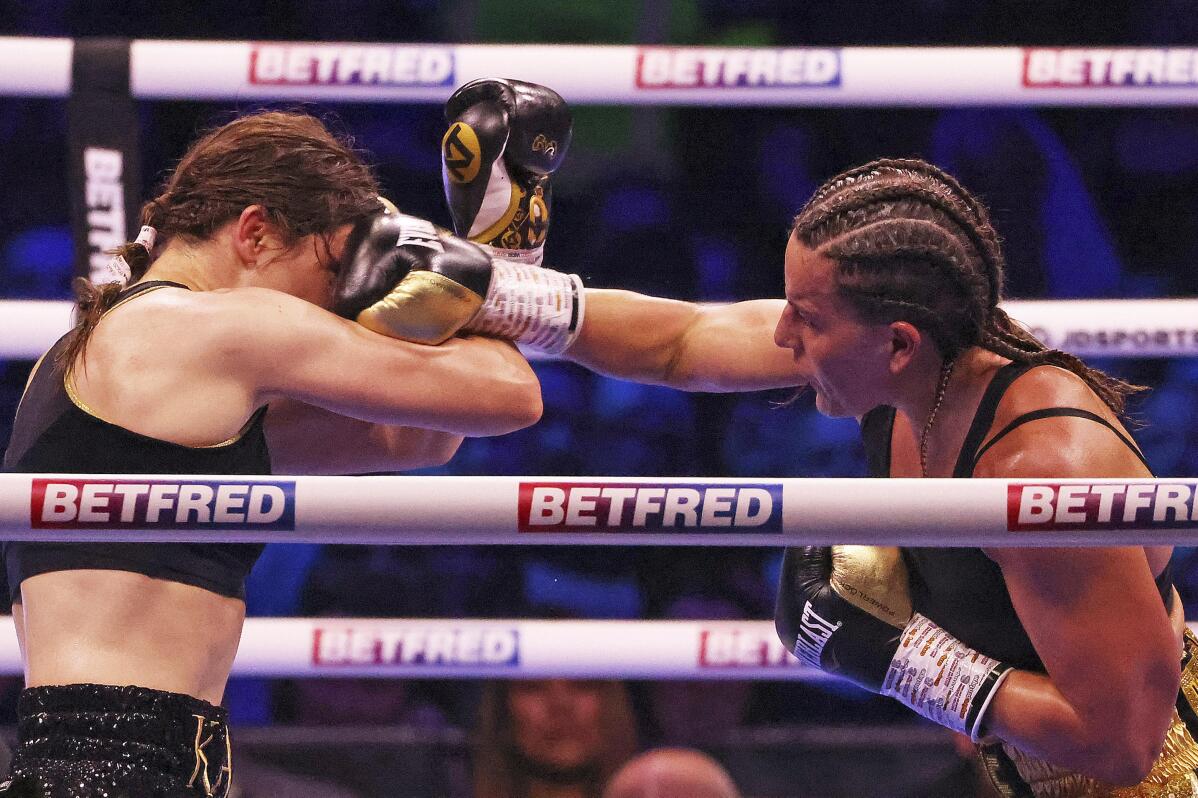 2 of 5

|
Britain's Chantelle Cameron, right, lands a punch on Ireland's Katie Taylor during their light-welterweight boxing world title fight at the 3Arena in Dublin, Ireland, Saturday, May 20, 2023.(AP Photo/Peter Morrison)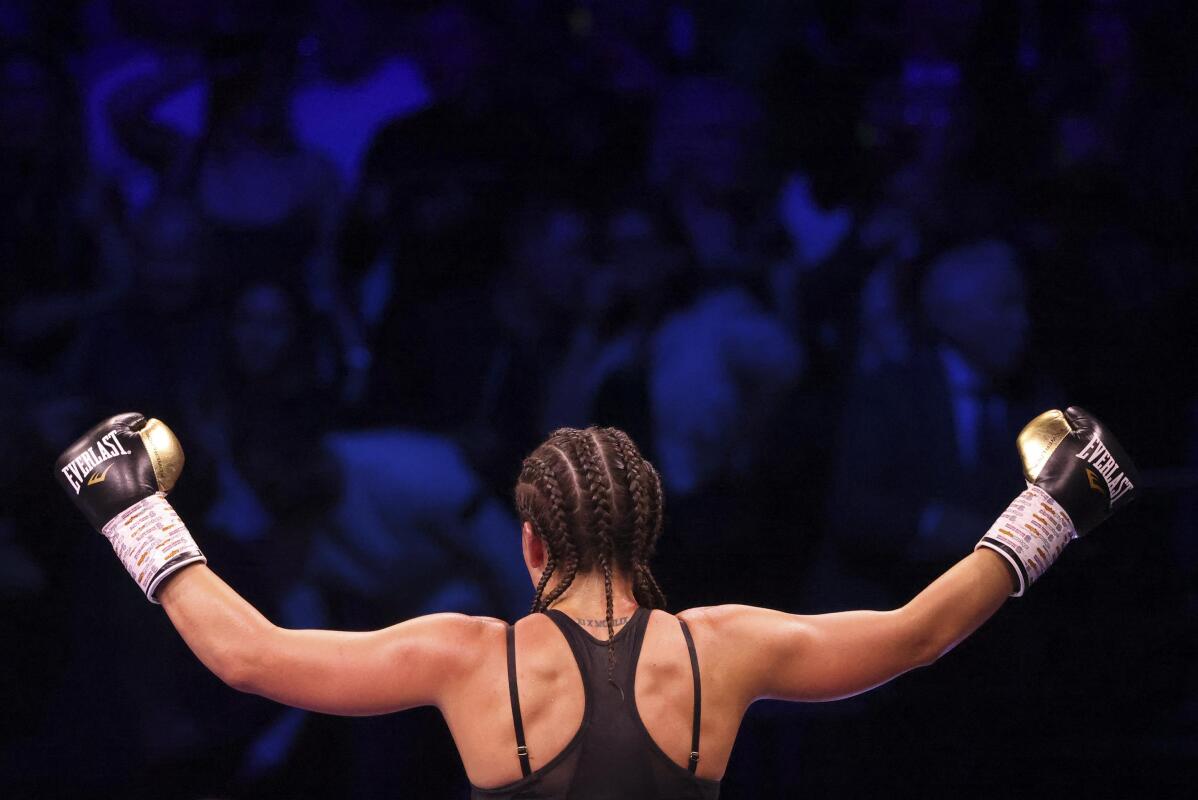 3 of 5

|
Britain's Chantelle Cameron celebrates after her win over Ireland's Katie Taylor in their light-welterweight boxing world title fight at the 3Arena in Dublin, Ireland, Saturday, May 20, 2023.(AP Photo/Peter Morrison)
4 of 5

|
Britain's Chantelle Cameron, left, lands a punch on Ireland's Katie Taylor during their light-welterweight boxing world title fight at the 3Arena in Dublin, Ireland, Saturday, May 20, 2023.(AP Photo/Peter Morrison)
5 of 5

|
Britain's Chantelle Cameron, left, lands a punch on Ireland's Katie Taylor during their light-welterweight boxing world title fight at the 3Arena in Dublin, Ireland, Saturday, May 20, 2023.(AP Photo/Peter Morrison)
Taylor eyes Cameron rematch, questions linger over location, weight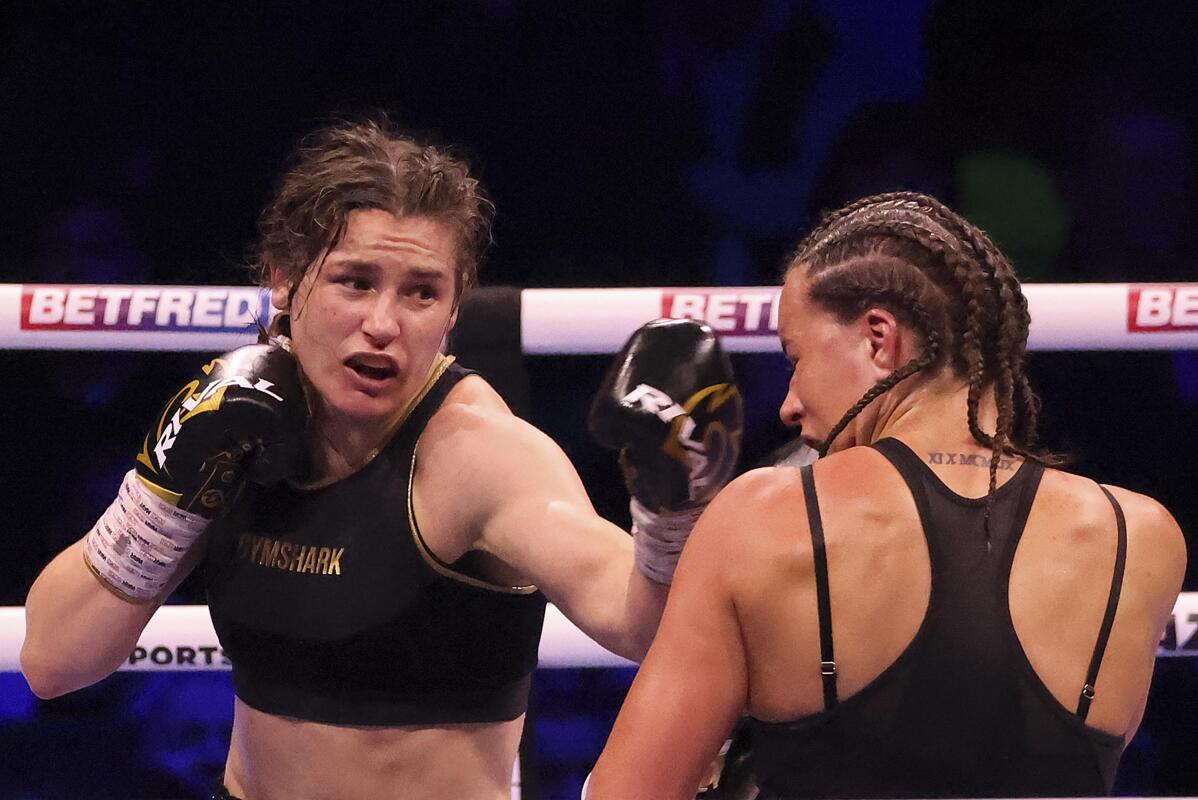 1 of 5

|
Ireland's Katie Taylor, left, lands a punch on Britain's Chantelle Cameron during their light-welterweight boxing world title fight at the 3Arena in Dublin, Ireland, Saturday, May 20, 2023.(AP Photo/Peter Morrison)
1 of 5
Ireland's Katie Taylor, left, lands a punch on Britain's Chantelle Cameron during their light-welterweight boxing world title fight at the 3Arena in Dublin, Ireland, Saturday, May 20, 2023.(AP Photo/Peter Morrison)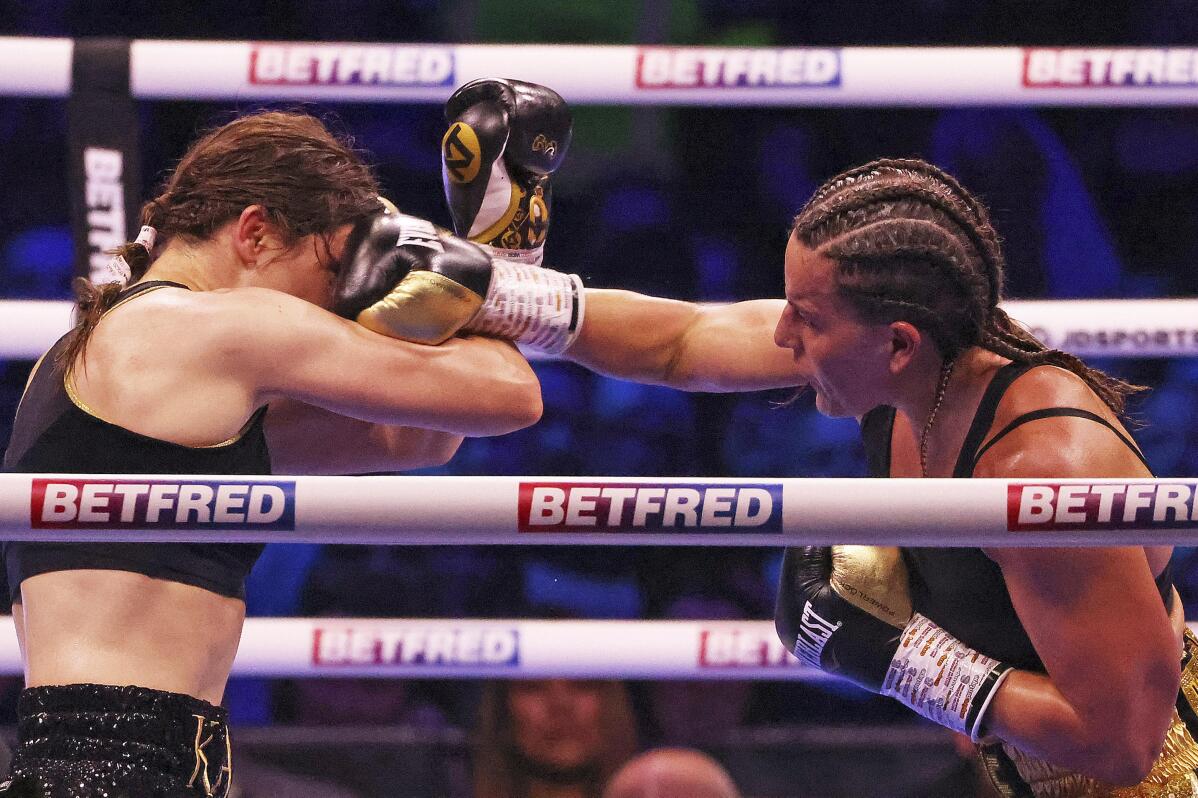 2 of 5

|
Britain's Chantelle Cameron, right, lands a punch on Ireland's Katie Taylor during their light-welterweight boxing world title fight at the 3Arena in Dublin, Ireland, Saturday, May 20, 2023.(AP Photo/Peter Morrison)
2 of 5
Britain's Chantelle Cameron, right, lands a punch on Ireland's Katie Taylor during their light-welterweight boxing world title fight at the 3Arena in Dublin, Ireland, Saturday, May 20, 2023.(AP Photo/Peter Morrison)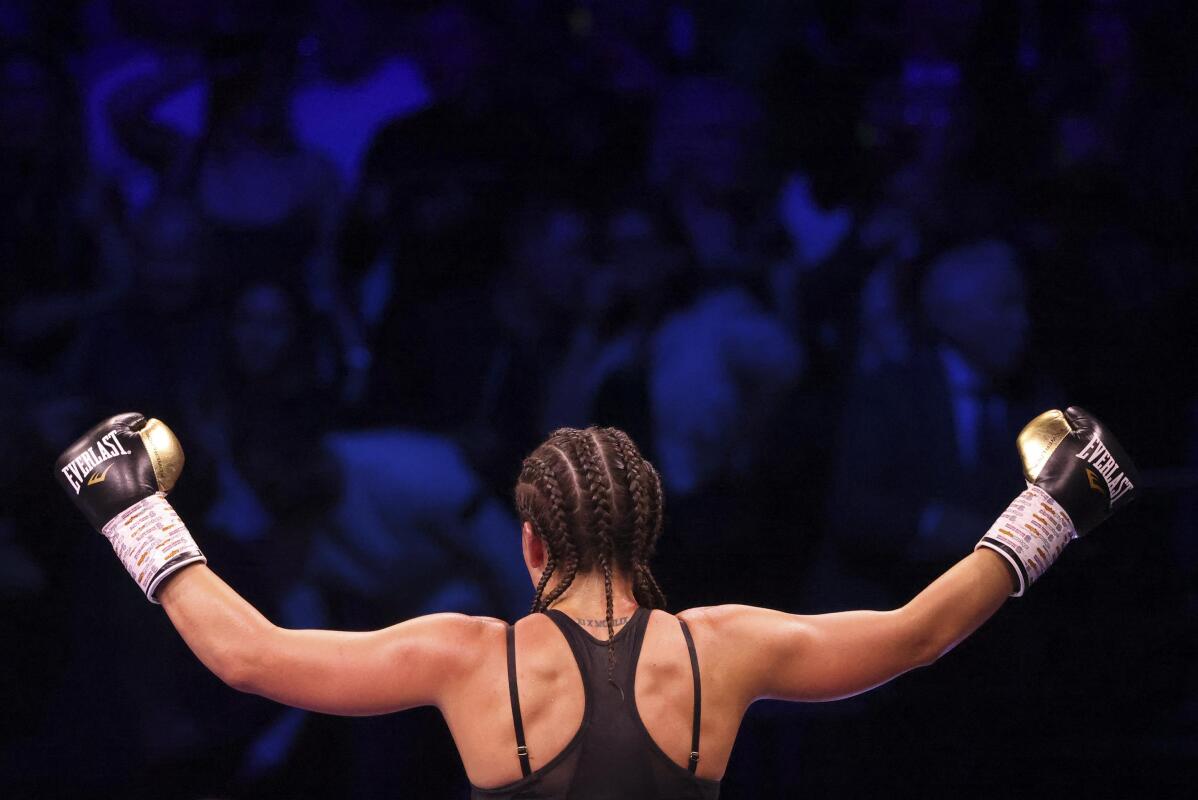 3 of 5

|
Britain's Chantelle Cameron celebrates after her win over Ireland's Katie Taylor in their light-welterweight boxing world title fight at the 3Arena in Dublin, Ireland, Saturday, May 20, 2023.(AP Photo/Peter Morrison)
3 of 5
Britain's Chantelle Cameron celebrates after her win over Ireland's Katie Taylor in their light-welterweight boxing world title fight at the 3Arena in Dublin, Ireland, Saturday, May 20, 2023.(AP Photo/Peter Morrison)
4 of 5

|
Britain's Chantelle Cameron, left, lands a punch on Ireland's Katie Taylor during their light-welterweight boxing world title fight at the 3Arena in Dublin, Ireland, Saturday, May 20, 2023.(AP Photo/Peter Morrison)
4 of 5
Britain's Chantelle Cameron, left, lands a punch on Ireland's Katie Taylor during their light-welterweight boxing world title fight at the 3Arena in Dublin, Ireland, Saturday, May 20, 2023.(AP Photo/Peter Morrison)
5 of 5

|
Britain's Chantelle Cameron, left, lands a punch on Ireland's Katie Taylor during their light-welterweight boxing world title fight at the 3Arena in Dublin, Ireland, Saturday, May 20, 2023.(AP Photo/Peter Morrison)
5 of 5
Britain's Chantelle Cameron, left, lands a punch on Ireland's Katie Taylor during their light-welterweight boxing world title fight at the 3Arena in Dublin, Ireland, Saturday, May 20, 2023.(AP Photo/Peter Morrison)
DUBLIN (AP) — An Irish flag over her shoulders, Katie Taylor descended the steps from the ring in utter dejection.
Taylor spent years dreaming of a homecoming bout. Now, she'll need to figure out how to bounce back from the first loss of her professional career.
Chantelle Cameron had spoiled Taylor's homecoming by earning a majority decision at Dublin's 3Arena to remain the undisputed super-lightweight champion.
The 2012 Olympic gold medalist immediately said she's "looking forward to the rematch" and can trigger it under terms of the contract for Saturday's fight.
Now come the questions of where, when and at which weight?
"Wherever the fight is the biggest but I'm thinking back in Ireland," Matchroom promoter Eddie Hearn said when asked about the location for a potential rematch.
Taylor and Hearn had looked at 83,000-capacity Croke Park for the homecoming with Amanda Serrano the planned opponent. Cameron stepped in after Serrano pulled out because of an injury.
In the pre-fight buildup this week, Hearn said Croke Park would still be on the table likely for an autumn fight — whether for a Serrano rematch or second fight with Cameron.
The 32-year-old Cameron said she'd be interested in dropping down to lightweight in a bid to take Taylor's belts. Taylor remains the undisputed champion in the 135-pound division.
Taylor (22-1), intent on preserving her homecoming date having never fought professionally in Ireland, gambled by moving up to 140 pounds to challenge Cameron. The judges scored the fight 96-94, 96-94 and 95-95.
Cameron (18-0) had indicated this week that Taylor's close wins over Serrano and Delfine Persoon provided insight for her strategy.
"We had the blueprint anyway," said Cameron, who stalked Taylor throughout and threw nearly twice as many punches.
"She's going to want the rematch because she's going to want to put this night to bed, and try and get the win over me. But like I said, now it's on my terms and I'll speak to my team."
That could mean Cameron will push for a rematch in England.
The 36-year-old Taylor was "devastated," Hearn said, and skipped a post-match press conference. It was Taylor's first defeat since the quarterfinals of the Rio de Janeiro Games in 2016 as an amateur.
With her lightweight belts, Taylor could always switch gears and face Serrano next or even Mikaela Mayer. The former U.S. Olympian has been angling for a Taylor fight. She was on hand Saturday and earlier won over some locals after playfully tweeting the results of her genealogy test: 64.5% British and Irish.
Hearn, though, seemed focused on Taylor-Cameron.
"The biggest fight in women's boxing right now is Chantelle Cameron against Katie Taylor II. So, we'll find a way."
___
More AP boxing: https://apnews.com/hub/boxing and https://twitter.com/AP_Sports