List: Some of the largest private donations to Ukraine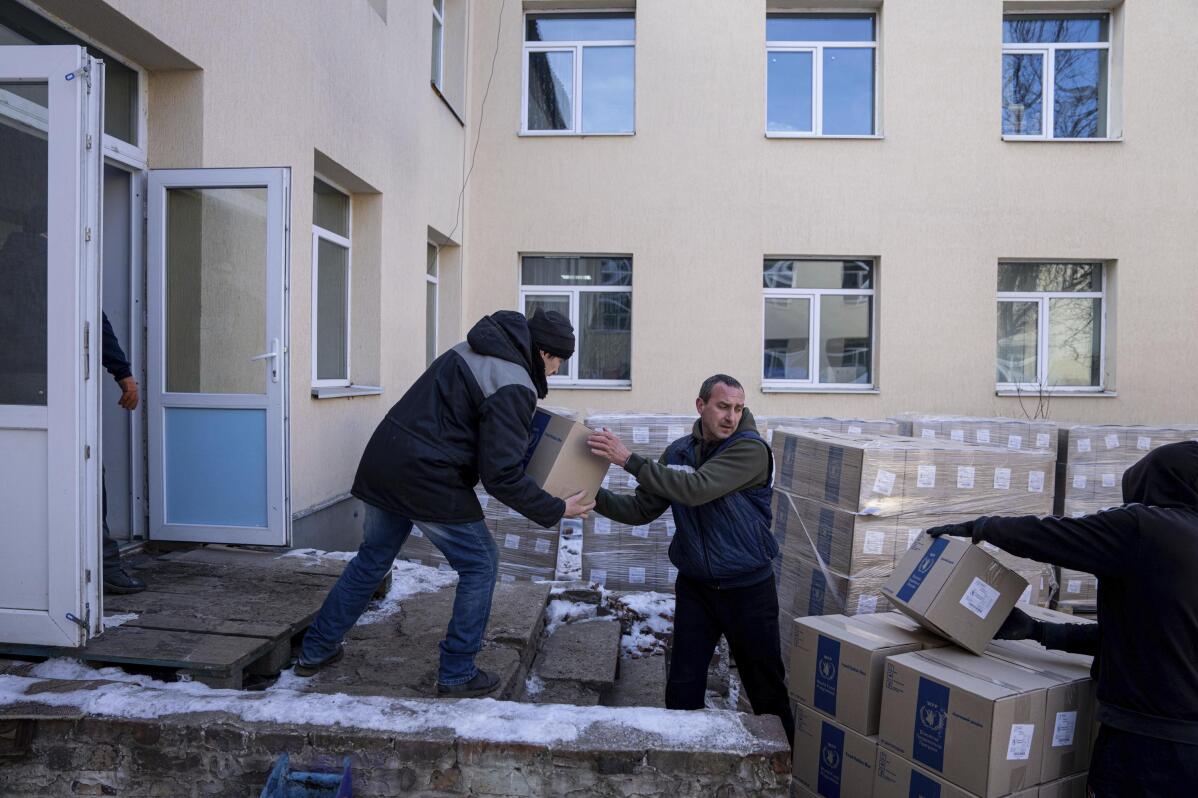 1 of 5

|
Men unload boxes with humanitarian aid provided by UN World Food Program and ADRA charity organisation for the residents of the region and internally displaced persons at the distribution center in Kostiantynivka, Ukraine, Friday, Feb. 10, 2023. (AP Photo/Evgeniy Maloletka)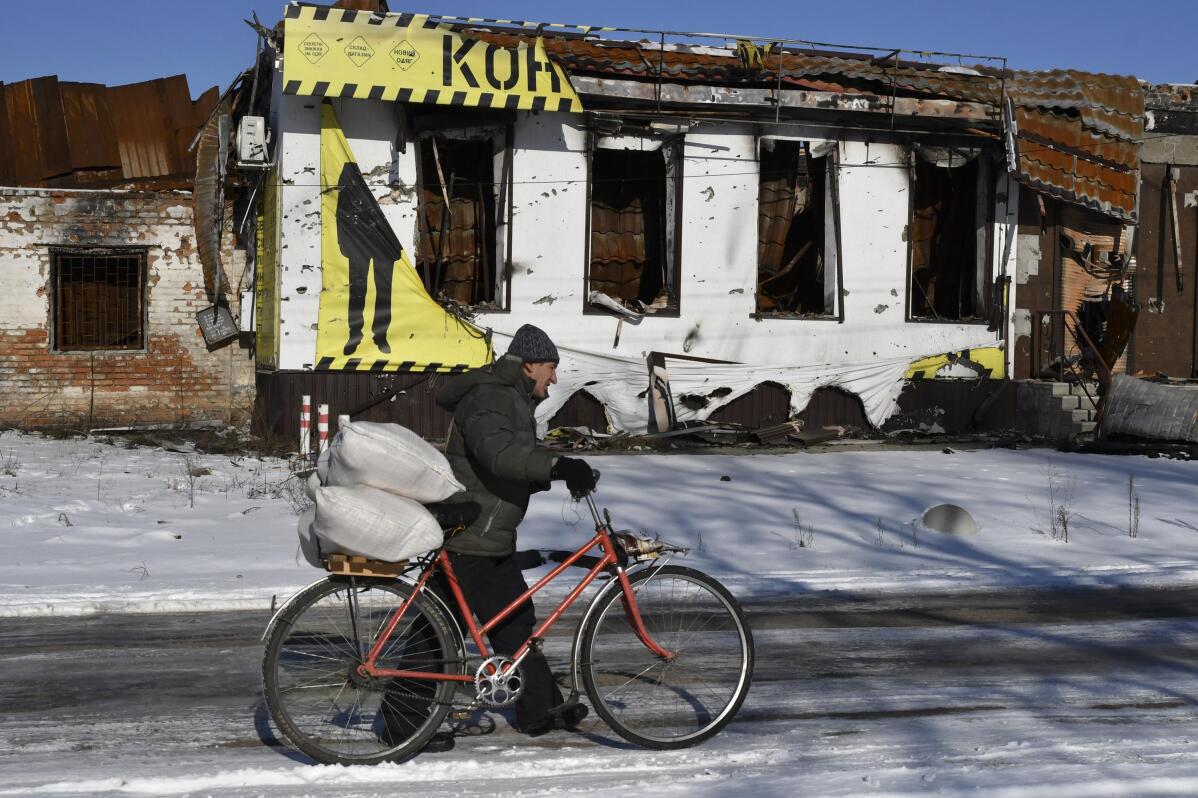 2 of 5

|
A man carries humanitarian aid after he got it in a distribution spot in the town of Orekhovo, Zaporizhzhya region, Ukraine, Wednesday, Feb. 8, 2023. (AP Photo/Andriy Andriyenko)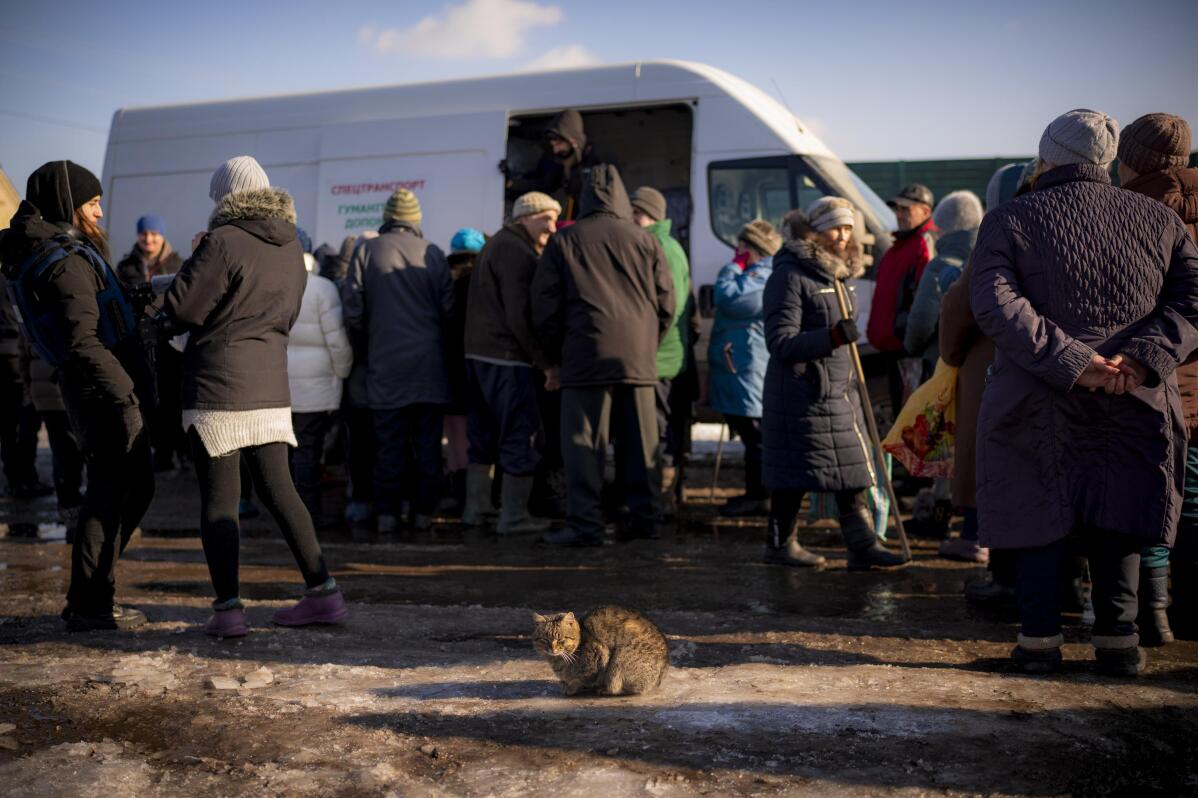 3 of 5

|
A cat sits in a patch of sunlight as villagers wait in line to receive humanitarian aid and register for a medical examination in a mobile clinic in the village of Blahodativka, Ukraine, Wednesday, Feb. 22, 2023. Volunteers for Alliance for Public Health, a Ukrainian health care organization, have set up a mobile treatment clinic that travels to recently liberated areas of eastern Ukraine. (AP Photo/Vadim Ghirda)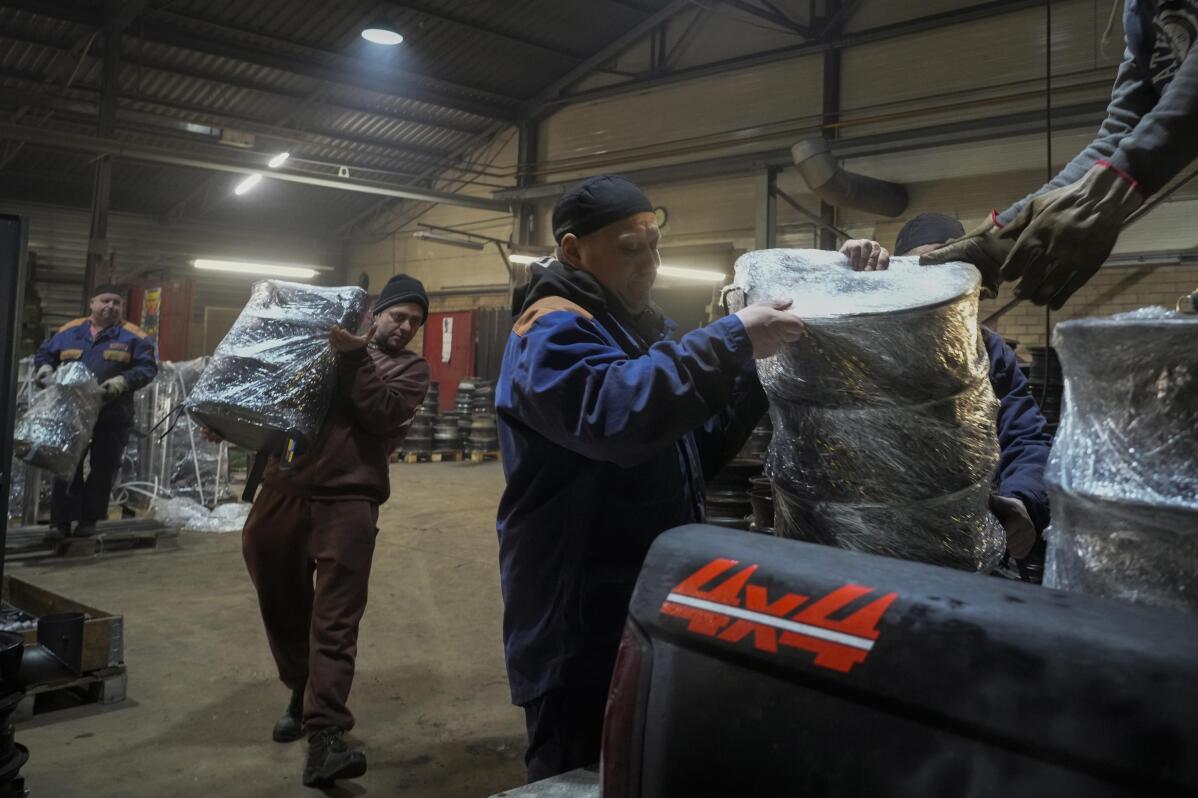 4 of 5

|
Volunteers load heating stoves into a truck to deliver them for Ukrainians, in a workshop in Siauliai, some 230 km (144 miles) north-west of the capital Vilnius, Lithuania, Thursday, Feb. 2, 2023. Since Russia invaded Ukraine last February, Lithuania, Latvia and Estonia — three states on NATO's eastern flank scarred by decades of Soviet-era occupation — have been among the top donors to Kyiv. (AP Photo/Sergei Grits)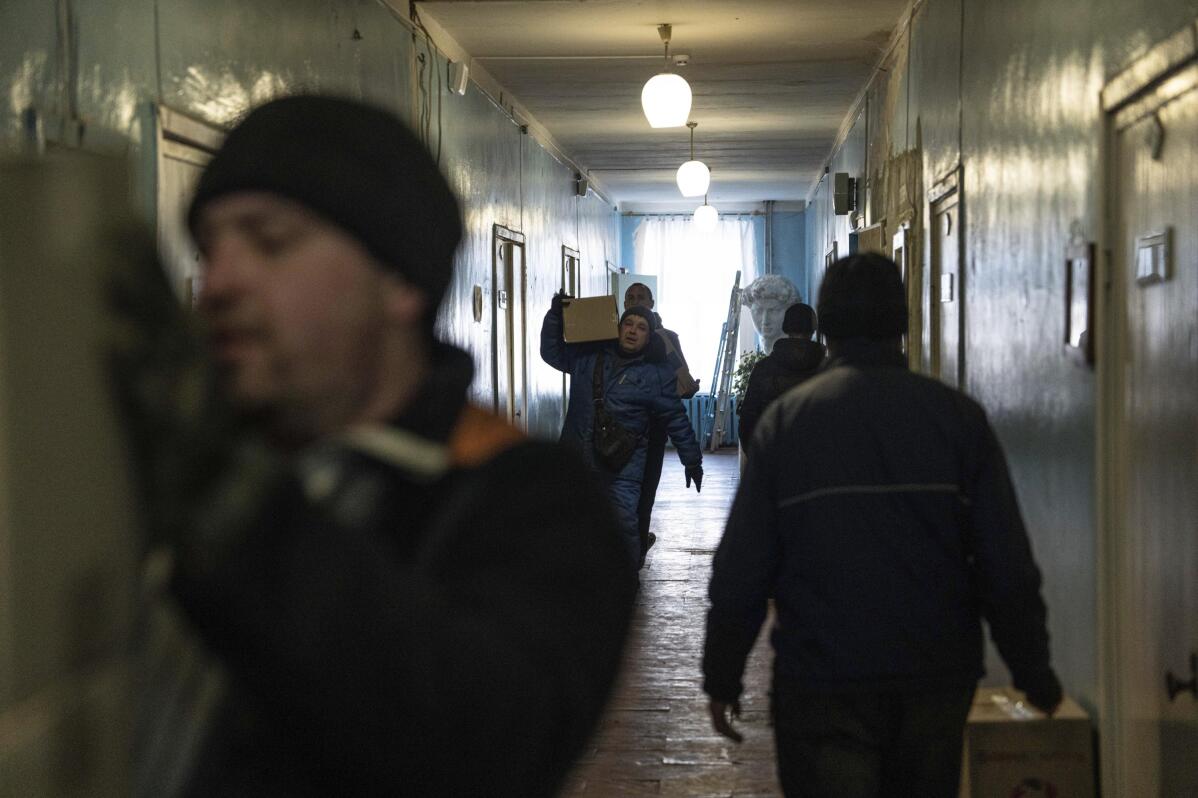 5 of 5

|
Men carry boxes with humanitarian aid provided by UN World Food Program and ADRA charity organisation for the residents of the region and internally displaced persons at the distribution center in Kostiantynivka, Ukraine, Friday, Feb. 10, 2023. (AP Photo/Evgeniy Maloletka)
List: Some of the largest private donations to Ukraine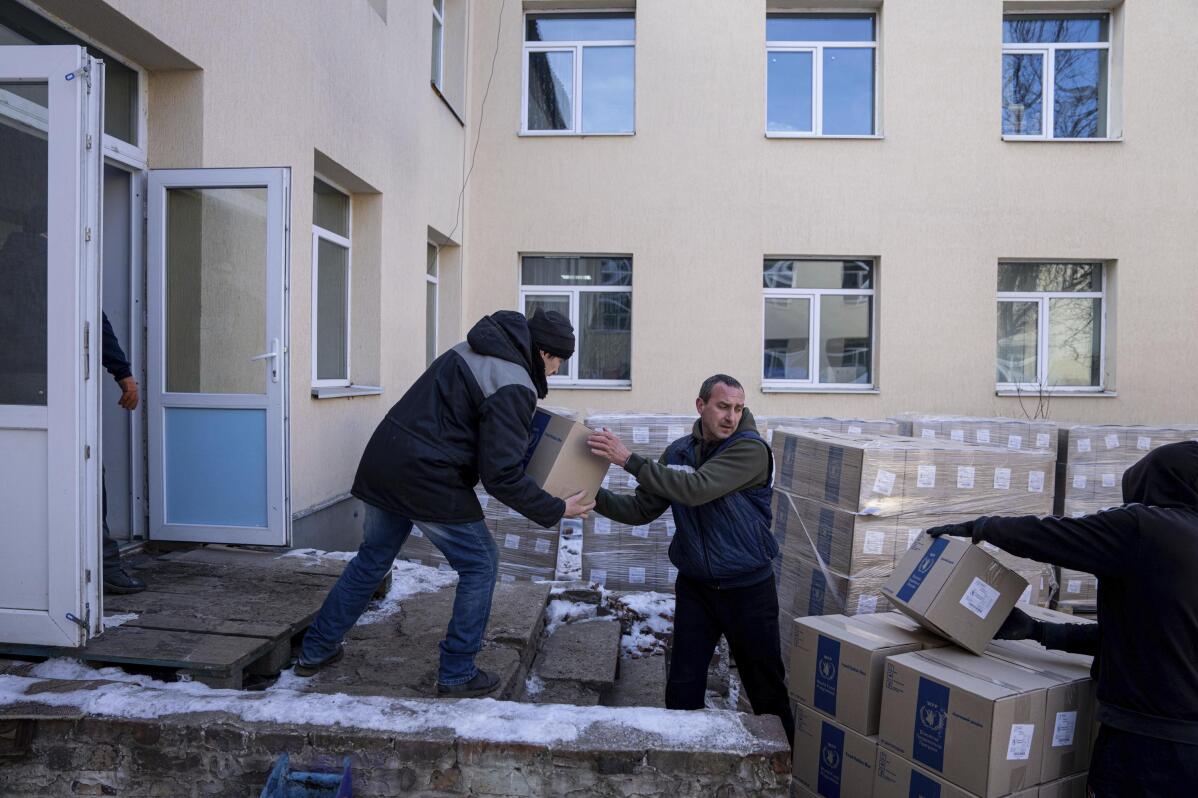 1 of 5

|
Men unload boxes with humanitarian aid provided by UN World Food Program and ADRA charity organisation for the residents of the region and internally displaced persons at the distribution center in Kostiantynivka, Ukraine, Friday, Feb. 10, 2023. (AP Photo/Evgeniy Maloletka)
1 of 5
Men unload boxes with humanitarian aid provided by UN World Food Program and ADRA charity organisation for the residents of the region and internally displaced persons at the distribution center in Kostiantynivka, Ukraine, Friday, Feb. 10, 2023. (AP Photo/Evgeniy Maloletka)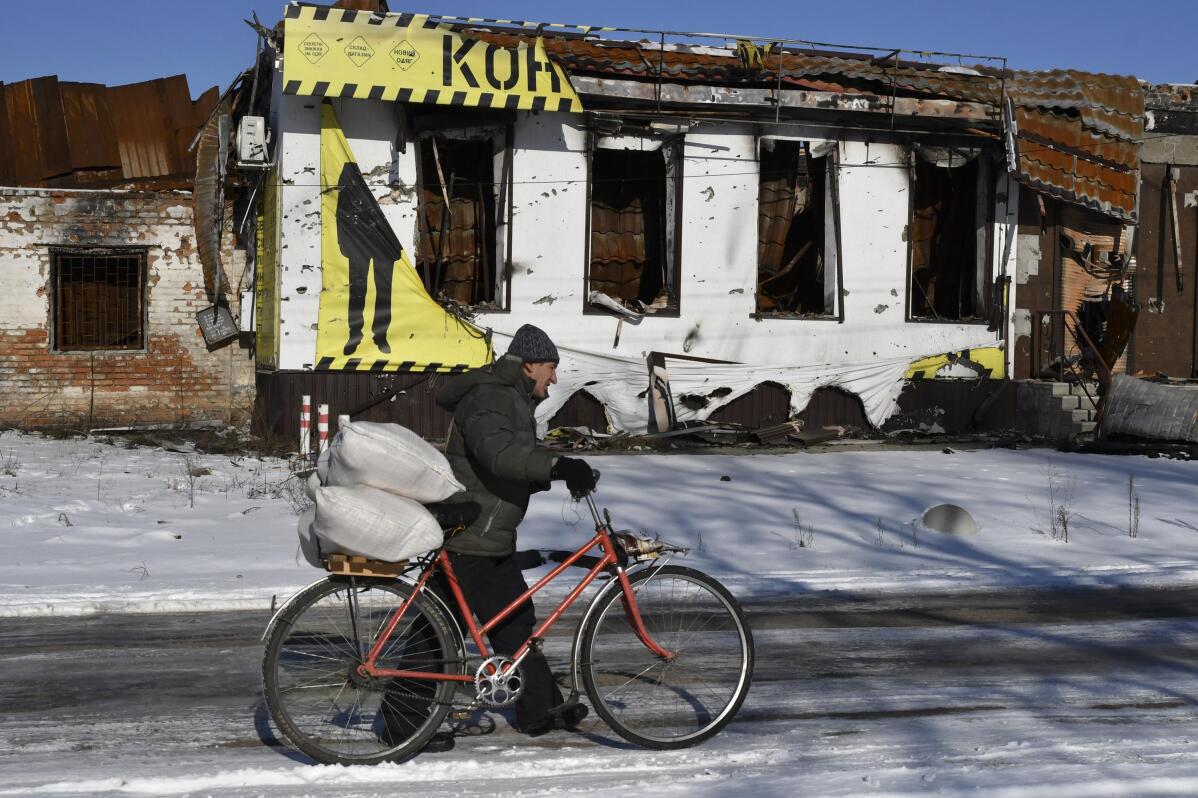 2 of 5

|
A man carries humanitarian aid after he got it in a distribution spot in the town of Orekhovo, Zaporizhzhya region, Ukraine, Wednesday, Feb. 8, 2023. (AP Photo/Andriy Andriyenko)
2 of 5
A man carries humanitarian aid after he got it in a distribution spot in the town of Orekhovo, Zaporizhzhya region, Ukraine, Wednesday, Feb. 8, 2023. (AP Photo/Andriy Andriyenko)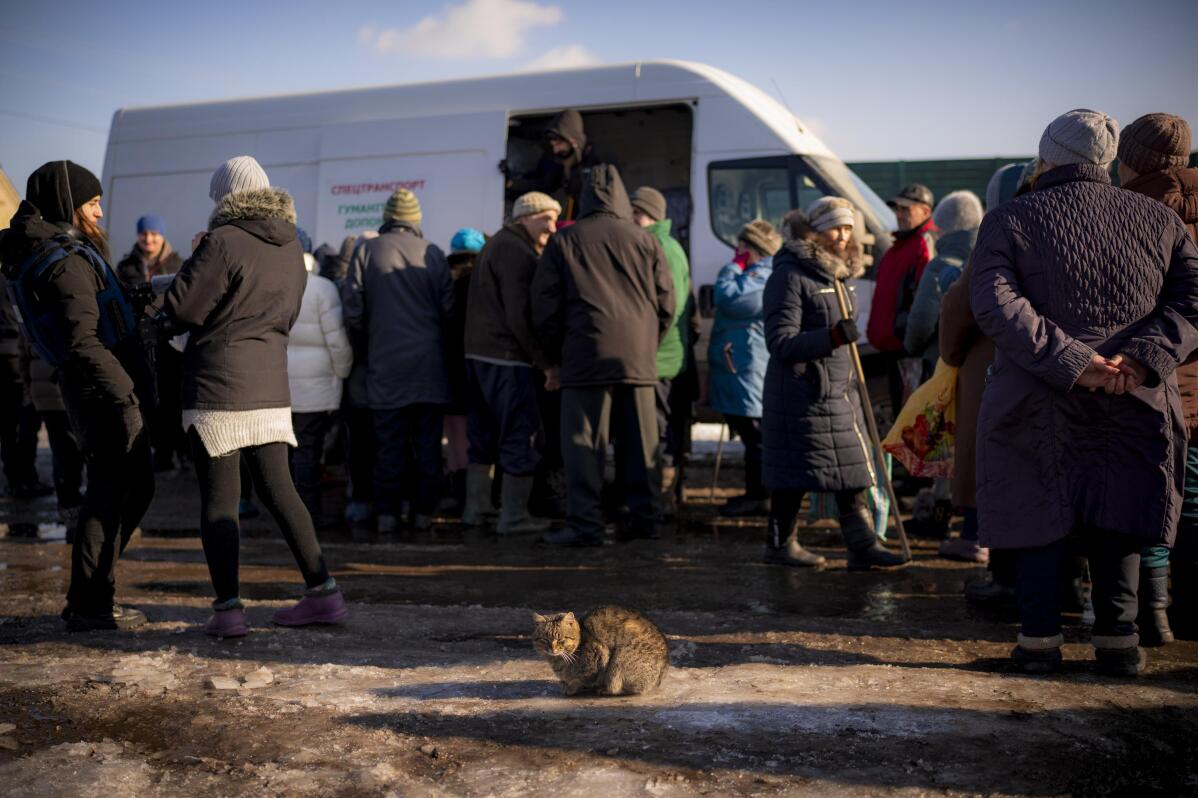 3 of 5

|
A cat sits in a patch of sunlight as villagers wait in line to receive humanitarian aid and register for a medical examination in a mobile clinic in the village of Blahodativka, Ukraine, Wednesday, Feb. 22, 2023. Volunteers for Alliance for Public Health, a Ukrainian health care organization, have set up a mobile treatment clinic that travels to recently liberated areas of eastern Ukraine. (AP Photo/Vadim Ghirda)
3 of 5
A cat sits in a patch of sunlight as villagers wait in line to receive humanitarian aid and register for a medical examination in a mobile clinic in the village of Blahodativka, Ukraine, Wednesday, Feb. 22, 2023. Volunteers for Alliance for Public Health, a Ukrainian health care organization, have set up a mobile treatment clinic that travels to recently liberated areas of eastern Ukraine. (AP Photo/Vadim Ghirda)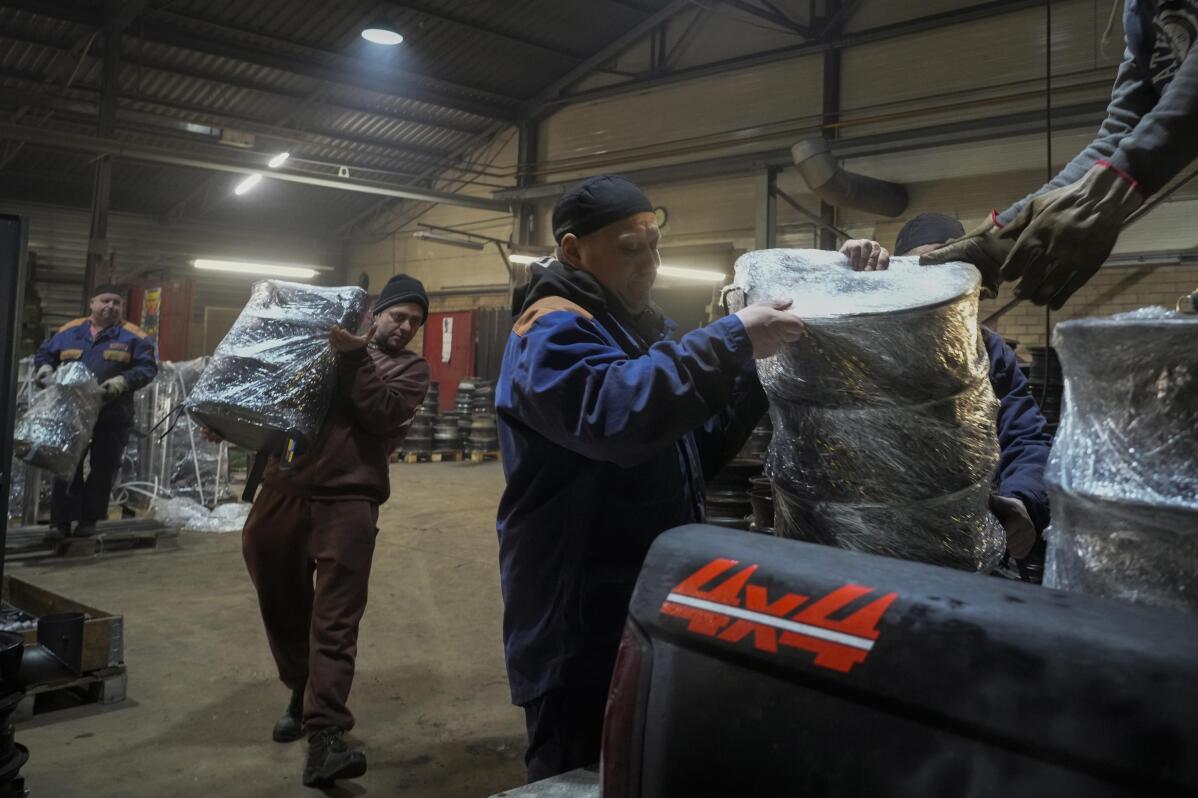 4 of 5

|
Volunteers load heating stoves into a truck to deliver them for Ukrainians, in a workshop in Siauliai, some 230 km (144 miles) north-west of the capital Vilnius, Lithuania, Thursday, Feb. 2, 2023. Since Russia invaded Ukraine last February, Lithuania, Latvia and Estonia — three states on NATO's eastern flank scarred by decades of Soviet-era occupation — have been among the top donors to Kyiv. (AP Photo/Sergei Grits)
4 of 5
Volunteers load heating stoves into a truck to deliver them for Ukrainians, in a workshop in Siauliai, some 230 km (144 miles) north-west of the capital Vilnius, Lithuania, Thursday, Feb. 2, 2023. Since Russia invaded Ukraine last February, Lithuania, Latvia and Estonia — three states on NATO's eastern flank scarred by decades of Soviet-era occupation — have been among the top donors to Kyiv. (AP Photo/Sergei Grits)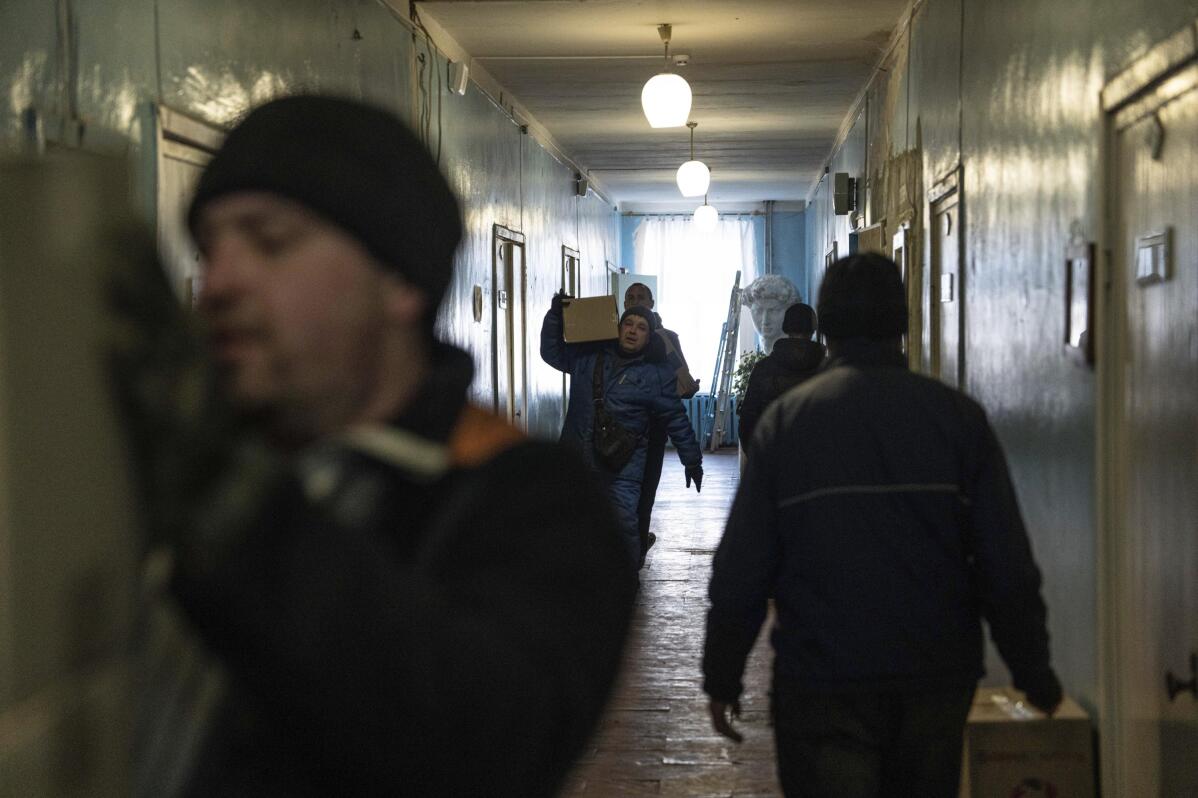 5 of 5

|
Men carry boxes with humanitarian aid provided by UN World Food Program and ADRA charity organisation for the residents of the region and internally displaced persons at the distribution center in Kostiantynivka, Ukraine, Friday, Feb. 10, 2023. (AP Photo/Evgeniy Maloletka)
5 of 5
Men carry boxes with humanitarian aid provided by UN World Food Program and ADRA charity organisation for the residents of the region and internally displaced persons at the distribution center in Kostiantynivka, Ukraine, Friday, Feb. 10, 2023. (AP Photo/Evgeniy Maloletka)
NEW YORK (AP) — Some of the largest private donations in response to Russia's invasion of Ukraine a year ago have come from American technology companies and European foundations or companies with a social mission. But millions of individuals have also given directly to nonprofits or humanitarian agencies with some of their donations amplified by employer or donor matches.
Another measure of support of Ukraine and Ukrainians can be seen in the astronomical growth of U.S.-based nonprofits like Nova Ukraine and Razom for Ukraine, both of which were founded in 2014 after Russia first invaded Crimea. They went from receiving hundreds of thousands of dollars in contributions annually to each raising more than $70 million in cash and in-kind donations since February 2022.
The nonprofit Candid tracks donations to causes related to the war in Ukraine and compiled information on more than $1.2 billion in gifts from the private sector and individuals from around the world. With long delays in the public reporting of donations in the U.S., Candid says this "patchy, incomplete and messy" data is the best currently available.
The private sector aid is a small portion of the overall global response, with the U.S. Congress allocating $113 billion in aid to Ukraine so far. The U.N. has received $3.4 billion in commitments or donations mostly from governments to fund its humanitarian response to the war.
Here are some of the largest publicly-known private donations to support Ukraine and Ukrainians in the past year.
___
MICROSOFT: $430 million donation in cash and services
When Russia invaded, Microsoft helped the Ukrainian government move its computing from servers located in the country to the cloud. Tom Burt, a vice president, said the company has donated 30,000 work hours over the past year and has agreed to continue to donate its cloud services at no cost to the Ukrainian government through 2023. That's in addition to cyber security defense and threat detection services that the company is donating to the government and some private sector actors. The company matched $10 million in employee donations and donated additional cash and services to humanitarian organizations.
___
NATIONALE POSTCODE LOTERIJ: 155.2 million euros ($165.9 million) donation.
This company with a social mission runs lotteries in five European countries and donates the proceeds to charities. The Dutch branch donated 100.6 million Euros ($113.3 million) to major humanitarian and human rights organizations operating in Ukraine, though the majority of those funds are unearmarked. All together from the Netherlands, Sweden, Germany and the United Kingdom, the lottery raised at least 155.2 million euros ($165.9 million) to organizations that are active in Ukraine or that provide aid to refugees, a spokesperson said.
——-
EPIC GAMES: $144 million donation
Proceeds from all in-game purchases in the popular video game Fortnite for two weeks at the end of March last year were split between Direct Relief, UNICEF, the World Food Program, United Nations High Commissioner for Refugees and World Central Kitchen. Epic Games confirmed that the funds, some of which came from proceeds from Xbox, a Microsoft company, have been delivered.
___
DMITRY MURATOV: $103.5 million donation
In June, the Russian journalist Dmitry Muratov auctioned his Nobel Peace Prize for $103.5 million, which he donated to UNICEF to support children displaced by the war. UNICEF confirmed it had received the funds.
___
EPAM SYSTEMS: $100 million commitment
The information technology services company said it had 14,000 employees in Ukraine when Russia invaded and pledged to support them and their families with this commitment. A spokesperson declined to disclose what portion of the funds the company had spent to date or how much it had raised through a separate fundraiser that benefited two nonprofits, Razom for Ukraine and Leleka Foundation.
___
BREAKTHROUGH PRIZE FOUNDATION: $100 million commitment
In April, the foundation pledged $100 million to a new initiative called Tech for Refugees that partners with Airbnb, Flexport.org, Spotify, Welcome.US and the International Rescue Committee to support refugees from around the world, but with a focus on Ukraine. The foundation did not disclose the amount it has delivered to the initiative so far. It has pledged smaller amounts to help Ukrainian scientists and donated $8 million for refugee and humanitarian relief.
___
AKELIUS FOUNDATION: 496 million Swedish krona ($47 million) donation
This Swedish foundation, founded by a real estate magnate, Roger Akelius, matched donations to a fundraiser run by the Swedish national partner of UNHCR, the U.N. refugee agency, for Ukraine.
___
THE CONFERENCE ON JEWISH MATERIAL CLAIMS AGAINST GERMANY: $47 million donation
The Claims Conference has a mandate to care for the Jewish survivors of the Holocaust and distributed these funds in 2022 on welfare services for around 10,000 survivors in Ukraine. It's made another commitment of $47 million for welfare services in 2023 in addition to other direct payments it provides to the survivors.
___
GOOGLE.ORG: $45 million committed in cash and services
The charitable arm of Google's parent company has donated 50,000 licenses for its business suite of tools to the Ukrainian government as well as cybersecurity services. It has also donated staff time to work on projects benefiting refugees and an initiative by the Ukrainian government to help train and match Ukrainians with digital jobs. It has matched $5 million in donations to humanitarian organizations and committed $10 million to organizations supporting refugees in Poland among other cash donations.
___
NIPPON FOUNDATION: 5 billion yen ($37 million) commitment
This nonprofit founded in 1962 by politician and businessman Ryoichi Sasakawa directs the revenue from motorboat racing to charities. It has provided aid to 1,921 Ukrainians to both travel and live in Japan as evacuees, a designation that is different from refugee, of which the country accepts very few. Since it was first announced, the foundation increased the commitment to 8.58 billion yen ($64 million) over three years, though it will cap the number of recipients at 2,000.
___
Associated Press business writer Yuri Kageyama contributed to this story from Tokyo.
___
Associated Press coverage of philanthropy and nonprofits receives support through the AP's collaboration with The Conversation US, with funding from Lilly Endowment Inc. The AP is solely responsible for this content. For all of AP's philanthropy coverage, visit https://apnews.com/hub/philanthropy.