Tenn. lawmakers cut proposed amount to anti-abortion centers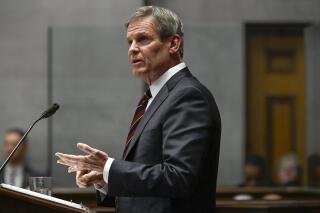 NASHVILLE, Tenn. (AP) — Tennessee budget writers on Tuesday said they will funnel $20 million of taxpayer dollars to help fund anti-abortion centers, marking a dramatic reduction from the original $100 million proposed by Gov. Bill Lee several months prior.
"After a considerable conversation, both negotiating teams agreed that we would leave $20 million in the budget for crisis pregnancy centers," said state Sen. Bo Watson, chairman of the Senate Finance, Ways and Means Committee. "We would also like to have further discussions on exactly who these crisis pregnancy centers are and what they do."
In January, Lee, a Republican, announced during his annual address to the General Assembly that he wanted to create a $100 million grant program for nonprofits commonly known as "crisis pregnancy centers." The amount immediately raised eyebrows because it would have launched Tennessee as among the top states spending tax dollars on such organizations known for dissuading people from getting an abortion.
Yet even reducing the amount to $20 million for crisis pregnancy centers is still relatively higher compared with other states that send public funds to these types of organizations. While Texas set aside $50 million during the 2021-2022 fiscal year, states like Pennsylvania spent around $7 million and Missouri budget around $6.5 million. Meanwhile, an Associated Press tally based on state figures found that public spending on crisis pregnancy centers has significantly jumped over the past 10 years as the fight over abortion access has only intensified.
Critics of these centers often accuse them of providing misleading information about abortion and contraception — for example, suggesting that abortion leads to mental health problems or breast cancer. But proponents argue that these centers provide essential social services offered to women who would otherwise remain pregnant but were unaware of the help they could receive. Some offer counseling and classes in parenting skills, as well as clothing and food.
Lee's push to have the state help support crisis pregnancy centers came as criticism was swirling around Tennessee's abortion ban — considered among the strictest in the United States — which had just gone into effect a few months prior because of the U.S. Supreme Court revoking the constitutional right to abortion.
In the months since, Republican lawmakers have advanced legislation that would add a narrow exemption to the state's abortion ban. Lee has yet to sign the bill, but he did enact legislation that bans local government from using public funds to assist public employees in receiving abortion services, including services out-of-state.
Tennessee lawmakers are moving quickly to finalize the budget proposal as part of their push to adjourn by the end of the week after receiving national scrutiny over the expulsion of two young Black lawmakers, as well as facing pressure to address gun control in the wake of six people being killed in a Nashville school shooting.