Tenn. lawmakers' race to adjourn complicates gun safety push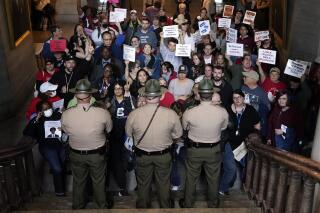 NASHVILLE, Tenn. (AP) — Tennessee lawmakers on Monday kicked off a rushed effort to adjourn by the end of the week, looking for an exit from a session that has been eclipsed by the fallout of the Republican supermajority expelling two young Black Democrats and a growing push to pass some sort of gun restriction legislation.
Just last week, Reps. Justin Jones and Justin Pearson returned to the GOP-dominated General Assembly after being ousted for their role in a pro-gun control demonstration from the House floor. While Republicans intended the move to be punitive, the result has instead thrust Tennessee as the new front in the battle for the future of American democracy, as well as maintained pressure on lawmakers to address gun control in a state known for its lax firearm regulations.
Last month, six people were gunned down at a Nashville private school — a tragedy that kicked off a stream of calls for changes to Tennessee's gun laws, including a ban on assault weapons, tougher background checks and a "red flag" law. In turn, Republican Gov. Bill Lee recently urged lawmakers to pass legislation that would keep firearms away from people who could harm themselves or others.
Yet, so far, the Republican supermajority has refused. Rather, they have advanced legislation designed to add more armed guards in public and private schools and are considering a proposal that would allow teachers to carry guns. Lee has also issued executive orders to strengthen background checks.
It's unclear in the supposed last week of session if there will be enough of an appetite to pass a so-called "red flag" law — designed to remove firearms from those making threats or suffering severe mental breakdowns. Similar statutes have passed in other states after mass shootings, including in Florida, which passed a "red flag" law in the wake of the 2018 mass shooting at Marjory Stoneman Douglas High School in Parkland. Law enforcement officials had received numerous complaints about the 19-year-old Florida gunman's threatening statements.
Notably, Tennessee's governor has avoided saying the words "red flag," an acknowledgment that the shorthand has become politically off-putting to many Republicans leery of appearing willing to restrict firearms.
Unlike in other states, Tennessee's General Assembly isn't under a deadline when it must adjourn for the year. The move to adjourn by the end of the week is a self-imposed deadline.
On Monday, Bishop William Barber II led a march to Tennessee's Capitol in Nashville, demanding lawmakers support gun safety legislation and stop using their authority to trample democracy. Participants carried child-size caskets and laid them outside the Capitol building as a symbol of those lost to gun violence.
Barber is the national co-chairman of the Poor People's Campaign, a national demonstration against poverty the Rev. Martin Luther King Jr. was planning, as revived by activists with the goal of ending systemic racism.
"The legislators are back, but returning duly elected lawmakers to their seat does not solve the problem," Barber said, demanding that lawmakers "stop committing policy murder."
Also Monday, the head of the influential Southern Baptist's public policy arm, Brent Leatherwood of the Ethics & Religious Liberty Commission, sent a letter to lawmakers asking them to "put down the weapons of partisan warfare" and instead work with Gov. Lee on passing legislation that would "make a real difference.
Leatherwood, who had three children enrolled at the private Christian school where the fatal shooting took place, said lawmakers have the authority to oppose "evil and protect innocent lives."
"Other voices are saying there is too little time left in this legislative session to consider such a proposal. Little credence should be given to that," he wrote. "Now is the time to act."
During Monday evening's House session, Jones attempted to bring one of the caskets that was used in the day's earlier demonstration onto the floor but was blocked after being told he couldn't bring props. He and Pearson spent time criticizing the wide range of bills that were up for debate, ranging from the state seal design and forcing a restructuring of Nashville's sports authority board.
Tensions were once again on display as the night progressed when House Majority Leader William Lamberth motioned to adjourn right as the chamber was scheduled to debate a bill that would allow the arming of teachers in schools. Those who had been sitting quietly in the gallery for hours booed loudly as Lamberth argued that he did not know what bill would be up next when he made the motion.
Lamberth later reversed course, and the sponsor of the legislation, Republican Rep. Ryan Williams, announced that he would move to have his bill "held on the desk" — which is a procedural action that traditionally implies that the legislation is spiked for the year.
Other notable bills that advanced Monday night include:
— In the Senate, lawmakers passed legislation that would require parental permission for minor students to participate in a school organization or learn a sexual orientation or gender identity curriculum, and would let parents excuse students from school health screenings.
— In the House, Republicans approved legislation banning transgender athletes from participating in private high or middle school sports — allowing it to now head Gov. Lee's desk for his signature. The General Assembly passed a similar ban last year that applied only to public schools.